It's time to review Provitalize Probiotic – so is it a scam?
Does this product really help with weight loss?
Are its ingredients any good? Is it safe to use? What about its complaints?.
Well – here's how I would describe it:
pretty basic formula

quite expensive

many unsatisfied users
So what's the actual truth behind this supplement?
Well, I analyzed it in detail – so here are all the details behind it in my Provitalize Probiotics review.
Note: This review is based on my opinion + research on Provitalize.
Review Summary
---
Full Name: Original Provitalize by Better Body Co.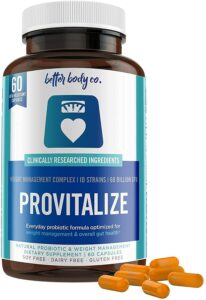 Product Type: Probiotics (For Weight Loss & Menopause)
Best Actual Price: $49/bottle
Cheapest Place To Buy: Amazon
Designed For: Reducing menopause symptoms using probiotics – it claims to help with:
weight loss

hot flashes and sweats

low energy and mood swings
Since it's a probiotic – it's also designed for digestive and gut health as well.
My Rating: 7 out of 10
Recommended?: Not quite – it's not a great option overall:
very high doses (potentially risky)

weak effect in terms of weight loss

can actually increase weight gain
It also has enough unsatisfied users behind, so it's not too impressive.
Instead, I recommend you to go for the best probiotic for weight loss from the market.
What I Liked About It
---
Based on a mix of probiotics and herbs

Pills are pretty easy to swallow

Made by a very reputable brand

Many authentic reviews available online

Can be bought in several retailers
What I Didn't Like About It
---
Only contains 3 bacterial strains

Too high probiotic dose for daily use

Its ingredients have little benefits for weight loss

Many complaints about its poor effect

Can actually worsen weight gain

A bit expensive for its current value
---
Provitalize In A Nutshell
---
In short – this supplement is one of the few weight loss probiotics.
To be more specific, it's designed for menopause symptoms (especially weight loss).
However, that's only on paper.
Because in reality – it doesn't seem so effective:
pretty weak weight loss effect

doesn't control menopause symptoms very well

can have the opposite effect (weight gain + bloating)
Now, Provitalize does have its own good side and advantages.
But overall, I wouldn't say it's worth the money.
That's because its real benefits are a lot lower than its actual promises.
Not to mention that I don't consider it a long-term product (because of its very high probiotic doses).
So despite not being a scam, it's not a probiotic that is worth your investment.
---
#1 – Claims & Producer
---
Here are some general things you should know about this product:
how it works

what exact issues it targets

who is its producer
1. Claims
---
What makes Provitalize unique is that it's a menopause probiotic:
specially designed to fight menopause symptoms

also helps with digestion
Besides, Provitalize also claims to work really well for weight loss.

Now – there are very few probiotics on the market formulated for menopause symptoms.
So Provitalize has little competition at this chapter.
However, it's hard to believe that it really does what it claims.
That's because it has many complaints related to its effect.
So even though it's a decent probiotic – it's not that amazing against menopause signs.
2. Company Behind
---
Provitalize's producer is a brand called Better Body Co.:
produces several health supplements

Provitalize is their best-selling product
Now – the brand itself looks pretty trustworthy:
many contact details available

very professional website

several pictures from real users
So in terms of reputation, I could pretty much guarantee for this company.
It looks extremely legitimate, so I doubt they could scam you.
---
#2 – Ingredients

(6 out of 10)
---
Provitalize doesn't have a bad composition at first sight:
combines probiotics with herbs

comes with a unique formula
But if you take a closer look, it gets a lot worse.
This product only contains 3 bacterial strains, which is quite low for a probiotic.
Besides, its weight-loss benefits are rather insignificant.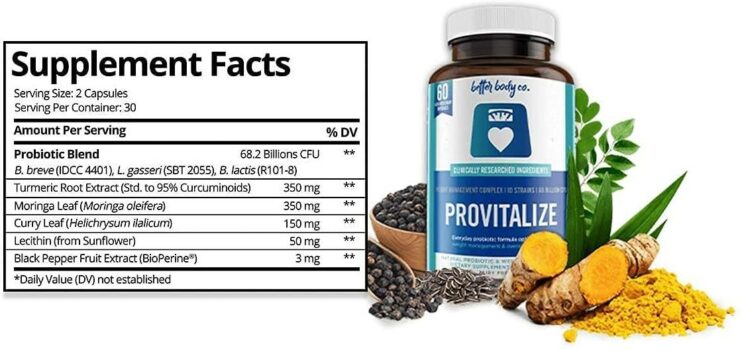 However, its biggest problem is the dosage:
huge amount of probiotics/serving

higher risk of side effects
In other words – its dosage is way too high for a long-term supplement.
I actually recommend such high doses for people with a lack of good bacteria.
However, they should only be taken for about a month.
Otherwise – the dose is way too high and you end up experiencing serious side effects (like bloating).
That's why I don't consider Provitalize a long-term product.
Anyway – let's take a closer look at its main ingredients.
1. Probiotic Blend
---
This mix contains only 3 bacterial strains – but in a huge dose (68.2 billions CFU).
When it comes to daily use probiotics, I recommend a dose of 5-10 billions CFU.
Anything that is above tends to cause side effects very often.
Provitalize contains almost 7 times more – that's why I consider it too concentrated.
But let's see the 3 strains inside it:
B. breve – supports a healthy metabolism and reduces fat. [1]
L. gasseri – can increase and speed up weight loss. [2]
B. lactis – supports a healthy immunity and cholesterol levels. [3]

Now – these 3 strains are surely potent and effective.
But they are too little – not to mention that they're not specifically meant for weight loss.
Their main benefits don't include much related to metabolism and weight.
2. Herbal Extracts
---
There are 5 additional compounds in Provitalize:
Turmeric Root Extract – it's the best natural anti-inflammatory. [4]
Morninga Leaf – supports a healthy metabolism. [5]

Curry Leaf – improves digestion and health cholesterol.

Lecithin – increases the absorption of the previous 3 compounds.

BioPerine – boosts the absorption of turmeric.
Basically – only 3 out of these 5 ingredients actually have a real effect.
The others are merely some absorption boosters.
And in terms of weight loss, not even those 3 ingredients seem very potent.
---
Conclusion
---
Provitalize's formula looks unique and different at first sight.
But it has enough downsides about it:
its compounds have little weight-related benefits

only contains 3 probiotics

they come in some potentially dangerous doses
So honestly, it's not a formula I would recommend.
If you want a probiotic that will help you lose weight, I prefer a different type of formulation.
---
#3 – Pills & Dosage

(8 out of 10)
---
Here's what you should know about Provitalize's physical features. 
1. Pills
---
This supplement is formulated as vegetable capsules.
In terms of looks, I would say that they look exactly like turmeric capsules:
transparent cover with orange powder

average dimensions
Obviously, swallowing this kind of pills is pretty easy.
So you shouldn't worry too much at this chapter.
2. Dosage
---
According to its label, Provitalize requires 2 pills/day:
it's recommended to take both capsules together

the best time would be in the morning (after waking up)
Now – probiotics usually work best when taken on an empty stomach.
But in some cases, you may develop some stomach cramps.
If that's the case – switch to taking them after eating.
---
#4 – Results

(6 out of 10)
---
The easiest way to see how a product works is to check its customer feedback.
And that's exactly what I did with Provitalize.
Note: I only analyzed authentic reviews, not promotional ones.
1. Positive Opinions
---
First of all – this product has some user opinions both on its website and on retailers.
However, the difference is pretty big:
most of its website reviews are highly positive

its reviews on retailers are rather mixed up
For this reason, I will only consider its reviews from 3rd party sellers (specifically Amazon).
So let's see some of the most common praises it has:
Some people say it's not amazing but it does its job.

Others praise it as a probiotic.

A few others claim it works amazingly for bloating.

Now, this product seems to work pretty well for enough people.
However, most of its praises are related to its probiotic effect.
When it comes to menopause symptoms, it doesn't seem so impressive.
2. Negative Opinions
---
Surprisingly or not, most of its 1st page Amazon reviews are highly negative:
Many users complain that it doesn't work.

Others say it didn't relieve their menopause symptoms.

A few others criticize its very high price.

Some say its not worth buying, since it doesn't work too well.

Others even complain about side effects.

Judging after all these complaints, I wouldn't trust Provitalize too much.
Most of its complaints are related to its poor weight loss effect and menopause improvement.
So from these points of view, it doesn't seem like an excellent choice.
It's not me saying this – it's the previous users.
---
Conclusion
---
Provitalize doesn't have an amazing customer feedback:
some users praise its probiotic effect

many others criticize it as a weight loss solution

others say it doesn't help with menopause signs
So in terms of effect – it doesn't seem the best option out there.
If you want a probiotic that will really helps with weight loss, I recommend a better alternative.
---
#5 – Side Effects

(6 out of 10)
---
Provitalize seems to cause some pretty ironic side effects:
bloating

weight gain
In other words – it worsens the problems it's supposed to treat.
Obviously, this doesn't happen in all cases.
But there were many complaints from users who actually gained some weight while using it.
Other than that, it also causes some reactions that have nothing to do with its promises:
diarrhea

anal leakage

irritations
So in terms of safety, it doesn't look like the best probiotic out there (nor the best weight loss solution).
---
#6 – Price

(7 out of 10)
---
For a weight loss probiotic, Provitalize isn't even that expensive.
But considering its formula and effect, I would say it could be cheaper.
1. The Exact Price
---
Provitalize's lowest price is on Amazon:
Standard price is $49/bottle.

There isn't any discount for 2 bottles ($98).

You do get some dollars off for a 3 bottles pack ($120).

Shipping isn't free either.

Again – $49 isn't a huge price for a weight loss probiotic.
High-quality products tend to cost even more and that's totally fine.
However, Provitalize isn't amazing in terms of effect and composition.
That's why I believe it should cost at least $10 less.
2. Competitors' Price
---
I only want to compare Provitalize with my #1 recommended weight loss probiotic.
I'm talking about FloraSpring: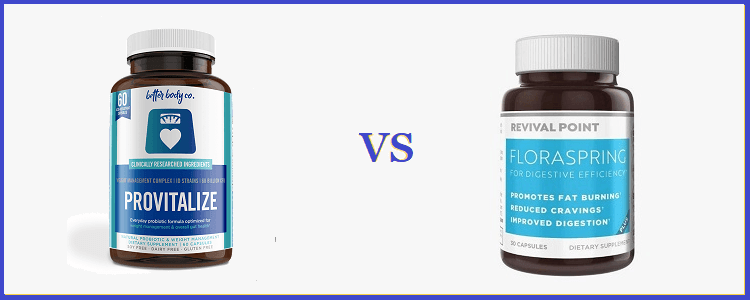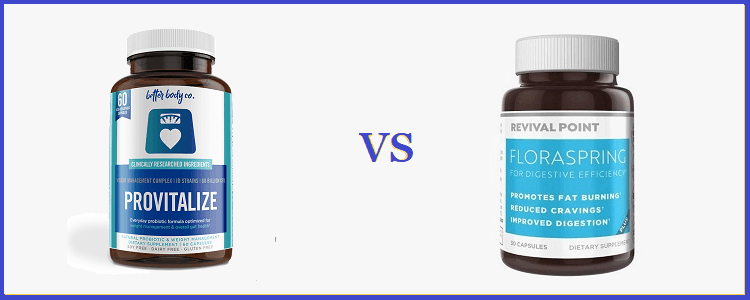 FloraSpring works through a unique mechanism of action.

It's based on a unique mix of probiotics with evidence behind.

Provitalize's ingredients are less focused on weight loss.

FloraSpring costs $49/bottle normally.

In the best case, you can get it for about $33/bottle.

Provitalize's normal (and final) price is the same ($49).
Now – FloraSpring is a lot cheaper than Provitalize.
Not to mention that in terms of effect, it's way better and stronger.
That's why it's the best probiotic I know for weight loss.
So between these to, I strongly advise you to go for FloraSpring.
---
Conclusion
---
Provitalize is a bit expensive for its real value:
ingredients aren't worth that much

its effect is not as strong as it claims
Again – it's not very pricey for a weight loss probiotic.
But I personally would not pay so much on it, since its features and results aren't very impressive.
---
#7 – Final Conclusions
---
Here's how I would sum up my opinion on Provitalize (in 3 ideas).
1. Risky Dose
---
In terms of probiotics, this product only contains 3 strains.
However – it's their dosage that is potentially dangerous:
contains 68.2 billions CFU

average daily dose would be 5-10 billions CFU
In other words, I don't recommend such a high dose unless you lack good bacteria.
And in this case, make sure you use it for about a month or so.
But Provitalize is recommended for menopause symptoms (which don't include a lack of good bacteria).
That's why it's a bit risky.
2. Not Potent For Weight Loss
---
Regarding its weight loss benefits, they're not too significant:
ingredients aren't designed to boost weight loss

they have some rather general benefits
So I don't trust this product too much when it comes to losing weight.
Its high number of complaints speaks for itself.
3. Worsening Potential
---
Provitalize isn't only weak when it comes to losing weight – but it actually worsens it:
many users complain about weight gain

others say they started eating more than before
So this product's impact on metabolism seems to be pretty tricky.
That's why I would think twice before going for it.
---
My Verdict – Worth Or Not?
---
Short answer: It's not really worth it.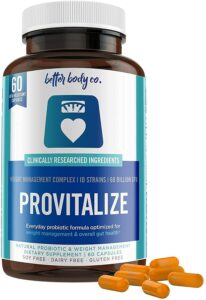 It's surely not a bad supplement, nor a scam – but it has enough issues:
Doesn't work very well for weight loss.

Can actually boost weight gain in some people.

Formula is pretty weak (in terms of metabolism).

Has many complaints from previous users.

It's quite pricey for its value.
Now, it's up to you whether you want to give it a try or not.
But I pretty much doubt it's going to help you lose weight – even in the short run.
So I personally advise you to go for a superior formula that has a very positive feedback behind.
I'm talking about a product called FloraSpring:
based on probiotics with a real effect on weight loss

extremely well tolerated

really satisfied users behind
In fact – I strongly recommend this product if you've been trying to lose weight without much success.
Since it works through a different mechanism of action, it's much better than most alternatives.
So that's surely what I would go for.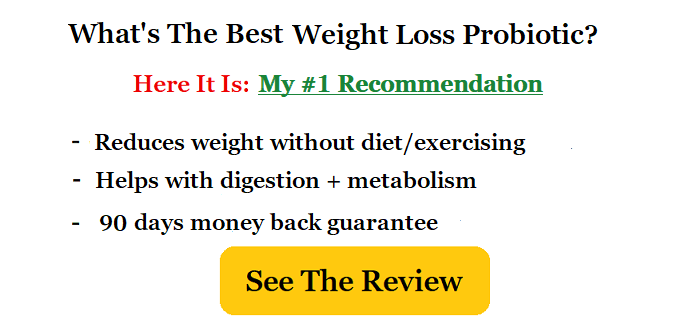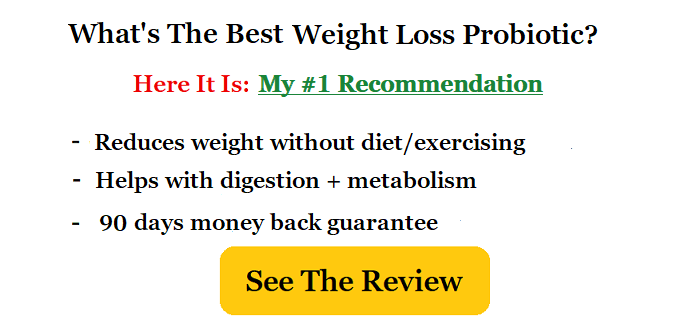 References:
1 – https://www.ncbi.nlm.nih.gov/-pmc/articles/PMC6081611/
2 – https://www.ncbi.nlm.nih.gov/-pmc/articles/PMC3611107/
3 – https://www.ncbi.nlm.nih.gov/-pmc/articles/PMC5805418/
4 – https://www.ncbi.nlm.nih.gov/-pmc/articles/PMC5664031/
5 – https://clinphytoscience.springeropen.com/-articles/10.1186/