It's time for my FloraSpring review – a probiotic designed for weight loss.
So is FloraSpring a scam? Are its ingredients any good? Does it really work?:
excellent composition

unique mechanism for weight loss

quite affordable
Honestly, it makes my #1 recommended weight loss probiotic.
But what about FloraSpring Plus?
Well, let me give you all the details behind it (+ video).
Note: This review is based on my opinion + research on FloraSpring.
Review Summary
---
Full Name: FloraSpring by Revival Point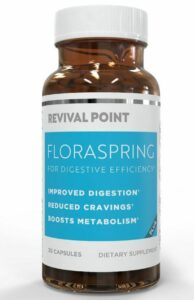 Product Type: Weight Loss Supplement (Probiotic)
Best Actual Price: Around $49 (you can also get it for $33/bottle)
Cheapest Place To Buy: Its official website
It's also available on Amazon, but it's more expensive – so I don't recommend it.
Designed For: Losing weight in a different approach:
reduces cravings 

improves nutrients absorption

decreases calories absorption
Since it's a probiotic, it's also excellent for digestive health and balance.
So it's a 2-in-1 product.
My Rating: 9 out of 10
Recommended?: Definitely – it works really well for losing weight:
unique formula with excellent probiotics

affordable than most competitors

many users that swear by it
So it's one of the few weight loss supplements I actually recommend.
What I Liked About It
---
Works through a different mechanism of action

Really strong formula (with 15 different strains)

Only requires a pill per day

Works really well for weight loss

Many satisfied users and a very positive feedback

No complaints on side effects

Could be a lot pricier

Available on several retailers (though it's cheaper on its website)

Has a 90 days money back guarantee
What I Didn't Like About It
---
Price is higher outside its official website

May not work very fast (it depends from person to person)
---
Why It's The #1 Weight Loss Probiotic
---
Like I said – this supplement is a weight loss probiotic (a category that is quite rare):
improves digestion and gut health

promotes weight loss and reduces cravings
In other words, it uses a different approach in order to boost weight loss.
It increases gut bacteria, thus reducing calories absorption.
In this way – you end up feeling fuller, eating less and losing weight.

Again, weight loss probiotics aren't very common:
those existing ones tend to be very pricey

FloraSpring is quite affordable actually
Besides – this exact supplement seems to work really well (according to many of its previous users).
So its 90 days money back guarantee isn't a surprise.
If a product doesn't work, it tends to have a high refund rate.
If that's the case – it also has a short (or no) money back guarantee.
For this reasons, products with a long refund period are usually very high-quality ones.
And that's also the case of FloraSpring.
Since it also works really well for weight loss, it's a supplement I would totally recommend.
You're actually making a really good choice going for it.
---
#1 – Claims & Producer
---
Let's start with some general things on this supplement:
how exactly it works

what makes it different that the others

who is its producer
1. Claims
---
This supplement comes in with a special formulation developed a team of specialists:
Reduces the number of calories absorbed.

Boosts metabolism.

Decreases hunger sensations.


Now, what makes FloraSpring different than other weight loss products?
I would say the fact that it's based on probiotics.
That's because many people who struggle to lose weight have a lack of good bacteria:
Most of them have no idea about it.

That's one of the main reasons why they can't lose weight (in the long run).
That's the reason why FloraSpring is so effective for weight loss.
Besides, it's also helpful for digestive issues (since it's a probiotic).
So in terms of claims and mechanism of action – it looks great.
There's also some talk about a certain FloraSpring Plus.
But according to the official website, this doesn't really exist:
original FloraSpring only comes in one version

all the other products are fake
So whether you want to get the classic FloraSpring or the Plus version – go for the official page.
It's actually only one product.
2. Company Behind
---
This supplement's producer is called Revival Point Labs:
their main product is FloraSpring

also offer 2 additional products

they are both designed to boost the effect of FloraSpring
Now, the consultant behind this brand is Dr. Masley (who was also involved in FloraSpring's development).
The company itself also seems to have a great reputation.
Not to mention that its website is very professional and getting in touch with them is very easy.
So it seems to be a very trustworthy brand.
---
#2 – Ingredients

(9.50 out of 10)
---
FloraSpring has probably the best composition among weight loss probiotics:
contains 5 "super" bacterial strains

also has several "booster" strains

its doses are very high

So honestly – it's one of the best probiotics for weight loss (in terms of formula).
Judging after its composition, it has all chances to work really well.
Now, let's take a closer look at its main ingredients.
1. Super Strains
---
This group includes the 5 most important probiotics from FloraSpring.
As you can guess, they are the main responsible for its weight loss effect:
L. acidophilus – may promote weight loss and decrease cravings.

L. fermentum – can reduce body fat by 3-4% in 6 weeks. [1]
L. gasseri – decreases body fat, mass index and fat around organs. [2]
L. rhamnosus – suppresses appetite and food cravings. [3]

L. amylovorus – promotes weight and belly fat loss.
Now, these probiotics also have lots of digestive benefits.
But they are some of the few strains that also impact weight loss and hunger.
So their presence in FloraSpring isn't random – they are actually very strong at this chapter.
2. Booster Strains
---
These are some additional probiotics – but they have a different goal:
increase the effect of those 5 super strains

also help with weight loss/digestion
Now – these booster strains don't have a major impact on weight loss.
But they surely help when it comes to increasing the overall effect:
B. lactis – can reduce abdominal visceral fat.

L. plantarum – may inhibit long-term weight gain. [4]

L. casei – works great for weight maintenance.

L. paracasei – can reduce weight gain.

S. thermophilus – maintains a healthy digestive system.

L. salivarius – a low level is connected to weight gain. [5]

B. breve – reduces the per cent of body fat mass.

B. bifidum – can target metabolic disorders. 

B. infantis – has a positive effect on diet.

B. longum – counters the effect and risk of obesity.
As you can see – these 10 extra strains also increase the overall effect of FloraSpring.
So this product sounds very promising in terms of weight loss.
---
Conclusion
---
This supplement has an excellent formulation overall.
It contains a unique composition and its ingredients are all designed to reduce weight.
So in terms of potency, it looks amazing.
That's why it's a product I would totally recommend, at any time.
---
#3 – Pills & Dosage

(10 out of 10)
---
Here's what you should know about FloraSpring's physical features.
1. Pills
---
This product is formulated as vegetable capsules.
If you read some of my other reviews – you probably know that this is the best pill type:
very easy to swallow

average to small dimensions

no aftertaste
Besides, these pills are also gluten, soy and dairy-free (as well as vegetarian).
2. Dosage
---
FloraSpring only requires one pill per day, which is a major advantage.
That's because many probiotics (even those for weight loss) require 2-4 pills daily.
So obviously – taking only one is a lot more convenient:
you can take it at any hour

it's up to you whether you prefer before/after the meal
That's an extra reason why I strongly recommend FloraSpring, it's very easy to take.
---
#4 – Results

(8 out of 10)
---
In order to see how a product works, I always check its user reviews.
And even though FloraSpring doesn't have too many – you can find enough experiences.
And guess what? Most of them are very positive.
Note: I only considered authentic reviews, not promotional ones.
1. Positive Opinions
---
First of all – this product is also available on retailers.
It's true that it's pricier there, that's why I recommend purchasing it from its own website.
But in terms of reviews, retailers tend to have authentic opinions.
So let's see what previous users say about FloraSpring:
Many claim it really helped them lose weight.

Others say it also helped with their digestive issues.

A few others praise it for its fast effect.

Some even claim it's the best product they have ever used (for losing weight).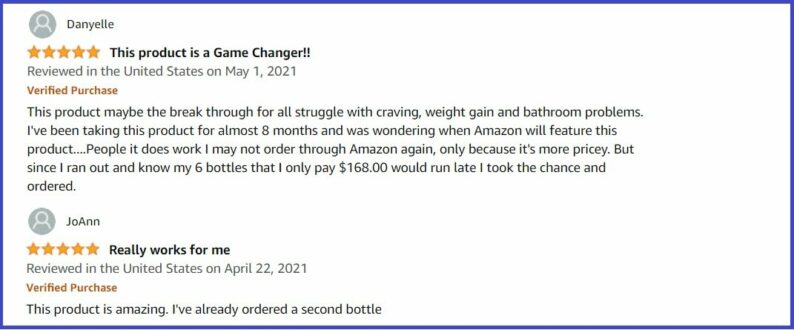 Now, this product has quite a few reviews on Amazon (less than 100).
But even so – its average rating is 4.2/5, which is really good.
So in terms of user experience, it seems like a lot of previous buyers were really satisfied with it.
2. Negative Opinions
---
As you can expect, FloraSpring also has some unsatisfied users:
Some criticize it for its high price.

Others say it's not that effective as it claims.

A few others say it takes a while to start working.


Now, its complaints are pretty basic and common.
There's no issue about side reactions or dangerous experiences.
So I would say that FloraSpring's negative reviews are completely legit – but they're not too serious.
---
Conclusion
---
This supplement has a very positive customer feedback:
many positive Amazon reviews

several user experiences on 3rd party websites
It's true that it doesn't work for everyone – but its complaints per cent isn't very high.
So in terms of effect, FloraSpring definitely works.
Its user experiences speak for themselves better than anything else.
---
#5 – Side Effects

(10 out of 10)
---
FloraSpring seems to be a really safe product from this point of view:
no complaints on secondary reactions

doesn't worsen existing conditions

doesn't cause stomach pain
The only complaints I could find here were that it didn't improve the user's digestive issues.
However, it doesn't seem to have caused any side effects.
So if you ask me, this product is extremely well tolerated.
It's true that probiotics aren't typically very dangerous in terms of side reactions.
But there are some that cause issues a lot more common (see Nubiotix).
That's why FloraSpring is really safe to use.
---
#6 – Price

(8 out of 10)
---
In terms of pricing, FloraSpring may not seem the best option out there.
But for a weight loss probiotic – it's actually quite affordable.
That especially given its great formula.
1. The Exact Price
---
As I said, this product is available on both Amazon and its official website.
However – its Amazon price is much higher.
Besides, there are no discounts or bonuses (unlike the official page).
That's why I strongly advise you to go for the official website only:
Standard price is $49.95/bottle.

As usual, you get some big discounts for larger quantities.

In the best case, you can get it for about $33/bottle.

Shipping is also free for all orders above one bottle.

Now – $33 for a high-quality weight loss probiotic is very affordable, actually.
Besides, you also have a 90 days return period.
I personally don't know too many products that are so valuable and cost that little.
So I totally advise you to try FloraSpring.
2. Worth Or Not?
---
It's definitely worth it.
If you check other probiotics for weight loss, you will see that they average price is much higher.
It's true that there are pretty few products of this type (weight loss probiotics).
But even so – they tend to cost a lot more (well over $50/bottle, in the best case).
That's why FloraSpring is completely worth it.
---
Conclusion
---
FloraSpring has a really good price, all in all:
cheaper than most weight loss probiotics

significant discounts for larger quantities
It's true that it's not the cheapest supplement out there.
But considering its great composition, it could easily cost $20-$30 more.
For this reason, it's a lot more affordable than it actually seems.
---
#7 – Final Conclusions
---
Here's how I would sum up my opinion on FloraSpring (in 3 ideas).
1. Excellent Formula
---
For a weight loss probiotic – this supplement has one of the best compositions out there:
based on 5 essential strains

also contains some boosting bacteria

doses are really good
Besides, most of its ingredients have positive results in weight loss studies.
So they have a real effect, not just a theoretical one.
2. Works For Most Users
---
FloraSpring has a very positive user feedback:
most of its users were very satisfied

average rating of 4.2/5 stars (on Amazon)

many praises in terms of effect
So when it comes to its weight loss benefits, it seems like it really does its job.
Judging after its composition, that's not even a surprise.
3. Could Cost More
---
For a weight loss probiotic, FloraSpring is quite affordable.
It's true that its standard price isn't the lowest possible.
But again – its competitors tend to cost at least $20 more.
So in terms of quality/price. this supplement is a really good deal.
---
#8 – My Video Review
---
---
My Verdict – Worth Or Not?
---
Short answer: It's worth it for sure.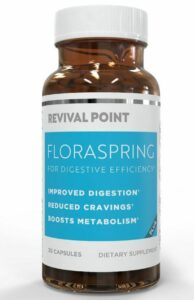 As I told you, it's one of the best options when it comes to losing weight:
Works through a unique mechanism of action.

Has a really strong (and original) formula.

Many satisfied users behind it.

A lot more affordable than other options.
So if you're trying to lose weight without much success, you may want to try a different approach.
Weight loss probiotics are actually really suitable for this case:
reduce hunger and cravings

boost metabolism

decrease calories intake
Since FloraSpring is one of the best weight loss probiotics, I totally recommend it.
If you're also exercising/following a diet, the results should be even better.
But all in all – it's an excellent choice for losing weight.
And unlike many weight loss products, it's also much safer.
So it's one of the best options you can make, to be honest.
References:
1 – https://www.sciencedirect.com/-science/S1756464612001399
2 – https://www.ncbi.nlm.nih.gov/-pmc/articles/PMC3611107/
3 – https://pubmed.ncbi.nlm.nih.gov/-24299712/
4 – https://www.ncbi.nlm.nih.gov/-pmc/articles/PMC7230932/