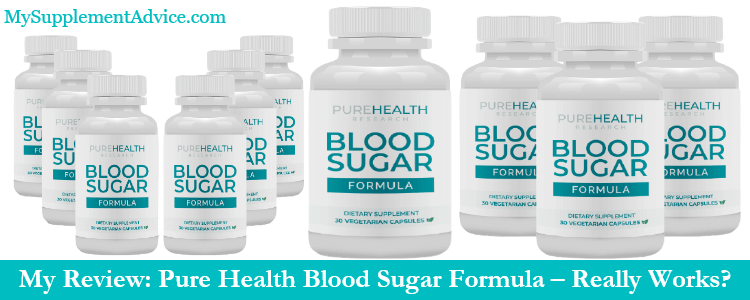 It's time to review Pure Health Blood Sugar Formula, which is a pretty weird diabetes product.
So is there any chance that it's a good supplement actually?
Not really, if you ask me:
low doses for its overall formula

pretty high price

can cause a blood sugar spike
So let's find out if it's really worth the penny or not.
Note: This review is based on my opinion + research on Pure Health Blood Sugar Formula.
Review Summary
---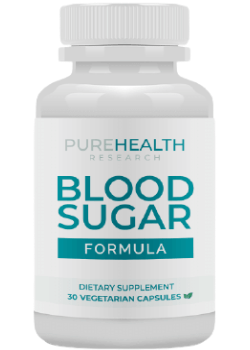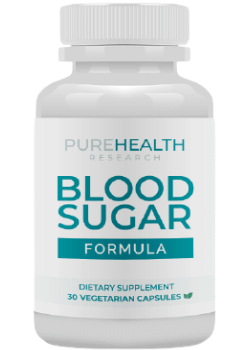 Full Name: Pure Health Blood Sugar Formula by PureHealth Research

Product Type: Diabetes/Blood Sugar Supplement
Best Actual Prize: Starts at $45
Cheapest Place To Buy: Amazon
Designed For: Supporting healthy blood sugar levels – and not only:
balances glucose levels

stabilizes cholesterol

boosts mood
So it's not just a diabetes supplement – but one with more benefits (according to its claims).
My Rating: 5 out of 10
Recommended?: Not quite – I found some cons about it:
high pricing

pretty weak formula

slightly low doses
I urge you to look into another alternative that makes the best diabetes/blood sugar supplement I know.
What I Liked About It
---
Several beneficial ingredients inside

Comes with an informative website

Various bundles options

Easy to take (one pill/day)
What I Didn't Like About It
---
Weak formulation compared to similar products

Low doses of some ingredients

Very pricey for its value

Causes side effects in some cases

Very few authentic reviews
---
Blood Sugar Formula In A Nutshell
---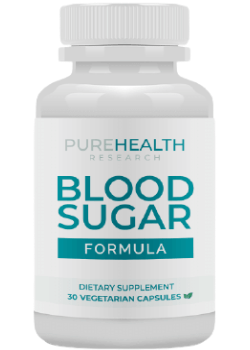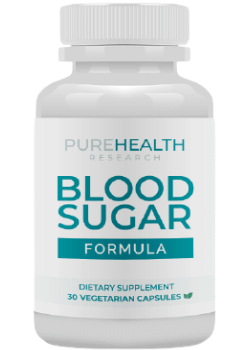 In my view, Pure Health's supplement is pretty decent at first sight.
It contains several promising compounds in its formula.
However – I found several red flags about it:
pretty low doses for some ingredients

causes the opposite reactions in other people

slightly weak formulation

very few honest reviews

quite pricey for its quality
Now – one of the good features about it is its convenience.
It only requires a capsule per day (preferably with a meal).
But it also needs to be taken for the long-term (for best results).
As for its pricing – it comes at $45 for one bottle.
It's not the lowest price out there, given its features.
Lastly – some previous buyers experienced the opposite effect.
In other words – instead of getting a decreased blood sugar, they experienced an increased one.
This can be very dangerous, to be honest.
That's an extra reason why I'm not a big fan of Pure Health's supplement.
---
#1 – How It Works & Producer
---
Here's some info you should know about Pure Health Blood Sugar Formula:
how it works

the producer behind

what health problem it treats
1. How It Works
---
Blood Sugar Formula has quite a lot of promises on its website.
It states to contain "17 premium quality natural ingredients."
The purpose of these compounds is to help lower blood glucose levels.
But there are several additional promises, that include:
improves glucose sensitivity

balances blood sugar levels

normalizes cholesterol levels

supports healthy blood vessels

restores renal functions

promotes immunity

supports heart health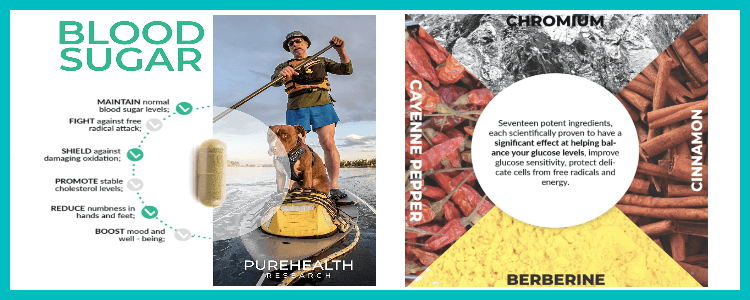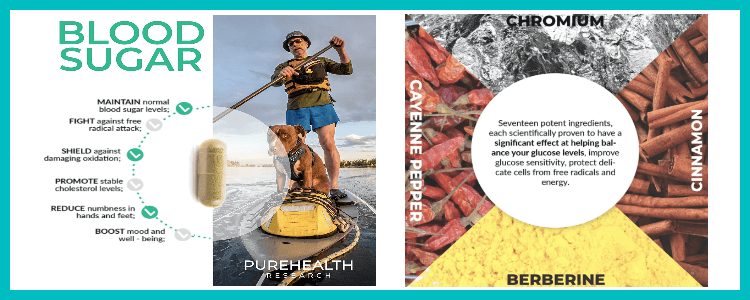 In addition – it's also non-GMO, vegan and gluten, dairy and soy-free.
If you ask me, these are a lot of promises from a product.
Also – it's the longest list of benefits I have seen so far.
In my opinion, products with lots of varied promises tend to follow very few of them.
So their quality is pretty bad overall.
In short, they don't look very realistic.
That's exactly I'm not too impressed with Pure Health's supplement..
The following chapters will prove if it's all true or not.
2. Company Behind
---
The company behind this product is PureHealth Research.
I checked out its official website and here's what I found:
several contact info available

offers products for fungus, brain, heart and weight loss

also sells a lot of products for overall health
So far – this brand seems quite reliable and it doesn't look like a scam.
It does have a few complaints from BBB about the fees and emails.
But this doesn't say much, since there are no major complaints about the results.
So I would say you can safely buy from this brand.
---
#2 – Ingredients

(7 out of 10)
---
As I mentioned, Pure Health Blood Sugar Formula is a promising product.
However, its formula doesn't seem too impressive.
It's based on 3 types of ingredients – which are specific for diabetes products:
vitamins

minerals

herbal blend


Now – the set of ingredients is good, but their doses are not that high.
Still, let's take a closer look first at the substances inside it.
1. Essential Compounds
---
Firstly – here are the main vitamins and minerals from this product:
Again – the dose of some of these compound is on the lower side.
So if you ask me, I consider it pretty weak.
It's simply that the formula could use some higher doses overall.
2. Herbal Blend
---
Now – the herbal blend is specifically called Blood Sugar Blend.
It's mostly composed of herbal extracts:
Ceylon Cinnamon Bark – controls blood glucose levels in the brain [8]
Licorice Extract – has an anti-inflammatory and antimicrobial effect [9]

Berberine HCL – reduces the risk of heart disease

Alpha Lipoic Acid – provides antioxidants and fights free radical [10]

Cayenne Pepper – helps control blood flow

Bitter Melon – acts like insulin to help lower sugar levels [11]
Guggul – promotes weight loss and blood sugar levels [12]
Yarrow – has wound healing and anti-bleeding properties [13]
Mulberry – helps control cholesterol and obesity [14]
Remember that all of these ingredients are listed together in a blend.
So don't expect to get the maximum benefits of each compound.
That's because they are probably in some lower quantities (like the ingredients above).
Still, the combination of all these substances is indeed helpful.
---
Conclusion
---
To summarize, Pure Health's product has a lot of ingredients.
All of these compounds are good, but the formula doesn't look very potent.
So it's not something I recommend, since there are better options out there.
---
#3 – Pills & Dosage

(8 out of 10)
---
Let's discuss some features of the Pure Health's supplement.
1. Pills
---
If you ask me, here's how I would describe the product.
First of all – it's designed as gelatin capsules:
light brown/dark green powder inside

clear capsule cover

slight herbal scent
Pure Health Blood Sugar Formula looks like a normal herbal supplement.
2. Dosage
---
One good thing about Blood Sugar Formula is how to use it.
Its serving size is pretty low, as it only requires taking 1 pill/day.
Also – it's better to take it with meal and water.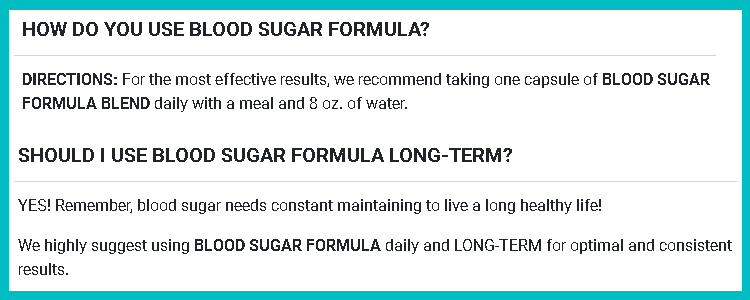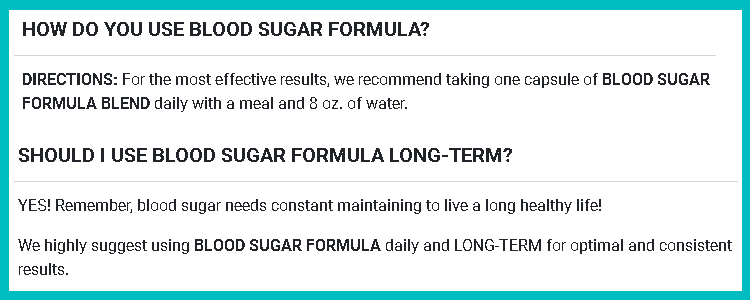 Now – it's also recommended to take it for long-term.
Overall, I would say that Pure Health Blood Sugar Formula is quite easy to use.
That especially for people who already have prescription medicine/s.
---
#4 – Results

(4 out of 10)
---
Now – Blood Sugar Formula has very limited reviews.
I'm talking about the authentic ones (which are outside its official site).
That's not a good sign, since you can't really tell how it worked for other people.
Note: I only analyzed authentic reviews, not promotional or fake ones.
1. What People Say
---
To avoid giving you some biased points, I shy away from the reviews from its website.
So I chose the honest reviews on Amazon instead.
If you're curious, here are the insights of its previous buyers:
Most said their blood sugar levels were reduced to normal.

Some noticed some weight loss action.

Others received incomplete products.

A few experienced the opposite results or even side effects.

There are also buyers who noticed no changes at all.

The rest said it's not worth buying or that it's just a waste of money.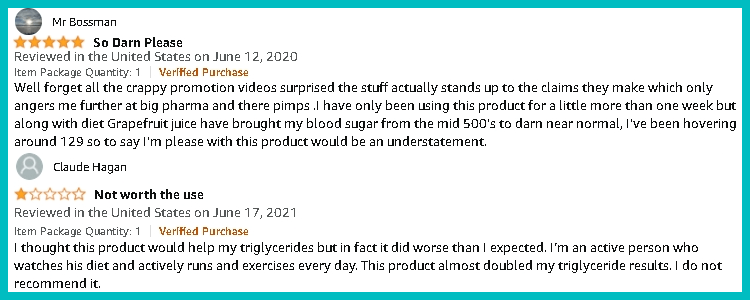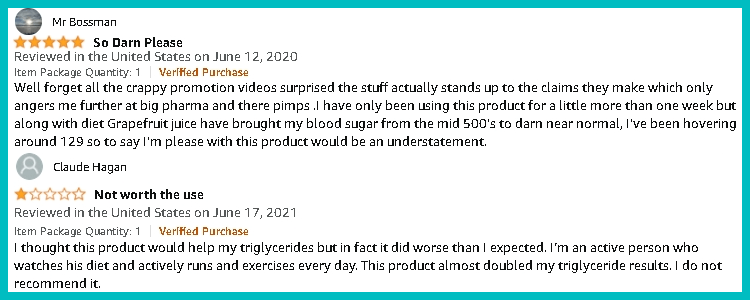 The overall rating of Pure Health Blood Sugar Formula is 3.7/5 stars.
Honestly – I expected this number to be even lower.
My reason is that there aren't too many positive comments about it.
Also – the reviews there are not really varied.
So I'm pretty sure its claims are far from the truth.
---
Conclusion
---
Overall – Blood Sugar Formula is not a bad product.
Most of its reviews are about weight loss and lowering blood sugar levels.
However, it's not good enough to grant all its claims.
---
#5 – Side Effects

(5 out of 10)
---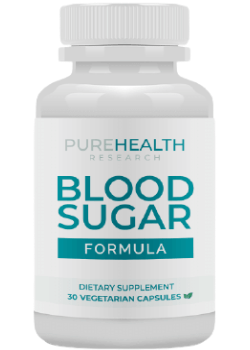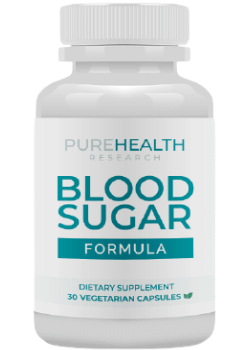 Now – I did find some side effect complaints.
Honestly, that's quite surprising for Pure Health Blood Sugar Formula.
That's simply because it has very limited customer reviews.
So out of all of its reviews – there's quite a high per cent of complaints about it side reactions.
Here are the adverse effects experienced by some people:
increased glucose levels

diarrhea
Now – I still consider one of these issues to be serious.
If you ask me, the increased blood sugar level is dangerous.
After all, we're talking about people dealing with diabetes (not with any other health condition).
So you might want to take note of that.
That's why Pure Health's product doesn't seem the safest out there.
---
#6 – Price 

(4 out of 10)
---
Pure Health Blood Sugar Formula is definitely expensive.
Considering its other features, it's not the best option.
1. The Exact Price
---
The best price for Pure Health's product is on Amazon.
Fortunately – there are several bundles and packages available:
A bottle costs $45

3 bottles cost $178

6 bottles cost $230

Free shipping (on selected dates)

10% or 15% discount upon subscribe and save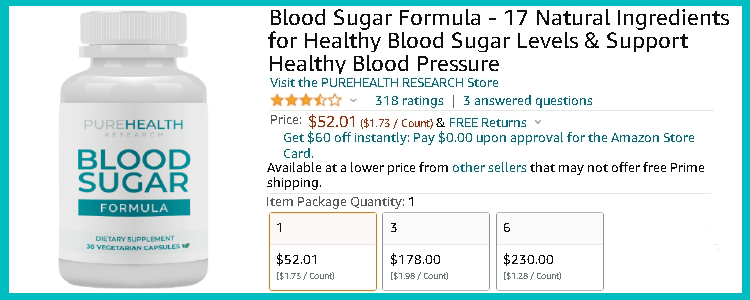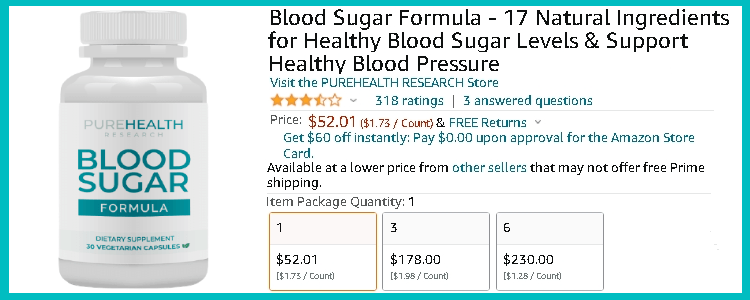 Also – to give you an idea, a bottle costs $69 on the official website.
So you can save big if you plan to buy on Amazon.
In my view, it's still not the fairest price – since this product doesn't seem to work fast.
Also, there are not enough reviews to prove that you're paying for a good product.
And judging after its complaints, it's not very safe either.
So it's far from a product I would recommend.
2. Competitors' Price
---
If I were you, I would surely go for a better alternative.
I'm talking about a product called Striction D, which is my #1 recommended supplement: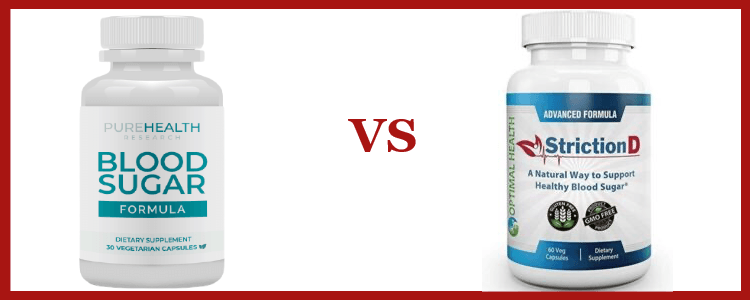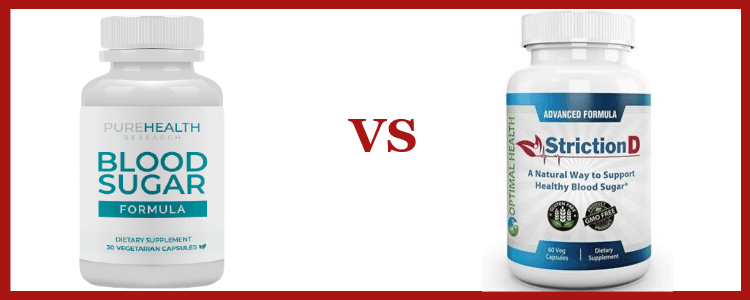 Striction D's ingredients are varied and unique.

The formulation is the best among diabetes/high blood products.

Pure Health contains several promising compounds too.

But the formula is weaker, because of the lower doses.

Striction D can be bought for only $19 (normal price is $56).

Pure Health costs $45 for a bottle, but there are several bundles.
Both products fall in about the same price range, as their standard price.
But Striction D offers some much bigger discounts.
Plus, its quality is superior – not to mention its much better features.
That's why it remains the best diabetes/blood sugar supplement (in my view).
Compared to Pure Health's product, it's clearly above.
---
Conclusion
---
To sum it up, Pure Health Blood Sugar Formula is quite pricey.
It's still a decent product, but it costs too much (considering its value).
So I don't really recommend it and I suggest you to look for better options.
---
#7 – Final

Conclusions
---
Here are my summarized views on Pure Health Blood Sugar Formula.
1. Weak Formula
---
Blood Sugar Formula contains a lot of ingredients:
vitamins

minerals

herbal blend
However – the doses are lower (compared to other products of its kind).
It can still help, but it's not super potent and fast.
2. Limited Honest Reviews
---
Now – I don't like the fact that it has few authentic reviews.
I'm talking about the ones from online retailers.
I don't really trust the ones from its official websites, since they are usually biased.
So Blood Sugar Formula seems a bit questionable to me.
3. Quite Expensive
---
If you ask me, Pure Health's product is pricey:
one bottle costs $45

long-term use is necessary

price is high for its quality
Now – it costs a lot more than what its features can offer.
So it's not the best option you can find in the market.
---
My Verdict – Worth It Or Not?
---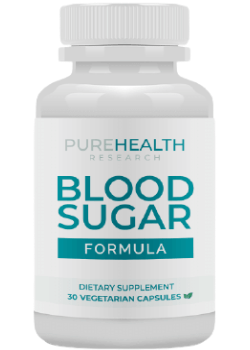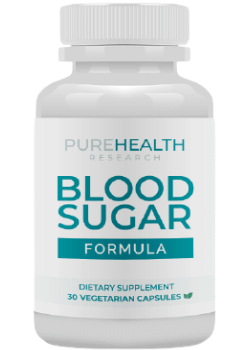 Short answer: Not quite – it's not a failed product, but it has some disadvantages:
Very few honest reviews

Can cause a spike in blood sugar

Pretty high price tag

Ingredients have lower doses than other products
If you ask me, Pure Health Blood Sugar Formula is a decent product.
It contains several compounds, but in some lower doses.
So it still works – but not as good as others. 
Even so, it's up to you whether you want to give it a shot or not.
However – I have a very good option for you, it's my #1 recommendation.
The product is called Striction D:
Ingredients in their excellent and superior forms

Recommended by many previous buyers

Excellent effect against high blood sugar

Really affordable
If you analyze it, it's cheaper than Pure Health's product overall.
And in terms of features and quality/price, it's superior.
So I suggest you to get Striction D instead, it's the best option.
That especially if you really want to get the best value for your money.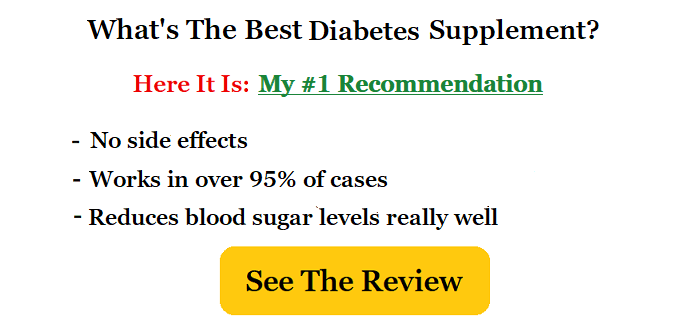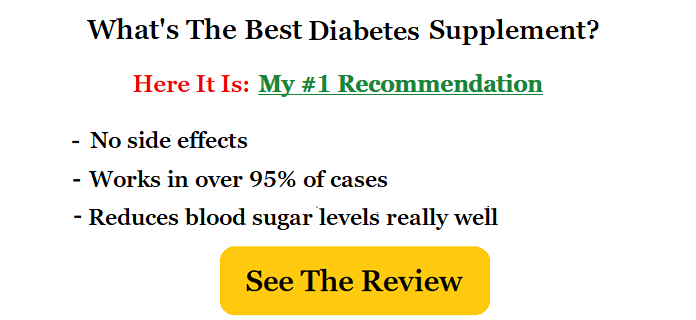 References:
1 – https://pubmed.ncbi.nlm.nih.gov/-18160753/
2 – https://www.healthline.com/nutrition/-magnesium
3 – https://www.ncbi.nlm.nih.gov/pmc/articles/-PMC3552190/
4 – https://www.ncbi.nlm.nih.gov/pmc/articles/-PMC3395787/
5 – https://www.healthline.com/nutrition/-manganese
6 – https://pubmed.ncbi.nlm.nih.gov/-15208835/
7 – https://www.sciencedirect.com/topics/-vanadium
8 – https://www.ncbi.nlm.nih.gov/pmc/articles/-PMC4466762/
9 – https://www.healthline.com/nutrition/-licorice-root
10 – https://www.healthline.com/nutrition/-alpha-lipoic-acid
11 – https://www.healthline.com/health/diabetes/-bitter-melon
12 – https://www.healthline.com/nutrition/-guggul
13 – https://www.ncbi.nlm.nih.gov/pmc/articles/-PMC3232110/