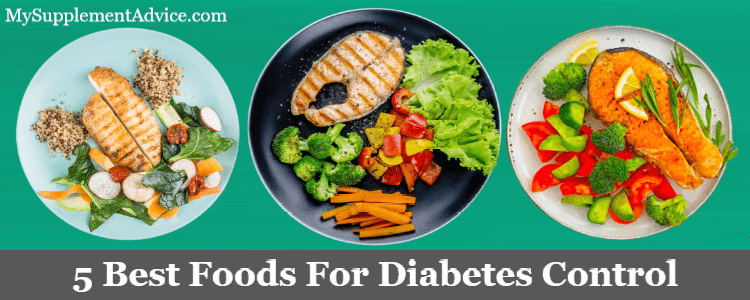 Let's talk about the 5 Best Foods For Diabetes Control.
Having diabetes shouldn't stop you from enjoying delicious dishes.
So let me give you some food ideas that are easy and tasty – but they're also safe for your condition.
Note: This article includes references and studies related to the diabetes foods.
---
Best Foods For Diabetes Control (In A Nutshell)
---
Some people might think that healthy foods are boring.
If you suffer from diabetes, you may sometimes feel even more limited.
But the good news is that you can enjoy lots of delicious dishes that are still nutritious.
You only need to consider a few factors when choosing the right foods:
low glycemic index (GI)

using healthy cooking methods

limiting the addition of sugars

proper portion sizes

the amount of protein, fibers and healthy fats they contain
You can also consult a nutritionist/dietitian who could give you a proper plan.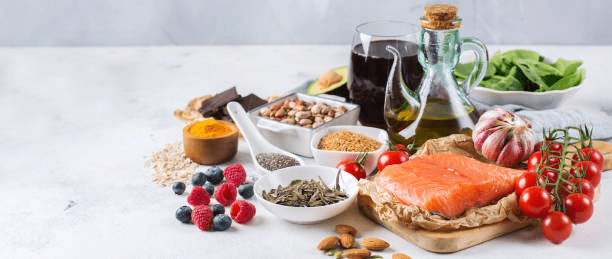 According on my research, here are some simple food examples suitable for your diabetes:
Grilled Turkey Burger

Chicken and Vegetable Stir-Fry

Red Lentil Soup

Quinoa & Black Bean Salad

Grilled Salmon With Vegetable Skewers
As you can see, those foods won't make you feel like your diet is restricted.
Also – they are rich in fiber and essential nutrients.
But at the same time, they are low in fats, calories and glycemic indexes.
So overall, you can enjoy them without feeling any guilt when it comes to your diabetes.
Now – a good idea is to combine these foods with a high-quality supplement.
My honest recommendation would be Striction D, which is probably the best natural supplement for diabetes.
It's a product with a lot of evidence in terms of control blood glucose levels.
In addition, its formula has the essential nutrients diabetes sufferers need:
So the tandem of a good supplement and nutritious foods will surely help you manage your diabetes.
---
What To Look For In Your Foods
---
Firstly – insulin is a hormone that regulates blood glucose levels [1].
In diabetes, your body's ability to respond to insulin (or produce it) is affected.
When that happens, the sugar in your blood finds it hard to enter your cells.
Thus, the level of your blood glucose rises, which can cause complications.
At this time, diabetes is not curable but you can prevent and delay it [2].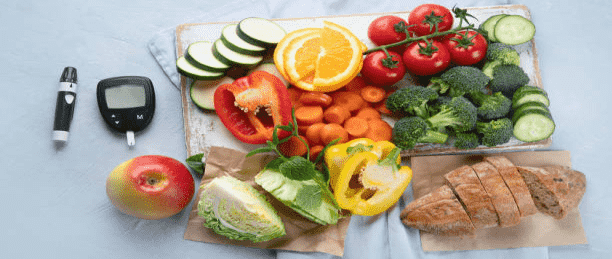 The first thing you can change is the food you eat.
Here are the points you need to consider in order to control diabetes [3]:
find foods low in glycemic index (GI) to slow down the rise of blood sugar levels

use healthy cooking methods to reduce extra fats

limit the addition of sugars when cooking (you can use healthier substitutes)

be mindful of your portion sizes

try to include protein and healthy fats to slow down carbohydrates absorption

consult a registered dietitian for personalized advice and meal planning
Again – for a more effective diabetes control, stay away from foods with a high glycemic index (GI).
They can cause substantial fluctuations in your blood sugar levels.
If you have diabetes, you should do your best to avoid them [4].
So without further ado, let's see some food ideas you can start incorporating into your diet.
---
#1 –

Salmon &Vegetables
---
If you're a fish fan, you're going to love this recipe.
Salmon is known to be very healthy – but when you pack it with vegetables, things get even better.
Let's first list down the ingredients for this recipe [5]:
salmon fillet

yellow and red bell peppers

zucchini and red onion

cherry tomatoes

salt and pepper

olive oil and balsamic vinegar
Now – you can never go wrong with salmon and vegetables.
This food combination is healthy and nutritious.
So you won't really feel that you're struggling to control your diabetes at all.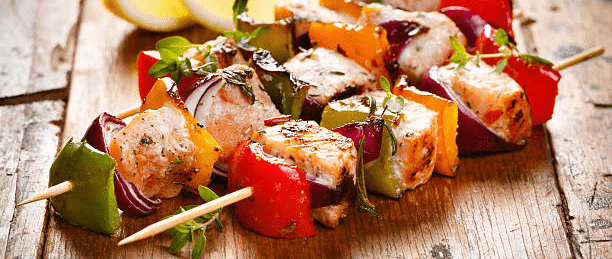 With that being said, here are the reasons why this meal is good for you:
Salmon has a low GI, it's high in omega-3 fatty acids and it's rich in protein [6].

It will not cause a spike in blood sugar levels.

It can help reduce inflammation.

Also, it's a good source of protein, which can delay the absorption of carbohydrates [7].
Lastly, it can improve insulin sensitivity [8].
The vegetablesare full of essential vitamins, fiber, minerals and antioxidants [9].
They can reduce the risk of complications connected to diabetes [10].
All you need is to thread your salmon fillets and vegetables onto the wooden skewers.
After that, brush the olive oil-balsamic vinegar mixture, then grill.
Again – this meal is low in carbohydrates, high in protein and loaded with essential nutrients.
So it can help manage blood sugar levels and other diabetes-related complications.
Overall, it's easy, delicious, nutritious and most importantly, helpful for diabetes control.
---
#2 –

Quinoa & Bean Salad
---
If you're a fan of salads and want to find a safe option for diabetes, I have a suggestion.
Let's combine quinoa with beans in a salad.
Now – the ingredients are easy to find (and you can add more or less of them) [11]:
quinoa and black beans

tomato and cucumber

avocado

cilantro and jalapeño

olive oil and lime juice

salt and pepper
All you need to do is cook the quinoa and toss it with the rest of the ingredients.
So besides the fact that it's easy to prepare, it's an excellent option for people with diabetes.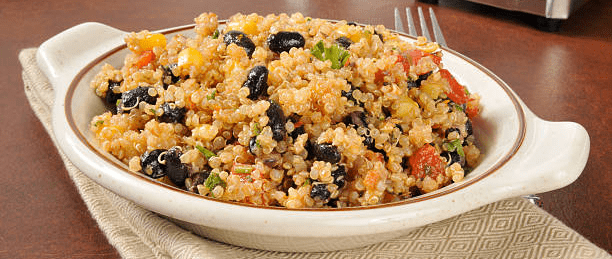 Let me tell you below how this salad can help control blood sugar levels:
Both quinoa and beans have low glycemic indexes and are high in fiber content [12].
Meanwhile, avocado and olive oil are good sources of healthy fats [13].
The fiber content slows down the rate of digestion (gradual and lower rise of blood glucose) [14].
All ingredients are loaded with essential vitamins and minerals [15].

Some of them include vitamin K, vitamin C, potassium and magnesium.
I you want to control your diabetes, you should generally look for nutrient-dense foods.
They provide you with most of important nutrients you need.
But at the same time, they don't cause any increase in your blood glucose levels.
With that being said, you should consider adding quinoa and beans in your diet plan.
---
#3 –

Red Lentil Soup
---
Now, here's another dish perfect for colder weather – soups based on lentils.
They are generally very easy to make, you just have to gather all the ingredients [16]:
red lentils

carrots and celery

onion and garlic

cumin, turmeric and coriander

thyme, bay leaves and parsley

lemon, olive oil and water
Obviously – you don't need all of them.
Red lentils and water would do the basics.
But if you want to make the most of this recipe, adding (some of) the others would be even better.
You just have to saute all the ingredients, add water then wait for them to be fully cooked.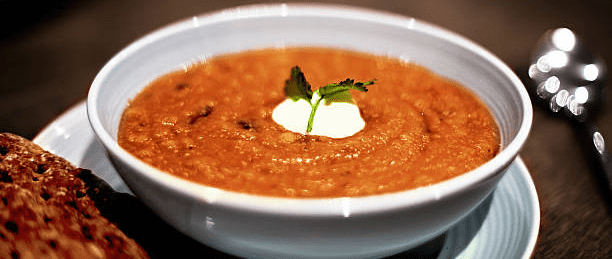 So what makes it a good option for diabetic people?:
As you can see, the dish is not only helpful for managing diabetes.
It can also address secondary inflammation connected to this condition.
To be exact, it can improve weight management, heart health and digestive health.
Overall – it offers a variety of choices for people with diabetes.
---
#4 –

Fried Chicken & Vegetables
---
Chicken is probably the easiest meat you can find in the market.
You can definitely use it in a dish that will help you control your diabetes [21].
Here are some extra ingredients you can combine it with:
low-sodium soy sauce and olive oil

garlic, ginger and onions

bell peppers and black pepper

broccoli and carrots
A simple way to combine these ingredients would be to simply stir fry them in a pan.
After everything is cooked, you can enjoy this one-pot wonder.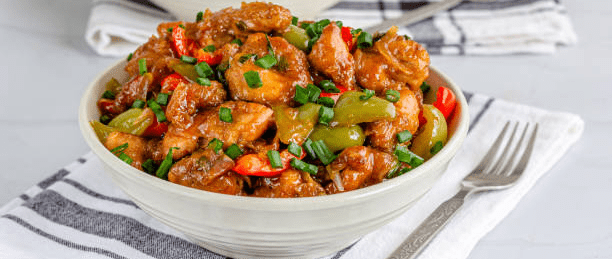 Now – this recipe it has some real benefits for those who suffer from diabetes:
Again – all of the ingredients above can help regulate blood sugar levels.
They can also provide prevent inflammation that a diabetic person is likely to experience.
So if you haven't tried this food yet, it's time to prepare it today!
---
#5 –

Turkey Burger
---
At first, burger sounds sinful for people who want to cut their carb intake.
But you can always create a healthy and nutritious burger without compromising your health.
You only have to choose the right ingredients – here are some examples [27]:
lean ground turkey

onions and garlic

red bell pepper

whole wheat buns

cumin and paprika

salt and black pepper

lettuce leaves

tomatoes and avocadoes

low-fat cheese or healthier cheese substitute
Cook all the ingredients together just like you made a regular burger.
After that – you can now enjoy a healthier version of the burger.
But what makes this burger guilt-free?
Well – it's because of its several benefits that won't worsen your diabetes:
Turkey is a lean meat that keeps you full for longer [28].

The dish has a very low fat and carbohydrate content.

Turkey is also packed with several nutrients like zinc, potassium and vitamin B12 [29].
Other benefits include weight and cholesterol management [30].
Lastly, grilling is a healthy way of cooking, since it can reduce the amount of fat [31].
Overall – you can still enjoy a tasty and healthy burger that is also diabetes-friendly.
---
Best Diabetes/Blood Sugar Supplement
---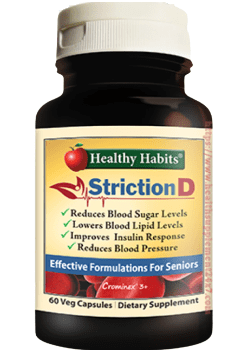 Besides munching on those healthy foods, you can also step up the way you manage your diabetes.
Like I said, you can combine these foods with a high-quality supplement for diabetes.
Unfortunately, most products out there are completely useless. On the contrary, some can even worsen your condition.
But there are very few that are extremely beneficial.
So let me give you a recommendation that truly works.
Name: Striction D (by Healthy Habits)
Best Actual Price: $19/bottle (normal price is $56)
Cheapest Place To Buy: The official website
Designed For: Maintaining a healthy blood sugar, as well as:
regulating blood glucose

supporting insulin functions

promoting a better blood pressure

lowering the level of blood lipids
Why do I recommend it?: Its features make it the best diabetes supplement out there:
successfully manages blood glucose levels and insulin function

improves carbohydrate metabolism and high blood pressure

its formula has the most powerful ingredient to stabilize blood sugar

it doesn't cause any dangerous secondary reactions

the doses of each compound is high but on the safe side

costs a lot less than other alternatives

a lot of users swear by it
Sure – eating healthy and nutritious meals can have a huge impact on your health.
But adding an excellent diabetes/blood sugar supplement will also elevate the benefits you're getting.
So that's why I strongly encourage you to try Striction D.
With healthy foods and a good supplement, your health will be at its best.
---
Final Conclusion
---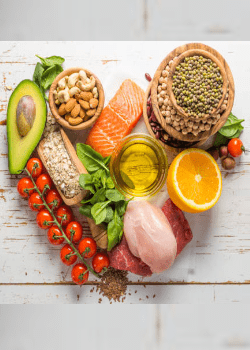 As we all know, diabetes is quite a complicated disease.
So in order to prevent it from worsening, you should make the necessary lifestyle changes.
The first thing you should start doing is to change the way you eat.
So let me give you some delicious meal ideals:
Grilled Salmon with Vegetable Skewers

Quinoa and Black Bean Salad

Red Lentil Soup

Chicken and Vegetable Stir-Fry

Grilled Turkey Burger
Again – controlling diabetes doesn't mean that food should be less flavorful.
In fact – you can still make nutritious, healthy and tasty meals.
Just be aware of what you're eating and you're good to go.
But if you want to take an extra measure, I recommend you to try Striction D.
It's a diabetes/blood sugar supplement that will truly help you control your diabetes.
So if you want to be in full control, just be careful with what you eat and what you do.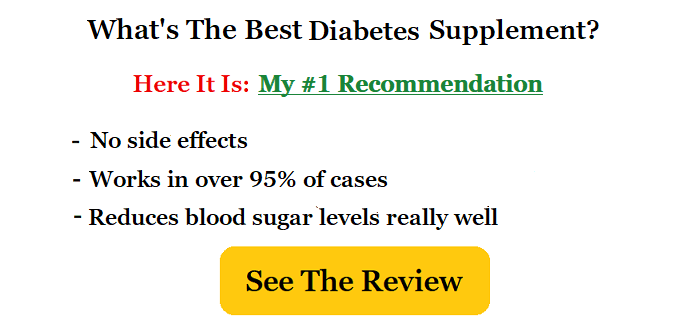 References:
1 – https://www.ncbi.nlm.nih.gov/-pmc/articles/-PMC1204764/
2 – https://www.ncbi.nlm.nih.gov/-pmc/articles/-PMC3977406/
3 – https://www.diabetes.org.uk/guide-to-diabetes/enjoy-food/-eating-with-diabetes/
4 – https://www.hsph.harvard.edu/nutritionsource/-carbohydrates-and-blood-sugar/
5 – https://www.teamingupfordiabetes.com/-diabetes-friendly-recipes/
6 – https://doh.wa.gov/community-and-environment/food/fish/-salmon/
7 – https://pubmed.ncbi.nlm.nih.gov/-9416027/
8 – https://www.ncbi.nlm.nih.gov/-pmc/articles/-PMC5872768/
9 – https://www.ncbi.nlm.nih.gov/-pmc/articles/-PMC3649719/
10 – https://www.niddk.nih.gov/health-information/diabetes/overview/-diet-eating/
11 – https://www.nutrition.gov/recipes/-quinoa-and-black-bean-salad/
12 – https://www.ncbi.nlm.nih.gov/-pmc/articles/-PMC8625555/
13 – https://www.ncbi.nlm.nih.gov/-pmc/articles/-PMC4016882/
14 – https://www.hsph.harvard.edu/nutritionsource/carbohydrates/-fiber/
15 – https://www.ncbi.nlm.nih.gov/-pmc/articles/-PMC7074363/
16 – https://www.diabetes.ca/managing-my-diabetes/recipes/-red-lentil-soup/
17 – https://www.sciencedirect.com/topics/agricultural-and-biological-sciences/-lentil/
18 – https://www.ncbi.nlm.nih.gov/-pmc/articles/-PMC8877848/
19 – https://www.hsph.harvard.edu/nutritionsource/food-features/-lentils/
20 – https://www.ncbi.nlm.nih.gov/-pmc/articles/-PMC4663599/
21 – https://www.diabetesfoodhub.org/recipes/-simple-chicken-stirfry/
22 – https://www.nhlbi.nih.gov/health/educational/-lose_wt/
23 – https://www.cdc.gov/healthyweight/healthy_eating/-fruits_vegetables/
24 – https://news.weill.cornell.edu/news/2015/06/-impact-on-glucose-and-insulin-levels/
25 – https://www.ncbi.nlm.nih.gov/-pmc/articles/-PMC7539343/
26 – https://www.ncbi.nlm.nih.gov/-pmc/articles/-PMC5456284/
27 – https://www.diabetesfoodhub.org/recipes/-turkey-burgers/
28 – https://www.health.harvard.edu/blog/-protein/
29 – https://www.heart.org/en/news/2021/11/23/-turkey/
30 – https://www.ncbi.nlm.nih.gov/-pmc/articles/-PMC4462824/
31 – https://www.betterhealth.vic.gov.au/health/healthyliving/-healthy-cooking-tips/