It's time for my Profollica review, which is an amazing combination of products.
It's designed to fight hair loss caused by DHT excess (male/female pattern hair loss):
consists of 2 products (supplement + gel)

based on a natural composition

excellent results in most users

much lower rate of side effects than classic treatment
So is Profollica worth the money? You bet!
But let me give you all the details behind it in in the following lines.
Note: This review is based on my opinion + research on Profollica.
Review Summary
---
Full Name: Profollica by Leading Edge Health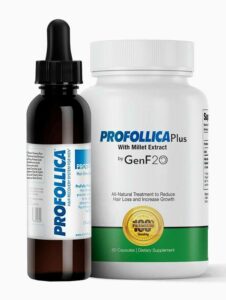 Product Type: Hair Loss Solution
Best Actual Prize: Around $69/month (for both products together)
For a larger supply, you can also get it for about $59/month.
Cheapest Place To Buy: Its Official Website
All the other versions sold on retailers don't have the original updated formula.
Designed For: Blocking DHT – so for male/female pattern hair loss (androgenic alopecia)
decreases DHT conversion and effect

awakens dormant follicles

stops current hair loss

prevent recurring episodes
It's an excellent DHT blocker with a natural composition.
My Rating: 9.50 out of 10 – One of my top rated hair products
Recommended?: For sure – it's the best natural DHT blocker:
excellent ingredients with studies behind

great results in most users

really well-tolerated (without the typical side effects)
I recommend it for all cases of androgenic alopecia (male/female pattern hair loss).
What I Liked About It
---
Formulated as a combination of 2 different products

Based on some unique ingredients

Some of its compounds are trademarks with studies behind (Trichogen®)

Doesn't cause the typical side effects of DHT blockers

Really good results in most cases of androgenic alopecia

Also boosts hair growth rate really well

Works for both men and women

Affordable for its value and quantity

Available worldwide
What I Didn't Like About It
---
Original version is only sold on its official page

Versions sold on retailers seem to be fake

Its supplement could contain some more herbal extracts
---
Why I Recommend Profollica
---
Profollica is one of my go-to product when it comes to male/female pattern hair loss.
That's because of some major advantages it has over other products:
Based on natural ingredients (so really safe to use).

Doesn't cause the regular side reactions of DHT-blockers.

Works really well in a huge per cent of users.

Doesn't cost as much as others ($69 for 2 products).

It's surely not a perfect product, as there aren't any perfect ones.
In fact, it's sold on several retailers in what seems to be a fake version.
That's why I always advise you to buy it from its official page.
But other than that – it works really well for a lot of people dealing with androgenic alopecia.
So why not give it a try?
Since it's a natural-based formula, it's really safe to use.
So you don't have to worry about the usual sexual side effects of other DHT-blockers.
That's why I really recommend Profollica.
---
#1 – How It Works & Producer
---
Let's begin by taking a look at Profollica's general info:
its exact mechanism of action

what makes it superior

who is its producer
1. How It Works
---
As I said – Profollica is a combination of 2 products:
Daily Supplement

Activator Gel
As you can guess, both of them have a very clear goal:
Supplement blocks DHT excess

Gel reactivates dormant follicles

Basically – Profollica's excellent results are because it combines 2 products with 2 different goals.
The final effect is superior to one single product, that claims to be multifunctional.
However – keep in mind that Profollica is only designed for DHT-caused hair loss.
So if you're dealing with an iron deficiency or thyroid issues – it won't really help.
If that's the case, I recommend you a product that is specially designed for these problems.
Still – if you're dealing with male/female pattern hair loss, it's great.
Now, compared to classic minoxidil and finasteride – Profollica is better:
finasteride comes with lots of serious side effects (especially sexual ones)

minoxidil tends to irritate the scalp pretty badly

Profollica is well-tolerated and free of side reactions
However, minoxidil and finasteride are FDA-approved for hair loss. [1]
This means their effect is very strong and they really work for DHT excess.
For this reason, I managed to find a different version of minoxidil + finasteride.
Since it's safer and better-tolerated, you may want to have a look at it as well.
But compared to Profollica, it's not as natural and easy to use.
So this 2-products combination has a lot of advantages.
That's why I really recommend Profollica for hair loss caused by high DHT.

2. Company Behind
---
Profollica's producer is a brand called Leading Edge Health:

several famous products in their portofolio

all their supplements have a great quality

lots of satisfied users behind

Now – Profollica itself is made by the exact creator of GenF20 Plus.
This supplement is an excellent HGH booster and one of the best anti-aging products.
So the brand behind Profollica has a really good reputation.
That's why you can buy their products without any worries.
---
#2 – Ingredients

(9 out of 10)
---
Each of Profollica's 2 products comes with its own formula:
Supplement is based on Millet extract.

Gel is based on Trichogen®.
Obviously – they also contain several other ingredients.
But these 2 are the main responsible for each product's effect and high potency.
Now, Profollica has 2 really good formulas overall:
original mix of ingredients

some compounds are trademarks

certain ingredients have studies about their DHT-blocking effect
So all in all – the 2 formulas are indeed very potent.
But let's take a closer look at each of them.
1. Daily Supplement
---
As I said – the main ingredient behind this product is Millet extract:
block DHT conversion

reduce hair loss and thinning all over the scalp [2]

lowers scalp cortisol levels

promotes scalp blood flow and nutrient circulation
Shortly – it's a very potent DHT blocker.
It also has several other benefits, but its effect on DHT is the most important one.
Now, there are other ingredients inside this supplement:
L-Cysteine – reduces hair loss when combined with Millet extract. [3]

Biotin – strengthens hair and decreases thinning and shedding.

Maidenhead Fern – improves follicle density.

It's true that this supplement doesn't contain any other DHT-blockers.
But Millet extract comes in a pretty high dose (420 mcg), which is fine.
2. Activator Gel
---
As you can guess, this is a topical product that boosts hair growth locally (on the scalp).
It's based on a really potent ingredient called Trichogen®:
original ingredient used only in Profollica

one clinical trial conducted specially on it (with great results) [4]

blocks testosterone conversion into DHT

regrows hair and increases its growth speed [5]
Honestly – this ingredient is amazing.
Its clinical trials speaks for itself, as most supplements don't have any clinically-tested compounds.
So it's surely responsible for this gel's potency.
Now, there are several other ingredients inside it.
But I will only mention the most important ones:
Panax Ginseng – delivers essential nutrients to the scalp.

Arginine – increases scalp blood flow and circulation.

Hydrolyzed Soy Protein – strengthens hair and reverses thinning.

Niacinamide – blocks DHT and stimulates new growth.

Citrulline – improves hair follicles roots.

Kigelia Africana – inhibits free testosterone conversion into DHT.

Salvia Sclarea – prevents follicle destruction by DHT.
---
Conclusion
---
All in all – Profollica's 2 products have a really good composition.
So in terms of effect, they can really block DHT successfully.
Additionally, they can also boost growth and regrow new hairs.
That's why it's a combination of natural products I would surely recommend.
---
#3 – Consistency & Dosage

(9 out of 10)
---
Let me explain you in detail how you should use Profollica.
1. Consistency
---
First of all – the supplement is formulated as vegetable capsules, which are quite usual.
As for the gel, it obviously has a gel-like consistency:
transparent liquid

application is very easy
So there isn't much to say about Profollica here.
2. Dosage
---
When it comes to how you should use it, the supplement looks quite simple:
serving size is 2 pills/day

you can take them together or space them out

it's recommended to take them with/after meals

Now, the gel is indeed used a bit differently.
That's because you should only apply it on damp hair (after rinsing your shampoo).
Also – you should not rinse it afterwards.
Just let it sit until your next wash.
It shouldn't make your hair much greasier than normal.
But if it does – you can wash it a bit more often than you would normally.
Also, I don't recommend washing your hair more often (unless it really gets greasy).
But you don't have to wash it daily just for the sake of applying the gel more often.
---
#4 – Results

(8 out of 10)
---
In order to see how a product works, I always check its user feedback.
This allows me to give you an unbiased view on any brand I look into.
Note: I only analyze authentic reviews, not fake/promotional ones.
1. What People Say
---
Now, Profollica doesn't have too many user experiences given out:
original version is only sold on the official website

I rarely include reviews from brand pages

version sold on Amazon seems to be fake

it looks very different from the original product

its reviews there aren't too impressive
Anyway – I did find a couple of user opinions on Profollica on 3rd party websites.
Whether they are legitimate or not, it's up to you to judge.
But they look pretty authentic to me, to be honest:
Most users claim it really helped with their hair loss.

Some mention their hair is a lot thicker now.

A few used it for prevention (because of their family history) with great results.

A couple of others said it didn't really helped them.
Basically – opinions are quite mixed up on this product, which is great.
It's usually a sign that the reviews are authentic and real.
But overall, Profollica has way more satisfied reviews than complaints.
So I have a great opinion on it, from this point of view.
---
Conclusion
---
Overall, Profollica's user feedback is highly positive.
It does have a couple of complaints – but their per cent is rather insignificant.
So all in all, it seems to work for most cases of male/female pattern hair loss.
That's why I would surely recommend it as well.
---
#5 – Side Effects

(10 out of 10)
---
Safety is one of the biggest advantages of Profollica.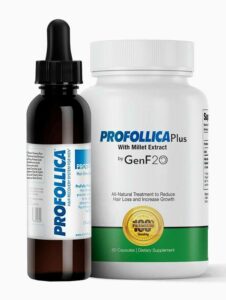 As you probably know, classic DHT blockers are very poorly tolerated:
sexual side effects (for finasteride)

serious scalp irritation (for minoxidil)

major hair loss if they are discontinued (for both)
Now, Profollica can also stop working several months after you quit it.
But it's a product that can offer quite a long protection (1-2 months after you stop using it).
And as for its side reactions, there's absolutely nothing serious:
no sexual issues

no local irritation
It's true that it won't stop your hair loss forever.
That's simply because your DHT excess is constant.
So unless it's blocked by some ingredients, it will always be high.
But compared to most DHT blockers, Profollica is extremely well-tolerated and safe.
---
#6 – Price

(8 out of 10)
---
Profollica is surely not the cheapest hair product out there.
But given its advantages, I would say it's totally worth it.
Besides – keep in mind that you're paying for 2 products.
1. The Exact Price
---
I already said – you can only buy this product from its official page.
So let's take a closer look at its full pricing:
Standard package (supplement + gel) costs $69.95.

You get a discount for larger quantities.

In the best case, you can pay around $59 per package.

Shipping is also free worldwide (for the 6 months supply).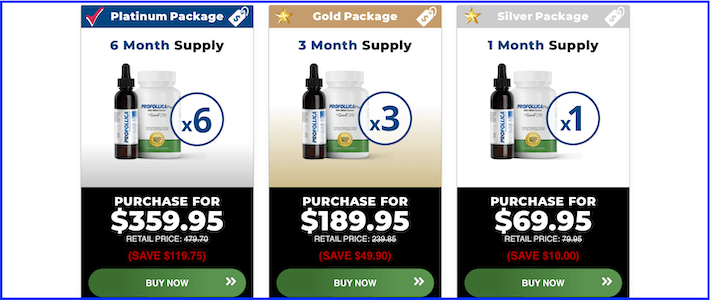 Now, there's no way to get the supplement/gel alone.
That's somehow understandable, because their effect is only complete when combined.
So some people could only get one product and they complain that it doesn't work.
That's why it's probably a brand's strategy to make sure you get the optimal effect.
Now – Profollica may seem a bit pricey.
But many DHT blockers cost about the same (or more) and they only offer one product.
So in this case, you pay $69 for 2 products.
If you do the math – that's about $35/product, which is really affordable.
2. Worth Or Not?
---
Given all its advantages, it's definitely worth it.
It may seem expensive – but it's rather on the cheaper side.
Not to mention that you're safe from all side effects caused by most similar products.
So Profollica comes with some clear advantages.
That's why it's a pity not giving it a try.
---
Conclusion
---
Profollica is surely worth your money.
It can bring your DHT levels back to normal and restore your hair.
And it can do all that without affecting your general/scalp health.
So I definitely advise you to give it a try.
---
#8 – FAQs
---
Here are the commonly asked questions about Profollica.
Note: I might repeat something I already mentioned, but it's easier to spot here.
1. What is the purpose of this supplement?
---
The purpose of Profollica is to address hair loss caused by high levels of DHT.
It consists of two key components, a Daily Supplement and an Activator Gel.
The Gel aims to reactivate dormant hair follicles while the Supplement is designed to block excess DHT.
Note that Profollica specifically targets DHT-related hair loss only.
So it may not be effective for issues caused by iron deficiency or thyroid problems. 
2. What is the recommended dosage for this supplement?
---
Take two Profollica pills daily (either together or you can spaced them out).
For the Activator Gel, apply it to damp hair after shampooing and leave it on until your next wash.
If your hair feels greasier than usual, you can wash it but it's not recommended to do it often.
3. Can you get the two items separately?
---
No, it is not possible to purchase the supplement and gel separately.
Both products are designed to work together synergistically.
Simply because their combined effects are considered essential for you to get the optimal results. 
This approach also aims to prevent some people from complaining that using only one product is ineffective.
4. Are there any notable side effects associated with its use?
---
So far, Profollica is known to be safe compared to traditional DHT blockers.
It has a very low chance of causing side effects, such as sexual issues, scalp irritation or major hair loss.
With that, the two products of Profollica are highly tolerable for almost all the people who tried it.
5. What is the price of this product?
---
Profollica's standard package is priced at $69.95 (supplement and activator gel).
The lowest price per package is around $59 but that will apply if you buy larger quantities.
Additionally – the shipping fee is free if you buy the 6-month supply or more.
---
My Verdict – Is It Worth It?
---
Short answer: Definitely.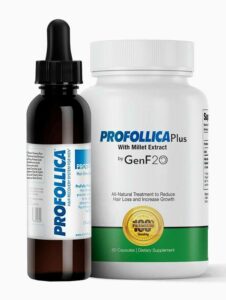 It's surely the best natural DHT blocker (for both men and women):
Designed as a combination of 2 different products.

Really well-tolerated and safe.

Based on (original) natural ingredients only.

Great results in most cases of DHT-related hair loss.

Boosts hair growth speed tremendously.

Affordable for its quality.
So if you prefer a natural product to FDA-approved treatments, Profollica is your best bet.
Given its results, it will surely work really well in your case.
So get ready to forget about your hair loss and grow your hair back.
Just give the official version a try and you will definitely see a change in a few months.
References:
1 – https://www.ncbi.nlm.nih.gov/-pmc/articles/PMC4314881/
2 – https://www.researchgate.net/-publication/287695871
3 – https://academic.oup.com/-qjmed/6379145
4 – https://www.profollica.com/-TrichogenVEGLS8960-201.pdf