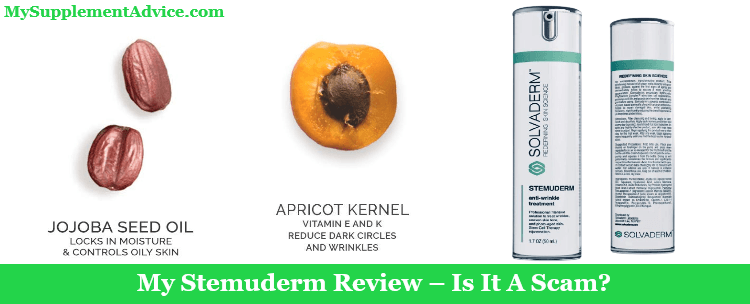 It's time for my Stemuderm review – an anti-aging cream that looks very promising.
But are there any chances that this product is a scam?:
super expensive

complex ingredients

small quantity
And what's the deal behind this cream?
I tried to dig deep into details to give you the truth about this product.
Note: This review is based on my opinion + research on Stemuderm.
Review Summary
---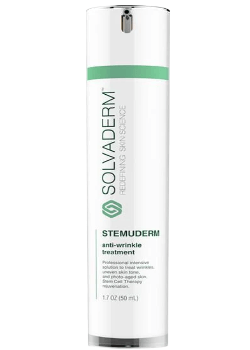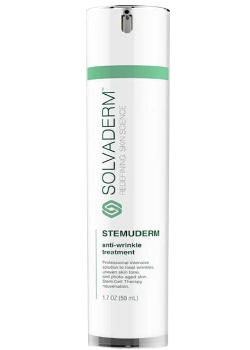 Full Name: Stemuderm Anti-Wrinkle Treatment by Solvaderm
Product Type: Anti-Aging Cream
Best Actual Prize: Around $80
Cheapest Place To Buy: The Official Website
Designed For: Improving the skin– it claims to:
give younger-looking skin

hydrate skin

reduce signs of aging
My Rating: 7 out of 10
Recommended?: Not really. It's a decent product, but it has some disadvantages:
lacks strong anti-aging components

high price tag

may cause skin irritations
I personally recommend a way better anti-aging cream instead.
What I Liked About It
---
Based on some major skin care ingredients

Contains several herbal extracts

Made by a trusted brand
What I Didn't Like About It
---
Too pricey

Small quantity for targeted areas

Can cause an allergic reaction

Lacks other strong anti-aging ingredients
---
Stemuderm In A Nutshell
---
Stemuderm Anti-Wrinkle Treatment is a good product made to reduce signs of aging.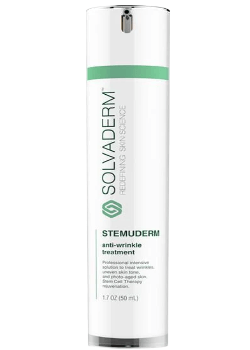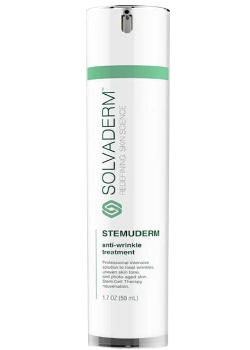 But in my own opinion, it's not the very best.
It has limited positive reviews from people who tried it.
And it also comes from a credible company that sells skin care products.
Even if you consider these advantages, there are still some things that will make you think twice:
not that strong for anti-aging

works more as a moisturizer

expensive for its value

needs repurchasing more than once a month

comes in small quantity
This product is being presented in an inviting way (given that it comes from a trusted brand).
However – the amount of product is only 50 ml and it costs around $80.
Plus – it's advised to be applied to the face, neck and upper chest area.
Since it lacks strong anti-aging ingredients, it will take a long time for you to see the effects.
And given its quantity – you might need to buy more than once a month.
So even though this product is not bad, there are better alternatives out there.
---
#1 – Claims & Producer
---
First of all, here's what you should know about this product:
what skin issues it helps

how it works

who is the company behind
1. Claims
---
This product states to be a "concentrated treatment that addresses multiple signs of skin aging."
It also says that it's specifically designed to target all types of skin damage.
Here's what it's supposed to mean:
reduces wrinkle depth, fine lines and crow's feet

boosts collagen and elastin

optimizes hydration

protects against further damage

delays skin aging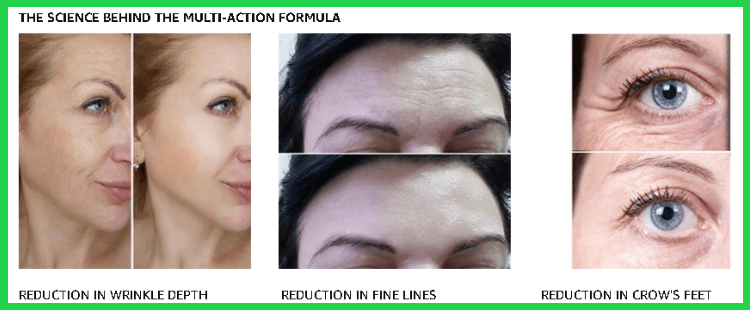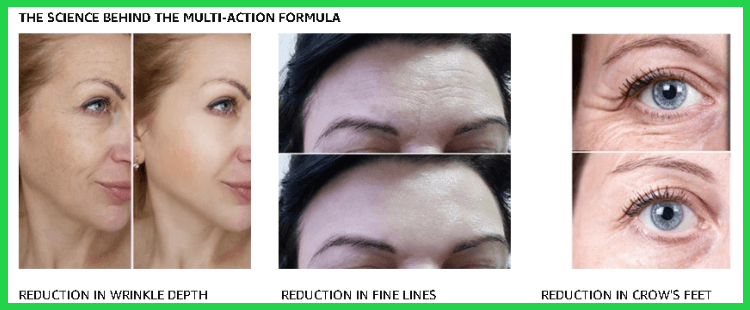 Plus – it also claims that this drastically reduces the visible signs of aging.
I personally don't believe in statements saying that a product can work quickly.
That's because it takes months to visibly see changes (in most cases).
So if a product could work so fast – it would be way more popular and used by everyone.
Makes sense, right?
2. Company Behind
---
The company behind this cream is Solvaderm USA:
known for its skin care products

most of them are designed for face and body

it has an official website
Based on the products and the whole interface of the brand itself, it looks legit.
And I noticed that the prices of its products lean more on the high-end side.
Still, overall – I would say that it's safe to buy from this brand.
---
#2 – Formula (8 out of 10)
---
The ingredients present in this cream look really promising.
Regarding the formula itself:
contains different types of peptides

incorporates fruit cell culture and plant extracts

is based on popular skin care ingredients


Let's take a closer look at its major compositions – starting from the top ingredient.
1. Peptides
---
Here are the forms of peptides present in this cream:
Acetyl Hexapeptide-8

Dipeptide Diaminobutyroyl Benzylamide Diacetate (SYN-AKE™)

Acetyl Glutamyl Heptapeptide-1

Palmitoyl Oligopeptide

Pentapeptide-3 & Palmitoyl Tetrapeptide-7 (Matrixyl 3000)
In general, peptides are amino acids that form proteins needed by the skin.
These proteins are collagen and elastin fibers.
The benefits of this class of ingredients include:
improves skin barrier

boosts collagen production [1]

hydrates skin
Basically – adding this component can improve the skin firmness and elasticity overall.
2. Malus Domestica Fruit Cell Culture
---
According to its official website – here's what this ingredient does:
protects cells [2]

reserves skin's youthful appearance

gives the cream its restorative, long-lasting and rejuvenating effect
This component is derived from an extremely rare apple found in Switzerland.
Other than providing antioxidants, its major role is to improve skin cells overall.
3. Additional Ingredients
---
These are some of the extra ingredients incorporated in this cream:
Squalene – has anti-inflammatory properties and plums skin [3]

Hyaluronic Acid – retains moisture and keeps skin hydrated

Jojoba Seed Oil & Apricot Kernel Oil – firms and clarifies skin
Adding herbal/plant extracts is quite common for almost all skin care products.
So it's somehow a basic requirement for any cream, serum or mist.
---
Conclusion
---
Stemuderm Anti-Wrinkle Treatment has a good formula overall:
based on different forms of peptides

contains plant/herbal extracts and common skin care ingredients
But honestly – it needs to have strong anti-aging ingredients…
At least if it wants to live by its claims of being a concentrated serum that can give drastic changes.
For now, it looks more like a moisturizer (in my view).
Overall – if you're looking for a strong anti-aging cream, switch to a better alternative instead.
---
#3 – Consistency & Dosage (8 out of 10)
---
Here are some facts about this product's texture.
1. Consistency
---
In terms of texture, Stemuderm can be described as:
slightly thick and whipped

light chemical scent

white cream
The whipped texture might be due to the pressure from the pump.
But it still looks a little thick – which can take some time to be absorbed by the skin.
Also, you need more than 1 pump if you want to to apply it to your face, neck and upper chest area.
2. Dosage
---
Here's how you should use this cream – according to its instructions:
Cleanse and tone your face first.

Pump a small amount of the product into your fingertips.

Massage the product t your face, neck and upper chest in a circular motion

Focus on areas that have visible signs of aging.

Apply daily during the morning and before bed.


It is advised to start using it every other day first.
When your skin gets used to it, you can then use it twice daily.
The recommended way of application is to massage in a circular motion.
---
#4 – Results

(8 out of 10)
---
To see how this cream works, look for the reviews given by the customers who tried it.
That's exactly what I did – in order to avoid giving you an unbiased view.
I checked out Stemuderm's reviews on Amazon because those tend to be more authentic.
Note: I only analyzed authentic reviews, not promotional or fake ones.
1. Positive Opinions
---
Shortly, you can buy this cream from these places:
Solvaderm's Official Website

Amazon
For this reason, you can expect to read customers' reviews on there.
However – I don't really trust the ones written on the official site (because they tend to be biased).
So let's focus on Amazon and here's what most satisfied users say about it:
A lot of people say that their skin felt smoother and softer.

Some notice their fine lines and wrinkles have reduced.

Other customers say that their dark spots lighten up.


This cream got 4/5 stars overall rating from the 40 people who reviewed it.
So I don't consider it a scam, but it looks like it's still establishing its name.
2. Negative Opinions
---
Since it still has limited reviews, I only encounter one negative review: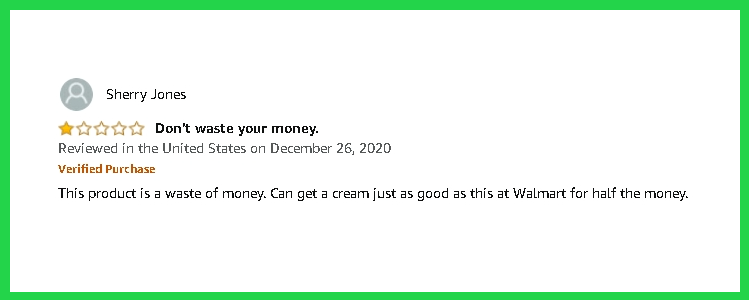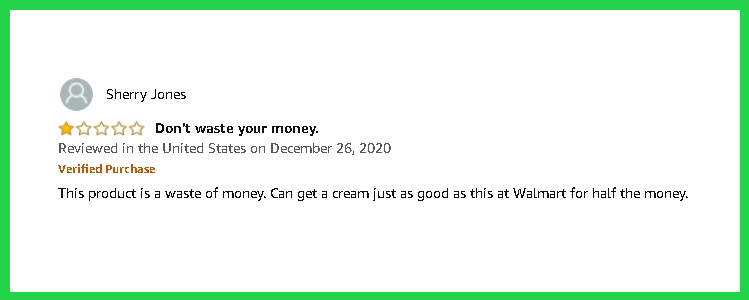 It's understood that a comment like this may arise because the product costs a lot.
I checked out Solvaderm's official website and as expected, there's no 1 star review.
Still – I wouldn't say that this product is exceptional, since there's only a limited number of reviews available.
---
Conclusion
---
Overall – I consider this product's current feedback very reliable.
We need more reviews from people in a long run, in order to see if it really works.
But I would say that the positive reviews say this product is legit.
Still – I suggest that you invest in a cheaper product that works and has a better user feedback.
---
#5 – Side Effects

(8 out of 10)
---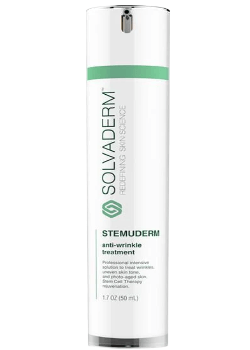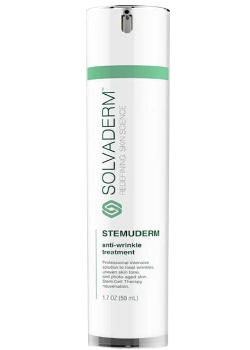 Upon checking Stemuderm's reviews from people who tried it, no one mentioned side effects.
I still don't consider it a good thing, because there are still limited testimonials available.
But if you ask me, here are some negative reactions that may appear:
skin irritation

allergic reaction

burning sensation
I assumed these because they are very common in skin care products.
Now – the allergic reactions might appear if someone is sensitive to an ingredient from this cream.
But it should appear very rarely.
Still, I suggest you to read the list of the ingredients before buying any product.
---
#6 – Price

(4 out of 10)
---
Stemuderm is quite expensive – considering that we now know what it's made of.
In my view, I don't really consider it such a good option.
1. The Exact Price
---
You can purchase this cream from:
There's only one size option for this product and it's 50 ml (1.7 fl. oz.).
Both sites sell this product for $79.99 (with free shipping promo).
The only difference is that the Official Website offers free samples of the product and other items.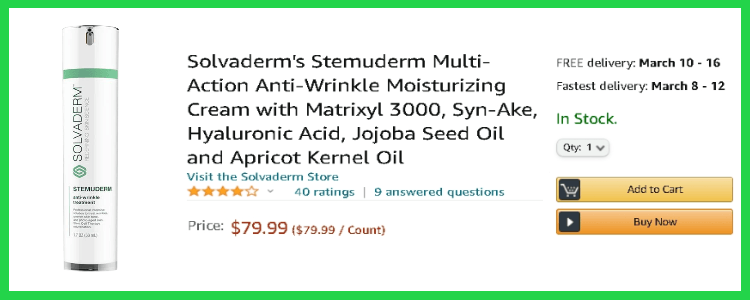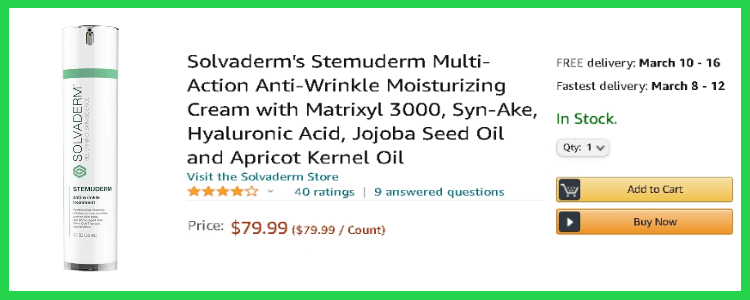 Regardless of these perks, I would still say that this cream is too expensive.
That especially for those people who need more than one pump because of larger area coverage.
This only means that more product is needed in a month – which requires repurchasing.
So overall – I don't see this as a good deal.
2. Competitors' Price
---
I only want to compare this cream with the #1 anti-aging product I know.
This is Kollagen Intensiv: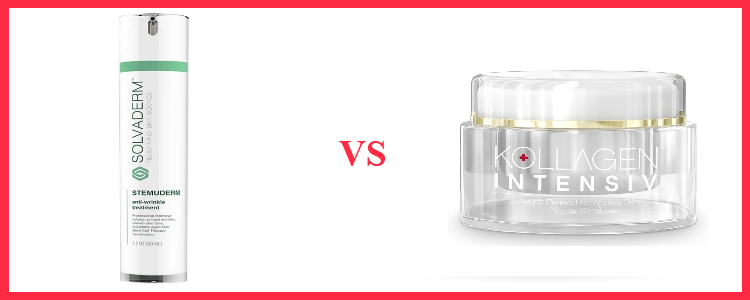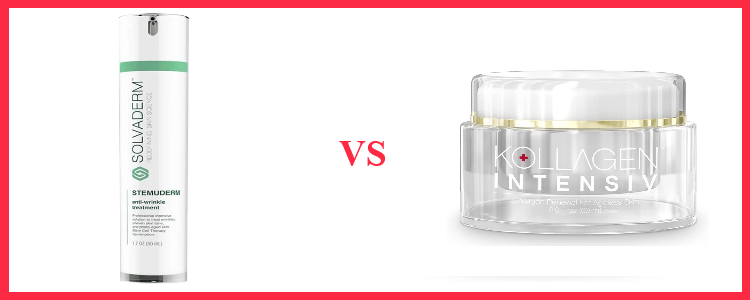 Kollagen Intensiv has the best formula backed with clinical studies.

Stemuderm has a good formula too (but not even close as potent).

Kollagen Intensiv's Standard Price is around $60 but you can also get it for about $36.

On the other hand, Stemuderm costs $80.

It has a higher quantity, but you also need to use a higher amount.
Between these two creams, Kollagen Intensiv is clearly the better deal.
It has strong anti-aging ingredients and a little amount goes a long way.
So in my view, it's a way better choice overall.
---
Conclusion
---
To wrap it up – Stemuderm is quite expensive for the ingredients it has.
I would understand if it contained strong anti-aging ingredients (such as Retinol, Collagen, Caffeine, AHAs, etc.).
But it contains ingredients that focus more on hydration.
So it will take longer to see any reduction in the appearance of signs of aging.
That's why I recommend you to buy a better alternative that is strong enough to combat signs of aging.
---
#7 – Stemuderm Anti-Wrinkle Treatment In 3 Ideas
---
Here's how I would sum up my opinion on this cream.
1. Basic Formula
---
I will not lie, this cream's composition is good:
has different forms of peptides

contains herbal extracts and common skin care ingredients

incorporates a plant cell culture
However – I don't find it strong enough as an anti-aging treatment.
Yes, you can see the reduction of fine lines and wrinkles but I think that it won't be drastically as it claims.
It may take some time and more product before you achieve it.
But as a product that provides hydration, I would say that this is a potent product.
2. Legitimate Product
---
I included this feature because it's important to only buy a product from a trusted company.
Solvaderm is known to sell products that focus on skin and body care.
Although the customers' reviews are quite limited, I would still consider it as proof that this is not a scam.
It has an official website where you can buy its products directly.
And you also reach the brand through the contact details on their website.
3. Quite Expensive
---
I consider this cream expensive compared to other anti-aging ingredients:
1 bottle costs around $79.99

quantity is 50ml (1.7 fl. oz.)

needs to be applied twice daily

areas of coverage include face, neck and upper chest area
Other than that, since it has a weaker anti-aging formula, it might take you a long time to use it.
That means you need to buy a lot of products to see changes.
Still – I think that there's a better alternative out there.
---
My Verdict – Worth It Or Not?
---
Short answer: Not quite.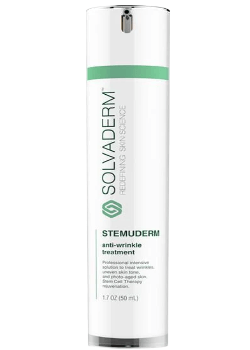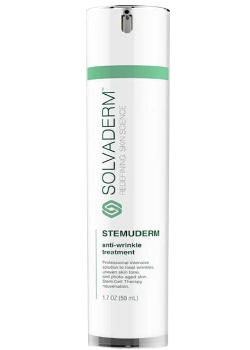 I would say that this product is not a scam and it comes from a legit brand.
However – there are reasons to think twice about it:
Works better as a moisturizer

Small quantity for the area of coverage

Quite expensive for its value

Requires to be repurchased more than once a month
Again – I don't consider Stemuderm a scam.
But there are better options in the market with strong anti-aging benefits.
I'm talking about Kollagen Intensiv:
Best anti-aging formula backed with clinical studies

Strong form of ingredients

A little product goes a long way

1 jar can last a lot longer

Less expensive
It may look like it has a smaller quantity – but its actual potency makes it work faster.
Considering its composition as well, I would say that it has some bigger anti-aging benefits.
Overall – it's cheaper in price and has a stronger formula which makes it a good deal.
So if you want to make the most of your money, I suggest you better go for this product.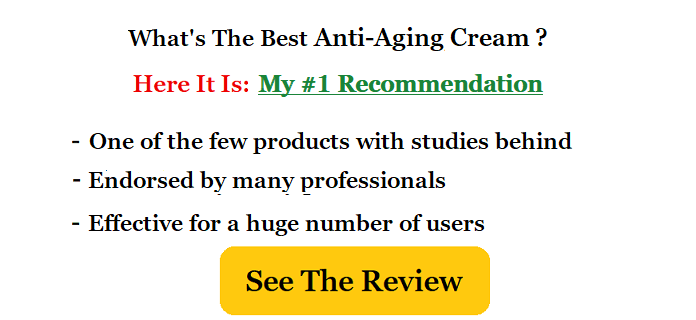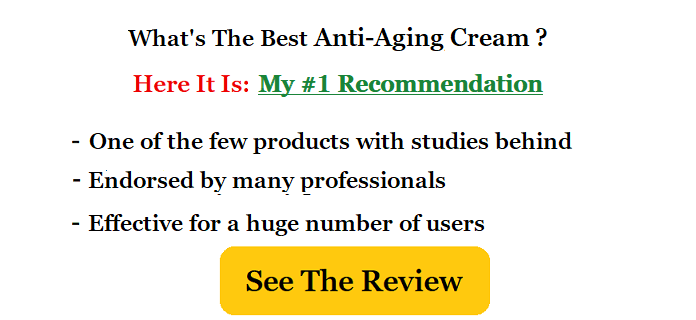 References:
1 – https://www.ncbi.nlm.nih.gov/pmc/articles/-PMC2923951/
2 – https://www.ncbi.nlm.nih.gov/pmc/articles/-PMC5674215/