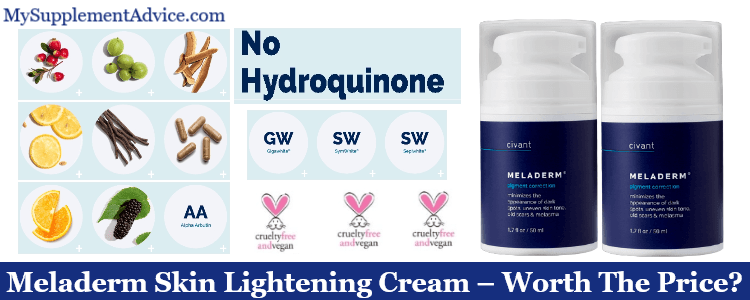 It's time for my Meladerm Skin Lightening Cream review – which is said to be a vegan product.
But what should you look for in a skin lightening product?:
fast but safe effect

herbal-based and natural formula

affordable price
So does Meladerm fit the criteria or is it a scam?
Well, I analyzed it in detail in order to answer that question.
Note: This review is based on my opinion + research on Meladerm.
Review Summary
---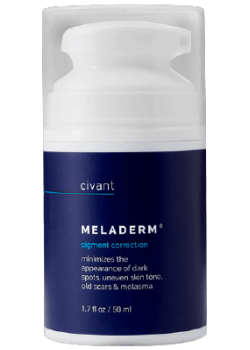 Full Name: Meladerm Pigment Correction by Civant
Product Type: Skin Lightening Cream
Best Actual Price: Around $50
Cheapest Place To Buy: Its official website
Designed For: Lightening the skin– it claims to:
even out skin tone

reduce dark spots

brighten and correct hyperpigmentation
My Rating: 6 out of 10
Recommended?: Not really. It's a good product, but some of its aspects are questionable:
limited authentic reviews

quite pricey for its value

not available to other stores
Instead, I suggest you go for the best lightening cream I know, it's a much better choice overall.
What I Liked About It
---
Professional official page and website

Based on several natural ingredients

Cruelty-free and vegan
What I Didn't Like About It
---
It takes a very long time to work

Not effective for some

Unavailable on retailers (like Amazon)

Very few authentic customer reviews (even on Amazon)

A little pricey for the amount of product
---
Meladerm In A Nutshell
---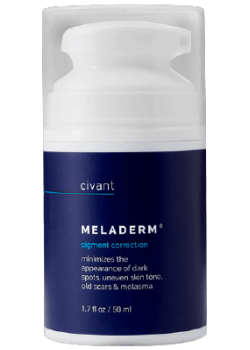 Meladerm is a product meant to reduce the appearance of hyperpigmentation.
Its formula skipped hydroquinone and focused on being vegan and cruelty-free.
Now – there are a lot of people who were satisfied with this cream:
they saw some noticeable differences

the final effect was quite promising
However – all these reviews are only available on the product's own website.
There's no user opinion on Meladerm anywhere else (at least not a real one).
That's what made me question some things about it:
Does it have a long-term (and real effect)?

If so, how long does it take to start working?

And how much does it last (since it has no preservatives)?
Even so – in terms of quantity and value, this product is expensive.
At $50 for only 50 ml, you will have to buy it at least once a month.
If you only plan to use it for your face, that's fine.
But if you want an even body complexion, it would be quite difficult.
Overall – Meladerm is not a bad product, but there are better alternatives out there.
Some of them have a stronger effect and a superior quantity/price ratio.
---
#1 – Claims & Producer
---
Firstly – let's take a look at some basic info about this lightening cream:
who is its producer

which skin issues it targets

how it exactly works
1. Claims
---
One of top features of Meladerm is that it's "formulated without hydroquinone."
Plus – it's based on advanced ingredients to brighten and reduce the appearance of hyperpigmentation.
There are several problems it claims to address – including:
Melasma and Chloasma

Uneven Skin Tone

Age Spots and Dark Spots

Elbows, Knees and

Underarms

Freckles,

Hyperpigmentation and

Discolorations

Acne Marks,

Sun Tans and

Birthmarks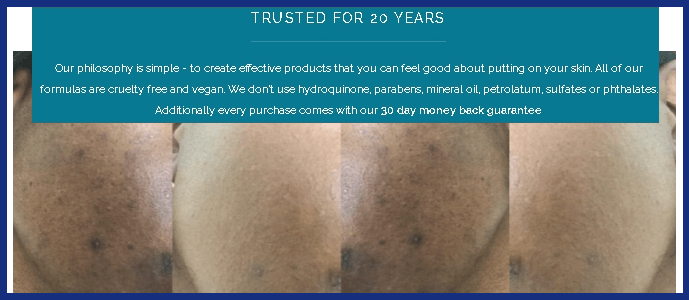 Now – why is the lack of hydroquinone so important?
Based on research, this compound can be carcinogenic.
That's why products that are hydroquinone-free are a much better option in the long run.
It's true – they won't have the same potency, but the health risks are also minimal.
Also, this product claims to be cruelty-free and vegan.
Lastly, the airless pump/dispenser is designed to help avoiding the product's contamination with air.
That's a real advantage, if you ask me.
Most creams use traditional pumps and straws – which are not bad either.
But Meladerm brings in a unique container.
2. Company Behind
---
The company behind Meladerm is Civant Skin Care, which was founded in 1999.
Most of their skin care products have at least one of the 4 trademark ingredients used by the brand.
Now – Civant Skin Care doesn't use the following substances in its formulations:
hydroquinone

parabens and mineral oil

phthalates, sulfates and artificial fragrances
The brand seems like a legit one – since there are several reviews about it.
You can see their contact info, as well as their social media links to the accounts.
So far – I would say that it's safe to buy from this brand (based on the info on its official website).
---
#2 – Formula (9 out of 10)
---
The best thing about Meladerm's composition is that it contains several herbal extracts:
lower risk of side effects

less irritating

much safer to use in the long run
Now – it's true that herbal-based products tend to work slower.
But as I said, there's no risk of side effects or skin irritation – which is a huge advantage.
Other than that, its overall formula looks surprisingly good.
It contains 3 trademarks and several potent compounds – so it looks very promising.
So let's take a closer look at its main ingredients: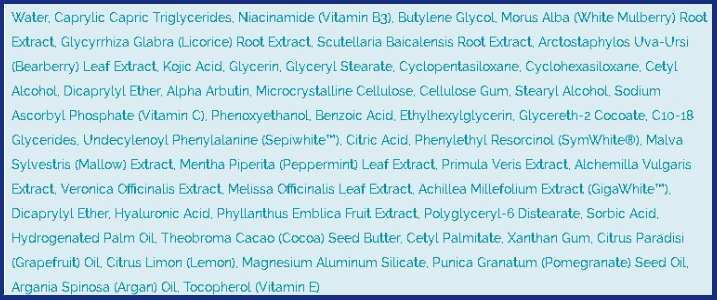 1. Herbal Extracts
---
Since we're looking for a product that's herbal-based and natural, it perfectly makes sense to mention this group first.
There are a lot of plant extracts inside this cream – and here are the top ones:
Mulberry Root Extract

Licorice Root Extract

Bearberry Leaf Extract

Embelica Fruit Extract

Lemon Extract
Now – these compounds help with skin brightening [1] more than the others present in this cream.
So they basically have the same effect – reducing hyperpigmentation and smoothing out the tone.
2. Vitamins
---
When it comes to skin lightening, vitamins don't have an active effect.
However – they are amazing when it comes to hydrating and protecting the skin.
That's why their role is also very important.
Here are the 2 vitamins present in Meladerm:
Niacinamide (Vitamin B3) – reduces hyperpigmentation and smooths skin texture

Sodium Ascorbyl Phosphate (Vitamin C) – inhibits melanin production [2]
It's true that most skin lightening creams contain these 2 ingredients.
But that's only because they are very helpful overall.
3. Trademark Ingredients
---
In my view, some products become unique because of trademark ingredients.
These compounds can be made by the company/brand or they can be acquired from private laboratories.
As for Meladerm, it contains 3 trademarks:
Achillea Millefolium Extract (GigaWhite™) – derived from alpine plants and preservative-free

Undecylenoyl Phenylalanine (Sepiwhite™) – derived from an essential amino acid

Phenylethyl Resorcinol (SymWhite®) – derived from pine trees [3]
Obviously – their common goal is to brighten the skin.
Now, Meladerm's composition looks amazing with 3 trademark ingredients.
It's true that they are not very popular or deeply studied – but they are still superior.
4. Additional Major Ingredients
---
Here are the other major ingredients that play a big role in this cream's effect:
Kojic Acid – extracted from mushroom species

Alpha Arbutin – meant to lighten dark spots and hyperpigmentation [4]

Benzoic Acid – acts as a product preservative

Hyaluronic Acid – retains skin moisture and keep skin hydrated
These substances are quite common in skin-lightening products (especially Kojic Acid and Arbutin).
However, they work better if combined with vitamins and other herbal extracts.
That's because the overall formula can be too harsh/strong for the skin.
---
Conclusion
---
To be honest, the overall ingredients of Meladerm are really good.
Now, I doubt it's 100% herbal-based/natural, as it claims.
In general, there's no "all-natural/herbal-based" product, if you ask me.
Otherwise – they would only last for a few days and they could no longer be used afterward.
But once again – in terms of formula, Meladerm looks really good.
---
#3 – Consistency & Dosage (6 out of 10)
---
Here are the things you should know about this cream's look.
1. The Consistency
---
In terms of texture – here's how it looks like:
a little thick

white cream color

light chemical scent
Usually – skin lightening creams are colored in white and that's because of the ingredients present.
So I would say that there's nothing really special about it and it looks like a plain whitening cream.
2. The Dosage
---
According to the product website, here's how you should apply this cream:
Wash and dry your skin.

Apply an even layer of the product to the desired area.

Massage thoroughly until the cream is completely absorbed.

Apply during the morning and night (for best result).
I also advise you to use a sunblock with SPF 30 or higher and to avoid long sun exposure.
Normally, if you're trying to lighten your skin, avoid being outside as much as possible.
That's available for any skin-lightening product you're using, not just for Meladerm.
---
#4 – Results

(4 out of 10)
---
To see how a product performs, I always look at the opinions of its previous users.
The goal is to avoid giving a biased view on it.
Note: I only analyzed authentic reviews, not promotional or fake ones.
1. Positive Opinions
---
Now – I don't rely on the reviews written on the brand's website.
Most of the time, those are biased and false positive.
But unfortunately, that's the only place you can purchase this cream.
So it's obvious I couldn't find too many user reviews outside it.
But surprisingly, there are mixed reviews (both negative and positive).
Let's check what the satisfied customers say about Meladerm:
Many users noticed that their skin became lighter.

Others said that their dark spots and hyperpigmentation fade away.

Some saw the results after as early as 2 weeks.

There are also people who tried the cream for their scars and saw positive results.

The overall rating of this product is 89%, which is almost 4.5/5 stars on its website.
So far – not getting a perfect 5 is a sign that not all comments are biased.
2. Negative Opinions
---
Like any other products, Meladerm also received some negative feedback from customers.
Here are some of the complaints of users who didn't like it:
A lot of unsatisfied customers said there's no difference even after months of use.

Some mentioned that it's very expensive for its real effect.

Most of them didn't like the price/quantity.

There were isolated cases of not getting their money back (30 days money-back guarantee).

I'm still in doubt about the reviews written on the product's official website.
But so far – I can say that this product tends to take a longer time to work.
Given it's safe formula, that's quite normal – so I see it as a positive aspect.
---
Conclusion
---
There's no doubt that there are a lot of satisfied customers behind Meladerm.
However – I don't fully trust the reviews from its website.
I don't doubt that it works, that's for sure.
It simply has too many positive features.
But I personally prefer another alternative, due to its even better features.
---
#5 – Side Effects

(7 out of 10)
---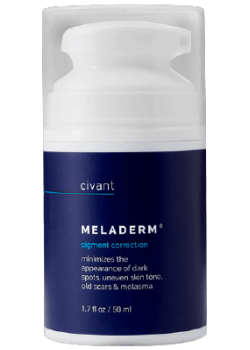 The lack of authentic customer reviews didn't allow me to find out much about Meladerm's side effects.
Now, this cream can cause some typical reactions:
skin irritation

sensitive skin peeling

burning sensation
That's because it contains Kojic Acid and Vitamin C.
Depending on their concentration, these substances can be harsh for some people.
But even so – Meladerm is much safer than many skin lightening creams.
So even if it does cause some secondary reactions, they are less significant than in other cases.
---
#6 – Price

(4 out of 10)
---
Honestly – Meladerm is expensive for the amount of product it comes with.
I will explain further below why I believe this.
1. The Exact Price
---
Let's focus on the brand's official website – since that's the only place this cream is sold.
Now – let's take a look at the deals and bundles on Civant's site:
Standard price is $44.99

2 pack bundle costs $79.99

There's free shipping (US only) and free gifts for orders worth $100 above

Keep in mind that the amount of the product/bottle is around 50 ml (1.7 fl. oz.).
Considering the instructions on how to use it, one bottle is surely not enough.
And also, since you won't see immediate results – you will have to use it for several weeks to months.
This means you will have to buy more than one bottle per month (in most cases).
That's totally up to your budget, that's for sure.
But to me – Meladerm seems super pricey for the quantity (not for the quality, though).
2. Competitors' Price
---
I only want to compare this product with the best skin-lightening cream I know.
The product that I'm talking about is Zeta White by Swiss Research Labs:
Zeta White is herbal-based with almost 100% natural ingredients.

The overall formula is gentle skin and it has a minimal risk of side effects.

Meladerm is extremely natural too (most compounds are herbal extracts).

Zeta White costs about $50 (or $150 for the whole set).

On the other hand, Meladerm costs $50 for a 50 ml bottle.

Zeta White requires a smaller quantity of product.

So in this case, it tends to last a little longer than Meladerm.
Now, a Zeta White set contains a lightening face wash, night cream and moisturizer.
So basically, each product can help you achieve the noticeable effects you want on your skin.
Overall – I would say that Zeta White is a better choice.
It simply has much better features overall (even though Meladerm is not too bad either).
---
Conclusion
---
Overall, Meladerm is quite pricey:
small product quantity

you may need to buy 2 bottles/month
If you only plan to use it on your face, it may be a better deal (but not the very best).
So it's not a bad product at all – but I don't think it's practical to pay that price for such a little amount.
---
#7 – Meladerm In 3 Ideas
---
Here's how I would sum up my opinion on Meladerm.
1. Good Ingredients
---
Based on its formula, I would say that Meladerm is very promising.
It's based on several classes of ingredients:
herbal extracts

major skin-lighteners

vitamins

trademarked compounds
But honestly – I don't think this cream is 100% vegan or all-natural (as opposed to one of its claims).
The main reason is that a product needs other ingredients such as preservatives for longer shelf life.
2. Limited Reviews
---
There are some reviews about this cream on its website, but I can't guarantee they are 100% trustworthy.
There's a high tendency that official website reviews are biased or just paid promotions.
So I prefer the honest opinions of the satisfied customers outside the product's website.
3. Little Pricey
---
For the quantity it comes in, this product is quite expensive.
As I said, it may do – if you want to use it for lightening your face only.
But if you also plan to use it on your neck (or other areas), you may need a larger quantity.
That's why I don't consider it very practical.
---
My Verdict – Worth It Or Not?
---
Short answer: Yes and no.
It's not a bad product at all, in terms of features.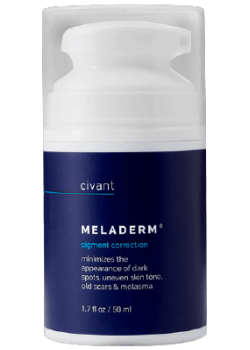 That's mostly because has an impressive set of ingredients that made some customers satisfied.
But in my view, there are enough aspects I didn't like about it:
Comes in a small quantity

Can be expensive in a long run

Limited authentic customer reviews

Not available to other retailers

Can be too strong for the skin
Some people might say that these points are basic things.
But in my view, they can make a great impact on a product's image and reliability.
Once again – Meladerm is a potent product and it's definitely not a scam.
But I personally prefer an alternative that has some even more potent features.
I'm talking about Zeta White:
Herbal-based formula that contains major skin-lightening ingredients

Gentle to the skin but effective at the same time

Small risk of having side effects

Noticeable results (based on my experience)

Many satisfied users

Fair price for the product's quality
There are a lot of skin-lightening creams on the market and most of them are slightly invasive.
Also, most of these products are even more expensive than Zeta White.
So – if you want to gently lighten your skin without any potential risks, choose Zeta White instead.
This product is safer and a much better choice, in my view.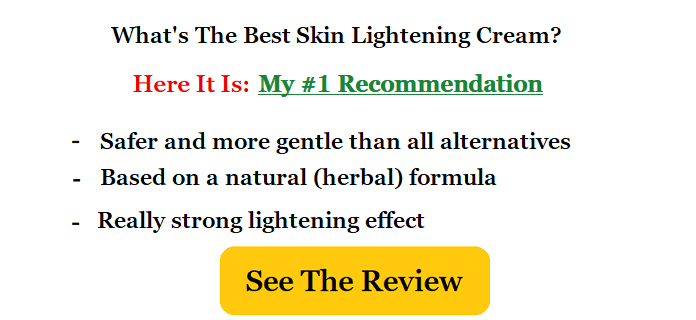 References:
1 – https://www.ncbi.nlm.nih.gov/pmc/articles/-PMC3663177/
2 – https://www.ncbi.nlm.nih.gov/pmc/articles/-PMC3673383/
3 – https://www.ncbi.nlm.nih.gov/pmc/articles/-PMC5618352/