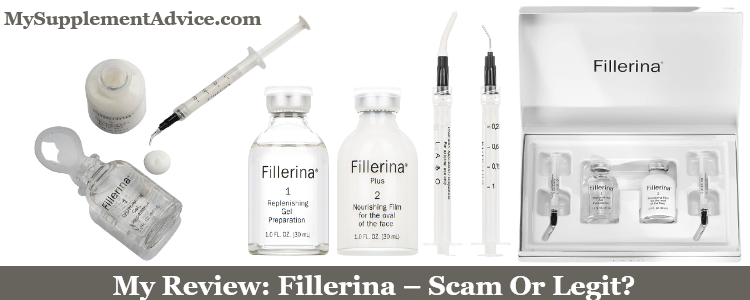 It's time to review Fillerina – which seems like a very unique product.
Due to its looks and packaging, it makes people curious to try it.
But the question is, is there any chance that it's a scam?:
pretty overrated

quite expensive

many negative reviews behind
So are there any chances that this product works?
I tried to dig deep into it, in order to give you the truth about this replenishing gel.
Note: This review is based on my opinion + research on Fillerina.
Review Summary
---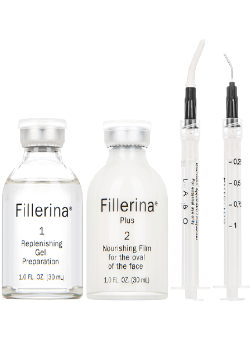 Full Name: Dermo Replenishing Gel by Fillerina
Product Type: Anti-Aging Cream
Best Actual Prize: Starting from $110
Cheapest Place To Buy: Amazon
Designed For: Replenishing the skin– it claims to:
plump skin

add volume

reduce visible lines
My Rating: 4 out of 10
Recommended?: Not really. I don't consider it a bad product, but it has some major issues:
it's too expensive

may cause skin irritations

has a little quantity
I personally recommend a way better anti-aging cream instead.
It's a much better choice in terms of quality/price, ingredients and customer feedback.
What I Liked About It
---
Different way of application from most anti-aging products

Has 5 versions of strength

Based on some potent skin ingredients
What I Didn't Like About It
---
Really overpriced

Comes in a small quantity

Has some exaggerated claims

Lacks other strong anti-aging components

Can cause side effects

Has a lot of negative reviews
---
Fillerina Gel – A Quick Overview
---
Shortly – Fillerina is a clinical treatment you can use at home.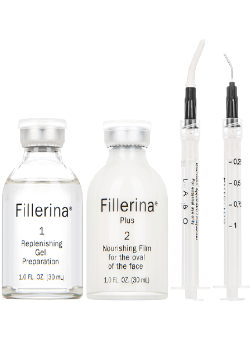 At first sight, it looks very similar to cosmetic devices.
But in my own opinion, it looks like just a scam (especially the applicator).
I didn't see any reviews about this product on its official website – but there are some on Amazon.
And honestly – the comments from people who tried it don't look too good.
Fillerina does comes from a legit and trusted brand, but that's surely not enough.
There are some facts that should make you think twice before buying it:
possible short-term effects

overpriced

comes in a very small quantity

lacks other strong anti-aging ingredients

can be too strong/weak for the skin
To be honest – the first time I saw it, it seemed very promising.
But as I researched it more thoroughly, I started doubting it.
Is it worth buying expensive products like this than actually visiting a dermatologist?
I'm aware most people avoid visiting a doctor.
But in this case, why not go for an anti-aging cream that is much safer to use than Fillerina?
---
#1 – Claims & Producer
---
Here are the things you might want to know about this product:
how it works

who is the producer behind

what skin problems it helps best
1. Claims
---
Fillerina claims to be "The Needle-Free Skin Plumper."
And here's how it promises to help your skin:
replenishs fine lines and wrinkles

adds volume to your lips and cheeks

maintains the effect of injections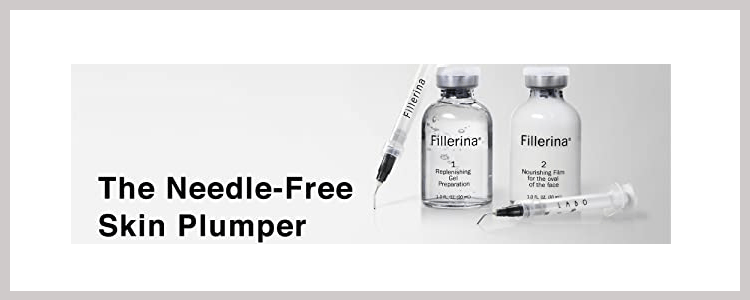 Another claim is that it contains different sizes of its ingredients' molecules.
This means that's it's absorbed in various skin levels.
It also means the product has different grades (strengths) depending on the problem intensity.
In other words:
there are 5 product versions

each is designed for a different intensity
Basically – Grade 1 is the most simple version, while Grade 5 is designed for deep wrinkles.
The other versions are in between (going from Grade 1 to 5).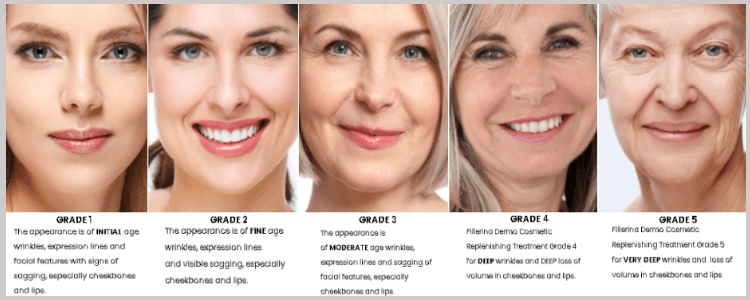 There's also a disclaimer on Fillerina's official website – according to it:
it's not a substitute for surgical procedures and injections

it's good for people who don't want to go under the needle
However – what makes this product unique then?
Is it about the applicator or its strength level?
Because in my own opinion, these are not enough for its price.
If it's not a substitute for surgical treatments, why should you go for it?
There are so many anti-aging creams that are way cheaper and work about the same.
So I don't really see the point of using Fillerina.
2. Company Behind
---
The company behind this product is Fillerina, which is the Italian subsidiary of Labo Cosprophar AG.
According to its website:
products are made for facial skin, lips, cleavage and neck

some benefits include lifting, contouring and plumping

textures include gel, cream and masks
Now – this brand gives the impression that it offers surgical treatments.
But in reality, their products have nothing to do with surgery.
I believe that it may be part of their marketing strategy to attract buyers.
But based on the legitimacy of the brand, it's safe to buy from it.
---
#2 – Formula (5 out of 10)
---
Fillerina comes with 2 vials (gel and film), which means we have to analyze them both:
contain different forms of peptides

have some different forms of Hyaluronic Acid

incorporate herbal extracts and common skin ingredients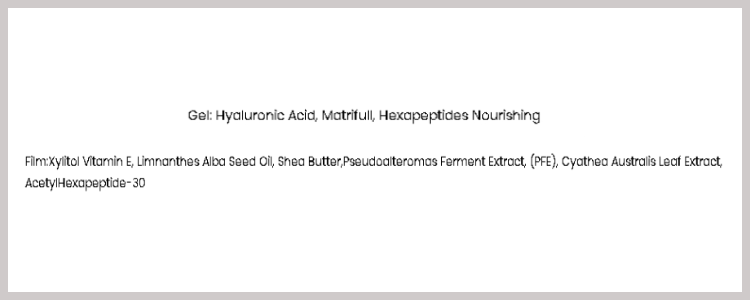 Overall, both formulas look quite disappointing.
At least when it comes to their potency and ability of reducing wrinkles.
But let's take a closer look at its major compounds (in both the gel and the film).
1. Gel
---
The actual name of this vial is "dermo-cosmetic gel filler with filling effect 1".
Now – there are 3 key ingredients inside this gel:
Hyaluronic Acid – enhances skin firmness and elasticity [1]

Matrifull – reconstructs and plumps the deep cutaneous tissues (according to its website)

Hexapeptides Nourishing – increases skin regeneration [2]

This gel's components are focused on hydrating and adding volume to the skin.
They don't necessarily fight aging or fine wrinkles.
Instead – they are better when it comes to prevention.
Again, adding hydration to your skin will help avoid dryness that leads to skin folds.
2. Film
---
The second vial is called "nourishing film for the oval of the face 2."
Basically – after the first vial, you will have to apply this film on top.
In terms of composition, it has more active ingredients than the gel:
Xylitol – increases skin barrier [3]

Vitamin E – protects the skin from UV damages

Limnanthes Alba Seed Oil – creates a protective seal to lock in moisture

Shea Butter – promotes wound healing

Pseudoalteromonas Ferment Extract (PFE) – increases collagen and elastin levels [4]

Cyathea Australis Leaf Extract – provides antioxidants

Acetyl Hexapeptide-30 – restores skin hydration

Considering its ingredients, this film doesn't have an amazing composition.
Its main goal is to provide a barrier for the skin against environmental damages.
So it's more of a protection role, which is not very helpful in these conditions.
Also – it helps with itchiness and redness, which are not some major problems either.
---
Conclusion
---
Overall, Fillerina's composition looks pretty disappointing:
comes in 2 forms that need to be combined

none of them has a very potent formula
Basically – this product doesn't seem very potent when it comes to reducing wrinkles.
At least this is my view on it, judging after its composition.
It seems great for hydration and protection – but that's pretty much it.
So judging after its composition, I would surely not recommend it.
---
#3 – Consistency & Dosage (6 out of 10)
---
Here are some facts about the textures of Fillerina's 2 products.
1. Consistency
---
Let's describe vial 1 first:
clear in color

light gel consistency

light chemical scent
It's quite easy to describe its texture, because it has a clear packaging. And so far, I see it as the serum part of the kit.
As for the second vial:
quite thick

white/beige color

light perfume scent
I feel like the film product is the moisturizer part of the Fillerina.
Judging after their looks, I can tell that both products don't soak in immediately.
That's because they both have some slightly thick consistencies.
2. Dosage
---
Here's how you should use this product – according to its instructions:
Use the applicator that comes with it and extract 2 ml of Step 1 (Gel).

Apply it directly to wrinkles, cheeks and lips.

Pat the product using your fingertips.

Wait for 10 minutes or until your skin absorbs it.

Extract 2 ml of step 2 cream and pat it all over your face and neck.

Repeat the procedure every night for 14 nights.

Now – the instructions are the same for all the grades.
To be honest, I don't see the importance of using the applicator if you're going to pat the product eventually.
I would understand it if you weren't allowed to touch the product.
But that doesn't seem to be the case.
Anyway, using this product is fairly easy – pretty much like your normal skin case routine.
And lastly, it's recommended to redo this treatment every 3-4 months.
So it's a long-term remedy, if I can call it so.
---
#4 – Results

(3 out of 10)
---
In order to see how a product works, one thing you should look at are its customers' reviews.
I do that – in order to avoid giving you a biased view.
So I checked out Fillerina's reviews on Amazon, because those are known to be legit.
Note: I only analyzed authentic reviews, not promotional or fake ones.
1. Positive Opinions
---
Usually, I don't rely on the reviews written on the product's website.
But in this case, there isn't any related to this cream.
Anyway – you can purchase Fillerina from these sellers:
Amazon

Fillerina's official website
So in order to avoid fake reviews, I focused solely on the reviews of the people who bought it from Amazon.
Here's what most satisfied users say about it:
Some satisfied users say they experienced plumping of their skin.

Others feel that their face was more hydrated.

A few mentioned that it helped maintain their fillers until the next session.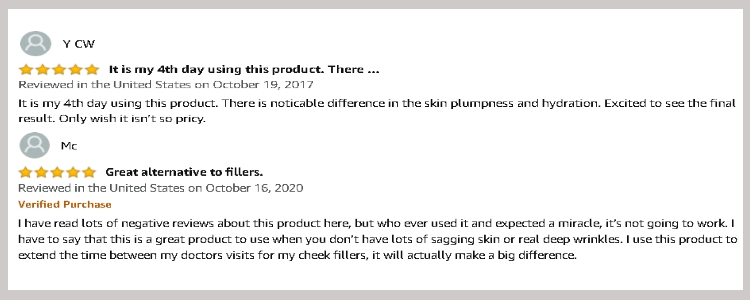 Now – I checked the overall ratings of the product in different grades.
And the highest rating it got so far is only 3.9/5 stars (the rest are lower).
So in terms of customer satisfaction, Fillerina isn't as amazing as it claims to be.
2. Negative Opinions
---
I looked into the comments of people who gave Fillerina one star ratings:
Most of them claim to have seen no results.

A lot of people comment that the price is not worth it.

Others had a hard time using the applicator.

Some found the packaging not good and ended up getting damaged products.
Now, complaints about a high price tag are quite common.
These customers still opted to buy it, hoping to see an improvement – but they got the opposite.
So overall – I don't see this product very promising.
At least when it comes to its user feedback.
---
Conclusion
---
To be honest, I am quite shocked by the feedback from people who tried it.
That's because Fillerina's effect seems to be the opposite from what it claims.
Plus – the rate of complaints is about the same in all 5 grades.
So even the strongest version received the same criticism.
That's why I don't consider it a very good option.
I would suggest you to go for better alternatives that are more effective and cost less.
---
#5 – Side Effects

(8 out of 10)
---
So far, I could not find any complaints about the negative side effects of this product.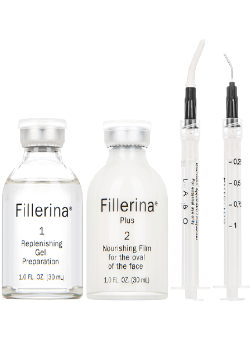 That's both a positive and negative thing:
the ingredients are not too harsh (good)

it tends to have a very weak effect (bad)
In terms of side effects, here are the possible reactions you can get:
burning sensation

allergic reaction

swollen lips

skin irritation
But overall – most people should not experience them, so they are rather rare cases.
Still, I suggest that you invest in a product with a lot of customer reviews behind it.
---
#6 – Price

(3 out of 10)
---
Fillerina Gel is quite expensive, considering its overall package and composition.
That's why I don't consider it such a good option.
1. The Exact Price
---
Honestly, the first thing I noticed about this product was its price.
Now, you can buy it from these 2 places:
Fillerina's official website

Amazon
Since it comes with different grades/strengths, prices vary.
I checked Amazon and the stocks are not complete for all.
For this reason – I will only focus on the offered prices from the official website.
There are 5 different grades:
Grade 1 costs $110

Grade 2 costs $125

The 3rd costs $135

Grade 4 PLUS costs $175

Grade 5 PLUS costs $200
In terms of product volume, all grades have 2 vials of 30 ml (1.05 fl.) each.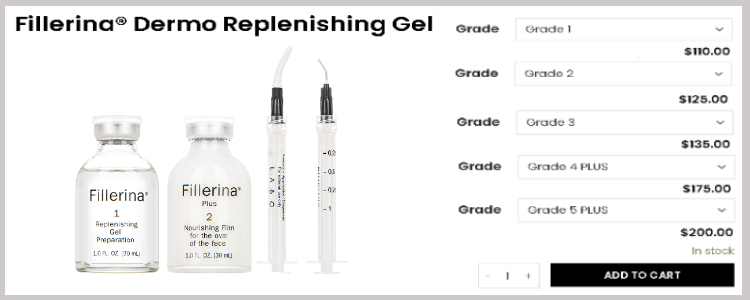 If you're looking for discounts and bonuses, here's what you get from Amazon:
free Returns

Free Shipping (selected dates)

discounts when using Amazon Rewards Visa Card
However, I would say that prices and stock are more organized on the official website.
But regardless of these discounts, I would still say that this product costs a lot:
quantity is very little

a supply is only designed for 14 days

but it might not even last that long
Basically – you pay at least $110 for a 2 weeks supply.
And this only happens if you have the finest type of wrinkles (so that you can go for grade 1).
Not to mention that you have to repeat it every 3-4 months.
So Fillerina is extremely expensive overall – and I would not recommend it in any way.
2. Competitors' Price
---
I only want to compare this cream with the #1 anti-aging product I know.
I'm talking about Kollagen Intensiv: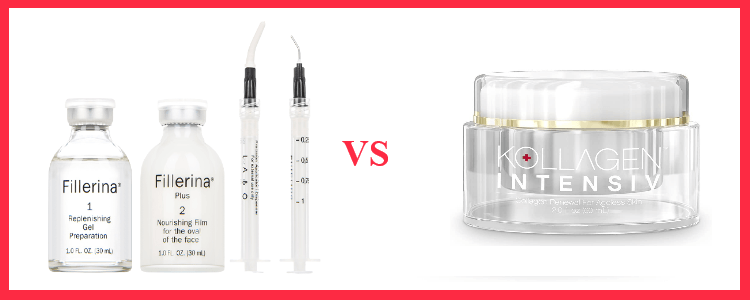 Kollagen Intensiv has the best formula backed with clinical studies.

Fillerina has a good set of ingredients but a weak formula overall.

Kollagen Intensiv's standard price is around $60.

However, you can also get it for about $36.

On the other hand, Fillerina's price starts at $110.

It has a lower quantity and there's a tendency that you need to use more.
It's obvious that between these two, Kollagen Intensiv is a much better option.
It contains strong anti-aging ingredients and it can last more than a month.
So I clearly prefer this cream, it's a way better option.
---
Conclusion
---
Summing up, Fillerina is definitely not worth the money:
really small quantity for the price

a supply is only meant for 14 days

actual price is huge
Judging after all the complaints it has, there are high chances that it doesn't help you too much.
So why would you invest a small fortune in it?
That especially when you can get a much cheaper alternative with an excellent customer feedback.
---
#7 – Fillerina Dermo Replenishing Gel In 3 Ideas
---
Here's how I would sum up my opinion on this product.
1. Weak Formula
---
If you look at its ingredients, I would say it's far from decent:
mostly helps with hydration and protection

not based on some potent anti-aging agents
It does come in 5 different versions, but most customers claim it didn't help them too much.
So it's not a product I would recommend neither on paper, nor in reality.
2. Still Legit
---
Looking at this product's background, I would say that it's legit:
made by a reputable company

professional website

many info and contact details available
So its producer is definitely not a ghost brand or a scam.
That's one of the few reasons why I would trust this product.
3. Overpriced
---
The moment I saw this product, I considered it very expensive right away:
price starts at $110

its 2 vials only contain 30 ml each

a supply only lasts for 14 days
Anti-aging products tend to be quite pricey, that's for sure.
But Fillerina is way more expensive than most.
So in my view, it's clearly not worth those money, in any circumstances.
---
My Verdict – Worth It Or Not?
---
Short answer: Not at all.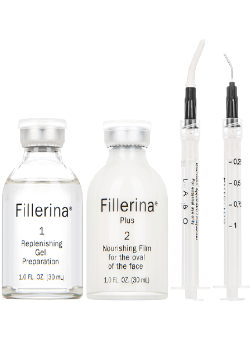 I don't consider this product a scam, because it does have a couple of good points.
But I don't think it's worth it, due to the following reasons:
Negative reviews (about it not being effective)

Basic formula

Super high price tag

Small quantity

Exaggerated claims
But there are better options on the market with stronger anti-aging benefits and a lower price.
And the product I'm mostly talking about is Kollagen Intensiv:
Best anti-aging formula overall

Strong form of ingredients backed-up with clinical studies

Only a small amount needed for the application

A jar can last longer (1 month or more)

Much cheaper
Now, this product may look like your typical cream – but its benefits are huge.
So if you want to get your money's worth, I really advise you better go for this product.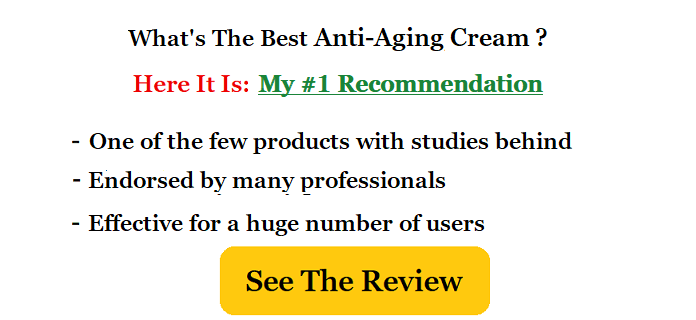 References:
1 – https://www.ncbi.nlm.nih.gov/pmc/articles/-PMC3970829/
2 – https://www.ncbi.nlm.nih.gov/pmc/articles/-PMC3583892/
3 – https://www.ncbi.nlm.nih.gov/pmc/articles/-PMC6723878/