It's time for my Miami MD Cream review– a brand designed to reduce aging signs instantly.
Or at least that's what it claims.
So is it really effective and worth it? Or is it actually a scam?:
quite pricey

limited customer reviews

weak formula

overhyped features
In order to see the truth behind this brand, let's analyze its best-seller (Age Defying Lift & Firm Cream).
Note: This review is based on my opinion + research on Miami MD's Age Defying Lift & Firm Cream.
Review Summary
---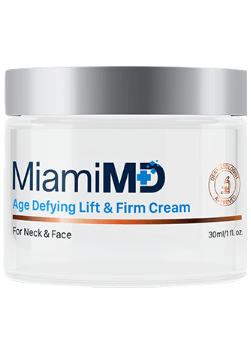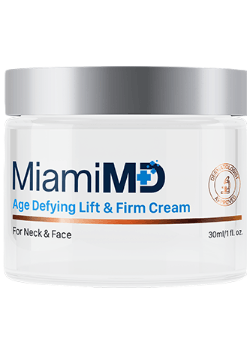 Full Name: Age-Defying Lift & Firm Cream by MiamiMD
Product Type: Anti-Aging Cream
Best Actual Prize: Around $50
Cheapest Place To Buy: Its official website
Designed For: Restoring the skin – it claims to:
reduce fine lines

restore aging skin

tighten loose skin
My Rating: 3 out of 10
Recommended?: Definitely not – it's not a good choice at all:
pricey for its value

formula could be a lot better

small quantity for the price
I personally advise you to try a product that makes the best anti-aging cream from the market instead.
What I Liked About It
---
Reputable brand behind

Has a professional official website

Products are delivered properly
What I Didn't Like About It
---
Pretty weak formula

Lacks other major anti-aging ingredients

Very few customer reviews

Negative comments about the quantity

Overhyped promotional ads

Quite pricey for its effectiveness
---
Miami MD In A Nutshell
---
This brand's official website looks very impressive, to be honest.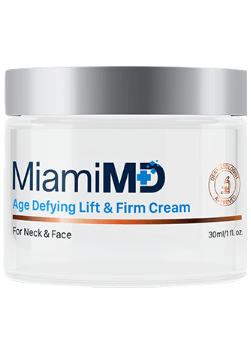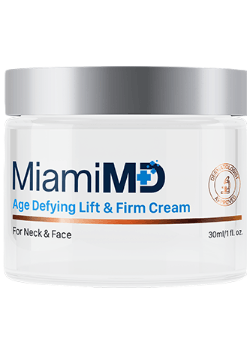 But things don't seem that impressive if you take a closer look.
First of all – this brand's popularity is probably due to the fact that it's extremely advertised:
it's highly promoted on most social media platforms

you can find a lot of ads on every product
Other than that, there are 6 main products sold by this brand.
All of them are mostly designed against aging:
Intensive Eye Repairing Serum

Age Defying Lift & Firm Cream

Dark Spot Corrector

Instant Wrinkle Eraser

Total Beauty Matrix (Supplement)

Eye Rescue
As I said – their Age Defying Lift & Firm Cream is the best-seller, so this review will be focused on it.
But overall, my opinion on this product isn't necessarily too good.
---
#1 – Claims & Producer
---
I want to start by giving you some general facts based on the info I found about this cream:
which skin issue it targets

how it works

who is the producer behind
1. Claims
---
Basically – this cream claims to be "designed to target and restore thin, saggy skin within minutes of application."
And here's what this actually means:
tightens loose and slack skin

adds volume and thickness to thin skin

promotes a younger and radiant appearance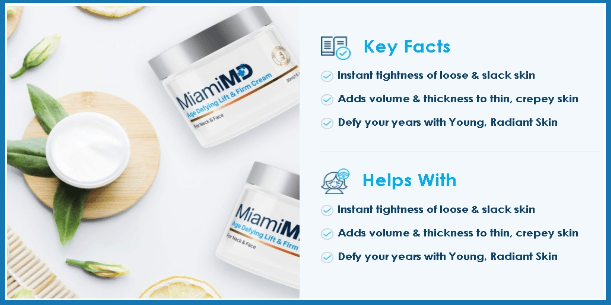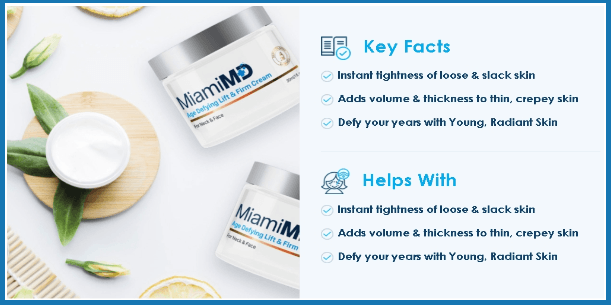 And it also states to be a 100% natural ethical cream that can help to lift and firm.
To be honest, I don't really believe it can do all that within minutes.
It usually takes a month (or even years) to see some visible results.
If you want an instant result, the best option you have is to go under surgery.
So Miami MD's product is far from miraculous (like every cream is, actually).
2. Company Behind
---
Obviously – this cream's producer is Miami MD.
Here's what you can find on its official website:
it offers 6 products in total

they are made for the skin, hair and nails

their textures include cream, serum, supplement and balm
Regarding its contact info, there's an email address and phone number available.
Also – you can find the links to the brand's social media accounts.
So in terms of transparency, Miami MD is surely a very reputable company.
---
#2 – Formula (3 out of 10)
---
Fortunately, this cream has a full list of compounds given out on its official website.
However – the formula itself could be much better: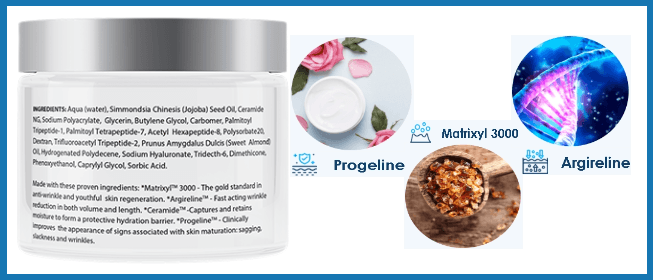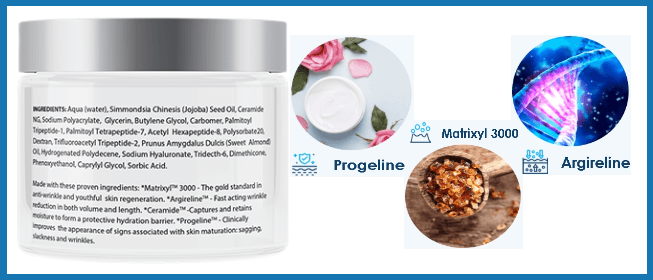 Now – this cream has 3 key ingredients and all of them are peptides.
Other than that, it contains several additional substances with a lower importance.
So let's take a look at this cream's main compounds.
1. Peptides
---
As I said, there are 3 key peptides.
They are the main responsible behind this cream's anti-aging effect:
Peptides in general are good for the skin – that's why you can find them is so many skin care products.
They are very effective especially in reducing the visible signs of aging.
2. Sodium Hyaluronate
---
This substance is also known as Hyaluronic Acid – an ingredient you're surely familiar with.
Here are some of its main benefits:
One reason that contributes to skin sagging is the loss of moisture.
That's why choosing a product with some potent moisturizing benefits can help a lot.
3. Other Ingredients
---
These are the additional ingredients I found in this cream:
Now, these compound are quite common and most skin care ingredients contain them.
So I doubt they would improve the overall formula.
---
Conclusion
---
Overall – this cream looks quite disappointing, in terms of ingredients.
That's because it lacks strong anti-aging compounds.
As for its existing compounds – they're not anything special or uncommon.
That's why I recommend some better alternatives out there.
---
#3 – Consistency & Dosage (3 out of 10)
---
This cream only has some limited info at this chapter.
1. The Consistency
---
There isn't really a photo of the product inside the jar.
But luckily, some people who reviewed this cream added some pictures.
Here's how the product looks and feels:
slightly thick and oily consistency

white color

light chemical scent
In my opinion, there's nothing special about it and it looks like a generic cream.
2. The Dosage
---
According to the product's website, here's how you should use it:
Start by washing your face and drying it.

Apply a quarter amount of product on the problematic area.

Massage using an upward motion.

Wait for 3-5 minutes or until it's completely absorbed by the skin.

Use it twice daily, morning and night.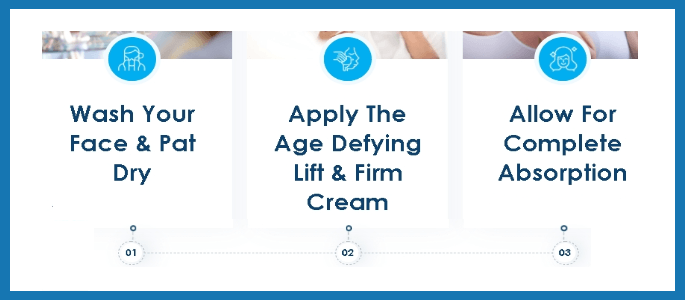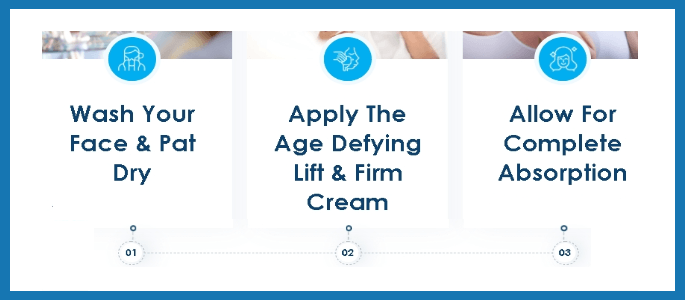 Apparently – it also claims that it's best to use it as the first step in the morning and the last step in your night routine.
So the instructions are easy to follow and not complicated at all.
That's why using this cream is pretty simple and straightforward.
---
#4 – Results

(5 out of 10)
---
I looked into the reviews given by people who actually bought this cream.
As usual, I tend to avoid opinions from the product's official website, as they tend to be biased.
So in order to give you a fair view, I always look for other reviews that are more authentic.
Note: I only analyzed authentic reviews, not promotional or fake ones.
1. Positive Opinions
---
As I mentioned, I only look for brutally honest reviews – that's why I checked out Amazon.
Overall – this product got 3.6 stars out of 5 global ratings.
As part of this chapter, I read the testimonies of the people who are satisfied with this cream.
Here are some of the common praises written by the customers:
Some of their fine lines, wrinkles and crow's feet were already smoothing out.

Some notice that their skin became brighter and more radiant.

One customer said the cream doesn't feel greasy.


There are only limited reviews written on Amazon (compared to Miami MD's official website).
And to be honest, this doesn't convince me that this product is very good.
If it really was, there would be a lot more authentic reviews given out.
2. Negative Opinions
---
I will say right away that this cream has a lot of negative reviews behind.
Even though most of its ratings have 5 stars, its 1 star reviews are significant.
So let's take a look at what unsatisfied customers say about this cream:
There are a lot of people who complain about the jar not being full.

Some claim there's no difference or that it doesn't work at all.

Some who say the product balls up to the face and the skin becomes flaky.

A lot of users were disappointed because the value isn't

worth the price.


If you read all those reviews, you could see that most of them complained about the amount.
They said the box has a big air bubble and the cream only fills 2/3 of the jar.
Given all this info, I would say that it's very expensive for the quantity you get.
---
Conclusion
---
Many times, positive opinions can be biased or false.
That's why I always check a product's complaints as well.
And based on this, I would say Miami MD's price is not worth it.
Also, its promotional ads are clearly overhyped.
So it's surely not an anti-aging cream I recommend – and many previous users seem to agree with me here.
---
#5 – Side Effects

(6 out of 10)
---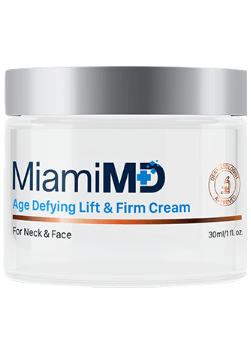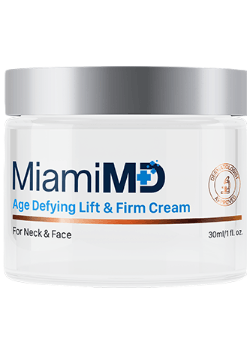 Upon reading the customer reviews about this cream, I haven't seen a severe case of side effects.
Only 2-3 people complaining about dry/flaky skin and product forming into small balls.
The only explanation for this is that the product has a low-quality formula.
Other than that – there are some side effects that can come up:
pimple breakout

skin irritation

allergic reaction
In general, side effects can't be avoided to almost any product.
However – for this cream, I don't really trust what's inside it.
This is why I cannot guarantee about its therapeutic effect – nor about its secondary reactions.
---
#6 – Price

(2 out of 10)
---
Based on what I read about the jar being only filled 2/3, I consider this cream expensive.
So if you ask me, I don't consider it a good choice at all.
1. The Exact Price
---
This cream can be purchased from Miami MD's website and Amazon.
The difference between the 2 is the bundles offered.
So let's compare the deals starting with Amazon:
A bottle costs $69.95

There's free Delivery on selected dates

There are some discounts (with Amazon Rewards Visa Card)
There's nothing really offered in here compared to the official website.
Here's what you can get from MiamiMD's:
One bottle costs $49 + $4.95 shipping

3 bottles cost $43 each + free shipping

6 bottles cost $40 each + free shipping

There's a 10% discount for each bundle (if you subscribe)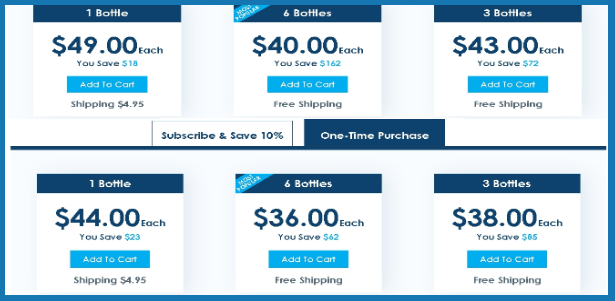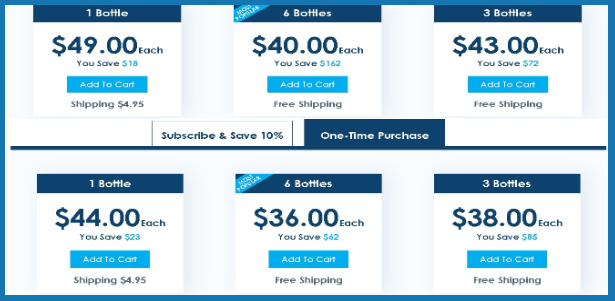 Now – it's obvious that there are more offers on Miami MD's official website.
That's probably on purpose – so that the customers will buy from them directly.
Also – I want to highlight that one bottle contains 30 ml (1 fl. oz.) of product.
But according to many reviews from unsatisfied customers, the amount could be much less.
So regardless of the price, bundles and discount, I don't think this cream is worth it.
2. Competitors' Price
---
I only want to compare this cream with the #1 recommended anti-aging product I know.
I am talking about Kollagen Intensiv: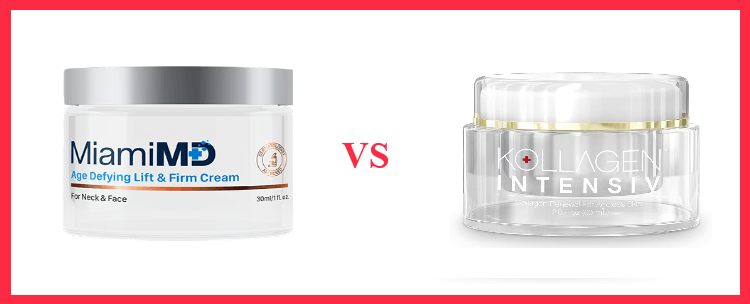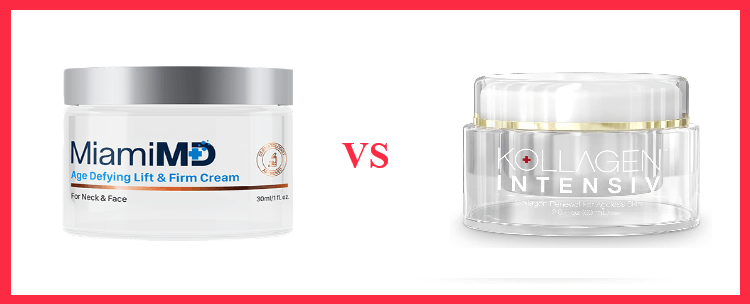 Kollagen Intensiv has the best ingredients among all products I looked into.

Miami MD has a weak formula and basic compounds.

Kollagen Intensiv can be bought for $60 normally.

In the best case, you can get it for $36 only.

Also, a jar tends to last a lot longer than one month.

Miami MD costs around $49 and you can get it in bundles.

But the amount you get may not last you a full month.
It's clear that the best choice between the two is Kollagen Intensiv.
Its ingredient are strong enough to combat visible signs of aging.
Plus – the overall formula and its benefits make the price more worth it.
---
Conclusion
---
For the price and the amount you get, I personally don't recommend Miami MD.
It can be considered legit – but that doesn't mean that it's excellent.
I still believe that there are better alternatives out there (that are also much cheaper).
And most importantly, they are more effective in reducing the signs of aging.
---
#7 – Miami MD In 3 Ideas
---
Here's how I would sum up my opinion on this cream.
1. Weak Formula
---
There's no problem when it comes to the full list of ingredients since you can see it right away.
Here's what I noticed about the overall formula:
only has 3 main ingredients

weak compounds overall

lacks strong anti-aging ingredients
The whole formula doesn't look too promising even on paper.
But judging after the comments of people who tried it, it's not effective at all.
2. Negative Reviews
---
I read the reviews of people who bought this cream on Amazon and they weren't very positive:
product is not effective at all

jar contains 2/3 cream only

too expensive for its value

resulted in dry/flaky skin and product build-up
I also noticed that the positive reviews are more generic and they only look like paid ads.
There are also overhyped features about this cream, which might be to cover up negative comments.
3. Quite Pricey
---
There are several reasons why I find this cream quite pricey:
a bottle costs $49 + $4.95 shipping

one jar contains 30 ml (1 fl. oz.) of product

not effective
I want to highlight also that it can contain less than 30ml.
That's due to the fact that a lot of customers complain about not receiving a full jar.
With that, I would say that it's not worth your money at all.
---
My Verdict – Worth It Or Not?
---
Short answer: Not really.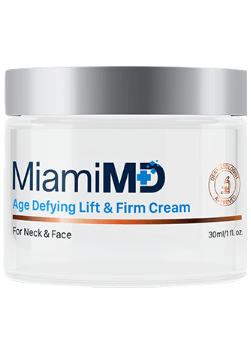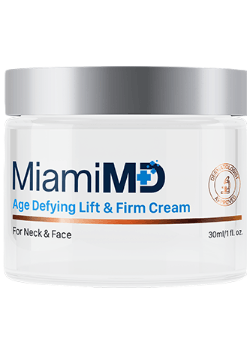 As I said, there are several reasons why I cannot recommend this cream:
Rather weak formula

Limited customer reviews

Pretty small quantity

Overhyped promotional ads/features

Very expensive for its true value

Not effective
This cream can't even be considered a cheap one.
That's because it's around $49 (excluding the shipping fees).
I would honestly tell you not to spend so much money on this product, it's simply not worth it.
So what do I recommend instead then? A cream called Kollagen Intensiv:
It has the best ingredients and formula overall.

Some of its compounds are backed-up with clinical studies.

It has some excellent benefits when it comes to combating signs of aging.

It's very effective against wrinkles.
These reasons made me consider this cream as my #1 recommendation.
So compared to Miami MD, Kollagen Intensiv is much better and effective.
If you want to get your money's worth, better get this product instead.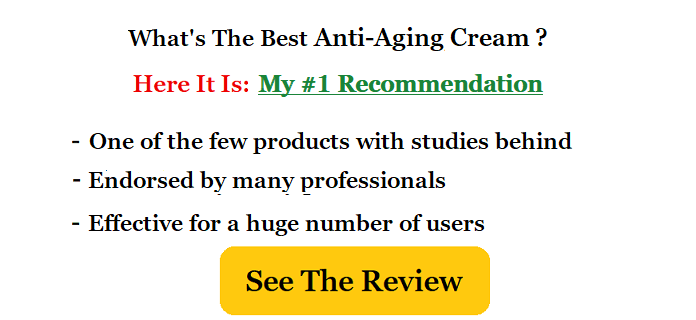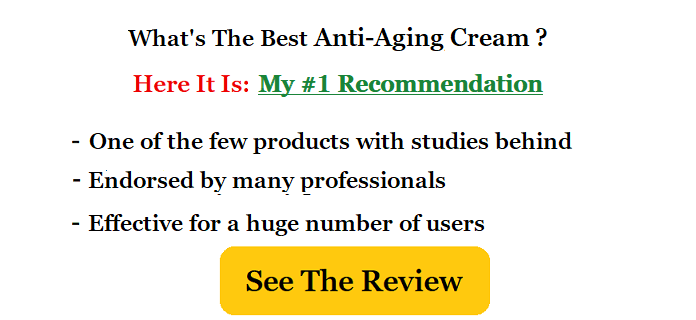 References:
1 – https://pubmed.ncbi.nlm.nih.gov/-24644551/
2 – https://www.ncbi.nlm.nih.gov/pmc/articles/-PMC3583886/