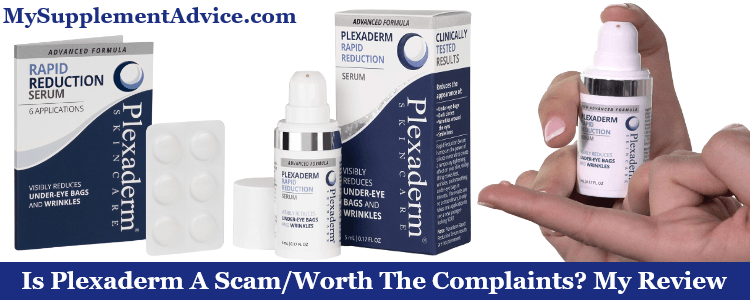 It's time for my Plexaderm review – which is a very popular anti-aging product.
But is Plexaderm a scam after all? Honestly, it could be:
pretty basic formula

short-term effect

very expensive
In order to show you the real facts behind this product, I tried to analyze it in detail.
So could it be a scam? Read the answer in my review (+ video).
Note: This review is based on my opinion + research on Plexaderm.
Review Summary
---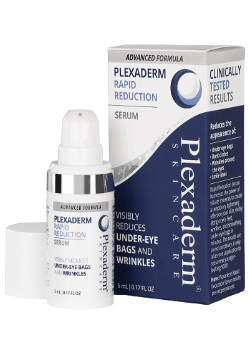 Full Name: Plexaderm Rapid Reduction Serum by Sheer Science
Product Type: Anti-Aging Serum
Best Actual Prize: Around $60
Cheapest Place To Buy: Its official website
Designed For: Improving skin and aging signs – it claims to:
reduce under-eye bags

lessen wrinkles

smooth fine lines
My Rating: 3 out of 10
Recommended?: Definitely not – I don't think it's a good choice at all:
short-term effectiveness

potentially dangerous (mostly on side effects)

pricey for its value

doesn't treat the real cause behind the wrinkles
I personally suggest you go for the best anti-aging cream from the market instead.
What I Liked About It
---
Has some complete product info

It's made by a pretty reputable brand

Many authentic opinions behind

Quite easy to find
What I Didn't Like About It
---
No long-term effect

Quite expensive for its quality

Very weak formula

Lacks major anti-aging ingredients

Does not treat the real cause

Defective pumps/empty bottles

Very high rate of side effects
---
Plexaderm In A Nutshell
---
At first, Plexaderm looks like a regular anti-aging cream.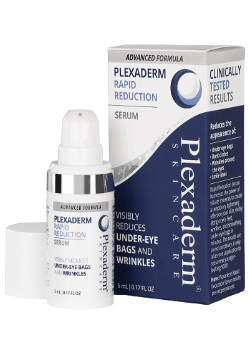 It has its own website and you can also find it on its brand's official page.
Other than that, it has quite a good product listing on Amazon with complete details.
Now – Plexaderm is available in 3 versions:
Trial Pack

Single Bottle

3 Bottles Pack
In terms of composition – all these versions are exactly the same.
It's only the quantity that makes the difference.
In terms of effect, Plexaderm only provides an aesthetic help to cover up the lines.
So don't expect a skin-deep relief or treating the actual cause of your problem – that won't happen.
Plus – it's not the safest anti-aging product, according to its users.
That's why I personally don't recommend it.
---
#1 – Claims & Producer
---
Here's some general info I found out about this serum:
who is the producer

how it works

which skin problem it targets
1. Claims
---
To see how this product promises to work, I checked out its official website.
And its #1 claim is that it "reduces under-eye bags & wrinkles from view in 10 minutes."
According to the same website:
lessens the appearance of under-eye bags and dark circles

reduces wrinkles, fine lines and crow's feet

hides the forehead lines, smile lines and eleven lines
Honestly – no high-quality product can work in 10 minutes.
There are some that promise to do that (Derma RPX is an example).
But they either don't – or if they partially work, their results go away after less than 30 minutes.
So Plexaderm's claim is extremely exaggerated if you ask me.

This serum also claims to have an advanced formula that provides:
a smoother feeling

a satin finish
Plus – it claims the result will last up to 10 hours after the application.
Once again, I personally cannot agree with this claim.
However – I don't really consider this serum as an actual skin care product.
Instead, it's more of an aesthetic treatment to cover up visible signs of aging (when needed).
So don't count on it for a long-term effect, it wouldn't do.
2. Company Behind
---
The company behind Plexaderm is called Sheer Science.
This brand has a professional official website and customer support.
However – there are some interesting facts about it:
it has several smaller brands under it

sells products for skin care, teeth, hair care, makeup, antioxidants and men's health

also offers exclusive bundles for its products
At the bottom of its official website, you can find several important info:
contact details

shipping and return policy

social media profiles
I also checked the social media links – all of them are working but the number of followers is quite small.
But overall, this brand seems pretty reputable and trustworthy.
So you can buy from it without any worries of being scammed.
---
#2 – Formula (3 out of 10)
---
This serum's ingredient list is pretty easy to find, luckily.
However – its actual formula looks extremely plain and basic:

Since I only consider Plexaderm a short-term remedy, I somehow expected this.
So its basic formula doesn't necessarily come as a surprise.
It only works as an aesthetic treatment – for an instant cover-up.
However, let's take a closer look at its 3 categories of ingredients.
1. Peptides
---
The form of the peptide from this serum is called Acetyl Hexapeptide-8 (Argireline).
Here's exactly how it helps:
Now, adding peptides into your skin care routine can bring a lot of benefits.
That's why peptides are very common in skin products.
But as I said – they're not a life-changing ingredient (or skin-changing ingredient, in this case).
2. Collagen
---
Based on the label, the exact form of this compound is Soluble Collagen.
And here's exactly what it can do:
As you may know, collagen is present in the human body naturally – but its level decreases as we age.
That's why it's so effective against wrinkles.
At least in theory – as I doubt it could help a lot in this serum.
3. Additional Ingredients
---
These are the extra ingredients that play a more important role in this product:
So far, these ingredients are quite common and they don't have an amazing anti-aging effect.
Plus – you can see them in most skin care products.
So there's nothing special about their presence in this serum.
---
Conclusion
---
This formula could be a lot better, if you ask me.
It does contain some potent ingredients – but they are so common in skin care products.
So they don't make Plexaderm look like anything special.
If you want an aesthetic filler, you can try this serum – but only for a short-term effect, which I don't necessarily recommend.
---
#3 – Consistency & Dosag

e (5 out of 10)
---
Here are the things I found out about this serum's texture.
1. Consistency
---
Plexaderm is described in deep detail on its official pages:
slightly thick consistency

light to medium beige color

slight chemical scent
For a serum, it looks a bit different – since the normal texture is rather clear and watery.
That's why it looks more like a cream than like a serum.
That's not necessarily an advantage – as serums tend to last longer (due to their liquid consistency).
This product comes in small size and it also has a thick texture, so I don't expect it to last a lot.
2. Dosage
---
This is how you should use the product (based on the instructions given out):
Add a droplet (half pea-sized) of product on your fingertips.

Apply the product over your fine lines, wrinkles, under-eye puffiness, bags and wrinkles.

Do the application in upward and outward strokes.

Wait for 10 minutes or more until it dries out.

If there's some white residue left, it means you used too much product.

In this case, wash the area and apply it again (but in a smaller quantity).

Other than that – there are some additional tips:
Dry/powdery formula can be used with makeup

You can only combine it with an oil-free moisturizer (10-20 minutes prior)
However – I doubt its effect can last for 10 hours.
Plus, the advised amount of product (half pea-sized) is surely not enough.
If you ask me, you need a much higher quantity to cover all the areas mentioned.
---
#4 – Results

(4 out of 10)
---
To see how a product works, I always check the comments of people who tried it.
I do this because I don't want to give you a biased view about the product I review.
Note: I only analyzed authentic reviews, not promotional or fake ones.
1. Positive Opinions
---
I didn't really have a hard time finding some customer reviews for this serum.
Since I don't rely on what's written on the product's website, I always go for Amazon.
That's because those reviews are known to be extremely honest.
Let's take a look at what satisfied customers say about this serum:
A lot of people say it's a great product and that it really works.

Some noticed their under-eye bags and fine lines were gone.

Others swear that it's good to use as a cover-up before attending events.

There are people who claim that it eliminated their puffiness and dark circles.

The overall rating this got is 3.9/5 stars – but in my view, that's not too good.
Still, it seems like it is working for some people – it's only that it took them time to figure it out.
2. Negative Opinions
---
This is the part where it gets real – because I could find many complaints of unsatisfied customers.
Here are the common complaints of these people:
Almost all of the comments are about the pump not working properly.

Everyone says that they received empty or already dried-up products.

Some experienced side effects such as skin and eye irritations.

Others claim that it leaves a white flaky film under their eyes.

The rest are disappointed because they only wasted their money.

Honestly, I consider these complaints quite important because they really tell how the product works.
So they are very useful – especially for people who are planning to try it out.
And honestly, these complaints are way too numerous to be false.
---
Conclusion
---
There's no doubt that the product is legit because people received their orders.
However – that's enough for me to recommend it.
That especially since there are so many negative reviews of people who say it's not worth it.
Again, don't expect too much from this serum – because it will only give a short-term effect.
That's why I suggest you invest in a product that will treat the problem from the inside out.
---
#5 – Side Effects

(3 out of 10)
---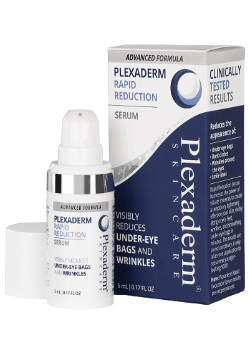 While I was reading the customers' reviews about this serum, I came across several complaints.
Some of these people complained of experiencing side effects:
under-eye are swelling

eye irritation

burning sensation

skin redness/abrasion
Now, these experiences are quite alarming.
That's because most anti-aging products I looked into have very few complaints of this type.
In fact – products like these should be mild and safe.
But Plexaderm seems anything but safe, judging after its secondary reaction rate.
So I strongly suggest you try a safer alternative that will not bring harm to your health.
---
#6 – Price

(2 out of 10)
---
After reading the customers' reviews, I would say that Plexaderm is very expensive.
And considering its formula, it's not a good choice at all.
1. The Exact Price
---
The most popular places you can buy this serum are Amazon and its official website.
Between these 2, there are some better deals on Plexaderm's website:
Trial Pack (6 application only) costs $14.95

Single bottle costs $59.95

3 bottles (buy 2 get 1 free) cost $119.90

Free shipping is included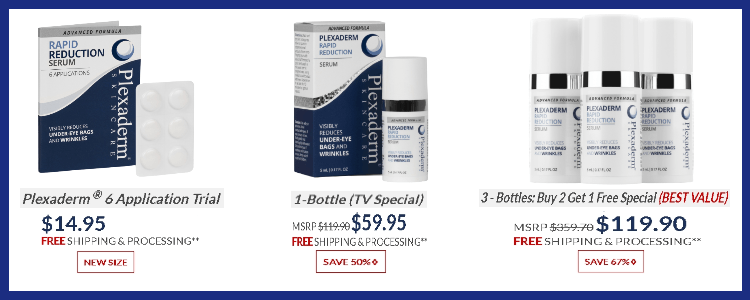 While on Amazon, there's only one bottle offered and it costs $65.95.
Now – keep in mind that a bottle only contains 5 ml (0.17 fl. oz.).
Given this amount and the reviews about the defective pump, this product is super expensive.
Considering the areas where you can use it, this serum will definitely not last long.
That's why I don't think it's too practical to buy it, since it only has a short-term effect.
You will end up having to buy more of it, so the final price will be even higher.
2. Competitors' Price
---
If you ask me, I only want to compare this serum with my #1 recommended anti-aging product.
I'm talking about Kollagen Intensiv: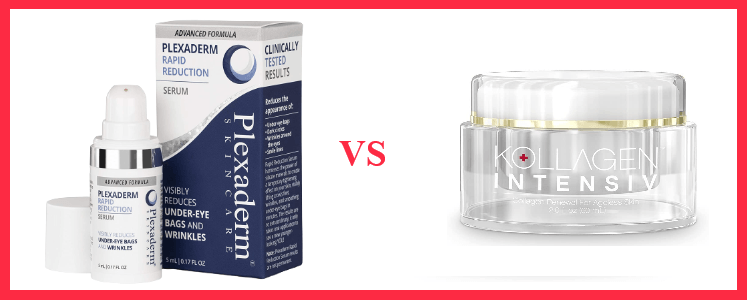 Kollagen Intensiv's ingredients are in their best versions and the overall formula is potent.

This cream will treat the problem from the inside and out.

Plexaderm has some weak compounds and the overall formula is weak.

Its effect is only for the short-term (and for aesthetic use).

Kollagen Intensiv normally costs $60 but you can get it for only $36.

In my case, a jar can last to even 6 weeks.

Plexaderm costs $59.95 (a bottle).

It has a small quantity for the target area and it will not last long.
Without any questions, between these 2 – the best option is Kollagen Intensiv.
It doesn't only have a higher quantity, but the ingredients are more effective and in their best form.
And most importantly, it has a long-term effect and it treats the real cause of the problem.
Not to mention that its price is much better.
That's why it remains as my #1 recommendation.
---
Conclusion
---
Overall – I don't recommend Plexaderm, since it's very expensive for its value:
defective packaging

high price

super small quantity
If you really want to reduce your fine lines and wrinkles, you need to invest in a good product.
An instant effect is good – but treating the real cause is the best solution.
So I suggest you spend your money on a better alternative with a long-term effect.
---
#7 – Plexaderm In 3 Ideas
---
Here's how I would summarize my opinions on this serum.
1. Weak Formula
---
As expected, this serum has some weak compound – since it's only an aesthetic product:
has 2 main ingredients but in weak form (peptides and collagen)

has some common compounds that can be found in any skin care product

also contains a plant extract/protein
Again, this is an aesthetic product and it doesn't have any long-term benefits.
2. Side Effects
---
Plexaderm has quite a high rate of side effects (compared to other similar products):
skin abrasion/tearing

eye irritations

burning sensation/skin redness

under-eye area swelling
Now – a small number of side effects is normal.
But when you have so many complaints, it's clear that this serum has an issue.
So I don't really trust its claims saying that it's a product that is made for all skin types.
3. Quite Expensive
---
Lastly, this serum is super pricey:
standard price costs $59.95

a bottle contains 5 ml (0.17 fl. oz.)

there are many complaints about receiving broken pump/empty bottle
These are some real reasons for not going for this serum if you ask me.
It won't be worth it and you're just going to waste your money, honestly.
---
My Verdict – Worth It Or Not?
---
Short answer: Definitely not.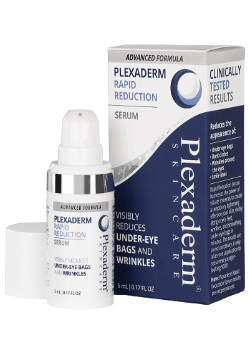 It may be a very popular product – but it's far from a good investment:
Only provides a short-term effect

Works only as an aesthetic product

Weak formula/ingredients overall

Lacks strong anti-aging ingredients

Very expensive for its value

Does not treat the real cause wrinkles

Has a huge rate of side effects

Many complaints about defective pumps and empty bottles
I cannot say that it's a scam – since most people received their orders.
However – there could be a possibility that this serum is a rip-off (in terms of effect).
So, what do I recommend instead then? A cream called Kollagen Intensiv:
It has the best ingredients (backed with clinical studies).

The overall formula provides a long-term effect.

It has strong anti-aging compounds that treat the cause of aging signs.

It has a higher quantity and lasts long.

A lot of previous users recommend it.
These reasons made me consider Kollagen Intensiv as my #1 recommendation and it's quite obvious.
Again, it is better to invest in a product that will give you a long-term effect and some skin-deep benefits.
So overall, this cream remains the best choice (in my view).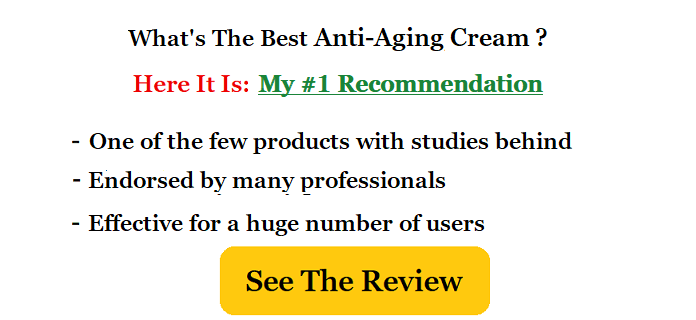 References:
1 – https://pubmed.ncbi.nlm.nih.gov/-24644551/
2 – https://pubmed.ncbi.nlm.nih.gov/-15648443/