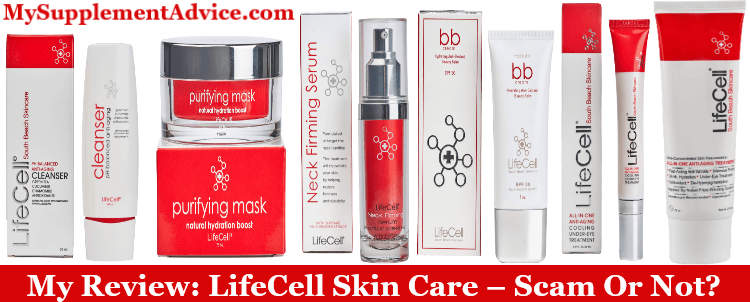 It's time to review LifeCell Skin Care – which is a skin care line that targets any visible signs of aging.
There are 6 products included in the pack, which I will describe one by one.
Do you think it is worth it to buy them all?
Or is it part of their strategy – to make you to spend more?
Let's find out the truth behind this set, to see if there's any chance that it's a scam or not.
Note: This review is based on my own experience + research on LifeCell Skin Care.
Review Summary
---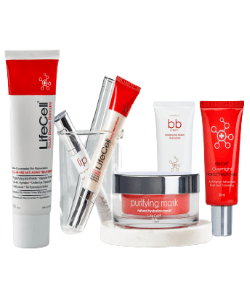 Full Name: LifeCell Anti-Aging Treatment by South Beach Skincare Inc.
Product Type: Anti-Aging Set made of 6 products
Tightening Treatment

Under-Eye Treatment

Cleanser

Serum

BB Cream

Mask
Best Actual Prize: Around $530 (Full Set)
Cheapest Place To Buy: Amazon
Designed For: Treating signs of aging– it claims to:
restore a youthful appearance

eliminate fine lines

brighten skin
My Rating: 3 out of 10
Recommended?: Not really. I don't recommend a set of products with so many negative reviews.
Instead, I personally suggest you go for the best anti-aging cream from the market.
It's simply a much better option (in terms of quality/price).
What I Liked About It
---
Full list of ingredients given out

Has its own official website

Lots of authentic customer reviews available
What I Didn't Like About It
---
Way too expensive

Not as effective as it claims

Causes some serious side effects

No discount for the whole set

Products are only sold individually

Not suitable for all skin types
---
LifeCell Skin Care In A Nutshell
---
LifeCell South Beach Skincare is a brand that focuses on body care.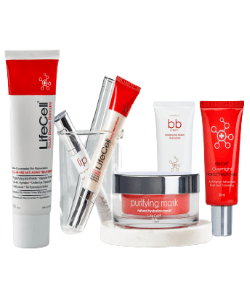 But for this review, I will focus on its face products, that include:
All-In-One Skin-Tightening Treatment

Cooling Under-Eye Treatment

Neck Firming Serum

pH Balanced Cleanser

BB Cream

Purifying Mask
Now, I first expected to see these products offered in a set/larger pack.
But unfortunately, these are only sold separately (both on Amazon and LifeCell's Official Website).
And that's surely not an advantage for the buyers (since you end up paying quite a lot).
So if you ask me, there are some reasons why it's not really worth buying this set:
can cause serious side effects

limited customer reviews

very expensive

has a small quantity

not meant for all skin types
And most importantly – 3 of the 6 products have the same benefits as the other 3.
So I don't recommend going for the entire set, if any.
Just get the skin, under-eye and neck treatments – they would do.
The others ones help in about the same ways, so there's no need to spend some extra money.
But even so – given the feedback of people who tried it, I don't recommend this set.
---
#1 – Claims & Producer
---
I looked for the general info about this set – in order to give you these facts:
how it works

company behind

skin problem it targets
1. Claims
---
Most of these 6 products claim to be "Dermatologist Recommended. Hypoallergenic. Non-Comedogenic."
And according to their promises – they can:
reduce wrinkles

smooth the texture

brighten skin tone

firm the skin

remove impurities

enhance appearance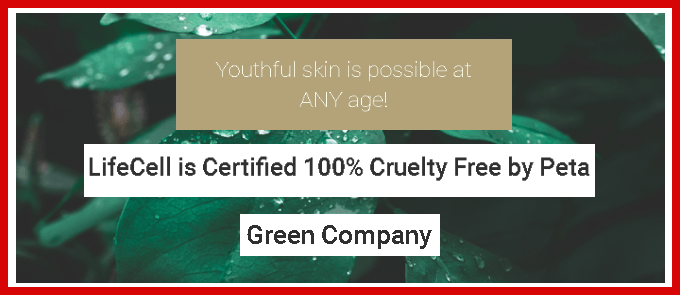 Also – the description behind every product says that it is suitable for all skin types.
Again, I strongly disagree with this statement (which is also made by a lot of brands).
That's because every skin reacts differently to a certain product.
Also – the products are said to be 100% Cruelty-Free (by PETA).
2. Company Behind
---
The company behind this set is LifeCell by South Beach Skincare Inc., based in Hollywood, Fl.
It's totally different and should not to be confused with South Beach Skin Labs.
Here's some general info I found on LifeCell's website:
sells products for the face, body, supplement and hair

textures vary from serum, cream, balm, toner and lotion

all products promote a youthful glow inside and out
Also – the brand claims that everything is made in favor of the environment.
This includes the ingredients used, up to the packaging of the products.
Now, you can find the address and contact details on their website.
So overall – it looks like a legit brand for me.
---
#2 – Formula (6 out of 10)
---
After looking into every product's list of ingredients – here's what I noticed:
all have some strong anti-aging components

2-3 products have almost identical ingredients

their formulas have a lot of plant extracts
So let's take a further look at each item's key ingredients.
1. All-In-One Skin-Tightening Treatment
---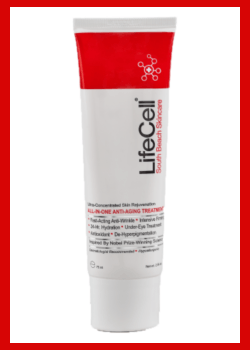 This particular product claims to be an all-in-one anti-aging treatment to reduce wrinkles.
It contains these 2 main ingredients:
Retinol – minimizes wrinkles [1]

Hyaluronic Acid – retains skin moisture
Now, I consider Retinol as a top anti-aging compound.
So this product looks good (on paper).
However, it doesn't contain too many varied ingredients overall.
And even though Retinol is a very potent compound – it's a pretty classic (and potentially dangerous) one.
2. Cooling Under-Eye Treatment
---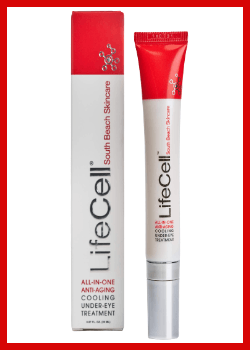 Obviously, this cream is made for the under-eye area.
Its main goals are to reduce fatigue signs and fine lines.
Here are the major compounds you can find inside it:
Vitamins C & E – brightens the skin

Sodium Hyaluronate – attracts moisture in the skin cells [2]
Plus, it also contains the 2 ingredients from the previous cream (Retinol and Hyaluronic Acid).
However, this cream has almost the same compound as the first one.
That's not very promising, to be honest.
Since you're paying for 2 different products – why would you get them, since they contain the same stuff?
Just because they are designed for 2 different areas?
That's not a very good reason, to be honest – because you can easily apply the first cream in the under-eye area as well.
3. Neck Firming Serum
---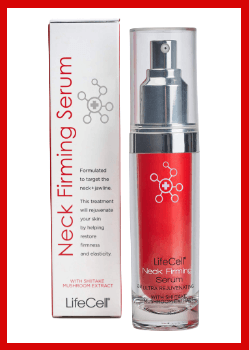 This product is specifically made for firming the skin in the neck area.
It targets and lessens the skin sagging (also known as the "turkey neck").
In order to do this – it contains 2 main substances (other than its secondary ones):
Titanium Dioxide – filters UV light

Coenzyme Q10 – reduces sun damage [3]
Most of people don't really care about the neck area.
They all focus on facial wrinkles, which is totally understandable.
But if you ask me – the neck needs the same attention, because they both have a delicate skin.
4. pH Balanced Cleanser
---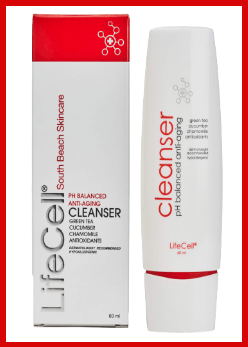 If you are into skin care routine, you should instantly know that this is a facial wash.
The #1 goal of facial washes is to balance the skin's pH and remove impurities.
These benefits are given by ingredients like:
Plant Extracts – provide antioxidants

Glycerin – traps moisture to the skin [4]
To be honest, the majority of this product's components are plant-derived.
So it gains a very extra points, compared to the other 5 products.
5. BB Cream
---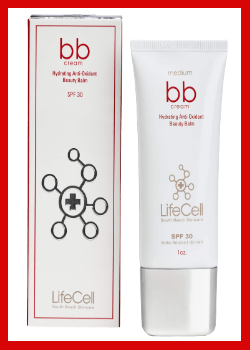 Most of you are surely familiar with BB creams.
They are meant to provide protection and reduce the appearance of imperfections.
In terms of composition – there are 2 ingredients that stand out:
Titanium Dioxide – offers protection against harmful sun rays

Castor Oil – treats sunburn [5]
Now, this cream can be used as a base for your light makeup.
But don't expect too much coverage from it – because it's not an actual foundation.
Still, I found it quite useful as a makeup base.
6. Purifying Mask
---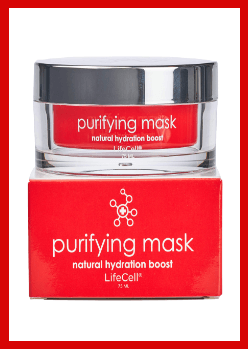 Lastly, this product is a clay mask that claims to give you a radiant and glowing skin.
It does that by removing impurities and dead skin cells.
Now, it has 2 main these compounds:
Herbal Extracts – deliver nutrients to the skin

Bentonite – detoxifies the skin [6]
Usually, clay masks are good if you want an extra help in clarifying your skin.
But they're not an amazing anti-aging treatment themselves.
That's why this product's effect isn't as potent as that of the others.
---
Conclusion
---
Honestly – these products have some very similar list of components:
most are plant-derived
some also contain classic ingredients
their overall formula is pretty much the same
So if you ask me – I don't think you need to buy all 6 products.
In my view, the first 3 ones are the most essential.
As for the others, you can easily skip them (as they have no unique benefit).
Even so – the first 3 products are not something I would necessarily recommend.
---
#3 – Consistency & Dosage (6 out of 10)
---
Here's what you should know about these products' texture and instructions.
1. Consistency
---
Based on my research, some products have a very clear description .
Let's take a quick look at each item briefly:
All-In-One Skin-Tightening Treatment – beige and slightly thick texture

Cooling Under-Eye Treatment – slightly beige and lightweight

Neck Firming Serum – cloudy white and slightly sticky

pH Balanced Cleanser – clear to cloudy gel-like liquid

BB Cream – light beige and slightly thick

Purifying Mask – grainy beige and thick
As you can tell – all these 6 products have a rather thick consistency.
Also, based on the ingredients present, the whole set probably has an earthy smell.
But there's the only info I could find there.
That's also because of the limited customer reviews and product photos/descriptions.
2. Dosage
---
Luckily, each product has specific instructions on how to use it.
Now – let's analyze the ingredients of the 3 main products.
All-In-One Skin-Tightening Treatment
Clean the skin and pat dry.

Apply to the target areas (eyes, forehead, cheeks, chin and neck).

Dab the product lightly all over the face.

Use daily every morning and evening.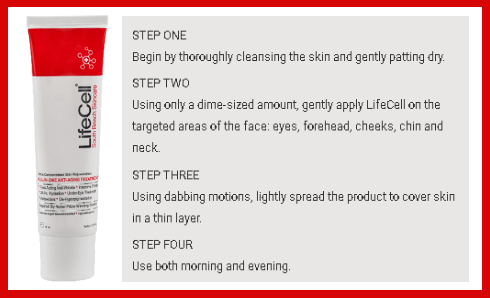 Cooling Under-Eye Treatment
Use the metal applicator and gently apply a small amount of the product.

Pat until the product is fully absorbed.

For best result, refrigerate it first before using.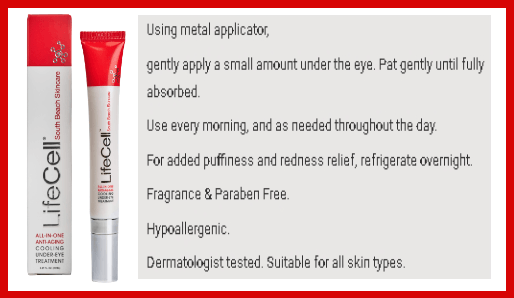 Clean and dry your neck and upper chest area.

Apply your desired amount to your fingertips.

Apply it in the desired areas in an outward motion towards the ears.

Wait for it to dry.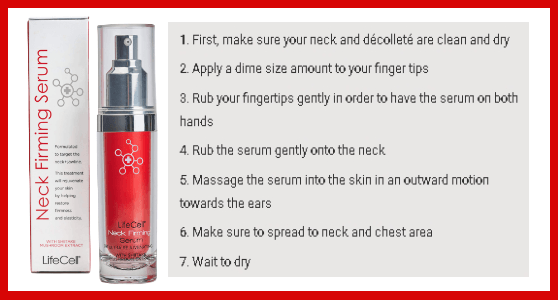 Now, the whole set contains 6 products but I only recommend using 3 of them.
But even using these 3 products will take a while.
That's why I'm not such a big fan of sets.
There are products that bring in the same results as this 3-steps combination – but they only come in one product.
So I would surely go for something like that instead.
---
#4 – Results

(4 out of 10)
---
To check out how this set work, I looked into the reviews of people who actually tried them.
I always do this – in order to avoid giving you a biased view of any product.
Note: I only analyzed authentic reviews, not promotional or fake ones.
1. Positive Opinions
---
I found some customer reviews on Amazon and on LifeCell's website.
The overall ratings of these products (official website) are all 4.5/5 stars (except for one).
And for Amazon, here's each product's rating (out of 5 stars):
All-In-One Skin-Tightening Treatment – 3.9

Cooling Under-Eye Treatment – 4.1

Neck Firming Serum – 4.1

pH Balanced Cleanser – 4.3

BB Cream – 4.0

Purifying Mask – 4.0
Well, these ratings are quite decent so far – but wait until you see what people say about these items.
These are what satisfied buyers like about this set:
Some users say their skin feels more nourished and hydrated.

Others notice their skin looks younger.

The rest feel their skin became smoother and the fine lines are reduced.

To be honest, I consider these positive reviews quite generic and not so specific.
I didn't really feel like all of these are authentic, because they sound like paid ads, to be honest.
2. Negative Opinions
---
At first, I expected that the negative reviews are only related:
to poor customer service

no real effect
But to my shock, things are a lot worse:
A lot of people say that there are no effects at all.

Some experience pimples, breakouts and burning sensations.

Many also state that these products are a rip-off or fake.

1-2 people experienced eye swelling, skin lesions and severe skin issues.

I didn't expect all of these complaints, to be honest.
That's because the products themselves look rather promising.
But that's surely a lesson – not trusting any product based on its outside appearance.
---
Conclusion
---
I personally don't have a great opinion on these products, judging after its overall feedback.
I don't want to recommend products that can harm your skin in the long run.
The praises these products got are not enough for me to trust them.
Since it has some many serious complaints, I wouldn't give it a try.
For this time, I don't want to say that it's up to you.
Instead – I strongly suggest trying a better alternative, which is safer and more effective.
---
#5 – Side Effects

(3 out of 10)
---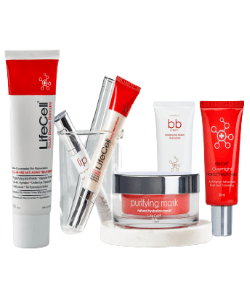 These products don't have such a huge number of negative reviews.
But as I said, the ones they do have are pretty scary and significant.
Regarding side effects, there were only a few complaints overall.
But once again – they were quite scary as well:
eye irritation/swelling

formation of skin lesions

severe contact dermatitis

acne and breakouts
These things are very serious, because things can get really worse.
So if you ask me, I advise you to stay away from products like these.
There are a lot better alternatives out there that won't harm your skin in any way.
---
#6 – Price

(1 out of 10)
---
There's no way to deny that this product line is super expensive.
So if you ask me, all the items made this brand are very overpriced, so they're not a good deal at all.
1. The Exact Price
---
You buy LifeCell's products on Amazon and on the official website.
And so far, there's no price difference between the two (except for the cleanser and serum).
Now – let's focus on the price of each item from LifeCell's website:
All-In-One Skin-Tightening Treatment (2.54 oz) costs $189

Cooling Under-Eye Treatment (0.67 oz) costs $79

Neck Firming Serum (1.50 oz) costs $139

pH Balanced Cleanser (2.00 oz) costs $39

BB Cream (1.00 oz) costs $47

Purifying Mask (2.50 oz) costs $78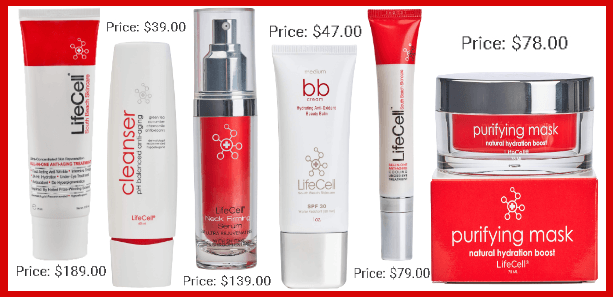 On Amazon, the pH Balanced Cleanser costs $25, while the Neck Firming Serum is $119.
If you're after free shipping, you can only get that from Amazon.
But if you want to replenish every 30,60, 90 or 120 days, you can get that on LifeCell's website as well.
Again, these products are not offered in a set and you need to buy them individually (a total of $571).
That's a huge downside, if you ask me.
Regardless of the perks you get from which wesbite you buy them from, everything is still pricey.
So I still think that it's not a good deal at all.
2. Competitors' Price
---
I only want to compare these items with my #1 recommended anti-aging product.
I'm talking about Kollagen Intensiv: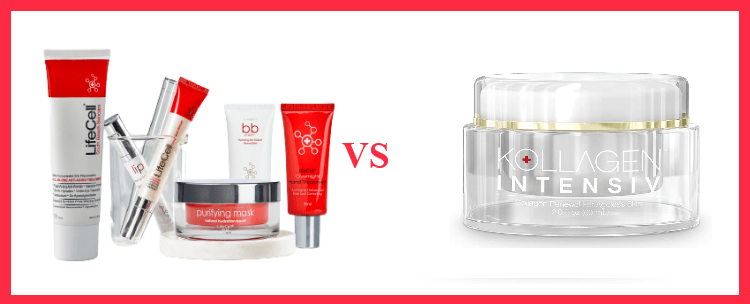 Kollagen Intensiv's formula is very potent and effective.

Its ingredients are backed-up with science and proven to be beneficial.

LifeCell Skin Care's ingredients are mostly plant-based.

2-3 products from the line have the same compounds and differs only in texture.

Normally, Kollagen Intensiv costs $60 but you can find it for only $36.

LifeCell Skin Care's set for the face costs $571.

Based on the amount of product you get, it looks like it won't last long.
Honestly – you really don't need a lot of products to get the best results.
I still believe that less is more – that's why I consider Kollagen Intensiv as the best option.
It's much cheaper but at the same time, it delivers all the anti-aging benefits that you need.
---
Conclusion
---
These products are very expensive overall.
Not to mention their quantity – which is too little for the price, in my view.
Again, there's no promo pack for the whole set and you need to buy it individually.
But as I said – you don't really need to buy all of these products.
There's a much better alternative out there that won't hurt your pocket.
---
#7 – LifeCell Skin Care In 3 Ideas
---
Here's how I would sum up my opinion on this skin care set.
1. Weak Formula
---
These products' composition doesn't look too bad at first sight:
has some strong anti-aging ingredients

has a lot of plant extracts

it's cruelty-free
The formula doesn't look too impressive at first.
But after reading the reviews, I became even more sure of this.
There's a big possibility that its effect is only on paper.
2. Negative Side Effects
---
This set of products has a pretty high risk of side effects, apparently.
Some people experienced the following:
pimples and breakouts

formation of skin lesions

severe contact dermatitis

eye irritation/swelling
Unlike in other anti-aging creams, these reactions are serious.
So this set doesn't seem the most trustworthy to me, at least from this point of view.
3. Overpriced
---
To be honest – it's not practical to spend roughly around $571 for the whole face set.
I'm pretty sure it's not worth it.
There are a lot of better alternatives in the market that don't have hefty price tags.
Overall – these 6 items cost too much but deliver little or nothing at all.
---
My Verdict – Worth It Or Not?
---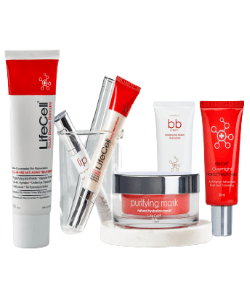 Short answer: Not really.
At first. it looks promising but as I managed to dig into the details, here's what I found:
Crazy expensive

Weak form of ingredients

Has some severe secondary reactions

Not for all skin types

Can't be bought as a set
Overall – I think these items are not worth it and not practical to buy at all.
And based on their feedback, effectiveness and side effects, I will surely not buy any of them.
Not even the 3 ones that seem the best.
What do I recommend instead? A cream called Kollagen Intensiv:
cheaper in price

potent formula

best forms of ingredients

many positive reviews

recommended by specialists

helps with anti-aging
It's quite obvious that I consider Kollagen Intensiv the best choice compared to LifeCell's Skin Care.
Besides the lower price, you will also get a lot of great anti-aging benefits.
So it's clearly superior from many points of view.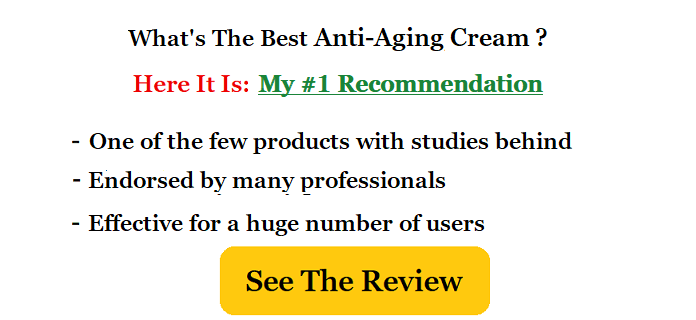 References:
1 – https://www.ncbi.nlm.nih.gov/pmc/articles/-PMC6791161/
2 – https://www.ncbi.nlm.nih.gov/pmc/articles/-PMC6937149/
3 – https://www.ncbi.nlm.nih.gov/pmc/articles/-PMC7146335/
4 – https://pubmed.ncbi.nlm.nih.gov/-22913439/
5 –https://www.ncbi.nlm.nih.gov/pmc/articles/-PMC5796020/