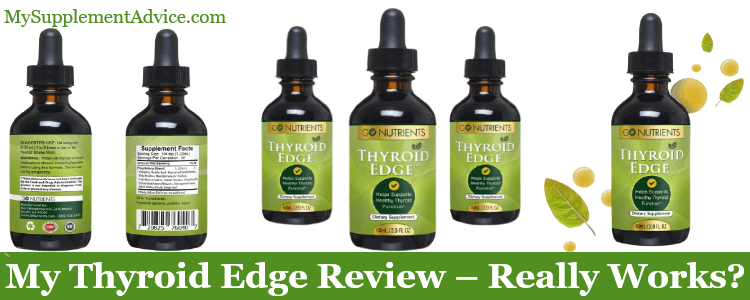 It's time for my Thyroid Edge review – a supplement that comes in a liquid form.
So does it truly work?:
weak formula

pretty hard to use

quite affordable
Or is it just a waste of time?
Well, I examined the product's details to give you the answers to these questions.
Note: This review is based on my opinion + research on Thyroid Edge.
Review Summary
---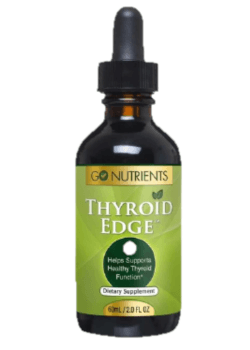 Full Name: Thyroid Edge™ by GO NUTRIENTS

Product Type: Thyroid Supplement
Best Actual Prize: Starts at $27
Cheapest Place To Buy: Official Website
Designed For: Assisting the thyroid system:
helps with metabolism

balances thyroid hormones

energizes the body
My Rating: 5 out of 10
Recommended?: Not quite – I have some complaints about it:
basic ingredients

side effects

not too easy to use
I strongly suggest you to try the best thyroid supplement from the market that I looked into.
What I Liked About It
---
Based on several herbal ingredients

Authentic customer reviews

Easy to take (since it's a liquid form)

Price is quite affordable

Informative official website
What I Didn't Like About It
---
Overall formula is quite weak

Pretty hard to take (1-3 times/day)

Can trigger adverse reactions

Lacks some major compounds for thyroid health

No individual doses (only a mix)
---
Thyroid Edge In A Nutshell
---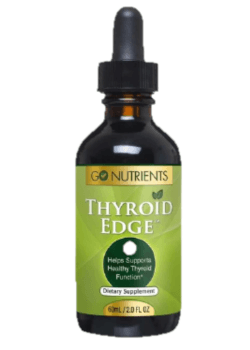 Now – Thyroid Edge is a liquid supplement for thyroid health.
All of its ingredients are herbal-based and they're promising.
However – there are some cons about it:
ingredients are listed to together in a mix

no available individual doses

formula is quite weak

lacks some major compounds for thyroid support
Now – the instruction recommends taking 1/4 teaspoon 1-3 times a day.
In my opinion, that's easy to take – but the frequency is not that convenient.
Also – you need to be aware of the possible side effects you can get from it.
I'm not saying that you will definitely experience them – just keep them in mind.
Now – Thyroid Edge's price starts at $26.95/bottle (60 ml).
However, it can get more affordable for larger orders or upon subscription.
Overall – Thyroid Edge is not for someone with some real thyroid issues.
So if you're that someone, I strongly suggest you to look for better alternatives.
---
#1 – Claims & Producer
---
Here are the first things you should know about Thyroid Edge:
the company behind it

what health issues it treats

how it works
1. Claims
---
Based on Thyroid Edge's website, it claims to make some real wonders.
One of its claims indicates that it "helps support an underactive thyroid!"
To make it possible, here's what it does:
increases the level of iodine

energizes your body

supports T3 and T4 hormones
If you're curious, T3 and T4 are vital for your body's metabolism, temperature and heart rate.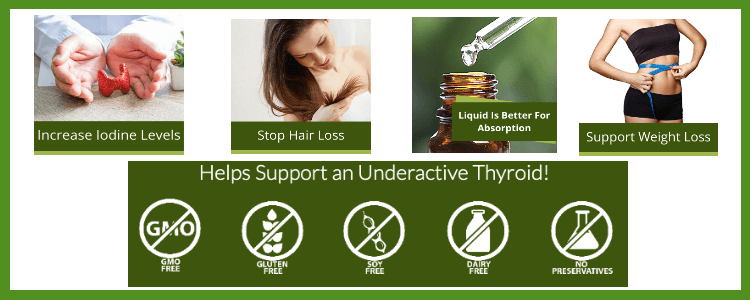 Also – it says to be ideal for the following:
checks weight issues

fights fatigue

maintains strong nails and hair
If you ask me, these claims are quite a lot and pretty serious.
So I am really expecting a lot from its formula at this point.
Other than that, Thyroid Edge is also defined by the following:
no preservatives

gluten-free

third-party tested

no artificial sweeteners

GMP certified
So let's find out in the following chapters whether it deliver its promises or not.
2. Company Behind
---
Thyroid Edge is made by the brand GO NUTRIENTS.
Upon checking its website, here's what I found so far:
a lot of varied products in its portofolio

supplements for thyroid, cold, immune, mental clarity and focus

all of the products are in a liquid form
In terms of contact info, the brand's email and phone number are also on the website.
Plus – you can find GO NUTRIENTS' social media links at the bottom of the website.
So far, I haven't found any complaints about it from any 3rd party websites.
For now, it's safe to say that you can buy products from this brand.
---
#2 – Ingredients (5 out of 10)
---
Thyroid Edge is truly a herbal-based product.
However – I found a few problems with it:
lacks vital nutrients for thyroid health

its herbal ingredients are listed in a mix (propriety blend)

formula could be combined with other thyroid helpers
The overall set of herbal ingredients is quite promising, but it still lacks a lot, in my view.
So let's find out the benefits of the compounds present in it:
Horsetails Leaf/Stem – acts as a diuretic for fluid retention [1]

Stinging Nettle Leaf – helps with calming the symptoms of hay fever/allergy

Kelp Thallus – provides antioxidant minerals such as manganese and zinc [2]

Bladderwrack Thallus – promotes proper metabolism and growth

Irish Moss Thallus – it's a source of plant-based Omega-3 fatty acids [3]
Dulse Thallus – supports a healthy nervous system [4]

Shepherd's Leaf/Stem/Flower – maintains a healthy circulation and heart functions

Fenugreek Seed – lowers the risk of heart-related problems [5]
Black Walnut Hull – supports weight loss and reduces heart disease [6]
Sage Leaf – lowers bad cholesterol [7]
Now – some of the herbal ingredients mentioned above can also provide minerals.
But they are not that strong (compared to pure minerals).
Also – one of its claims said that it " increases the level of iodine."
But it looks like it doesn't have enough sources/ingredients for that.
So it might help with your thyroid health – but it won't solve any existing problems.
---
Conclusion
---
If you ask me, Thyroid Edge is just as a daily supporting supplement.
But it's not for someone who needs a strong product for thyroid maintenance.
Overall – it's not bad, but I strongly believe there are way better options out there.
---
#3 – Consistency & Dosage (6 out of 10)
---
Let's take a look at some important info about Thyroid Edge.
1. Consistency
---
In terms of physical characteristics, here's how I would describe it:
consistency is a little watery

slightly opaque dark brown color

distinct herbal scent and taste
If you see it for the first time, you can tell right away that it's an herbal product.
Also – its liquid consistency makes it easier to swallow.
But if you're not a fan of herbal supplements, you might not like it.
2. Dosage
---
Based on Thyroid Edge's website, here's how you should use it:
Shake the bottle first.

Get approximately 1/4 teaspoon of the product.

Take it 1-3 times a day.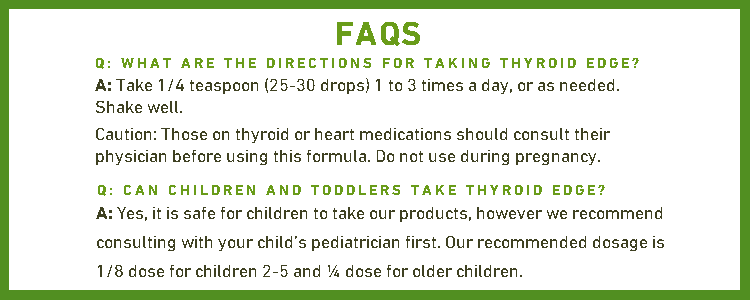 Now – it's true that it's quite easy to swallow.
However, the frequency could take a lot of time.
So it's not suitable for someone who doesn't like taking medicines more than once a day.
Overall – it's still up to you if you can handle it or not.
But I still think that there are better options that are easier to take.
---
#4 – Results

(6 out of 10)
---
As part of the review, I always check the comments of the previous customers.
I do this to see how Thyroid Edge performed to other people.
Also – I try to avoid giving biased opinions about it.
Note: I only analyzed authentic reviews, not promotional or fake ones.
1. Positive Opinions
---
As usual – I prefer to check the reviews on Amazon.
I just think that the comments there are more authentic.
So here are the positive views of some previous buyers:
Most users mentioned that it really helped with their hypothyroidism.

Others said that it tastes good and it's easy to take.

Some experienced its effect very fast.

A few people said that it also helps with weight loss and energy gain.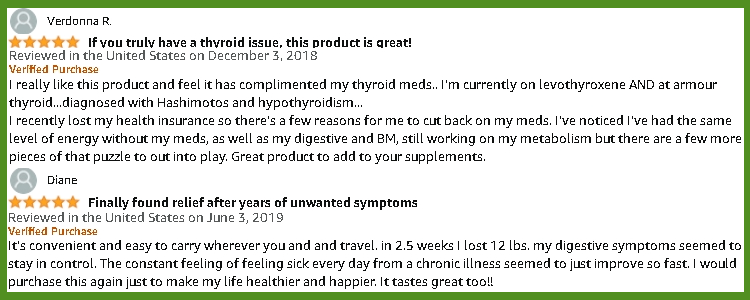 If you ask me, almost all of the positive comments are well-detailed and pretty long.
But many sounded like an ad/promotional message at some point.
Also – the overall rating of Thyroid Edge is 4.2 stars out of 5.
In my view, that's pretty good – but the weird praises still make me reluctant about it.
2. Negative Opinions
---
Now – let's take a look at the complaints of other previous buyers:
Many complained that it doesn't work for thyroid issues.

A lot of customers experienced adverse reactions.

Some said that it's not working at all.

The rest said that it tastes and smells so bad.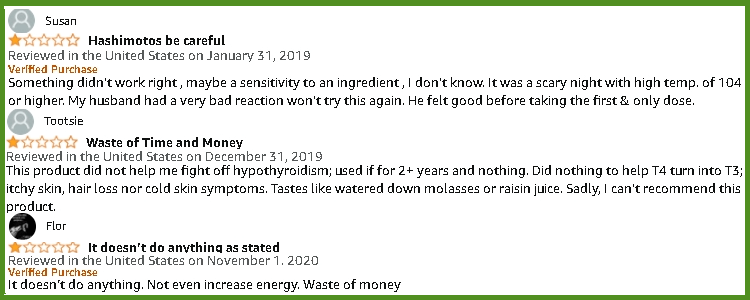 As you can see, these opinions more legit and brutally honest.
Now, I'm not saying that you should trust the negative comments more.
But I urge you to read them all – so that you can judge this product yourself.
---
Conclusion
---
Honestly – the positive reviews look a little bit promotional.
But other than that, the number of people who liked and didn't like it is almost equal.
So it's up to you if you really want to try the product.
I personally prefer some better options, but it's your choice.
---
#5 – Side Effects

(4 out of 10)
---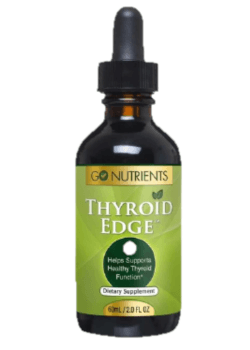 Now, there's quite a lot of comments about Thyroid Edge's side effects.
Let me give you the most common complaints about it:
chest pain and jitters

super high body temperature

migraine/headache and vomiting

dry skin and scaly scalp
Again – these side effects will not happen to you automatically.
But there are possibilities, so at least be careful.
Personally – I find these adverse reactions a little alarming.
That's because thyroid supplements rarely have so many varied side reactions.
That's why I can't say I'm a huge fan of this product.
---
#6 – Price (7 out of 10)
---
If you ask me, Thyroid Edge has an affordable price.
But let's find out if it's worth buying or not.
1. The Exact Price
---
Now – Thyroid Edge is officially available on Amazon.
But here are way more bundles offered on the product's website.
So here are the deals and discounts I found:
A pack costs $26.95

2 packs cost $53.90

3 packs cost $72.75

A 6 pack supply costs $137.40

Subscription gives extra 10% discount

100% money-back guarantee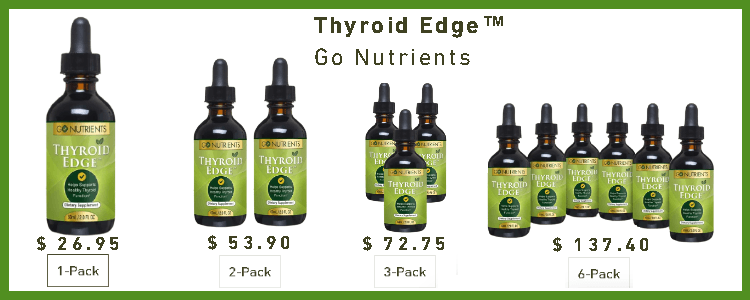 I also want to mention that one bottle has 60 ml (2 fl. oz.).
To my estimation, it can last up to 16 days if you take it 3 times a day.
Honestly, if you don't have serious thyroid issues, you can buy it as maintenance.
However – if you're looking for a potent cure, buying it isn't really worth it.
2. Competitors' Price
---
If you want a better investment, try my top recommended thyroid supplement.
The product is called Thyroid 911:

Thyroid 911 contains a mix of ingredients in higher but safer doses.

The overall formula is specially made for thyroid health.

Thyroid Edge has a blend of herbal ingredients.

However, the formula lacks thyroid helpers and some nutrients.

Thyroid 911 only requires 2 capsules/day.

Meanwhile, Thyroid Edge requires 1/4 teaspoons 1-3 times daily.

Thyroid 911 costs $69.95, but it can be bought for only $39.

Thyroid Edge's price starts at $26.95 per bottle.
To be honest, Thyroid 911 is the best choice between the two.
That's simply because it's potent and it really does improve thyroid health.
So even though it's a little pricier, at least the effect you get is a lot better.
---
Conclusion
---
Thyroid Edge is not a very powerful thyroid supplement.
So it means that you really need to buy a lot of bottles to see some results.
But honestly – if you're willing to spend a lot, just look for a better alternative.
---
#7 – Final

Conclusions
---
So here's my summarized opinion about the Thyroid Edge.
1. Basic Formula
---
Thyroid Edge's overall formula is not that great, in my view.
But at least it contains some herbal ingredients that can benefit your body.
Again – it's not a bad product, but it's not strong enough to heal thyroid problems.
It can only act as a support for an otherwise healthy thyroid.
2. Triggers Side Effects
---
Honestly – the possible adverse reactions it can cause are quite alarming.
So for someone with thyroid problems, it's not worth the risks.
Just consult your doctor first, if you're having some second thoughts about trying it.
3. Pretty Easy to Take
---
The major advantage of Thyroid Edge is that it's in a liquid form.
It's a good supplement for people who are not a fan of capsules.
So even though it requires 1-3 doses daily, it may be worth the time.
---
My Verdict – Worth It Or Not?
---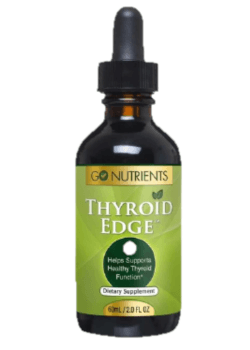 Short answer: Not quite – there are several disadvantages I found about it:
Formulation is not that strong

Not really easy to take (1-3 times daily)

Can cause side effects

All of the ingredients are listed together in a mix

Doesn't work too fast

Lacks strong compounds for thyroid support
Herbal ingredients are good for you body at a certain level.
However – Thyroid Edge only contains a mix (called a Propriety Blend).
So it means that its overall formula is a little weak.
Overall – it's not a bad product, but don't expect big changes from it.
Now, I suggest you to try is my #1 recommendation.
The product I'm talking about is called Thyroid 911:
Really easy to take

Less to no chances of adverse effects

Has a mix of essential ingredients for thyroid health

Effect is pretty fast and really strong
Obviously – Thyroid 911 is better in a lot of aspects.
It works well for thyroid health, since it contains essential ingredients.
So I think it's the best option out there and it will definitely give your money's worth.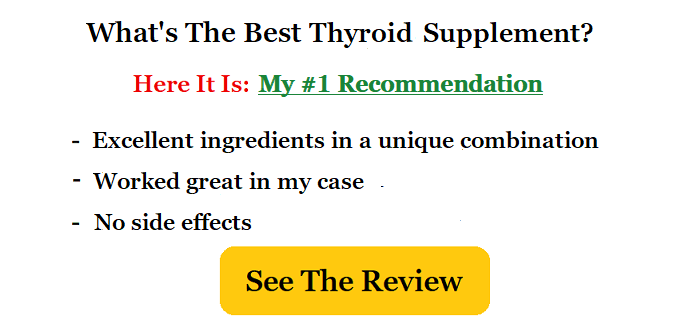 References:
1 – https://www.healthline.com/nutrition/horsetail
2 – https://www.healthline.com/health/-kelp
3 – https://www.ncbi.nlm.nih.gov/pmc/articles/-PMC4413210/
4 – https://www.ncbi.nlm.nih.gov/pmc/articles/-PMC6266857/
5 – https://www.ncbi.nlm.nih.gov/pmc/articles/-PMC6482331/
6 – https://www.healthline.com/nutrition/-black-walnut