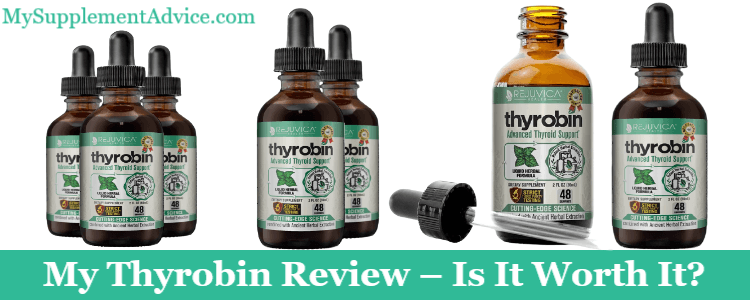 It's time for my Thyrobin review – which looks like a very interesting product.
But does it really follow its promises?:
unique formula

rather weak doses

negative side effects
Or is it just another gimmick to attract buyers?
Let's now dive deep into its features, to see the real truth about this product.
Note: This review is based on my opinion + research on Thyrobin.
Review Summary
---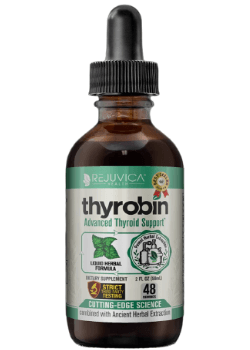 Full Name: Thyrobin Advanced Thyroid Support® by Rejuvica Health, LLC.

Product Type: Thyroid Supplement
Best Actual Prize: Starts at $34
Cheapest Place To Buy: Official Website
Designed For: Supporting healthy thyroid and metabolism:
balances energy

enhances thyroid health

promotes a normal metabolism
My Rating: 6 out of 10
Recommended?: Not really – I some unimpressive facts about it:
formula is pretty basic

some user complaints

not the safes product out there
However, it has a unique formula and consistency – but that's not enough.
I have another suggestion for you and it's the best thyroid supplement from the market I know.
What I Liked About It
---
Formulated as a liquid

Comes with a professional website

Formula is pretty promising

Many authentic customer reviews

Slightly affordable
What I Didn't Like About It
---
Pretty weak formula overall

Can causes serious side effects

Tends to work pretty slow

No individual doses for most ingredients
---
Thyrobin In A Nutshell
---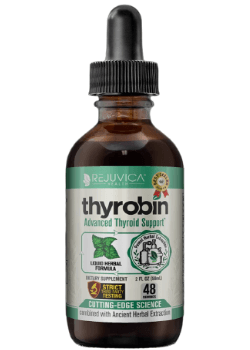 Thyrobin is a unique thyroid supplement.
Unlike most products out there, it is formulated as a liquid.
The overall formula is quite decent – but I found some red flags:
low doses in ingredients

triggers some serious side reactions

works surprisingly slow
Now – the product is easy to take, since it's a liquid.
But it requires 1/4 teaspoon 1-3 times/day, so it's a little hassle.
Also – I highly advise you to read about its side effects first.
So if you're unsure about it, take a look at what its previous users state.
Lastly – a bottle (59 ml) costs $34 as a starting price, but it can get cheaper.
Overall – Thyrobin is not a bad product, but I still think that there are better options.
---
#1 – Claims & Producer
---
Firstly – here's what you should know about Thyrobin:
what issues it treats

how it works

the producer behind
1. Claims
---
Thyrobin takes pride in the "cold-extraction processes" of its ingredients.
So if you're wondering, here's what it does:
enhances thyroid health

boosts mood and energy

supports healthy metabolism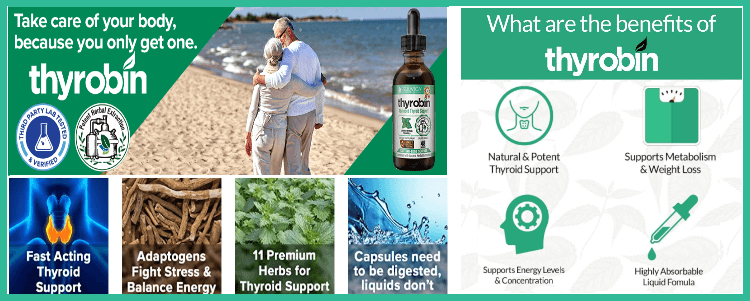 What makes it different from other products-alike is its formulation.
It comes in a liquid form instead of the typical capsule.
Part of the product description mentioned that it's made in a unique manner.
The process of cold-extraction is said to preserve the ingredient's potency.
Also – it is said to be formulated for optimal bioavailability (so it's easy on the stomach).
Other than that, I haven't found any other claims about it.
So let's all find out in the rest of the review if these promises are true.
2. Company Behind
---
The producer behind Thyrobin is Rejuvica Health.
I looked for this brand and I saw 1-2 complaints about it.
Both comments are about payment issues and shipping.
Now – I checked its website and here's what I found so far:
most of their products are in a liquid form

they are very varied (for many health issues)

there are also products for skin care, eyelashes and eyebrows
The company's address, email and phone number are also posted on the website.
So overall – I would say that it looks like a legitimate brand.
Preview customers got their orders, so that can be an assurance for you.
---
#2 – Ingredients (6 out of 10)
---
If you ask me, I find Thyrobin's formula quite basic.
It contains 2 types of ingredients only:
herbal extracts (propriety blend)

thyroid helpers
Besides, there are no individual doses.
However, that's pretty common in thyroid products – so it's not necessarily a downside for Thyrobin.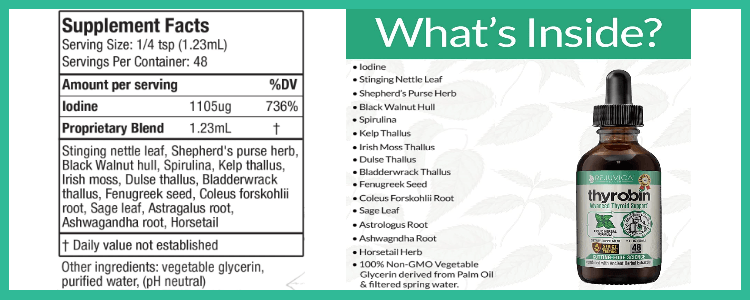 Now, its overall ingredient list doesn't look bad – but I don't think it is too amazing either.
So let's see what these ingredients can do for your body.
1. Thyroid Helper
---
The only thyroid helper present in Thyrobin is Iodine.
Based on my careful research, here's what it does:
helps produce thyroid hormones

promotes proper function of the thyroid [1]

supports metabolism
Besides, it is an essential nutrient for the thyroid system.
2. Propriety Blend
---
Now – I mentioned that there are several herbal-based ingredients in Thyrobin.
So let's take a more detailed look at them:
Stinging Nettle Leaf – reduces symptoms of hay fever [2]

Dulse Thallus – assists brain and heart health

Shepherd's Purse Herb – supports heart and circulatory functions [3]

Black Walnut Hull – provides a high level of antioxidants

Spirulina – improves immune functions [4]

Irish Moss – it's a herbal source of Omega-3 Fatty Acids

Kelp – helps fight disease-causing free radicals [5]

Sage Leaf – enhances a healthy digestive system

Bladderwrack – regulates metabolism and growth [6]

Fenugreek Seed – reduces the risk of blood and heart-related problems

Coleus Forskohlii Root – supports treating thyroid problems [7]

Astragalus Root – protects the immune system

Ashwagandha Root – helps overcome stress, strain and fatigue [8]

Horsetail – acts as a diuretic (for fluid retention)
But as I said – these ingredients are formulated as a mix, so there are no individual doses available.
Honestly – I don't think the blend is too strong.
That's because it contains 14 different extracts and only 1.23 ml as an overall dose.
So the quantity of each ingredient is probably very low.
Also – most of its benefits are rather for general health.
So it's not helping a lot when it comes to thyroid health.
---
Conclusion
---
In my view, Thyrobin's ingredients have great potential.
However – the overall formula is a little bit weak (compared to others).
So overall, it's up to you whether you want to try it or not.
But there are better alternatives out there that are more potent.
---
#3 – Consistency & Dosage (6 out of 10)
---
In this chapter, let's focus on the physical characteristics of Thyrobin.
1. Consistency
---
Let me describe Thyrobin's texture:
slightly brown clear liquid

not too thick in consistency

faint iodine and herbal scent
You might not like the product if you tend to care about a product's looks.
But if you don't, its scent and taste shouldn't be an issue.
Also – I agree that liquid form is easier to consume than capsules.
But Thyrobin doesn't have the most pleasant taste and smell, so it's not that amazing.
2. Dosage
---
Now – I looked for the instructions for the product.
The suggested dosage is to take 1/4 teaspoon 1-3 times a day.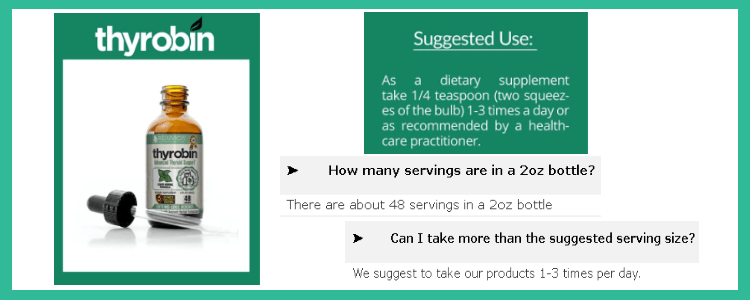 If you ask me, this product should be taken at breakfast, lunch and dinner.
But there's also a tip that you can take it with or without food.
Although the liquid is a good thing, it's not too handy (in my view).
That's because you have to use it 1-3 times a day, which isn't very convenient.
So it's up to your preference if you want to try it or not.
---
#4 – Results

(6 out of 10)
---
I checked out previous customers' reviews about Thyrobin.
So far – I have found out some interesting opinions.
I will share them with you – so that you can have other insights about its performance.
Note: I only analyzed authentic reviews, not promotional or fake ones.
1. Positive Opinions
---
I found out that Thyrobin is also available on Amazon.
So I went straight there to check out the positive reviews:
Most customers felt their hypothyroidism got better.

Some mentioned that their mood and energy improved.

Others said that it really worked for them overall.

The rest were very satisfied with their purchase.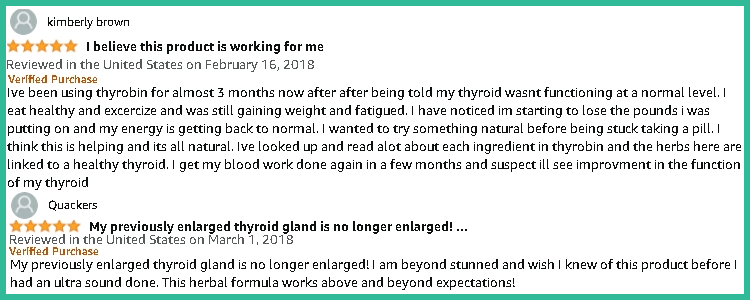 The positive reviews made the product get a 3.8/5 stars rating.
In my opinion, the rating is decent – but not high enough to be impressive.
But at least it seems to work (in terms of helping the thyroid).
2. Negative Opinions
---
Now – we cannot lie that there were enough people who disliked Thyrobin.
So here are their complaints about it:
Some said that it's not effective and they didn't notice any change.

A lot of customers experienced adverse reactions.

There are also users who said that it's not worth your money.

Others just didn't like the taste and scent of it.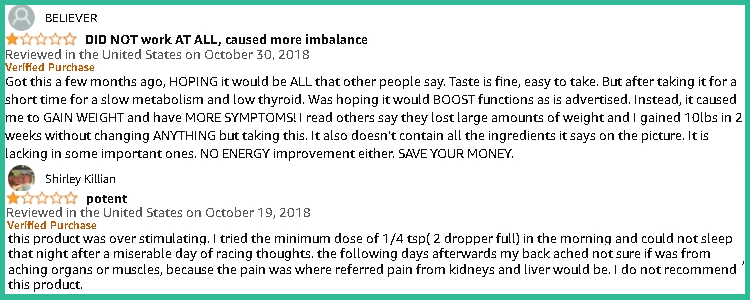 Honestly – the comments that caught my eyes the most are those related to side effects.
But let me elaborate on that in the next chapter.
Other than that, the product doesn't seem to work fast for most people.
So it's something you need to consider before buying it.
---
Conclusion
---
Thyrobin seemed to work for most of its previous buyers.
However – its overall performance of it isn't amazing.
Overall, I suggest you to read the full comment sections and judge it yourself.
But I believe there are far better alternatives out there (with more amazing benefits).
---
#5 – Side Effects

(4 out of 10)
---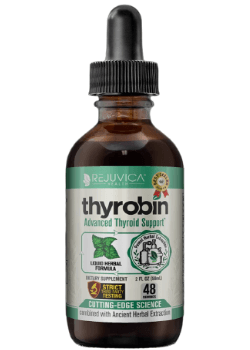 Again – I read some side effect complaints about Thyrobin.
So if you're curious, here are what some users experienced:
abdominal pain

high blood pressure

worsen thyroid problems

allergic reaction

headaches

upset stomach/vomiting

sleep troubles and nervousness
Now – I am not saying that all of these things will happen to you too.
But there are some small chances, since previous users did experience them.
So I still listed them all to give you a warning.
Overall – it's a decent product, but it's not the safest out there.
---
#6 – Price (7 out of 10)
---
In my opinion, Thyrobin's price is quite affordable if bought in bundles.
So it's okay overall (if you don't mind the other factors mentioned above).
1. The Exact Price
---
As I mentioned, Thyrobin is also available on Amazon.
But you can get it cheaper on its official website:
One bottle costs $34

2 bottles cost $60

3 bottles cost $86

The largest pack (6 bottles) cost $162

Easy returns

60-days money-back guarantee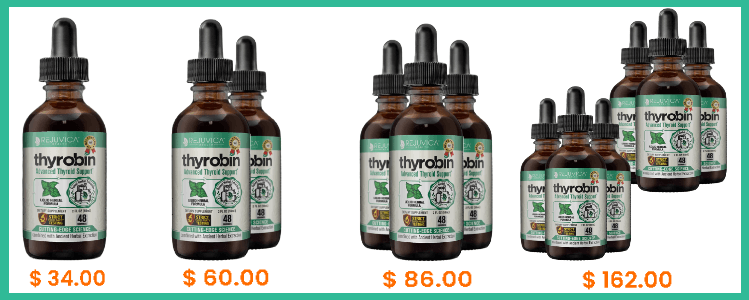 If you're planning to subscribe, you will receive a 7% discount.
The product will also be delivered to you every 30 days (subscription).
Honestly, I don't recommend doing that unless you already tested the product and you're satisfied with it.
But obviously, it's all up to you.
Now – a bottle contains 59 ml (2 fl. oz.) of product.
Based on the website, that's the equivalent of 48 servings.
If you do the math, 1.23 ml (per serving) x 3 times a day = 3.69 ml.
So one full bottle of the product will last up to 16 days.
But it can last longer if you don't plan to take it 3 times/day.
Overall – if you're planning to use it long-term, you're going to need more than a bottle/month.
2. Competitors' Price
---
Let me suggest a more convenient option, it's my top recommended thyroid supplement.
The product is called Thyroid 911: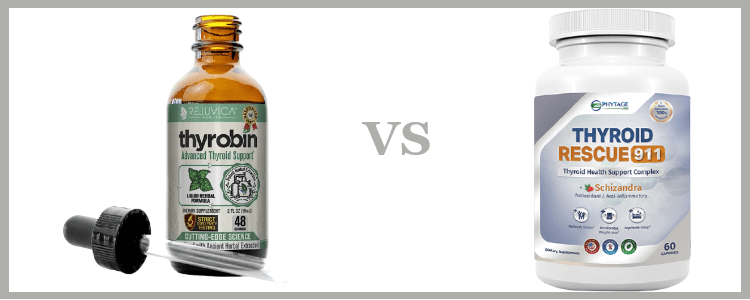 Thyroid 911 has a mix of ingredients essential for thyroid health.

The ingredients have higher but safer doses.

Thyrobin contains only a thyroid helper and propriety blend.

Its formula is quite decent, but relatively weak.

Thyroid 911 only requires 2 capsules/day.

On the other hand, Thyrobin requires 1/4 teaspoon 1-3 times daily.

Thyroid 911's price is $69.95 but you can get it for only $39.

Thyrobin costs around $34 for a bottle.
Thyroid 911 is a bit more expensive, compared to Thyrobin.
But in terms of effort and effect, it's the better choice overall.
So if you're expecting faster and long-lasting results, go for it instead.
---
Conclusion
---
Overall – Thyrobin is quite affordable (especially if you get the bundle.)
So if you don't mind waiting for the results, you can give it a try.
But you can always find a better alternative in the same price range.
---
#7 – Final

Conclusions
---
I listed down some points to summarize my views about Thyrobin.
1. Decent Ingredients
---
The formula of Thyrobin is not that bad – but it's not amazing either:
one thyroid helper

a propriety blend (herbal-based)
Also – there are a lot of herbal extracts in one single mix.
So there's are very high chances that their individual doses are very low.
2. Easy To Swallow
---
One good thing about Thyrobin is it's easier to take.
Again – it's in a liquid form instead of a typical capsule.
So if you're not a fan of solid supplements, then it's the one for you.
However, its smell and taste aren't too nice – so they somehow compensate.
3. Possible Side Effects
---
Lastly – Thyrobin received a lot of complaints about its side effects.
So it's something that you should consider before buying it.
But if you're really unsure, I suggest you to ask your doctor first.
---
My Verdict – Worth It Or Not?
---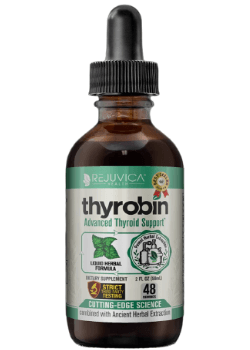 Short answer: Not quite – due to the following disadvantages:
Triggers some serious adverse effects

Low doses in most ingredients

Works pretty slow

Overall formula is could be stronger
Don't get me wrong, Thyrobin is not a bad product.
In fact, its liquid form is very easy and advantageous.
But you can't deny some red flags about it (especially the side effects).
So if you're looking for a better thyroid supplement, try my #1 recommendation.
I'm talking about Thyroid 911:
Works pretty fast and really well

Contains unique ingredients made for thyroid health

Very minimal chance of causing side effects

It's pretty easy to take
Overall – Thyroid 911 is the better option for me.
I think it's one of the few thyroid supplement that is really worth your money.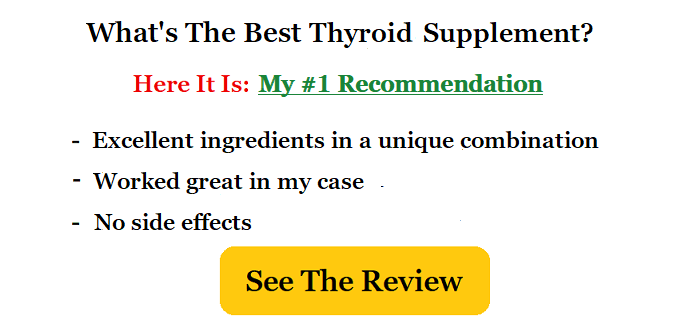 References:
1 – https://www.ncbi.nlm.nih.gov/pmc/articles/-PMC3468836/
2 – https://www.ncbi.nlm.nih.gov/pmc/articles/-PMC6100552/
3 – https://www.healthline.com/health/-shepherds-purse
4 – https://www.healthline.com/nutrition/-spirulina
5 – https://pubmed.ncbi.nlm.nih.gov/-22054935/
6 – https://www.healthline.com/nutrition/-bladderwrack
7 – https://pubmed.ncbi.nlm.nih.gov/-6327383/