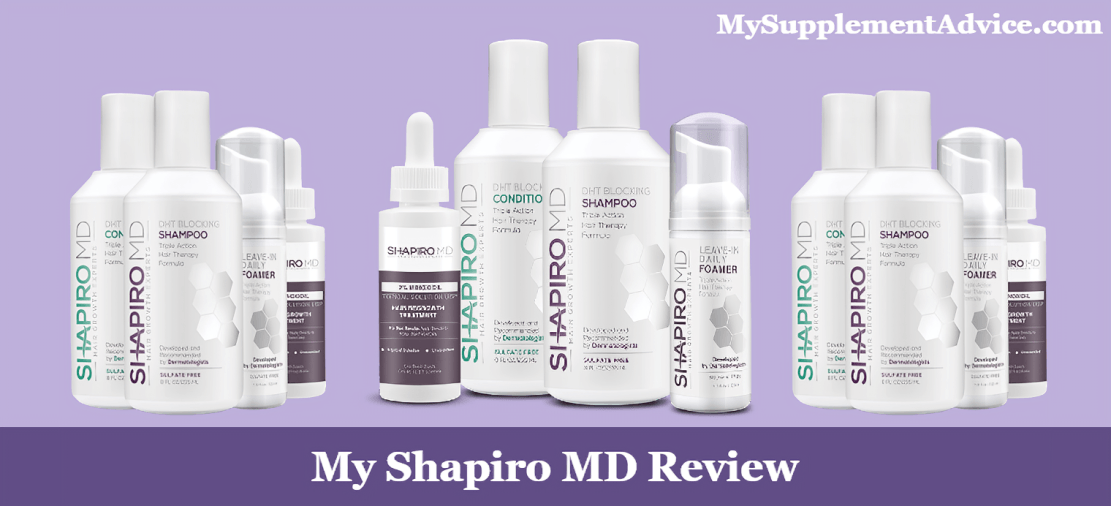 It's time for my Shapiro MD review – a hair treatment that plans to regrow your hair.
Now, this product gets a lot of traction online and it's surrounded by nothing but positivity.
But is it effective in reality?
very expensive

highly praised

DHT-blocker
Let's get to the heart of the matter – do the shampoo, conditioner & foam work?
This article will give you all the details you need.
Note: This review is based on my opinion + research on Shapiro MD.
Review Summary
---
Full Name: Men's Regrowth System by Shapiro MD Hair Growth Experts
Product Type: Hair Treatment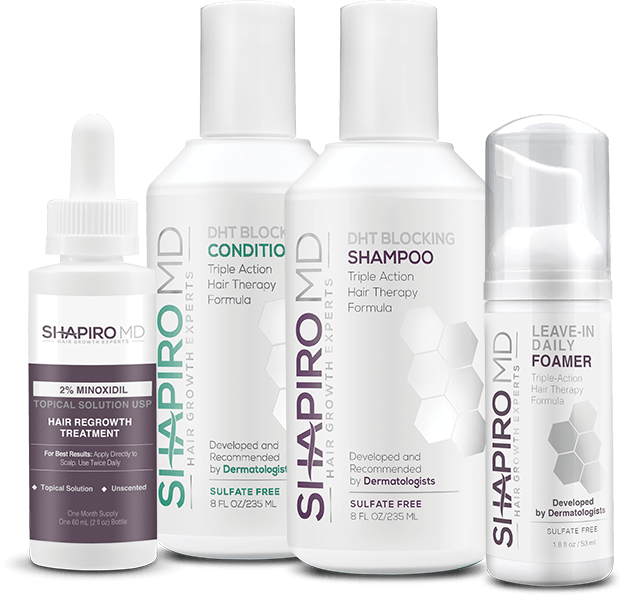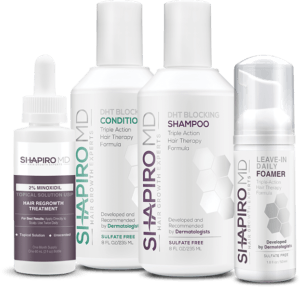 Best Actual Price: $76.46 (with subscription)
Cheapest Place To Buy: Its official website
I cannot guarantee that Amazon sells the authentic version.
Designed For: Regrowing hair back (and reducing hair loss).
My Rating: 6 out of 10
Recommended?: Not really – it's not that great:
decent ingredients

incentivized positive reviews

shady business practices
Because of these reasons, I wouldn't say that Shapiro MD is worth it.
Instead, I think it would be better to look into a superior hair growth product that is customized for your needs.
What I Liked About It
---
Decent results in terms of combating hair loss

Contains several DHT-blockers

Low risk of side effects

90-day money-back guarantee
What I Didn't Like About It
---
Lack of authentic (and positive) user feedback

Many complaints from customers who were put on subscription without knowing

The only way to unsubscribe is by contacting customer support

Customer service allegedly not picking up the phone

Results take a long time to show up (3-4 months)

Extremely expensive for its value
---
Shapiro MD In A Nutshell
---
Shapiro MD is definitely a hair treatment that's not easy on your wallet.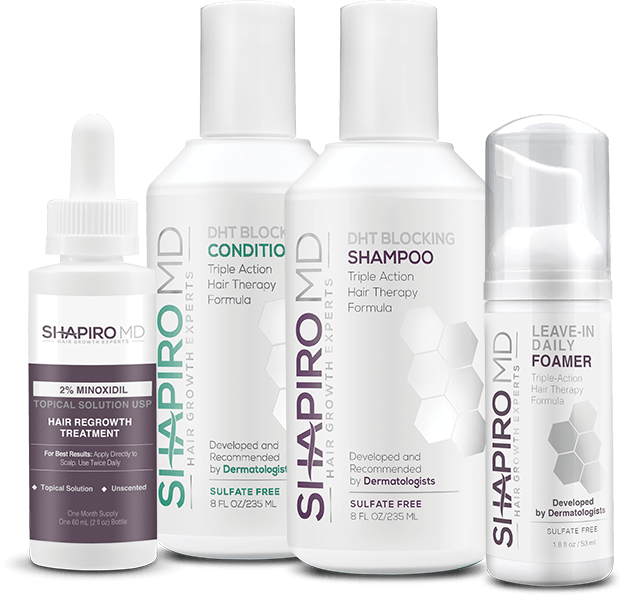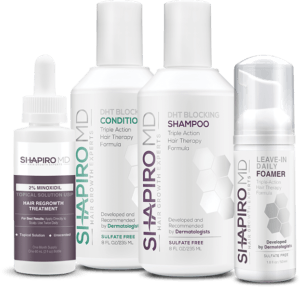 It claims to regrow your hair & combat hair loss.
Now, this kit is available in two separate versions:
Men's Regrowth System

Women's Regrowth System
There's not much difference between the two.
The main difference is the dose of Minoxidil: 5% for men and 2% for women.
For this review, I'm going to refer to the men's version, to avoid confusion.
But most aspects are also available for the female version.
Now, although this hair treatment seems fine if we are to judge by its formula…
It comes with its fair share of disadvantages:
significant results only appear after 3-4 months of use

many of the positive user reviews are incentivized
In all honesty, the fact that the company compensates people to write stellar reviews…
Is definitely enough to raise eyebrows.
It simply sacrifices their credibility.
Plus, I found several complaints on BBB from customers who said they were unknowingly signed up for the subscription service.
This is unfair on multiple levels, as the company charges people for something they never asked for.
If this is true, it's definitely an awful thing to do.
Regardless – a more obvious flaw is the overly high price tag.
I really couldn't find anything that justifies the price, so the real value is surely not that high.
Overall, Shapiro MD is definitely not worth your attention.
I would say you're better off going for a much better option.
---
#1 – How It Works & Producer
---
Let's get to the general details regarding Shapiro MD:
how it works

who the producer is

what exactly it does
1. How It Works
---
The official website describes this kit as a "powerful, broad defense system for men dealing with hair loss".
In terms of its claims, here's what they are:
rejuvenates hair

promotes growth

thickens

Essentially, this system claims to target the most common cause of hair loss in men.
Specifically, it plans to inhibit the DHT hormone.
In order to do this, it makes use of ingredients that are active and natural.
Moreover, it claims that its formulation is based on what studies show regarding DHT blockers.
This explains the presence of minoxidil – but we will talk about these details later on.
All in all, this kit has pretty straightforward aims.
Moreover, the official site presents this formula as easy, natural, and safe.
Regardless, the claims are clearly stated so that the customer knows what they're in for.
2. Company Behind
---
This hair regrowth kit is manufactured by Shapiro MD Hair Growth Experts.
Upon closer inspection, here's what I can tell you about them:
they sell hair care products that target multiple issues

you can take a quiz on their website to find out what suits your needs best

online consultations are offered if you want a personalized treatment

customer support can be contacted through email and/or phone
Other than that, their site has multiple pages with various information regarding their products.
They also present some of their doctors, so you can familiarize yourself with their intentions.
The service they use to deliver online consultations is Telehealth and you can read more about it there.
Plus, they also dedicate a page to results sent by their customers, supposedly.
I also found that they offer a 90-day satisfaction guarantee.
Overall, the company seems legit and I don't think it's a scam.
At least so far.
---
#2 – Ingredients

(7 out of 10)
---
It's time to delve into Shapiro MD's formulation.
The overall composition isn't bad, since we're talking about a hair loss system.
But it uses some pretty common ingredients.
This makes me believe that it doesn't have anything very special (compared to other products in its category).
In order to analyze the system properly, let's take its 3 products by turn.
You can find the ingredients of the products included in the regrowth kit on the official website.
Just check the FAQ tab and scroll down to "Ingredients".
1. Shampoo Ingredients
---
Shapiro MD's shampoo doesn't seem very impressive when it comes to formula.
Let's see what we have there in terms of important compounds:
Panthenol – retains moisture.

Caffeine Anhydrous – helps stimulate hair growth [1].
Serenoa Serrulata Fruit Extract – blocks DHT [2].

Overall, the shampoo is alright.
But it definitely seems like it wasn't intended to be the star of the show.
And I personally wasn't very impressed by its ingredients.
2. Conditioner Ingredients
---
Here's what the conditioner has to offer – in terms of essential ingredients:
Coconut Oil – provides moisture.

Avocado Oil – protects hair from environmental damage.

Argania Spinosa Kernel Oil – nourishes the hair.

Pumpkin Seed Oil – increases the rate of hair growth [3].

Chia Seed Oil – makes hair smoother & softer.

Caffeine – stops hair loss.

Serenoa Serrulata Fruit Extract – acts as a DHT-blocker.

Panthenol – improves texture of damaged hair.

Aloe Barbadensis Leaf Juice – reduces dandruff [4].
It's pretty apparent that the conditioner is full of nourishing components.
It certainly makes sense for the purpose of a product of this kind.
But other than that – just like the shampoo, it's not very impressive.
3. Leave-In Foam Ingredients
---
The Leave-In Foam has the following impactful compounds:
Caffeine – can block DHT.

Serenoa Serrulata Fruit Extract – DHT-blocker.

Panthenol – soothes the scalp.

Niacinamide – increases the suppleness of hair [5].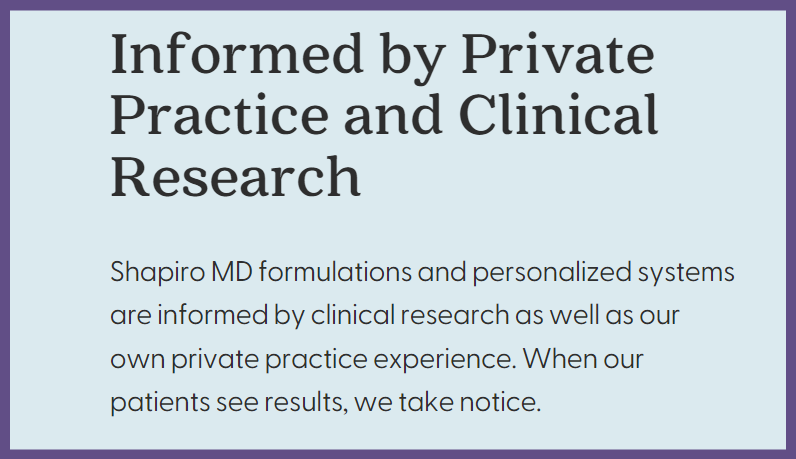 The foam blocks DHT and also prevents scalp irritation.
That's pretty good in terms of safety.
4. Men's/Women's Minoxidil
---
This product's only active ingredient is, unsurprisingly, Minoxidil.
It has a concentration of 5% for men and 2% for women.
Its main purpose is to stimulate hair growth and slow down the process of balding [6].
Despite this, it's not useful when it comes to a man's receding hairline.
In other words – it doesn't revive dead hair follicles.
Besides – once you start using Minoxidil, you will have to use it for the rest of your life.
---
Conclusion
---
Overall, the ingredients of Shapiro MD are pretty decent.
There are plenty of nourishing components to keep the hair healthy-looking.
But there are also ingredients known to combat male/female pattern baldness.
Plus, it also contains Saw Palmetto and Caffeine for blocking DHT.
Granted, it's not the best formula I've come across.
But it's certainly not bad.
---
#3 – Texture & How To Use It

(7 out of 10)
---
In this section, I will describe the scent & consistency of Shapiro MD.
Along with that, you will also find out how you're supposed to handle it properly.
1. Texture
---
Since we're talking about medicinal products, it goes without saying that Shapiro MD isn't full of additives.
As a result, it might be that the shampoo won't lather very well.
If you have used other pharmaceutical shampoos, you know what I'm talking about.
Plus, since they mostly use natural ingredients, don't expect a sweet scent.
Other than that, there are no other aspects worth noting.
2. How To Use It
---
After browsing the FAQ section, here's what I found about how the system should be used:
Wash your hair with the shampoo and leave it on your hair for 5 to 15 minutes.

Rinse and apply the conditioner to your hair.

Leave it on for about 5 to 15 minutes.

Rinse again and apply two pumps of the leave-in foam.

Massage it into your scalp and don't rinse it out.

Apply approximately 1 ml of Minoxidil to your dry scalp once a day (morning or evening).
After applying Minoxidil, make sure to avoid wetting your hair for about 4 hours.
As to how often you should be washing your hair…
The website recommends a minimum of 1 per week, but not more than 3.
However, Minoxidil tends to leave hair greasy.
So you will probably have to wash it more often than usual.
Now – it's true that they ask you to leave the shampoo and conditioner in your hair for quite a long time.
This might not always be possible, depending on your schedule.
The company claims that it's important to leave their products in so that the ingredients can take action.
Regardless – the necessary time is not exactly ideal.
But it could be worse.
---
#4 – Results

(7 out of 10)
---
If you want to see whether a product is worth it or not, user reviews are very handy.
That's where you can weigh the pros and cons of whatever you're interested in.
On this note, let's see what people had to say about Shapiro MD.
Note: I only considered authentic reviews, not promotional/fake ones.
1. Positive Reviews
---
In terms of positive user feedback, it's tough to find an opinion that seems authentic.
Naturally, the official site might be biased when it comes to reviews.
I also checked on Amazon, but what they have there seems to differ a bit from what is on the official site.
That's why I'm unsure of how relevant the feedback there might be.
Plus, the positive reviews I saw on Walmart were mostly incentivized.
Regardless, here are some benefits people mentioned:
This kit really helps in terms of hair growth.

The hair is also more volumized and feels fuller after using Shapiro MD.

People also said hair is much thicker as a result.

They also praise the way in which the shampoo lathers.

Some also said they no longer deal with dandruff.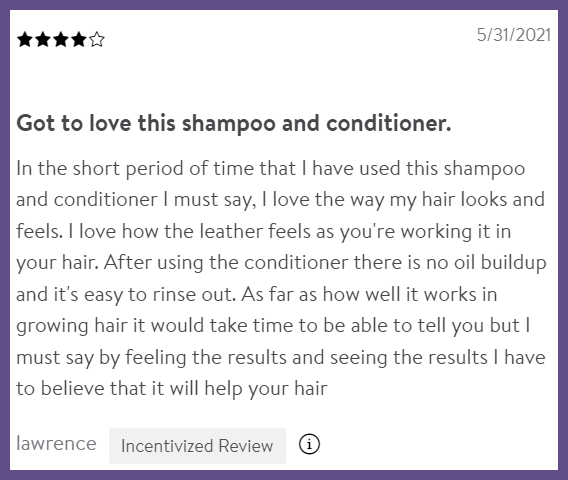 This is just one of the "artificial" positive reviews, you can easily find many more like it.
Overall, it's up to you to decide whether or not these reviews hold a grain of truth.
Personally, I don't think they are too credible.
That is most definitely a shame since incentivizing people to give stellar reviews is not a good look.
It takes away from the whole purpose of user reviews: providing sincere information for others.
2. Negative Reviews
---
When it comes to honest negative reviews, things are much better.
It's much easier to find honest negative reviews, which says a lot about Shapiro MD.
In fact, most of these are from Better Business Bureau (BBB).
Here are the issues people were raising:
The products don't actually work.

Lots of people claim they didn't get their money back upon canceling their order.

A lot of customers claim the company automatically signs you up for a subscription upon ordering.

People also claim that no one answers the call at customer service to let them cancel the subscription.

Someone also claimed the business refused to ship one product that was missing from the kit:

A company refusing to respond after receiving your money is bad news.
Obviously, something sketchy is going on with their subscription service.
If it's really true that they automatically sign you up for a subscription without you knowing…
That's pretty shady of them.
Obviously, they shouldn't be forcing you to keep buying their products.
---
Conclusion
---
All in all, it's pretty difficult to get a balanced view of Shapiro MD based on user reviews.
The fact that genuine positive reviews are such a rarity is quite problematic.
Naturally, it automatically makes the potential customer doubt the product.
However, the complaints on BBB are pretty serious.
It's very unfair if Shapiro MD really forces you into their subscription service.
---
#5 – Side Effects

(8 out of 10)
---
In terms of potential risks that Shapiro MD raises, the official FAQ has little to offer.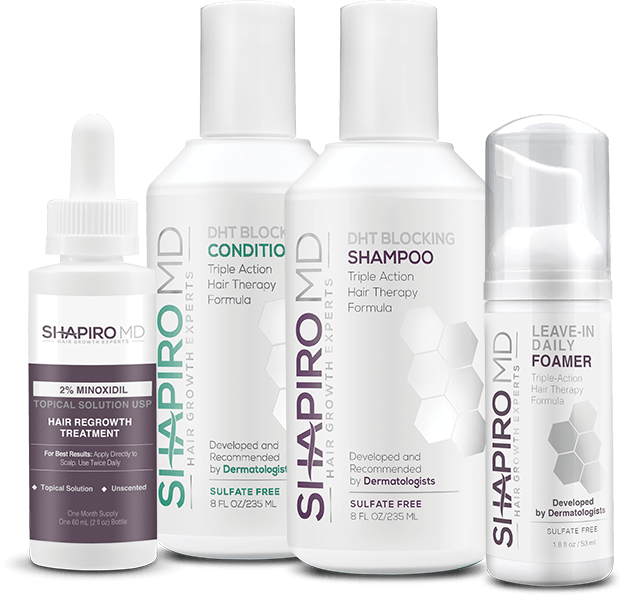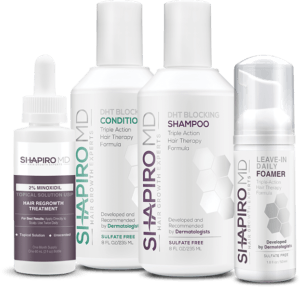 It's mentioned that if you happen to have an allergy to their main ingredients, you should stay away from their products.
This includes the following compounds:
caffeine

Saw Palmetto berry

green tea extract
Other than that, there are no side reactions mentioned on the official website.
The brand states that since its products are free of sulfates and parabens, they are safe to use.
This is mostly true, but the lack of comprehensive user reviews is definitely showing here.
Usually, past users' experiences are telling of the potential adverse reactions a product might give you.
In the case of Shapiro MD, however, all we have is the official information.
That's definitely shady as well.
---
#6 – Price

(4 out of 10)
---
Naturally, price is a pretty important factor when it comes to deciding whether to buy something.
Let's see how this aspect influences potential customers in the case of Shapiro MD.
1. The Exact Price
---
It's enough to take a single look at Shapiro MD's price to conclude that it's too much.
To put it simply – it's way too high of a price.
Adding to this, it's not even worth it, since its products are nothing spectacular.
Let's see what the official website has to say:
$89.95 for a kit that includes shampoo, conditioner, leave-in foam & minoxidil

30-day subscription takes the price down to $76.46

purchasing multiple kits at a time doesn't grant additional discounts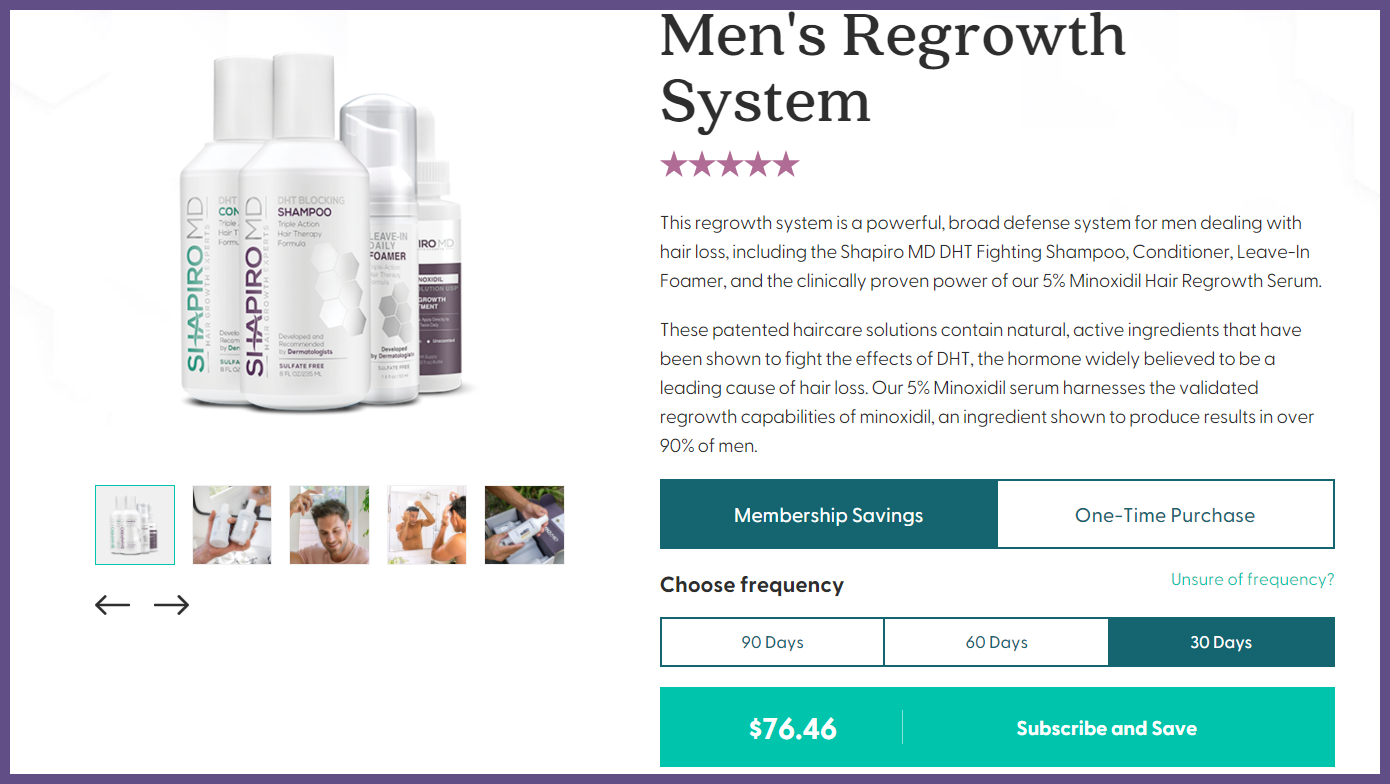 Subscription services are rarely worth it, so I don't think it's different in this case.
Nonetheless – Shapiro MD is way too pricy for what it is.
Not to mention that the quantity is definitely not enough to justify such a large sum of money.
Keeping all this in mind, I'm not that impressed.
Its price is way too high for what it should be.
2. Competitor's Price
---
If you're looking for a good alternative, I got that covered.
In fact, I happen to know an amazing option.
On this note, let's see my top recommendation for hair growth – Happy Head:

My recommendation contains a higher dose of Minoxidil, which makes it more potent.

Happy Head also makes use of a topical version of Finasteride, which is much safer (and better).

Additionally, this product is personalized for each individual user.

This means that it's much more effective at combating your specific issues.

Not to mention that Happy Head is more affordable than Shapiro MD.

Plus, my recommendation is much easier to use, since it's only one product instead of a kit.
Therefore, it's safe to say that Happy Head is the way to go.
It simply offers a way better quality at a lower price.
Plus, it's specifically designed to solve your hair concerns.
That's a pretty major advantage.
---
Conclusion
---
To conclude, Shapiro MD is definitely overpriced.
Truthfully, I can't seem to find any reason as to why it's this expensive.
As we have seen, the formulation is nothing extraordinary.
Plus, you also don't get a ton of product for what you're paying.
So it's not a good deal regardless of how you look at it.
---
#7 – Final Conclusions
---
Here are the main ideas you should keep in mind when it comes to Shapiro MD.
1. Decent Formula
---
As I mentioned earlier in the review, the formulation of Shapiro MD is not impressive.
In fact, there's nothing in the ingredient list that jumps out as particularly special.
Of course, it's good that it has Minoxidil and several DHT-blockers.
After all, these are good for combating hair loss.
But they are definitely not enough to justify the price of the kit.
2. Lacks Real Positive Reviews
---
I already said that it's fairly rare to see an unprompted positive review for Shapiro MD.
The positive reviews on Walmart are mostly incentivized, which takes away from their credibility.
Besides, it's unclear whether or not Amazon contains the original products.
This doesn't leave a lot of room to search for user experiences.
And the fact that genuine praise for Shapiro MD is so rare speaks volumes.
3. Shady Business Practices
---
There are several complaints on BBB stating that Shapiro MD automatically signs you up for their subscription.
That's pretty shady, to say the least.
Forcing the customer to pay for something they didn't ask for is a quick way of losing trust.
Plus, the same customers were saying you can only cancel the subscription by phone.
However, no one picks up over at customer service.
Essentially, people feel like they are trapped into spending money on something they never wanted.
---
My Verdict – Worth It Or Not?
---
Short answer: Not so much.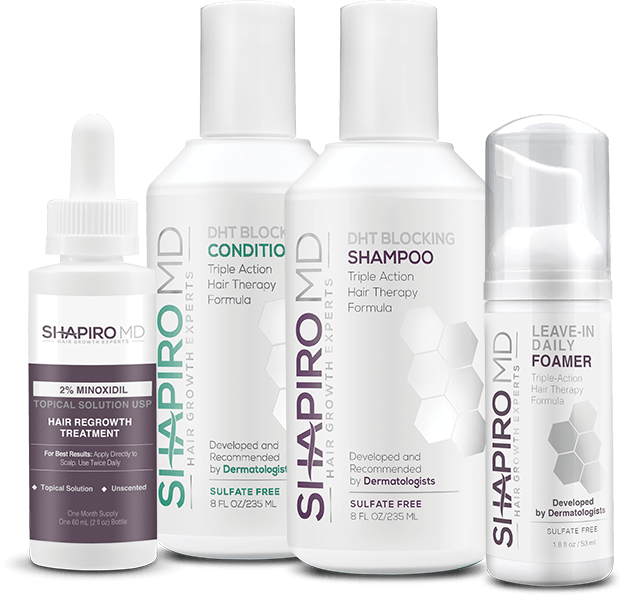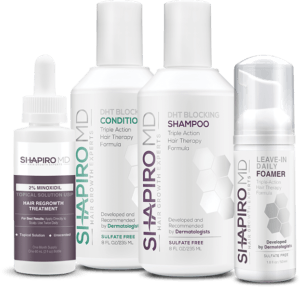 It's far from a fantastic hair treatment:
Unimpressive formula.

Results take 3-4 months to show up.

Little to no authentic positive reviews.

Extremely overpriced.

Sketchy customer treatment.
As such, Shapiro MD would definitely not be my first choice.
Not only is it super pricy, but it also doesn't seem like a special hair treatment.
And there's also the fact that the company automatically signs you up for their subscription.
If anything, that's certainly a red flag.
If you are looking for a product that will take care of your hair loss issues…
Allow me to recommend Happy Head to you.
It's by far the best topical product for hair growth:
based on a topical version of Minoxidil and Finasteride

extremely effective against hair loss

doesn't cause the usual sexual side effects

customized according to your specific needs

works very well in terms of stimulating hair growth
That's why I think Happy Head is the superior choice in this context.
It provides much better quality for a lower price.
Plus, since its dose of Minoxidil is higher, it is surely more potent.
So rest assured that you're getting the best results if you give Happy Head a try.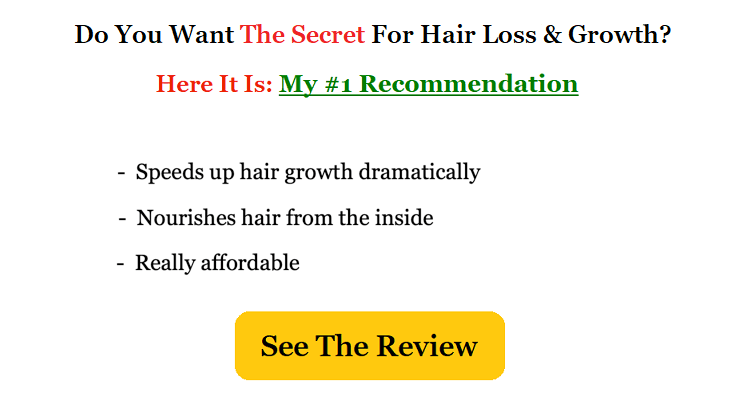 References:
1 – https://www.ncbi.nlm.nih.gov/pmc/articles/PMC3500065/
2 – https://www.ncbi.nlm.nih.gov/pmc/articles/PMC7706486/
3 – https://www.ncbi.nlm.nih.gov/pmc/articles/PMC6823528/
4 – https://www.ncbi.nlm.nih.gov/pmc/articles/PMC3768575/
5 – https://pubmed.ncbi.nlm.nih.gov/17168873/
6 – https://www.ncbi.nlm.nih.gov/pmc/articles/PMC6691938/