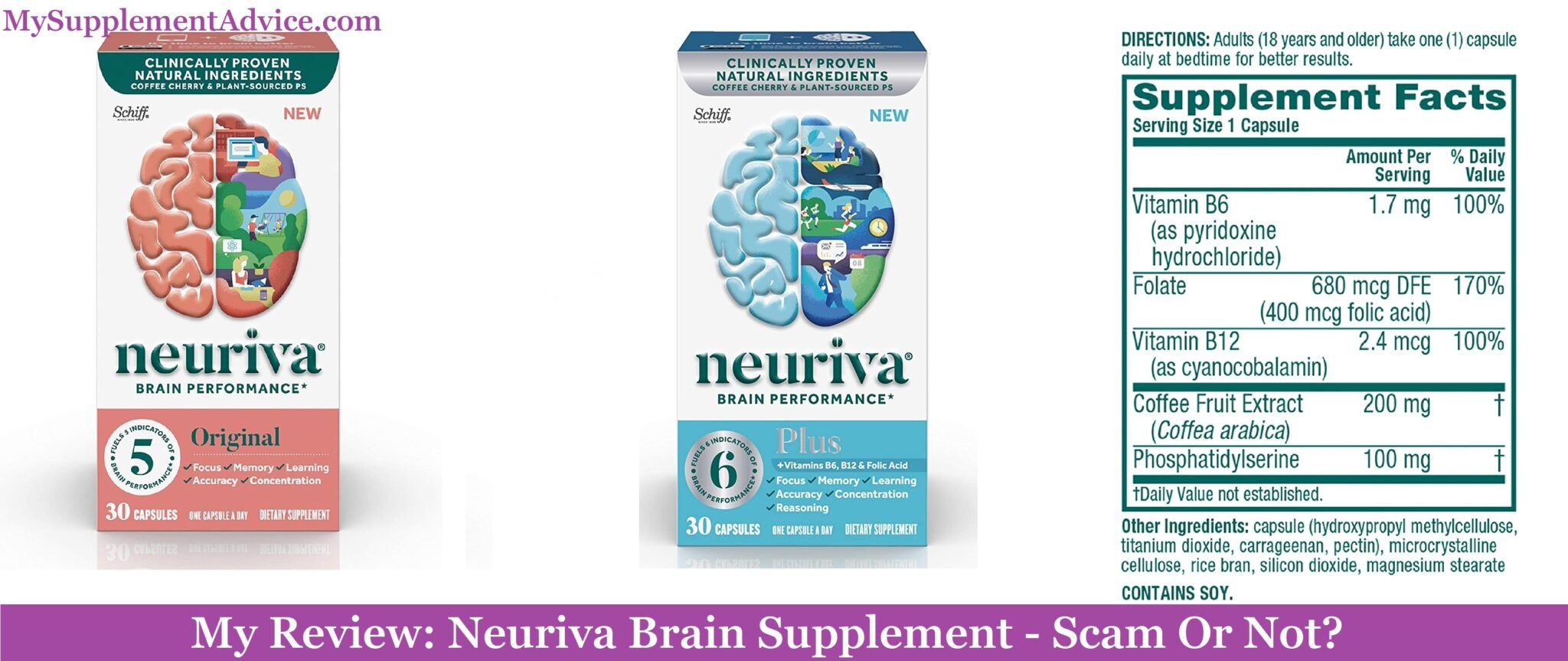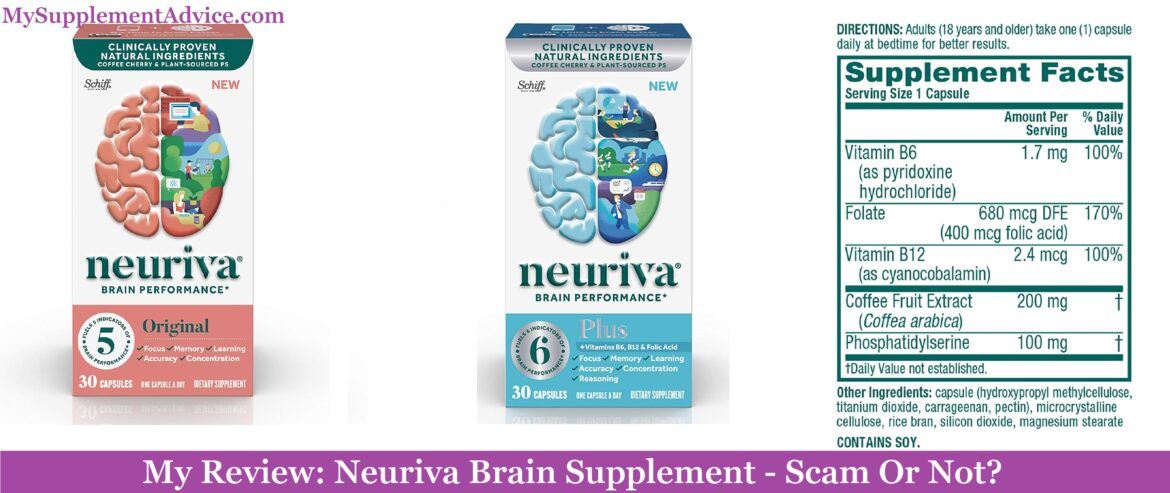 It's time to review Neuriva Brain Supplement – which is one of the most famous nootropics:
quite popular (despite being rather new)

affordable price

many satisfied users
But is it really worth the money?
And considering its disappointing formula – could it be a scam?
I analyzed this supplement in detail, so here's the truth behind it (+ video).
Note: This review is based on my opinion + research on Neuriva.
Review Summary
---
Full Name: Neuriva by Schiff Vitamins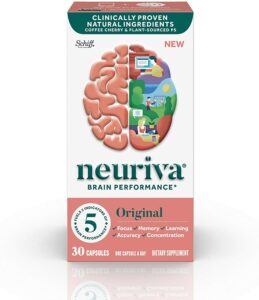 Product Type: Cognitive Supplement
Best Actual Price: Around $36/bottle
Cheapest Place To Buy: Amazon
Designed For: Brain performance boost – it promises to:
improves focus and memory

increases attention levels

stimulates learning and concentration
My Rating: 6 out of 10
Recommended?: Not too much (unless you want to experiment with various nootropics):
very basic formula

only contains one quality ingredient

mostly effective for minor issues
I personally recommend an alternative with a much better formula.
What I Liked About It
---
2 different versions available

Only requires one gelatin capsule per day

Many satisfied users behind (but mostly for small issues)

Available in several retailers
What I Didn't Like About It
---
Formula is very weak overall

Only contains one classic nootropic

Not very effective for long-term issues

Many complaints about its poor effect

Can cause side effects in some people

Its value isn't worth the money
---
Neuriva – A Quick Overview
---
Basically – Neuriva is a pretty recent cognitive supplement.
But this didn't prevent it from becoming really popular. Why exactly?
Affordable price – most nootropics are quite expensive.

Available on retailers – many products are only sold on their official websites.

Only 1 pill per day – some supplements require up to 7.
However – this doesn't mean that Neuriva is a high-quality supplement.
In fact, it's actually quite far from that, if you ask me:
formula could be a lot better

doesn't work for depression, anxiety, etc.

has many complaints on side effects
Now – one of the best things about this product is that it comes in 2 versions:
Original

Plus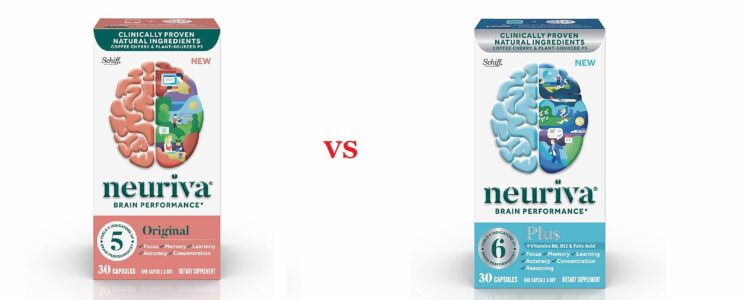 The difference is that the second one contains 3 extra ingredients.
We're only talking about some vitamins, so the improvement isn't huge.
But even so – the Plus version is slightly better overall.
So even though I'm not a fan of Neuriva at all, the Plus version is surely more recommended.
---
#1 – Claims & Producer
---
First of all – here are some general things on Neuriva:
how exactly it works

in what cases it's mostly effective

who is the producer behind it
1. Claims
---
According to Schiff's official website – this supplement boosts 6 aspects of brain cognition:
Focus

Memory

Learning

Accuracy

Concentration

Reasoning
Also – it claims to be gluten and GMO-free, Vegetarian and Decaffeinated.

Now, if you ask me, Neuriva surely helps in all of these chapters.
But unlike many nootropics – it doesn't seem to help against depression, anxiety and other issues.
So it's mostly a cognitive boosting supplement.
2. Company Behind
---
Neuriva is made by a brand called Schiff:
one of the most reputable supplement producers

lots of products in its portofolio

pretty affordable prices
I am personally very familiar with this brand, since it's behind many popular supplements for various issues.
So it's surely a very trustworthy company.
---
#2 – Formula

(6 out of 10)
---
Neuriva's composition is pretty disappointing, from my point of view:
only 2 cognitive boosting ingredients

pretty low doses overall
Compared to most nootropics – Neuriva's formula seems quite basic.
That's why I don't think it's too help (in terms of brain benefits).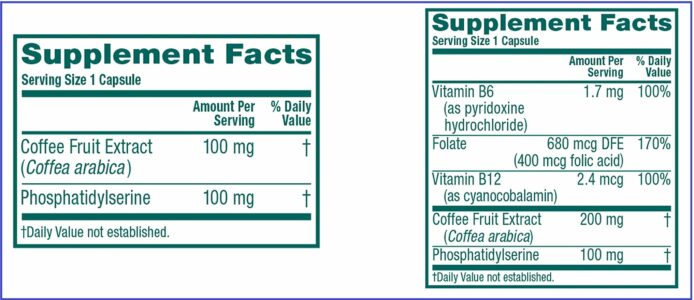 Now – there's also a superior version of this supplement called Neuriva Plus.
It contains 3 additional vitamins, so the overall composition is a bit better.
However, let's take a closer look at its main ingredients.
1. Coffee Fruit Extract (200 mg)
---
This ingredient has absolutely no clinical evidence in terms of cognitive benefits.
The only similar substance with studies behind is Whole Coffee Fruit Extract:
improves focus and attention

enhances memory [1]

decreases oxidative stress and free radicals
Now – the version from Neuriva is probably derived from it.
But it doesn't have absolutely any studies on its cognitive effect.
That's why I doubt this ingredient alone could help a lot.
2. Phosphatidylserine (100 mg)
---
That's the only classic cognitive ingredient from Neuriva.
It has lots of studies behind – so its brain benefits are widely known:
boosts cognitive function

improves long-term memory

helps with apoptosis [2]
Also – in terms of dosage, it's one of the few ingredient from Neuriva whose dose is sufficient.
3. Additional Vitamins (Only In Neuriva Plus)
---
As I said – this improved version of Neuriva contains 3 extra vitamins.
Their brain benefits aren't amazing, but they surely add up:
Vitamin B6 – reduces the risk of Alzheimer disease.

Folate – maintains a healthy brain.

Vitamin B12 – prevents memory loss and dementia.
These 3 ingredients can stimulate brain health, but they have little effect on cognition itself.
So their benefits are not crucial.
---
Conclusion
---
Overall, Neuriva's composition is very poor:
it only contains 2 ingredients for cognitive boost

one of them has no evidence at this chapter

the other one is too little to work alone
Now – this supplement might help with minor issues (like focus, short-term memory, etc.).
But compared to similar products, the effect will surely be weaker.
Also – the Plus version is a bit better (due to its 3 extra vitamins).
But even so, I wouldn't recommend a formula like Neuriva's.
It's simply not worth the shot, in these circumstances.
---
#3 – Pills & Dosage

(10 out of 10)
---
Most nootropics have some issues at this chapter – but that's not the case of Neuriva.
1. The Pills
---
This supplement is not formulated as tablets – but as gelatin pills:
quite easy to swallow

light and average dimensions

no nasty taste
Also – the pills have a transparent side, so you can see the brownish powder inside.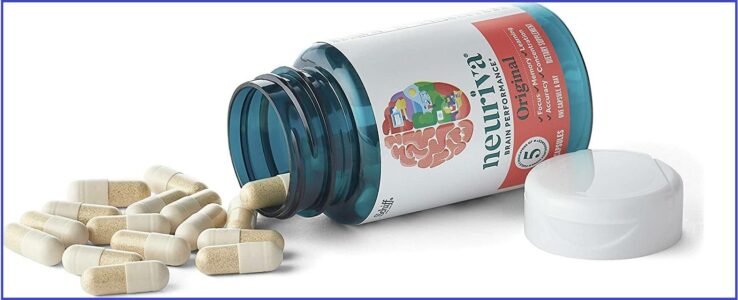 2. The Dosage
---
One of the biggest advantages of Neuriva is its small serving size:
only requires one pill per day

that's extremely easy to take
Also – the label recommends taking the pill before bedtime (for best results).
That's pretty uncommon for a nootropic, but it's pretty easy to follow this tip.
---
#4 – Results

(8 out of 10)
---
I usually analyze a supplement's customer feedback in order to see how it really works.
And that's exactly what I did with Neuriva as well.
Note: I only considered authentic reviews, not promotional ones.
1. Positive Opinions
---
The best thing about Neuriva is that it's also sold on Amazon.
This means it has plenty of legit and authentic customer opinions.
On an average – it has a 4.1 stars rating out of 5 (which is a pretty good number).
Among its positive reviews, here's what users say about it:
Some say it really helped their memory (as well as sight).

Others claim they did notice a small difference in their focus/attention.

Many praise its minor cognitive boosting benefits.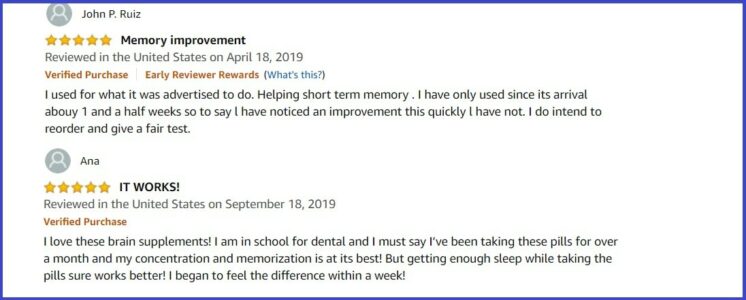 Overall – most users said Neuriva didn't change their focus/memory dramatically.
But it was enough for what they needed.
So my final idea is that this product does help the brain (but mostly in a lower degree).
2. Negative Opinions
---
As you can imagine – there are plenty of unsatisfied users as well:
Lots of users claim they didn't see an improvement from this product.

Others complain about its side effects.

Some say it can interact with other drugs.

Many complain it's too pricey and it doesn't help at all.

Basically, Neuriva has lots of complaints as well.
Since its formula is pretty basic – it's obvious it's not going to help in anything than minor issues.
So these complaints are definitely true.
---
Conclusion
---
Like most supplements, Neuriva has a mixed feedback overall.
However – my conclusion is that it helps people with minor issues mostly.
If you need a potent cognitive booster, it will most likely not be enough.
So I don't recommend it in most cases.
There are better alternative on the market (in terms of quality/price).
---
#5 – Side Effects

(7 out of 10)
---
Despite looking quite safe at first sight – Neuriva has a couple of complaints at this chapter.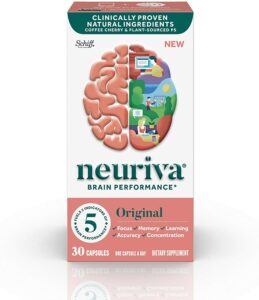 It's true that its formula is quite basic.
So normally – you shouldn't expect any secondary reactions from a composition of this kind.
However – here's what most complaints are about:
Difficulty sleeping and insomnia

Allergies

Dizziness and overwhelming

Headaches
Basically – most of the side effects it causes are related to nervous system.
Also, some users claim it interacts with anti-depressants (which is totally possible).
So if you're on a cognitive-related treatment, make sure to ask your doctor before going for Neuriva (or any other nootropic).
---
#6 – Price

(8 out of 10)
---
Compared to other cognitive supplements, Neuriva is quite affordable actually.
But in terms of value – it's not really worth buying.
1. The Exact Price
---
I am going to analyze this supplement's price on Amazon:
Listing price is around $30/bottle.

However, there are often discounts (we're talking about Amazon).

At this point, Neuriva's price is around $23/bottle.

The Plus version costs $45 normally and about $36 with a discount.

As I said, $23 is a pretty good price for a nootropic at first sight.
But given Neuriva's ingredients, it's not really worth it.
There's basically only one classic nootropic in this product (Phosphatidylserine).
If you only buy Neuriva for its minor cognitive benefits, it might be worth it.
But if you want a potent nootropic, I don't advise you to spend $23 on it.
2. Competitors' Price
---
I will only compare Neuriva with my #1 recommended cognitive supplement.
I'm talking about a product called Mind Lab Pro: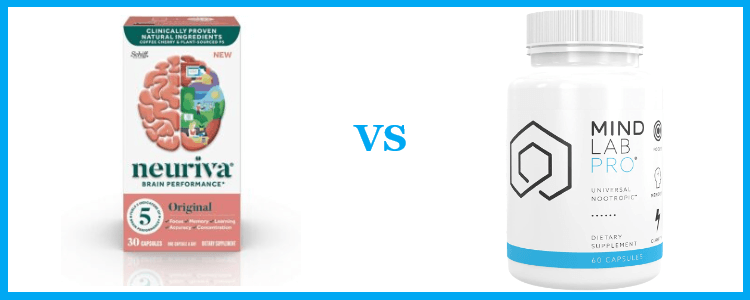 In terms of formula, Mind Lab Pro is clearly superior.

It has one of the best compositions from the market.

On the other hand, Neuriva's ingredients are very weak.

Mind Lab Pro costs $65 normally (and $49 in the best case).

Neuriva is indeed cheaper ($23 in the best case).
Basically – between these 2, Mind Lab Pro is clearly the better option.
But that's only if you need a potent/high-quality nootropic.
If you only want to experiment, Neuriva might be a better choice (due to its low price).
But in terms of quality and strength – don't expect a lot from it.
---
Conclusion
---
Neuriva is among those affordable nootropics.
But its value is pretty close to its price.
So I would mostly recommend it for someone who wants to experiment.
If you need a potent cognitive supplement, Neuriva isn't among my top recommendations.
---
#7 – Final Conclusions
---
Here's how I would sum up my opinion on Neuriva in 3 ideas.
1. 2 Versions Available
---
One of the best things about this product is that you can find it in 2 forms:
Original

Plus Version (contains 3 extra vitamins)
I personally recommend the Plus one, because it has a slightly better formula.
But either way – it's good to be able to choose from 2 types.
2. Disappointing Formula
---
Neuriva's composition could be a lot better than what it actually is.
And that's mostly available for the original version:
only one classic nootropic

formula based on 2 ingredients
It's true that it's not a pricey supplement at all.
But even so – its formula is not as valuable as it should be, if you ask me.
3. Better For Minor Issues
---
Due to its pretty basic formula – this supplement works better for small issues like:
extra concentration

better focus

improved attention
In fact – lots of its previous users claim the same.
But it also has a lot of complaints about its lack of effect for long-term memory and so on.
---
My Verdict – Worth Or Not?
---
Short answer: Rather not worth it.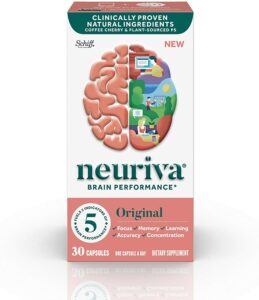 It's not a bad supplement but it has a pretty poor formula:
Original version only contains 1 quality ingredient.

Plus version isn't very far either.

Mostly effective for minor issues.
In terms of price – it's actually quite an affordable supplement.
But even so, I would not recommend it as a potent nootropic.
If you only want to experiment with a cognitive supplement – Neuriva should be good enough.
But if you're looking for a quality one, it's not among my recommendations.
So what should you go for instead?
My #1 pick is a supplement called Mind Lab Pro:
best nootropic I know in terms of quality/price

really affordable

helpful for both minor and various issues
So it's totally up to you which of these 2 supplements would make a better choice.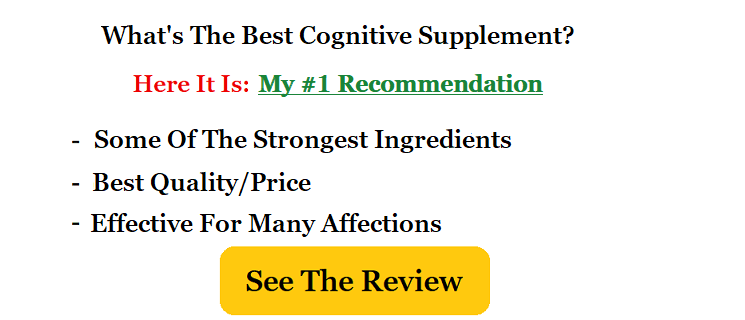 References:
1 – https://pubmed.ncbi.nlm.nih.gov/-23312069/