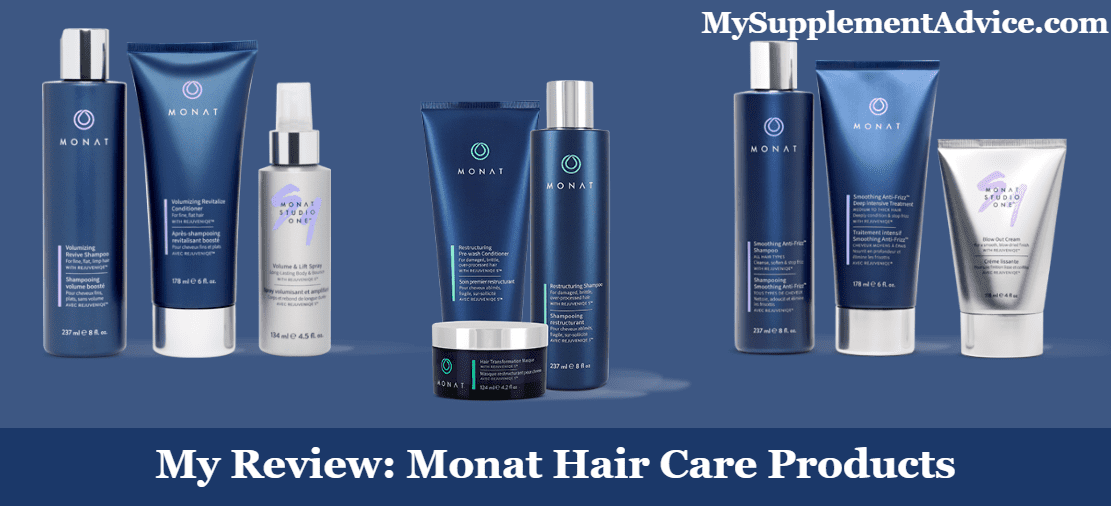 It's time to review Monat Hair Care Products – a range of products that caters to all sorts of hair issues.
However, it quickly becomes apparent that they are extremely expensive.
In other words, they seem to be luxury products for your hair.
Let's see – are they worth the price? Will they grow your hair?
Find out everything about them in this article!
Note: This review is based on my opinion + research on Monat Hair Care Products.
Review Summary
---
Full Name: Hair Care Line from Monat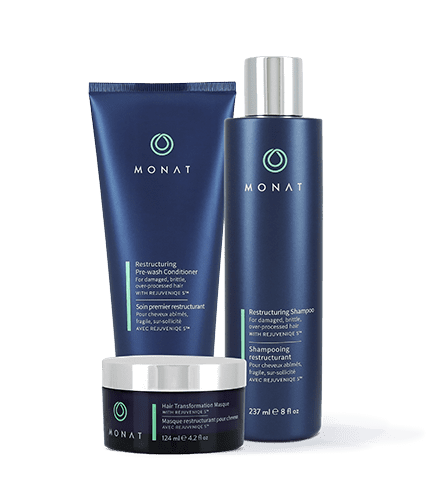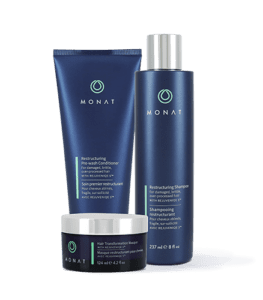 Product Type: Hair Treatment
Best Actual Price: Ranges from ~$20 all the way to ~$160.
This is taking into account the discount you get for being a VIP member.
Cheapest Place To Buy: Their official website.
I also found some Monat products on Amazon, but I don't think they're authentic.
Designed For: A multitude of hair concerns, depending on which system you choose.
My Rating: 5 out of 10
Recommended?: Not that much – there are quite a few issues:
formula doesn't seem that impressive

exorbitant price tag

based on a MLM system
Honestly, if you're looking for a hair treatment that will nourish your hair and help it grow…
Then I would recommend something that is specifically designed to suit your needs.
What I Liked About It
---
Contains trademark ingredients

Quite a few systems to choose from

Very clear directions of use
What I Didn't Like About It
---
Very inconvenient ordering process

The user reviews on the official website are likely fake

Unreasonably high price tags

Lots of complaints regarding customer support

Many people claim the company charges their card without reason

Monat is an MLM
---
Monat Hair Care In A Nutshell
---
Essentially, Monat offers a range of hair products that aim to treat numerous issues.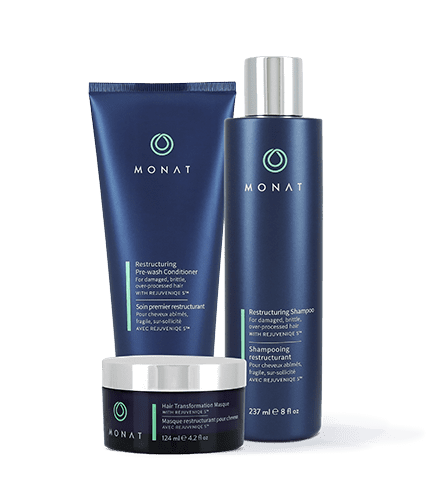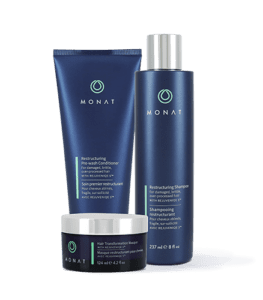 Due to this, the effect you get depends entirely on which products you choose.
Here are a few systems they have to offer when it comes to hair care:
Renew™ Hydrating System

Revive™ Volumizing System

Smoothing Anti-Frizz™ System
There are more and because they are all quite different, it's tough to pick just one to focus on.
Because of this, in this article, I will refer to their entire hair care line in general.
Plus, we will also analyze the brand itself a bit, just to check whether or not it's trustworthy.
One of the first things that strike you as soon as you visit their website would be the price.
It makes you think that Monat is a luxury brand, right?
Well, judging by its ingredients, turns out these products are overpriced for no reason:
components are not spectacular enough

not enough key ingredients to give a better impression
Not only that, but the user reviews on TrustPilot and BBB are very enlightening:
customer care staff are not that friendly

company allegedly not giving refunds

people also claim their card is randomly charged by Monat
These are the most effective ways to lose your customers' trust.
Not to mention that Monat is actually a MLM.
This system is notorious for its problematic practices, so it's better to steer clear.
Regardless, even ordering from their website is a hassle.
This is because you can't buy directly from their website.
Instead, you have to be assigned a Market Partner and order through them.
Obviously, that's pretty inconvenient.
All in all, I wouldn't say that Monat Hair Care is worth it.
In fact, it might cause more trouble than you would expect.
That's why I would advise you to go for options that are more affordable…
While also providing a superior quality.
---
#1 – How It Works & Producer
---
Let's get into the general information regarding the Monat Hair Care Products:
what they do

how they take action

who the producer is
1. How It Works
---
Again – what Monat Hair Care Products will do for you heavily depends on your choice.
Here are a few of their missions, just to jog your memory:
hydration

volume

damage repair

Naturally, their price point makes them a luxury pick in terms of hair care products.
Not everyone will go out of their way to spend that kind of money.
However, the brand prides itself on the natural ingredients they use.
Plus, they claim to be clear of many harmful chemicals.
So it's established that they put a lot of thought into their formula.
However, we will talk more about that when it's time to analyze the ingredients.
2. Company Behind
---
Monat Hair Care is manufactured by a company called Monat.
Here's what I could find out after inspecting their website:
they sell hair care, skin care, deodorants for pets, and some wellness products

their products are cruelty-free, gluten-free & vegan

the website has multiple pages about their team and various projects

there is a VIP program that customers can sign up for

customer support can be contacted through phone or email
In order to find the info regarding customer care, check the page about refunds and returns.
It's also pretty interesting that they seem to host lots of events and award shows.
That surely confirms that they are pretty well-known.
However, the way in which you order from their website is quite troublesome.
It seems like you can only place an order once you are assigned a Market Partner in your area.
To be fair, that seems like more trouble than it's worth.
Regardless, there's not much more worth noting about this brand.
At first sight, it looks pretty legit, but the Market Partner scheme is rather peculiar.
---
#2 – Ingredients

(7 out of 10)
---
Now that we reached the part where we look into the formula…
We are going to analyze the key ingredients they mention on their website.
1. Featured Ingredients
---
Honestly, the list of key components is not long at all.
In fact, if you go to their "Science" page, they only present 4 trademarks:
REJUVENIQE S™ Oil Intensive – strengthens hair & improves shine.

CAPIXYL™ (contains Red Clover Extract)- thickens hair & supports natural growth [1].
PROTACALINE™ (contains Pea Extract) – protects hair from environmental factors [2].

CRODASORB™ – preserves natural pigmentation of the hair.

Now, these are trademark ingredients, which is nice.
However, the fact that they chose to not disclose more compounds is rather disappointing.
Obviously, 4 ingredients are not enough to form an extensive opinion on an entire hair care line.
But we also can't pull the ingredient list of all their products, because they are quite many.
Still – if we are to talk about the presented compounds only…
I would say they are good, but not impressive.
---
Conclusion
---
To be fair, it's a shame that Monat didn't include more in their list of key ingredients.
The information currently available is simply not enough to form a more comprehensive view of the products.
Still – it's true that the disclosed components look really nice.
They provide a mix of nourishing and fortifying nutrients.
Regardless, they look alright.
However, I wouldn't say Monat is the best out there in this department.
---
#3 – Texture & How To Use It

(8 out of 10)
---
In this section, I will describe the consistency of Monat Hair Care.
Additionally, I will also tell you about any directions that are available.
1. Texture
---
In terms of scent, people describe Monat as having a strong herbal fragrance.
The smell also remains in your hair for around a day, so keep that in mind.
Naturally, not everyone is bothered by this.
But if you have a bad history with strongly scented products, maybe keep this in mind.
In regard to consistency, there isn't anything particularly special about Monat Hair Care:
most products are kind of white in color

serums are pretty light

their shampoos lather quite well

this means you don't need a lot of product per wash

conditioners are similar to shampoos (in texture)
Plus, I couldn't really find any major complaints in regard to texture.
So I think it's safe to say that Monat Hair Care doesn't have too many issues in this regard.
2. How To Use It
---
When it comes to directions, Monat Hair Care delivers very clear and concise instructions.
Now, as usual, they heavily depend on what your needs are.
Just click "View Details" on any product that interests you, then scroll down.
You will eventually stumble upon the directions.
Honestly, they are stated very clearly.
Plus, most of their products don't have to be used every day, which is really good.
Also, don't worry if it's stated that certain products only work best when used with others from their line.
Usually, this is not necessarily true.
Just stick to whatever you can afford.
---
#4 – Results

(6 out of 10)
---
In order to get as many details about a product, user reviews are a necessity.
That way, other peoples' experiences are going to tell you whether the product really is for you or not.
On that note, let's see what customers had to say about Monat Hair Care.
Note: I only considered authentic reviews, not promotional/fake ones.
1. Positive Reviews
---
Now – when you get to the selling page on the official website…
You can see all sorts of positive reviews from other customers.
Naturally, I plan to avoid the official Monat website, just in case it's biased.
Since I also can't really look at the Amazon reviews because it's not clear whether they sell real products or not…
The only remaining options are TrustPilot and BBB.
Let's see the favorable aspects first:
People said their hair is shinier now thanks to Monat.

Customers also said that Monat Hair Care moisturized their hair quite well.

Some also said they experienced a spike in hair growth.

A few also said their scalp is no longer itchy.

They also claimed that their hair feels a lot healthier & thicker.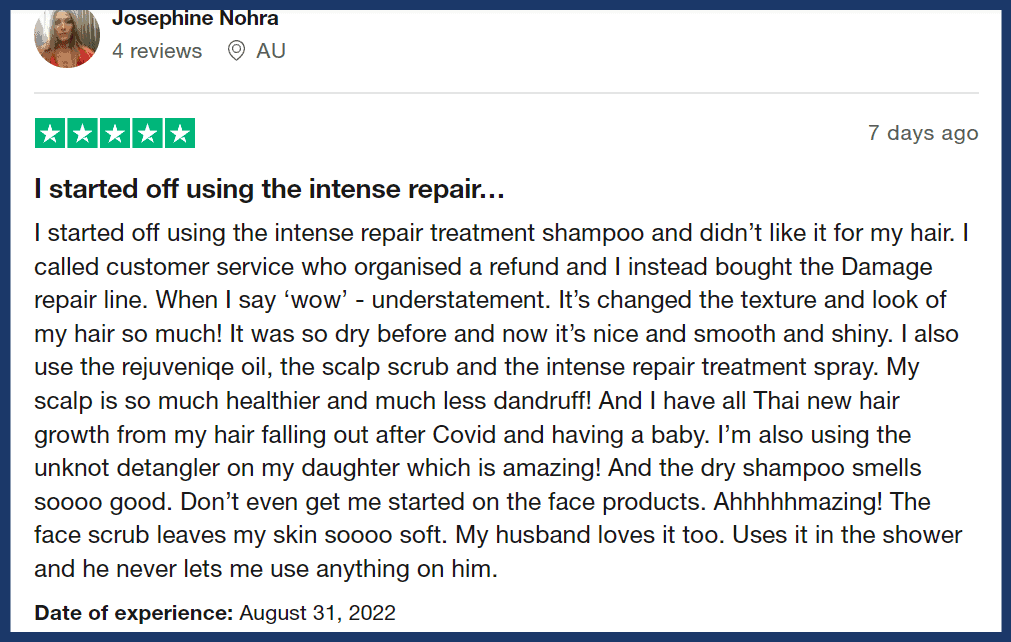 Someone said that they went from washing their hair nearly every day to only once a week: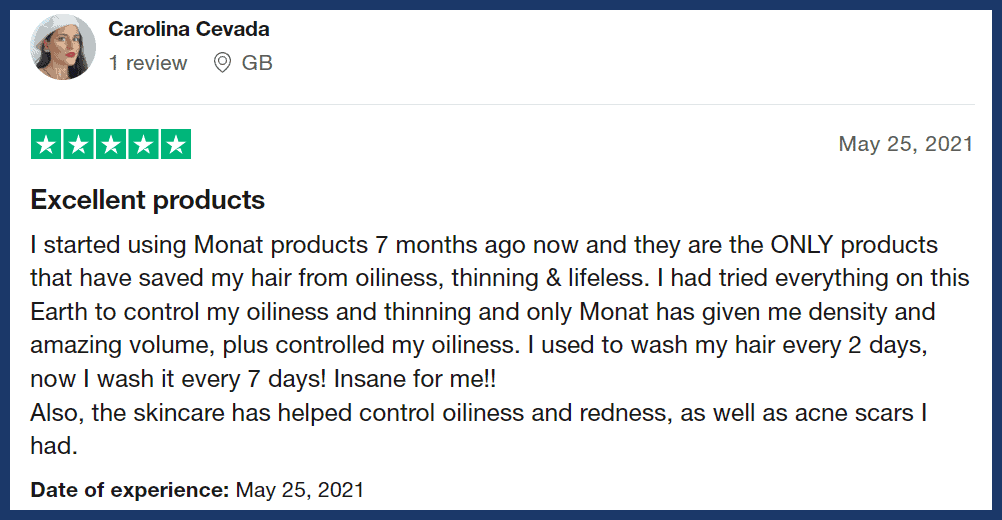 Honestly, if they are authentic reviews, they sound pretty amazing.
To be fair, a few of the stellar reviews on TrustPilot felt a little too theatrical to be real.
So I tried to showcase the ones that felt less intense.
Regardless, it's likely that there's at least some truth to the positivity.
After all, truthfulness is essential for a comprehensive review.
2. Negative Reviews
---
Now – this is where the real issues surrounding Monat arise.
Considering the MLM approach of the company, it doesn't surprise me that many people are worried.
In fact, from what I've seen, the problems customers run into are pretty serious.
Given the lack of negative reviews on the official website, I decided to go to BBB and/or TrustPilot.
Let's see what people are complaining about:
Multiple customers complained that the company kept charging their cards for no reason.

Some said that Monat Hair Care caused their hair loss to become worse.

A few also said their assigned Market Partner ordered products they never asked for.

Quite a few customers also said they never received a refund.

Some VIP customers even said the company placed an order on their part without their knowledge.

People said that despite cancelling their VIP membership, they were still charged for its renewal.

Someone advised others to steer clear of Monat's MLM practices: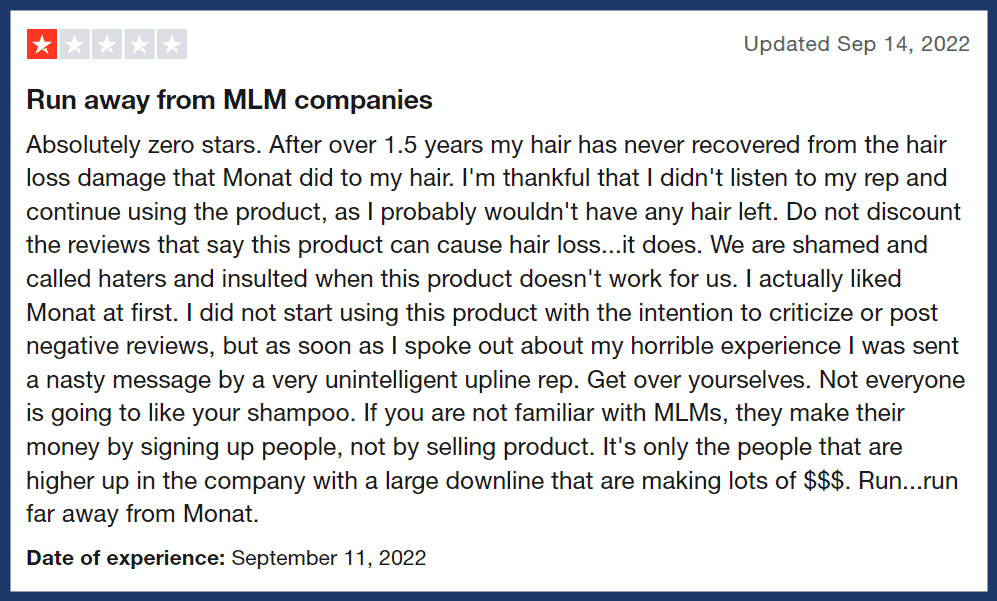 In all honesty, this is a lot to unpack.
Obviously, these issues are extremely serious and worth addressing.
Charging customers for products they never actually purchased is extremely sketchy.
Not only does it hurt the customers, but it also reflects badly on the business.
Luckily, the complaints on BBB and TrustPilot are there to bring forth the worst parts about Monat.
---
Conclusion
---
To bring this section together, it might be that Monat Hair Care is effective up to a certain point.
However, the way in which they treat their customers cannot be excused.
Most of the complaints I found on BBB and TrustPilot had to do with extremely careless behavior coming from the company.
Naturally, a brand that works under an MLM system should not be trusted.
Since we also have the above issues to serve as further motivation…
I definitely think the nice effects that Monat Hair Care can offer are not worth the hassle.
---
#5 – Side Effects

(6 out of 10)
---
Now that we reached the section about potential risks that Monat Hair Care poses…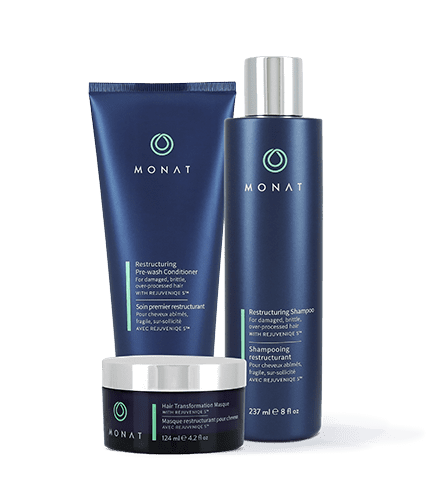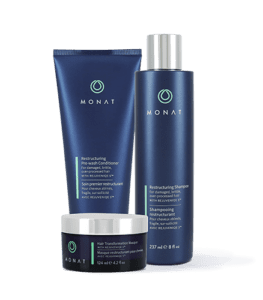 Let's see what you should keep an eye out for:
hair loss

itchy scalp

allergic reactions

scalp flaking

hair breakage
These issues are quite troublesome.
That especially taking into account the fact that Monat is extremely expensive.
Naturally, you wouldn't want a hair treatment to cause issues for your hair.
The only aspect that can be prevented would be the allergic reaction.
In other words, you would have to check the ingredient list and make sure you are not allergic to anything.
But other than that, it's kind of a lottery.
Of course, it's not clear whether or not you will experience these side effects.
However, it's important to keep them in mind when purchasing hair care.
---
#6 – Price

(3 out of 10)
---
Obviously, one can't just ignore the price point when making a purchase.
That's because the amount of money we have to pay greatly influences whether or not we go through with it.
Let's see how this plays out in the case of Monat Hair Care.
1. The Exact Price
---
The beginning of the review already mentions this, but Monat in general is a very expensive brand.
Most of the products they carry revolve around the $100 mark.
Clearly, they are marketing themselves as a luxury brand.
So, let's see what their official website has to offer:
prices that go from ~$20 all the way up to ~$160

if you sign up for their VIP membership, you get a discount

you can only buy through a Market Partner that is assigned to you

Now, one more issue is that you have to create an account if you want to place an order.
Admittedly, that's quite annoying.
It will also ask you if this is a one-time purchase.
Make sure to tick that box if you don't plan to go for a subscription arrangement.
Still, I would say this is too much money and too much hassle.
I definitely think there are better options out there.
2. Competitor's Price
---
Since I told you there are way better alternatives waiting for you…
I thought I would let you know about the best one there is.
In other words, let me give you my top recommended hair treatment:

My recommendation uses Minoxidil, which makes it more effective for hair growth.

Happy Head also contains a topical version of Finasteride, which minimizes its usual (sexual) side effects.

It's also a treatment specifically customized for your own needs.

This makes Happy Head more potent, because it's formulated with your specific issues in mind.

It's also important that it's more affordable than Monat Hair Care.

Also, since it's only one product, Happy Head is much easier to use than a Monat Hair Care System.
With these reasons in mind, I think going for Happy Head is a much better choice.
It has all the benefits, given the fact that it nourishes, strengthens, and stimulates hair growth.
Trust that there's no wrong in buying this hair treatment instead of Monat Hair Care.
In fact, it's the better alternative no matter how you look at it.
---
Conclusion
---
Predictably enough, Monat Hair Care is too expensive.
Although the ingredients seem good, they are simply not enough to justify the exorbitant price tags.
Not to mention that you have to go through a whole journey just to be able to place an order.
All in all, I don't think it's worth it.
So I would definitely advise you to go for something with a more accessible price…
And also more effective.
---
#7 – Final Conclusions
---
Let me summarize Monat Hair Care for you.
1. Decent Formula
---
For what it's worth, I would say that Monat Hair Care has pretty good ingredients.
Not only do they have quite a few trademark components…
But they also consist of a nice array of nourishing & strengthening nutrients.
Of course, they are surely not remarkable enough to justify the price point of these products.
However, they are definitely not bad to have.
This tells us that, at the root, these products are not the worst.
2. Incredibly Expensive
---
This is likely the very first aspect that jumps out at you as soon as you check out the products.
It's safe to say that the price is anything but modest.
Not only that, but the huge amount of money you have to spend doesn't actually translate into anything magnificent.
In fact, Monat Hair Care seems like a line that is nice enough in terms of ingredients…
But I can't think of anything that would make it count as premium quality.
They are definitely not worth such an enormous sum of money.
3. Dangerous MLM Practices
---
As we already established, Monat runs on an MLM system.
That means that instead of buying straight from the company, you instead buy from one of their representatives.
Also, these reps make money according to how many people buy through them.
This likely explains why some customers are having trouble with their respective Market Partners.
A Market Partner will want you to spend as much as possible.
Naturally, this can lead to all sorts of issues.
The moral of the story is that MLMs are to be avoided no matter the circumstances.
---
My Verdict – Worth It Or Not?
---
Short answer: Not really.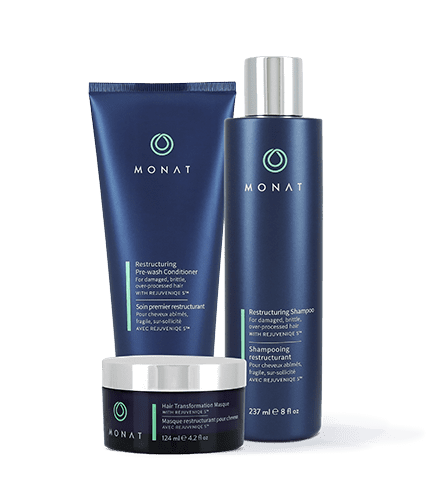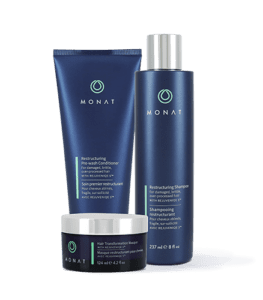 Monat Hair Care products fall short on so many ends:
Ingredients are not the most impressive.

Many complaints about side effects.

Way too expensive.

Customer support is not the nicest.

Shady MLM practices.
Honestly, if the only issue was the ingredients…
Monat Hair Care would have been a lot better.
As it stands, however, there are numerous sketchy aspects surrounding this hair care line.
Naturally, the most problematic aspect is the fact that Monat is an MLM.
This fact alone is what should convince you to stay away from them.
In other words, if you're disappointed that your hair concerns won't be addressed by this product…
No need to worry! Something like Happy Head has every chance to work for you.
That's because it's simply the best hair treatment out there:
extremely strong against hair loss

based on a topical version of Minoxidil and Finasteride

doesn't cause the usual sexual side effects

stimulates hair growth efficiently

personalized for every individual customer
As such, Happy Head is better in every way, given the context.
It's superior in quality, plus it comes at a lower price.
You lose nothing by giving Happy Head a try.
In fact, your hair will have a lot to gain from this treatment!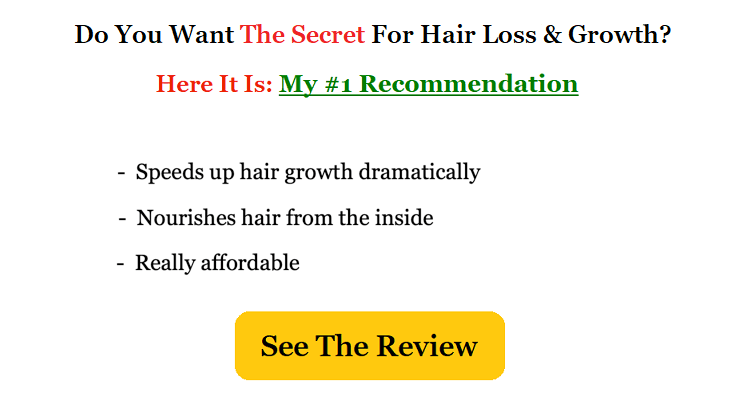 References:
1 – https://www.ncbi.nlm.nih.gov/pmc/articles/PMC5588753/