It's time to review Herbalife Joint Support – which is a supplement whose name speaks by itself.
This joint product has a famous brand behind – but that's pretty much it.
It looks pretty bad at its other chapters:
weak ingredients overall

expensive for its value

very few praises from previous users
So is it worth the money (in terms of effect)?
I analyzed each of its aspects in the following lines.
Note: This review is based on my opinion + research on Herbalife Joint Support.
Review Summary
---
Full Name: Joint Support Advanced by Herbalife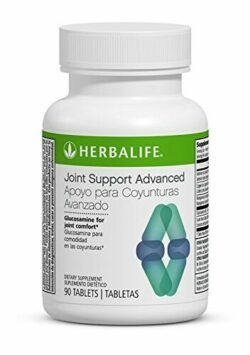 Product Type: Joint Supplement
Best Actual Price: Around $40
Cheapest Place To Buy: Amazon
Designed For: Joint protection – according to its claims:
strengthens cartilage

maintains joint flexibility

decreases discomfort

protects against cartilage tear
So it's mostly designed for prevention than for pain relief.
My Rating: 5 out of 10
Recommended?: Surely not.
It's pretty bad for a joint supplement (compared to most products on the market):
basic ingredients with low dosages

expensive for its actual value

hard to buy online
If you want a stronger formula for less money, I recommend this $20 cheaper supplement instead.
What I Liked About It
---
Reputable company behind

Very few complaints on side effects

Some satisfied users
What I Didn't Like About It
---
Ingredients are pretty weak (little evidence behind)

Low dosages in general

Thick pills that are hard to swallow (tablets not gelatin capsules)

Few user opinions available

Price is very high for what it contains

Versions sold online (on Amazon) might be fake

Hard to buy online
---
Herbalife Joint Support In A Nutshell
---
As you can already tell – Herbalife's product is designed to support joint health.
But unlike most products from this category – it's not necessarily meant for pain.
Instead – it works best for :
flexibility

cartilage tear (due to aging)

extra strength
However – in terms of composition, I wouldn't bet on it.
That even more since it's extremely pricey for what it contains.
That's why it's not a supplement I would recommend any soon.
Since there are way better options for less money – Herbalife's product isn't among my recommended joint products.
---
#1 – What It Is & Claims
---
First of all – I want to describe this product in general.
What it is, what it can do, who is the producer, etc.
1. Claims
---
Herbalife's product doesn't make any unbelievable promises.
Unlike many joint supplements – it actually claims real things:
Supports joint health in general.

Protects against aging cartilage wear.

Enhances flexibility and comfort.

Honestly, I'm not a big fan of this product overall.
That's why I can't guarantee it really does what it promises.
But overall – its claims seem quite legit.
2. Company Behind
---
This product has a very popular producer.
Many supplement fans are familiar with Herbalife – which is a brand focused on natural products:
its products are made from herbs

has over 100 different products (for all health problems)

pretty good reputation

Actually – Herbalife is one of the largest herbal brands in the world.
Even though I'm a fan of its products (in general), its joint formula isn't as good.
---
#2 – Formula

(4 out of 10)
---
At this chapter – Herbalife's product is way under the others.
Compared to most joint supplements, this one has a very basic formula:
low dosages

ingredients with a low potency

Judging after its formula – this supplement should have a really basic effect.
So in terms of ingredients, I wouldn't recommend it any soon.
Now – it contains 3 major ingredients.
Let's analyze each one more closely.
1. Glucosamine HCl (500 mg)
---
Glucosamine is probably the best substance for damaged cartilages:
prevents against joint tear

decreases friction

re-builds broken cartilages
So it's an excellent ingredient for osteoarthritis (and everything involving damaged cartilages).
On the other hand – it's not very helpful for inflammation.
However, I usually recommend the sulfate form of glucosamine.
Herbalife's product contains the HCl form – which doesn't have as many studies behind. [1]
Besides, the existent studies have pretty negative results. [2]
Not to mention that its dosage is very low (500 mg vs 1500 in most supplements).
2. Scute Root Extract (1.6 g)
---
Apparently – this herb is an anti-inflammatory:
mostly helpful in intestinal inflammation

also works for skin inflammation

anti-microbial proprieties
However – I couldn't find any benefits for joint inflammation.
That's why I doubt it would be very helpful in this formula.
3. Minerals
---
Herbalife's product contains 3 minerals:
Selenium

Cooper

Manganese
They all have different dosages – but none of them is very high.
That's why I wouldn't really count on them (in terms of effect).
---
Conclusion
---
This supplement has a very simple formula (and not in the good way):
basic ingredients with low potency

compounds don't have any clinical evidence behind

low dosages
Basically – glucosamine HCl is the only ingredient with real benefits for joints.
However, it comes in a very low quantity and in a weaker form (HCl not sulfate).
So that's why Herbalife's supplement seems really weak to me.
---
#3 – How To Use It

(6 out of 10)
---
Here I want to give you some details about this product's pills and schedule.
1. The Pills
---
Herbalife's supplement doesn't look great here.
Unlike most joint products – it doesn't use gelatin capsules.
Instead, it contains tablets (which are harder to swallow):
larger dimensions

sour coating

quite thick
Compared to a regular joint (gelatin) pill – this one is much harder to take.
So this could be a drawback for most people.
2. The Schedule
---
This product doesn't look any better here.
Despite having large pills – it still requires taking 3 per day:
the label recommends spacing them out

you should take one with every meal

3 thick pills per day isn't the easiest schedule in a joint supplement.
That's another reason why I'm not a fan of Herbalife's product.
---
#4 – Results

(6 out of 10)
---
In case you wanted to see how Herbalife's product works – here it is.
I will analyze the customer reviews I found about it (on Amazon).
In this way – you can see some opinions of people who actually tried it.
Note: I only analyzed authentic reviews, not fake/promotional ones.
1. Positive Opinions
---
Firstly – I didn't find too many honest reviews on this supplement.
Still, I will analyze the ones I found (about 35).
Surprisingly – Herbalife's supplement has a few positive reviews:
Some people say it helped with their pain.

Others claim their flexibility got better.

A few others say it works after a longer time.

I personally didn't expect any positive reviews.
So it's clear that this supplement isn't as bad as I expected.
It does work for some – but not for all. That's because there's a pretty big negative side.
2. Negative Opinions
---
As I said – there are enough complaints on this product.
Most are related to:
Fake authenticity (not the original version).

No effect.

Results take several months to appear.

Now – I honestly expected those complaints related to effect.
But I was quite surprised to see so many negative reviews claiming the product isn't original.
So unless you buy it from a Herbalife member – keep this in mind before making the purchase.
---
Conclusion
---
Herbalife's joint supplement has mixed reviews:
Some people say it's helpful.

Others claim it doesn't work at all.

There are some stating the product isn't original.
Overall – despite the few praises it has, it's not a product I would recommend.
You can get a much better alternative for (at least) $10 less.
So in terms of formula/effect, I strongly recommend that product instead.
---
#5 – Side Effects

(9 out of 10)
---
I couldn't find too many complaints about this product's side effects.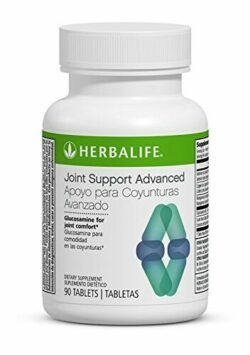 This is quite obvious for several reasons:
Its dosages are too low (even for a strong effect).

Formula is quite basic.

It's recommended to take it during the meal.
However – some people may have trouble swallowing the pills.
So even though there aren't too many common side effects, swallowing can still be an issue.
But overall – this is one of the best chapters of Herbalife's supplement.
---
#6 – Price

(5 out of 10)
---
Herbalife's products aren't extremely expensive in general.
They usually have an above the average price (which is still affordable for most).
However – this joint supplement is super overpriced, if you ask me.
1. The Exact Price
---
First of all – Herbalife products are sold through local distributor.
In this case, the products are available via catalogs (and so are their prices).
In case you want to buy certain products online – there's only Amazon selling them.
As for the Joint Support:
Costs $39.99 per bottle on Amazon.

Shipping is free.

One bottle is a monthly supply.

There are no discounts when buying larger quantities.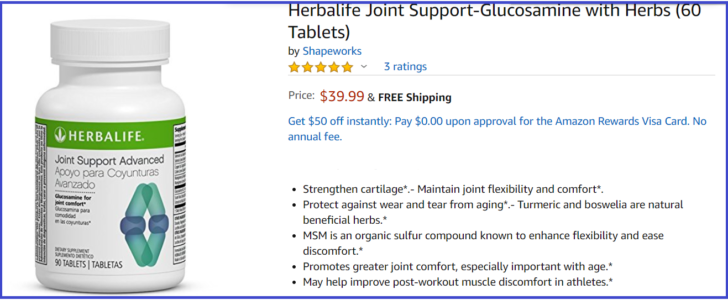 Now – $40 for a basic joint supplement is way too much.
If it had a much better formula, it might have been worth $35 (not $40).
But in this case – the ingredients cost about $15 (or even less).
So you're pretty much paying the other $25 just for the brand.
That's why I definitely don't recommend this supplement.
Considering its actual value – it's way too overpriced.
2. Competitors' Price
---
I will only compare Herbalife's product with my #1 recommendation for joint pain.
I'm talking about a supplement called Nuzena Joint Support +:
H costs $40 per bottle.

N costs $30 per bottle normally.

However, you can get $10 off with a coupon code.

Plus, N's formula is a up to 5x stronger.

H doesn't offer any discount for larger quantities.

N costs as little as $15/bottle for larger quantities.

Besides, N offers installments payment.

This means you can get a bottle for $7.50/month (4 months).
Basically – Nuzena's product is a way better alternative, if you ask me.
It doesn't only have a much better formula – but it's also a lot cheaper (ironically).
So if there's a joint pain supplement I recommend – it's surely Nuzena's Joint Support +.
It's a much better choice, compared to Herbalife's product.
---
Conclusion
---
For the weak ingredients it contains – Herbalife Joint Support is way too pricey:
costs about $40 per bottle

price could be higher when bought from local distributors
If you really want a quality joint supplement, I recommend something else instead.
It costs about $10 less and has a much stronger formula.
So I advise you not to spend your money on Herbalife's product.
---
#7 – Availability

(5 out of 10)
---
Unlike most joint supplements – Herbalife's product isn't very easy to find:
Normally sold through Herbalife local distributors.

Quite hard to find in online retailers.

Available through a different seller on Amazon (not Herbalife).

Can also be found in certain Ebay sellers.
Basically – the standard way to get this product is through a Herbalife distributor from your area.
You can find one on Herbalife's official website.
It's true that you can also get their joint supplement from Amazon.
But there are many complaints that the product isn't authentic.
So if you want the 100% original one – finding a Herbalife distributor is safer.
---
#8 – Herbalife's Product In 3 Conclusions
---
Here's how I would sum up my opinion on Herbalife Joint Support (in 3 ideas).
1. Weak Formula
---
In terms of ingredients – there's nothing I could praise in the product:
most compounds have little benefits for joints

very few clinical evidence

low dosages

basic ingredients overall
I personally would not recommend a supplement with this kind of formula.
When you have so many cheaper quality products on the market – why go for this one?
Just because it's made by Herbalife?
Trust me – this doesn't guarantee its success.
2. Might Be Fake
---
Many Amazon users complain they didn't receive the original version.
According to them, Amazon sells a fake version:
label is different from the original version

pills are have a different aspect

not sold by the official Herbalife account
For this reason – you should think twice before buying this product from Amazon.
3. Overpriced
---
Herbalife's supplement costs way too much for its actual value:
ingredients alone cost under $15

supplement costs $40
Now – I don't know its price in Herbalife's catalog.
But I pretty much doubt it's lower than this.
So considering the basic ingredients it contains – I would definitely not pay $40 for it.
---
My Verdict – Worth Or Not?
---
Short answer: Definitely not.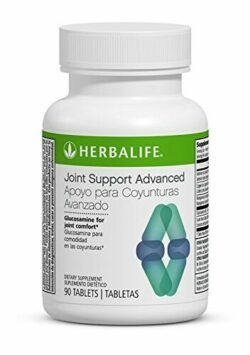 It's not the worst joint supplement I have seen (so it's not a scam).
But it's also very far from the quality ones:
Weak formula with basic ingredients.

Low dosages overall.

Pills are quite large and thick.

Pretty hard to find online (in a safe version).

Really expensive for its actual value.
As I said – this product isn't a scam.
Since it's made by Herbalife (which is a reputable brand) – it's clearly legit.
However, it's definitely not a worth purchase (if you ask me).
So what do I recommend instead? A supplement called Joint Suport +:
much stronger formula (and high dosages)

really good effect

probably the best price on the market

easy to find online
If you want the best joint supplement in terms of quality/price, this is my top choice.
Compared to Herbalife's product – I feel like it's way superior.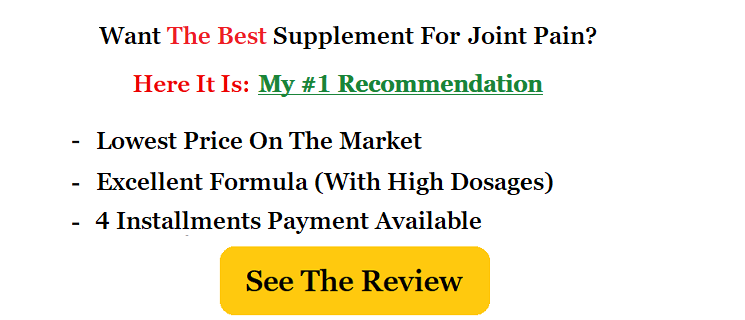 References:
1 – https://www.ncbi.nlm.nih.gov/-pmc/articles/PMC3400104/