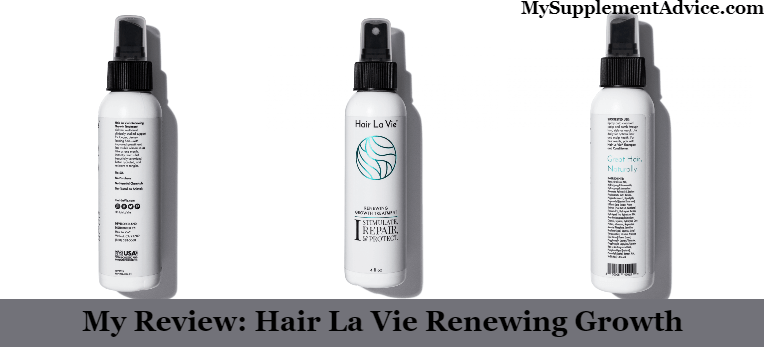 Let's review Hair La Vie Renewing Growth – a treatment that will improve your hair growth:
good ingredients

interesting formulation

many user reviews available
It looks like a really promising serum for your hair.
But how does it work?
I will give you all the details in this review.
Note: This review is based on my opinion + research on Hair La Vie Renewing Growth Treatment.
Review Summary
---
Full Name: Renewing Growth Treatment by Hair la Vie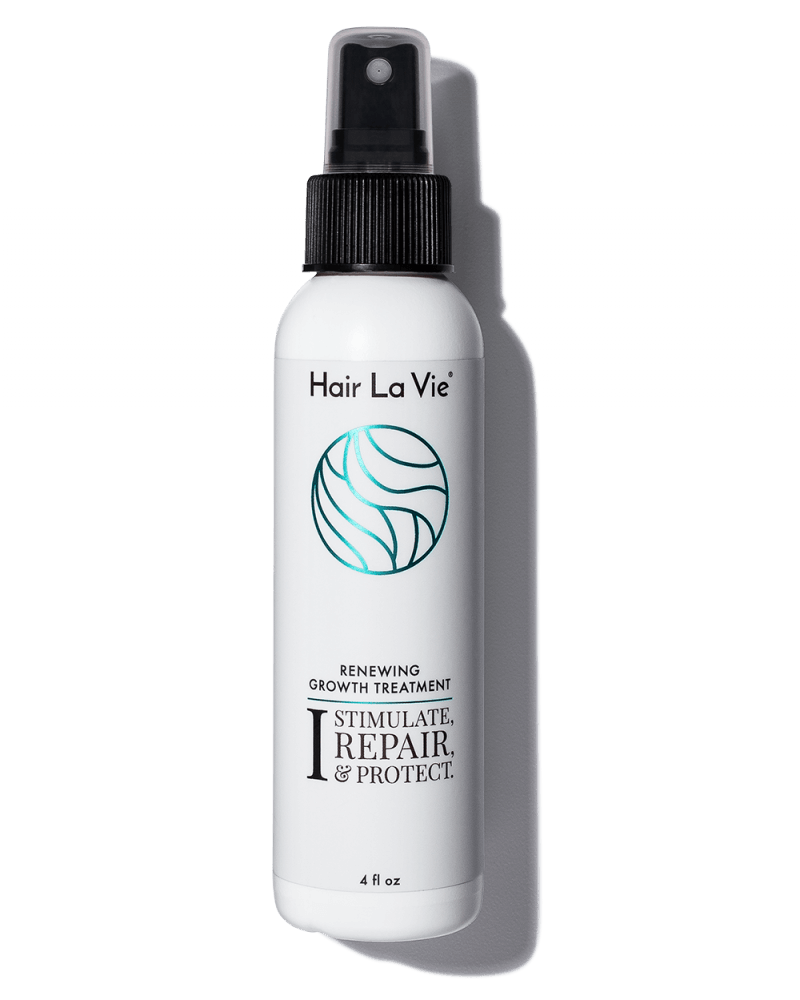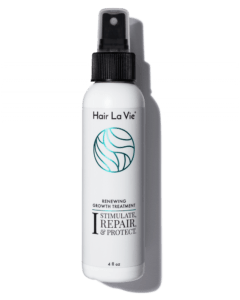 Product Type: Serum
Best Actual Price: $35
Cheapest Place To Buy: Its official website
Designed For: Strengthening and making hair healthier.
By doing this, it will also:
thicken

moisturize

detangle
My Rating: 7 out of 10
Recommended?: Not completely – it's a decent product, that's true:
boosts growth

average ingredients

easy to use
It's a pretty nice hair serum, but it's not the best I've seen around.
Actually, if you're looking to boost your hair health, an internal product works best.
What I Liked About It
---
Stimulates hair growth

Acts as an all-rounder in terms of hair care

Contains botanical extracts

Easy to use

Relatively safe
What I Didn't Like About It
---
Confusion regarding the presence of trademark ingredients

Many complaints regarding shipping conditions

Not a lot of real user reviews available

More expensive than it should be
---
Renewing Growth In A Nutshell
---
This hair serum claims to improve your hair in a multitude of ways.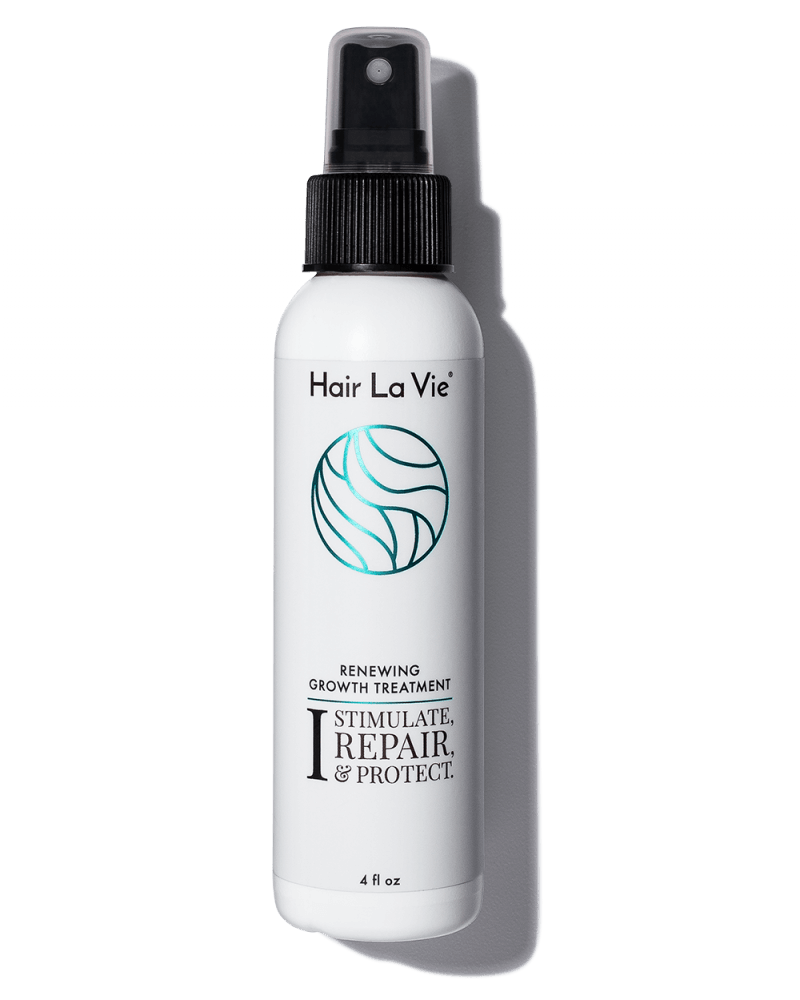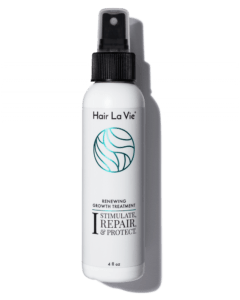 That means it can:
strengthen

moisturize

help your hair grow
It also has pretty nice components, but looking at the formulation gives rise to an issue.
Namely, the advertised trademark ingredients are not present in the list.
Because of this, we can't be sure of whether or not they exist in the formula.
This, in turn, affects the overall potency of the product.
Besides, multiple complaints on Amazon bring up the fact that the serum is delivered without a spray pump.
Instead, the product allegedly comes with a cap on it.
That's pretty inconvenient:
it means you have to buy a separate pump

otherwise you won't be able to use the serum
Regardless – there are not that many user reviews.
That makes it pretty challenging to form a complete opinion surrounding this product.
All in all, however, Hair La Vie Renewing Growth is not that impressive.
For the price it demands, it should be of much higher quality.
As such, I believe that there are much better options out there in terms of hair growth treatments.
Ultimately, it's all up to you.
---
#1 – How It Works & Producer
---
Let's start with the general information surrounding this product:
what it does

how it plans to work

who the producer is
1. How It Works
---
The official website claims that this serum leaves hair "volumized, better hydrated, and resistant to tangles".
To add to this, it should also:
stimulate hair growth

reduce greasiness

stop shedding

For these purposes, Hair La Vie Renewing Growth brings forward its ingredients.
Namely, it claims to have 5 trademark components, which are improved versions of classic elements.
These are based on natural ingredients, which is good.
It seems like this serum aims to be an all-rounder in terms of hair care.
Plus, it says you should be able to see results from the very first try.
It's also designed for easy use since it comes in spray form.
2. Company Behind
---
This hair serum belongs to a company called Hair La Vie.
Here's what I can tell you after a close inspection:
they sell multiple hair products (conditioner, shampoo, supplements, lash serum, etc.)

the website also has a section dedicated to success stories from customers

it's claimed that their products are 100% chemical-free

you can contact the support team directly
The website also states that every purchase from them results in a donation.
This company partners with a few charities.
They have to do with women's rights, children in need, and giving farm animals to families.
All in all, it seems like this brand is very committed to coming off as selfless.
I would say it's working – Hair La Vie seems trustworthy to me.
---
#2 – Ingredients

(7 out of 10)
---
In this section, we will take a closer look at this product's ingredients.
This is crucial for assessing just how reliable Hair La Vie Renewing Growth really is.
1. Important Ingredients
---
Without further ado, let's analyze the components that make a difference in this serum:
Ecklonia Cava Extract – enhances growth of hair [1].
Pisum Sativum Extract – prevents hair loss [2].
Panthenol – improves the texture of damaged hair [3].
Hydrolyzed Keratin – reduces breakage [4].
Hydrolyzed Soy – restores hair suppleness [5].

Hydrolyzed Corn Protein – retains hydration.

Hydrolyzed Silk – stimulates keratin production.

Trifolium Pratense Flower Extract – reduces thinning [6].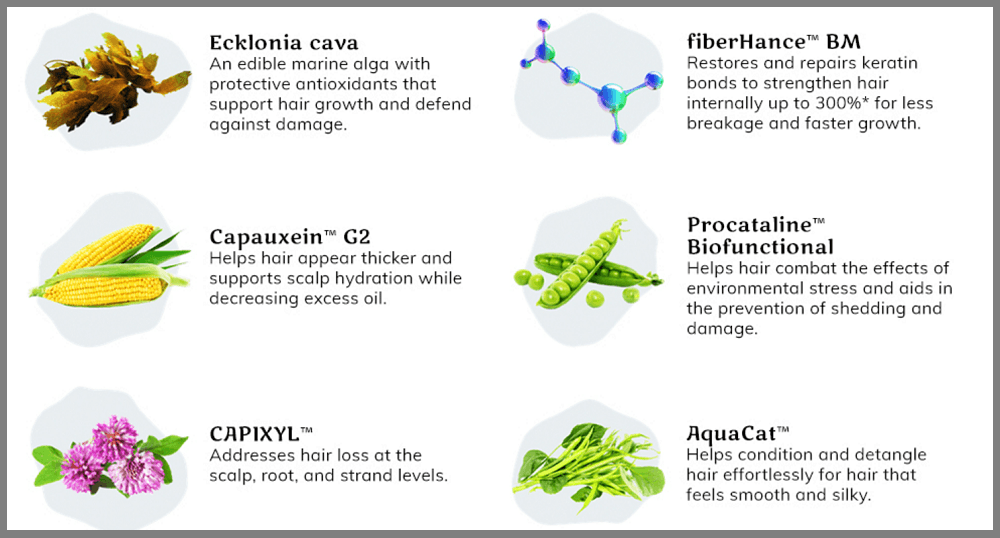 These are all helpful ingredients, for sure.
However, notice how the above picture shows the trademark ingredients appearing on their website.
As you can see, they don't appear in the actual formulation.
While they may exist somewhere in the trademark variant…
I personally couldn't find them listed in the actual ingredient list.
That's rather weird.
Regardless – these components are still good.
---
Conclusion
---
To conclude this section, Hair La Vie Renewing Growth definitely has a promising formula.
Given the fact that it's based on natural ingredients, it's helpful for your hair.
It's a shame that the trademark versions don't appear in the ingredient list, though.
That would have made the serum way better, for sure.
Without them, it's pretty average.
---
#3 – Smell & Texture

(8 out of 10)
---
Let me give you all the details in regard to the scent and consistency of this serum.
1. Smell
---
When it comes to this aspect, I noticed people were really divided.
Half liked how this serum smells, while the other half couldn't stand it.
Here's how the smell is usually described:
like baby powder

reminiscent of wet wipes
However, there were also people who liked the scent, so keep that in mind.
You may also use a few drops of essential oil to alter the scent.
So it's really up to personal preference.
2. Texture
---
As usual, not a lot of people mention aspects regarding texture in their reviews.
However, I managed to find a few reviews mentioning the thickness of this product.
So keep this in mind when considering this serum.
The majority of reviews didn't mention anything about consistency, though.
This could mean that not a lot of people are having issues with the texture of this product.
---
#4 – Results

(7 out of 10)
---
If you want to find out whether a product really works or not…
User reviews are definitely a good starting point.
Let's see what other people thought of Hair La Vie Renewing Growth.
Note: I only considered authentic reviews, not promotional/fake ones.
1. Positive Reviews
---
It would seem like this hair product does not have that many reviews.
For example, the official website only has 9 reviews for this hair treatment.
For this reason, I'm going to look at the reviews on Amazon.
There are 52 reviews there at the time I'm writing this article.
Let's see what people like about this product:
Some people say their hair feels more nourished.

They also claim it actually reduces frizziness.

A few also stated that it stopped their hair from falling.

Customers also noticed thin areas in their hair are being filled in.

Some also said their scalp feels healthy and moisturized.

It looks like people approve of the claims this product makes:

Overall, quite a few customers seem to attest to having a positive experience with this product.
That's definitely reassuring, as it's telling us the treatment is working as intended.
Plus, it helps outline the advantages of this hair care spray.
2. Negative Reviews
---
Despite the low number of reviews, like the majority of products, this one also has some negativity.
Here's what caused issues for customers:
Quite a few complaints about the bottle missing the spray pump.

Some people didn't like the scent.

A reviewer said this treatment dried their hair out.

A few people also said it made their hair feel sticky.

Some customers said they didn't notice any difference in the thickness of their hair.

One person said it feels like the product they received on Amazon is different from what they remember:

Maybe ordering from Amazon is not a good decision.
Not only do you pay a whole lot more than the official price…
But you also run other risks.
Good thing the negative reviews are there to warn us about these aspects!
---
Conclusion
---
To bring this section together, it seems like people generally enjoy this hair serum.
Of course, there are people complaining about the scent, which I kind of expected.
What's pretty strange is that some people are saying the bottle doesn't actually have a pump.
If that's true, it's rather weird, since it means you also have to buy a separate spray pump.
Otherwise, you won't be able to use the serum.
That's pretty inconvenient if you ask me.
---
#5 – Side Effects

(8 out of 10)
---
Keeping in mind that Hair La Vie Renewing Growth has few reviews…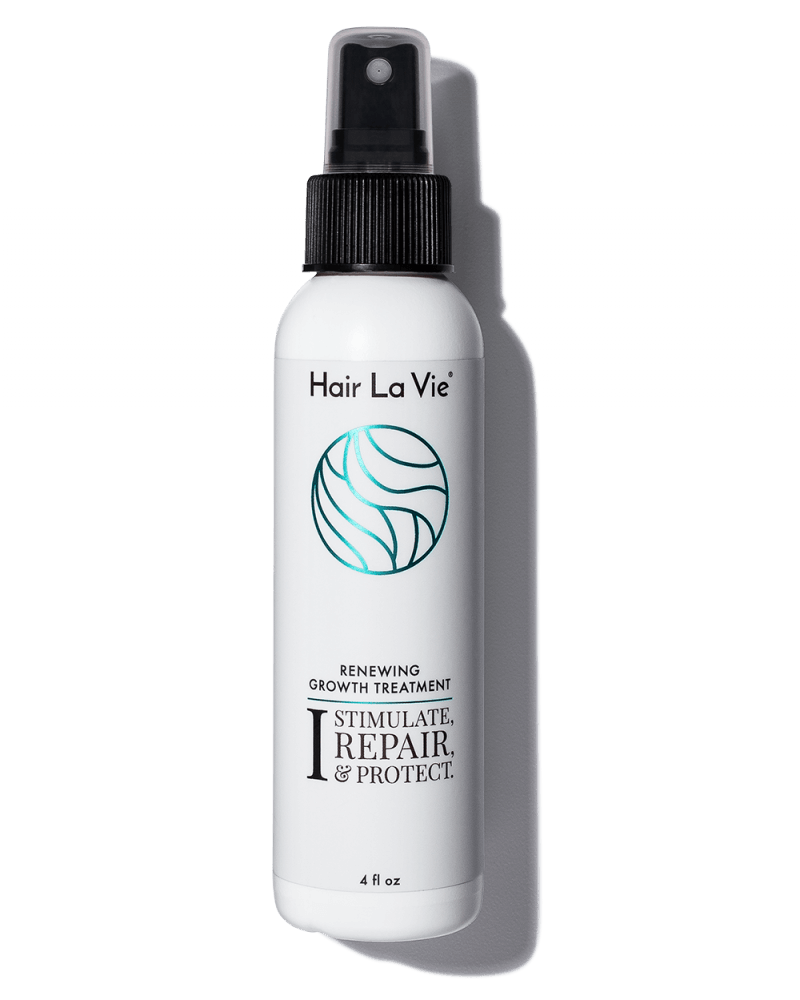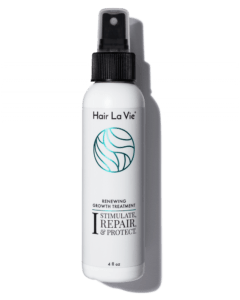 It's expected that one cannot know the full list of side reactions it can stir.
In fact, the reviews I read only mentioned one side effect: dried-out hair.
I couldn't find any other issues of this sort.
Of course – it cannot be guaranteed that you will or won't experience it.
But it's worth mentioning for the sake of thoroughness.
You get to decide whether or not it's worth it.
---
#6 – Price

(7 out of 10)
---
Naturally, the price tag is a pretty significant factor in deciding whether we make a purchase or not.
This also goes for Renewing Growth, since it's not the most modest price tag.
1. The Exact Price
---
Given the fact that the bottle contains 4 fl. oz…
The price is not the most accessible.
You don't really get a lot of product for the amount of money you have to spend.
Let's see what the official website has to offer in terms of pricing:
$35 for one 4 fl. oz. bottle

purchasing multiple bottles grants a small discount

there is also a subscription that can get you up to 29% off

with this subscription, a bottle can cost as little as $25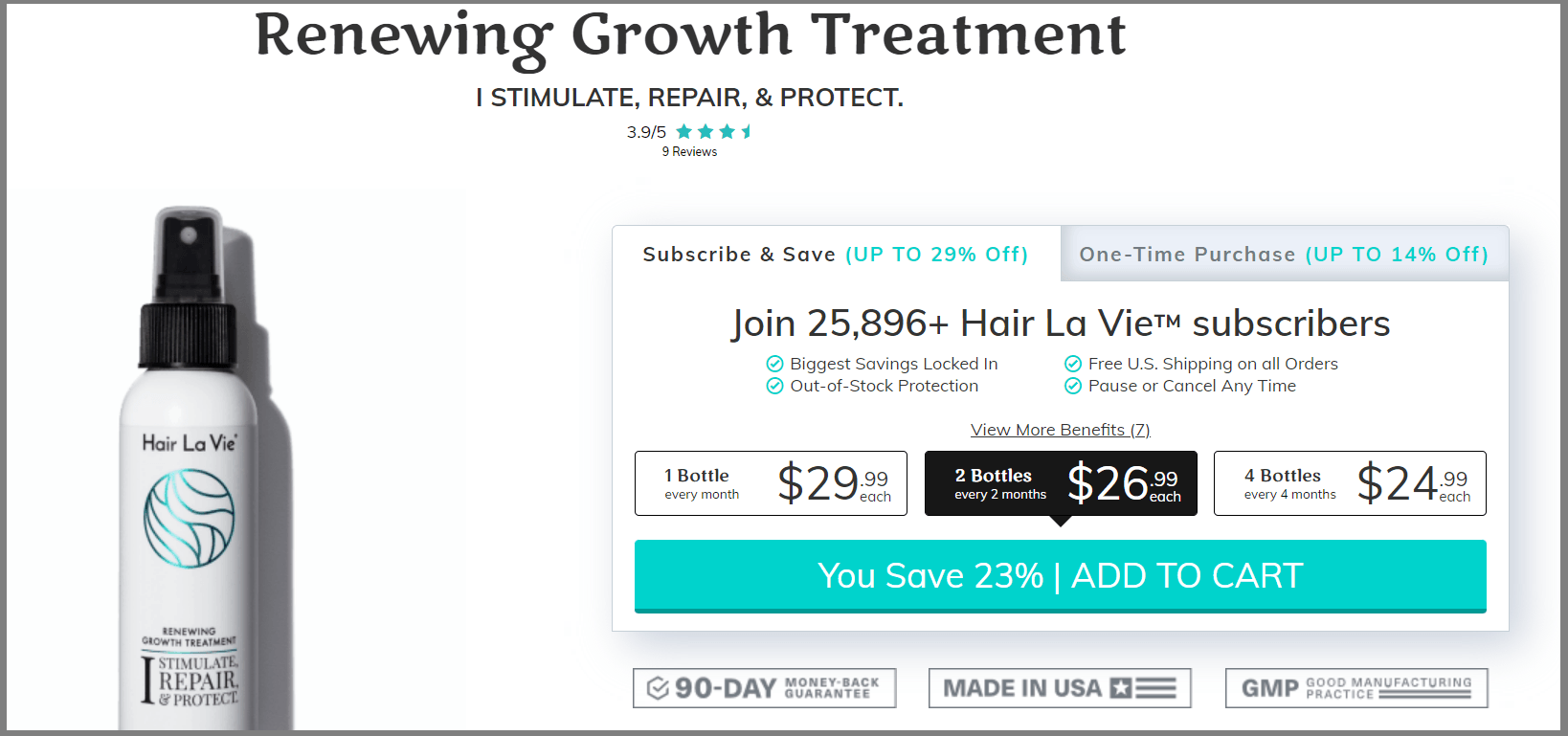 The subscription is generally not worth it.
Signing up for it assumes that you use up one bottle per month.
In reality, you can't be sure of that, since it kind of depends on your hair.
So I don't think it's worth it, even taking into account the discount you get.
2. Competitor's Price
---
Since this hair serum is not the best choice all around…
I thought I would bring up an option that I know will satisfy your needs.
In other words, let me introduce you to my top recommendation for hair growth:

Folexin's formula is more potent since it consists of essential hair nutrients.

It also treats hair loss from the inside, since it comes in supplement form.

Compared to Hair La Vie Renewing Growth, my recommendation doesn't cause any side effects.

Moreover, the supplement is more affordable than the serum, costing you $25.

In the best case, Folexin can cost as little as $18 if you go for the biggest bundle.
As such, I really believe that Folexin is the obvious choice here.
You're paying less for a stronger effect, which is a huge advantage.
Plus, it has much better ingredients for your hair.
So there's no reason to hold back.
---
Conclusion
---
To bring this section together, it's safe to conclude that Hair La Vie is not worth the high price.
Especially when we are referring to its total price – it's just too much.
To be fair, perhaps it would have been understandable if the trademark ingredients were there.
As it stands, we can't be sure of their whereabouts.
Regardless – if you're ready to shell out this kind of money, it's better to go for something superior.
---
#7 – Final Conclusions
---
Let me summarize Hair La Vie Renewing Growth for you.
1. Missing Trademark Ingredients
---
This serum has nice ingredients overall.
However, the fact that the trademark ingredients are missing is really dragging it down.
They surely would have made the product more potent.
Plus, it also would have stood out more from other similar hair care treatments.
As it stands, Hair La Vie Renewing Growth is just a serum like many others.
2. Average Quality
---
As it stands, Hair La Vie Renewing Growth is simply not special enough to make the cut.
While it's far from a bad product, it doesn't justify spending $35 on it.
There are many factors that led to this conclusion, but it mostly has to do with the formula.
After all, that's what makes the difference for your hair.
The way things are right now, I wouldn't say that buying this serum is the best thing you could do.
3. Questionable Shipping Conditions
---
Quite a few customers were complaining about the state of the product they received.
From missing pumps to a product that doesn't look quite like it should…
It really makes one wonder what the issue is.
Perhaps the answer is to avoid ordering from Amazon.
Still – this doesn't change the problem at hand, it's merely a way to evade it.
Such scenarios shouldn't happen in the first place.
---
My Verdict – Worth It Or Not?
---
Short answer: Not completely.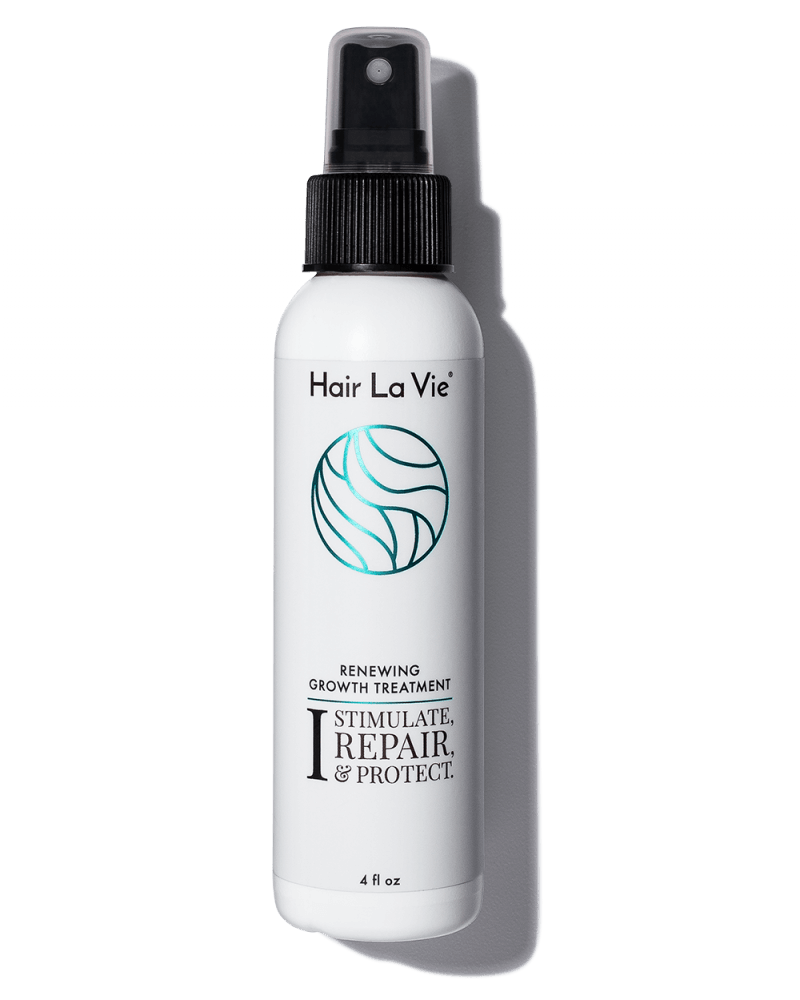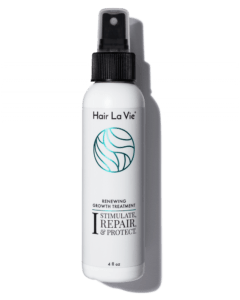 While it may not be the best hair product I've ever come across…
It's definitely a decent choice overall:
Decent ingredients.

Pretty good for overall hair care.

Pricier than it should be.

Many complaints regarding shipping.
Now, it's definitely not the worst hair serum I've seen either.
But there are definitely some sketchy aspects surrounding this product.
For example, the fact that the trademark ingredients are nowhere to be found.
That's a shame since the price of this serum would have been understandable if it had all those customized components.
This is why I believe something along the likes of Folexin would be much better.
It's simply the best hair growth product I know of:
very affordable despite the high quality it offers

tackles hair loss from more angles

makes use of the best hair care ingredients available right now
For these reasons, I believe Folexin is well worth your time and money.
I've looked into enough similar products to know that this one truly delivers amazing results.
So, what are you waiting for?
Give Folexin a try and let your hair feel the difference!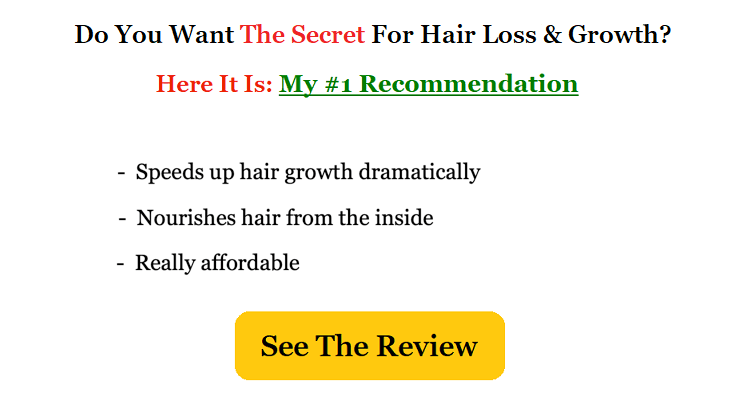 References:
1 – https://www.ncbi.nlm.nih.gov/pmc/articles/-PMC3382810/
2 – https://pubmed.ncbi.nlm.nih.gov/-31680356/
3 – https://pubmed.ncbi.nlm.nih.gov/-34698060/
4 – https://www.ncbi.nlm.nih.gov/pmc/articles/-PMC6218806/
5 – https://www.ncbi.nlm.nih.gov/pmc/articles/-PMC8947969/
6 – https://www.researchgate.net/-figure/Effects-of-red-clover-extract