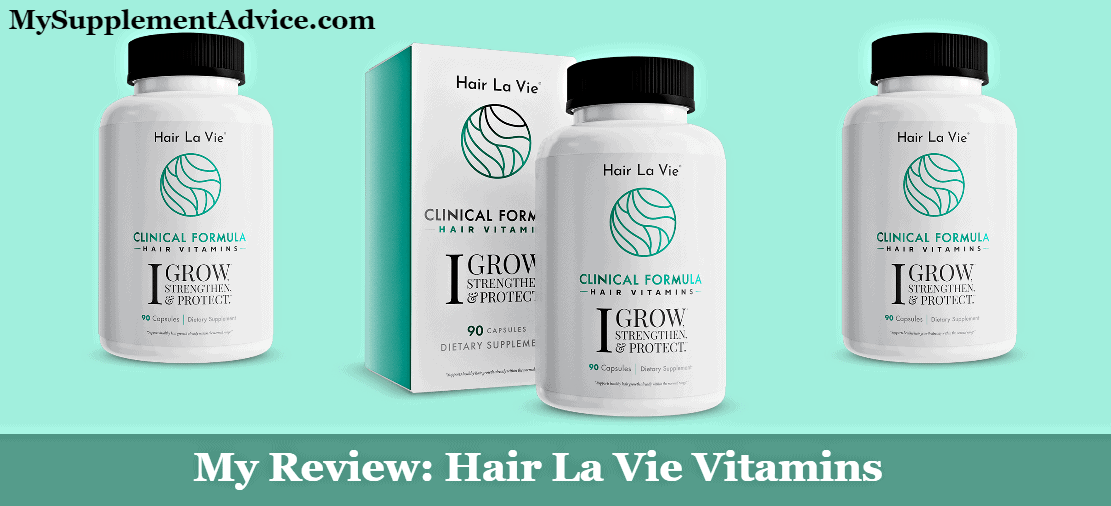 It's time to review Hair La Vie Vitamins – a supplement that will support and grow your hair.
It has all sorts of beneficial nutrients that are helpful in terms of hair care.
In short, it seems like the ideal solution for your hair issues.
However – are there any complaints about its side effects? Is it really safe to take?
Let's find out together in this article!
Note: This review is based on my opinion + research on Hair La Vie Vitamins.
Review Summary
---
Full Name: Clinical Formula Hair Vitamins by Hair La Vie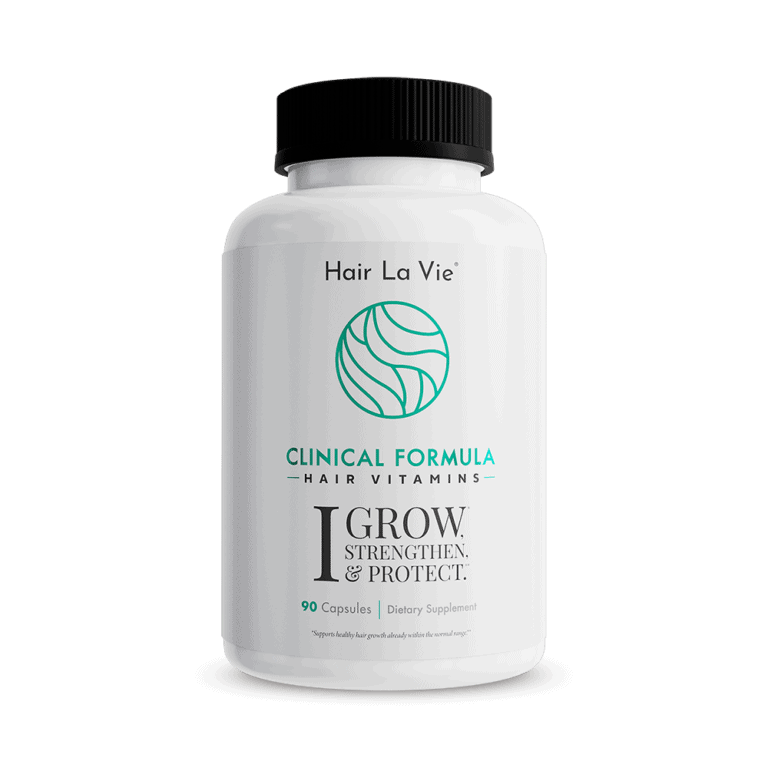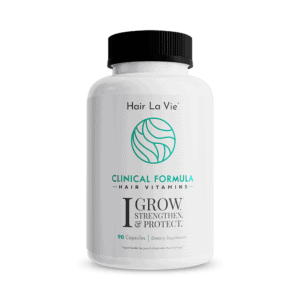 Product Type: Hair Supplement
Best Actual Price: $59.99
You can also get it for as little as $36, but we'll get to that when we talk about price.
Cheapest Place To Buy: Its Official Website
Designed For: Boosting the growth of your hair.
Additionally, it should also:
strengthen

provide overall support

volumize
My Rating: 9 out of 10
Recommended?: Definitely yes – you're looking at one of the best hair supplements available:
blocks DHT excess

contains essential hair nutrients (e.g. biotin)

amazing for stimulating hair growth
What I Liked About It
---
Excellent for boosting hair growth

Amazing for providing overall hair support

Blocks the DHT hormone

Contains biotin, an essential hair nutrient

Ingredients are both nourishing & strengthening

Has 2 trademark components

Lots of positive user experiences from people who tried it

Justifiable price (considering its high quality)

90-day money-back guarantee
What I Didn't Like About It
---
Its high dose of biotin can cause acne breakouts

Formula might be too strong if you are taking other vitamins
---
Hair La Vie Vitamins In A Nutshell
---
In short, Hair La Vie Vitamins promise to take care of your hair and help it grow naturally.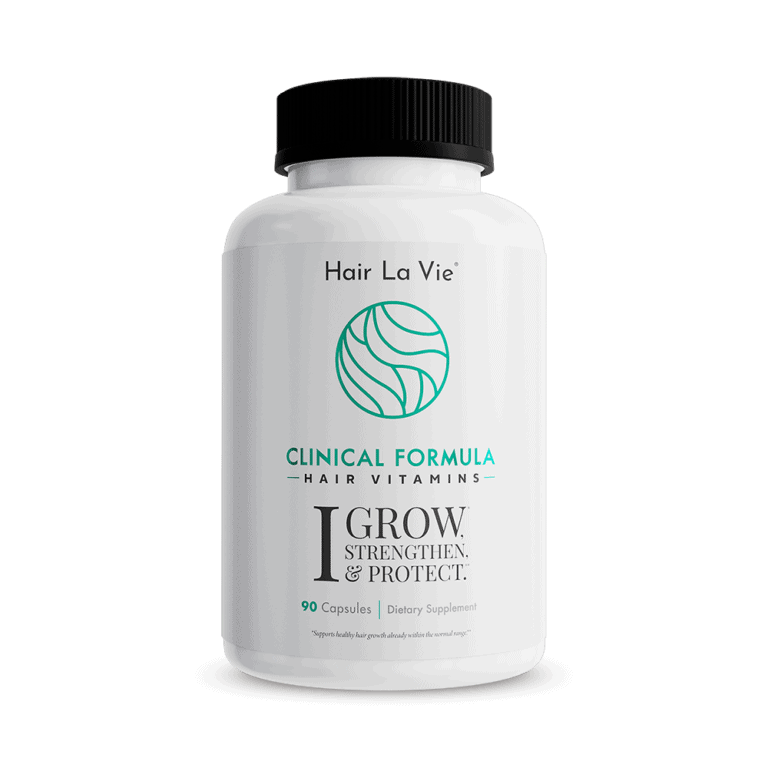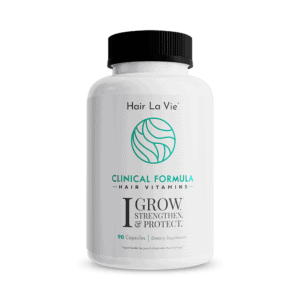 More specifically, they are meant to nourish and provide overall support.
Now, there are actually 2 options to choose from:
Clinical Formula Hair Vitamins

Revitalizing Hair Blend Vitamins
In this review, I'm going to refer to the first, because it's the one with more potency and a better formula.
Why is that, you might be asking?
Well – this supplement contains a multitude of vitamins that are excellent for stimulating hair growth.
Not only that, but it will also inhibit the DHT hormone.
In this way, it will approach your hair loss from as many angles as possible.
And let's not forget the 2 trademark ingredients that will enhance the benefits even more.
In terms of composition, Hair La Vie Vitamins are nearly perfect.
However, there is one aspect that could be problematic:
this supplement contains a high dose of biotin (5000 mcg)

such a high dose can cause acne breakouts
Still – rest assured that not everyone runs the risk of experiencing a breakout.
If this was a frequent issue, there wouldn't be nearly as many satisfied customers.
This is why I recommend giving it a try before discrediting it.
It's truly a high-quality supplement, which also reflects the price.
But rest assured that you are paying for top-notch hair vitamins that will improve your hair in every way.
So you really ought to experience the amazing potential of these vitamins.
Your hair will start to grow a lot in no time, once all those nutrients get to work.
---
#1 – How It Works & Producer
---
For starters, let's see the most general info regarding the Hair La Vie Vitamins:
how they work

what they plan to do

who the producer is
1. How It Works
---
According to the official website, the ingredients combine "the best of nature and science for healthy, rejuvenated-looking hair".
Besides this, this product should also:
maintain volume

support follicles

grant shine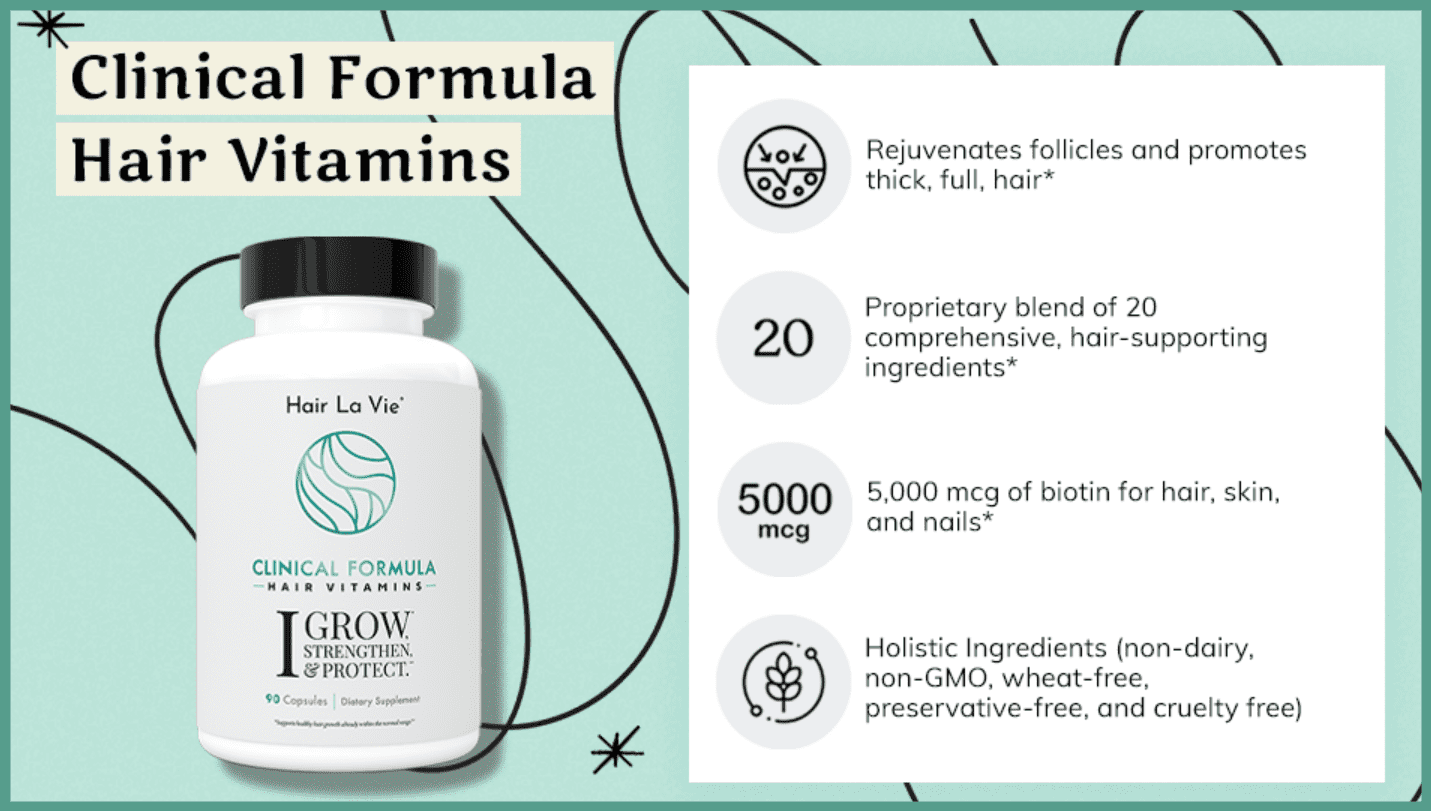 In order to sustain its claims, it prides itself on containing high doses of vitamins.
That's quite amazing – since there are nutrients that are pretty impactful for your hair.
They're good for healing hair damage, as well as preventing any future breakage.
Moreover, the supplement is gluten-free, as well as cruelty-free.
Not to mention it has a multitude of other vitamins ready to give your hair all the support it needs.
Honestly, these pills are packed with all sorts of great nutrients.
This ensures that you get the most out of this product.
2. Company Behind
---
These vitamins are manufactured by a brand known as Hair La Vie.
Here are a few things I noticed while looking through their website:
they sell a multitude of hair care products

you can see customers' results on a page on their website

their products are 100% chemical-free

customer care can be contacted through email or phone
In addition to these, they are also partnered with a few charities.
In this sense, they claim that every purchase from them results in a donation.
Plus, it's also said that their ingredients are always natural and ethically sourced.
All of this is just to help women all over the world have more confidence in themselves.
They manage to do that by improving their hair, obviously.
If anything, I would say this brand is doing an amazing job in terms of giving back.
That certainly inspires trust, at least in my book.
Other than that, the company is extremely legitimate and authentic.
It has many reviews on famous websites, which says a lot about them.
---
#2 – Ingredients

(9 out of 10)
---
We have reached the point where we look into Hair La Vie Vitamins' formula.
All in all, its composition looks really promising:
contains most essential nutrients for hair health

also has some trademark ingredients

its top compounds are certain herbs (with clinical evidence behind)
So overall – its composition looks very impressive.
Let's see exactly how beneficial this supplement really is.
1. Active Components
---
Here's what the vitamins have to offer in terms of active compounds:
USPLUS® Saw Palmetto – inhibits DHT [1].

Hydrolyzed Collagen – grants elasticity.

EVNol Max® – protects hair from environmental damage.

Biotin – stimulates keratin production [2].

Vitamin A – helps cells grow.

Vitamin D3 – maintains hair growth [3].

Vitamin E – supports a healthy scalp & hair through antioxidant properties.

Niacin – increases the suppleness of hair.

Vitamin B6 – supports healthy hair growth [4].

Folate – reduces the rate of premature graying.

Pantothenic Acid – strengthens and nourishes hair follicles.

Iron – boosts circulation in your scalp.

Iodine – fights scalp infections.

Copper – stops hair thinning [5].

Zinc – regulates hormone levels.

Vitamin D3 – aids in creating new hair follicles.

Selenium – lowers normal oxidative stress.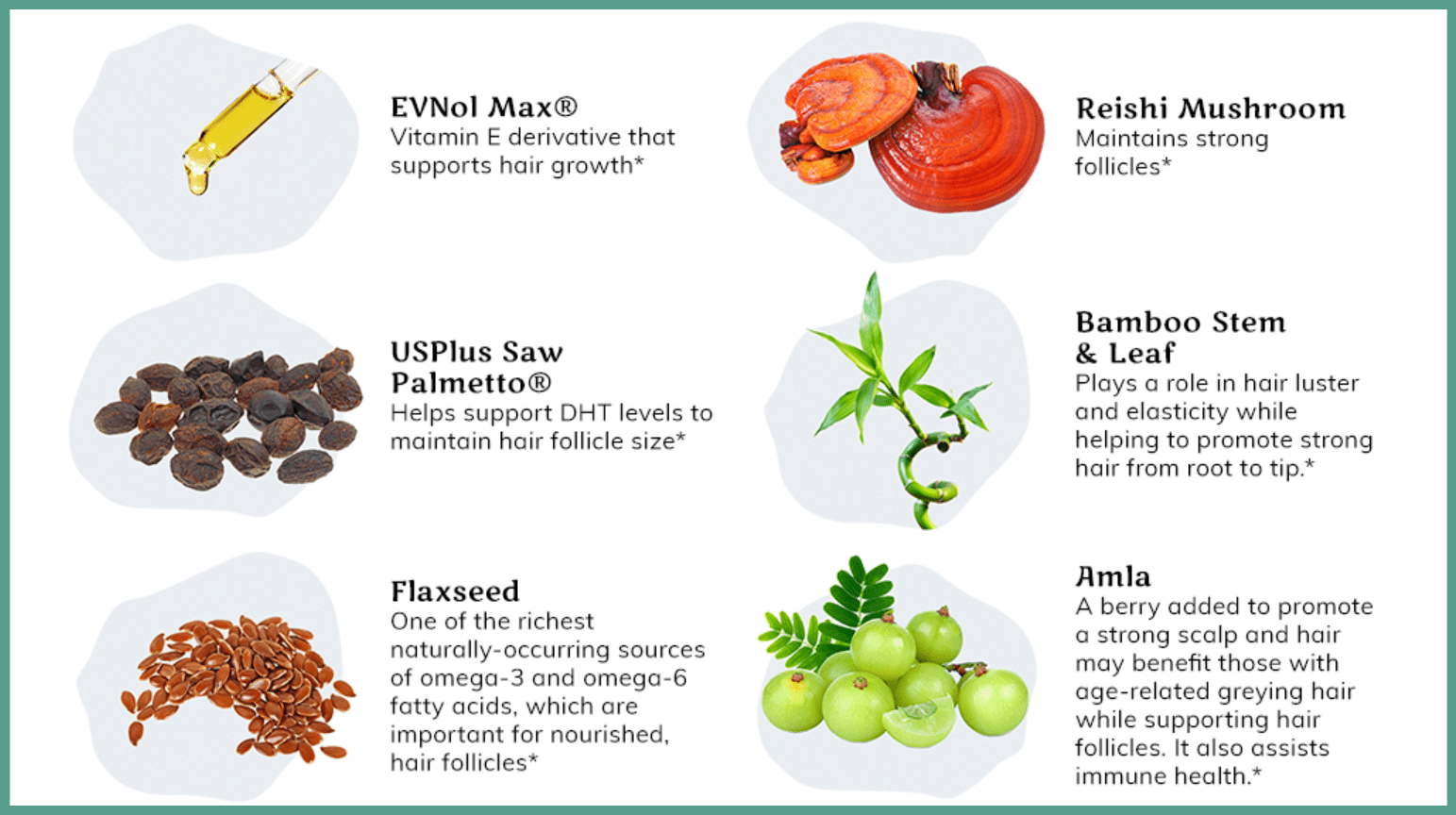 In all honesty, these ingredients sound really good.
There are two excellent trademark ingredients, which is awesome.
These are actually some improved versions of the original compounds.
Since their normal versions are already good, the fact that they are available in an enhanced version is very exciting.
Overall, what you're getting is a mix of nourishing and strengthening ingredients.
This combination is essential for hair growth, since it makes your hair more resistant.
So far, things are looking very promising.
2. Proprietary Blend (500 mg)
---
There's also a blend, which is mostly a mix of helpful herbs.
It's really nice for giving extra benefits that will further enhance your hair's growth!
Let's see what we have here:
Reishi Mushroom Fruit Body Extract – supports follicle health.

Amla Fruit Extract – boosts volume.

Flaxseed Oil Extract – helps to treat hair loss.

Bamboo Stem & Leaf Extract – improves blood circulation in the scalp.

Horsetail Grass – stimulates hair growth.
All these components are very good for regulating the growth of your hair.
Besides, they can also block DHT excess (which is a major cause of hair loss).
What's more – they can also reinforce the benefits you get from the other ingredients.
As such, they complement the formula really well.
This all leads to happier and healthier hair for you!
---
Conclusion
---
To conclude, it's clear that the Hair la Vie Vitamins have everything a hair growth supplement should have.
DHT-blocking properties, fortifying components, nourishing nutrients…
They simply have it all.
Not only will this product make your hair grow…
But it will also provide you with all sorts of vitamins that will help you preserve that growth.
That way, you won't lose out on any benefits.
---
#3 – Texture & How To Use It

(9 out of 10)
---
Let's see what you should know about Hair La Vie Vitamins' texture.
I will also tell you everything about how it should be used.
1. Texture
---
Here's what I could gather about these pills' appearance:
medium-sized

on the thicker side

no aftertaste
According to user feedback, the pills are definitely easy to swallow.
They are not uncomfortably large, which is reassuring.
Plus, they also leave no weird aftertaste, which is awesome.
From this perspective, this supplement should pose no problems.
2. How To Use It
---
When it comes to the daily dose, the company states that it's recommended to take 3 pills a day.
However, make sure to take each of them with a meal.
Otherwise, you might experience stomach aches.
Now – it's true that 3 pills are not exactly optimal.
However, given the multitude of essential hair nutrients, the effort is definitely worth it.
To put things into perspective, 3 pills a day means that one bottle lasts for an entire month.
So you get a full month of support for your hair growth!
---
#4 – Results

(9.50 out of 10)
---
If you want to assess whether or not a product is worth your time…
The user reviews are your ally.
They mention details that you might have completely overlooked otherwise.
On this note, let's see what the customers' past experiences have to say about Hair La Vie Vitamins.
Note: I only considered authentic reviews, not promotional/fake ones.
1. Positive Reviews
---
For this section, I will look at the customer reviews on Amazon.
I usually avoid the reviews on the official website, in case they might be biased.
In this way, I can offer you the most objective view possible.
Let's see what people were loving about this supplement:
Many people were saying their hair started growing a lot.

They also claimed that their hair was much thicker.

It's also claimed that this supplement stops hair thinning.

In fact, customers say that not only does this grow existing hair, but it also gives new growth.

Quite a few people were happy with the number of nutrients provided by these pills.

Additionally, people said their hair is less prone to breakage.

Someone even said their bald spots were filled in because of Hair la Vie Vitamins:

Obviously, that's very impressive. It takes a lot for a bald spot to disappear.
Due to its very straightforward mission, the positive user feedback for this product is the same.
In other words, Hair La Vie Vitamins claim to boost hair growth…
This means that happy customers are going to praise it exactly for that.
This reflects very well in this case.
The user reviews let you see all kinds of stories from people suffering from hair loss because of different circumstances.
Still – they were happy with what these pills had to offer.
That alone says a lot about the efficacy of this supplement.
2. Negative Reviews
---
Like many products on the market, Hair la Vie Vitamins are also prone to negativity.
But that's to be expected of any popular product.
Regardless, these negative reviews allow you to see whether the product in question is for you or not.
Here's what people were having issues with:
Some people claimed that the supplement doesn't work at all.

Others were complaining about the smell of the capsules.

A few were also saying the price is too high.

Some customers said the pills upset their stomachs.

People were also saying that one bottle doesn't last enough.

Some people also experienced acne breakouts as a consequence: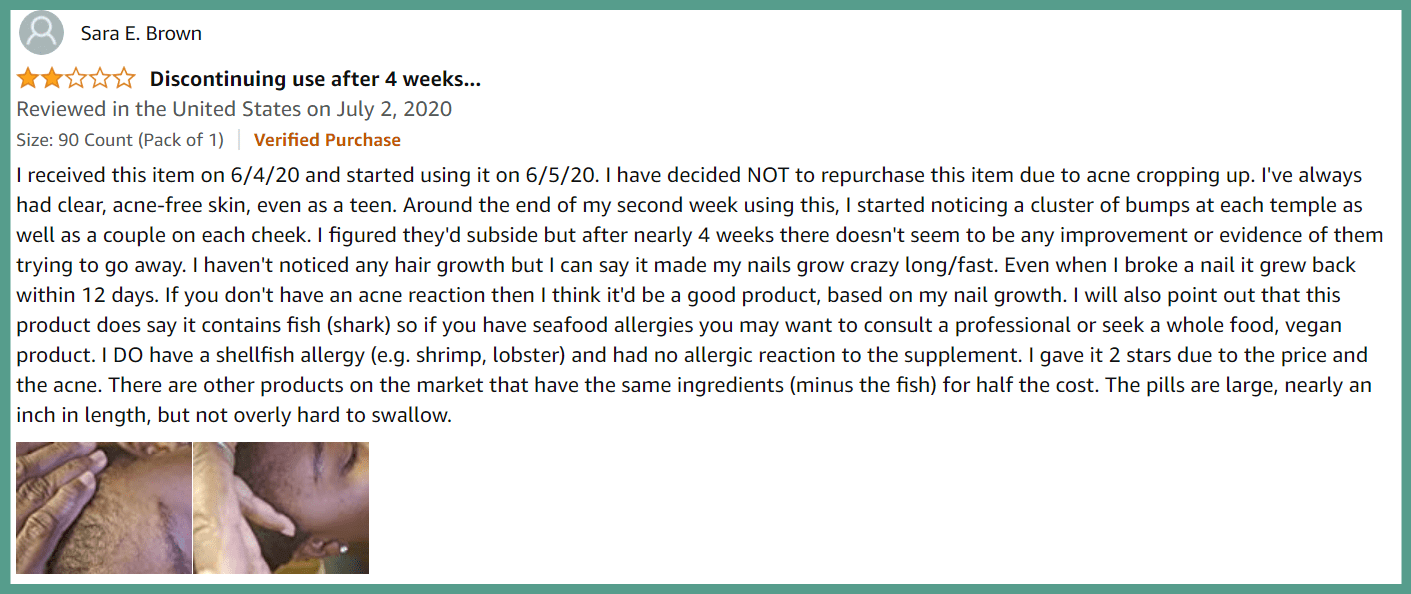 Now, be aware that biotin can cause acne in a high dosage.
We will talk more about this in the Side Effects section.
To sum up, these complaints are all valid, however…
People rarely complain about the actual formula, which is a good thing.
It confirms that these vitamins are working for most users, which is what matters.
---
Conclusion
---
The user reviews are mostly flooded with positivity, which shows the amazing impact these pills have.
The complaints are nothing out of the ordinary for hair supplements.
Plus, most of them have to do with price or effect.
Honestly, any product has negative reviews of that sort.
The happy customers, however, prove the potency of this supplement.
---
#5 – Side Effects

(9 out of 10)
---
Regarding potential adverse reactions, Hair La Vie Vitamins tend to have a few.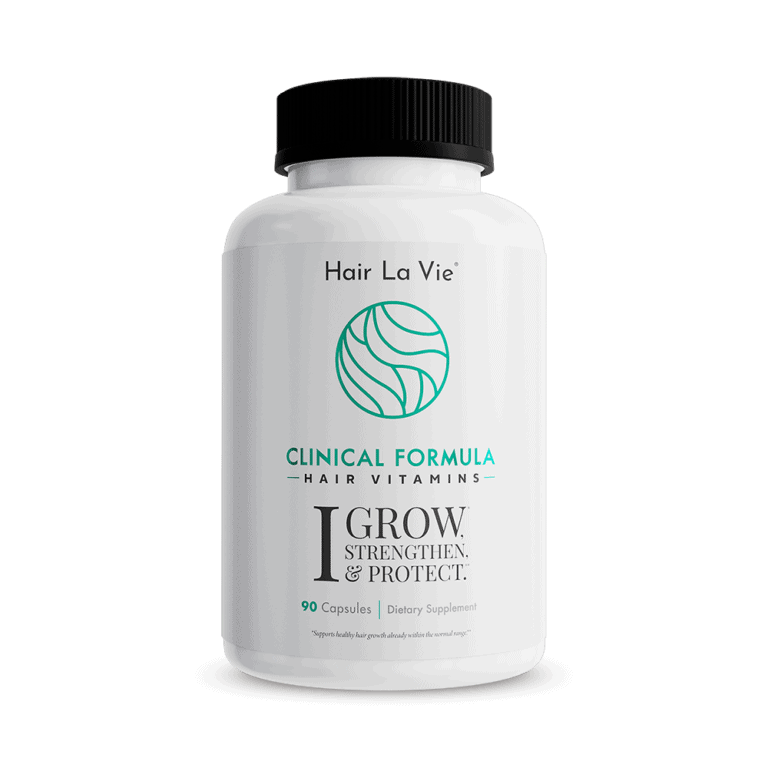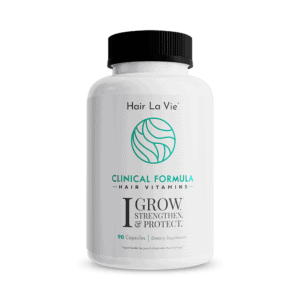 Let's see them here:
The first two side effects are pretty common for any supplement.
You can get around them by taking pills on a full stomach.
Regarding acne, this is definitely a risk because of the high dose of biotin in this supplement.
Admittedly, 5000 mcg of biotin is quite a lot, which can cause breakouts:
I recommend under 1000 mcg/day
Some people also tolerate up to 1500 mcg (without any acne)
However, as the reviews have shown us, not everyone has a problem with this high dose.
In fact – people with a great skin or a history of acne are mostly at risk.
But many users have absolutely no problem even with a dose above 2000 mcg.
Besides, these vitamins are beneficial in terms of growing your hair and stopping hair loss.
My advice would be to give them a shot and see how your body handles them.
If you start to get pimples, definitely cease use.
Otherwise, you should be good to go.
---
#6 – Price

(8 out of 10)
---
Price is a major factor in everyone's decision, that's normal.
In fact, it might even be one of the most important things to consider.
Let's see how this goes in the case of Hair La Vie Vitamins.
1. The Exact Price
---
Now, at first glance, the price of these vitamins can seem high.
However, keep in mind that they also have a very good quality.
Plus, they are packed with all sorts of nutrients that will surely boost hair health.
Regardless – let's see what the official website has to offer:
$59.99 for a bottle of 90 capsules

you get a 23% discount for buying the biggest bundle

going for the subscription gets you 40% off

Considering that hair supplements take a few months to show results…
It's a good idea to go for the subscription in the case of Hair La Vie.
Plus, it makes it more affordable, since you get to pay only $36 for each bottle.
This ensures that your hair will enjoy prolonged support for growth.
2. Worth Or Not?
---
Considering the amazing formula and the potency of their results…
Hair La Vie Vitamins are more than worth the price.
They provide quality that is much superior to other similar supplements on the market.
They will definitely boost your hair health while stopping hair loss and helping with growth.
So I definitely recommend this supplement.
You won't be sorry going for it.
---
Conclusion
---
All things considered, Hair La Vie Vitamins definitely have one of the best hair formulas out there.
They are surely worth it – since all those nutrients will significantly impact your hair.
While it's not the most affordable product, the price reflects the quality you receive.
In other words, your hair will benefit from these vitamins.
You will feel a huge difference in terms of thickness, length, and growth!
---
#7 – Final Conclusions
---
Let me go over the most important ideas regarding Hair La Vie Vitamins.
1. Very Nutrient-Rich
---
As you have already seen, this supplement is packed with essential hair nutrients.
It contains lots of vitamins that are ideal for putting every hair issue to rest:
DHT blockers (Saw Palmetto trademark)

Biotin

Vitamin D3
Honestly, the fact that they have an improved version of Saw Palmetto is quite amazing.
The normal variant is already great for blocking the DHT hormone.
Therefore, the trademark is very welcome!
Obviously, nutrients like Biotin and Vitamin D are awesome for taking care of the rest of your issues:
combating hair loss

stimulating hair growth
To put it shortly, this formula has everything you could possibly need.
2. Highly Praised
---
It's no secret that lots of customers are extremely satisfied with the results.
Many praised the high number of vitamins that can be found in this supplement.
Plus, lots of customers shared pictures to show the way Hair La Vie Vitamins transformed their hair.
That way, you know those reviews are real.
Consequently, this explains the high rating of these vitamins.
They are definitely working as intended, you can trust that.
3. Top-Tier Quality
---
We all know that the formulation is an essential part of a supplement.
In the case of Hair La Vie Vitamins, the quality of ingredients is definitely one of the best I've seen.
It contains many nutrients that are very helpful for your hair regeneration.
Plus, they will enhance the hair you already have.
Not to mention the very handy trademarks that this supplement contains.
Naturally, these are all reflected in the price, which is not that low.
However, given the potency of this supplement and how much it can do for your hair…
It's really worth it.
---
My Verdict – Worth It Or Not?
---
Short answer: Absolutely!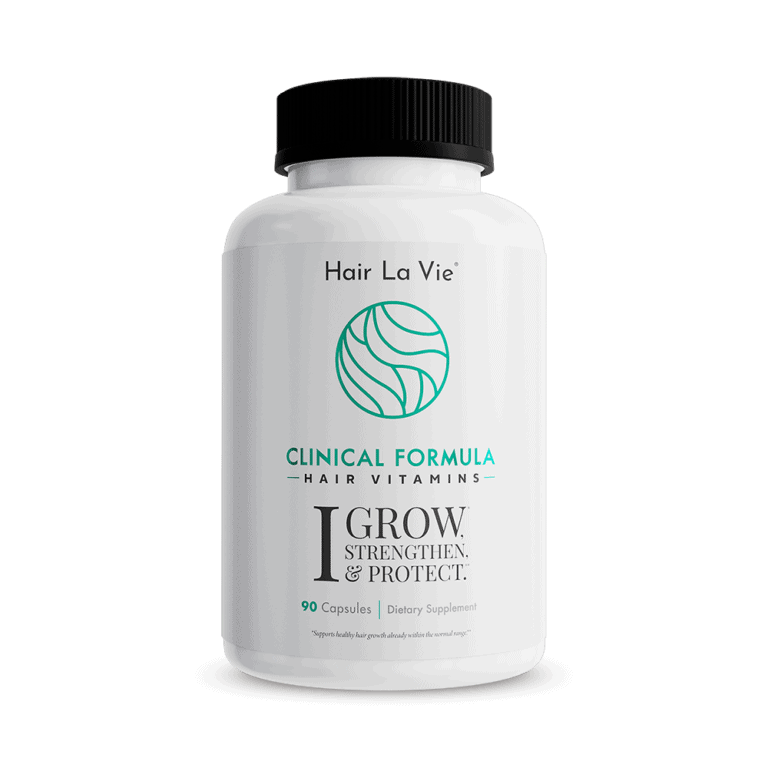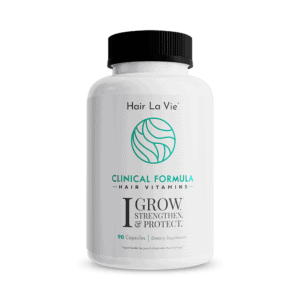 It's for sure one of the best hair supplements on the market:
Very effective for overall hair maintenance.

Extremely good for stimulating hair growth.

Contains essential nutrients for hair.

Based on some amazing trademark ingredients (including DHT blockers).

High efficacy proven by an overwhelming number of positive user experiences.

Justifiable price (considering the high quality).
As such, Hair La Vie Vitamins are definitely worth trying if you have been struggling with hair loss.
This supplement has every chance to transform your hair in the best way possible.
From very good ingredients to the huge number of satisfied customers…
It's safe to say that you won't be disappointed by this product.
In fact, giving it a try might bring the solution you've been waiting for.
Given how potent the ingredients are, you're sure to see a difference quickly.
So, what are you waiting for?
Get the Hair La Vie Vitamins and let your hair grow!
References:
1 – https://pubmed.ncbi.nlm.nih.gov/33313047/
2 – https://www.ncbi.nlm.nih.gov/pmc/articles/PMC5582478/
3 – https://pubmed.ncbi.nlm.nih.gov/34553483/
4 – https://pubmed.ncbi.nlm.nih.gov/11344694/