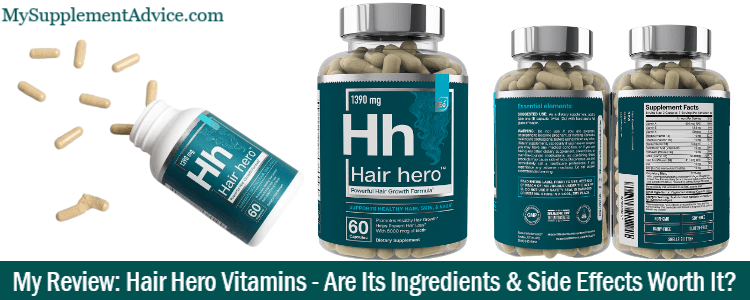 It's time to review Hair Hero Vitamins – which looks like a promising hair product.
Now – is it going to be worth it?:
really good ingredients

a bit on the pricey side

higher risk of side effects (than others)
So can this supplement grow your hair back and stop your shedding?
Let's find the truth behind it in this review.
Note: This review is based on my opinion + research on Hair Hero Vitamins.
Review Summary
---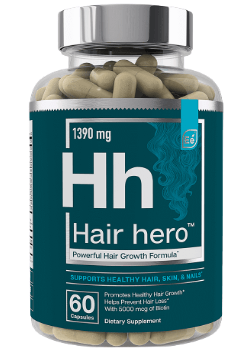 Full Name: Hair Hero by Essential Elements

Product Type: Hair Supplement
Best Actual Prize: Around $35
Cheapest Place To Buy: Its official website
Designed For: Promoting healthy hair, skin and nails – according to its claims:
supports hair growth

prevents hair loss

strengthens hair follicles
My Rating: 8 out of 10
Recommended?: Yes and No – it's a very good product, but it has its own bad side:
could cost less

huge dose of biotin

can cause some serious side effects (because of this high biotin amount)
So it's not a product I would completely recommend, despite (some of) its good features.
If you want the best product for hair loss/growth I know, take a look at this much better alternative.
What I Liked About It
---
Really promising formula

Made by a reputable brand

Different bundles/options available

Many authentic reviews behind

Works for most type of hair issues

Quite easy to take (2 pills/day)
What I Didn't Like About It
---
Pricier (compared to other products with similar formulas)

Huge dose of biotin

High risk of adverse reactions

Results aren't the best in all cases
---
Hair Hero Vitamins In A Nutshell
---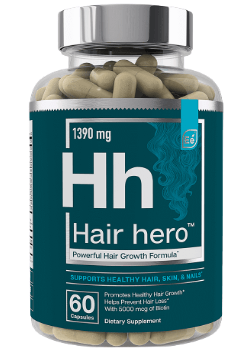 In my view, Hair Hero Vitamins is a really good hair supplement.
It contains a lot of promising ingredients and a great formula.
However – the dose of biotin is pretty high.
Considering biotin has a high risk of side reactions (at this dose), that could be a problem.
So if you have a history of acne or an oily skin, I definitely don't recommend it.
But even so, Hair Hero still better than other products.
However – there are less pleasant features it has about it:
a little pricier than similar products

not all of its previous users were satisfied
Regarding its price, it's not incredibly high.
But it could definitely cost less, considering its formula.
All in all, Hair Hero is surely a good hair product.
It works for both shedding/thinning, but it also grows hair out.
It's not the very best hair supplement you can get, that's for sure.
But it has a lot of positive features, that's for sure.
---
#1 – How It Works & Producer
---
I want to mention first some general details about Hair Hero Vitamins:
the producer behind it

how it works in the body

what health issues it helps
1. How It Works
---
Hair Hero Vitamins claims to have a "powerful hair growth formula."
And like in most supplements, you can find its full composition on the bottle label.
According to its website – here's how it works:
promotes hair growth

reduces hair loss

reinforces hair follicles

strengthens hair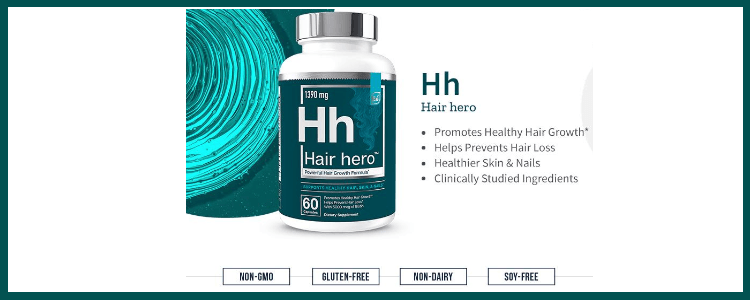 Also – it states that it can also improve hair and nail health.
The reason is probably the high biotin dose it has:
most of its other ingredients have no impact on nails

biotin is helpful for both hair and nails (and also skin)
Now – if you ask me, it looks great in terms of promises.
Its info is also well-presented on its website.
Besides, its overall ingredients are varied and well-chosen (in terms of hair benefits).
2. Producer
---
Now – Hair Hero is made by a company called Essential Elements.
If you ask me, it's a credible and professional brand.
Actually – we reviewed one of its products before (Bone Boost).
Again – here are the things from its website worth mentioning:
contact info includes a number, email and help center

sells products for heart, immune, joint, skin and hair

has quite a lot of reviews from customers who tried its supplements
As I mentioned before, it's a legit company.
So there's no reason to worry when you buy its products.
---
#2 – Ingredients (8 out of 10)
---
Hair Hero Vitamins' has a really promising formula:
combines herbs with vitamins/minerals

contains most essential hair nutrients

many of its ingredients have hair-related studies behind

composition is very varied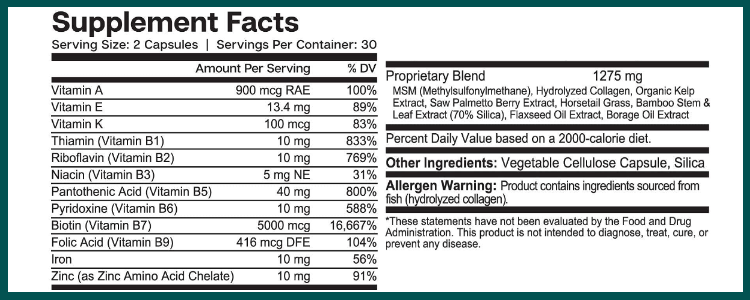 If you ask me, the doses of most ingredients are pretty good.
The only exception is biotin, which goes much higher than the safe side.
I personally recommend a maximum dose of 1000 mcg/day:
best hair/skin results

minimal risk of side effects (especially acne)
On the other hand, any dose above doesn't have any extra hair (or skin) benefits.
However, it does have a lot more side effects.
So based on my experience – I don't recommend going above 1000 mcg of biotin per day.
There's simply no point to do that, since your body won't benefit at all.
Unfortunately, many hair supplements contain an (unnecessary) huge dose.
So you might want to be careful with that.
Let's now take a look at Hair Hero's main ingredients.
1.
Vitamins & Minerals
---
Now – Hair Hero Vitamins contain a lot of essential hair nutrients.
So here are most of them:
Vitamin A – moisturizes the scalp [1]

Thiamin – promotes healthy hair follicles

Vitamin E – maintains hair growth

Riboflavin – balances collagen levels in the body [2]

Vitamin K – helps keep hair strong and shiny

Niacin – increases hair fullness and growth [3]

Pantothenic Acid – strengthens hair follicles

Pyridoxine – aids in making proteins for the hair [4]
Biotin – contributes to achieving healthy hair and nails [5]
Folic Acid – promotes healthy cell growth for hair, skin and nails [6]
Iron – prevents the causes of hair loss [7]

Zinc – accelerates the recovery of hair follicles
If you ask me, all of these compounds can contribute overall health of the hair.
A huge advantage of this product is that it also contains some iron.
Even though its deficiency is the #1 cause of women's hair loss, most supplements don't contain it.
Hair Hero's dose is also low – but it's much better than nothing.
Anyway – its mix of nutrients is also very potent.
2.
Proprietary Blend
---
In addition, Hair Hero Vitamins also has a herbal blend:
MSM – contributes anti-inflammatory properties

Hydrolyzed Collagen – strengthens the skin and hair [8]

Kelp Extract – promotes healthier scalp and stronger hair

Saw Palmetto Berry Extract – balances hormone levels and prevents hair loss [9]

Horsetail Grass – improves the speed of hair growth

Bamboo Stem & Leaf Extract – thickens and gives more volume to hair

Flaxseed Oil Extract – slows down hair breakage

Borage Oil Extract – stimulates skin and hair growth [10]
As you can see, it's mostly made of herbal compounds.
And honestly – all of these herbs are known to be effective for hair (according to studies).
Besides, the overall blend dose is very high.
---
Conclusion
---
Hair Hero Vitamins' formula is pretty promising.
But you need to watch out for the high dose of the biotin.
Honestly – it's way higher than you need, which might cause some specific side effects.
Other than that, the product looks great.
---
#3 – Pills & Dosage (9 out of 10)
---
Let's now move on to the other important things about Hair Hero Vitamins.
1. Pills
---
Here's how I would describe this products' physical features:
clear capsules

cream to beige powder

average pill size
If you ask me, it looks like a normal supplement.
Also – it's easy to swallow, so you shouldn't have a problem with that.
2. Dosage
---
Now – Hair Hero Vitamins' instructions are easy to follow.
Basically, you need to take one capsule twice a day.
So that's a total of 2 pills per day.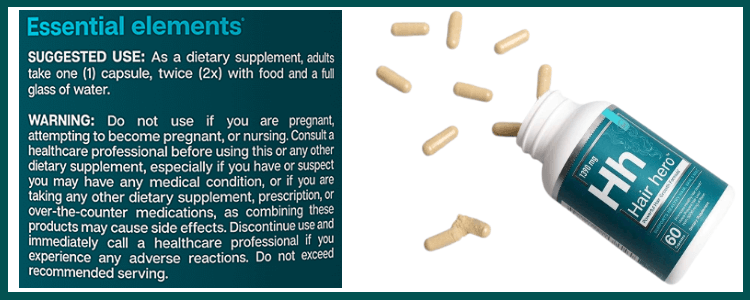 Also – it's recommended to have a meal before taking it.
I actually advise you to follow that (for any supplements you take), if you want to avoid stomach cramps.
Overall – this supplement is pretty convenient to take.
---
#4 – Results

(9 out of 10)
---
If you ask me, I'm quite excited to see Hair Hero Vitamins' reviews.
They will give us an idea on how this product worked for a lot of people.
Note: I only analyzed authentic reviews, not promotional or fake ones.
1. Positive Opinions
---
To avoid being biased, I would feature the reviews this product has on Amazon.
They are usually more real than others:
Most customers noticed an improvement in their hair growth.

Some said that there was a reduction in their hair loss.

Others mentioned their hair became longer and stronger.

A few people also stated they had some better skin and nails.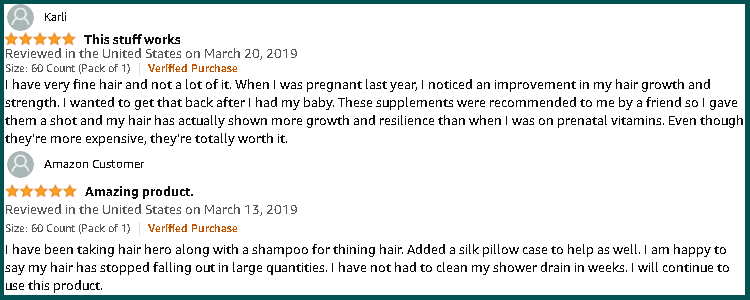 Firstly – the overall rating of this product is 4 out of 5 stars.
It's still an impressive rating, considering the high number of reviews.
As you can see, it really helps with hair growth and volume.
It has lots of satisfied users behind, which is definitely a great sign.
So this product is extremely effective.
2. Negative Opinions
---
Now – Hair Hero Vitamins also received some 1-star ratings:
A lot of buyers didn't notice any hair growth.

Others received broken packaging and faulty products.

Some experienced several side effects.

A few of them complained about bad customer service.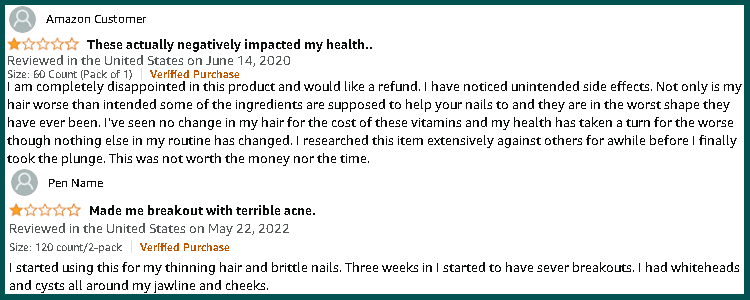 As I expected, some customers couldn't tolerate the high doses (probably of biotin).
This explains the high number of adverse reactions this product has.
Besides, it also has a high number of cases where it didn't work.
---
Conclusion
---
Overall – Hair Hero Vitamins is a good product.
A lot of customers saw some positive changes in their hair after using it.
But there were also people who couldnt' tolerate its formula.
It's still not my top recommendation, but it's up to you if you want to try it or not.
---
#5 – Side Effects

(6 out of 10)
---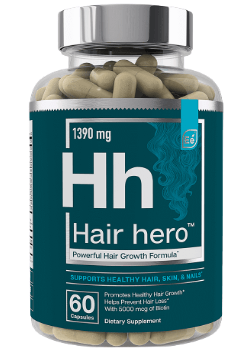 Now – Hair Hero Vitamins has a few side effects complaints.
But let me list down the most common adverse reactions mentioned:
opposite effects (thinner hair)

acne and breakouts

upset stomach/diarrhea
In my view, the acne problems are surely the results of biotin's high dose.
So certain people could experience that:
they have an oily skin

there's a history of acne in their past
Also – stomach upset is also one of the adverse reactions.
But it's pretty easy to avoid it (by taking the pills on a full stomach).
Still – the biotin-caused acne is by far my #1 worry when it comes to Hair Hero.
I personally recommend going for supplements with less than 1500 mcg (even under 1000 mcg, if possible).
---
#6 – Price

(6 out of 10)
---
Honestly – I find Hair Hero Vitamins slightly pricier than they could be.
So it might not be the best option, if you're on a budget.
1. The Exact Price
---
Now – this product is easy to find on Amazon.
But if you're looking for more options, you should go for Hair Hero Vitamins' website:
Single bottle costs $34.99

3 bottles cost $32.99/each

6 bottles cost $30.99/each

Free shipping for larger options

Up to 26% off (upon subscription)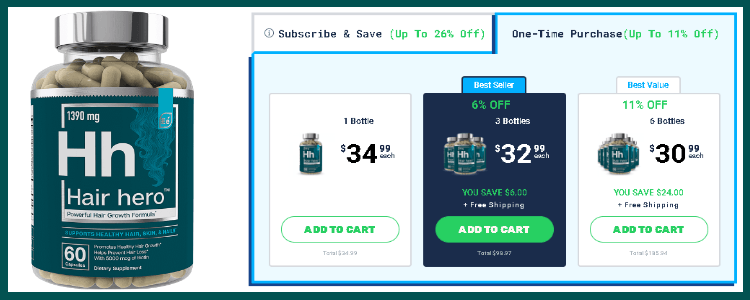 Again – this supplement is not super expensive.
Honestly, I have seen some much weaker products that cost way more.
But I have also seen some similar (or even better) products for less money.
Now, Hair Hero is pretty much worth the money.
But in my view, there are some more affordable products.
So why would you pay more for Hair Hero when you can get the same effect for less?
2. Competitors' Price
---
In my view, here's a better option, it's my #1 recommended hair supplement.
I'm talking about a product called Folexin: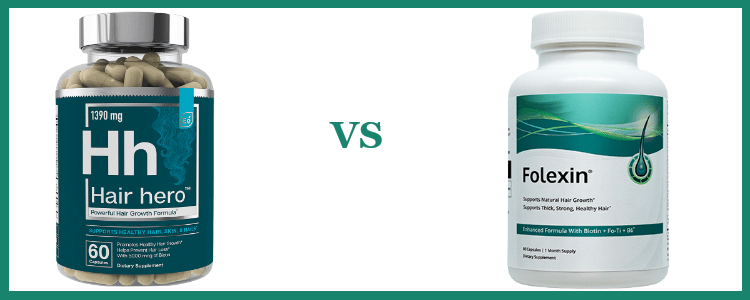 Folexin's formula is the best I have seen on the market.

It contains the best combination of ingredients for the hair.

Hair Hero Vitamins has a herbal blend, minerals and vitamins.

But due to some higher biotin doses, it has a high risk of side effects.

Both supplements require 2 capsules daily.

Folexin can be bought for only $17-18 (its original price is $24.95).

The price of one bottle of Hair Hero Vitamins is $34.99.
Actually – both supplements are pretty good.
But honestly – I prefer Folexin to Hair Hero.
They contains some similar ingredients, but Folexin has a much safer dose of biotin.
And surprisingly, it's also more affordable and well-tolerated.
Besides – I used it myself and it's the supplement that saved my hair.
That's why I trust it so much.
---
Conclusion
---
Actually – Hair Hero Vitamins' price is good for its quality.
But then again, it's a little pricier (compared to products of this type).
Honestly – there are more affordable options that work just as well.
---
#7 – Final

Conclusions
---
Here's a quick summary of Hair Hero Vitamins.
1. Promising Formula
---
In my view, Hair Hero Vitamins contains a great set of ingredients:
essential nutrients (vitamins and minerals)

herbal compounds
However – the dose of biotin is way higher than what I recommend.
So it comes with a higher risk of side reactions (especially acne).
If you don't experience anything of this kind, it's great – just be careful with it.
2. Credible Background
---
If you ask me, Hair Hero Vitamins is a trustworthy supplement.
That's mostly because of its reputable producer.
Honestly, this is a very important factor in choosing the right product.
Of course – you only want to buy from a legit company.
3. Slightly Pricier
---
Lastly – Hair Hero Vitamins has a decent price for its quality.
The price of a single bottle is $35 and you get some discounts for larger quantities.
However – it's a little pricier (if you compare it to products of its kind).
So I don't think it's the most practical option you have.
---
My Verdict – Worth It Or Not?
---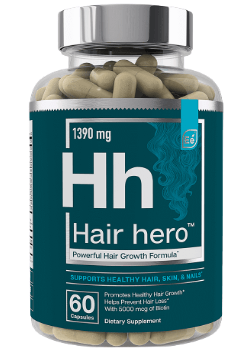 Short answer: Yes & No – simply because it has a few issues:
Too high dose of biotin

Increased risk of side effects (especially acne)

A little pricey compared to similar products
So if you don't mind these small issues, Hair Hero could be a good option for you.
It's actually a good product overall.
But it's not necessarily my top recommendation.
And that's simply because I have an alternative with more some superior features.
I'm talking about the #1 hair supplement I know – Folexin:
Contains great ingredients in some really safe doses

Works really well in most cases

Safe to use (no serious side effects)

Worked really well in my case.
In my view, Folexin is the best hair supplement out there.
It has the best formula from the market and it worked really well in my case.
Plus – it's one of the most affordable options from the market (in terms of quality/price).
So it's probably the only hair supplement I fully trust.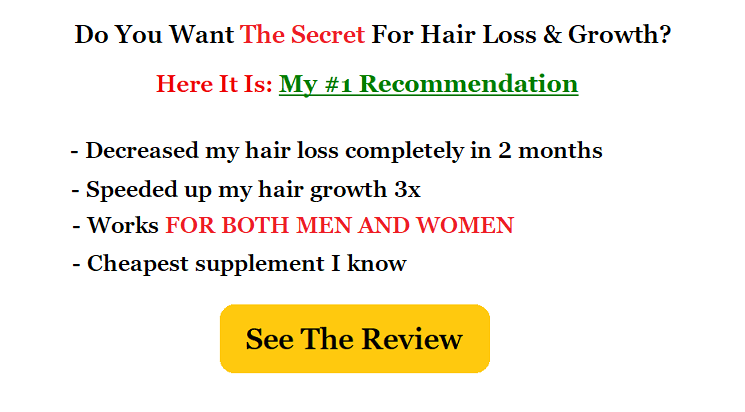 References:
1 – https://www.healthline.com/nutrition/-vitamins
2 – https://www.ncbi.nlm.nih.gov/books/-NBK470460/
3 – https://www.ncbi.nlm.nih.gov/pmc/articles/-PMC8536842/
4 – https://www.hsph.harvard.edu/nutritionsource/-vitamin-b6/
5 – https://www.ncbi.nlm.nih.gov/pmc/articles/-PMC5582478/
6 – https://www.healthline.com/health/-folic-acid
7 – https://www.ncbi.nlm.nih.gov/pmc/articles/-PMC3678013/
8 – https://www.healthline.com/nutrition/-collagen
9 – https://www.healthline.com/nutrition/-saw-palmetto
10 – https://www.healthline.com/health/borage-oil