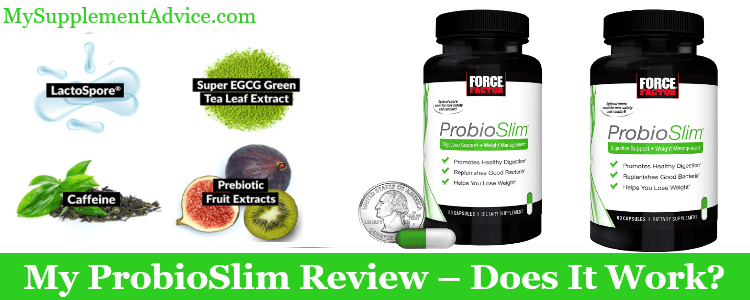 It's time for my ProbioSlim review – which looks like a typical weight loss product.
But what makes it special is that it's a weight loss probiotic.
So is it really effective? Not that much:
weak formula

quite pricey

works pretty slow
Let's find out the details behind this supplement, in order to see if it's worth buying.
Note: This review is based on my opinion + research on ProbioSlim.
Review Summary
---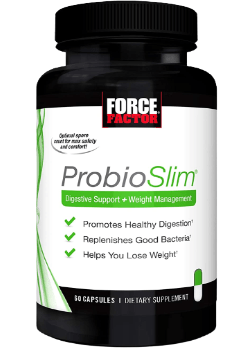 Full Name: ProbioSlim® Digestive Support + Wright Management by Force Factor, LLC.

Product Type: Weight Loss Probiotic
Best Actual Price: Starts around $15
Cheapest Place To Buy: Amazon
Designed For: Burning fat, losing weight and improving digestion.
My Rating: 3 out of 10
Recommended?: Not quite – its overall features are not amazing:
not very strong ingredients

pretty low quality

questionable effects
I suggest you try a cheaper alternative, which is the best weight loss probiotic from the market that I know.
What I Liked About It
---
Professional website behind

A lot of authentic reviews available

Detailed product info
What I Didn't Like About It
---
Weak formulation

Pricey for its value

Low doses in most ingredients

Many user complaints

Can cause side effects

Product handling is pretty disappointing
---
ProbioSlim In A Nutshell
---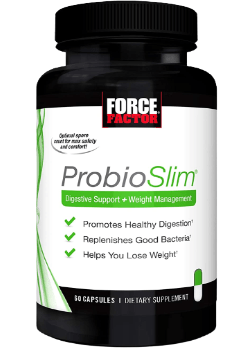 ProbioSlim is a supplement designed to support 2 things:
digestive system

weight loss management
The product claims to have a super blend of ingredients – but it's far from perfect.
In fact, it has some pretty big disadvantages:
most of its doses are low

formula is weak

effect is pretty slow

side effects can appear
Now – ProbioSlim costs $16 for 30 capsules (which don't last a month).
So you basically need 60 capsules for about $20 (since it requires 2 pills/day).
It might sound cheap, but that's not really the case.
Not to mention the high number of complaints about its packaging (and not only):
some customers received broken items

others said that it doesn't really work
Overall – I suggest you to look for other options that are worth investing in.
---
#1 – Claims & Producer
---
Here are some things you should know about ProbioSlim:
the company behind

how it works

what health issues it improves
1. Claims
---
One claim of ProbioSlim is that it's "a unique twist on probiotics."
If you're wondering about the meaning of this promise, here it is:
reduces weight

balances good bacteria

increases energy and

digestion

eases digestive problems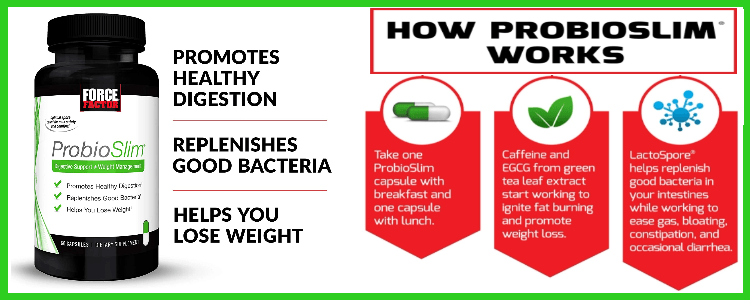 Now – the supplement also says to have a unique combination of powerful ingredients.
Plus, it's designed to adapt to the harsh surrounding of our stomach.
Other than that, I haven't seen other claims stated by ProbioSlim.
2. Company Behind
---
This weight loss probiotic is made by Force Factor, LLC.
It comes with a professional website that gives out enough info:
offers supplements to boost testosterone, muscles, weight loss and probiotics

other products are made for heart, immune, brain and sleep

there are also vitamins for the prostate, men and sexual health
So as you can see, all of its products are dedicated to overall health.
Now – the company can be reached through hotline numbers and social media links.
Also, there are specific contact numbers for US, Canada and Australia.
---
#2 – Formula (5 out of 10)
---
If you ask me, ProbioSlim's formula is not that great – it contains 3 types of ingredients:
LactoSpore® (probiotic)

Super EGCG Green Tea Extract

plant-based compounds (prebiotic)
Honestly, for a weight loss probiotic – this composition doesn't look too impressive.
It only contains one type of probiotic and its weight loss ingredients aren't very strong.
So I wouldn't expect too much from this type of formula.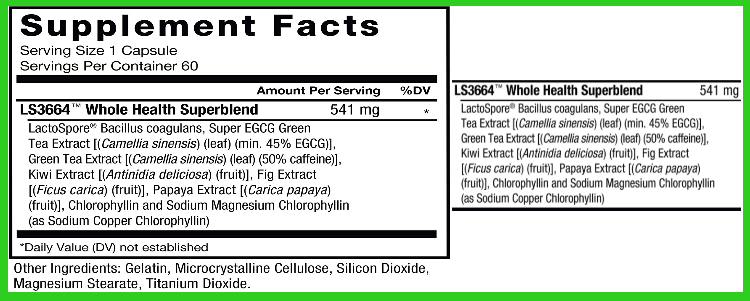 But let's briefly analyze the ingredients present in the product:
Bacillus coagulans – improves the immune system and treats diarrhea [1]
Green Tea Extract – promotes weight loss and enhance metabolism [2]
Caffeine – increases stomach acids for food breakdown [3]

Kiwi Extract – provides fiber good for digestion

Fig Extract – aids digestion as a source of prebiotic

Papaya Extract – eases digestive symptoms like bloating and constipation [4]
Chlorophyllin – increases the number of good bacteria in the stomach [5]
Also – Bacillus coagulans is a bacterial strain that can resist heat and gastric acid.
It means that the supplement can reach the stomach in its full form.
But honestly, I would say that these ingredients are not enough to make a huge difference.
That's because the probiotics and other ingredients present are weak and lack variety.
So in terms of weight loss – I wouldn't expect huge changes from this product.
---
Conclusion
---
Overall – don't expect too much from ProbioSlim.
That especially when it comes to seeing results right away.
The overall formula is weak and not varied enough, in my opinion.
That's why I recommend you an alternative with some better and more potent ingredients.
---
#3 – Pills & Dosage (6 out of 10)
---
Let me give you some basic info about ProbioSlim's capsules.
1. Pills
---
This is how I would describe the supplement:
white and green color

normal/average size

gelatin cover
If you ask me, there's nothing special about its appearance.
And in terms of size, it's easy to consume if you're used to taking medicines.
2. Dosage
---
The usage instructions for ProbioSlim are pretty short.
You only need to take 1 capsule with breakfast and 1 with lunch.
So this meand you need to take 2 capsules daily.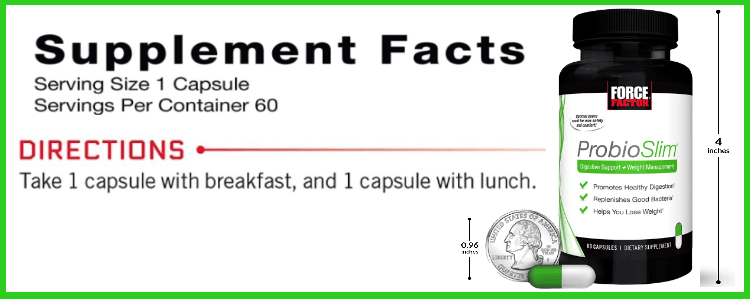 I kind of expected you to need to take it multiple times a day.
And that's because the formula is weak – so you need to take more pills to see the results.
But I still think that are better alternatives out there (that only require 1 capsule).
---
#4 – Results

(6 out of 10)
---
Now – there are a lot of available authentic reviews for ProbioSlim, which is great.
As always, I checked all comments to avoid giving a biased view about the product.
Note: I only analyzed authentic reviews, not promotional or fake ones.
1. Positive Opinions
---
As usual, I checked this product's official listing on Amazon.
Here are the opinions of previously satisfied buyers:
A lot of them mentioned that it really helped with improving digestion.

Some said it improved their bowel movement and constipation.

Others experienced positive results with their weight loss journey.

The rest said it worked and really suppressed their appetite.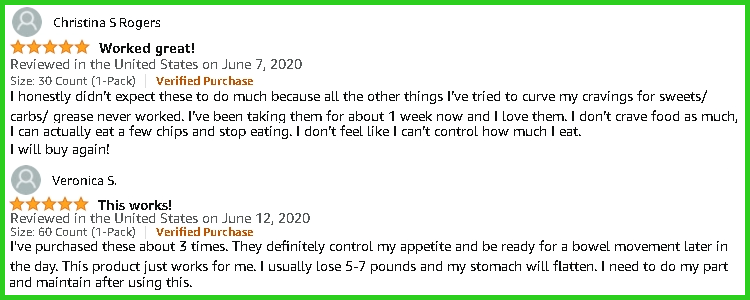 Although the product seems to have a lot of good reviews, it only got only 3.9 stars out of 5.
I'm not saying that it's bad – but I think it looks like it needs improvement.
And when it comes to unsatisfied users, it becomes clear why its rating isn't higher.
2. Negative Opinions
---
Here are the main reasons why ProbioSlim is criticized by so many people:
Most of the comments were about the product not working at all.

Others experienced adverse reactions after using it.

Some said that it's just a waste of money and the product handling is poor.

There are people who didn't see any results in terms of weight loss.
As you can see, these comments are quite honest and authentic.
If you ask me, the effect of ProbioSlim depend on the person.
However – there are enough complaints related to a poor weight loss effect.
So you can consider these reviews before deciding if you want to buy or not.
---
Conclusion
---
Overall – there are a lot of people satisfied with ProbioSlim.
However, there are also a lot of customers who hated this product.
But if you ask me, I would tell you not to expect too many changes, especially in terms of weight loss.
It might work – but not that fast (unlike the better alternatives out there).
---
#5 – Side Effects

(6 out of 10)
---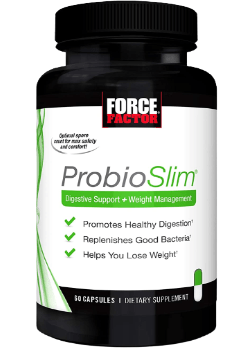 Just like any product, ProbioSlim also triggers side effects.
Here are the experiences of some people (based on their reviews):
nausea and illness

bloating and gas

stomach cramps/ache

palpitations
Now – the adverse reactions mentioned above are not that severe.
Actually, some of them are quite common for a probiotic supplement.
However, palpitations aren't a minor issue – so they are probably the most serious one out of all.
That's why you should still be pay close attention when taking this supplement.
---
#6 – Price (7 out of 10)
---
Honestly – ProbioSlim seems like a really good deal at first sight.
But if you take a closer look at it, it's quite pricey for its quality.
So it's not a favorable option, in my opinion.
1. The Exact Price
---
There's a big price difference between Amazon and on the official website.
So here's the cheapest price deal for ProbioSlim (on Amazon):
A 30 days count (1 pack) costs $15.56

A 60 Count (1 pack) costs $19.88

Free delivery (on selected dates)

Not eligible for returning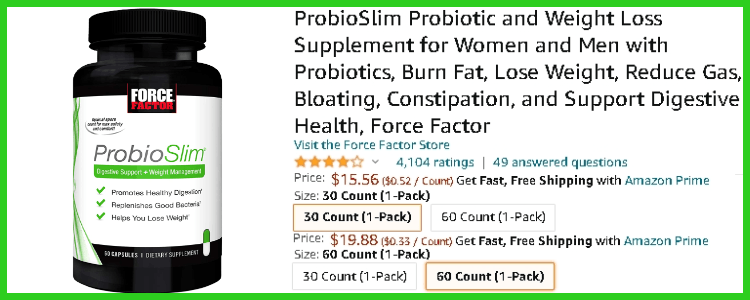 On the contrary, the price of ProbioSlim on the official website is $69.99 (60 capsules).
Honestly – I don't really understand the reason for the price difference.
Normally, I would say that the version sold on Amazon is a fake one.
But that's not the case, because the Amazon's link leads to the same listing.
So it's clearly the same brand and actual product.
However – one thing that worries me is the fact that you can't return the product:
this usually happens in weak products

they tend to have a high return rate

so the brands end up having to return all those money
In other words – products with no refund possibility have much higher chances to be a scam.
That's surely not available in all cases.
2. Competitors' Price
---
Here's my top recommended weight loss probiotic, if you're looking for a better option.
The supplement I'm talking about is FloraSpring: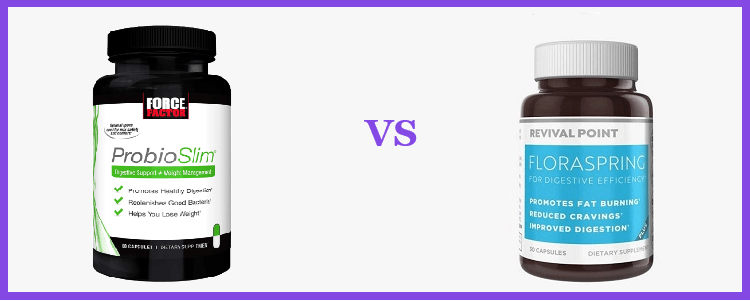 FloraSpring contains a unique mix of bacterial strains.

It works amazingly for burning fat and improving the digestive system.

ProbioSlim has a blend that contains probiotic, prebiotic and plant extracts.

The formula is weaker and takes time to work.

You only need one capsule per day for FloraSpring, while ProbioSlim requires 2.

FloraSpring costs $49 normally but you can buy it for only $33 (discounted price).

ProbioSlim's price starts around $15.56 for 30 capsules.
Your first thought might be that FloraSpring is more expensive.
And that's actually true – but it's because of its superior formula and results.
If you want a supplement that really helps you lose weight pretty fast, it's clearly the best choice.
And that's why I think FloraSpring is the best option for a weight loss probiotic.
---
Conclusion
---
Again – not all cheap products are actually good.
That's why checking their actual quality is essential.
In fact – you may end up spending more and getting no effect, when it comes to basic products.
---
#7 – Final

Conclusions
---
Let me give you a summary on my opinion of ProbioSlim.
1. Weak Formula
---
The supplement claims to have a supper blend that contains 3 types of ingredients:
Probiotic

Prebiotic

Plant extracts
But this blend doesn't seem to be that strong in terms of effect.
So don't expect too much, since ProbioSlim tends to work slow.
2. Many Reviews
---
Other than personal experiences, I looked for the testimonials of real customers.
Fortunately, ProbioSlim has quite a lot of reviews – making it very real.
It means that the customers received their orders and managed to try the product.
3. Can Be Expensive
---
If you do the math, ProbioSlim can get pricey in a long run:
$19.88 for 60 capsules

you need 2 capsules daily

effect appears after several months
So technically, it's not really that cheap – since you need to buy it again, if you want to see how it works.
---
My Verdict – Worth It Or Not?
---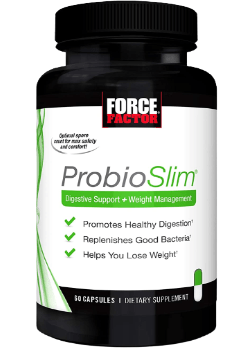 Short answer: Not really – there are several reasons why:
Works very slow

Not strong enough ingredients

Low doses

Expensive for its value

Causes side effects on a regular basis

Poor handling and shipments
Honestly – the product is not amazing, but it's not the worse either.
Still, there are some much better alternatives out there.
So if you're curious, check out my #1 recommendation.
I'm talking about an amazing supplement called FloraSpring:
Works fast and really well

Contains an essential mix of probiotics

Burns fats and lose weight without diet and exercise

Improves metabolism and digestion

Price is worth it for the quality
If you really want to invest in a good weight loss probiotics, choose FloraSpring.
It might look expensive at first but wait until you see the results.
You will surely buy it again, once you see how it works.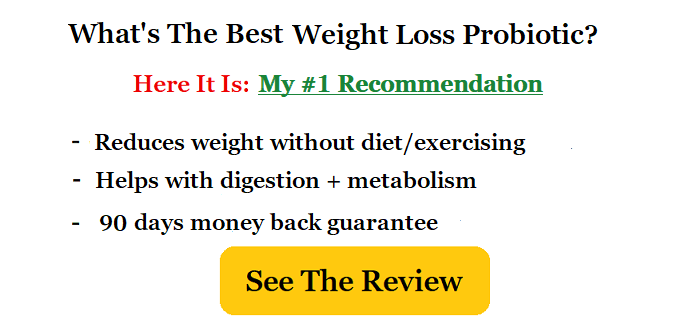 References:
1 – https://www.ncbi.nlm.nih.gov/pmc/articles/-PMC6208742/
2 – https://www.ncbi.nlm.nih.gov/pmc/articles/-PMC2855614/
3 – https://www.healthline.com/nutrition/-coffee-upset-stomach
4 – https://www.healthline.com/nutrition/-8-proven-papaya-benefits