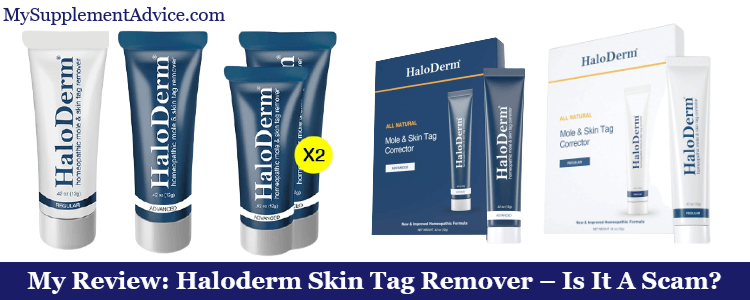 It's time for my Haloderm Skin Tag Remover review – a product formulated to remove moles and skin tags.
But is this treatment really effective? Not really, I would say:
negative reviews

weak formula

expensive for its quality
So could it actually be another type of scam?
I looked at and studied the product carefully, in order to give you the real facts about it (+ video).
Note: This review is based on my opinion + research on Haloderm.
Review Summary
---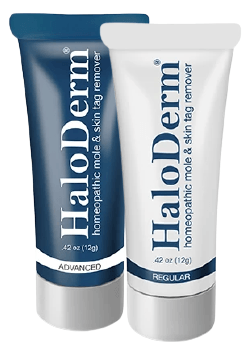 Full Name: Mole & Skin Tag Remover by HaloDerm Inc.
Product Type: Skin Moles & Tags Remover
Best Actual Price: Starts at $39.95
Cheapest Place To Buy: Its Official Website
Designed For: Fast removal of skin tags and moles
My Rating: 5 out of 10
Recommended?: Not really – and I have several reasons for this:
homeopathic product (with very low concentrations)

little info about the company

quite expensive
I personally suggest you go for the best skin moles & tags remover instead, it's simply a much better option overall.
What I Liked About It
---
Available on different retailers

Has enough authentic customer reviews

Pretty easy to apply

Based on herbal ingredients
What I Didn't Like About It
---
Homeopathic formula (with ingredients in very low doses)

Doesn't work as fast as it claims

Expensive for its value

A lot of negative reviews

Limited info about the company

Wounds that appear after tags/moles fall off heal pretty slowly
---
Haloderm In A Nutshell
---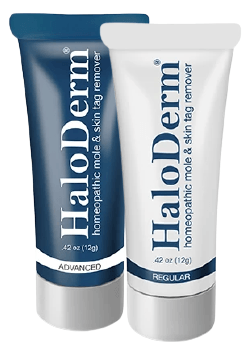 Haloderm claims to be a product made to get rid of unwanted moles and skin tags.
But after careful research, I haven't really found some solid info about the brand.
This is a major drawback, if you ask me – and makes it hard to trust the product.
Other than that, here are some extra downsides I found:
Homeopathic product

Lacks more natural ingredients

Comes in a pretty small quantity

Can cause long-term wounds
At first sight, this product seems to have a decent volume.
But you're told right away how many skin tags/moles it's designed.
In other words – this quantity can't remove more blemishes than the standard.
So if you have a lot of problems to treat, a tube isn't going to last a lot.
Other than that, you can get the desired results (if you follow the instructions properly).
But if I were you, I would probably go for a better alternative, since there are so many.
Plus – they are more gentle, so you won't experience any skin burns and such.
---
#1 – Claims & Producer
---
Here's some general info you need to know about this cream:
what skin issues it targets

how it works

who is the producer
1. Claims
---
One strong claim of this product says "Overnight Mole & Skin Tag Removal."
This means that the blemishes will be gone the next morning (after the night application).
I personally doubt this, as no product of this kind can work so fast.
Now, Haloderm is a homeopathic product – a category that I'm not a very big fan of.
That's because the active ingredients come in a very low concentration.
If you ask me – that concentration is too low to have any effect.
Anyway, there are 2 types of versions for this product:
Haloderm – targets 4 moles/skin tags

Haloderm Advanced – targets 8 moles/skin tags
Now, the regular formulation says to show results in 7-10 days.
On the other hand, Haloderm Advanced claims to work in 8 hours.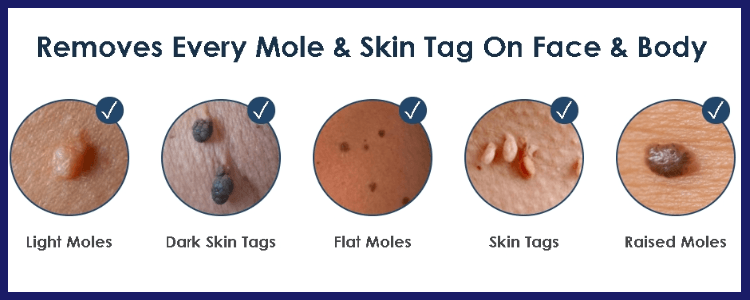 As I said – I don't really believe in such kind of promises for this type of product.
You should see some positive results but it will definitely take time.
2. Company Behind
---
The company behind this product is called HaloDerm Inc.
Based on the brand's website, this cream's 2 versions are the only products sold by this brand.
At this point – there's no contact info on the site.
The only way to get in touch with them is to leave your name, contact info, and concerns.
Honestly – I would tell you not to trust a brand right away (even if it has an official website).
I believe there are better alternatives on the market, with a more trusted background.
---
#2 – Formula (4 out of 10)
---
As I said, Haloderm is a homeopathic product – which is not a positive aspect, if you ask me.
That's because homeopathic remedies tend to have some insignificant doses of active substances:
some people swear by them

still, they have no medical evidence

in theory, they should not be effective at all
Now – the full list of ingredients is only available on the product's label.
Also, both versions have the same composition.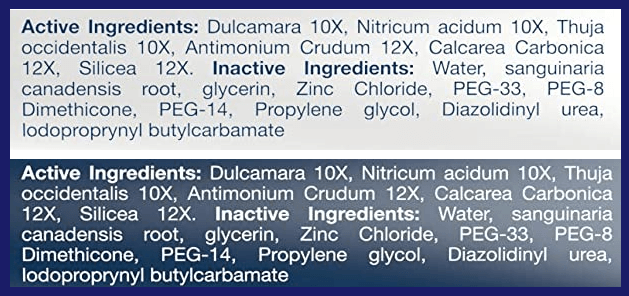 But let's take a closer look at its active and inactive substances.
1. Active Ingredients
---
Usually – the compounds from this group give therapeutic effects.
Here are the major ingredients inside this cream:
Dulcamara 10X – treats skin problems such as warts, itch, eczema, etc. [1]

Nitricum Acidum 10X – medicates skin disorders due to splinters

Thuja occidentalis 10X – reduces warts and acts as an insect repellant [2]

Calcarea Carbonica 12X – helps with psoriasis

Antimonium Crudum 12X – remedy for calluses, plantar warts, eczema, etc. [3]

Silicea 12X – provides relief from swelling
Now – these are the benefits of these ingredients in a normal dose.
But as I said, they are highly diluted in Haloderm.
That's why I wouldn't expect to get all the benefits of these compounds from this cream.
2. Inactive Ingredients
---
On the other hand, here are some of the inactive ingredients:
Sanguinaria Canadensis Root – reduces moles, warts, benign tumors, etc. [4]
Zinc Chloride – stops the odor and growth of microorganisms [5]
Usually – inactive compounds don't have any pharmacological effects.
Or in other words, they don't help in any way.
Their main goal is to improve the product's texture, consistency, and maybe scent.
---
Conclusion
---
Honestly, Haloderm has quite a disappointing formula.
I'm personally not a big fan of homeopathic products, because they are extremely weak on paper.
It's true that many people swear by them – but I'm not a fan of this category at all.
So there's no way I could recommend Haloderm.
---
#3 – Consistency & Dosage (2 out of 10)
---
This cream offers very few details about its physical appearance.
So for now, I can only give you the indicated way of using it properly:
Prepare the target area/mole/skin tags.

Apply the cream to the problem area/s.

Wait for the product to dry out.

Apply some healing balm after the moles/skin tags fall off.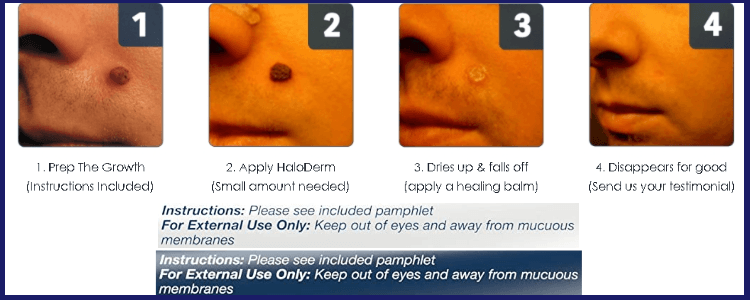 Now, you can see some more detailed ways of applying it inside the product (on the pamphlet).
So if you're curious about the whole process, you need to purchase the cream
But from what I found out, you do need to combine it with other products for the best results.
---
#4 – Results

(6 out of 10)
---
One way to know how a product works is by looking at the customers' opinions.
However, I tend to avoid the reviews on the product's website (they can be biased).
So I usually look at the other online retailers.
Note: I only analyzed authentic reviews, not promotional or fake ones.
1. Positive Opinions
---
Haloderm is available on different Amazon Marketplaces (except in the US).
Overall – the product got 3.3 stars out of 5 (which is a little low, in my view).
So let's take a look first at the testimonials of satisfied customers:
A lot of customers mentioned that their moles and skin tags disappeared.

Some said it took only a few days to see the results.

The rest just mentioned that this product works.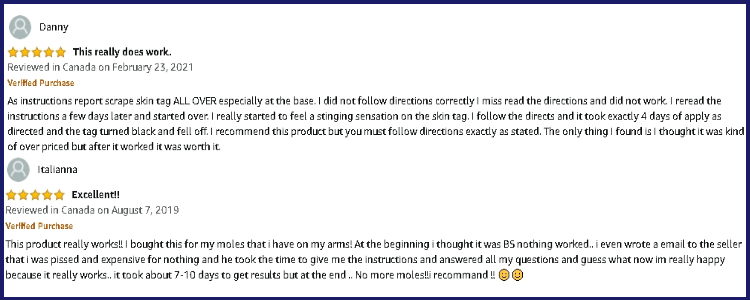 Now, this product surely works for enough people.
But if you take a closer look at its negative side, things get more interesting.
2. Negative Opinions
---
Now, complaints are quite normal in almost any product (with limitations).
So let's see the negative reviews written by some users :
Some customers received the wrong product size.

Others experienced a lot of pain during the treatment.

There are also customers who didn't see any changes.

Few people complained about their moles/skin tags getting worse.

The rest said that it's a total waste of money.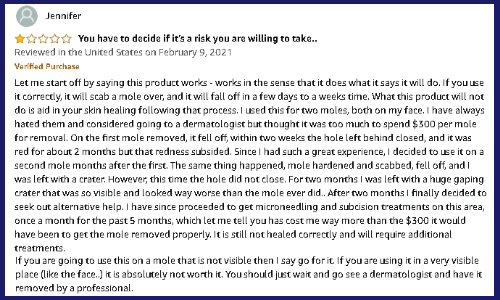 When it comes to being delivered and received by its buyers, I would say this product is legit.
So it's not going to scam you from this point of view.
However – when it comes to performance, a lot of people experienced some painful adverse effects.
---
Conclusion
---
So far – it's a 50-50 decision for me:
a lot of positive reviews

little but significant negative reviews
In general, if you want a product to work, you need to follow the instructions properly.
And if it doesn't do its job, then we can say the product is a failure.
Overall – this product works for most but I still think that there are still safer alternatives out there.
---
#5 – Side Effects

(5 out of 10)
---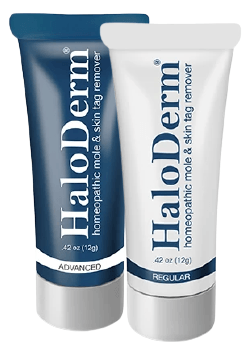 I managed to find enough comments about side effects.
So far – here are the adverse reactions that appeared in several people:
skin burns

long-term scarring

wounding that lasts for more than 2 weeks

skin itchiness/irritation
Now, there's a high chance of experiencing a little sting.
That's actually a sign that the cream works.
However – there's an interesting fact mentioned by enough users:
Wounds take a pretty long time to heal.

There's

an after-treatment needed after the blemishes fall off.

If you don't follow it, your wounds will take a lot longer to heal.
So in terms of secondary reactions, this product doesn't seem the very best.
A high-quality skin tags/moles remover should not cause any serious wounds.
Haloderm surely doesn't cause some severe ones – but they do take enough time to heal.
That's why I don't have an amazing opinion of it.
---
#6 – Price

(5 out of 10)
---
Although this product is effective for some, I still think it's very expensive for its value.
So it's not a good choice, in my own opinion.
1. The Exact Price
---
As I said, this cream is available in different marketplaces (Amazon).
But I will focus on the deals offered on Haloderm's website:
Regular version costs $39.95

Advanced version costs $59.95

2x Advanced costs $59.95 (available on certain days only)

Free Shipping Worldwide

I want to highlight that a tube (Regular or Advanced) contains 12 g (or 0.42 oz).
So if you want to try the product and get the best deal, you need to wait for the 2x Advanced to be on sale.
Also – the brand gives customers a "Hassle-Free One Year Guarantee."
This means that you can refund the payment if you're not fully satisfied (for a full year).
Again, the Regular version can work in 7-10 days – by removing 3 moles and skin tags.
On the other hand, the Advanced formula works for 8 hours – and gets rid of 4 moles and skin tags.
If you have more than 4 moles and/or skin tags, you will definitely need more.
But overall – it's up to you which version you want to try.
2. Competitors' Price
---
I want to give you a good alternative by introducing my #1 skin tags & moles remover.
I am talking about Amarose: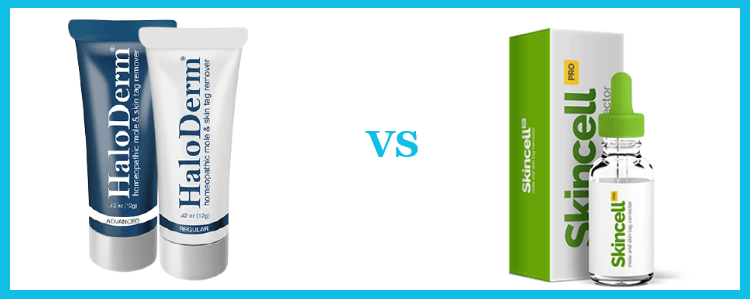 Amarose has a potent formula based on natural ingredients.

The compounds present have just the right concentrations.

Haloderm is a homeopathic product.

So its overall formula is pretty little concentrated.

Amarose costs about $60 normally but you get it for $39 (discounted).

Haloderm costs between $40 and $60.

Amarose contains 30 ml while Haloderm contains 12 g/ml.
Basically, Amarose is much better overall.
Unlike Haloderm, it's based on natural (but concentrated) ingredients that really work.
So its risk of side effects is much lower.
Not to mention that it makes a better choice in terms of quantity/price.
So compared to Haloderm, it's clearly superior.
---
Conclusion
---
To be honest, there are several reasons why I don't recommend Haloderm:
basic formula

high price tag

chances of repurchasing
I'm not saying that it's a bad product overall but I advise you to check its different aspects too.
And if you want to ask my honest opinion, I believe there are still better alternatives out there.
---
#7 – Haloderm In 3 Ideas
---
Here's how I would sum up my opinion of this product.
1. Homeopathic Formula
---
The overall formula of this product isn't amazing:
homeopathic compounds

no pharmacological effects ingredients
As I told you – I'm not a big fan of homeopathic products.
That's mostly because of their low doses and concentrations.
So I can't have a great opinion on this product's formula, to be honest.
2. Side Effects
---
Although this product is effective for some people, it can cause long-term wounding.
Now – you can avoid this by respecting the instructions.
However – other customers still experienced some issues.
That's why this product isn't the safest one out there.
3. Quite Pricey
---
Haloderm can be pricey if you have more than 4 moles/tags.
That's because a tube is only designed for a certain number of blemishes.
So in case you have more, you will need (at least) an extra tube.
That's why Haloderm doesn't much such a good option in terms of quantity/money.
---
My Verdict – Worth It Or Not?
---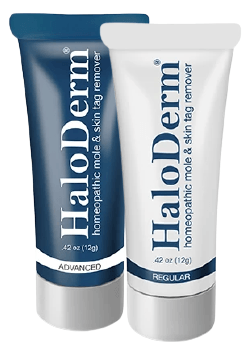 Short answer: Not really.
Even if it's not an exceptional product, it's not very bad either.
But I still have enough reasons why I would not recommend it:
Homeopathic (and weak) formula

Should contain more natural ingredients

Limited info about the manufacturer

Can cause long-term scarring/wounding

Pricey for its value
Now – this product surely worked for some users.
But it wasn't very effective for many others.
And since its formula isn't anything special (in my view), there's no way I could advise you to purchase it.
What do I recommend instead then? A product called Amarose:
Has a potent formula with natural ingredients

Works well in removing skin tags and moles

Lower risk of causing side effects

Safer and gentle to the skin
This product is my #1 recommendation because it works really well without burning the skin.
It's also not homeopathic – but it's based on natural ingredients.
So if you're looking for a better alternative, I suggest you try Amarose.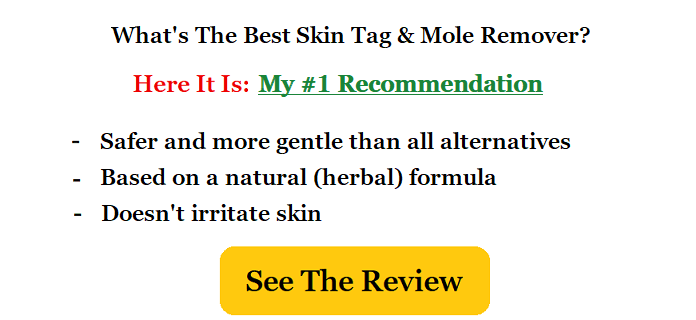 References:
1 – https://www.ncbi.nlm.nih.gov/pmc/articles/-PMC4740760/
2 – https://www.ncbi.nlm.nih.gov/pmc/articles/-PMC1062158/
3 – https://www.ncbi.nlm.nih.gov/pmc/articles/-PMC7869354/
4 – https://www.ncbi.nlm.nih.gov/pmc/articles/-PMC5037693/