It's time for my Musely Spot Cream review – which is a customized product for every skin type.
But does this cream fit the criteria of a good skin lightening product?:
fast-acting

safe and effective

affordable price

herbal-based/natural formula
Or is Musely just another type of scam?
So let's take a look at the info I found out after analyzing this cream.
Note: This review is based on my opinion + research on Musely Spot Cream.
Review Summary
---

Full Name: The Spot Cream by Musely
Product Type: Skin Lightening Cream
Best Actual Price: Starts at $60
Cheapest Place To Buy: Its official website
Designed For: Correcting the skin– it claims to:
fade dark spots

brighten the skin

treat hyperpigmentation
My Rating: 7.5 out of 10
Recommended?: Yes and no. It's a good product, but some of its aspects are questionable:
quite expensive

harsh formula (for some people)

slightly inconvenient

not available outside the US
I suggest you to try the best lightening cream I know which is a better choice overall, in my opinion.
What I Liked About It
---
Only comes with a prescription

Price includes an online consultation

Contains some major skin lightening ingredients

Comes in 4 different versions

Very professional official website and brand

Offers professional advice/consultation
What I Didn't Like About It
---
Formula can be too harsh (for some users)

Unavailable on online retailers

Very pricey in the long run

Small product amount

High chances of biased reviews

Contains some potentially risky ingredients

Unavailable outside the US

Not very helpful for some users
---
Musely Spot Cream In A Nutshell
---

Most importantly – this cream is made to address skin pigmentation issues (melasma, acne marks, dark spots, etc.).
Its best feature is the availability of different dosages:
Erase (for pigments and melasma)

Nurture (skin upkeep)

HQ Free+ (hydroquinone-free)

M+ (for stubborn spots)
A doctor's consultation is required in order to get the right treatment for you.
However, it's provided for free if you decide to give the product a try (it's an online consultation).
The overall formula is good but it's not for everyone, in my view.
Even though there are different levels of strength, there's still a possibility of it being harsh for your skin.
Now, the overall features of this cream are impressive (product info, company, instructions, etc.).
However – there are some minor disadvantages:
contains hydroquinone

can cause side effects

unavailable outside the US

should contain more herbal/natural extracts
Now – this cream is only directed for facial use.
So if you have the same issues on your neck, you need another prescription (another $80).
Plus – if the desired results are not obtained, you might need to repurchase it again after 2 months.
Overall – Musely Spot Cream is not a bad product, but I still think there's a better alternative.
So it's up to you whether you want to give it a try or not.
---
#1 – Claims & Producer
---
Musely is not a typical skin care product, so here's what you should know about it:
how it works

which skin issues it targets

who is the company behind
1. Claims
---
This product claims to be a "no-nonsense prescription dark spot correcting cream."
According to its promises, there are several skin problems it can treat:
erase pigments and melasma

nurture skin upkeep

reduce sun damage and dark spots

even out skin tone

lighten acne marks and freckles

It also seems to be customized and has 4 different formulations to meet your needs.
Its 4 formulas are named as the following:
Erase

Nurture

HQ Free+

M+
Now – you need to do a virtual consultation first (before being approved for getting the product).
The medical professionals will analyze your skin needs and give the right dosage for you.
However – there is a small chance that you get the wrong prescription.
Why? Because a virtual check-up is not as accurate as a personal visit.
Anyway, that's pretty unlikely – to be honest.
So this cream is said to be more of a prescription medication than a normal skin care product.
2. Company Behind
---
The company behind this product is called Musely.
It promotes FaceRx, which is a new way to cater to your skin care needs:
no doctor office visit

no pharmacy lines

customized formulas

affordable prescriptions.
The goal of the company is to deliver the right skin care for you to your doorsteps.
If you're curious, there are several products it offers:
Dark Spot Corrector

Wrinkle Cream

Hydroquinone Cream

Dark Patches on Neck

Sun Spots on Chest

Underarm Whitening Cream

Intimate Area Lightening
Now – all FaceRx products are vegan, cruelty-free and gluten-free.
Honestly, I don't have anything negative to say about the brand itself.
Based on my research, it's very well established and trusted by many people.
And one supporting detail is that their social media accounts are followed by thousands of people.
Other than that, you can also contact them via email, phone number and live customer agent.
So overall – I would say that you can trust this company, based on its legitimacy.
---
#2 – Formula (7 out of 10)
---
I checked the ingredients present in each formulation and sadly, only the key compounds are mentioned.
The possible reason might be because the company wants the whole formulation to be a secret.
But one thing is sure:
These products are not really herbal-based, so that's quite a downside for me.
So – let's quickly define what the key compounds from each formula can do:
But let's take a closer look at each of the 4 formulas.
1. Erase
---
This formulation is meant to treat the appearance of pigments and melasma.
Here are the key ingredients that make up this version:
Hydroquinone

Kojic Acid

Niacinamide

Hydrocortisone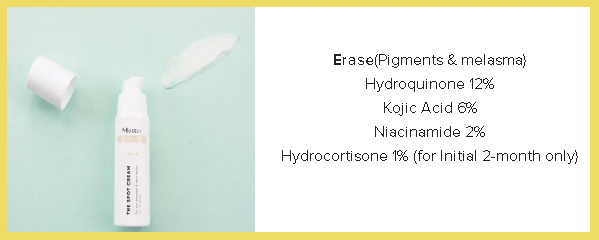 So far, these compounds are pretty classic and they're known to lighten the skin in general.
And based on my own judgement, this formula is somewhere in the middle (in terms of strength).
2. Nurture
---
If you're having problems with skin upkeep, this version might be the one for you.
The percentage of the key ingredients are the following:
Hydroquinone

Vitamin C

Niacinamide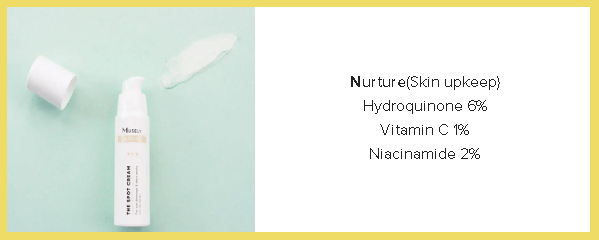 For me, this formulation is best for maintaining bright skin.
And so, it's the one that has the lowest number of key ingredients.
3. HQ Free+
---
So far – this version is my favorite because it's the only one hydroquinone-free:
Tranexamic Acid

Azelaic Acid

Kojic Acid

Niacinamide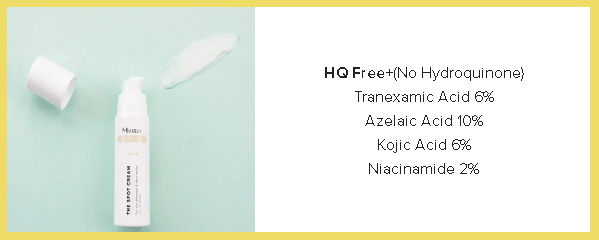 As I said in most of my reviews – I don't particularly like a formulation that has hydroquinone.
That's because it's potentially harmful and carcinogenic.
So instead of taking this kind of risk, I prefer gentle and safer ingredients.
4. M+
---
Lastly – I think this is the strongest formulation (compared to the previous 3).
And that's because it's made for stubborn dark spots:
Hydroquinone

Tretinoin

Kojic Acid

Niacinamide

Hydrocortisone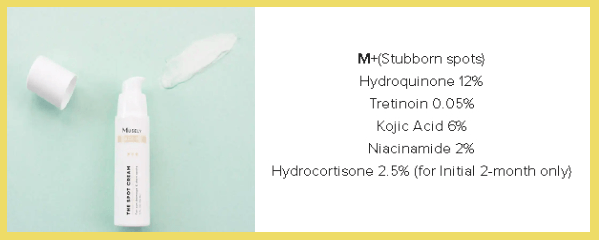 Now – this version lightens the dark spots by exfoliating or peeling the outer layer.
It also targets and prevents the possible causes of the issues.
So I personally have a great opinion on it, to tell you honestly.
---
Conclusion
---
This product has a big advantage through its 4 different formulations.
But as I said, the full list of ingredients is not available.
And if you ask me, that's a serious downside.
Other than that, the overall formula is good and promising nothing to criticize about it.
---
#3 – Consistency & Dosage

(7 out of 10)
---
Here is a description of the textures of Musely's Spot Cream.
1. The Consistency
---
As expected – this product looks like any common skin lightening cream:
whitish color

faint chemical scent

slightly thick consistency
So far, there's nothing really special about the looks of it.
Also – the hydroquinone adds up to the overall color of the cream.
2. The Dosage
---
Now – I will tell you first the step by step process on how to get the cream:
Complete the online doctor visit by answering a series of questions.

Fill out the payment form and pay the bill.

Wait for the product to be delivered to you.
Now – there's no exact written instruction on how to use this cream.
That's probably because the directions will be given out during the consultation.

But so far – here's what I could find on the brand's website:
Dispense a pea-sized amount of product.

Apply evenly on the face only.

Use a moisturizer with the product.

The role of the moisturizer is to facilitate the application.
And based on the website, you only need a little amount of product (since it's a medication).
There a small tip I can give you.
Try mixing the product with a moisturizer – as this will help to spread it evenly all over the face.
Lastly, there's a special direction indicating you to use this cream during night time only.
Also – make sure to avoid the neck area (since the formulation is only for the face).
---
#4 – Results

(6.5 out of 10)
---
I always check the customer reviews in order to see how a product performs.
My goal with this is to avoid giving you a biased opinion on the product I review.
Note: I only analyzed authentic reviews, not promotional or fake ones.
1. Positive Opinions
---
The customer reviews are only available on the brand's website.
I don't usually rely on the comments written there (since there's a high chance of them being biased).
But this cream is not available on other retailers.
That's why my only option is to analyze the reviews from its own website.
So here are what the satisfied customer say about this cream:
Many mentioned that their melasma and dark spots were gone.

A lot of users experienced this result in as early as 2 weeks.

Some chose this over other treatments (lasers, IPL, microdermabrasion, etc.).

Others noticed their skin became brighter and healthier.

The rest said this product really helped their skin overall.
These testimonies are responsible for the product's 4.7/5 stars rating.
Now, given the great reputation of this brand, I'm quite sure its reviews are authentic.
It simply doesn't seem the kind of company that would falsify its user feedback.
So I trust the opinions from its website, to be honest.
And it's quite obvious that a lot of people are very satisfied with this prescription cream.
2. Negative Opinions
---
I checked out the negative reviews written by some customers and here's some of them:
Some had problems with the refunds.

Others said the cream took a longer time to work.

There are people who experienced some side effects.

Few comments mentioned receiving the wrong formulation.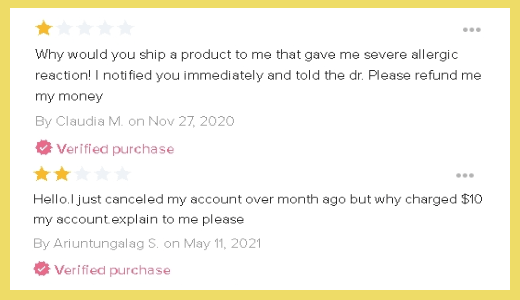 Honestly – it's quite hard to find complaints on this product, because most users are happy.
And honestly, the complaints above are pretty minor problems to me.
You can see them in most of the other skin lightening creams, so they're not a big deal.
---
Conclusion
---
I already expected to find a lot of satisfied customers behind this cream:
product really works

accurate recommendations

trusted company
Overall – this cream is praised by many people, so I would say that it's okay to give it a try.
However, I still think there are other alternatives that can give you the same results but with some better features.
---
#5 – Side Effects

(4 out of 10)
---

I still managed to find some complaints on this cream's side effects.
That even though there are very some limited negative review on it.
So far – here are the adverse reactions experienced by some users:
severe allergic reactions

skin bumps

skin irritation/burns

red patches
I think the formula is one of the major reasons for all these negative results.
As I mentioned, there's a tendency that some ingredients are too harsh for certain people.
And I'm mostly talking about the hydroquinone cream here.
That's why I think that products with herbal-based formulations have some advantages.
So if you're someone with very sensitive skin, I suggest you look for some natural alternatives.
They are simply much safer in your case.
---
#6 – Price

(5 out of 10)
---
At first – I found Musely a little expensive.
But after taking a closer look at it – there are some things that made me reconsider the price.
If you're curious, I will explain further below.
1. The Exact Price
---
I analyzed the product's price, in order to see if there are differences between the 4 versions.
Instead – I saw a breakdown of how much the whole treatment will cost.
That's a really cool and useful feature, to be honest:
Consultation Fee is $20

Product (2-month supply) costs $60

Free Delivery

It's not available outside the US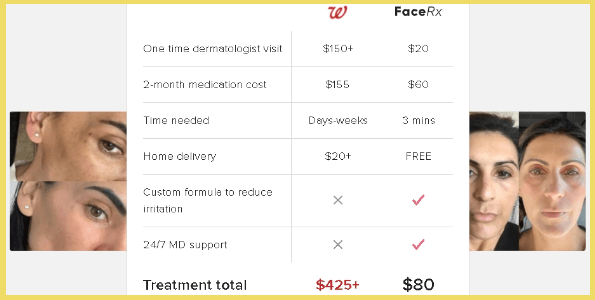 So basically, you will pay the same price no matter what formula/dosage you're prescribed.
In addition to that, the company also offers a 24/7 MD support – if you have any problems.
Now – there's a disclaimer at the bottom of the page about the refund policy.
It says the full cost of the medication ($60) will be refunded if the customer is not satisfied with the results.
Still, the doctor's consultation fee is non-refundable.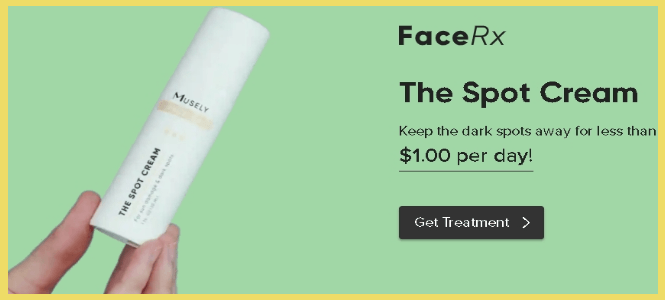 Also – you cannot return the product after opening and using it.
That's pretty normal, if you ask me.
Now, you might be curious if the product really lasts up to 2 months (given its amount).
But again, this is a medication cream – so there's no need to use it a lot, as you would do with other lightening products.
That's also stated on the FAQs.
So overall – it's up to you if the price is worth it or not.
But I can honestly tell you that the product is completely legit.
2. Competitors' Price
---
I want to give you a good alternative by introducing the best skin-lightening cream I know.
This product is called Zeta White by Swiss Research Labs: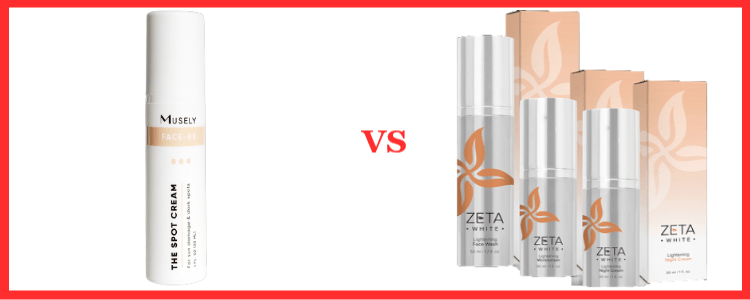 Zeta White has an herbal-based formula with almost 100% natural ingredients.

It's more gentle to the skin (especially for sensitive skin).

Musely is a prescription cream with different dosages.

The formula has some major skin lightening compounds.

However, it can be more harsh on the skin (no herbal compounds).

Zeta White costs about $50 for each product and $150 for the whole set.

Musely costs $80 overall (consultation + medication).

Both products can last more than a month.
One major difference between these 2 products is the area of coverage.
Musely is designed for the face only.
So if you want to treat the neck area for example, you need another prescription.
On the other hand, Zeta White can be used on the face, neck and even upper chest area.
That's why I think it's a slightly better choice between these two products.
---
Conclusion
---
Overall, spending $80 on this product is not so bad (given the fact that you get a consultation).
But again – there's no guarantee that this cream will work so well.
Still, if your budget allows it, you may want to give it a try.
But if you ask me, I still think that there are cheaper alternatives out there.
---
#7 – Musely Spot Cream In 3 Ideas
---
Here's how I would summarize my opinion on Musely.
1. Decent Formula
---
There are some major skin lightening ingredients present in this product.
However – there is a chance that the prescribed formula will not suit some people.
I'm talking about people with sensitive skin or allergic to certain compounds.
The full ingredient list is not disclosed.
That's why you can't tell for sure what's inside it.
Still, the overall formula is pretty good (in all 4 versions).
2. Different Dosages
---
This prescription cream has different levels of strengths:
4 formulas available

each if designed for a certain issue/skin type
That's a really good thing, because not all people have the same severity of pigmentation.
Also – the online consultations are a major advantage of this cream.
That's because you're recommended the best product for your issues (by a specialist).
3. Quite Expensive
---
Lastly – this cream can be pricey in the long run.
Also – if you have the same issues in the neck area (high chances), you can't use this product.
Instead, you need to buy another prescription for that specific area.
That's why I believe that there are some better alternatives out there that have a wider treatment coverage.
---
My Verdict – Worth It Or Not?
---

Short answer: Yes and no.
It's definitely not a bad product at all, considering all of its features.
But there are some minor disadvantages:
Formula too harsh (for some people)

Quite expensive (in the long term)

Unavailable customer reviews (outside the platform)

Can cause side effects

No other retailers that sell it

Lacks herbal extracts
Overall – I think this product is very promising.
But if you're someone who looks for more natural ingredients, I would surely not recommend it.
3 out of its 4 versions contain hydroquinone, so you have to watch out for that.
To give you a better alternative, I actually suggest Zeta White:
Herbal-based formula with some major skin lightening compounds

Effective, fast-acting and gentle to the skin

Minimal chances of side effects

Visible results (in my experience)

Good price for the quality

A lot of satisfied customers
Not all skin lightening products from the market are the same.
So you need to see if your skin is sensitive or not,before choosing an actual product.
But if you ask me, it's always safer to stick with natural ingredients.
That especially if you want to avoid severe side effects.
That's why I recommend Zeta White – a product that is gentle and effective at the same time.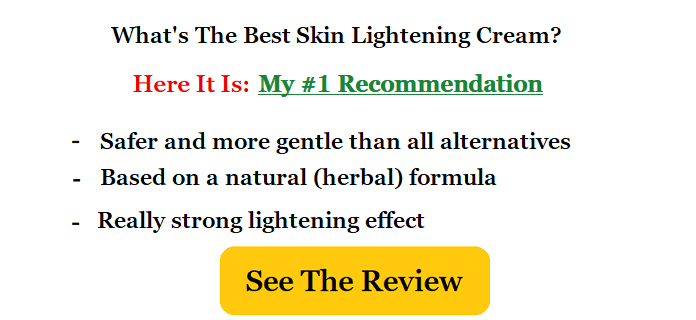 References:
1 – https://www.medicalnewstoday.com/articles/-hydroquinone
2 – https://www.medicalnewstoday.com/articles/-319599
3 – https://pubmed.ncbi.nlm.nih.gov/-16029679/
4 – https://www.ncbi.nlm.nih.gov/books/-NBK424899/
5 – https://www.ncbi.nlm.nih.gov/pmc/articles/-PMC5579659/
6 – https://www.ncbi.nlm.nih.gov/pmc/articles/-PMC4235096/
7 – https://pubmed.ncbi.nlm.nih.gov/-1712709/