It's time for my Compound W Skin Tag Remover review – a product that comes with a different approach to removing skin tags.
So is this product really that good?
Or could it actually be another form of rip-off?
quite pricey

tricky instructions

basic formula
Let's find out the real deal about this product in my review.
Note: This review is based on my opinion + research on Compound W Skin Tag Remover.
Review Summary
---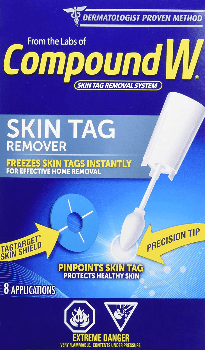 Full Name: Compound W Skin Tag Remover by Prestige Consumer Healthcare Inc.
Product Type: Skin Tags & Moles Remover
Best Actual Price: Around $40
Cheapest Place To Buy: Amazon
Designed For: Removing unwanted skin tags, moles, and blemishes
My Rating: 5 out of 10
Recommended?: Not really – here are some of my reasons:
a bit pricey for the quantity

can be quite dangerous

only contains 2 ingredients
Instead of going for this product, I actually suggest you try the best skin moles & tags remover I know.
What I Liked About It
---
Different approach/mechanism than most competitors

Legit producer

Featured by other famous websites

Very detailed FAQs section

Works really well for some people
What I Didn't Like About It
---
A little expensive

Lacks natural ingredients

Works best on small skin tags only

Several customer complaints behind

Pretty dangerous

Can be quite tricky to use
---
Compound W In A Nutshell
---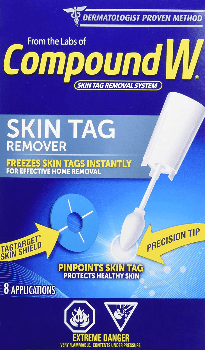 In my view, what makes Compound W unique is its mechanism of action.
Unlike other skin tag removers, this product freezes the target area (instead of burning it).
Honestly, this mechanism of action does sound very strong and potent.
But I personally consider it potentially dangerous:
same mechanism used by dermatologists

in this case, you're using this product alone (on your own)
Now, the product also comes with some accessory tools (for the actual application):
Skin shield

Special applicator

Product can
In terms of instructions, it's quite tricky and hard to understand (for some).
The liquid should be applied to the tags' stem that is not larger than 3 mm in diameter.
And if used properly, the results can be seen in as early as 2 weeks.
However – if it's improperly applied, it can cause skin burns and possible long-term scars.
Other than that, it also has a pretty long negative side:
lacks herbal-based ingredients

limited applications (only 8)

a little expensive

not suitable for all tags/moles sizes
If you ask me, I don't find this product terrible – but it's not amazing either.
Overall – there are better alternatives that can treat skin tags in a more gentle manner.
So Compound W isn't necessarily my top recommended product from this category.
---
#1 – Claims & Producer
---
This product is a new approach to removing skin tags – so here are the main details about it:
who is the company behind

how it works

which skin issues it targets
1. Claims
---
Part of the product description says it is "the only do-it-yourself skin tag remover."
This means that it uses the same freezing technology dermatologists use.
However – it's made in a way that allows you to use this technology at home.
As I told you, I personally would not be willing to use a product with this mechanism of action:
seems more dangerous than most products of this type

you're using it all alone

Another claim is that that you can remove skin tags in as little as one application.
Honestly – I personally cannot agree here.
Most products of this kind claim the same thing (but none actually keep the promise).
Now, how exactly does Compound W work?
targeting and freezing the skin tag

doesn't burn the skin around it
In terms of mechanism of action – it's quite different from most skin tags/moles removers.
And that's surely an advantage.
However, it's not a miraculous product – so don't expect it to work overnight (as it claims).
2. Company Behind
---
The producer of this product is a brand called Prestige Consumer Healthcare Inc.
Upon looking at their website, here's what I found:
sells products for eyes, ears, nose, and throat

offers oral care, pediatric care, digestive care, and pain relief
So far – the company behind this product is pretty famous.
Plus, it's been on the market for a very long time.
Also, there are a lot of famous magazines, TV shows, and articles that feature its products.
So at this point – I would say that it's a trusted brand and that it's safe to buy from it.
---
#2 – Formula (6 out of 10)
---
In terms of composition, Compound W doesn't look amazing:
only 2 active ingredients

no herbal extract/natural compounds
Also, it only works on the surface – without targeting the root cause inside.
Still, other skin tag removers work the same – so it's a specific feature of this kind of product.
However – compared to others, Compound W only has 2 ingredients:
Dimethyl Ether – promotes dead skin cell shedding [1]
Propane – breaks down skin tissues [2]

Now, both of these compounds have the same behavior as liquid nitrogen.
It works by freezing the skin tag until it becomes stiff and eventually falls off.
If you ask me – the main reason for choosing these ingredients is safety.
Both Dimethyl Ether and Propane are more gentle on the skin than liquid nitrogen.
But as I said – I'm not a big fan of this kind of formula.
---
#3 – Consistency & Use (5 out of 10)
---
Let me give you an idea of what Compound W Skin Tag Remover looks like.
First of all – you will get the following items inside the packaging:
Applicator

Skin Shield

Product Holder
According to some warnings, you can't use this product on skin tags larger than 3 mm (in diameter).
So here is the instruction from Compound W's website:
Stick the skin shield around the skin tag.

Prepare the product by pressing down the applicator into the can (2-3 seconds).

Remove the applicator and wait for 10-20 seconds.

Press the applicator on the connecting skin and hold it for 40 seconds.

Wait for the skin tag to fall on its own.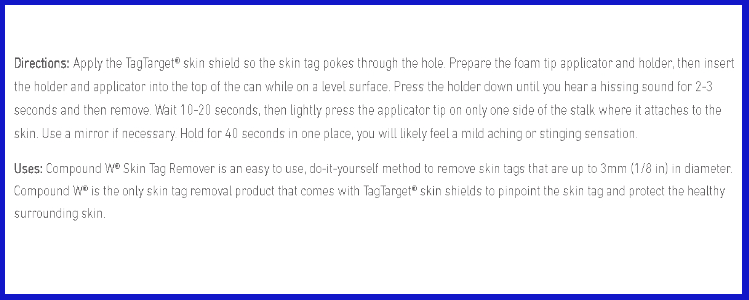 There are also some warnings written on the packaging about when not to use the product.
This helps you avoid severe burns or other related injuries.
Now, applying this product is quite easy (as with most skin tags/moles removers).
But as I said – there are several warnings, which you should definitely consider.

---
#4 – Results

(5 out of 10)
---
For this part, I was quite curious about the feedback of people who tried this product.
So I looked for different perspectives on how it works.
I do this most of the time in my reviews, in to avoid giving one-sided opinions.
Note: I only analyzed authentic reviews, not promotional or fake ones.
1. Positive Opinions
---
Although Compound W has an official website, I didn't analyze the reviews there.
Instead, I looked at those from the retailers.
For now – I will only focus on the authentic reviews I found on Amazon:
Most customers said that this product works.

Some mentioned that it really removed their skin tags in only a few days.

Others didn't feel any severe pain at all.

The rest wrote about how easy it is to use it.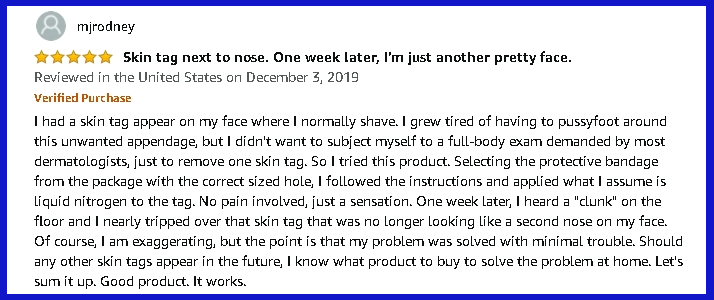 Overall – this product got 4.1 stars out of 5, which means a lot of people liked it.
But those are only some of the opinions – so let's take a look at its bad side as well (because there is one).
2. Negative Opinions
---
As you might expect, this product can also work in a harsh manner.
Given its mechanism of action, that's not surprising at all.
There are enough customers who had complaints about it:
Some simply said it doesn't work.

Others didn't like the price of the product.

A few of them wrote that it's a waste of money.

Some experienced a lot of adverse reactions.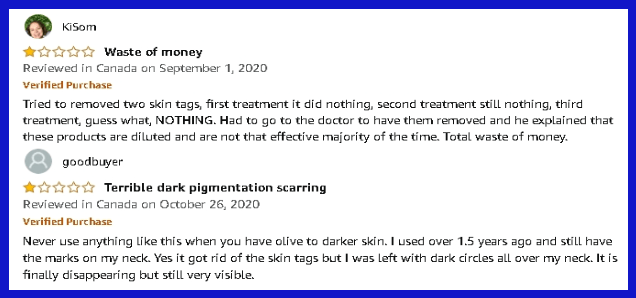 One major downside is that this product can't remove larger skin tags (over 3 mm in diameter).
In this case, there's no option but to visit the dermatologist.
Other tags/moles removers don't have this issue, so Compound W has a minus here.
---
Conclusion
---
This product surely works, as long as it's used correctly.
However, it also has a higher risk of side effects (due to its mechanism of action).
So I would say that following instructions play a big part.
Still – it's not my top recommended product in this category (since it only works for smaller blemishes).
---
#5 – Side Effects

(4 out of 10)
---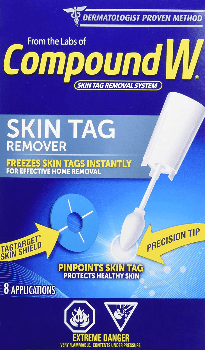 This product contains freezing ingredients, so it's more dangerous than its competitors.
This type of compound can be harmful (if they're not used correctly).
And after reading the customers' reviews, here are the most common issues:
blisters

skin burn/very painful

long-term scarring
Again – these side effects can appear if the product isn't used properly.
But long-term scarring can appear in anyone (especially in people with sensitive skin).
Overall, you really need to be careful when using this product.
That's why I'm not a big fan of it at all.
---
#6 – Price

(3 out of 10)
---
So far, Compound W is a little pricey (given the issues it can cause).
That's why it's not the best option for me for the moment.
1. The Exact Price
---
Now – I only want to feature the pricing of this product based on its Amazon listing.
So here are the deals you can get so far:
Standard price is $38.43

Free shipping (on selected dates)

No return policy

There's no specific amount indicated – but the label says it's good for 8 applications.
Now, I assume this is equivalent to 8 skin tags (not greater than 3 mm in diameter).
Also – keep in mind that you can't return this product.
This means that will only buy it at your own risk.
Its price is indeed affordable – but I personally would not take the risk of side effects, that's all.
2. Competitors' Price
---
If you're looking for an alternative, I will show you the best skin tags & moles remover I know.
I am talking about Amarose: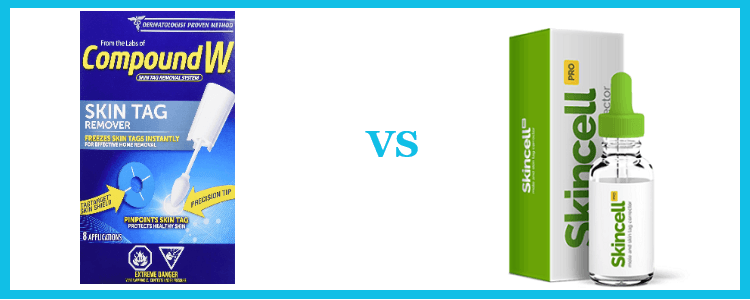 Amarose has more natural ingredients and potent formula.

Its compounds present are not too strong.

Compound W has only 2 main compounds inside it.

The overall formula can be very harsh (if not used right).

Amarose costs about $60 normally, but you get it for $39 (discounted).

While Compound W is $38.43 and it can't be returned.

Amarose can last longer than a month.

On the other hand, Compound W can be used only 8 times.
If you want a more gentle product, Amarose is the best choice.
That is especially if you have sensitive skin.
Also – it has natural ingredients, which are less dangerous and risky.
It is indeed a few dollars pricier, but I would surely prefer to stay on the safe side with it.
---
Conclusion
---
The idea of a home treatment sounds very appealing.
But I would not take the risks Compound W comes with.
It's true that its price is really affordable (especially when compared to a dermatologist visit).
Still – I personally would not go for it, if you want my opinion.
---
#7 – Compound W In 3 Ideas
---
Here's how I would sum up my opinion of this product.
1. Risky Formula
---
The overall formula of this product has 2 main features:
based on two compounds

works just like liquid nitrogen (by freezing)
Even though these ingredients seem ideal, there are some huge risks involved.
This includes skin burns or blisters.
That's why I don't really trust performing this kind of treatment at home.
2. Fast Results
---
The good thing about this product is the fast results experienced by some people.
This can only happen if it's used properly and carefully.
Also, this product can remove smaller skin tags in as early as 2 weeks.
So in terms of results – it's definitely effective.
3. Quite Pricey
---
Lastly – I find it a little expensive for 8 applications only.
That's mostly because it can only remove smaller skin tags.
Basically – if you have larger tags, you have 2 main options:
visit a dermatologist

buy another product

to target these sizes
If you think about it, you can save a lot going for a general skin tag remover from the start.
So that's what I advise you to do.
---
My Verdict – Worth It Or Not?
---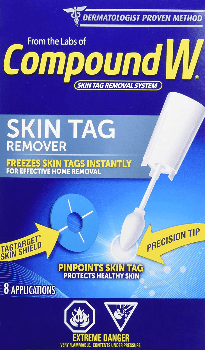 Short answer: Not really.
Honestly, it's a pretty good product in terms of effect exclusively.
But it's also quite dangerous – and it has enough issues behind it:
Can be tricky to use

Only designed for small skin tags

Has some risky ingredients

Has many customer complaints

No natural ingredients inside

Can cause skin burn/blisters

It's a little pricey
A lot of people liked how this product actually works.
However – not using it correctly can have a negative impact on your skin.
If you want to minimize these risks, you can try other alternatives.
So what do I recommend instead then? A product called Amarose:
Based on natural ingredients only

Gentle but effective on skin tags

Lower risks of causing side reactions

Removes moles and tags effectively
Overall – I'm still into a safer way of treating skin tags, and that's why I prefer this product.
So if you want the same thing, I suggest you try Amarose.
It's simply the best product I know for skin blemishes.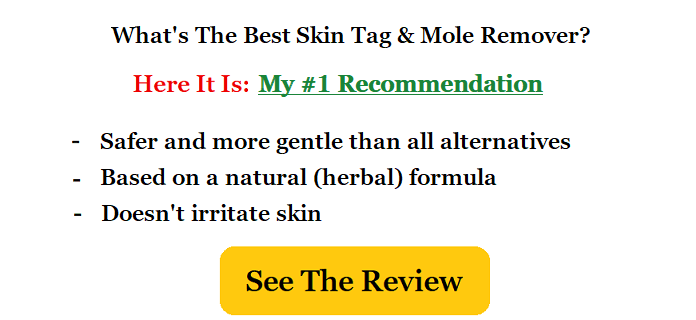 References:
1 – https://onlinelibrary.wiley.com/doi/full/-10.1111/bjd.13310