It's time for my Instaflex Joint Support review – so is this supplement any good?:
original composition

backed-up with clinical evidence
But obviously, its unique features aren't very cheap.
At almost $70/bottle – Instaflex is one of the priciest joint supplements I know.
So is this product just another scam? Is it meant to take away one's money?
I analyzed it carefully so here's the truth behind (+ video).
Note: This review is based on my opinion + research on Instaflex.
Review Summary
---
Full Name: Advanced Joint Support by Instaflex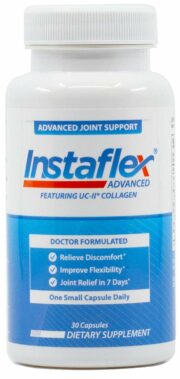 Product Type: Joint Pain Supplement
Best Actual Price: Around $70 (standard price)
You can often find it for about $60, due to seasonal discounts.
Cheapest Place To Buy: Amazon
Designed For: Joint support, as it name says. It claims to:
relieve joint pain and discomfort

improve flexibility

support an active lifestyle
Due to its versatile formula, it works both for cartilage damage and joint inflammation.
My Rating: 8 out of 10 – It's a good product but it costs way too much.
Recommended?: Surely not – it's way too expensive for what it really does.
For this reason, it's very hard to afford on a monthly basis.
I personally recommend a $40 cheaper supplement that has the same effect for joint pain.
What I Liked About It
---
Some of its ingredients are trademark (improved) versions

Strong formula overall

Pills are really small and easy to swallow

You only need a pill per day

Many satisfied users in terms of pain relief

Easy to find in both online retailers and local stores
What I Didn't Like About it
---
Doesn't work in 7 days (as it claims) in most cases

Extremely expensive price per bottle

Hard to afford on the long term

No classic joint ingredients (glucosamine/chondroitin)
---
Instaflex Joint Support In A Nutshell
---
This supplement has a trustworthy producer and an increasing popularity.
And in terms of formula – it's really worth that.
But despite this, I don't see it as such a perfect supplement.
And its top issue is PRICE:
very expensive on the long term

unaffordable for average people

ingredients aren't worth that much
That's one of the reasons why Instaflex isn't among my top recommended joint products.
Since that list is full of budget supplements with excellent formula – it clearly doesn't fit in.
So I couldn't recommend it any soon (no matter how potent its formula was).
---
#1 – What It Is & Claims
---
Before I get to analyze each of Instaflex's aspects – here are a few general things you should know about it:
how exactly it works

what it promises

who is the producer
1. Claims
---
First of all – Instaflex states to be a "next-generation joint support formula".
According to its description:
contains high-quality ingredients

its compounds have clinical evidence behind

the only product with such an effective combination
Besides – it claims to provide relief in as little as 7 days.

To be honest, I personally cannot agree with this.
All joint supplements require at least a few weeks to start working (in the best case).
On an average – they need about 1-2 (even 3) months to show an effect.
So even though Instaflex claims to be a superior product, I personally don't see it as such.
If it was as good as it claims – everyone would be using it.
And in reality, it has a bunch of complaints and negative reviews.
That's why I don't consider it such a breakthrough product.
2. Company Behind
---
Instaflex is actually the name of this supplement's brand:
about 10 different products in its portfolio

all of the are designed for joint health

some are supplements and other are topical products
In terms of reputation – Instaflex is very well-regarded.
It's a company with a pretty long history and a positive customer feedback.
So if you ever wondered if you could get scammed through their products, that's totally not the case.
Buying any product from Instaflex is totally safe and trustworthy.
---
#2 – Formula

(9 out of 10)
---
If you ask me – Instaflex has a really good composition:
several trademark ingredients

high dosages in most compounds

formulated to have a high absorption

However – there are enough things I personally don't like:
Most of its compounds are anti-inflammatory.

This means they cannot repair damaged cartilages.
There's no glucosamine/chondroitin (which are the best cartilage re-builders).
Instead – there's only one ingredient that can help cartilages (collagen).
Instaflex claims its form of collagen has a better effect than glucosamine + chondroitine combination.
But since I couldn't find many studies on this topic – I kind of doubt it.
Now – I divided Instaflex's active ingredients in 2 groups:
Anti-Inflammatory

Cartilage Helpers
So let's take a closer look at each.
1. Anti-Inflammatory
---
This group is mostly based on herbs – as they have the best effect against inflammation:
Turmeric – strongest natural anti-inflammatory.

Resveratrol – has some potent anti-oxidant proprieties. [1]
Apreflex® (Boswellia Extract) – one of the best herbs that fights swelling. [2]

BioPerine® – an essential ingredient for faster absorption.
Now – this combination has an excellent effect against swelling.
However, inflammation is the #1 problem in auto-immune forms of arthritis.
When it comes to osteoarthritis (the most common form) – they're not that effective.
They have no effect on damaged cartilages, which is the cause behind OA.
2. Cartilage Helpers
---
Instaflex only contains 2 ingredients designed to improve cartilages:
UC-II® – improves joint stiffness and discomfort. [3]

Hyaluronic Acid – increases joint lubrication and mobility.
Now – Hyaluronic Acid is extremely effective when injected directly into the joint.
But when taken by mouth, it needs a much higher dose to work (around 200 mg).
There are only 5 mg in Instaflex – which is way too little.
As for the UC-II®:
claims to be 2x more effective than glucosamine/chondroitin

promises to help stiffness and flexibility
However – glucosamine's #1 advantage is that it re-builds damaged cartilages.
Since it treats the actual cause behind, it also relieves stiffness and pain.
That's why I personally don't consider UC-II® as good as glucosamine.
---
Conclusion
---
Instaflex has a really good formula overall.
Compared to many joint supplements – it's definitely above them.
But I personally don't consider it the best formula on the market:
mostly based on anti-inflammatory

doesn't repair cartilages (as glucosamine supplements do)
So I personally wouldn't recommend it as my top choice (also considering its super high price).
---
#3 – How To Use It

(10 out of 10)
---
Instaflex looks surprisingly well at this chapter.
1. The Pills
---
This product uses gelatin capsules instead of thick tablets (as many of its competitors).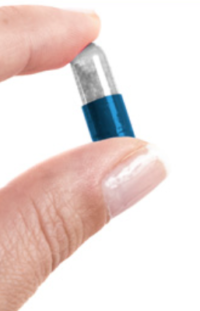 And in my opinion, these pills look great:
average dimensions

light consistency and extremely easy to swallow

blue and transparent coating
Basically – Instaflex's pills are very easy to recognize among a bunch of pills.
They have an original cover in Instaflex's 2 colors: white and blue.
So when it comes to swallowing them – you shouldn't worry at all.
2. The Schedule
---
That's another great chapter for Instaflex.
That's because it has a major advantage here – it only requires one pill per day:
you can take it at any time

it's only recommended to have it with enough water
Most joint supplements require around 2-3 pills per day.
That's not very uncomfortable – but it can't compare to taking only one pill daily.
That's why Instaflex really deserves being praised here.
---
#4 – Results

(7 out of 10)
---
This is one of the most important aspects in any supplement.
And luckily – Instaflex has a lot of real user reviews on Amazon.
For this reason, I tried to analyze them in general – so that you could see the whole picture on this product.
Note: I only considered authentic reviews, not promotional ones.
1. Positive Opinions
---
Instaflex has more than 50% positive reviews on Amazon.
This means the supplement is far from a scam (as some people claim).
Now – let's see what most satisfied customers say about it:
Some claim it really helped their joint pain within a couple of months.

Others say it improved their mobility.

A few others state it did help but not as much as other products.

Some claim it's a good alternative to glucosamine supplements.

Others say it takes time until it works, but it helps in the end.

Basically – I found so many Instaflex satisfied users.
It's obvious that the supplement has its own problems as well.
But in terms of effect, it surely works in some people.
2. Negative Opinions
---
Clearly – there are enough complaints on this supplement.
There are enough people who weren't satisfied in it at all.
So here's what most users complain about:
Extremely unaffordable price.

Doesn't work for damaged cartilages.

Not as effective as glucosamine/chondroitin supplements.

Doesn't work as fast as it claims.

Basically – most negative reviews are related to its poor effect and very high price.
I personally tend to agree with these:
price is indeed way too high

it's extremely hard to afford per month

formula doesn't seem very strong for OA/cartilage damage
So you should definitely check out the negative reviews before deciding on Instaflex.
Considering its huge price – it's worth thinking twice.
---
Conclusion
---
Instaflex has mixed reviews overall (but most of them are positive).
However – the supplement itself works better for inflammatory joint pain than for osteoarthritis.
So I would probably not recommend it:
enough unsatisfied customers in terms of effect

doesn't work as fast as it claims (in 7 days)

extremely expensive
I personally recommend an alternative that costs even $15 and works pretty much the same.
Instead of spending a bunch of money on Instaflex, I would suggest looking into that instead.
---
#5 – Side Effects

(9 out of 10)
---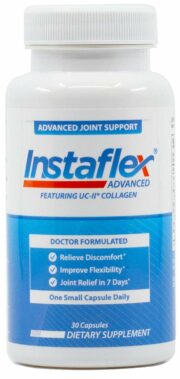 Instaflex seems quite safe from this point of view:
very few complaints about secondary reactions

no 1 stars reviews from this point of view
However – some of its ingredients might have a risk of side effects.
For example, it contains 200 mg of turmeric standardized to 95% curcuminoides:
the average dose I recommend is 100-150 mg

anything above has a higher risk of side effects

turmeric usually produces nausea and digestive issues (as side effects)
Still – I personally couldn't find any complaint of this kind on Instaflex.
That's what makes me quite sure that it's a safe product.
Even so – the risk of side effects still exists, as in every other product.
---
#6 – Price

(3 out of 10)
---
If you ask me – that's the worst thing about Instaflex.
Considering its actual value, I personally believe it's extremely overpriced.
Not to mention that it's a really hard to afford product (on a monthly basis).
1. The Exact Price
---
Amazon has the best price for all Instaflex products.
When it comes to this supplement alone:
Listing price is around $70.

However, there are discounts regularly.

This product costs about $60 most of the times.

Shipping is also free on Amazon.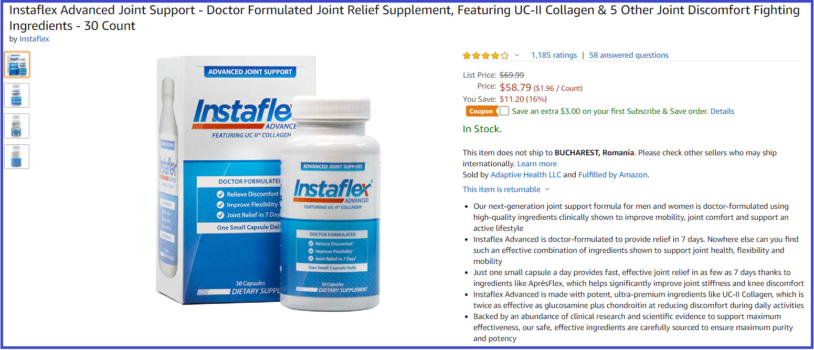 Besides – you can save $3 if you sign-up for auto-shipping (which I definitely don't recommend).
To be honest, $70 (or even $60) per month is extremely expensive.
I personally could never afford buying this kind of product for more than 2-3 months.
It does have a quality and potent formula, that's for sure.
But $70/bottle is way too much.
That especially when there are so many cheaper alternatives.
2. Competitors' Price
---
I will only compare Instaflex Joint Support to my #1 recommended joint product.
I'm talking about Nuzena Joint Support +:

Both have a strong formula with high-quality ingredients.

Their composition is different, but the effect is similar.

Instaflex costs $70/bottle as a standard price.

Nuzena costs $30/bottle as a standard price.

Instaflex's lowest price is around $60/bottle.

Nuzena's lowest price is about $15/bottle.

That's because Nuzena offers serious discounts for larger quantities.

Instaflex only offers a small discount per bottle.

Even if you buy 4 bottles at once, price remains the same.
Basically – the price difference between these 2 products is huge.
There's a $40 difference between their standard prices.
But when it comes to their discounted prices – there's a $45 difference.
That's why I couldn't possibly recommend Instaflex when there's such an affordable alternative.
Nuzena's product is surely not the only cheaper alternative I know.
But it's the cheapest one among high-quality supplements.
That's why I strongly recommend it if you can't afford Instaflex.
---
Conclusion
---
Instaflex costs a little fortune, if you ask me.
And considering its real value – it's totally not worth that.
That's why I couldn't recommend it as a joint supplement in any case.
I personally prefer an alternative that costs even $45 less and has a premium formula.
---
#7 – Availability

(10 out of 10)
---
Instaflex has a pretty popular brand lately.
Maybe this explains why its products are extremely easy to find:
available in most retailers (Amazon, Walmart)

you can also find some in pharmacies

many stores and shops sell them

In fact – Instaflex's official website doesn't sell the actual products itself.
However, it helps you find out the closest store in your area.
It also gives you the chance to buy the products online (all of them are available on Amazon).
So from this point of view – Instaflex may be one of the easiest to find joint supplements.
---
#8 – Instaflex In 3 Ideas
---
Coming up, here's how I would summarize my opinion on this supplement.
1. Potent Formula
---
Instaflex does have a really good composition:
several trademark ingredient

compounds with studies behind

good dosages in most substances
However – it doesn't contain classic joint ingredients (like glucosamine or chondroitin).
According to its description – its compounds work better than classic ingredients.
I personally doubt that, but since there's no study on that – I can't really tell.
2. Only One Pill Daily
---
That's probably the biggest advantage of this product:
you only need to take a pill per day

there's no recommendation regarding the time

you only have to take it with water
Since most joint supplements require up to 3 pills per day, taking only one is surely an advantage.
3. Costs A Little Fortune
---
I personally would never pay so much on a product like Instaflex:
regular price is $70/bottle

you can sometimes find it for about $60
Considering that a bottle is only a monthly supply – its price is astounding.
There are so many quality supplements that cost less than half.
So why spend a little fortune on Instaflex?
Just because it has a famous brand behind? No thanks!
---
My Verdict – Worth Or Not?
---
Short answer: Definitely not.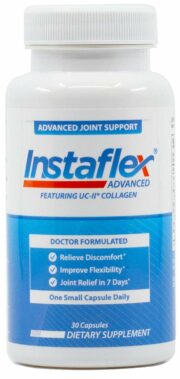 Despite being a quality product in terms of composition – it's way too expensive:
Extremely hard to afford on a monthly basis.

Lowest price is close $60/bottle.

No big discounts when buying several bottles at once.
So price remains Instaflex's biggest and most serious problem.
Besides – I personally don't agree with all the claims it makes:
works in as fast as 7 days

the only product with such an effective combination
It's surely a strong supplement – but I doubt any can work in as little as a week.
Plus, there are so many other joint supplements that help (as much as Instaflex).
And most of them are extremely affordable.
So I would surely not buy this supplement, if I were you.
What do I recommend instead? My #1 pick is a product called Nuzena Joint Support +:
extremely strong ingredients in high dosages

lowest price on the market (up to $15/bottle)

free shipping worldwide

installments payment available
I personally don't know any better supplement than this one (in terms of offer and quality/price).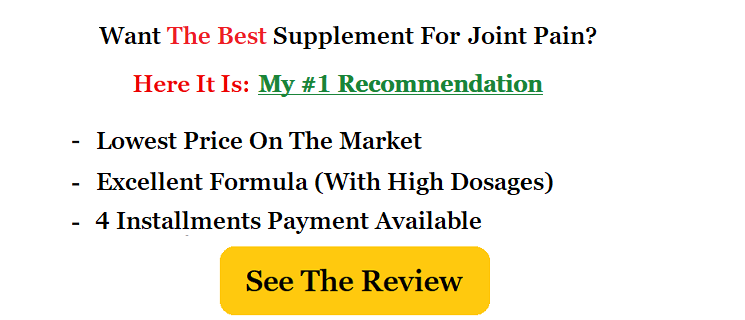 References:
1 – https://www.ncbi.nlm.nih.gov/-pmc/articles/PMC6317057/
2 – https://prosperasupplements.com/-apresflex