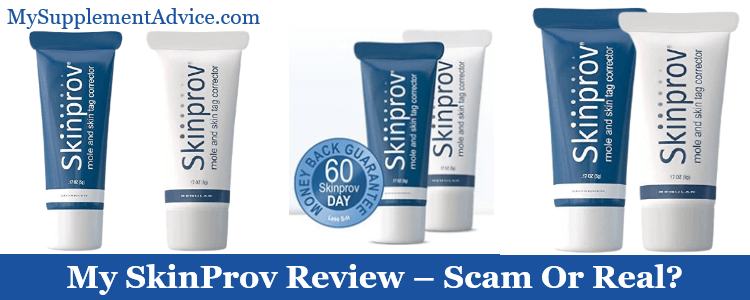 It's time for my SkinProv review – which looks like a very familiar product.
But is this actually good? Or it's only another scam?
Honestly – I would go for the second option:
doubtful patterns

no user reviews

hidden formula
Well, I did my research and I will tell you what I found out about this product.
Note: This review is based on my opinion + research on SkinProv.
Review Summary
---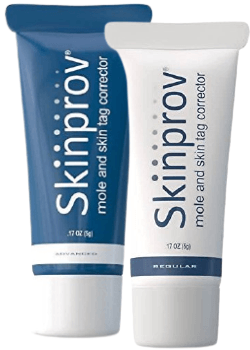 Full Name: Mole & Skin Tag Corrector by SkinProv
Product Type: Skin Moles & Tags Remover
Best Actual Price: Starts at $30 (Currently Unavailable)
Cheapest Place To Buy: Amazon
Designed For: Removing skin tags and moles quickly
My Rating: 1 out of 10
Recommended?: No – it seems to be a bad product in many aspects:
no official info

unavailable at the moment

no full list of ingredients
I strongly suggest you skip this product and go for the best skin moles & tags remover I know instead.
What I Liked About It
---
Contains a herbal extract

Seems to have its own official website (but it's not a professional one)
What I Didn't Like About It
---
No full list of ingredients disclosed

No company info available

Lacks some important details

Dysfunctional website

Pricey for its credibility

Not available at the moment

Looks like an imitation of another product (HaloDerm)

No authentic customer reviews

Biased 3rd party websites
---
SkinProv In A Nutshell
---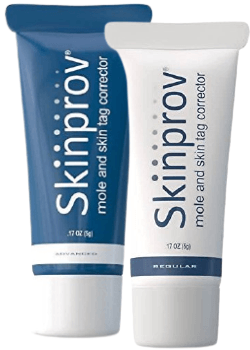 This product doesn't feel right from so many points of view.
After analyzing its different aspects, I would say that it fits into one of these 2 scenarios:
EITHER comes from an illegitimate brand

OR it's only made to get money from people
Given that its credibility is questionable, both options are totally possible.
And since it's the kind of product that disappeared overnight, things don't look too good.
Plus – here are my questions about this cream:
What is the true identity of the producer behind SkinProv?

Are there any chances that it's a re-branded scam?

Do they hide authentic customer reviews?

What could be the major reason why this product is currently unavailable?
Still – getting answers to these questions won't make the product better.
Because in general, it looks pretty bad, honestly.
So overall – I strongly advise you to not trust a product like this one.
Plus, it also follows the same scam patterns as other products I reviewed (Dermabellix is a good example).
There are a lot of products out there that can help you with your tag and moles.
Some are a lot more credible, legit, and proven to be effective.
So it's better to save your money by looking for better investments.
Because overall – I would definitely not recommend Skinprov.
---
#1 – Claims & Producer
---
The lack of official info made it hard to describe this product.
But I will try to share with you some things I found:
how it works

what company is behind it

which skin issues it targets
1. Claims
---
There's a website connected to this product – but I'm not sure if it's the official one.
From what I found out there, this treatment claims to be painless and quick.
Other than that – it also promises additional things:
easy to apply

no scarring

cheaper than surgery
Honestly – these claims sound too generic and fake, so they're most likely so.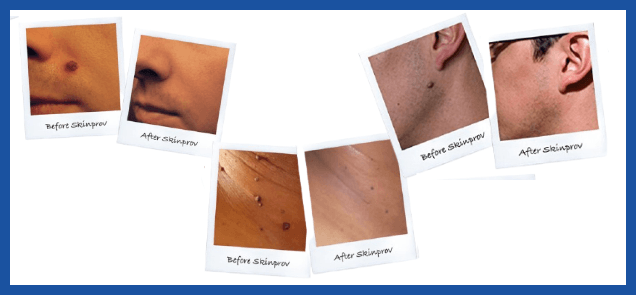 I also encountered on some 3rd party websites that this product has 2 versions:
Regular – removes 4 moles in 1 week

Advanced – gets rid of 10 moles in 8 hours
To tell you honestly, it looks very much like HaloDerm.
Now, its mechanism of action was explained very briefly:
penetrates into the root cause of tags and moles

break the cells responsible for their growth
Once again, these claims seem very questionable.
They have no backup, clinical evidence, or studies behind them.
So for me, it's very hard to believe that a product that looks like a scam can actually follow all these promises.
2. Company Behind
---
Basically – there's no brand connected to this product.
I did indeed find what seems to be an official website.
But after taking a closer look at it – I can tell that it's not really working:
only some brief product descriptions of the product

no additional details

product links directly to a completely different website (selling another product)
So my conclusion is that this company doesn't exist anymore.
If you ask me, it might have closed down, especially because of the bad products it was selling.
So that's some pretty good news, honestly.
---
#2 – Formula (6 out of 10)
---
Again – the website connected to this product offers some brief descriptions.
So don't expect to see the full list of ingredients here:

Basically, there are only 2 compounds given out.
Now, the ingredients themselves are pretty good:
based on natural extracts

pretty common in tag/mole removers
However – the problem is that there is very little info about the formula itself.
Let's take a look at the compounds mentioned:
1. Sanguinaria Canadensis
---
Since it's a plant extract, you can expect some good benefits from this ingredient:
reduces the growth of warts, moles, acne, tags, etc. [1]

provides antioxidants

has some anti-inflammatory properties
If you ask me, this ingredient is very promising and it can definitely help with skin tags and moles.
However – if it's used alone, I don't think it's enough.
I would say that it works much better in a specific combination.
2. Zinc Chloride
---
This compound is the second and the last ingredient mentioned:
acts as an antiseptic

irritates the area in order to remove blemishes

has some antimicrobial properties [2]
Obviously – after the removal of skin tags or moles, there will be wounding or exposed flesh.
So the role of this compound is to prevent the area from getting infected.
And additionally, it also helps in the actual process of removing the mole/tag.
---
Conclusion
---
This product has 2 compounds that work simultaneously:
remove the skin tags/moles

provide an aftercare healing
However – the lack of a full list of ingredients is a red flag for me.
Honestly, I don't think a product like this can be trusted.
So if you ask me, I just couldn't recommend it, that's all.
---
#3 – Consistency & Dosage (2 out of 10)
---
Based on my careful research, I couldn't find any authentic customer reviews.
That's why it's hard to get an idea about its scent, color, and texture.
Luckily, there's a brief instruction on how to use SkinProv on the website connected to it:
Wash and clean the area that will be treated.

Dispense a small amount of product on your finger/cotton swab.

Apply it directly on the skin tags or moles only.

Wait for 20-30, minutes then wash with warm water.

Leave the area for 24-48 hours to see the results.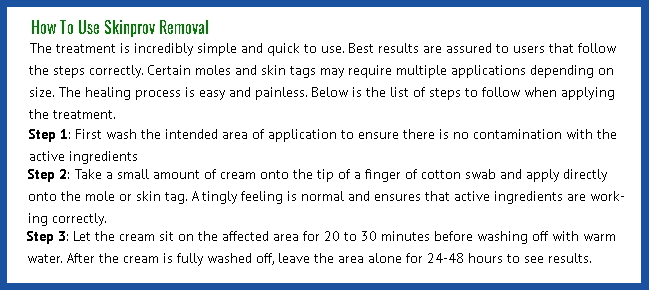 There's no info on whether it should be used daily or not (until the tags/moles are removed).
But based on the directions, I assume that you only apply it once, then wait for the results.
Honestly –I don't think you will see any results in 1-2 days with only one application.
That's I advise you to save your energy and money.
---
#4 – Results

(1 out of 10)
---
To judge a product fairly, I always look for its customers' opinions.
The goal is to see how a certain product works for different skin types and conditions.
Note: I only consider authentic reviews, not promotional/fake ones.
1. What People Say
---
As I said, there are 1-2 3rd party websites that reviewed SkinProv:
reviews were very general and brief

none of the writers had actually tried the product
Other than that – there are no customer reviews anywhere.
I checked the retail website (Amazon) where it was sold and I couldn't find any.
Honestly, it looks like its opinions and reviews about it were deleted:
no reviews left

several user pictures are still there
Basically – if the product had no user reviews, what about those pictures?
It's clear they were added by some people who had actually tried it.
That's why I'm guessing the actual reviews were deleted (which is another red flag).
---
Conclusion
---
Overall – I couldn't recommend a product like this.
Whether it's still available or not, it still has some very doubtful features.
I don't think it's worth the risk especially, to be honest
So if you really want to remove your skin tags and moles, just go for a high-quality alternative.
---
#5 – Side Effects

(5 out of 10)
---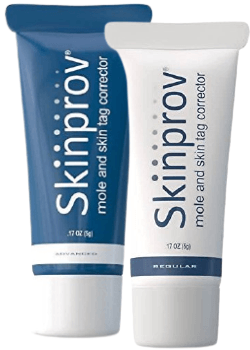 I didn't encounter any complaints about the side effects of this product.
But that's because there aren't any customer reviews available.
Honestly – this is not a good sign for me, as this product can be dangerous.
And this kind of cream can have one of these 2 results:
EITHER it's harmful and too concentrated (less likely)

OR it's too weak and it has no effect (more likely)
Still, this cream lacks credibility – so I wouldn't risk giving it a try.
That's why I advise you to stay away from it as well, it's simply not worth it.
---
#6 – Price

(1 out of 10)
---
To be honest – I don't think any price is low enough for this product.
Since it's most likely a scam – even $1o would be too much.
1. The Exact Price
---
There's only one website where the actual price is mentioned.
But I'm not sure if that's available for all sellers or not.
From what I saw, there are 2 versions:
Regular costs $29.95

Advanced costs $37
Now, these prices don't seem too high at first sight.
But once again – given the terrible quality of this product, they are definitely way too high.
Plus, I checked for the product on Amazon, but it's currently unavailable.
And obviously, there's no info on whether it will ever be available again or not.
Honestly, this makes me even more convinced that it's a scam.
2. Competitors' Price
---
I want to introduce you to my #1 recommended skin tags & moles remover.
I'm talking about a product called Amarose: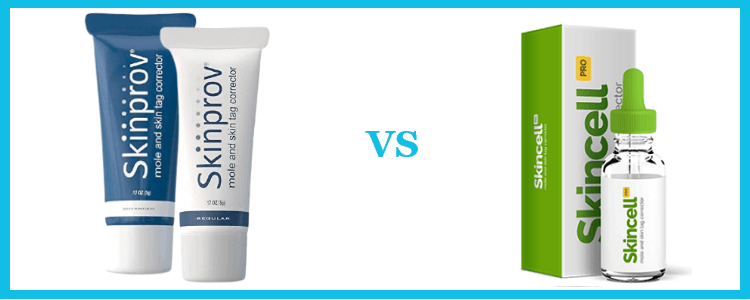 Amarose has some natural ingredients.

It is proven to be effective and real by a lot of customers.

SkinProv has only 2 main compounds.

It has no solid info about it or its producer.

Amarose is still available and can be bought for as little as $39 ($60 normally).

SkinProv is currently unavailable for an unknown time.
All I can say is that Amarose is way better than SkinProv.
Not only does it works for a lot of people, but you can also find the vital info you need.
Now – these 2 products have some common ingredients.
But SkinProv lacks lots of other info when it comes to its full formula.
That's why much better to invest in a trustworthy product (like Amarose is).
---
Conclusion
---
SkinProv is definitely not a good option, despite being quite affordable.
But even if you wanted to buy it – you still couldn't do it.
Since there's no trace of this product anywhere, it's impossible to buy it.
Honestly, this sounds like some pretty good news to me.
---
#7 – Final

Conclusions
---
Here's a summary of my opinion on this cream.
1. Weak Formula
---
This product has only 2 ingredients that can ideally work simultaneously:
to remove skin tags/moles

to soothe and heal the exposed area (after removal)
Honestly, those 2 compounds are pretty good.
But there's no solid info on the entire formula, so it's not really reliable to me.
2. Insufficient Details
---
How can you trust a product if it lacks the following info?:
company/brand

authentic customer reviews

full list and ingredient dosage

official website
Even though there seems to be a website connected to it, it doesn't seem very reliable to me.
The essential info is just briefly mentioned and the other links are not working.
3. Quite Pricey
---
I only saw the actual price of the product on a 3rd party website.
And honestly speaking, it's far from being worth it.
Now – the product is currently unavailable everywhere.
In my opinion, there must have been significant complaints from its customer.
So that's probably why it disappeared overnight.
---
My Verdict – Worth It Or Not?
---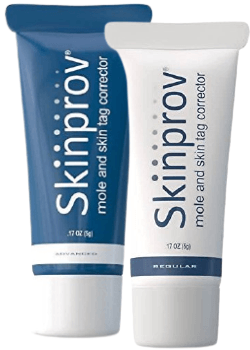 Short answer: Definitely not worth it.
It looks completely like a scam/rip-off:
No company info/website

Full list of ingredients is hidden

Currently unavailable

Quite expensive for its value

No authentic customer reviews
You should know by now that a product that is not available anywhere is a bad sign.
And SkinProv is one of the negative examples.
That's why there's no way to trust it in the long run.
In fact, there are a lot of high-quality products out there that won't leave you doubting.
And if you ask me, I recommend Amarose:
Potent formula and natural/plant-based ingredients

Gentle, effective and fast-acting

Removes skin tags and moles successfully

Trusted and reputable brand

Minimal risk of adverse reactions
If you take the time to read my review on Amarose, you will understand why I don't recommend Skinprov at all.
Overall – Amarose is worth your money, time, and effort.
That's why it remains my #1 pick.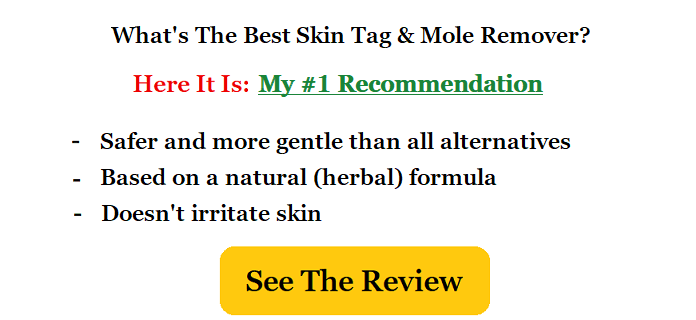 References:
1 – https://www.ncbi.nlm.nih.gov/pmc/articles/-PMC5299188/