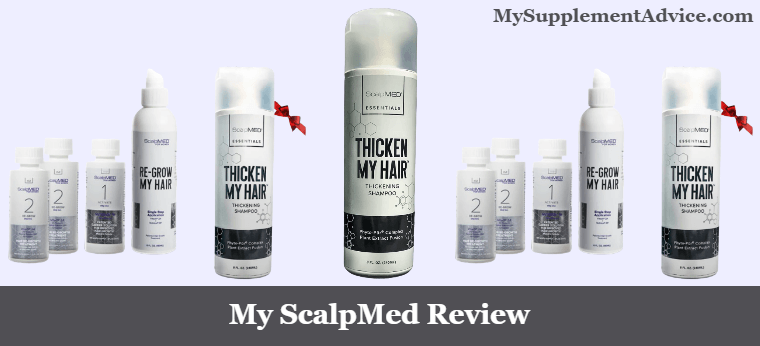 It's time I gave you my ScalpMed review – a hair treatment that promises to treat hair loss:
extremely expensive

highly praised

results take a long time to show up
I'm sure we all have the same question – is this hair kit worth the immense price tag?
Do its ingredients work?
Find out the answer to these questions (and many more) here.
Note: This review is based on my opinion + research on ScalpMed.
Review Summary
---
Full Name: Patented Hair Regrowth System For Women by ScalpMED®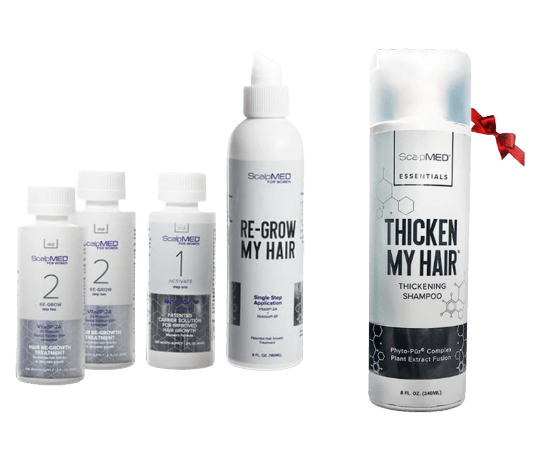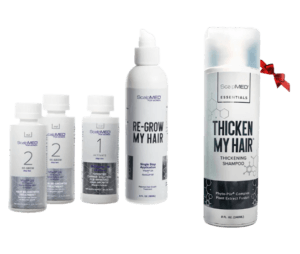 Product Type: Hair Treatment
Best Actual Price: $99.95 (with subscription)
You can't purchase any of the products without a subscription, which is annoying.
Cheapest Place To Buy: Its Official Website
Designed For: Combating hair loss and renewing hair – it will also:
thicken

nourish

stop thinning
My Rating: 6.50 out of 10
Recommended?: Not really – it's not exactly impressive:
undisclosed formula and ingredients

very expensive

results take a while to show up
Because of this, ScalpMed would certainly not be my first choice.
Instead, I would go for something more affordable that really works.
Besides, that alternative is customized for your own needs, which is a lot better.
What I Liked About It
---
Works against against hair loss

Contains Minoxidil, an FDA-approved ingredient for hair loss

Advertised ingredients are pretty good

Seems to be highly praised by some previous users
What I Didn't Like About It
---
Certain ingredients from its formula are hidden

Claims to be FDA- approved when only one ingredient actually is

User reviews seem biased

Many complaints on intense side-effects

Very high price tag

You can only buy it if you sign up for a subscription
---
ScalpMed In A Nutshell
---
To say that ScalpMed is an expensive hair treatment is an understatement.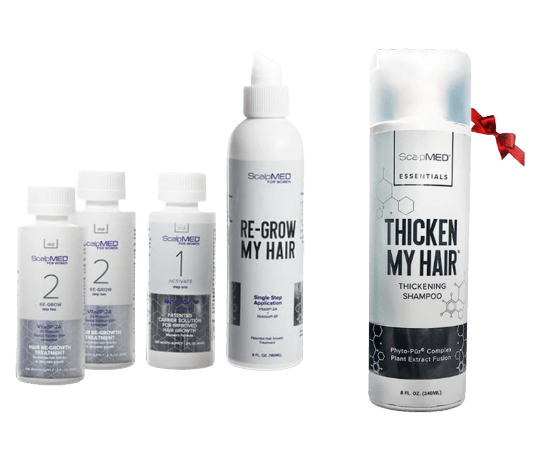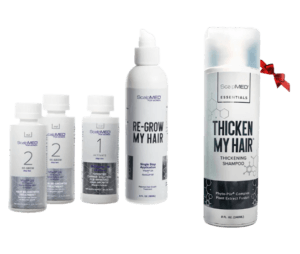 It claims to combat hair loss & renew your hair.
Now, it allows you can choose between 2 options:
Patented Hair Regrowth System For Women

Patented Hair Regrowth System For Men
They are extremely similar – but the ingredients' concentrations are a bit different.
For this review, we're going to refer to the women's version, since it's more popular.
Now, although this treatment looks alright at first sight…
It also comes with a few drawbacks:
significant results only appear after 4 months of use

full ingredient list is not disclosed
Because of this, it's difficult to see whether the price is justifiable.
Besides, some ingredients mentioned in their "Benefits" tab are not present in the bits of information regarding the formula.
This confusion leads to the assumption that this product is overpriced for no real reason.
Plus, the user reviews on the official website seem a little biased.
While ScalpMed might be a good choice, the company is not very transparent.
Not to mention that the side effects mentioned in the FAQ section are quite worrisome.
When it comes to such high prices, it's important to know as much as possible about the product.
So I would say there are definitely superior options.
That's why I wouldn't go for ScalpMed.
---
#1 – How It Works & Producer
---
In this section, we'll speak about the general information regarding ScalpMed:
what it does

how it plans to work

who the producer is
1. How It Works
---
The official website claims that this treatment will "expedite hair growth, stop thinning and provide the essential nutrients that your hair craves".
As such, it's pretty straightforward when it comes to its goals:
reduce hair thinning

thicken

nourish

In essence, this kit claims to be everything you need for your hair loss.
As much as it promises to renew your hair, it doesn't make promises that sound outlandish.
This is pretty good, since most similar products resort to such methods.
Instead – Scalp Med:
discloses that it cannot revive dead follicles

says that at least 4 months are needed for significant changes
Although honesty is good, the latter statement is a let down.
It's pretty obvious that ScalpMed sells expensive kits, so having to use them constantly for 4 months is a lot.
Otherwise, it's pretty straightforward – your hair should enter a new stage of growth.
2. Company Behind
---
This system is manufactured by a company known as ScalpMED.
Here's what I can tell you after some quick research:
they specialize in hair products (scalp treatments, hair sprays, conditioners, hair supplements)

their products are specifically made for men and women (separately)

a live chat is provided for customer support

it's said that their products are FDA approved, but only Minoxidil (ingredient) is
They also have a page dedicated to results and reviews, which were supposedly sent by customers.
However, they are all positive, so make of that what you will.
Plus, the fact that their products are not endorsed by the FDA also raises eyebrows.
Other than that, they also have a pretty informative FAQ section.
If you are considering purchasing from ScalpMED, I would recommend reading their FAQ.
That's about everything worth noting.
I wouldn't say this company is the most trustworthy, but they definitely don't look like a scam.
---
#2 – Ingredients

(7 out of 10)
---
It's time to examine ScalpMed's formula.
We will look at what is in their Patented Hair Regrowth System For Women.
1. The Components
---
Unfortunately, the full ingredient list is not disclosed anywhere.
As such, we can only look at the ingredients they mention in their "Benefits" section of the product.
Let's see what we have there:
ß-Sitosterol – is a DHT blocker.

Zinc – essential for hair regrowth.

Biotin – stimulates keratin production [1].
Niacin – increases the suppleness of hair [2].

Selenium – regulates hair growth.

Saw Palmetto Extract – acts as a DHT blocker.

Horsetail Extract – improves the elasticity of hair.

Green Tea – supports healthy hair growth [3].

Linolenic Acid – repairs damaged hair.

Turmeric Extract – prevents hair loss [4].

Bamboo Extract – improves blood circulation in the scalp.

Pygeum Africanum – blocks DHT.

Minoxidil – helps hair grow [5].

Although these ingredients sound really nice, there is no way to know if they're really inside the products.
Again, this is because we don't have access to the actual formulation.
Not only that, but we also don't know the individual dose of each ingredient.
This makes it difficult to assess how potent the formulation actually is.
Therefore, it's tough trying to form an opinion when there is so much uncertainty.
Plus, there's also the fact that they claim to be FDA-approved…
When in reality – only Minoxidil is.
---
Conclusion
---
It's difficult to say how good or bad the formula of ScalpMed really is.
That's because we don't know the actual ingredient list.
As such, we don't know how much of what is presented is really in the formulation.
Of course, the ingredients mentioned in the "Benefits" tab are pretty good.
But we can't be sure of their presence.
Because of this, I advise you to go for a product that is more straightforward in this aspect.
---
#3 – Smell & Texture

(8 out of 10)
---
In this section, we will look at the scent and consistency of ScalpMed.
1. Smell
---
In terms of scent, there really aren't lots of people mentioning this aspect.
I could find about 3 user reviews talking about this:
smell is fresh

smells good

doesn't smell at all
That's what I could gather from them.
Overall, they seem to get along with this characteristic of ScalpMed.
2. Texture
---
Unfortunately, since the official website is the only source of user reviews for ScalpMed…
I couldn't find any reviews talking about the consistency of the products.
That's a shame.
It's also part of the reason why it's good for a product to be available on several websites.
You simply have more room for reviews that are more diverse.
As such, this section remains inconclusive because of a lack of evidence.
---
#4 – Results

(7 out of 10)
---
If you want to assess the efficacy of a product, look at its user reviews.
Looking at other people's experience will help you figure out if it's worth it.
Now – let's see what people have to say about Patented Hair Regrowth System For Women.
Note: I only considered authentic reviews, not promotional/fake ones.
1. Positive Reviews
---
As I previously mentioned, the official website is pretty much the only source of user reviews.
This is not ideal, since more often than not, they tend to be very positive.
Normally – I would prefer a less biased website for analyzing user feedback.
But this time we're going to deal with what we have.
Let's see what people enjoy about the women's kit:
People said they noticed their hair growing at a higher rate.

Some also claimed their hair has thickened as a result of using the kit.

Customers also mentioned their bald spots were gone.

Lots of people were saying this product also solved their hair loss issues.

A few also said it reduced hair breakage.

Most user reviews speak of amazing hair growth:

In truth, most reviews bring up the same advantages over and over.
They focus on the spike in hair growth and how thick their hair became.
To be fair, this is to be expected, since it's a product tailored specifically towards this end.
So, judging by the reviews available, it seems like ScalpMed is working.
At least if we are to assume that all the user reviews are authentic.
2. Negative Reviews
---
When it comes to negative reviews, the official website is seldom the place you should check.
The same goes for ScalpMed.
Most of the reviews are praising the products a lot, so it's tough trying to find something remotely negative.
In fact, the lowest review gives 2 stars and still claims to have seen some results.
However, the reason they are not giving more stars is because the product does not work fast enough.

So, in a way, it's still a somewhat positive review.
I could find other such reviews, but most of them mention ScalpMed still working to some degree.
I never saw anyone mention a side effect that made them stop using the product.
Usually, you tend to stumble upon such experiences.
Another "negative" review was this one, mentioning that ScalpMed failed to regrow all thinning areas:

It seems like such reviews is all the official website has to offer.
One could argue that this makes these reviews seem inauthentic.
Most products are also met with at least a bit of negativity.
So you get to decide whether you want to trust these reviews or not.
---
Conclusion
---
All in all, the user reviews on the official website are pretty consistent.
That is to say that most of them tend to praise the product at least to some degree.
So there are no real negative reviews, which makes it difficult to assess the pros and cons of the product.
All in all, the opinions there are not very enlightening.
You don't get to know the less desirable aspects of ScalpMed, which are also important.
Overall, I would look for a product that lets you see both sides of the coin.
---
#5 – Side Effects

(4 out of 10)
---
In terms of side effects, the user reviews are not very helpful.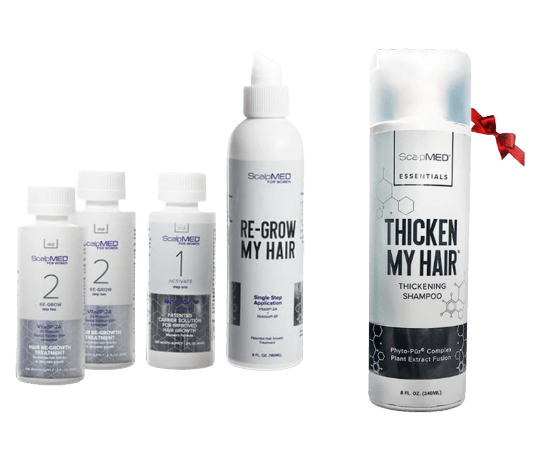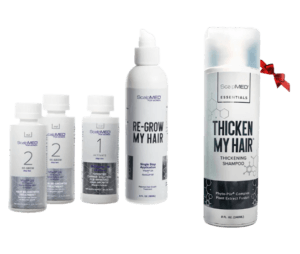 Still, the FAQ page provides a list of potential issues that ScalpMed might create.
Let's go through them:
rapid heartbeat

chest pain

sudden unexplained weight gain

scalp irritation or redness

unwanted facial hair growth

dizziness

swelling in the hands or feet
They mention that if you experience any of these side effects, you should stop using ScalpMed and immediately speak to a doctor.
Now, they don't say that everyone runs the risk of encountering these issues.
However, the fact that they're a possibility is pretty concerning.
These are pretty intense side reactions.
Especially considering that this is a kit meant to be used on your head in order to aid hair growth.
Personally, I would recommend going for something much safer.
---
#6 – Price

(3 out of 10)
---
Surely enough, price cannot be ignored when considering a purchase.
When it comes to this aspect, ScalpMed is quite expensive.
1. The Exact Price
---
As I mentioned at the beginning of this review, ScalpMed is definitely up there in terms of pricing.
It also has a seemingly permanent discount, which means that the full price is even more extravagant.
Regardless, let's see what the official website has to say:
costs $114.95 for a 2-month supply system

subscription allows you to get it for $99.95

no additional discount for purchasing multiple systems at a time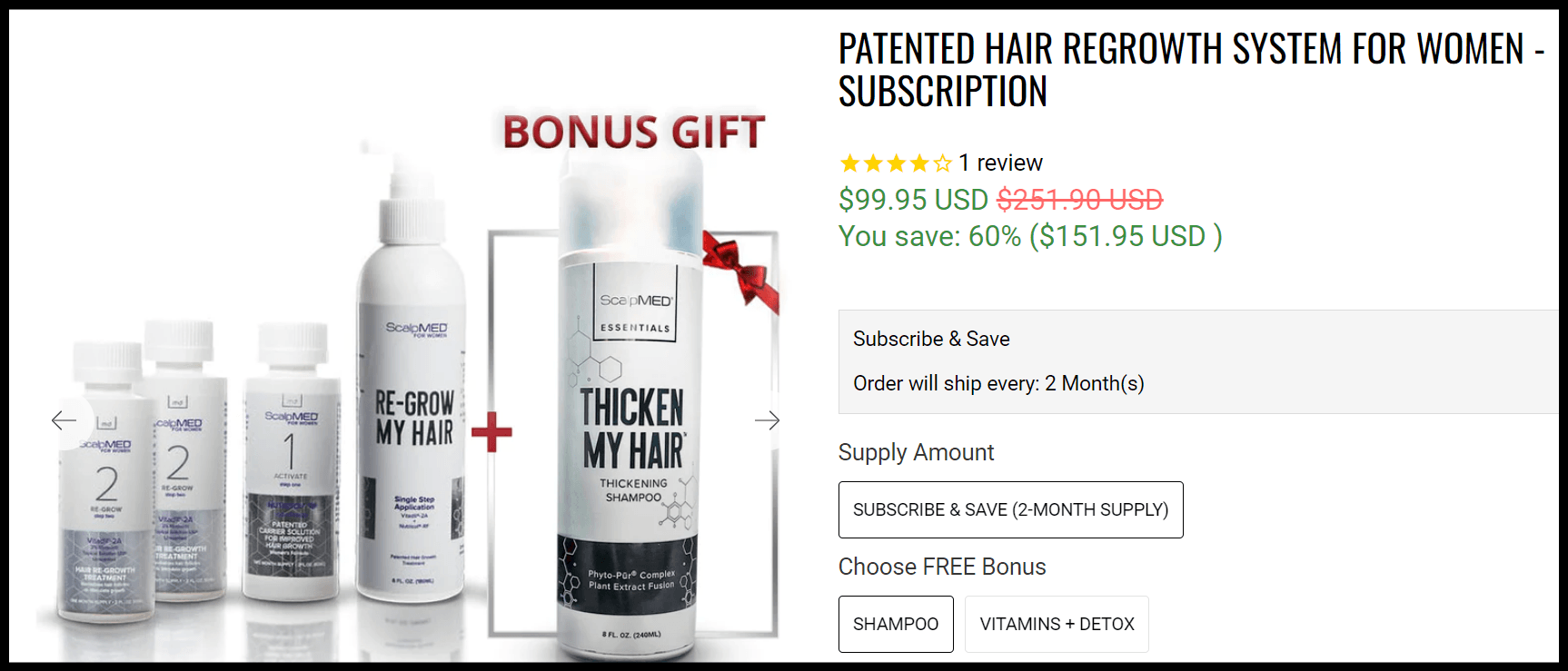 I wouldn't say that the subscription is necessarily worth it.
The kit is still expensive even with the additional discount, so it doesn't make a ton of difference.
Plus, you should be sure that the product will really work before committing to a subscription.
This is all to say that no matter how you look at it, ScalpMed is definitely going to break the bank.
Besides, it's not normal to be forced to go for a subscription.
Many products give you the chance to subscribe (for a better price).
But they also allow you to go for a month supply only.
On the other hand, ScalpMed allows you to make a purchase ONLY if you subscribe for a monthly delivery.
Honestly, that's not fair at all and it's a big question mark.
I would surely not buy a product that comes with this requirement.
2. Competitor's Price
---
Since ScalpMed is so expensive, surely not everyone will have the money to afford it.
For this reason, I have a much better option for you.
Let me introduce you to my top recommendation for hair growth.
It's a personalized product made by Happy Head:

Unlike ScalpMed, my recommendation uses a topical version of Finasteride.

This means that Happy Head doesn't cause the usual (sexual) side effects.

ScalpMed contains a lower dose of Minoxidil, so Happy Head is also more potent.

It's also personalized and created separately for each user.

Due to this, it's much more effective in terms of combating hair loss & stimulating hair growth.

Not to mention that Happy Head is also more affordable (despite its higher quality).
As such, I'm strongly recommend going for Happy Head, as it's a much better deal.
You simply can't pass up on better quality & results, especially when they also come at a lower price.
Plus, each bottle is customized to meet your specific needs.
That's a pretty significant advantage.
---
Conclusion
---
To conclude this section, it's no secret that ScalpMed is quite out of reach for many people.
To put it lightly, it certainly doesn't come at an affordable price.
Besides, since there's so much uncertainty regarding its formula…
We can't even be sure that its price is justified.
Overall, I would definitely recommend looking into something much more potent.
Higher standards are necessary when it comes to such expensive products.
---
#7 – Final Conclusions
---
Let's summarize the main ideas regarding ScalpMed.
1. Inconclusive Formula
---
As I said earlier in the review, the producer does not disclose the ingredient list.
This comes with multiple issues:
uncertain whether the formula justifies the high price

unclear how many active ingredients are present in the formulation

no clue what the individual dose of each component is
This is a pretty significant issue, especially for a product this expensive.
Maybe a full ingredient list would have helped more people give in and buy the kit.
It's important to know what you're getting.
2. Lack Of Negative Reviews
---
As I said, ScalpMed only sells on its official website.
This means that they are also the sole source of user reviews.
The issue with that is that most reviews praise the product.
I couldn't really find anyone complain about a single side effect, which is rather suspicious:
ScalpMed is not exactly a new company

so they should definitely have some negativity as well
Regardless, no negative reviews means no way of knowing the risks of these products.
While the company gives a list of potential adverse reactions, it's not the same.
This calls into question the authenticity of their user reviews.
3. Exorbitant Price Tag
---
Naturally, the huge price tag is a significant turn off.
It's way too much to spend around $100 every 2 months.
Especially when there are definitely better options out there (that are much more affordable).
Even considering the permanent discount, the price is still too high.
And given the lack of details regarding formulation, we can't even know if it's truly worth it.
---
My Verdict – Worth It Or Not?
---
Short answer: I don't think so.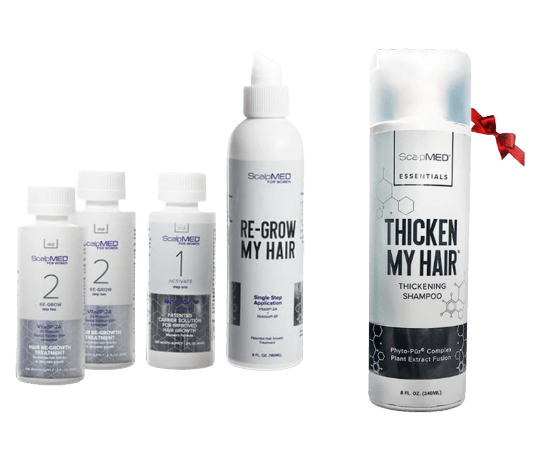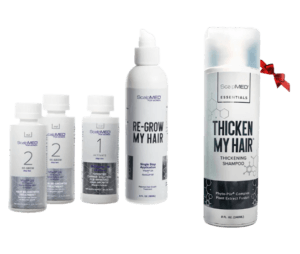 It's definitely not the best choice:
Hidden ingredient list.

Advertised ingredients are pretty good, but nothing ground-breaking.

Possibly fake user reviews on the official website.

Long list of intense side effects.

Extremely expensive.
To be fair, it's not the first choice I would consider.
It's simply too expensive and doesn't seem to be special enough to justify the money spent.
If one is to spend a large sum of money on a hair loss product…
It should be something worthy of that price.
For this reason, I think you should consider Happy Head.
It's the best topical product for hair growth:
works extremely well for hair loss

based on a topical version of Finasteride & Minoxidil

customized for every specific user

doesn't cause the regular side effects

very effective in terms of boosting hair growth
Therefore, Happy Head is a much better choice in this context.
It also comes with less risks, since topical Finasteride doesn't bring the usual side effects.
So you're getting enhanced results at lower risk!
That's what makes Happy Head amazing.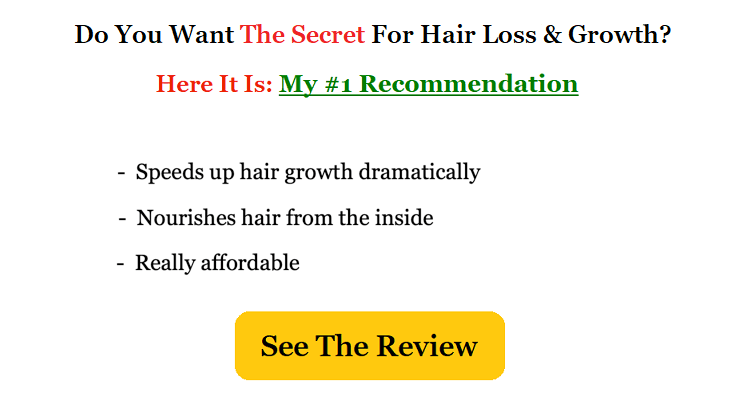 References:
1 – https://pubmed.ncbi.nlm.nih.gov/-28879195/
2 – https://pubmed.ncbi.nlm.nih.gov/-17168873/
3 – https://pubmed.ncbi.nlm.nih.gov/-17092697/
4 – https://pubmed.ncbi.nlm.nih.gov/-21756154/
5 – https://onlinelibrary.wiley.com/doi/-full/10.1111/srt.12827