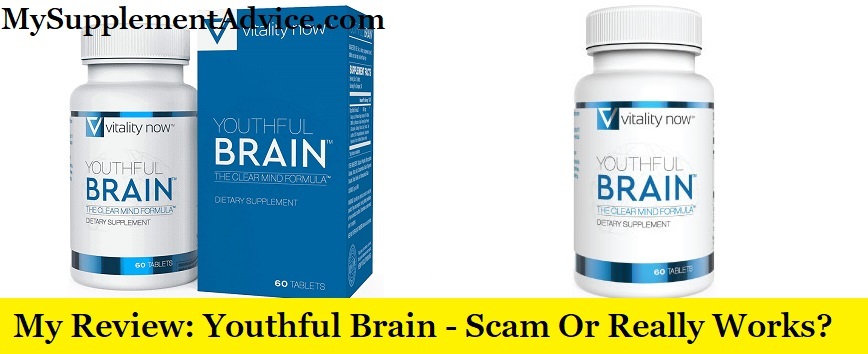 It's time to review Youthful Brain by Vitality Now – a cognitive product that looks quite questionable:
unclear formula

very high price

potentially dangerous
So could this supplement be a scam?
And is it worth buying – despite its huge cost?
I tried to dig really deep into it, so here's the truth I discovered about it (+ video).
Note: This review is based on my opinion + research on Youthful Brain.
Review Summary
---
Full Name: Youthful Brain by Vitality Now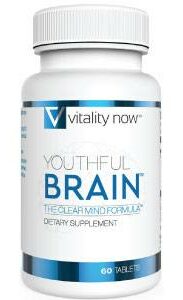 Product Type: Cognitive supplement
Best Actual Price: $65/bottle
Cheapest Place To Buy: Its official website
Designed For: Memory and brain health support – it claims to:
boost mental clarity

reignite an aging brain

support optimal brain function
My Rating: 4 out of 10
Recommended?: Certainly not – it's not worth it at all:
weak formula with no doses given out

high risk of side effects

very expensive
If you want a better choice, I recommend a cheaper product with a much stronger formula.
What I Liked About It
---
Only requires 2 pills/day

Many authentic customer opinions available online

Some users were really satisfied about it

Easy to find in big retailers
What I Didn't Like About It
---
Most ingredients are listed together in a blend (no individual doses)

Vitamin B12 is severely overdosed

Pills are pretty thick and large

Enough complaints about its price/effect

High risk of side effects

Very expensive overall
---
Youthful Brain – A Quick Overview
---
Vitality Now's supplement isn't a classic nootropic.

That's because it's mostly designed for memory and attention – not for anxiety, cognitive development, etc.
But other than that, it's not an amazing product.
And it all starts with its formula:
It doesn't give out the exact quantity of each ingredient.

Instead, they're labeled together as a mix.

We are only told the overall quantity of the mix.

But even that one is pretty low (for 4 different ingredients).
So given this major problem, it's obvious that Youthful Brain isn't a high-quality supplement.
If it was – it would surely have a more clear formula (and higher doses probably).
And obviously, it doesn't look good from other points of view either (price, side effects, feedback).
That's why it's not a supplement I would recommend right now.
---
#1 – Claims & Producer
---
I will start by giving you some general info on this product:
how it works

what kind of issues it's designed for

who is the producer behind it
1. Claims
---
According to its official description – Youthful Brain brings "time travel in a capsule":

In other words – it's meant to maintain a healthy and fresh brain.
It also claims to have several "bright benefits":

Now – given the significant issues of its formula, I doubt these claims are true.
Youthful Brain surely helps in some degree.
But it's definitely not better than many cognitive supplements.
So I personally cannot guarantee that it does what it claims.
2. Company Behind
---
Youthful Brain is made by a brand called Vitality Now:
it's an American company

it has 2 main products (Youthful Brain & Essential Sunshine)

it has a good reputation overall
So in terms of trustworthiness, you can buy from Vitality Now without any worries.
It's not the kind of company that would scam you.
---
#2 – Formula

(4 out of 10)
---
This is by far the biggest issue of Youthful Brain:
extremely weak composition

all ingredients are listed together in a blend

probably very low doses in most ingredients

one compound is clearly overdosed

So judging after its formula – Youthful Brain isn't going to help much.
In fact, it might even cause some serious side effects (due to the overdosed ingredient).
But let's take a closer look at its compounds.
1. Vitamin B12 (1000 mcg)
---
This vitamin is essential in terms of cognitive benefits:
promotes mental strength

increases focus and attention

boosts cognitive function [1]
Plus – Youthful Brain contains the stronger version (methylcobalamin vs plain cyancobalamin).
But that's all the good news.
Because the main problem of this ingredient is its dose.
1000 mcg is way too much – in fact, I haven't seen such a high quantity in any nootropic.
That's why the risk of side effects is extremely high due to this ingredient's dose.
2. Clear Mind Formula (280 mg)
---
Basically – this is a proprietary blend made from several ingredients:
Bacopa Monnieri – it's one of the best herbs for focus and attention. [2]

Phosphatidylserine – improves cognition and memory.

Ginkgo Biloba – it's the bets herb for brain circulation.

Huperzine A – it's an extract meant to improve cognition. [3]
Now – there are 2 main problems about this blend:
NO INDIVIDUAL DOSES

HUPERZINE A NEEDS TO BE CYCLED
Truth is – many products list all their ingredients as a blend in order to hide their doses.
Obviously, that's usually because those doses are extremely low.
Given there are only 400 mg of blend – there could be at most about 100 mg of each ingredient.
And in most of them, 100 isn't enough for any major benefit.
That's why Youthful Brain's formula is very weak and disappointing.
---
Conclusion
---
Overall – this supplement's composition doesn't look good at all:
no doses for most ingredients

one compound is severely overdosed

weak combination overall
So given this formula, I couldn't possibly recommend Youthful Brain.
Not to mention that it's extremely overpriced (considering its value).
---
#3 – Pills & Dosage

(8 out of 10)
---
Here's what you should know about Youthful Brain at this chapter.
1. The Pills
---
This supplement doesn't use the typical gelatin capsules.
Instead – its pills are formulated as tablets, which can be a downside:
thicker larger dimensions

taste can be sour

pretty hard to swallow
I'm personally not a fan of tablets – because they're harder to take on the long term.
2. The Dosage
---
Youthful Brain does have an advantage at this chapter.
That's because it doesn't have a maximum recommended dosage (it's the same as the standard one):
label recommends taking 2 pills/day

there's no maximum serving size
In other words – some products recommend taking between 2-4 pills/day.
Obviously, for best results, you should go for the highest one.
But that's not the case here – since the standard and maximum serving size are the same.
So you can't really question that.
---
#4 – Results

(7 out of 10)
---
In order to show you how this product works – I analyzed its customer feedback.
In this way, you could see whether it helps in reality or not.
Note: I only considered authentic reviews, not promotional ones.
1. Positive Opinions
---
I checked out Youthful Brain's reviews on Amazon.
This product has an average rating of 3.7 stars/5 (and about 180 reviews).
These are not some excellent numbers overall – but they're far from bad as well:
Some say it really helped them with focus.

Others claim it's really effective for a better attention.

Many older customers praise its brain anti-aging benefits.

Basically – this supplement has lots of satisfied users behind.
But it also has enough serious complaints.
2. Negative Opinions
---
Most unsatisfied users criticize this supplement for issues like:
Side effects

Very high price

No mental improvement

There are some users who even call it a scam (because it didn't help and it also cost them a lot of money).
Now – the product is delivered safely and you're not charged more money.
So it's not a scam from this point of view.
But it surely does not work for enough customers.
---
Conclusion
---
Youthful Brain has mixed reviews overall:
some of its users were very satisfied

others said it was totally useless
However, for a cognitive supplement – it's far from a potent (and safe one).
So if you want to spend your money wisely, I recommend a much better alternative.
---
#5 – Side Effects

(4 out of 10)
---
As I mentioned, this supplement has a few problems at this chapter:
huge dose of Vitamin B12

(probably) very low doses in other ingredients
Now – there are 280 mg in the proprietary blend.
But we can't tell which ingredient comes in the highest per cent (not even if they're all equal).
That's why it's really hard to tell about the potential side effects.
However, the only compound with a given dose is Vitamin B12:
there are 1000 mcg overall

that's the highest dose I have seen in a supplement
Now – this vitamin can cause side effects like nausea, headaches, cramps, etc. (but only when overdosed).
Since this is the case in Youthful Brain, it's totally possible.
That's probably why this product has so many complaints when it comes to side effects.
---
#6 – Price

(3 out of 10)
---
Youthful Brain is one of the priciest nootropics I know.
That's mostly because its actual value is way beneath its current price.
1. The Exact Price
---
The easiest way to get this product is through its official website:
Standard price is $64.95/bottle.

Shipping is also free.

Price gets better if you buy several bottles at once.

For a 2 months supply, price is $59.95/bottle.

For a 4 months supply, price is $49.95/bottle.

Basically – the lowest price you can get for this product is $50/bottle.
Given its really weak formula and low doses, that's a literally huge price.
So it's definitely not worth it at all.
2. Competitors' Price
---
I only want to compare Youthful Brain with my #1 recommended nootropic.
I'm talking about a product called Mind Lab Pro: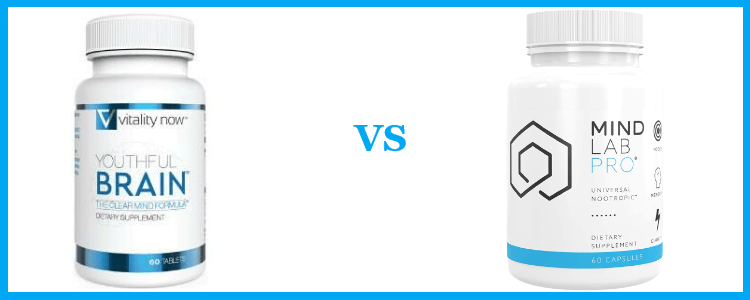 Youthful Brain has a really poor formula (especially in terms of doses).

Mind Lab Pro's ingredients are excellent, on the other hand.

Youthful Brain costs $65/bottle normally.

In the best case, you can get it for about $50.

On the other hand, Mind Lab Pro's standard price is $65/bottle.

If you buy several bottles at once, it's going to cost around $49/bottle.
Basically – Mind Lab Pro has a much lower price and a way better formula.
On the opposite, Youthful Brain is pretty bad at both chapters.
So it's clearly which of these 2 products would make a better choice overall.
---
Conclusion
---
Youthful Brain is definitely not worth the money.
Its formula is pretty poor – but even so, it's extremely expensive.
So it's not a supplement I would recommend at any time.
---
#7 – Availability

(9 out of 10)
---
Luckily, Youthful Brain is a supplement that you can find quite easily.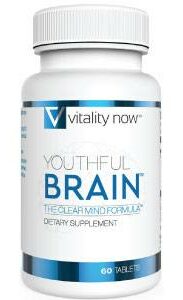 It's mostly sold in 2 places:
Its official website

Amazon
Now – Amazon might seem like the most comfortable option for most people.
However, it doesn't offer any discounts for larger quantities (as the official website does).
Plus – the formula listed in the photos there is a bit different.
That's why I suggest buying from this product from its official website.
I don't recommend it as a nootropic, though.
But if you necessarily want to get it – better go for the official website.
---
#8 – Final Conclusions
---
Here's how I would sum up my opinion on Youthful Brain (in 3 ideas).
1. Terrible Composition
---
As I said – this product has a very poor formula:
most ingredients are underdosed

they don't even have the exact quantity listed

overall formula is pretty weak
Keep in mind that a supplement should give out the doses for each of its ingredients.
If they're listed together as a blend – it's usually a sign the individual doses are very low.
2. Potentially Dangerous
---
Despite most ingredients are underdosed – one of them is actually overdosed (Vitamin B12).
That's why the risk of side effects is very high.
Keep this in mind before going for this product.
3. Very Overpriced
---
Considering what it contains, Youthful Brain is very expensive.
In fact – it's extremely overpriced for its real value.
If you ask me, it should cost anywhere over $25/bottle.
---
My Verdict – Worth It Or Not?
---
Short answer: Definitely not.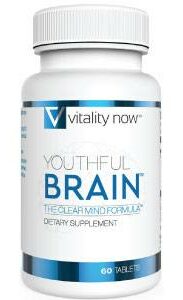 I wouldn't necessarily call it a scam – but I don't see it as a quality product either:
Formula is very unclear (especially in terms of doses).

One ingredient is severely overdosed.

Has a higher risk of side effects than most nootropics.

It's way too expensive overall.
So at this point – there's no way I could recommend Youthful Brain.
Instead, my advice is to stay away from it because there are many better alternative.
My top recommendation is a product called Mind Lab Pro:
excellent formula with high doses

more affordable

effective for both memory and anxiety/depression
Right now, Mind Lab Pro is the best alternative I know in terms of nootropics.
So it's surely what I would go for (instead of Youthful Brain).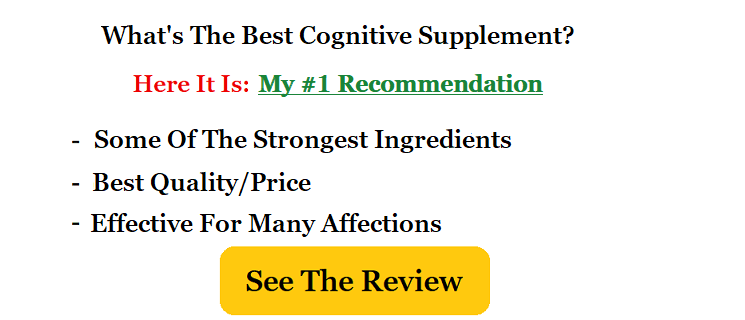 References:
1 – https://www.ncbi.nlm.nih.gov/-pmc/articles/PMC4772032/
2 – https://www.ncbi.nlm.nih.gov/-pmc/articles/PMC3153866/