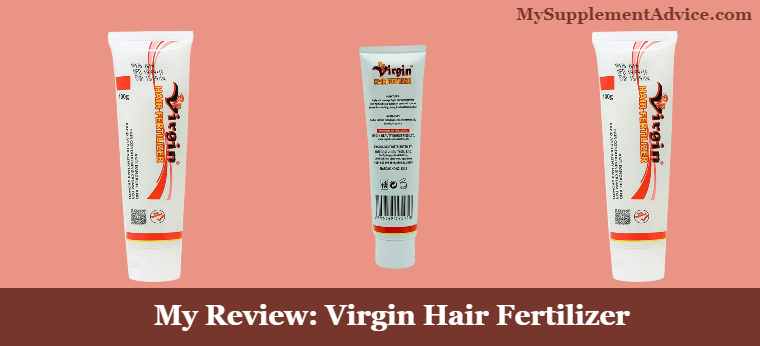 Let's review Virgin Hair Fertilizer – a cream that claims to help your hair grow more:
very inexpensive

weak formula

highly praised
But does it really make a difference?
Will it make your hair grow?
Find out the answers to these questions (and more) in this article.
Note: This review is based on my opinion + research on Virgin Hair Fertilizer.
Review Summary
---
Full Name: Virgin Hair Fertilizer by Virgin Hair Fertilizer


Product Type: Cream
Best Actual Price: $5.77
Cheapest Place To Buy: Amazon
Designed For: Combating hair loss & dandruff.
As such, this product aims to:
provide hydration

prevent breakage

stimulate hair growth
My Rating: 5 out of 10
Recommended?: Not exactly – it's not that impressive:
poor formulation

only effective on African hair

way too greasy
As it stands, it's not a product I would personally trust.
For this reason, I would definitely recommend looking into better alternatives.
For instance, an internal product will surely give you more a potent (yet safer) effect.
What I Liked About It
---
Works pretty well against hair loss (for African hair)

Very emollient

Only a small amount of product is needed

Very affordable
What I Didn't Like About It
---
Unimpressive ingredients

Potentially dangerous components

Very thick & greasy texture

Risky choice for people who don't have coarse hair

Considerable risk of side reactions

Questionable shipping (many complaints)
---
Virgin Hair Fertilizer In A Nutshell
---
All things considered, this cream is pretty underwhelming.


It claims to treat hair loss & stimulate hair growth.
However, it doesn't seem to have a formula strong enough to sustain these promises:
only 4 active ingredients

2 of them are relatively controversial

components are not that effective
As such, quite a few people are having issues with its greasy texture.
This weighs your hair down, eventually causing it to break and fall.
So it's no surprise that a lot of complaints have to do with this aspect.
Plus, I observed the following:
majority of people who liked the cream are African-American

most of the complaints are from people of other races
Therefore, it seems like mainly African hair can brave this cream without risk of breakage.
This isn't ideal, since it limits people who can effectively use this product.
Regardless – its only real advantage is the affordable price tag.
But don't let yourself be fooled by it, since Virgin Hair Fertilizer is definitely not a good treatment.
Because of this, I suggest looking for something much more potent.
I would say paying a little more is worth it, if the product is safer and works as intended.
---
#1 – How It Works & Producer
---
Let's start off with the most general information regarding Virgin Hair Fertilizer:
how it will work

what it plans to do

who the producer is
1. How It Works
---
The packaging claims this cream will give you "healthy, strong and natural looking hair".
To be honest, none of this product's selling pages offer much information about this cream.
In one description, I could find two purposes for Virgin Hair Fertilizer:
anti-dandruff

hair conditioning

Outside of this, there isn't really any other indication of what this product is meant for.
Naturally, the above factors are supposed to favor a "rapid and healthy hair growth".
Other than this, there's no other official information.
On the one hand, this might make this cream seem like a very straightforward product, right?
On the other hand, the lack of information could also be a turn off.
2. Company Behind
---
This hair cream is produced by Virgin Hair Fertilizer.
Honestly, it's a little tough to form an opinion about this company.
That's mainly because there's not much known about it.
There's no official website to help assess the safety of its products or to learn anything about its reputation.
Furthermore, this also means you have no way of contacting the producer.
This is a pretty big deal, since it's important to be able to contact the company if anything goes wrong.
Regardless, this is all I can say about the producer.
All in all – the fact that it's hard to reach this brand does not make for a good look.
---
#2 – Ingredients

(4 out of 10)
---
In this section, we will break Virgin Hair Fertilizer's formula down.
1. The Components
---
This product doesn't have a long list of ingredients.
As such, it's quite easy to look at each one of them:
Herbal Extract – the label doesn't specify a certain plant, so we can't know what exactly this is.

Petroleum Jelly – reduces split ends.

Peppermint Oil – promotes hair growth [1].

Lanolin – combats dry hair.

Fragrance – has no benefit.

As you can see, this is a pretty sparse formula.
There are only 4 active ingredients, but they're not even mind-blowing.
Plus, some studies suggest that vaseline can actually block hair follicles.
So we can't even trust the safety of this formula, which is even more disappointing.
Lanolin is another two-faced ingredient: although its waxy texture is quite emollient…
It can also cause weight and buildup on the hair and scalp [2].
As such, it can't be said that this formula is all that good.
I personally would not apply this kind of composition on my hair.
So I would advise you to be careful about it…
---
Conclusion
---
To conclude, it's pretty clear that Virgin Hair Fertilizer doesn't have an outstanding formula.
Quite the opposite, actually – it's pretty disappointing.
The fact that it's based on two ingredients (which may be dangerous) makes everything worse.
Plus, the components give the cream a very greasy consistency, which is not ideal.
I would say you're better off looking for something much better.
---
#3 – Smell & Texture

(5 out of 10)
---
It's time to talk about Virgin Hair Fertilizer's scent and consistency.
1. Smell
---
The user reviews tell me that this cream has a pretty strong scent.
This is mostly used as a complaint, so just be aware that the smell cannot be ignored.
Plus, lots of people are saying this product smells like sulfur.
Understandably, that's not particularly pleasant.
Some even said they felt the need to add other oils, in order to tame the scent.
2. Texture
---
As I previously mentioned, some components make the consistency rather thick.
This is precisely what I've seen mentioned in the reviews:
Because of this, Virgin Hair Fertilizer runs the risk of weighing your hair down.
This makes it more likely for your hair to break, so be mindful of that.
If your hair can't handle thick treatments, this product is not for you.
---
#4 – Results

(6 out of 10)
---
If you want to convince yourself whether a product works or not…
Going through the user reviews can be quite beneficial.
Speaking of user reviews, let's see what other people had to say about Virgin Hair Fertilizer.
Note: I only considered authentic reviews, not promotional/fake ones.
1. Positive Reviews
---
Given the price, it's to be expected that this cream would attract lots of people.
On this note, majority of the reviews are positive, which is a good thing.
Since the producer doesn't have an official website, I can't look there for opinions.
As such, I figured the next best thing is Amazon.
Here's what people liked about this hair cream:
Some people state that their hair grew faster.

Others mentioned that the cream provides a lot of moisture.

People also said that one tube lasts a long time, since not a lot is needed for each use.

Plus, some said that this cream is good for preventing breakage.

Multiple people said they also add an oil to the cream, in order to enhance its effects:

So far, it seems like this product definitely works, at least to some degree.
Most of the positive reviews keep repeating the same advantages.
That's a sign of consistency in terms of results, which is nice to see.
As such, quite a few people are pleased with this cream.
That's pretty reassuring.
2. Negative Reviews
---
Just like the positive reviews, negativity is also present.
This is where we get to see how much the ingredient list pays off.
To be fair, the negative reviews are not that numerous.
But they are enough to give us a thorough idea.
Let's see what people were having issues with:
Some people noticed no change since using this cream.

Other people claimed their hair started falling out even more because of it.

Lots of complaints are about the thickness of the product.

Customers were also displeased with the scent.

Quite a few complaints about the state of the packaging upon arrival.

Some people were even saying they doubt the authenticity of the cream:

Honestly, I expected a part of the complaints – especially those related to the thick consistency.
However, the product presumably being fake is a slight surprise.
Also, all these complaints regarding hair loss makes me believe this cream only works on coarse hair.
That's likely why majority of the positive reviews come from African-American women.
So, unless your hair is coarse, maybe it's a better idea to stay away from this product.
---
Conclusion
---
To bring this section together, the reviews are quite divided.
Majority of people enjoying this cream seem to have African hair.
So unless your hair is particularly coarse, this product might actually cause breakage.
Luckily, we had the reviews to tell us this.
Overall, it doesn't seem like this product is the best, in terms of safety & efficacy.
I would advise going for something much better.
---
#5 – Side Effects

(5 out of 10)
---
Although Virgin Hair Fertilizer is relatively praised, it still manages to raise eyebrows.


As we have seen earlier in this review, some of the ingredients are not particularly safe.
Naturally, there are bound to be some side reactions:
hair loss & bald spots

burning scalp

rash

dry scalp

itchiness
These side effects are rather intense.
I mentioned a few of them in the "Results" section to give you a sneak peek.
Regardless – a hair growth cream that runs the risk of causing hair loss is pretty inconvenient.
Of course, this isn't to say that everyone will experience these side reactions.
As a matter of fact, you could also use this cream with no issues at all.
It just depends on the way your body reacts.
But compared to other products, there's a much higher risk of side effects.
So keep this in mind when considering Virgin Hair Fertilizer.
---
#6 – Price

(8 out of 10)
---
Naturally, price is quite important when we decide whether or not to buy something.
In the case of Virgin Hair Fertilizer, the price is definitely affordable.
1. The Exact Price
---
Considering the cream mostly consists of vaseline and peppermint oil…
Producing this item couldn't have cost a fortune.
As such, its price is quite low.
Let's see what the official product page on Amazon has to say:
$5.77 for a 4.41 oz. tube

no discount for buying multiple tubes

In fact, the price might be the biggest advantage this product has.
It's likely the main reason so many people give it a try – since they feel like they won't lose a large sum of money.
As such, this likely attracts many potential customers.
That's perfectly understandable.
But in terms of quality, this product isn't really worth it.
2. Competitor's Price
---
As we have seen up to this point, Virgin Hair Fertilizer is not the best product out there.
As such, I happen to have a way better suggestion.
Let me introduce you to my top recommendation for hair growth:

Folexin consists of essential hair nutrients, which means it has a more potent formulation.

It also comes in the form of a supplement, meaning it treats hair loss from the inside.

My recommendation actually comes with no risk of side effects, unlike VHF.

In terms of hair loss, Folexin actually tackles more than one cause, so it's more versatile.

The producer of Folexin has an official website and much more trustworthiness.
This is why I think going for Folexin is the better deal.
You get a much more effective formula.
Plus, it won't endanger your well-being in any way.
The price is really affordable for its quality, so it makes a much better option.
---
Conclusion
---
To conclude this section, Virgin Hair Fertilizer is without a doubt quite affordable.
It definitely won't break the bank, which is a good thing.
Then again, judging by its formula, its production couldn't have been expensive.
So its price is well-deserved.
Still – this doesn't mean that it's the best product around, when it comes to hair growth.
In fact, I urge you to try and look for other options that are more advantageous.
---
#7 – Final Conclusions
---
Let's go over the main points that were made about Virgin Hair Fertilizer.
1. Unimpressive Formula
---
As we have just seen, VHF's formulation is pretty weak.
This is to say that it has very few active ingredients:
lanolin & vaseline are pretty controversial components

very greasy consistency

lacking essential hair nutrients
Overall, this cream is nothing worthwhile.
Given its potentially dangerous ingredient list, you're better off without it.
2. Only Effective On African Hair (Potentially)
---
The reviews oftentimes mention issues like dry scalp & hair loss.
It just so happens that most of the people having these side reactions are not of color.
Plus, the customers who claimed to love this product were African-American (for the most part).
This indicates that this cream works better on African hair or coarse hair.
We can attribute this aspect to the gresy texture of this product.
So be mindful of this.
3. Extremely Affordable
---
It's no secret that VHF is very accessible in terms of pricing.
In truth, this might be the most attractive characteristic of this product.
Since it's so inexpensive, people are more inclined to buy it since they won't lose out on a fortune.
Plus, as I've said before, the price is also reflected in the rather weak formulation.
In a way, this is a double-edged sword.
---
My Verdict – Worth It Or Not?
---
Short answer: No – you can do better.


It's more risky than good, so it's not really worth it:
No way of tracking down the official producer.

Very disappoiting ingredient list.

Quite greasy in texture.

Seemingly only effective on African hair.

Pretty high risk of adverse reactions.

Poor quality overall.
In truth, if your hair is particularly coarse, maybe it's worth giving it a shot.
Otherwise, you're better off going for a much safer & potent product.
Personally, I would recommend something that treats hair loss from the inside.
That would yield the most long-lasting results.
In this way, I recommend that you consider Folexin.
It's the best product for hair growth:
contains essential nutrients for hair

very affordable, given its high quality

treats more than one cause for hair loss
As such, it's pretty clear that Folexin is the superior deal.
Treating hair loss from the inside will lead to much more potent results.
Plus, there are less risks involved, since my recommendation won't cause any side effects.
Therefore, you're making the best decision by going for it.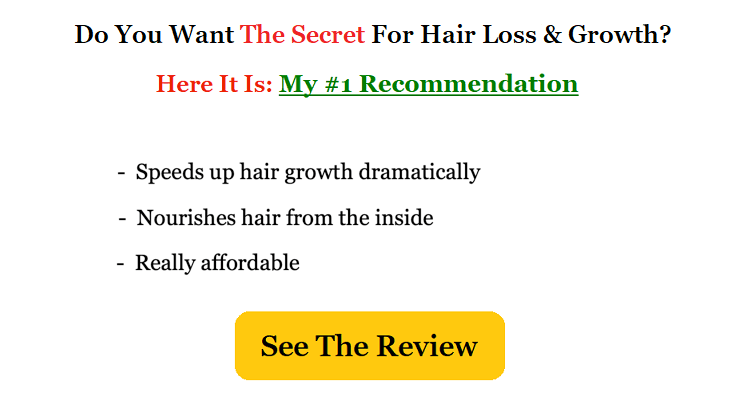 References:
1 – https://www.ncbi.nlm.nih.gov/articles/-PMC4289931/