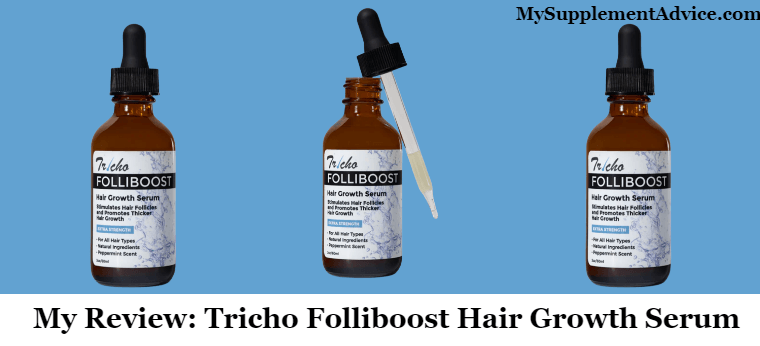 It's time to review Tricho Folliboost Hair Growth Serum – a hair treatment that stimulates growth:
decent formula

lots of positive user reviews

extremely expensive
So, does this serum live up to its claims?
More importantly – is it legit and does it work?
You'll find out about these aspects (and more) in this article.
Note: This review is based on my opinion + research on Tricho Folliboost Hair Growth Serum.
Review Summary
---
Full Name: Folliboost Hair Growth Serum by Tricho Labs


Product Type: Serum
Best Actual Price: $40 
Cheapest Place To Buy: Amazon
You can also find it on the official website at the same price.
Designed For: Boosting hair growth – by doing this, it also plans to:
thicken

decrease thinning

nourish
My Rating: 7 out of 10
Recommended?: To a certain degree  – it's a nice serum:
good mix of ingredients

lots of praises

quite overpriced
All in all, it's not the best product I've reviewed.
But it's also far from the worst. However, remember that there's always a better option.
What I Liked About It
---
Pretty good for combating hair loss

Good selection of ingredients

Contains herbal extracts

Makes use of biotin, an essential nutrient for hair

Pretty highly-reviewed

Easy to use

Has a 90-day money-back guarantee
What I Didn't Like About It
---
Confusion as to whether the trademark ingredients are present or not

High risk of side reactions

Not budget-friendly at all
---
Folliboost In A Nutshell
---
This hair serum is quite appreciated on Amazon.


Of course, this only attracts more curious people, as this product claims to combat hair loss.
Surely enough, it's a good product, so you don't have to worry about it being a scam.
In fact, many customers praise the effects of this serum:
stops hair from falling

pretty easy to use

actually thickens hair
To a certain degree, the herbal extracts in the formula can lead to such results.
However, it's not possible to assess just how strong its formula is.
That's because the producer doesn't disclose the individual dose of each component.
Plus, the trademark ingredients mentioned on the selling pages are not present in the actual formulation.
Honestly, that's very strange.
Nonetheless – this serum still manages to lead to unwanted reactions:
loss of hair

rash

itchy scalp
These side effects are quite troublesome for a hair care product.
Not to mention that this is a very expensive serum.
For such a high price tag, it's not worth having to worry about side effects.
For this reason, I would recommend looking for something that is much more affordable…
While also providing a superior quality.
---
#1 – How It Works & Producer
---
Let's get to the general information about this serum:
how it plans to work

what it does

who the producer is
1. How It Works
---
According to the official website, this hair serum "helps promote growth of thicker, fuller, and more beautiful hair".
In doing this, it also plans to:
prevent hair loss

restore hair vitality

strengthen hair

In order for this to go smoothly, the producer claims this serum works in a special way.
Namely, it uses a mechanism they call "Root Reactivation".
In short, here's how it works:
when hair is thinning, hair follicles become dormant

this slows down the growing process

this serum boosts FGF7 and noggin (genes that kickstart hair growth) and awakens inactive follicles

in turn, hair grows quicker and becomes fuller
Plus, the producer claims this is the only serum that works like this.
Besides, they also state that their natural-based ingredients play a huge role in overall effectiveness.
But we will see about that once we get to the formulation.
2. Company Behind
---
Folliboost Hair Growth Serum is sold by Tricho Labs. 
Here's what I could gather after a bit of research:
specializes in hair growth products

sells the hair serum, some hair vitamins and a lash/brow serum

claims to use natural-based ingredients, thus the products shouldn't cause side effects

also states that the products' growth formula cannot be replicated by other sellers
Overall, they seem very focused on the hair growth niche.
In terms of contacting the support team, they do provide a phone number.
That's pretty great, since this makes it very easy to reach them if you have any issues.
The official website also has a page dedicated to results sent by customers.
Plus, they also have an FAQ page, which is always useful. 
All in all, it seems like a trustworthy company.
---
#2 – Ingredients

(8 out of 10)
---
In this section, we'll take a closer look at Folliboost's formula.
It's time to find out how the components make this serum stand out.
1. Important Ingredients
---
Like most products, this serum also has a pretty long ingredient list.
However, as you might already know, not all of them are active.
This means that only a few select components are actually taking action.
Out of those, let's see which ones are most important:
Pisum Sativum Sprout Extract – strengthens hair follicles [1].
Biotin – stimulates keratin production [2].
D-Panthenol – improves texture of damaged hair [3].

Glycine Soja Germ Extract – has moisturizing properties.

Triticum Vulgare Germ Extract – reduces tangles.

Scutellaria Baicalensis Root Extract – combats alopecia [4].
Arginine HCL – stimulates the scalp & encourages hair growth [5].

Just as it seems – these components are quite relevant when it comes to hair health.
However, it's important to state another aspect.
The selling pages for this serum mention 2 trademark ingredients: AnaGain™ & Baicapil™.
However, they don't seem to appear in the actual formulation.
While they may exist in the patented form somewhere…
I couldn't find them in the ingredient list.
Keep that in mind.
---
Conclusion
---
Judging by the listing above, the formulation is pretty good.
It's a shame that the trademark ingredients are nowhere to be found, though.
Since only the standard versions of those components are listed…
I would say that while these ingredients are nice, they don't justify the high price tag.
There are definitely better options that are more affordable.
---
#3 – Smell & Texture

(8 out of 10)
---
Let's see what people are saying about the scent and consistency of this hair serum.
1. Smell
---
The producer describes the scent of Folliboost as reminiscent of peppermint.
This denotes the fresh and natural aroma of this product.
In fact, most people praise this characteristic.
I also saw some reviews that disliked the scent.
However, those were isolated cases. 
Just keep in mind that getting along with the smell is a matter of personal preference.
2. Texture
---
When it comes to this aspect, I couldn't really find that many people mentioning it.
I stumbled upon numerous reviews saying this serum has a gel-like consistency, though.
This means its texture is on the thicker side.
Please keep this in mind if you generally don't prefer such consistencies.
Other than that, there's nothing worth noting regarding this characteristic.
---
#4 – Results

(7 out of 10)
---
In terms of assessing whether a product works or not…
You can't go wrong with reading user reviews.
On this note, let's see what people have to say about Folliboost.
Note: I only considered authentic reviews, not promotional/fake ones.
1. Positive Reviews
---
This product has a fair bit of positive reviews, at least on its Amazon page.
The official website does not have any reviews for this serum specifically.
Their "Results" page shows a few, but they are all positive.
For this reason, I'm only going to look at the reviews on Amazon.
Let's see what people liked about this serum:
People said it really thickened their hair.

Customers also appreciated the fact that this serum is easy to use.

Quite a few also said their hair stopped falling as a result.

Some people also noticed a spike in hair growth.

A few customers also said that they like how this serum doesn't make their hair greasy.

A few people even said that one bottle lasts more than they expected:

It seems like most people are pleased with this serum.
What's more – most positive reviews mention more or less the same advantages.
This gives the impression that this serum is pretty consistent in its results.
That's definitely reassuring.
2. Negative Reviews
---
Like most products, Folliboost also received some criticism.
Less favorable reviews help in terms of thoroughness.
This way, we get a more balanced perspective on the product.
Here are the issues people encountered when it comes to this serum:
A few people claimed their hair started falling out even more.

Some customers said they didn't notice any change.

People were also complaining about the high price tag.

Others also complained that the serum was rather sticky.

Others even claimed the serum dried out their hair.

A reviewer even said that this product made their scalp feel itchy:

Some complaints were to be expected, for example regarding the price tag.
However, the flaky texture or the fact that the hair becomes dry are pretty inconvenient.
Once again, checking the negative reviews allows us to consider all aspects of a product.
In this sense, they make us more cautious in our decisions.
---
Conclusion
---
All in all, the reviews for Folliboost are pretty ambivalent.
The majority are positive, so that shows that it has a high tendency to work.
However, some people also bring up issues such as enhanced hair loss, dried out hair and itchy scalp.
These are definitely worrisome, but we'll talk more about them in a moment.
Overall, while this serum is mostly alright.
But I would definitely go for something way better and safer.
---
#5 – Side Effects

(6 out of 10)
---
Despite the fact that many people praise this product, it still comes with a few issues.


If you have a look above, some of them are mentioned in the critical reviews.
Let's see them here:
dried out hair

itchy scalp

hair loss

rash (on scalp)
Although this is not a long list, these side reactions are quite extreme.
They are especially bothersome, seeing as they come from a serum that claims to help hair.
Keep in mind that not everyone will experience these issues.
In fact, you could try this product and have everything go to plan.
But it seems to be luck-based, since everyone's body reacts differently.
So just pay attention to this aspect when deciding whether to buy this serum or not.
---
#6 – Price

(4 out of 10)
---
Price is a very influential factor in our decision of making a purchase. 
In the case of Folliboost, the price is definitely not modest.
1. The Exact Price
---
Generally, serums are not sold in huge quantities.
Therefore, the price for this specific product is definitely up there.
This explains why there were some complaints about the fact that it's too much money. 
Here's what the official website offers in terms of price:
$40 for a 2 fl. oz. bottle

purchasing multiple bottles grants a discount

a subscription is also available, giving you 40% off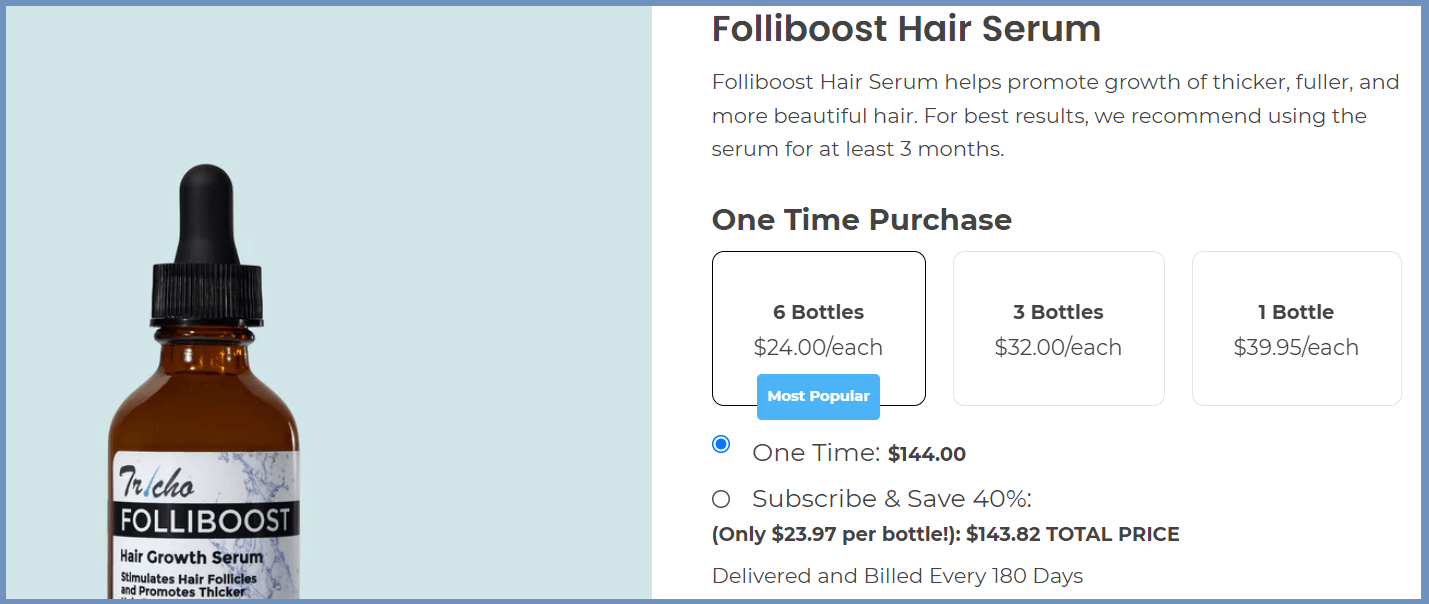 The 6-bottle offer might sweeten the deal a bit.
Regardless, going for the subscription is always risky when you're not familiar with the product.
That being said, these aspects don't change the fact that Folliboost is very expensive.
As such, keep in mind that there are other alternatives available.
2. Competitor's Price
---
In terms of finding a better option…
I happen to have a very good suggestion.
Thus, I present to you my top recommendation for hair growth:

Folexin is consists of essential hair nutrients, thus its formula is more potent.

My recommendation comes in supplement form, meaning it treats hair loss from the inside.

Like Folliboost, Folexin has to be used twice a day (2 pills per day).

My alternative also poses no risk of side reactions, compared to Folliboost.

One bottle of the supplement formula costs $25, which is more affordable than the serum.

When bought in the biggest bundle, Folexin costs as little as $18 per bottle.
These are the main reasons why I think going for Folexin is better.
On top of the fact that it treats your hair issues from the inside…
It also saves you money, since it's more budget-friendly.
---
Conclusion
---
To bring this section together, it's no secret that Folliboost is a luxury.
Its price is not entirely justified, although it's surely an alright product.
Personally, I think you should have way higher expectations for a product this expensive.
Plus, you can definitely find a better product for less money.
Let me share with you the frequently asked questions regarding Folliboost.
Note: I might repeat something I already mentioned, but it's easier to spot here.
1. What health issues does it target?
---
Folliboost is a hair serum designed to address various hair concerns.
It promises to promote thicker hair,  prevent hair loss, restore hair vitality, and strengthen the hair.
Also – it claims to work by awakening dormant hair follicles by boosting genes like FGF7.
So in that way, hair growth will be stimulated and boosted.
2. What's the recommended usage?
---
The recommended usage for Folliboost involves a three-step process:
Apply 1-3 drops of the serum to desired areas of the hair and scalp using the dropper provided.

Gently massage the serum into the scalp with your fingertips to facilitate absorption.

Do not rinse the serum and leave it in until the next application.
Now – the goal of the last step is to allow the serum some time to stimulate, rejuvenate, and repair hair follicles.
3. Can I use it while taking oral supplements?
---
Yes, you can use Folliboost while taking oral supplements.
The reason for this is that this product is a hair serum only.
Just be mindful of balancing your overall intake and usage to avoid excessive consumption.
Actually – that reminder is applicable to almost any product.
4. Are there potential severe side effects?
---
While many users praise Folliboost, it does come with a few reported adverse effects.
Some of them include hair loss, dried-out hair, an itchy scalp or a rash on the scalp.
Although these won't happen to everyone, it's still important to be mindful of those issues.
5. What's the price of this product?
---
The official website lists the price as $40 for a bottle of Folliboost.
Now -you can reduce the price if you purchase multiple bottles.
Additionally, around 40% discount will be offered upon subscription.
---
#8 – Final Conclusions
---
Let me reiterate the general ideas regarding Folliboost.
1. Alright Ingredients
---
To its credit, this serum has a good enough formula:
based on herbal extracts

individual dosage is not disclosed

contains biotin, an essential nutrient for hair
Not having access to the individual doses means that we don't know how powerful their effect can be.
Plus, although the selling pages mention some patented versions…
They are nowhere to be seen in the actual formula.
That's definitely out of the ordinary.
2. Worrisome Side Effects
---
Although this serum does not run the risk of causing too many side reactions…
They are definitely bothersome:
hair loss

itchiness & rash

dried out hair
Coming from a serum that claims to combat hair loss, these issues are not ideal.
Of course, not that many people experienced them.
But they are definitely a possibility when trying this product for the first time.
3. Very Expensive
---
It's clear by now that the price point is probably the most off-putting aspect about this serum.
The price is not even justifiable, since the formula is not out of this world.
Plus, using the serum correctly means that one bottle barely lasts a month.
So it's definitely not easy on your wallet.
---
My Verdict – Worth It Or Not?
---
Short answer: It's a nice enough product.


It's not a bad option overall:
Pretty good formula.

Easy to use.

Quite a lot of happy customers behind.

High risk of side effects.

Way too expensive. 
Overall, it's surely a good product.
The formula is decent enough and it has lots of people praising it.
That means this product is definitely legit and works, to a certain degree at least.
Still – I think it's worth looking for an option that is better.
That being said, I happen to have a recommendation in this sense.
What I propose to you is a product that is much more efficient.
I'm talking about Folexin, the best hair supplement I know:
combines the best ingredients available for hair health

targets hair loss from more than one angle

extremely affordable for its high quality
Therefore, I believe Folexin is a much better deal.
Not to mention that it offers a superior quality for a much lower price!
You won't be disappointed if you give it a try.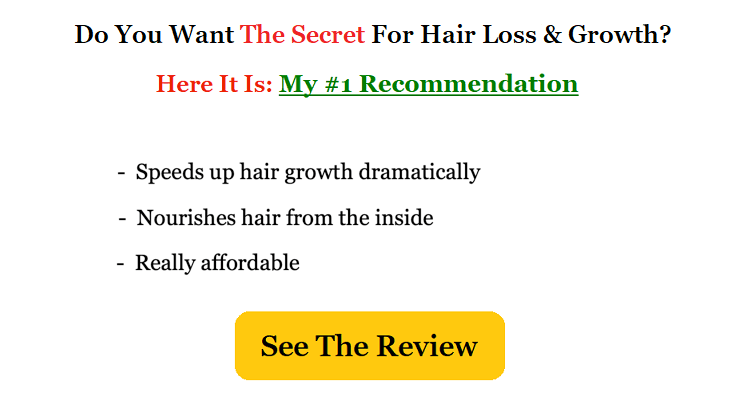 References:
1 – https://pubmed.ncbi.nlm.nih.gov/-31680356/
2 – https://pubmed.ncbi.nlm.nih.gov/-28879195/
3 – https://pubmed.ncbi.nlm.nih.gov/-34698060/
4 – https://www.ncbi.nlm.nih.gov/pmc/articles/-PMC5810219/