It's time to review NooCube, which is one of the most popular nootropics out there.
But the question is – does it work in reality?
It it legit and can it really improve brain performance and memory?
Pretty much yes – I would say:
promising ingredients

free of caffeine (and consequent side effects)

pretty effective in many cases
But let me tell you more about my NooCube trial below.
Note: This review is based on my personal experience + research on NooCube.
Review Summary
---
Full Name: NooCube from Wolfson Brands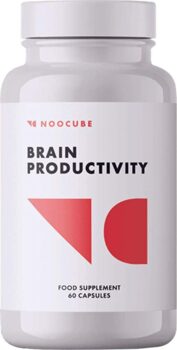 Product Type: Cognitive Supplement
Best Actual Price: $60/bottle
You can get a significant 50% discount for a larger supply (even $30/bottle).
Cheapest Place To Buy: Its official website
The original version isn't sold anywhere else, so pay attention to this aspect.
Designed For: Improving brain productivity and focus – it helps with:
memory and mental alertness

brain fog

focus and problem-solving skills
Besides, it's probably the only nootropic that also helps eyes and vision.
My Rating: 9 out of 10
Recommended?: Yes – as long as you buy more than one bottle.
That's because the price of a single bottle is double.
Other than that, it's a really helpful nootropic:
excellent for memory and brain fog

also boosts vision

really safe to use
If you want a nootropic for daily use, NooCube makes a great option.
How To Get It Cheaper
---
Here's a way to get this supplement for about $30 per bottle, instead of $60.
Go on its official website (see link below).

Choose the "3 + 3 free bottles" pack.

In this way, you pay for 3 bottles and also receive 3 for free.
If you do the math, this means around $30 per bottle – which is half from its standard price.
That's why it's a lot more worth buying a larger quantity than a single bottle.
What I Liked About It
---
Works great for memory, cognition and focus

Also reduces brain fog

Probably the only nootropic that also boosts vision

Based on classic brain boosting ingredients

Unique formula based on some trademark compounds

Reputable brand behind

Free of caffeine

Doesn't cause insomnia or other side reactions

Price is great (for a larger supply)

Free shipping in any country
What I Didn't Like About It
---
Pills smell like figs

Some doses could be higher

Standard price/bottle is very high

Several fake versions available outside its official website (avoid the product made by SO Labs)
---
Why I Recommend NooCube
---
Compared to most nootropics, Wolfson Brands' product has a couple of advantages.
It's surely not the strongest cognitive booster from the market.
But you probably don't even need that.
Instead – it has some major good points:
Works for most cognitive issues (brain fog, memory, focus, alertness, etc.).

Is the only nootropic that also improves vision.

Doesn't cause any sleep-related side effect (like most memory products).

Is extremely well-tolerated by most people.
We even had one of our collaborators give it a try.
And guess what? He was a lot more satisfied than with other nootropics he tried in the past.
That was all because NooCube's good effect (on cognition) and lack of side reactions.

Again – it's not the most powerful brain supplement out there.
So don't expect it to make miracles for your memory.
But it helps a lot more than many nootropics.
Besides, it's way better tolerated than most of them.
My only advice would be to go for NooCube only if you want to try it for more than a month:
a single bottle alone is very expensive

price is half if you go for a larger supply

so buying one bottle isn't really worth it
For this reason – if you want to take advantage of its low price, going for more bottles is a must.
If you can't do that, better go for another alternative.
But I personally recommend NooCube.
If you want a nootropic that helps your memory without affecting your sleep, it's perfect.
---
#1 – How It Works & Producer
---
For the beginning, here are some general things about NooCube:
what makes it special

its mechanism of action

the company behind it
1. How It Works
---
NooCube claims to be the perfect choice for people with deadlines.
That's because it's specially designed to boost productivity:
Increases focus and problem-solving abilities.

Allows you to concentrate better (and longer).

Raises your energy levels without caffeine.

Also helps with your vision.

Additionally – it has a similar mechanism of action as most brain supplements:
boosts memory and attention

reduces anxiety and stress

allows you to be more productive
The big plus of NooCube is that it's also designed for brain fatigue.
In other words, it's a great option if you're going through a busy period.
Besides, it also helps with vision (which most brain supplements have nothing to do with).
So it brings in more benefits than your regular nootropic.
2. Company Behind
---
NooCube's producer is a company called Wolfson Brands.
It's been on the market for many years and it has a great reputation.
I actually have a great opinion on some of its other supplements (like PhenQ).
But other than that, this brand looks great:
support available 24/24

a lot of contact details given out

professional website
So you shouldn't worry about buying Wolfson Brand's products.
They also come with a 60-days money back guarantee, which is great for a memory supplement.
In other words – you're pretty much not risking anything.

---
#2 – Ingredients

(9 out of 10)
---
NooCube's formula isn't the strongest I have seen in a cognitive supplement.
However, it comes with 2 major advantages.
I'm talking about 2 things that make it stand out among the rest:
Doesn't contain any caffeine.

Is based on an award-winning ingredient for vision (Lutemax® 2020).
In other words, NooCube has some superior features to other brain products.
It doesn't cause the usual side effects of caffeine-based supplements.
Besides, it also helps with vision.

It's true that its nootropic composition is not the very best out there.
But it surely compensates with these 2 unique advantages.
Now – let's take a closer look at its most important ingredients.
1. Bacopa Monnieri
---
You surely saw this ingredient in most brain boosting products.
That's because it's one of the strongest nootropics out there:
improves memory and cognition [1]

prevents brain aging

decreases anxiety and stress
However, NooCube's dose isn't the highest (even though it's on the good side).
So its brain boosting effect (due to Bacopa) isn't the strongest from the market.
2. Alpha GPC
---
Here's another nootropic you can find in most brain supplements.
Alpha GPC actually increases the production of acetylcholine. [2]
That's another substances you surely heard about:
increases learning speed

promotes memory and focus
But once again – NooCube's dose of Alpha GPC isn't the highest possible.
That's why I wouldn't expect it to increase acetylcholine dramatically.
On one hand, that's great – because it doesn't raise the risks of side effects either.
But on the other hand, its brain boosting effect would have been better in a higher dose.
3. L-Theanine
---
This amino acid makes a very potent nootropic for focus:
promotes a relaxed concentration

increases cognitive performance

allows you to focus faster (and longer) [3]
L-Theanine actually works by increasing GABA levels, which is an essential neurotransmitter.
So it has a very important effect in NooCube.
4. Huperzine A
---
Here's another very popular nootropic, which actually has a herbal base:
extracted from Huperzia Serrata

has been used for centuries (for its brain benefits)
This herb is great for boosting memory, focus and alertness.
The only issue is that it works best when it's cycled.
Since that's not the case in NooCube – this is definitely one thing they should work on.
5. Lutemax® 2020
---
As I said, this ingredient makes NooCube stand out.
That's because it's a trademark substance (an improved version of the original compound). [4]
Now, Lutemax® 2020 is actually a mix of 3 similar ingredients:
Lutein

Two Zeaxanthin Isomers (RR-and RS [meso]-zeaxanthin)

Surprisingly or not, it also has a clinical trial developed on it.
According to its results, Lutemax® 2020 can:
increase visual acuity

enhance eye-brain connection

boost memory and attention span
So this ingredient brings NooCube a major advantage over its competitors.
6. Herbs & Antioxidants
---
This group includes several ingredients from NooCube:
Cat's Claw – protects against brain damage (due to free radicals).

Oat Straw – reduces brain fog by increasing focus and attention.

Resveratrol – maintains memory and long-term cognition.

Pterostilbene – comes with some potent antioxidant benefits.
Now, you can't find all of these substances in most brain supplements.
So Noocube has a pretty original herbal/antioxidant mix.
7. Vitamin Mix
---
There are several important vitamins in this supplement:
Vitamin B1 – maintains brain health and energy.

Biotin – can help with focus.

Vitamin B12 – improves mood and concentration.
Now, these nutrients don't have a major role in boosting memory.
In other words – they help when combined with the other ingredients, but that's all.
They can't do any miracles on their own.
But NooCube's formula is pretty varied, so there isn't any need of that.
---
Conclusion
---
All in all, NooCube has a very interesting mix of ingredients:
combines classic nootropics with unusual brain boosters

is based on a unique trademark (Lutemax® 2020)

doesn't contain any caffeine
In terms of nootropic substances, it's not the strongest product out there.
But it surely compensates with some of the facts I mentioned above.
So I consider it a very promising supplement for memory and brain.
---
#3 – Pills & Dosage

(9 out of 10)
---
Let's take a look at how NooCube's capsules look like (and how you should take them).
1. Pills
---
First of all – this supplement uses the typical gelatin capsules.
In terms of size, they look great:
regular dimensions

easy to swallow

transparent cover
But what's special about these pills is their fig smell.
They don't contain anything derived from figs, which is quite weird.
Their taste is also normal (due to their gelatin cover).
But in terms of smell, they are very similar to figs, funny enough.
2. Dosage
---
When it comes to how you should take it, it's pretty simple:
serving size is 2 capsules/day

you can take them together or space them out
Now – the label recommends taking both pills with breakfast.
Obviously, you can make your own routine if you prefer.
You can also increase the dosage (to maximum 4 pills per day).
But I'm not sure if there's any need for that.
In my view, 2 capsules/day is a pretty good dose – both in terms of convince and effectiveness.
---
#4 – Results

(9 out of 10)
---
In order to see how NooCube really works, we had one of our collaborators testing it out.
In this way, you can see someone's real results with this product.
So let's get into Ryan's experience with NooCube.
1. Ryan's Background
---
First of all, Ryan is an accountant, which tells a lot about his cognitive needs:
he works a lot with numbers

he has to stay very focused all day long

as you can guess, he has a lot of deadlines every month
In other words, he's constantly stressed out and he needs to be alert and concentrated.
Besides, due to its long working hours in front of the computer, Ryan's vision isn't at its best either.
He visited a specialist who concluded he has no major problems, but he needs to rest his eyes more.
Anyway, Ryan wanted to test a nootropic mostly for a cognitive boost:
he tried several other products in the past

most of them times, he was suffering from side effects (poor sleep)

so he ended up giving up most of those products

their benefits were simply not worth his lack of sleep
So this time – I recommended him NooCube, as it seemed a pretty promising product.
Plus, it also came with some vision benefits (which most nootropics don't have).
2. Ryan's Results With NooCube
---
First of all, Ryan took 2 bottles of NooCube in total (following the recommended dose):
he started seeing some improvement after about 10 days

he said he managed to stay focused for longer periods

his memory also seemed to function better

he also felt like his eyes were less tired after a day of work

But there was one thing that impressed him most.
I'm talking about the lack of sleep-related side effects.
Ryan claims he was used to seeing some benefits from nootropics.
But he would usually stop taking them because they affected his sleep patterns.
That's why he loved NooCube so much – it didn't cause him any insomnia:
that's because it doesn't contain any caffeine

most nootropics are based on this ingredient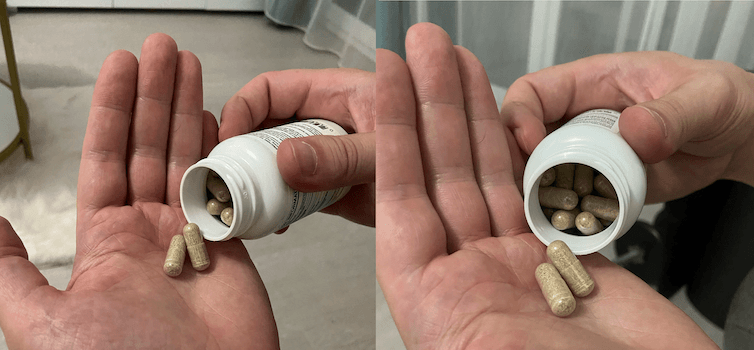 According to Ryan, NooCube wasn't the most potent cognitive product he tried.
Its effect on cognition wasn't absolutely incredible.
It did help him, but it didn't make him feel like a super human.
But the lack of side effects totally compensated for this.
So our accountant Ryan was really happy with NooCube overall.
It wasn't an unbelievable cognitive booster – but it helped him a lot.
---
Conclusion
---
NooCube is a really helpful nootropic – both in terms of memory and vision.
But what our collaborator loved most about it was the lack of side effects.
That's what this supplement is even praised for.
So in terms of effect, it surely works – Ryan is the best proof.
It's not going to make you think like a super human – but it will surely improve your cognition.
---
#5 – Side Effects

(9 out of 10)
---
Honestly, nootropic supplements aren't the safest ones out there.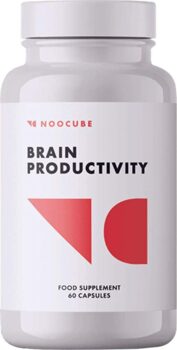 They tend to cause a lot of headaches and minor issues.
However, NooCube seems to be quite well-tolerated:
no major complaints

very few negative reviews related to side reactions
Now, there were a few people experiencing some issues.
But they were extremely minor.
And compared to most of the other nootropics, NooCube seems extremely safe.
Besides, one of its major advantages is that it's free of caffeine:
doesn't raise your blood pressure

allows you to sleep normally at night

doesn't cause any headaches
In other words – if you're a coffee lover, you don't have to give up coffee when taking NooCube.
A lot of nootropics contain a high amount of caffeine.
In these circumstances, you definitely have to lower your daily caffeine intake.
And the only way to do it is to give up your coffee (if you want to keep taking these pills).
So NooCube saves you a lot of frustration from this point of view.
---
#6 – Price

(7 out of 10)
---
NooCube's pricing is probably its biggest downside.
It's not even that bad for a nootropic (as most of them are quite expensive).
But compared to its other great features, its pricing isn't that impressive.
1. The Exact Price
---
As I said – you can only find NooCube on its official website.
All the other retailers selling it are using fake versions – so stay away from them.
Now, let's take a look at its full pricing options:
Standard price is $59.99/bottle.

For larger quantities, you can get a major discount.

In the best case, NooCube costs even $30/bottle.

Shipping is free for all orders (worldwide).

Compared to other alternatives, NooCube isn't that expensive.
It's only that most memory supplements tend to cost more (than vision supplements, for example).
But even so, NooCube could cost less for what it contains.
Don't get me wrong – it's surely worth buying.
But I don't necessarily recommend going for the standard bottle.
In fact, try to go for a larger supply.
I don't always recommend that – but in this case, the brand is very trustworthy.
So you're surely not getting scammed.
And in terms of money, you literally pay half (per bottle) in this case.
2. Worth Or Not?
---
Yes, it is worth it.
For the good results it has in most people, it makes a good deal.
But as I said – try to go for the largest supply.
Honestly, paying $60/bottle is way too much for the value you get from these ingredients.
Instead, NooCube is surely worth $30/bottle.
So you're making a much better deal going for a larger supply at once.
I personally don't even recommend going for a single bottle only (because of the high price).
---
Conclusion
---
NooCube's price is indeed a bit high (but mostly for its single bottle).
That's why you should definitely go for a larger supply from the first time.
You save $30/bottle (half of its initial cost).
So this price is really hard to beat.
---
My Verdict – Worth Or Not?
---
Short answer: Yes – it's a very good nootropic:
Works for most memory/cognitive issues.

One of the few nootropics designed for brain fatigue and vision as well.

Doesn't contain any caffeine.

Really well-tolerated by most people.
Now – NooCube is not the most potent cognitive supplement out there, though.
So if you only want to buy a single bottle, I don't recommend NooCube.
That's because its price is extremely high for one bottle.
Instead – my advice would be to go for a larger supply:
price is much better in this case

you end up paying $30/bottle
At $30/bottle, NooCube is totally worth it.
But at $60/bottle, it's definitely overpriced.
So it totally depends on the quantity you buy, because not all sizes are worth it.
Other than that – NooCube makes a really good option as a nootropic.
References:
1 – https://pubmed.ncbi.nlm.nih.gov/-11498727/
2 – https://www.ncbi.nlm.nih.gov/-pmc/articles/PMC4595381/
3 – https://pubmed.ncbi.nlm.nih.gov/-18296328/