It's time to review Sensolin for diabetes – a supplement that is quite interesting.
But does it actually work like its promises to?:
can be too strong for some people

decent ingredients

quite uncomfortable to take
So is Sensolin really worth buying?
We will find out the real deal behind it in this review.
Note: This review is based on my opinion + research on Sensolin For Diabetes.
Review Summary
---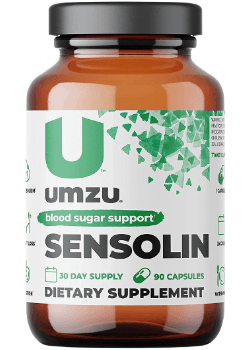 Full Name: Sensolin Natural Blood Sugar Support by UMZU

Product Type: Diabetes/Blood Sugar Supplement
Best Actual Prize: Around $38
Cheapest Place To Buy: Amazon
Designed For: Controlling blood sugar – it promises to:
boost metabolism

smoothen digestion

help with weight loss
My Rating: 6 out of 10
Recommended?: Not really – it comes with some serious downsides:
quite expensive

hard to take

lacks other major ingredients
Instead, let me give you a way better option for your needs.
It makes by far the best diabetes/blood sugar supplement I know.
What I Liked About It
---
Has some decent ingredients

Comes with a professional website

Several honest reviews available online

Available on retailers
What I Didn't Like About It
---
High serving size (3 capsules/day)

Price is quite high for its quality

Lacks other major compounds for diabetes/blood sugar
---
Sensolin In A Nutshell
---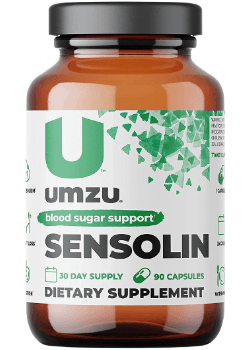 In my view, Sensolin is a decent diabetes product.
But it has some less pleasant features I looked into:
really hard to take (3 pills/day)

fewer ingredients compared to similar supplements

formula doesn't have enough variation

pricey for its value
Now – it's still a good product, since it has some promising ingredients.
The only exception is biotin (which has a slightly higher dose than it should).
Also, I couldn't find too many complaints about its side effects.
So this can be considered a good sign.
Now – when it comes to the price, I don't think it's a practical choice.
You need to pay $37.46 for a month's supply (90 capsules).
If you ask me, this is too much for the features it offers.
That's why Sensolin isn't necessarily a product I would recommend.
---
#1 – How It Works & Producer
---
Let's first analzye some of the basic info about Sensolin:
what health concerns it helps

who is the producer behind

how it works
1. How It Works
---
There is only one major line describing Sensolin's mechanism of action.
According to its official page – it's meant for "naturally helping your body to regulate blood sugar."
Besides that, it has a couple of additional claims:
balances blood sugar

boosts metabolism

contributes to weight loss

supports proper digestion

helps with blood pressure

promotes healthy hair, skin and nails

Honestly – these claims are a bit too hard to believe.
That's because Sensolin states to be helpful for a bunch of (very different) health issues:
diabetes

weight problems

bad digestion

high blood pressure

hair/skin problems
To be honest – when a supplement claims to work for so many issues, it doesn't.
That's because a product designed for a certain problem cannot help another one tremendously.
It's true that some products can help 2-3 health issues – but that's all.
Sensolin claims to solve 5 different problems, which is probably not the case.
That's why I consider its promises way too overestimated.
2. Company Behind
---
Now – Sensolin For Diabetes is made by a brand UMZU.
Surprisingly or not, this company has a pretty decent and informative website.
Besides, it offers a variety of products:
supplements

snacks

personal care

books

apparel
Also, there are several ways to contact the company.
This includes virtual assistant chat, email and scheduling a call.
Now – I searched for UMZU on BBB and it did receive some complaints.
However, the customer representative addressed all of them.
So overall – the brand does not look like a scam at all, that's why I consider it pretty credible.
---
#2 – Ingredients (6 out of 10)
---
If you ask me, the formula of Sensolin is pretty basic.
But there's a slight disadvantage that it has (over similar products).
It contains a very high dose of biotin:
this vitamin doesn't have a very strong effect against diabetes

it can mostly improve symptoms
Now – a high dose of this vitamin doesn't bring any major benefits for diabetes.
However, it can cause several side effects (especially acne and rashes).
It's true that Sensolin doesn't have too many complaints about these issues.
But even so – it has a higher risk than most similar supplements.
Anyway – let's now take a look at the benefits of each compound:
As you can see – Sensolin has fewer ingredients than its competitors.
That especially if you compare it to the top diabetes supplements.
For this reason – it incredible claims are even harder to believe now.
---
Conclusion
---
Overall – Sensolin has a pretty low number ingredients.
It's not enough to support all of its claims, in my view.
Also – the dose of biotin is way too high, in my view.
That's why I wouldn't necessarily recommend its formula, despite being decent.
---
#3 – Pills & Dosage (5 out of 10)
---
Here's what you should know about Sensolin's features.
1. Pills
---
Based on my research, this is how this product's pills look like:
gelatin-based capsules

normal dimensions

yellow to beige color
In my view, there's nothing special about these pills.
They look extremely common and regular.
If you're used to taking supplements, you won't notice anything unusual about them.
2. Dosage
---
Now – Sensolin comes with 3 different ways to take it:
Take a pill before each meal (a total of 3)

Consume 3 capsules after you work out

You can also take 3 pills first in the morning

In my view, these dosage options are very interesting,
However – the total of 3 pills/day is still the mutual point.
To be honest, this dosage is quite hard to follow.
That especially for people who already take prescription meds for diabetes.
So taking 3 capsules can be really inconvenient.
I personally try to avoid products that have a high serving size, if possible.
And in this case, there are many alternatives that only require a pill daily.
---
#4 – Results

(7 out of 10)
---
Sensolin has a lot of honest reviews, which is really good.
That's because it's a great way to see how it works for other people.
Note: I only analyzed authentic reviews, not promotional or fake ones.
1. Positive Opinions
---
Sensolin is available on both its website and on Amazon.
But obviously, the reviews on Amazon are more legitimate and honest.
Now – the overall rating of the product is 4.2/5 stars.
If you're curious how, here are the positive opinions it received:
Most customers experienced a decrease in their blood sugar.

Some mentioned it helped with their metabolism and stamina.

Others felt more energetic than usual.

There were people who also said that it replaced their prescription medicines.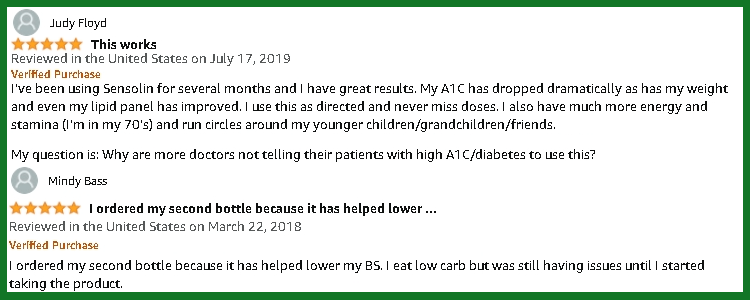 Now – I don't recommend replacing your prescribed medicine with any supplement.
That's because supplements don't have the same powerful effect as drugs.
But other than that, Sensolin looks like it's helpful for a lot of people.
However, let's take a look at its negative side before taking any decision.
2. Negative Opinions
---
Sensolin is not exempted from customer complaints.
Here are some of the most common ones:
A lot of previous buyers said that it's overpriced for its value.

Some received broken products.

Others mentioned it didn't help lower their blood sugar at all.

The rest of the comments are about it being a waste of money.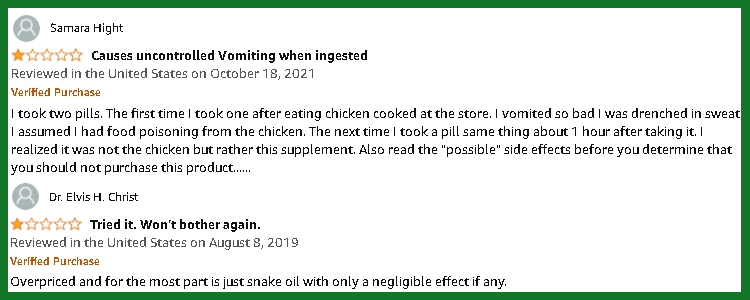 As you can see, most of the negative feedback is about Sensolin's price.
So you can assume that its price is too high for its true quality.
However – there weren't too many complaints about its side effects or results.
This means Sensolin is far from a bad product overall.
It's simply not as good as other options.
---
Conclusion
---
To sum up the results, a lot of previous buyers liked Sensolin.
However – their praises are related to its effect on blood sugar.
Still, the results don't seen to be goo enough for its price.
So overall – I advise you to look for some better alternatives.
---
#5 – Side Effects

(9 out of 10)
---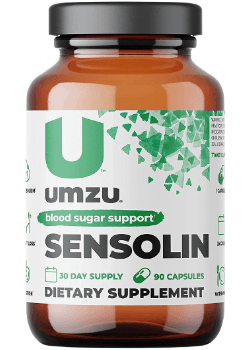 So far – I haven't seen any serious complaints about adverse effects:
there was only one

that exact user mentioned vomiting

but it was probably an isolated case only
But as of now, Sensolin looks like it's safe to use.
If you ask me, very few complaints about side effects is a good sign.
But keep in mind that Sensolin has many complaints about its poor effect.
So despite being safe, it seems like it's too weak for some people.
Even so – when it comes to safety, it gets a high grade.
---
#6 – Price

(4 out of 10)
---
Now – Sensolin is quite expensive, considering the previous points.
So it's not the best option you can find on the market.
1. The Exact Price
---
As I mentioned, Sensolin is also available on Amazon.
But the price from its official website is slightly lower.
So let's analyzing the pricing options from its official page:
One bottle costs $37.46 (for a one-time purchase)

You can get 36% off upon subscription ($31.84/bottle)

There's a 60-day money back guarantee

You can also get a free shipping for order above $99 (in the US)
Honestly, Sensolin is too pricey for its quality.
It's definitely not a terrible product, in terms of quality/price ratio.
But it's not worth $38/bottle either, in these circumstances.
So judging after its features and price, I would probably not recommend it.
2. Competitors' Price
---
If you allow me, I know an alternative that is worth investing your money in.
I'm talking about Striction D, my #1 recommended supplement: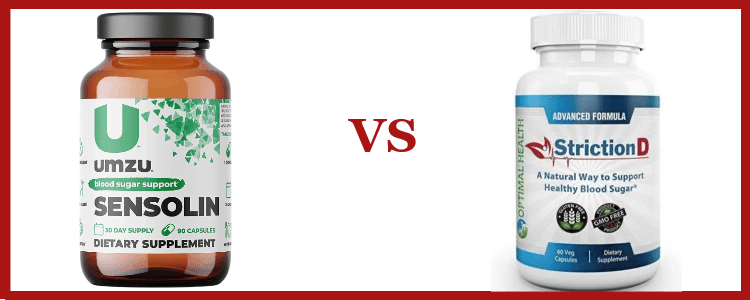 Striction D's formula is superior for diabetes/high blood sugar levels.

It's based on the most important 5 ingredients for diabetes.

Sensolin contains fewer ingredients.

The formula is pretty decent, but it's not the best.

Striction D only requires 2 capsules daily.

Meanwhile, Sensolin needs a total of 3 pills/day.

Striction D can be bought for only $19 from its normal price of $56.

Sensolin costs $38 for a bottle (90 capsules).
Striction D isn't only less expensive overall, but it's still a much better choice.
It contains some superior ingredients and features for the price.
Compared to Sensolin, it has a much higher quality (and a better effect).
So it remains my top recommended diabetes/blood sugar supplements.
---
Conclusion
---
Overall – Sensolin is a pretty decent supplement.
But its price doesn't make justice to its quality.
It's quite expensive for the things it offers.
---
#7 – Final

Conclusions
---
Here's I would like to summarize my points on Sensolin.
1. Basic Ingredients
---
Sensolin has a pretty decent formula.
But it's not enough to grant all of its promises (in my view):
lacks other major compounds for diabetes

biotin has some higher doses than it should

not enough variation in the ingredients
It's not the best option when it comes to the formulation, but it definitely works.
2. Not Easy To Use
---
Typically, people with diabetes/prediabetes already have some prescription medicines.
So taking an additional 3 capsules is uncomfortable.
My advice for you is to find an option with a lower serving size.
3. Quite Pricey
---
Lastly – Sensolin can be expensive:
contains pretty few ingredients

its price is $38/month
Also, you're not paying for the superior features you desire.
So it's up to you if you still want to buy it or not.
---
My Verdict – Worth It Or Not?
---
Short answer: Not really – and it's because of several factors:
Hard to take (3 pills per day)

Lacks other major compounds

Pretty pricey for its value
If you ask me, Sensolin is definitely not an awful product.
But it's not the practical choice for your money.
So if you're looking for something worth investing in, I have a recommendation.
I'm talking about the supplement called Striction D:
Excellent results in most users

Unique and excellent mix of ingredients

Well-tolerated by many

Many satisfied users behind

Really affordable
If you ask me, I strongly recommend Striction D.
Its formula offers more benefits and its results are much better than those of any product I looked into.
Overall – it's really effective and it's worth every penny.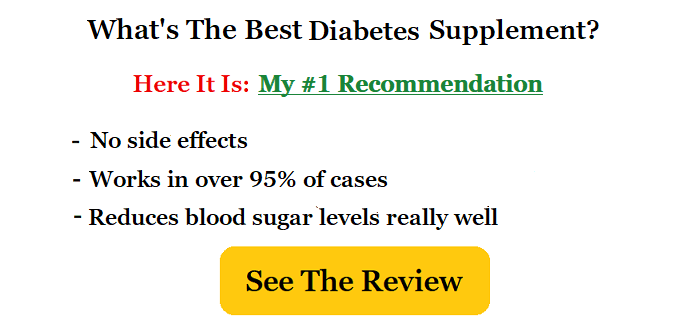 References:
1 – https://www.healthline.com/health/-biotin
2 – https://www.ncbi.nlm.nih.gov/pmc/articles/-PMC7192664/
3 – https://www.ncbi.nlm.nih.gov/pmc/articles/-PMC3750820/
4 – https://www.healthline.com/nutrition/-cinnamon