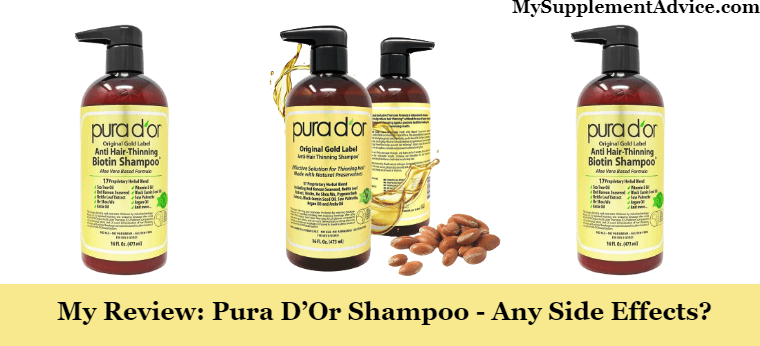 It's time to review Pura D'or Shampoo, which is an intriguing product that strengthens your hair:
good formulation

reasonable price

lots of satisfied customers
In theory, this shampoo looks really nice.
But are there any side effects?
Keep reading to find out all there is to this product.
Note: This review is based on my opinion + research on Pura D'or Original Gold Label Shampoo.
Review Summary
---
Full name: Original Gold Label Anti-Thinning Biotin Shampoo by Pura D'or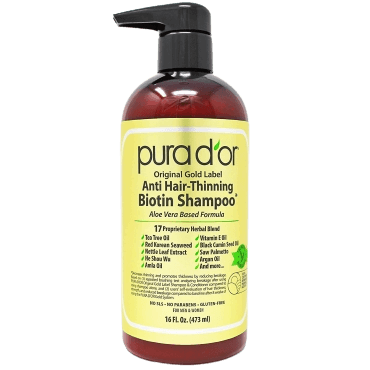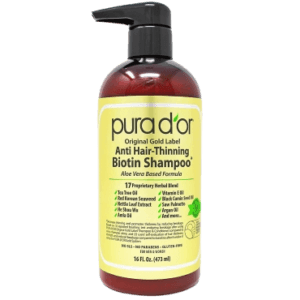 Product Type: Shampoo
Best Actual Price: $29.99
Cheapest Place To Buy: Amazon
It's also available on the official website for the same price.
Designed For: Reducing hair thinning and increasing volume.
On top of this, it also promises to:
boost hair strength

add shine

moisturize hair
My Rating: 8 out of 10
Recommended?: For the most part – it's pretty great:
promising formula

lots of positive user experiences

justifiable price
Just keep in mind it's no longer a hair loss shampoo (as it used to be).
That's why I think it's best to keep an eye out for an even better alternative.
What I Liked About It
---
Good for strengthening your hair

Stimulates the growth of hair

Created by a well-known company

Great mix of ingredients

Contains DHT blockers

Also has biotin, an essential nutrient for hair

Many satisfied customers

Understandable price point
What I Didn't Like About It
---
Complaints regarding shipping conditions

Confusion as to whether the formula was changed or not

Risk of side effects
---
Pura D'or Original Gold Label Shampoo In A Nutshell
---
This shampoo is very highly-rated on its product pages.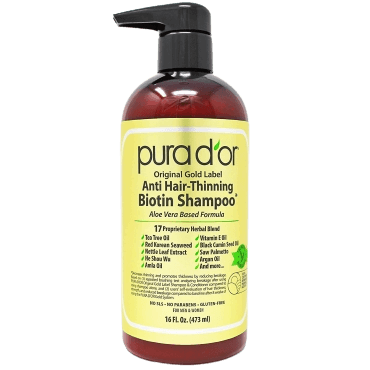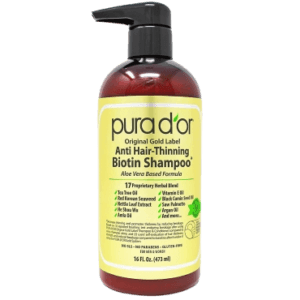 The company really puts emphasis on the natural ingredients in their formula.
Now – there are multiple shampoo versions from this brand.
To name a few:
Pura D'or Advanced Therapy Shampoo

Pura D'or MD Anti-Hair Thinning With 0.5% Coal Tar, Biotin Shampoo

Pura D'or Apple Cider Vinegar Thin2Thick Shampoo

Pura D'or Color Harmony Purple Shampoo
Due to its popularity, we're going to focus on their Anti Hair-Thinning Biotin Shampoo in this review.
There are many positive aspects to this product:
strengthens the hair

makes hair look healthier

adds volume
Such advantages can be attributed to the good formulation.
It contains biotin and a few DHT blockers.
Those are pretty good for hair loss issues!
Still – there are also numerous complaints:
questionable shipping conditions

potentially switched up formula

some side reactions
That being said, several customers said that this shampoo used to counter hair loss.
Nowadays, it was changed to combat thinning, which is not the same thing.
If that really happened, it's rather suspicious.
However, the people saying this also claim that the product is not as effective as it was before.
So it's not as amazing as it used to be.
---
#1 – How It Works & Producer
---
In this section, I will give you the general info regarding this product:
mechanism of action

what it claims to do

who the producer is
1. How It Works
---
The official website claims that this shampoo is "proven to reduce hair thinning due to breakage".
Additionally, the formula is also designed to:
add shine

strengthen

volumize

To ensure you get these results, the producer claims their ingredients will do the job.
The company seems to be pretty proud of their formula, which contains:
biotin

nettle

pumpkin seed
The composition has much more ingredients, but we'll get to these details in a bit.
To give you a general impression – the above components are known to combat hair loss.
That's a great starting point.
What's more – this shampoo is also hypo-allergenic, vegan and cruelty-free.
So far, things couldn't look better.
2. Company Behind
---
As I have briefly mentioned in the summary, this shampoo was created by Pura D'or.
Here's what I can tell you about this company:
has its own website

also sells products for skin, body and aromatherapy

provides phone number for contact

claims its products don't contain harmful chemicals, SLS or parabens

everything is gluten-free
The overall impression I was left with is that this brand is very nature-oriented.
This goes well with the way in which they advertise their products.
So I'd say the company is consistent in the way it presents itself.
Overall, I would say it's safe to buy from this brand.
---
#2 – Ingredients

(8 out of 10)
---
A few lines prior, I said that Pura D'or Original Gold Label Shampoo has a pretty good formula.
I told you that more details are to come.
So let me tell you about which ingredients are most important here.

Saw Palmetto – the best natural DHT blocker [1].

Pygeum Bark – combats hair loss.

Argan Nut – moisturizes hair and scalp.

Nettle Extract – helps with hair regeneration.

Tea Tree – prevents dandruff [2].
Rosemary – increases shine [3].

Pumpkin Seed – boosts keratin levels.

Green Tea – stimulates hair growth [4].

Willow Bark – exfoliates the scalp.

Biotin – supports healthy hair [5].
Out of the many active components in this shampoo…
These are the best ones that will benefit your hair the most.
They all provide an array of various benefits – DHT blockers, hair regeneration and moisture.
Combined together, they make up a pretty good formula for repairing damaged hair.
In terms of how likely it is for Pura D'or Original Gold Label Shampoo to fulfill its claims…
The ingredients are more than capable of improving your hair.
---
Conclusion
---
All in all, this shampoo's formula is pretty good.
To be fair, it's not the best one on the market.
But it's definitely up there.
---
#3 – Smell & Texture

(9 out of 10)
---
In terms of scent and consistency, here's what you can expect from this shampoo.
1. Smell
---
The official product page on Amazon describes the scent as natural & herbal.
Aside from that, I couldn't really find any other interpretations regarding the smell.
The few reviews that I saw mentioning this aspect praised the scent.
But some of them also said they disliked it.
So it's a matter of personal preference.
2. Texture
---
I couldn't find any reviews mentioning anything about this aspect.
This can be either a good sign or a bad one.
So make of this what you will.
---
#4 – Results

(8 out of 10)
---
The reviews are usually your best bet in finding out how good a product is.
Naturally, that's what I did in order to find out more about this shampoo.
So let me tell you what I found.
Note: I only considered authentic reviews, not promotional/fake ones.
1. Positive Reviews
---
I looked at the reviews on the official website, Amazon and Walmart.
Seeing as Pura D'or Original Gold Label Shampoo has a high rating, I expected lots of praises.
Here are the good things people were saying:
They said this shampoo really stopped their hair loss.

Customers also said that their hair is growing a lot.

One bottle also seems to last a long time.

People also said that it made their hair feel fuller & thicker.

It also makes hair look shinier.

Some also said their hair is less prone to breakage.

Some were also praising the natural formula.

Although the above review is a little long, it's very thorough.
It also touches on many of the positive aspects I highlighted for you.
Regardless – from what I noticed, many positive reviews generally praise the same features.
So that's a sign that it definitely does something right.
2. Negative Reviews
---
Like most products, Pura D'or Original Gold Label Shampoo also has its fair share of criticism.
Here's what people usually complain about:
Some said their hair didn't start growing more.

In fact, a few said they didn't notice any change at all.

Some people claimed they received a different product from what they ordered.

A few people said it made their hair greasier.

Most negative reviews state that the brand sneakily changed the formula.

Lots of loyal customers claim that Pura D'or Original Gold Label Shampoo was originally for hair loss.
Along the way, the company may have switched to anti-breakage without disclosing the change.
Apparently, this caused many people to feel betrayed:

This is understandable, as potentially switching from targeting hair loss to breakage is pretty major.
A change in formula can completely alter the shampoo's functionality.
That explains why so many people are disappointed.
---
Conclusion
---
Although lots of people praise the thickening effect of Pura D'or Original Gold Label Shampoo…
There are also quite a few claiming that the present shampoo is not the same as it once was.
Of course, it cannot be said whether or not this company really changed the product.
However, more and more people are complaining about this.
So something is not quite right.
---
#5 – Side Effects

(7 out of 10)
---
Pura D'or Original Gold Label Shampoo still managed to cause side effects…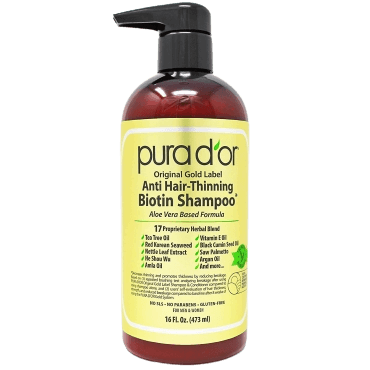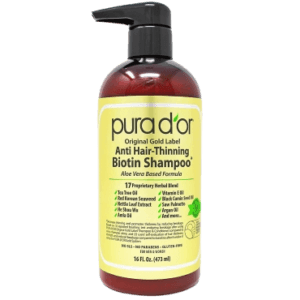 Despite the high rating, it still poses some risks:
itchy scalp

greasiness

hair loss

burning sensations (on scalp)

dries out hair
Considering that we're looking at a shampoo meant to thicken and strengthen your hair…
These side reactions are pretty much the opposite of what you would expect.
Keep in mind that I'm not saying everyone experienced these issues.
In fact, you could use this shampoo and have no issue with it.
However, enough people complained about these that I figured it's better to include them here.
That way, you can make an informed decision.
---
#6 – Price

(8 out of 10)
---
Price is one of the most important factors when deciding whether to buy a product.
In the case of Pura D'or Original Gold Label Shampoo, the price tag is fairly reasonable.
1. The Exact Price
---
For its supposed formula and quantity, the price tag is understandable.
It's not extremely affordable, but it's also not going to break the bank.
For this section, I will use the Amazon product page as reference:
$29.99 for 16 fl. oz.

no discount for buying more than 1 bottle

subscription saves you up to 10% on auto-deliveries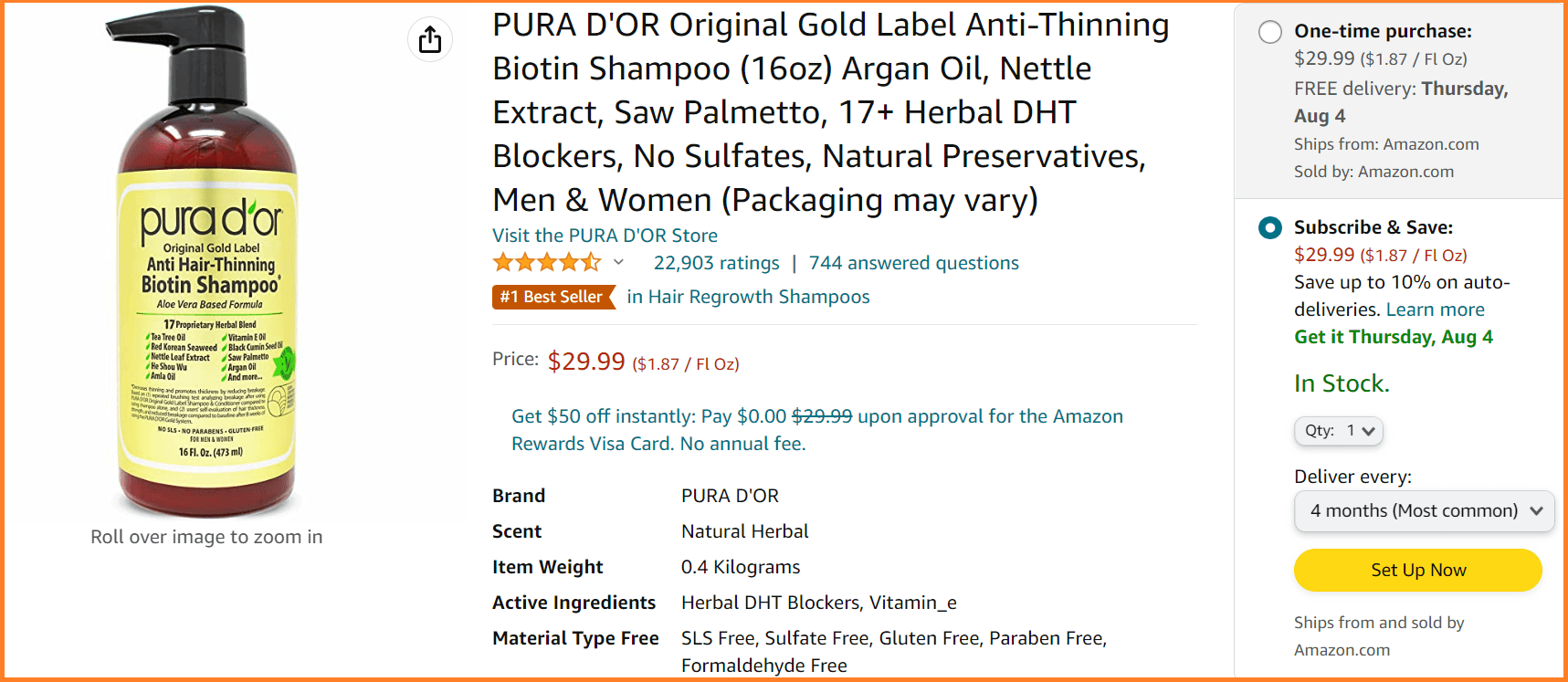 However, I would not advise going for the subscription.
You simply don't know how much time you need to use up one bottle.
Plus, you also have to decide whether you really want to repurchase this shampoo.
So don't rush these decisions.
2. Competitor's Price
---
I have a much better option to recommend.
It actually has the same price point, but offers much higher quality.
Let me introduce you to my top recommendation for hair shampoo:

Valotin mostly consists of botanical extracts which are awesome for hair.

Valotin is proven to stimulate hair growth.

The formula in Valotin is actually backed up by several studies.

Unlike Pura D'or, Valotin won't cause any side reactions.

They both cost $30, but the quality of Valotin is superior.

Valotin bubbles up much easier than this shampoo.
This is why I think you are better off going for Valotin.
It won't cost you more than Pura D'or, but it will provide better ingredients overall.
Plus, you won't have to worry about side effects.
---
Conclusion
---
Pura D'or Original Gold Label Shampoo doesn't have a bad price tag.
In fact, it's quite reasonable.
But I believe there are still better choices out there.
In the end, it's up to you to choose where your money goes.
---
#7 – Final Conclusions
---
Let me summarize the main points regarding Pura D'or Original Gold Label Shampoo.
1. Good Formulation
---
This shampoo looks to have a pretty good formula:
regenerative ingredients

DHT blockers

moisturizing components
These are helpful for strengthening the hair.
All in all, it seems like this specific formula is fairly solid.
2. Altered Product (Allegedly)
---
This is an issue that was brought up by numerous customers in the reviews:
original purpose was treating hair loss

DHT blockers were removed from the formula

efficiency is no longer the same
Of course, I cannot verify these claims.
But I noticed lots of people saying that they have been buying this shampoo for so many years…
Only to find out that it's now a different product.
3. Highly Praised
---
The sheer amount of positive reviews this shampoo has cannot be ignored.
Lots of people had a good experience with this product:
boosted hair growth

thicker hair

shinier appearance
The promising formula definitely played its role in these results.
Of course, this is assuming the product was not changed in the meantime, like some people say.
---
My Verdict – Worth It Or Not?
---
Short answer: Mainly yes – it looks like a good option: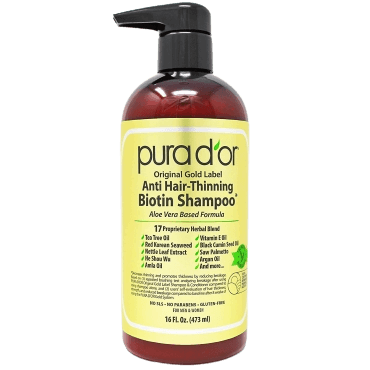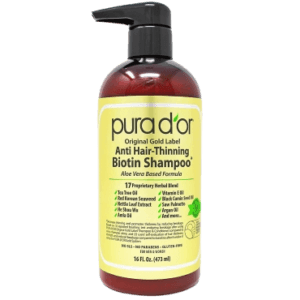 Reliable formulation.

Most customers are satisfied.

Boosts hair growth in most cases.

The price point is justifiable.
To bring this all together, Pura D'or Original Gold Label Shampoo is a good choice.
Still, considering the confusion regarding whether it was secretly reformulated or not…
I would recommend a much better alternative: Valotin.
It's definitely the best shampoo for your hair:
offers higher quality for the same price

doesn't cause side effects

enhances hair growth

contains many useful herbal extracts
Keeping these in mind, I would say Valotin is the safer choice.
You definitely know what you're getting if you go for it.
For this price point, it's very important to get a shampoo that ticks all the boxes.
So I would say that Valotin is a much better deal because of this.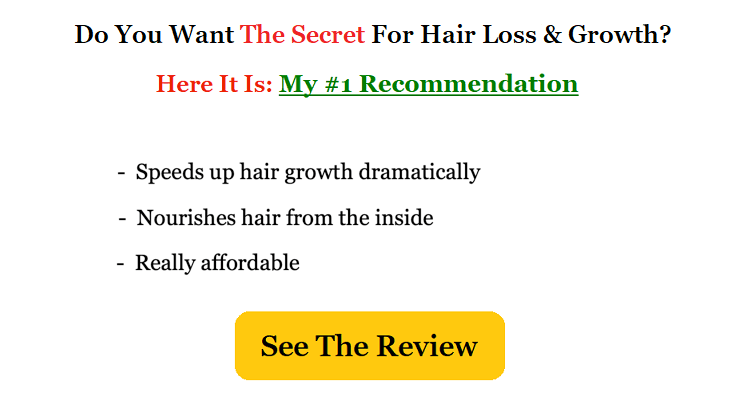 References:
1 – https://www.ncbi.nlm.nih.gov/pmc/-PMC7706486/
2 – https://pubmed.ncbi.nlm.nih.gov/-12451368/
3 – https://pubmed.ncbi.nlm.nih.gov/-25842469/
4 – https://pubmed.ncbi.nlm.nih.gov/-17092697/
5 – https://www.ncbi.nlm.nih.gov/pmc/-PMC5582478/