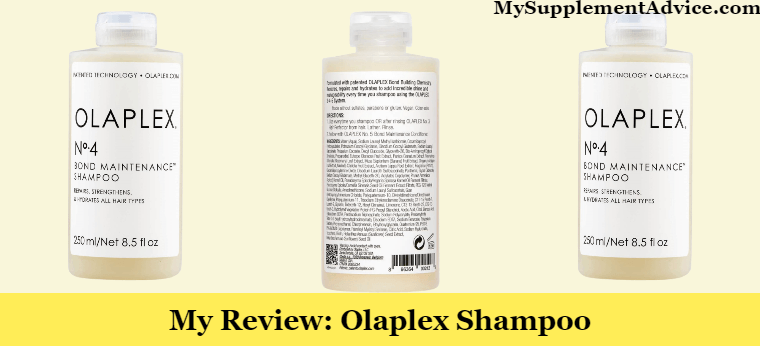 It's time to review Olaplex Shampoo – a professional product that plans to repair your hair:
pretty expensive

lots of positive user experiences

very well-known
But let's assess whether or not it lives up to its praises.
In other words – do its ingredients work?
This review will tell you all you need to know about it.
Note: This review is based on my opinion + research on Olaplex Shampoo.
Review Summary
---
Full Name: N°.4 Bond Maintenance Shampoo by Olaplex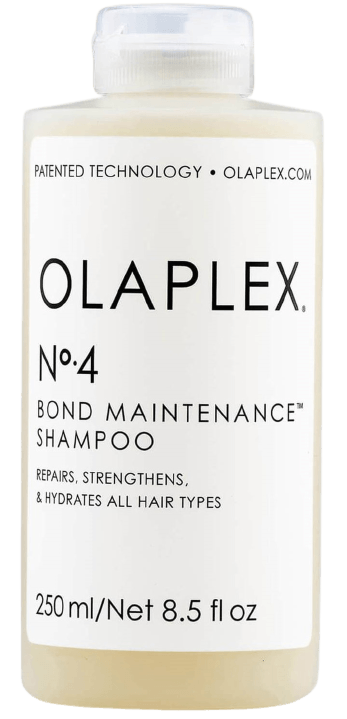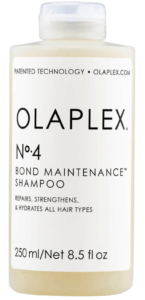 Product Type: Shampoo
Best Actual Price: $30
Cheapest Place To Buy: Amazon
You can also find it on the official website for the same price.
Designed For: Restore the health of your hair.
By doing this, it will also:
nourish

protect

strengthen
My Rating: 7 out of 10
Recommended?: Kind of – it's a mixed situation:
good ingredients

many satisfied customers

risk of side effects
Because of this, I wouldn't choose this shampoo as my go-to option.
Maybe it would be a better idea to look into a formula that is much safer and costs less.
What I Liked About It
---
Good for repairing damaged hair

Useful ingredients

Contains botanical extracts

Unique mechanism of action

Professional product

Lots of happy customers behind
What I Didn't Like About It
---
Small quantity for the price

Complaints about shipping (through Amazon)

Unclear if Amazon sells the original version or not

Higher risk of side reactions
---
Olaplex Shampoo In A Nutshell
---
This shampoo is fairly well-known, as its used in hair salons.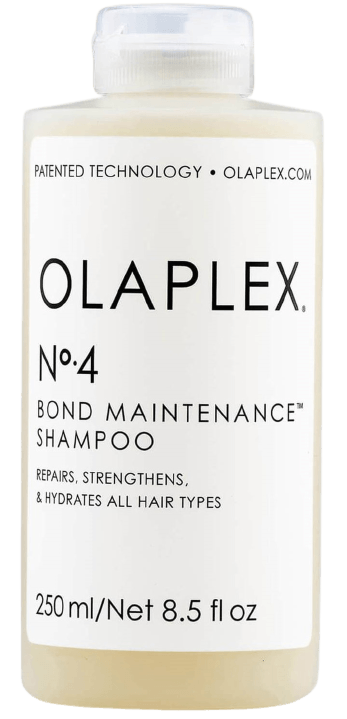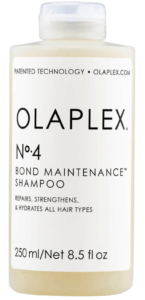 That means it's a professional product, so it attracts people based on this reputation.
Naturally, it's a pretty good shampoo, since it's constantly praised.
Many customers appreciate the regenerative properties it has:
repairs damaged hair

moisturizes

protects against potential breakage
These benefits are ensured by the active ingredients in the formula.
It's also important to note that this shampoo uses a special molecule in order to restore the health of your hair.
So it has a unique mechanism of action.
Nonetheless – it still manages to lead to unwanted reactions:
loss of hair

dandruff

itchy scalp
These side effects are quite troublesome for a hair care product.
Plus, some people who order from Amazon receive what seems to be a fraudulent product.
So maybe it's safer to buy from the official website.
Still, it doesn't look like this shampoo is that safe to use.
That's why I would say it's worth looking for a less risky option.
---
#1 – How It Works & Producer
---
In this section, I will give you the basic information regarding this product:
what exactly it does

how it works

who its producer is
1. How It Works
---
According to the official website, Olaplex Shampoo is a "highly-nourishing and reparative shampoo".
In addition, it should also protect your hair from: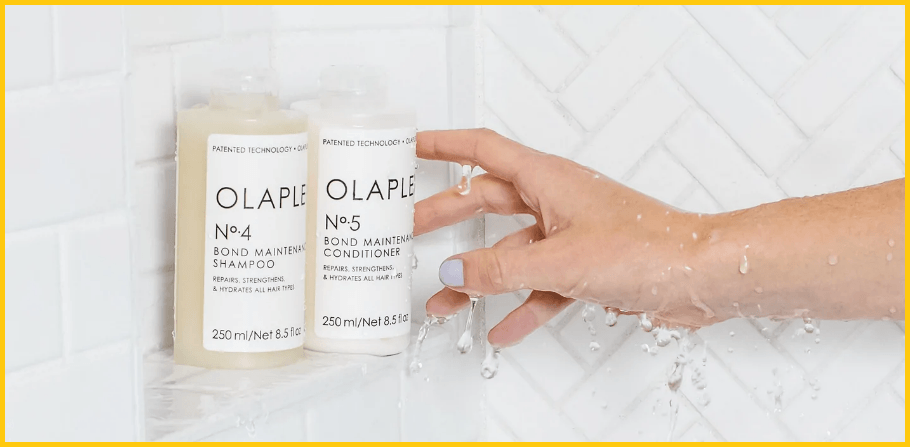 In order to make this work, the brand claims to use a special mechanism.
More specifically, something known as Olaplex Bond Building technology.
This is ensured by Bis-Aminopropyl Diglycol Dimaleate, a molecule in this shampoo.
In simple terms, here's what this molecule does:
improves hair strength

protects from within

provides immediate results for all hair types
Naturally, the last claim could be an exaggeration.
Still – the rest sounds pretty clear, as it says that this molecule repairs the broken bonds in your hair.
That's also where the name of the shampoo comes from, so it's pretty fitting.
We'll get into more details later on.
2. Company Behind
---
Predictably enough, this shampoo comes from a brand called Olaplex.
Let's see some noteworthy information:
sells multiple hair products

offers a quiz to help customers choose the best products for their issues

you can get in contact with customer support by sending a form or emailing them

its products are sulfate, paraben & cruelty-free (among others)
What's more – it's also a pretty renowned company.
That's because their products are oftentimes used in professional salons.
This makes them more trustworthy in the eyes of the customers.
This also explains the price/quantity ratio.
Overall, this looks like a company that shouldn't cause any issues.
---
#2 – Ingredients

(8 out of 10)
---
It's time to closely observe the active ingredients in Olaplex Shampoo.
Let's see what makes this shampoo so great.
Important Ingredients
---
After looking through the lengthy list of ingredients…
I decided to only mention the most essential components that make a difference:
Panthenol – retains hair moisture [1].

Helianthus Annuus Seed Oil – prevents hair breakage

Camellia Sinensis Seed Oil Ferment Extract Filtrate – moisturizes hair

Argania Spinosa Kernel Oil Ferment Filtrate – nourishes and protects [2].

Prunus Armeniaca Kernel Oil – reduces dryness

Helianthus Annuus Seed Extract – prevents dandruff

Bis-Aminopropyl Diglycol Dimaleate – restores damaged hair

Euterpe Oleracea Fruit Extract – adds shine [3].
Rosmarinus Officinalis Leaf Extract – has anti-inflammatory properties [4].

Punica Granatum Extract – prevents hair color from fading

Origanum Vulgare Leaf Extract – increases blood circulation in the scalp [5].

Musa Sapientum Fruit Extract – softens hair

Morinda Citrifolia Fruit Extract – enhances hair growth

Arctium Lappa Root Extract – soothes the scalp

Limonene – prevents hair loss

Biotin – stimulates keratin production [6].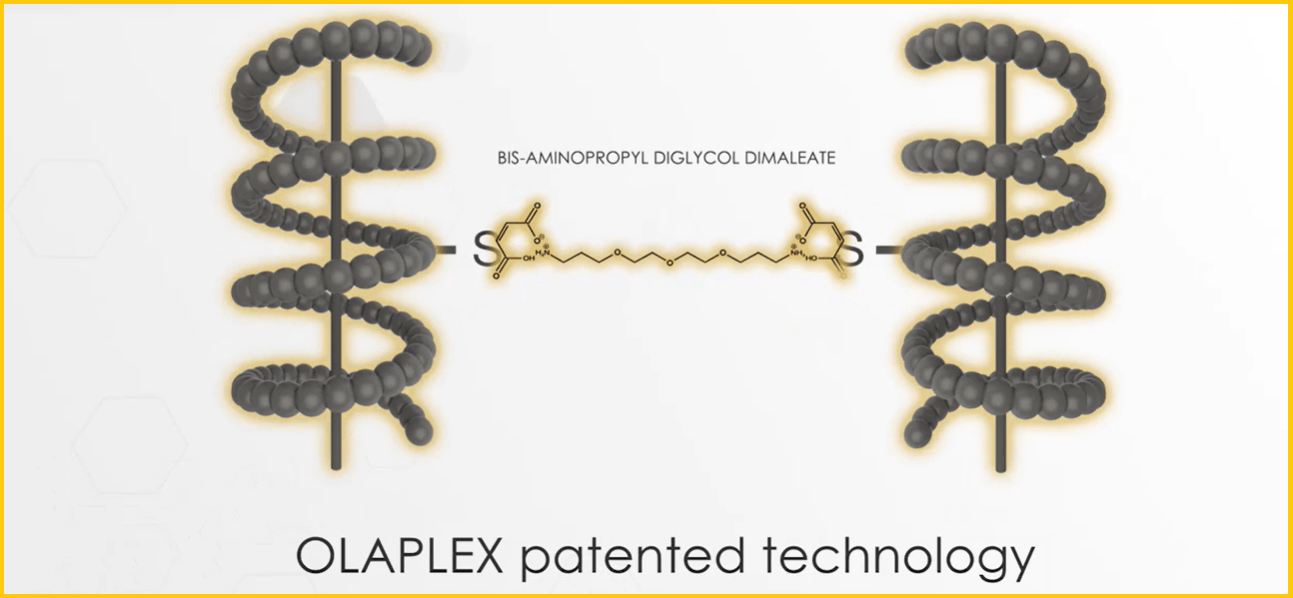 As you can see, there's more to this shampoo than the molecule mentioned on the selling pages.
This is a good thing – it means Olaplex Shampoo has many more benefits to bring.
Judging by the ingredients above, it's a pretty good mix of components.
Each brings its own advantage to the table, so your hair gets more nourishment.
It looks like these ingredients have every chance to fulfill the shampoo's promises.
---
Conclusion
---
To bring this section together, I would conclude that Olaplex Shampoo has a solid formula.
The claims it makes are backed up by the components.
In short, it can help your hair in the ways it promises to.
Now, I wouldn't say it's the best shampoo formula I've ever come across.
But it's definitely quite nice.
---
#3 – Smell & Texture

(8 out of 10)
---
It's time to see what stands out about the scent and consistency of Olaplex Shampoo.
1. Smell
---
Here's how people describe the scent of this shampoo:
Most people were fond of the smell, though not everyone.
If you're not a fan of citrus scents, you probably won't prefer this product.
So make of this what you will.
2. Texture
---
In regards to consistency, I found a couple reviews describing it as such:
What I'm gathering from this is that this shampoo is quite thick, yet remains runny.
That can be an issue, since you run the risk of pouring out more product than you need.
Be careful when it comes to this.
---
#4 – Results

(7 out of 10)
---
If you want to find out the real way in which a product works…
The user reviews are usually your best bet.
So let's see what other people had to say after trying out Olaplex Shampoo.
Note: I only considered authentic reviews, not promotional/fake ones.
1. Positive Reviews
---
Keeping in mind that this shampoo is well-known in hair salons…
It's no surprise that it mostly has positive reviews.
Now – I didn't take into account the reviews on the official website.
That's mainly because there aren't that many negative reviews there.
So I went for the official product page on Amazon.
Here's what people enjoyed about this product:
Some people say it lathers really well.

A few also claim a small amount goes a long way.

Customers also said their damaged hair feels more alive now.

This shampoo also made people's hair easier to detangle.

Quite a few people have also said that their hair is shinier.

Not only that, but their hair also feels silky smooth instead of dull.

To add to the fact that this shampoo is quite popular in hair salons…
Numerous people find out about Olaplex through their hairdresser:

This proves that majority of people are quite pleased with this product.
Seeing it used in hair salons likely makes people feel more inclined to buy it for themselves.
It turns out that the reputation of Olaplex is quite beneficial in this sense.
Plus, it makes people feel like they can get the salon experience from the comfort of their home.
2. Negative Reviews
---
Given how well-known Olaplex Shampoo is, it's no surprise that it also attracted negativity.
Naturally, more and more people want to use it.
This means that there will also be people who don't get along with this product.
However, that helps other people decide whether or not it's worth to splurge.
Let's see what people were dissatisfied with:
People were saying their hair started to fall out more because of this shampoo.

A few also said that it made their hair more greasy.

Additionally, the hair also feels dry after use.

Some customers also said they didn't notice any difference after using the product.

Quite a few people even complained that the shampoo made their scalp itchy.

Some reviews were even saying that they supposedly received a fraudulent product:

These issues are quite a lot to unpack.
People's reactions are very much to be expected.
Some are experiencing pretty dramatic hair loss…
While others are doubting the authenticity of the product.
It's clearly a rocky road.
---
Conclusion
---
Like many other similar products, Olaplex Shampoo has an overwhelming amount of praise.
However, it also has its fair share of criticism.
While so many people seem to be enjoying what this shampoo does for their hair…
It cannot be ignored that a considerable amount of people are also having a hard time with it.
This is a good reminder to check not only the stellar reviews, but also the negative ones.
---
#5 – Side Effects

(6 out of 10)
---
Although many people speak highly of this product, it still manages to cause some issues.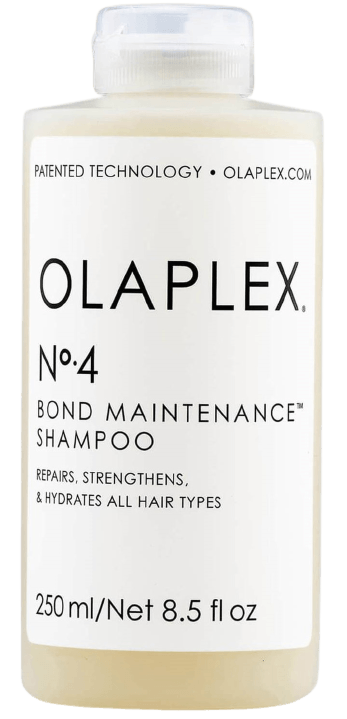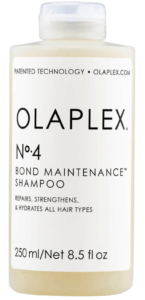 In fact, some of them were mentioned in the negative reviews.
Let me relay them for you:
intense hair loss

itchy scalp

dry hair and/or scalp

increased greasiness

dandruff
These are quite problematic, especially coming from a shampoo that's meant to repair broken hair.
As you can tell, most of the above issues actually cause more breakage.
Rest assured that I'm not saying everyone is guaranteed to experience these side reactions.
However, there is definitely a risk.
I thought it's better to let you know instead of letting you venture out on your own.
This way, you get to make an informed choice.
---
#6 – Price

(7 out of 10)
---
Obviously, the price tag greatly influences whether we go through with a purchase or not.
In the case of Olaplex Shampoo, the price is a little up there.
1. The Exact Price
---
Keeping in mind that one bottle contains a relatively small quantity of product…
The price point is not exactly modest.
It's not an over-exaggerated price, but it's definitely not affordable either.
Here's what the official product page on Amazon has to offer:
$30 for 8.5 fl. oz. bottle

purchasing multiple bottles doesn't give discount

you can subscribe for 5% off on auto-deliveries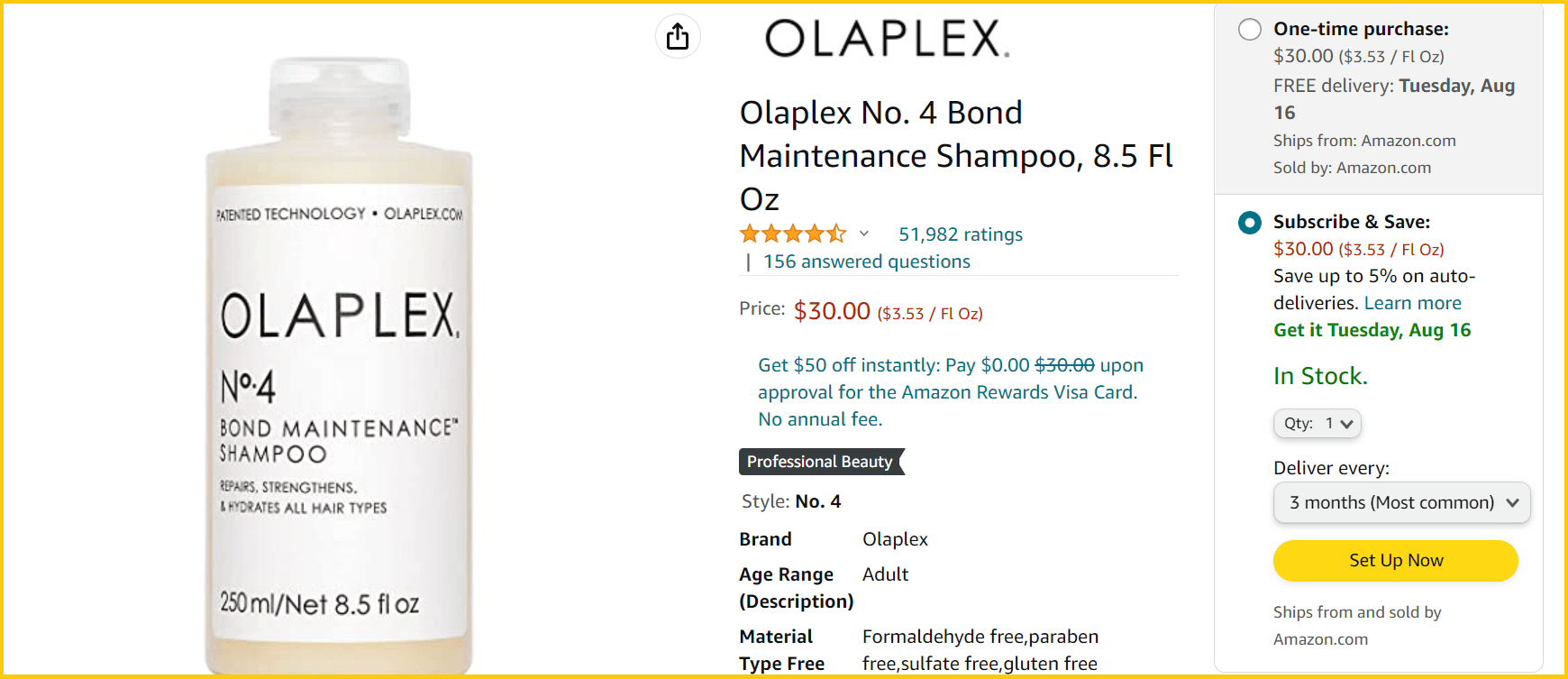 As it's been said in other reviews, the subscription is not worth it.
Before making the decision to order multiple bottles, you need to make sure you like the product.
Regardless – you're better off ordering at your own discretion.
2. Competitor's Price
---
It just so happens that I can give you a better option.
It actually has the same price, but I promise the quality is on another level.
In other words, here's my top recommendation for hair shampoo:

Valotin is proven to enhance the growth of hair.

Additionally, its formula is backed up by several scientific studies, unlike Olaplex.

My top recommendation doesn't cause adverse reactions.

What's more – it also offers more product: 12 fl. oz per bottle.

Valotin also lathers much better than Olaplex Shampoo.

Besides, for a larger quantity, it's also considerably cheaper.
This is why I think you're better off choosing Valotin.
Not only do you get much better quality and higher quantity…
You also get a formula that won't put your hair at risk.
---
Conclusion
---
To conclude this section, the price of Olaplex Shampoo is a little high.
Considering that you don't get that much product in one bottle, it's definitely not accessible.
Regardless, it's not the worst scenario.
I've seen worse, but I've seen better as well.
---
#7 – Final Conclusions
---
Let's summarize the main points that were made in regards to Olaplex Shampoo.
1. Nice Ingredients
---
The high praises this shampoo gets are definitely reflected in the formula:
good selection of active ingredients

lots of botanical extracts

special bonding molecule
Olaplex boasts about the molecule in its formula that transforms hair.
Granted, the ingredients look pretty good, which explains the love it receives.
2. Side Effects
---
Despite the attractive formulation, this shampoo still poses some risks:
hair loss

itchiness

dandruff
Out of all these, hair loss was mentioned most frequently.
This seems pretty counter-intuitive for a shampoo meant to reverse damage.
Needless to say, this makes potential customers rather cautious.
3. Not That Affordable
---
This is something that can put you off at first.
It's obvious that Olaplex Shampoo costs quite a bit, especially keeping in mind the quantity.
Regardless, some people put up with it if they really like the shampoo.
Still – initially, it can be a clear disadvantage.
---
My Verdict – Worth It Or Not?
---
Short answer: It's pretty alright.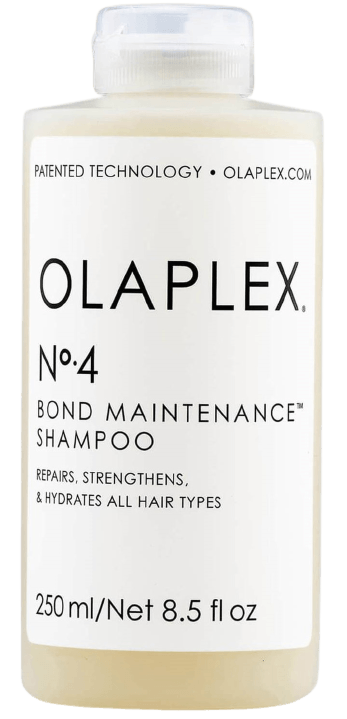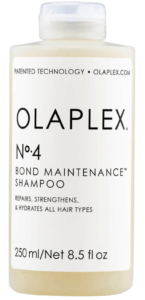 It has some advantages:
Good formulation.

Lots of loyal customers.

Potential adverse reactions.

Pretty expensive.
This all indicates that Olaplex Shampoo is a nice product.
Lots of people are really on board with it, which is great.
But there are also other people who are bringing up concerning aspects.
This is why you need to be careful when choosing a new shampoo.
Luckily, I have a great alternative for you.
I'm thinking of a product that won't have you second-guessing its safety.
Let me introduce you to Valotin, which is the best shampoo I know:
stimulates hair growth

causes no side effects

comes in larger quantity
These reasons make Valotin better.
Not having to worry about side effects is a pretty considerable advantage.
Plus, it offers more product for your money.
As such, I'm convinced you won't be let down if you decide to give Valotin a try.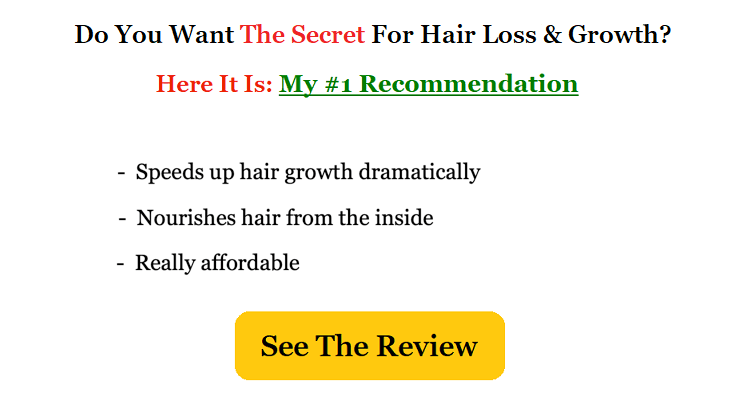 References:
1 – https://www.ncbi.nlm.nih.gov/pmc/articles/-PMC8929036/
2 – https://www.researchgate.net/publication/-273687487
3 – https://academicjournals.org/journal/AJPP/-D3E4D5862109
4 – https://pubmed.ncbi.nlm.nih.gov/-25842469/
5 – https://www.researchgate.net/publication/-288424650
6 – https://pubmed.ncbi.nlm.nih.gov/-28879195/