It's time for my H Skin Tags Formula review – which looks like a typical skin tags remover oil.
But, is this product a reliable one?:
weak formula

many complaints

slow effects
Or does it exhibits another form of a scam?
Let's look at the real deal behind this product by analyzing it in detail.
Note: This review is based on my opinion + research on H Skin Tags Formula.
Review Summary
---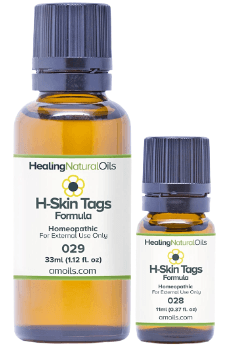 Full Name: H-Skin Tags Formula by Healing Natural Oils
Product Type: Skin Tags & Moles Remover
Best Actual Price: Starts at $34.95
Cheapest Place To Buy: Official Website
Designed For: Getting rid of undesired skin tags.
My Rating: 5 out of 10
Recommended?: No – here are some reasons why:
pricey for the value

negative reviews (company)

weak formula
Instead of going for this product, I actually suggest you try the best skin moles & tags remover I know.
What I Liked About It
---
Contains some natural ingredients

Offers different sizes

Has authentic reviews
What I Didn't Like About It
---
Quite expensive

Not fast-acting

Has a lot of complaints

Weak formulation/ingredients

Over-usage can cause side effects
---
H Skin Tags Formula In A Nutshell
---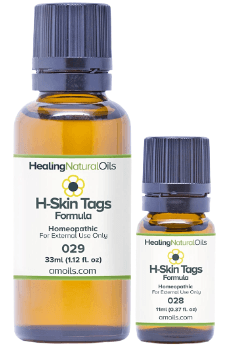 Aside from cream products, oil formulations are also used in removing skin tags.
In this case, H Skin Tags Formula is one of them.
But after doing some research, I found some disadvantages:
Very weak formula

Slow-acting

Pricey for its quality
These points made it hard for me to recommend it.
The amount of product might look like a decent volume at first.
But considering the product usage instructions, the price is not worth it.
In addition, it also takes months to give visible results which is not a good sign for me.
No one likes to wait for a very long time to get rid of skin tags.
So are you willing to spend $35 on a product like this?
If you ask me, I will not because I know there are better alternatives for sure.
You can still find other products out there that are also plant-based and gentle on the skin.
But still, fast-acting and no multiple reapplications are required (per day).
---
#1 – Claims & Producer
---
Here are some of the details you need to know about this product:
how it works

what skin issues it treats

who is the company behind
1. Claims
---
One major claim of this product is that it says to be "the natural solution for your skin tag removal."
Here's what it actually means:
safe and gentle

no scarring

painless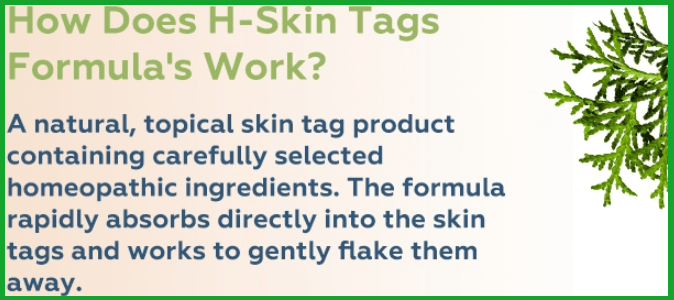 This product works by penetrating the skin quickly and gently flaking away the skin tags.
Unlike others that use acids, freezing, and skin burning.
The product can be used on the skin tags located in the following areas:
Sensitive areas

Under the arms and armpits

neck and face

Stomach, torso, and groin area

legs and feet
It also claims to show visible results in as little as 1-2 weeks.
But we still need to prove that in the following chapters.
2. Company Behind
---
The company behind this oil is called Healing Natural Oils:
products are mainly oil-based

US-based

formulations are based on natural ingredients

complete contact info
Looking at the company's website, it looks promising and professional.
Until I saw a lot of complaints about it on BBB.org.
And the majority of the comments are about the products not being effective at all.
These statements can give you an idea that you'll not get drastic effects with their products.
I strongly suggest you look for other alternatives in the market with fewer complaints.
---
#2 – Formula (4 out of 10)
---
Again, this product is said to have pure natural plant-based ingredients.
Or what others say as homeopathic ingredients.
So let's take a look at the classified ingredients of the product and their benefits: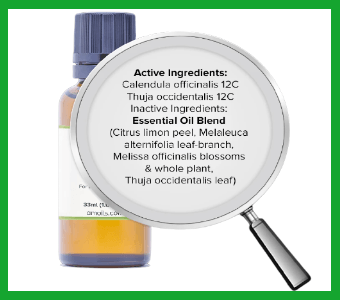 1. Active Ingredients
---
Honestly – I expected a lot of natural ingredients to be written here.
But here are just the only ones written on the list:
Calendula Officinalis 12C – heals and soothes wounds [1]
Thuja occidentalis 12C – dries skin tags [2]
These ingredients are considered homeopathic so I find them relatively weak.
Even if these are labeled as active, I don't think it's powerful enough.
2. Inactive Ingredients
---
The rest of the ingredients are the following:
Citrus Limon Peel – lightens dark spots

Melaleuca alternifolia leaf-branch – calms swelling and redness [3]

Melissa officinalis blossoms & whole plant – provides anti-bacterial properties

Thuja occidentalis leaf – helps in diminishing warts, skin diseases, skin tags, etc.
In my opinion, I don't think these compounds will do a lot of work in terms of removing skin tags.
Especially since it's inactive, the concentration might not be high.
---
Conclusion
---
For a product that says to be plant-based, it should have a lot of natural ingredients in it.
Or at least that's what I assume to make up for not using synthetic compounds.
But upon seeing the overall list, there's nothing much in there.
Now – this product is composed of homeopathic ingredients which still have no solid studies behind them.
So this can either work for some or not work at all.
Overall, I think products with a mix of at least one strong compound can make the whole formula effective.
---
#3 – Consistency & Dosage (5 out of 10)
---
Unlike cream treatment, oil application has a different style of application.
Based on the website, here's a brief usage instruction:
Clean your hands and target areas.

Add 1-2 drops of the oil to a cotton swab.

Dab the oil directly to the skin tags.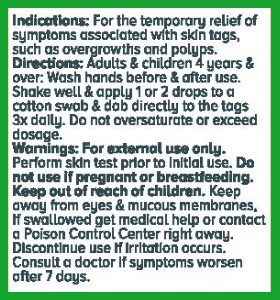 There's a specific direction to not oversaturate the target areas with too much oil.
And there's also an indication to repeat the process 3x a day.
Also, adults and children age 4 years and above are the only ones allowed to use this product.
Overall – if you're someone who has a lot of time to re-apply, then this will not be a problem.
But if you don't like doing it over and over again, find other alternatives.
There are way better options in the market that are strong enough to work in the minimal application.
---
#4 – Results

(5 out of 10)
---
To be able to give different perspectives about a product, I always check the customers' reviews.
I do this to see how a product performs to other people who also tried it.
Note: I only analyzed authentic reviews, not promotional or fake ones.
1. Positive Opinions
---
I don't really rely on the customer reviews written on the product's website.
So for this chapter, I chose what's written on Amazon instead:
Many customers mentioned that it really removed their skin tags.

Some said that it works very gently on the skin.

Others wrote that it works for different sizes of skin tags.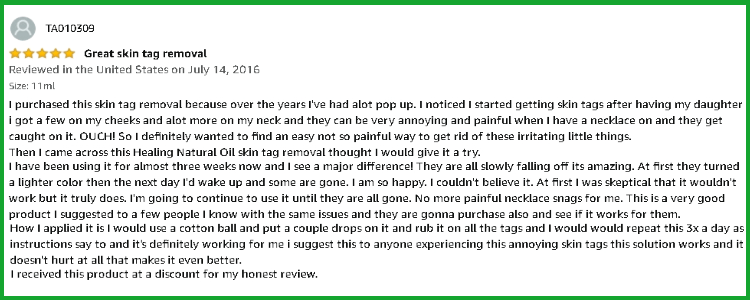 I would say that this product works for most of the customers who purchased it.
Most especially for people who have sensitive skin.
2. Negative Opinions
---
Now – let's see the complaints of the customers who didn't find their purchase worth it:
A lot of customers experienced no results at all.

Some said it took them a very long time to see changes.

Many mentioned that it's a waste of money.

There are a number of buyers who didn't like the smell.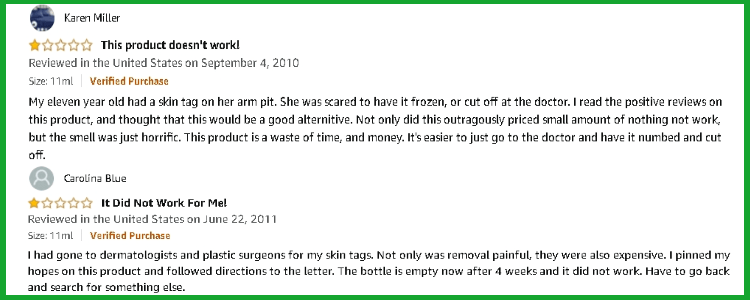 Reading these comments didn't shock me at all.
And the major reason could be the weak formulation of the product.
---
Conclusion
---
To conclude, this product works but you need to wait a very long time to see results.
The only reason I see is the weak ingredients making up the formula.
Also – I assume that the bad smell is caused by not adding additives to it.
In general, adding preservatives to a skin care product is essential to avoid spoilage.
And to also counter any bad smell (natural scent of herbs/plants) that might cause irritation.
Overall – if you're someone who wants fast results then this is not the product for you.
Still, I suggest you look for better alternatives in the market which won't take a long time to treat.
---
#5 – Side Effects

(7 out of 10)
---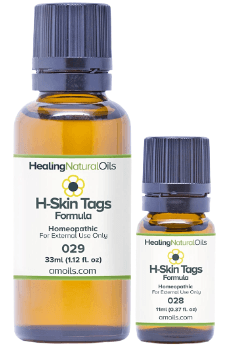 I didn't see a lot of comments about side effects.
And there are only 1-2 people who mentioned skin burns around the skin tag.
But if you ask me, here are the other adverse reactions it might cause:
irritation due to the bad smell

long-term wounding

skin allergies
However – this can only happen to people with sensitive skin.
And this is due to the fact that the product has only weak composition.
Lastly – skin burns experienced by some buyers might be because of using an excessive amount of oil.
And not concentrating on applying the product on the skin tags only.
---
#6 – Price

(4 out of 10)
---
For a product that works for a very long time, this oil is quite expensive.
Not to mention the multiple application required every day, this is not a good idea.
1. The Exact Price
---
The pricing of the product on the official website is just the same as on Amazon.
But I will just feature the deals on Amazon to be uniform with the reviews:
Small size costs $35

Regular size costs $69.95

Free Shipping (selected dates)

Non-returnable product

90 Days Money Back Guarantee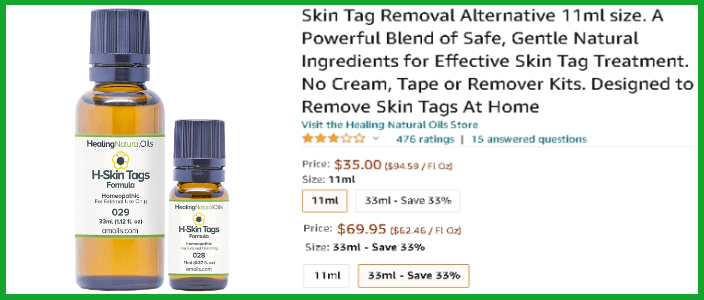 The difference between the two sizes is just the product volume.
A small bottle contains 11ml of the oil while the regular size has 33ml.
Again, the usage instructions mentioned that it needs to be re-applied 3x daily.
But still – it will take a very long time to work or see visible changes.
So even if the skin tags are just small, the amount of oil might not be enough.
Especially for people who need to treat a lot of skin tags all over the body.
2. Competitors' Price
---
If you want a better alternative, I will introduce to you my #1 Skin Tags & Moles remover.
This product is called Amarose: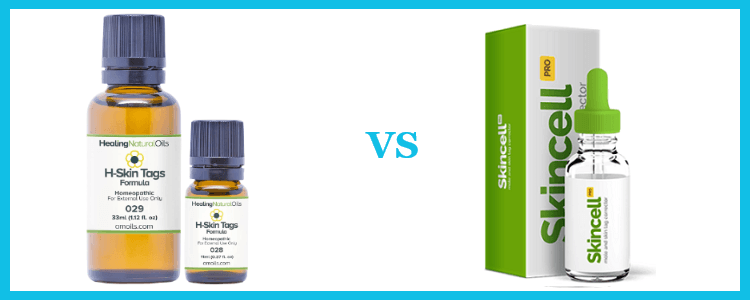 Amarose has natural ingredients with just the right concentrations.

H Skin Tags Formula is plant-based but has relatively weak dosages.

In terms of effects, Amarose is relatively fast to take effect.

On the other hand, H Skin Tags Formula takes a very long time to give visible results.

Amarose costs about $60 normally but you get it for $39 (discounted).

H Skin Tags Formula is available for $35 and $70.

Amarose contains 30 ml while H Skin Tags Formula has 11ml/33ml.
Comparing these two products, it's quite obvious that Amarose is the better choice.
It's superior in a lot of aspects compared to H Skin Tags Formula.
---
Conclusion
---
Overall – I have reasons why I don't prefer H Skin Tags Formula and these are some of them:
weak ingredients

expensive price

long waiting time (for effects)
Normally, people want to remove skin tags as fast as possible.
And that's the purpose why people look for the right product.
So I don't see the point of waiting for a very long time just to see the results.
---
#7 – H Skin Tags Formula In 3 Ideas
---
Here's how I would sum up my opinion about this oil.
1. Plant-based Ingredients
---
Honestly – I'm into a product that has natural ingredients in it and here's why:
gentle to the skin

source of antioxidants

added protection
Upon looking at the product's formulation, it's indeed made up of plant-based compounds.
However – I still think that it can get better by adding some strong ingredients for balance.
2. Weak Formula
---
I consider the overall formula of this product to be relatively weak.
And a lot of people have proven it by mentioning that it takes a long time to work.
If you ask me, the main purpose of skin tag remover is to get rid of the problem quickly.
Obviously, this product won't do it for you since it's not strong enough to act fast.
That's why I still think that there are better choices in the market.
3. Quite Pricey
---
At first, it might look like a good deal until you know these disadvantages:
requires re-application (3x daily)

takes months to see visible results

applicable to warts in different parts of the body
So if you're going to ask my honest opinion, I find this product quite expensive.
---
My Verdict – Worth It Or Not?
---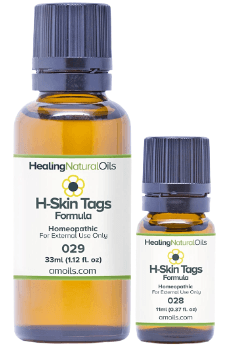 Short answer: Definitely not worth it and here's why:
Pricey for its value

Takes months to see results

A lot of complaints (company and product)

Weak overall formula

Can cause skin burns (oversaturated)
This product promotes being gentle to the skin.
But I think it shouldn't be this weak and not fast-acting.
If you ask me, there are still other products in the market that works better than this.
So what do I recommend instead?
A product called Amarose:
Composed of natural ingredients with just the right concentrations

The overall formula is potent but still gentle on the skin

Very effective in removing skin tags and moles

Lower risk of causing adverse reactions

Fast-acting and visible results
These are just the overview of why this is my #1 recommended product.
You can read my review of Skincell Pro to know more about it.
Overall – this product is the right balance of being herbal-based and still strong enough to remove skin tags.
So if you ask me, I strongly advise you to get this instead.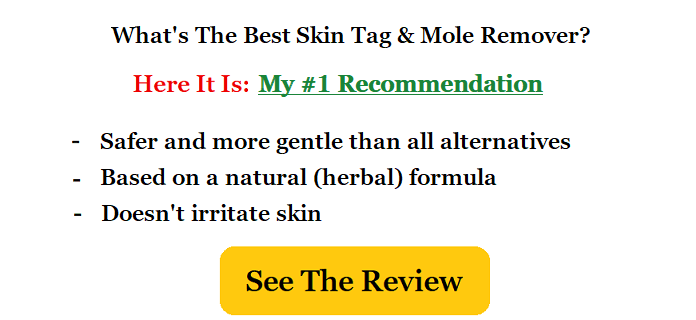 References:
1 – https://www.ncbi.nlm.nih.gov/pmc/articles/-PMC3931201/
2 – https://www.ncbi.nlm.nih.gov/pmc/articles/-PMC1062158/