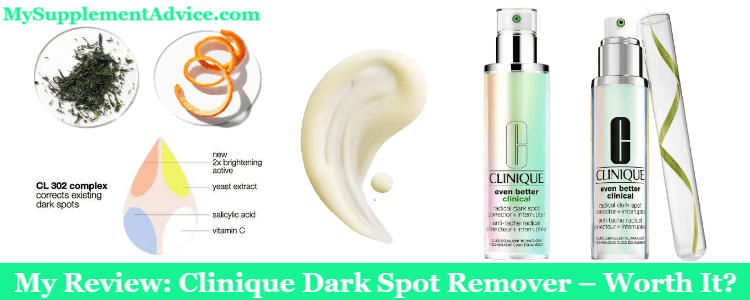 It's time to review Clinique Dark Spot Remover – which is a product designed to correct discoloration.
At the moment, it's one of the popular lightening products from the market.
But are there any chances that it's just a scam?
basic formula

high price tag

unsatisfied customers
So what's the truth behind Clinique Dark Spot Remover?
I analyzed the product's info, in order to give you the real score behind it.
Note: This review is based on my opinion + research on Clinique Dark Spot Remover.
Review Summary
---

Full Name: Even Better Clinical™ Radical Dark Spot Corrector + Interrupter Serum by Clinique Laboratories, Ilc.
Product Type: Skin Lightening Serum
Best Actual Price: Around $55
Cheapest Place To Buy: Official Website/Sephora
Designed For: Brightening the skin– it claims to:
correct discoloration

lighten skin

reduce dark spots
My Rating: 7 out of 10
Recommended?: Not really. It's not an awful product, but it's far from being amazing either:
very expensive in a long run

lacks other strong skin lightening ingredients

has enough negative comments
I personally recommend a much better anti-aging product instead.
What I Liked About It
---
Made by a reputable brand

Has some strong lightening compounds

Based on an original mix/complex
What I Didn't Like About It
---
Takes a long time to notice some results

Has a high number of negative reviews

Not too many top skin lightening ingredients

Quite expensive for long term maintenance

Causes side effects for some users
---
Clinique Dark Spot Remover In A Nutshell
---

Clinique Dark Spot Remover is designed to erase damages and visible pigmentation issues.
Since this serum comes from a trusted brand, your first impression would be that it's really good.
But if you look closer at its info and details, you might see some downsides:
Lacks top skin lightening ingredients

Quite expensive in the long run

Might take a longer time to see results

A little overhyped (because of the brand)
The smallest size (30 ml) costs $54.50, which is a lot for the quantity.
So if you want the product to last longer, you need to get the largest one (that costs almost 3 times more).
Now – there are a lot of satisfied customers that prove this product is not a scam.
And even though a high price tag is normal for a brand of this type, I don't think it's worth the money.
I'm saying this because there are many better alternatives that work better and cost less.
Overall – Clinique's cream is not a bad product but it's not an amazing one either.
So it's up to you to decide, but I wouldn't really go for it.
---
#1 – Claims & Producer
---
Here's what you should know about this product:
how it works

who is the company behind

what skin problem it targets
1. Claims
---
Just right under the product's name, there's a claim saying:
"Powerful brightening serum helps visibly correct discoloration, including acne marks."
And according to the description, here's what it means:
erases signs of skin damage

evens out skin tone

corrects discoloration

interrupts future dark spots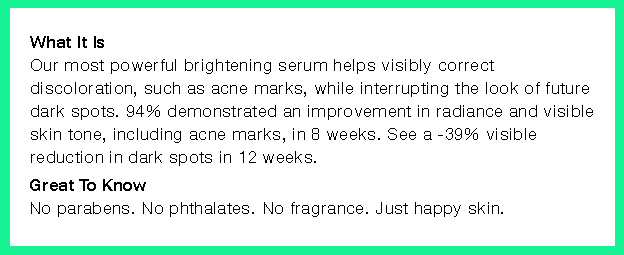 Another claim says that visible results can be seen in just 8 weeks of using it twice a day.
In terms of formula, it's stated also that this serum is free of parabens, phthalates and fragrance.
Lastly – it's said to be suitable for people with different skin types.
There's only one thing I want to mention here.
There's really no product that is suited for every types of skin.
Yes – some products can be tolerated by all skin type.
But they cannot have the same intensity for every skin type out there.
That's because human skin has different problems, thickness and sensitivity.
So as of now – I don't think it has the same effect on everyone.
2. Company Behind
---
The company behind this serum is called Clinique Laboratories, Ilc.:
has been on the market for a very long time

it's proven to be a legitimate brand (by many people)

sells product such for skin care, makeup, fragrance and men
I personally know this brand, so I can testify that this is a legit one.
The prices of their products range from expensive to affordable.
So they are quite suitable for all types of budgets.
Also – there are several branches internationally, so availability won't be a problem at all.
---
#2 – Formula (7 out of 10)
---
I looked at the product's ingredients and I can tell that there are lots of compounds inside.
And overall, the formula is not bad at all:
has some major lightening ingredients

contains herbal extracts

based on an original mix of ingredients

Now, I will only analyze the 2 key ingredients from this product.
Most of the others are inactive, so there's no point focusing on them.
1. CL302 Complex
---
According to the product description, this complex is responsible for brightening the skin.
Let's take a look at the ingredients that make up this blend:
UP302 (dimethoxytolyl propylresorcinol) – lightens the skin [1]

Ascorbyl Glucoside – enhances skin radiance (acts like Vitamin C)

Glucosamine – accelerates wound healing

Yeast Extract – induces a calming effect [2]
Salicylic Acid – loosens dead skin [3]
Now, this complex is also called CL302 Equalizer Technology and it claims to visibly reduce dark spots (2 time better).
So to put it more simply, I would say that exfoliation is the easier term for what this complex does.
2. Interrupter Complex
---
The other complex is a mix of ingredients designed for soothing the skin:
Gyokuro Extract – soothes inflamed skin [4]

Mulberry Root Extract – brightens the skin

Rice Bran Extract – softens the skin

Mix (Olive Squalane, Barley Extract, Wheat Germ Extract) – replenishes and hydrates skin

Licorice Extract – improves and evens out skin tone [5]
According to the website, the role of these compounds is to minimize visible irritations that lead to dark spots.
Overall – this complex acts as the next step.
It soothes the skin once the dead skin cells were removed (by CL302).
---
Conclusion
---
The Clinique Dark Spot Remover has quite a good formula overall:
based on 2 complexes with different roles

contains other major skin care ingredients

no parabens, phthalates and fragrance
However – I would say that it might take time to lighten the discoloration.
That's because this serum still lacks other top lightening ingredients that could help with brightening.
So if you ask me, I would say that its formula is not bad product – but it's not the very best either.
---
#3 – Consistency & Dosage (8 out of 10)
---
Here are some things you should know about this product's texture.
1. Consistency
---
I would describe this serum's physical appearance in a very simple way:
color: cloudy white with a tint of yellow

consistency: slightly thick

scent: light chemical
Now, don't expect this product to look like a normal semi-clear and viscous serum.
I would say that its consistency more like a water-based cream than like a thick liquid.
Also – the ingredients have some slightly higher concentrations than moisturizers.
So that might be the reason why this product is more of a serum than a cream.
2. Dosage
---
If you're curious about how to use this product, here's the suggested way of application:
Dispense 1-2 pumps of product and spread it all over your face (avoid the eyes).

Use a moisturizer after every application.

Apply it twice daily (every morning and night).

Use sunscreen every morning after application.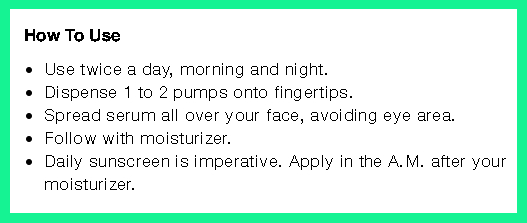 Actually – I find the instructions just right.
They are a combination of the general directions and some tips.
Serums are almost always applied:
after toning the face

before applying moisturizers or sunscreen
However, 1-2 pumps of the product might not be enough to cover the whole face.
So keep this aspect in mind.
---
#4 – Results

(7 out of 10)
---
Do you want to know how this product works for some people?
I suggest you check out the customer's reviews – because that's what I usually do.
The goal is to see the feedback of people who actually tried the product.
Note: I only analyzed authentic reviews, not promotional or fake ones.
1. Positive Opinions
---
As expected, I saw a lot of customer reviews from various retailers.
But I want to focus mainly on 2 websites:
Sephora (3.8/5 stars)

Clinique's Official Website (4.1/5 stars)
Now, I will go for the reviews written on Sephora when it comes to satisfied customers:
Most of the customers noticed their dark spots and acne marks were gone.

Some said this product evens out their skin tone.

Others felt that their skin became smoother and softer.

The rest observed that their skin became lighter and brighter.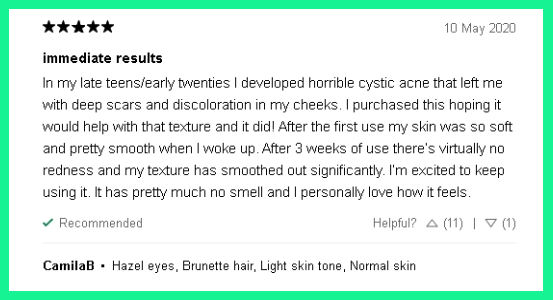 Now, I actually think that lots of people praise this product because of its brand's popularity.
Also, Clinique has a lot of great products – so its high number of buyers makes sense.
Overall – there are a lot of satisfied users, because they could see some visible changes.
2. Negative Opinions
---
Just like any product, this serum makes no exception when it comes to customer complaints:
Some said that it didn't do anything for their discoloration.

Most customers complained that it takes a very long time to work.

Others commented that the serum didn't work at all.

The rest of the customers mentioned that its price is not worth it.

A few experienced skin irritation (sensitive skin).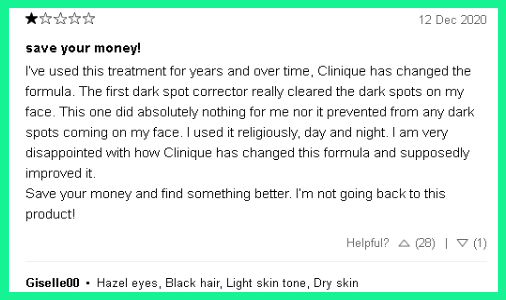 All I can say is that these testimonies prove that this serum is not made for all skin types.
Still, that doesn't necessarily mean that it's a bad product – it's just not for everyone.
---
Conclusion
---
Summing, this serum has some pretty mixed reviews:
many satisfied customers

enough users who didn't see any improvement
There are also some comments about skin irritations (but nothing major).
But overall – I believe there are still better alternatives out there, with some lower prices and a stronger effect.
---
#5 – Side Effects

(8 out of 10)
---

I haven't seen a lot of comments about side effects in this serum.
However, I managed to find 2-3 people stating their experiences regarding secondary reactions:
perioral dermatitis

skin irritation/itchiness

red/blotchy skin
These issues are the best proof that this cream is not meant for all skin types.
Now, the side effects experienced by these users aren't very basic.
So Clinique's serum isn't the safest lightening product I came across.
Side effects are quite common for all topical products.
But if you ask me, the reactions produced by this serum are a bit more serious than in most products.
That's why I advise you to keep this in mind (especially if you have a more sensitive skin).
---
#6 – Price

(3 out of 10)
---
If you're familiar with Clinique, you know that the price tags of their products are quite high.
There's no doubt that most of them sells are good but still, very expensive.
1. The Exact Price
---
As I mentioned, you can buy this serum from several retailers.
But let's focus on the offers and bundles from 2 websites:
Sephora

Clinique's official website
This serum comes in 3 sizes and the prices are the same on both websites:
30 ml costs $54.50

50 ml costs $85

100 ml costs $152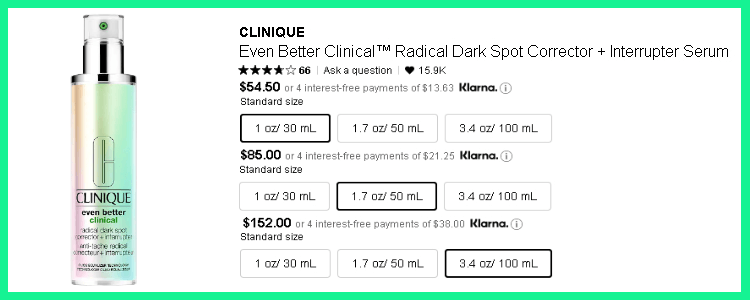 The only difference is the special offer that is specific to each retailer.
On Sephora, you can get free shipping and a refund.
On the other hand – on Clinique's website, you will only get free shipping if you subscribe to a monthly auto-shipping.
But considering this cream's instructions, you will probably need a big size (100 ml).
So overall – I consider this product very expensive.
It's up to you whether you want to try it out or not – but I would not.
2. Competitors' Price
---
I want to compare this serum with my #1 recommended skin lightening product.
This product is called Zeta White by Swiss Research Labs: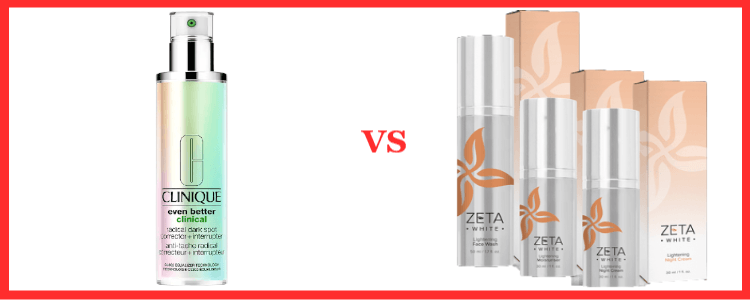 Zeta White has amazing formula.

It's made of herbal extracts and almost 100% natural ingredients.

This cream is effective and gentle to the skin.

Clinique Dark Spot Remover has a very good formula too.

However, it's not really herbal-based.

The serum seems to cause side effects to some users.

Zeta White costs $50/bottle and $150 for the whole set.

Clinique's price starts at $54.50 (30 ml).

Both products might last a month (depending on the area and frequency of use).
If you ask me, I think Zeta White is the better choice.
You can get fast results in terms of skin lightening using its 3 products.
But if you plan to try first a single product only, the price is still lower.
---
Conclusion
---
Clinique's serum is pretty good – but it's also quite expensive.
Now, there are enough cheaper products that are still effective.
If you're a long-time avid fan of the brand and you don't mind the price, you can get it.
But if you're looking for a good investment with a lower price tag, there are other alternatives.
---
#7 – Clinique Dark Spot Remover In 3 Ideas
---
Here's how I would sum up my opinion on this serum.
1. Decent Formula
---
The ingredients inside this serum are quite good and the overall formula is promising.
But so far, here's how most of the compounds do for the skin:
exfoliation

soothing

brightening
Though brightening is included, I still think this serum lacks some top lightening compounds.
Overall – the formula is good, but it might take some time before you see your desired results.
2. Trusted Brand
---
Clinique is one of the oldest brands from the skin care market.
That's why it's also one of the most trusted companies.
A lot of people from all over the world are familiar with their products.
So I don't think you will ever get scammed by buying Clinique Dark Spot Remover.
Just make sure to buy it only from verified online retailers.
3. Very Pricey
---
Lastly – this serum comes from a brand with a higher price range.
For this reason, don't be surprised by this product's high cost.
Given that it comes in 3 sizes – you have the option to choose a smaller version (if you're not sure about buying the largest one).
In case you're satisfied with its effect, you can then buy the larger version.
It's indeed pricier at ($152) – but at least the quantity is much higher as well.
But even so, Clinique's serum remains extremely pricey overall.
---
My Verdict – Worth It Or Not?
---

Short answer: Not quite.
And if you're wondering why, there are several reasons I don't recommend it:
Lacks some top skin lightening compounds

It takes a long time to see changes

Quite expensive for a serum of this kind

A little overhyped (because of its brand)
Once again, this serum is not bad at all.
But I don't think that it's exceptional either.
And given the reputation of the brand behind, this product is definitely not a scam.
But if you're looking for a better alternative, let me introduce you the product I recommend.
I'm talking about Zeta White:
Potent formula and herbal-based ingredients

Effective and gentle to the skin

Affordable for its value and quality

Fast and visible results (in my experience)
This product is cheaper but it works better too in when it comes to lightening the skin.
So if you're looking for an alternative that will really bring you some fast changes, choose this cream/set instead.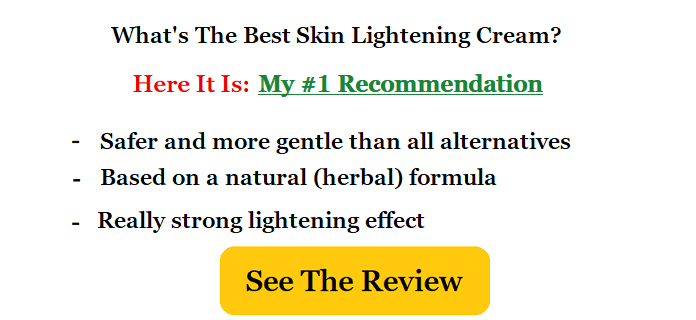 References:
1 – https://www.researchgate.net/publication/-234142202
2 – https://www.ncbi.nlm.nih.gov/pmc/articles/-PMC3437301/
3 – https://www.ncbi.nlm.nih.gov/pmc/articles/-PMC4554394/
4 – https://www.ncbi.nlm.nih.gov/pmc/articles/-PMC6930595/