It's time for my Bio Jouvance Skin Lightening Serum review – which is formulated for pigmentation issues.
So will this product will help you get a lighter skin?
Or are there any chances that it's a rip-off?
Well – there are a lot of questions signs about it, so I analyzed it in detail to give you the truth.
Note: This review is based on my opinion + research on Bio Jouvance Skin Lightening Serum.
Review Summary
---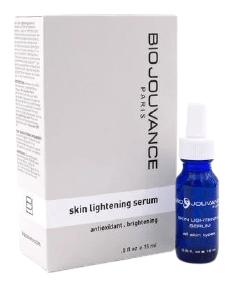 Full Name: Skin Lightening Serum by Bio Jouvance Paris
Product Type: Skin Lightening Serum
Best Actual Price: Around $50
Cheapest Place To Buy: Official retail website
Designed For: Lightening the skin– it promises to:
lighten hyperpigmentation

fade away dark spots

brighten the face
My Rating: 4 out of 10
Recommended?: Not really. I don't consider it an exceptional product, but it's not awful either.
There's no proof or guarantee that it worked for other people.
So I personally advise you to do a wiser move and choose the best lightening cream in the market.
What I Liked About It
---
Has a legit official retail website

Contains some important product info

Based on some major ingredients
What I Didn't Like About It
---
No authentic customer reviews at all

Very limited info about the brand (only on other websites)

No have a return policy

Expensive for its credibility

Not proven claims

Small product volume
---
Bio Jouvance Serum In A Nutshell
---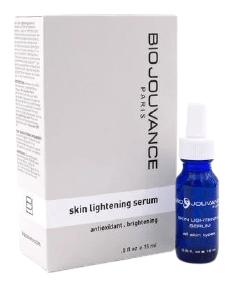 Bio Jouvance Skin Lightening Serum looks like a decent product, at first sight.
The description says that it's made to help with pigmentation issues (on the face).
However – it lacks some important info/details to prove its claims:
limited info about the company

no customer reviews at all (not even paid ones)

quite expensive for the product volume

not a fair return policy
These things really made me question the product's credibility and effectiveness.
Do you think it's worth buying a product that no one even tried yet?
The serum costs $48 and the amount is only 15 ml (which doesn't look like it will last long).
Also – it's advised to use the serum with other products from the same skin lightening line (cream and sunscreen).
Overall – I advise you to not take any risk when it comes to the products you use on your skin.
This can potentially harm your skin and health in the long run.
---
#1 – Claims & Producer
---
At this point, I want to say that this review will be short since there isn't much about this serum.
But I will still give you the facts after careful research:
how it works

which skin issues it helps most

who's the company behind
1. Claims
---
I checked the product's website and there's only a small description about it.
One claim says it's a "100% natural intensive serum formulated for those with severe pigmentation."
How does it work?
By regulating and balancing the melanin production for a more even skin tone.
And the deep penetration of the serum to the skin is because of its targeting a transdermal delivery system.

Another claim is that the serum is hydroquinone-free, in order to be more skin-friendly.
That's mostly helpful for sensitive skin.
Now, if that's true, this serum has an advantage by being safer for everyone.
That's because hydroquinone is a compound that can be harmful to humans (due to its carcinogenic properties).
2. Company Behind
---
The next thing I did is to check for the company behind this serum.
I found out that the manufacturer of this product is Bio Jouvance Paris.
Now – here are the things I found out about the brand so far:
products cater to different skin issues such as acne, skin lightening, sun damage, etc.

formulas include serums, moisturizers, ampoules, masks, and others

the company also sells beauty equipment (micro-needling pens, rollers, IPL machines, etc.)
Besides the social media links associated with the brand, you can also contact them by phone.
Now – the most important thing I want to mention is their return policy.
The company does not accept returns and if you have an issue with your product, you will need to call them.
Also, I couldn't find any brand reviews anywhere (not even on BBB or TrustPilot)
There could be a possibility that the lack of customer reviews is because of that no return policy.
So in terms of trust, this brand doesn't look too good.
---
#2 – Formula (6 out of 10)
---
Luckily, the serum's full list of ingredients is posted on the brand's retailer website.
So far – here's what I noticed about the formula:
contains some major skin lightening compounds

also has a lot of herbal extracts

Let's take a look at the compounds of this product, starting from the major ones.
1. Major Skin Lighteners
---
These are the most important ingredients from this serum.
That's because they are all proven to lighten the skin.
Besides the whitening benefits, here are the other things these compounds can do:
Licorice Extract – has some anti-microbial properties [1]
Mulberry Extract – regulates melanin synthesis [2]
Kojic Acid – counteracts damaging free radicals (in the skin) [3]
Overall – I would say that these ingredients are the main responsible for the lightening effect.
Still, I have a list of the best skin lightening ingredients that are safer and stronger.
And some of the compounds I mentioned above are part of that.
So on paper, they look really promising.
2. Herbal-Based Ingredients
---
The rest of the formula is made of herbal-based ingredients:
Bearberry Extract

Algae Extract

Anise Oil

Aloe Barbadensis Extract
If you're curious about the benefits of these substances in general, here are some of them:
have some anti-fungal properties [4]

help with hydration

have a soothing effect
Incorporating plant extracts is quite common in skin products, because of their amazing benefits.
So the herbs from this serum are definitely helpful.
---
Conclusion
---
To summarize this serum's formula, I would say that it's promising.
However – I can't really tell if it actually works.
But even so, it still looks excellent only on paper.
---
#3 – Consistency & Dosage (3 out of 10)
---
Again – this product lacks authentic customer reviews and additional info about it.
This fact made it even harder to find out its physical looks.
But if I were to judge the consistency, it should look like a normal serum (slightly thick and clear).
Furthermore – the only thing I found on the product's website are the instructions:
First of all – clean, tone and exfoliate your skin.

Apply a generous amount of product to the face, neck and upper chest area.

Use sunscreen if you apply it in the morning.

Apply it twice daily.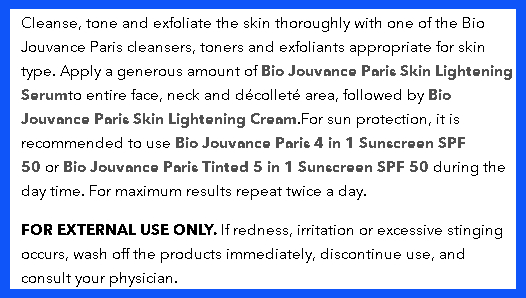 There's also a tip that this serum is better to use with other Bio Jouvance products (cream, cleanser, exfoliator).
Now, using a skin care product with other items from the same line is quite normal.
But in most cases, the effect isn't anything better.
That's more of a marketing strategy that will make you buy more products from the same brand.
Anyway, as I said – I don't trust this product so far and I recommend you to try other alternatives.
---
#4 – Results

(1 out of 10)
---
I looked for reviews of Bio Jouvance to find out people's experiences.
Usually – I do this to see how the product performs on different skin types.
But unfortunately, I couldn't find any reviews at all from customers who tried it (if there are any).
Note: I only consider authentic reviews, not promotional/fake ones.
1. What People Say
---
Now, I came across other websites that tried to review this cream.
And as I expected, they had the same feeling on the eligibility of this product:
no product reviews at all

no promotional 5 star reviews elsewhere

even biased 3rd party websites are missing too
In other words, you can't even find the basic opinions that 90% of products have.
There's no complaint, praise or even biased (promotional) opinion.
So what I can say is that no one knows how this product really works.
It's even harder to trust, in these conditions.
That's why I couldn't really recommend it under any circumstances.
It may look good on paper – but since it has absolutely no opinion, it's clear that there's something wrong with it.
---
Conclusion
---
Overall – it's hard to trust to a product that lacks some vital info about it.
The lack of customer reviews (may it be authentic, biased or paid) is a red flag.
Plus – even the brand behind this serum is not even that well talked about.
So for now – it's not a product I can recommend at all.
---
#5 – Side Effects

(5 out of 10)
---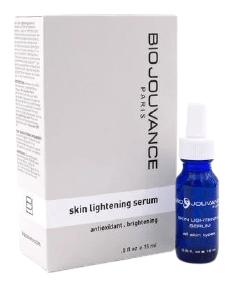 Honestly – it's hard to tell if this product causes usual adverse reactions or not.
A product like this can either do wonders to your skin or harm you:
weak concentrations of the ingredients

very strong/harsh formula

unknown forms of other compounds
Normally – side effects are normal and they can appear when using any skin products.
However, since this serum doesn't have opinions from people who tried it, I can't really tell.
To tell you the truth, I would say that it's quite risky to try products like this.
That's why I don't really recommend it (for now).
---
#6 – Price

(2 out of 10)
---
Right away – I want to say that Bio Jouvance Serum is very expensive.
Given how untrustworthy it is, I don't think it's a good choice.
1. The Exact Price
---
The only place where you can buy this serum is on its official retail website.
Let's take a look at the overall deals available:
Standard price is $48/bottle

A bottle contains 15 ml (0.5 fl. oz.)

Shipping is free for orders $200 and above (using a promo code)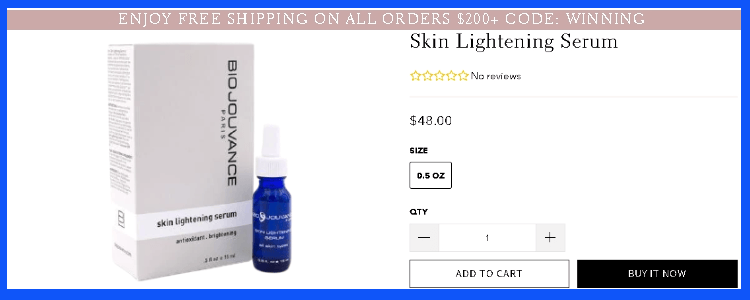 Honestly – the product itself is quite expensive.
It is indeed valuable on paper, but its real value is questionable.
Now, it's totally up to you whether you want to give it a try or not.
But I want you to consider the points I mentioned earlier – and see if the price is worth it.
In my view – considering the amount of product and the area you need to cover, this serum is definitely pricey.
2. Competitors' Price
---
I only want to compare this serum with my #1 recommended skin lightening product.
I am talking Zeta White from Swiss Research Labs: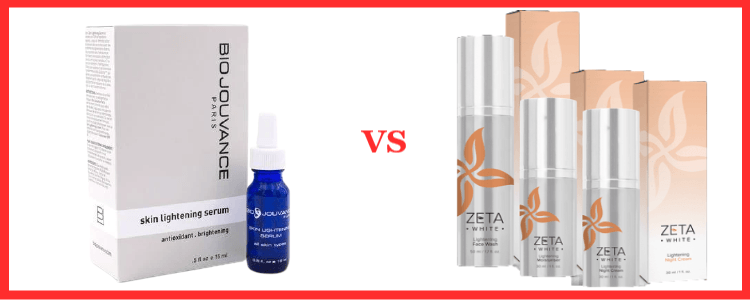 Zeta White is herbal-based with almost 100% natural ingredients.

The overall formula is gentle to the skin with minimal risk of side effects.

Bio Juovance has a very promising formula with some major ingredients.

However, the lack of customer reviews can't prove its effect.

You can buy Zeta White for $50 each and $150 for the whole set.

On the other hand, Bio Jouvance costs $48 for a bottle.
Overall – Zeta White is the better choice between these 2 (in my opinion).
The ingredients in this cream/set and the overall formula are very excellent.
And in addition – there are a lot of customers to prove its lightening effect.
So I totally recommend it as an alternative to Bio Jouvance's serum.
---
Conclusion
---
Summing up, Bio Jouvance is a pretty pricey product.
It's true that most skin lighteners are quite expensive as well.
But given this serum's reputation and feedback, it's definitely not worth all that – if you ask me.
---
#7 – Final

Conclusions
---
Here are my conclusions about Bio Joouvance Skin Lightening Serum.
1. Promising Formula
---
The full list of this serum's ingredients is available on its retail website:
contains some major skin lightening ingredients

also has several herbal extracts

has a decent formula overall
As I said, the formula itself looks great.
However – if you take a look at its other features, you won't be so positively surprised anymore.
2. Lacks Info
---
I actually found a couple of problems with this serum:
very little info about the company behind

no customer reviews at all

not even biased 3rd party website opinions
These facts are some red flags, because they can affect the product's image and reliability.
Without any user reviews, you can't tell if it really works or not (or if it causes any side issues).
3. Quite Expensive
---
Considering the amount of the product, this serum will not last long:
a bottle is almost $50

its volume is only 15 ml

there's

no return policy
Regarding the last issue, you cannot return the product at all (as part of the company's policy).
So if there's any chance that this serum is a rip-off, it means you actually wasted your money.
I just don't think it's worth it, so just save your money on a better alternative.
---
My Verdict – Worth It Or Not?
---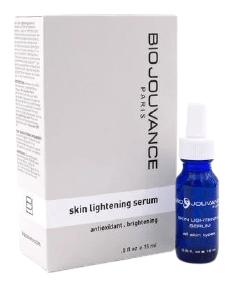 Short answer: Definitely not worth it.
If you want to know why I came up with this decision, there are several reasons:
Unproven claims

No customer reviews at all

Little info about the company

Pricey for its credibility and quantity

No return policy
Even if this product has a very promising formula, I can't really tell if it actually works.
And the negative features I found about it are quite significant, actually.
Also, you can't really know how the serum works in reality.
That's why I suggest you to go for other alternatives instead.
What do I recommend instead? A cream called Zeta White:
Contains some major skin-lightening and herbal-based ingredients

Gentle, effective and fast-acting

Lower risk of side effects

Visible results (based on my experience)

Many satisfied customers and authentic reviews

Good price for its quality
These are the main points why I think Zeta White is better than Bio Jouvance.
So if you want to really get your money's worth, go for this cream instead.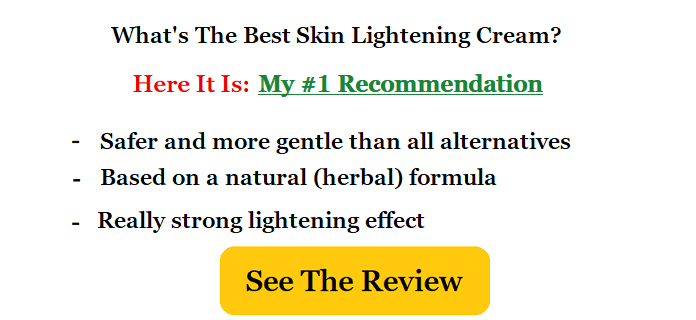 References:
1 – https://www.ncbi.nlm.nih.gov/pmc/articles/-PMC6826613/
2 – https://www.ncbi.nlm.nih.gov/pmc/articles/-PMC3663177/
3 – https://www.ncbi.nlm.nih.gov/pmc/articles/-PMC3468271/