It's time for my Joint Pain Hack review – a supplement that doesn't look bad at all:
potent formula

high doses in most ingredients
But in terms of customer satisfaction – it doesn't look that good.
Plus, its price is pretty huge for its actual value.
So could Joint Pain Hack be a scam? Well, here's what I discovered behind it.
Note: This review is based on my opinions + research on Joint Pain Hack.
Review Summary
---
Full Name: Joint Pain Hack from Nutrition Hacks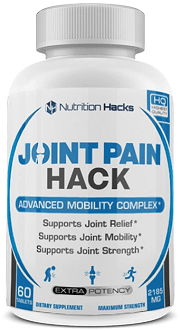 Product Type: Joint Supplement
Best Actual Price: $50/bottle
Cheapest Place To Buy: Its official website (not available anywhere else)
Designed For: Relieving joint pain – it also claims to:
improve flexibility and mobility

reduces inflammation and achy muscles

restores worn out joints
My Rating: 6 out of 10
Recommended?: Not really – it's simply not worth the money:
really expensive

much higher price than products with the same composition

no real user experiences
Instead – I would suggest going for a similar product that costs even $30 less.
What I Liked About It
---
Quality ingredients in high doses

Based on the essential compounds for joint health

No major side effects normally

Only requires 2 pills/day
What I Didn't Like About It
---
No authentic user reviews available anywhere

Official website is very unprofessional and hard to browse

Pills are quite thick (tablets)

Very high price per bottle

Only available on its official website
---
Joint Pain Hack In A Nutshell
---
Basically – this supplement is designed to treat and repair damaged cartilages.
And in terms of formula and promises, it's worth the praises.
However – it does look like a scam in certain chapters:
Its official page only contains a long video.

The video states all the benefits of the supplement and how it can change your life.

In other words, it's trying to convince eventual buyers using emotion.

Getting to the purchase page is very hard.

And once you get there, there's no listed price.

You have to fill in your data first (so that you can be sent to the purchase page).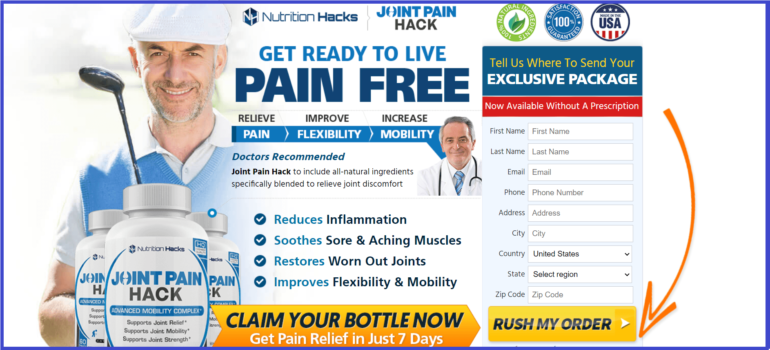 Now – there's nothing wrong with all that.
But this kind of strategy is usually used by brands/products that aren't very legit.
Not to mention that Joint Pain Hack has a really huge price (despite having a classic formula).
So this might explain this weird strategy.
But overall – I couldn't really recommend it.
---
#1 – Claims & Producer
---
Here are some general info you should know about this product:
how exactly it works

how it promises to help

what is the company behind it
1. Claims
---
This supplement states to have a "revolutionary 3 phase formula":
Relieves pain

Rebuilds cartilages

Rehydrates the joints

Other than that, it also claims to be a complete pain relief solution:
reduces and

eliminates stiffness

prevents joint pain
Now – considering its strong formula, these claims are pretty much true.
That's because its main ingredients can follow most of these promises.
So from this point of view, I would say Joint Pain Hack does what it claims to do.
2. Company Behind
---
This product is made by a brand called Nutrition Hacks.
Honestly – I personally have never heard about it before.
And at first sight, it's not the kind of company I would buy from:
pretty unprofessional website

only basic contact info

very expensive products
Now – I wouldn't say this company is a scam, far from that.
But as a buyer, I would probably not go for its products (since there are many similar ones on the market for a much lower price).
---
#2 – Formula

(9.50 out of 10)
---
Joint Pain Hacks is a classic glucosamine/chondroitin supplement.
And in terms of composition – it looks really good:
based on potent ingredients with joint benefits

its compounds have studies behind

pretty high doses

Now – let's divide its ingredients in 2 main groups:
Cartilage Re-Builders

Anti-Inflammatory
So let's take a closer look at each.
1. Cartilage Re-Builders
---
These are the best compounds for osteoarthritis and cartilage tear:
reduce and prevent the damage [1]

repair worn off joints

re-build damaged cartilages
In other words – they are essential in terms of therapeutic effect.

Glucosamine Sulfate (1000 mg) – it's the best cartilage re-builder known at this point. [2]

Chondroitin Sulfate (225 mg) – boosts the effect of glucosamine.

Hyaluronic Acid (5 mg) – increases joint flexibility and mobility.
The only thing I want to mention here is related to hyaluronic acid.
This ingredient has a great effect when injected directly into the joint. [3]
But when taken by mouth – it requires a much higher dose for the same effect (about 200 mg).
There are only 5 mg in Joint Pain Hack – which is pretty useless.
Still – other than that, these ingredients are really potent.
2. Anti-Inflammatory
---
This group is mostly based on herbs – which have the best effect against inflammation:

Organic Turmeric Curcumin (200 mg) – it's one of the best anti-inflammatory herbs out there.

Boswellia Serrata (150 mg) – it also has a powerful anti-inflammatory effect.

Bromelain (80 GDU) – it's an enzyme derived from pineapple.

Turmeric Root (25 mg) – it's actually the extract from turmeric.
Other than that – there's also MSM, which isn't actually a herb.
But in terms of effect, it's also a potent anti-inflammatory.
---
Conclusion
---
Overall – Joint Pain Hack has an awesome composition:
contains some essential joint ingredients

has really high doses overall

its formula is very potent
So from my point of view – this formula is totally worth it.
But as I already said, I wouldn't recommend necessarily this supplement.
Still – as a composition, it's totally worth trying.
---
#3 – Pills & Dosage

(8 out of 10)
---
Here's what you should know about how to take Joint Pain Hack.
1. The Pills
---
Like many glucosamine-based products, this supplement comes as tablets.
That's not necessarily an advantage for several reasons:
pills are rather thick

swallowing them isn't easy

in many cases, the pills have a sour taste
Now – a few glucosamine supplements use gelatin capsules, which are much better at those chapters.
On the other hand, tablets are pretty hard to take for most users.
That's why I'm not a fan of Joint Pain Hack's formulation.
2. The Dosage
---
This supplement follows quite a typical pattern here.
Its serving size is 2 pills/day – which is quite usual for a glucosamine supplement.
Still – certain products require 3 or more pills daily, so Joint Pain Hack's dosage isn't bad at all.
Also:
you can take the pills either together or separately

there's no recommended time

just take them with plenty of water
I would also suggest taking them while or after eating (lower risk of stomach cramps).
---
#4 – Results

(1 out of 10)
---
In order to show you how this supplement works, I tried to look at its customer feedback.
However – Joint Pain Hack has no reviews outside its official website.
So it was extremely hard to find anything real.
1. Positive Opinions
---
Basically – the only opinions I could find on this product were on its official page.
But as you might now, I usually avoid official websites:
reviews there tend to be biased

they all look very fake

no way to leave your own opinion/review

Now – the reviews from Joint Pain Hack's website follow exactly these spammy criteria.
Plus, all of them look very similar (which is another sign they might be fake).
That's why I personally would not trust them.
Besides – many brands that use this "review strategy" turned out to be scams in reality.
Now – I'm sure the product has a pretty high quality (judging after its composition).
So I would actually doubt it's a scam.
But I'm also pretty sure the reviews listed there are not authentic.
2. Negative Opinions
---
Since there were only a few review on this product's website – it's obvious they were all positive.
So I didn't find absolutely ANY negative opinion on it.
But that doesn't mean there aren't any.
I am actually pretty sure it has enough complaints (but users don't have where to write them down):
Placing an order isn't very simple.

Product itself is very expensive (compared to others).

It surely not works for all cases.
These are just some of the drawbacks I noticed.
But people who have actually used the product could surely tell a lot more.
So if you have a previous experience with this supplement, sharing it in a comment would really help.
---
Conclusion
---
Overall – Joint Pain Hack looks extremely disappointing at this chapter:
no authentic user reviews

no way to write your own experience with the product

hard to make an opinion about it
As I already said – these issues are specific for products that are scams.
Even though I don't consider Joint Pain Hack as one, its practices are surely not very legit either.
That's why it's not a supplement I would recommend.
---
#5 – Side Effects

(9 out of 10)
---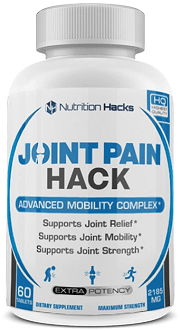 Once again, it's hard to draw any conclusions here since there is no customer feedback.
But Joint Pain Hack is a glucosamine supplement.
And in general, glucosamine products are quite well-tolerated:
very few complaints on side effects

can cause digestive issues at most

safe to take even on the long term
So even though there's no clear info on Joint Pain Hack, I wouldn't worry too much about its side effects.
From this point of view – it's pretty safe to use.
---
#6 – Price

(3 out of 10)
---
Despite its really good formula – this supplement is extremely expensive.
In fact, I would say it's the biggest problem it has.
1. The Exact Price
---
As I already mentioned – this supplement is only available on its official website.
So that's where you can find its actual price:
Standard cost is $49.95/bottle.

Price gets slightly better for higher quantities.

In this case, the lowest price is around $37.99 (for 5 bottles at once).

Shipping is free for all orders.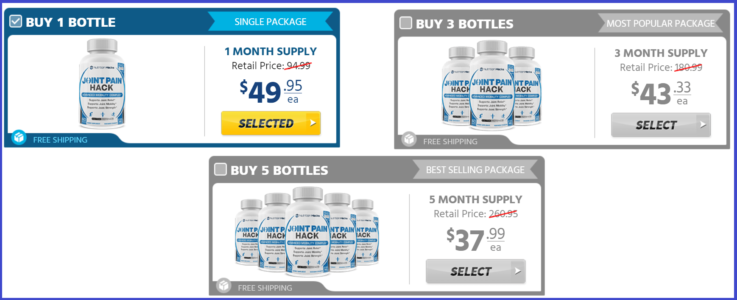 Now – even $38/bottle is extremely pricey for a supplement like this.
That's because there are many (almost identical) alternatives that cost even $16/bottle.
So why pay more than double for the same composition?
This is why I wouldn't really go for Joint Pain Hack.
2. Competitors' Price
---
I only want to compare Joint Pain Hack with my #1 recommended glucosamine supplement.
I'm talking about Nuzena Joint Support +:

Both supplements have about the same composition.

However, their prices are totally different.

Joint Pain Hack costs $50/bottle normally.

In the best case, you can get it for about $38.

On the other hand, Joint Support + costs around $30/bottle normally.

However, its lowest price is around $15/bottle.
In other words – there's a $23 difference between these 2 supplements.
Considering they have pretty much the same formula, it's quite obvious I would recommend the cheaper one.
---
Conclusion
---
Overall – Joint Pain Hack is extremely expensive for a glucosamine product.
It does have a potent composition, but that doesn't really explain.
Since there are cheaper alternatives with the same formula, I couldn't recommend it any soon.
---
#7 – Availability

(4 out of 10)
---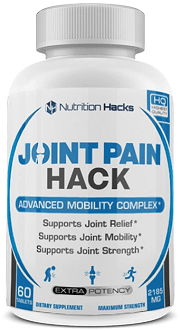 As I already mentioned – Joint Pain Hack isn't very easy to find:
not available on 3rd party retailers

can't be found in local shops
In other words, you can only buy it from its official website.
It's true the producer offers worldwide shipping – but even so, buying from its official website isn't very easy.
That's because the purchase page is quite hard to find at first.
As I mentioned before – there's only a video on the website's first page.
So getting to the purchase page can be quite tricky.
---
#8 – Joint Pain Hack In 3 Ideas
---
Here's how I would sum up my opinion on this supplement.
1. Excellent Composition
---
In terms of ingredients, this product looks really good:
based on essential joint substances

high doses in most compounds

quality formula overall
So from this point of view – it surely looks like a potent supplement.
2. No Real Opinions
---
Like many products of this kind, Joint Pain Hack doesn't have any authentic customer review:
all 3rd party reviews are promotional

there are only reviews on its official page

all of them look fake
So I personally would not count on those few reviews from its website.
There are minimal chances that they are real.
3. Too Pricey
---
Honestly, this supplement is way too expensive overall.
Its composition is indeed valuable – however:
there are some other supplements with similar formulas

none of them is that expensive
So there's no point paying more for the same ingredients.
That especially since the brand behind Joint Pain Hack isn't anything better than the rest.
---
My Verdict – Worth Buying Or Not?
---
Short answer: Not really.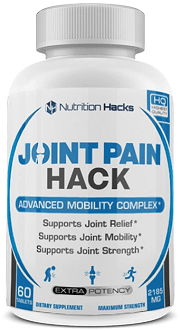 It's a good product in terms of formula – but it has a couple of issues:
Unprofessional website with (most likely) biased reviews

Very high price overall

Pretty hard to place an order
Basically – it's way more expensive than other products with the same composition.
So why should you pay $30 more when you can get a similar product for much less?
That's why I personally would not recommend Joint Pain Hack.
What should you go for instead? My #1 recommendation would be Nuzena's Joint Support +:
similar composition to Joint Pain Hack

lowest price on the market (even $15/bottle)

the option to pay in installments
If you want the strongest glucosamine product for the lowest price, that's the best choice you can make.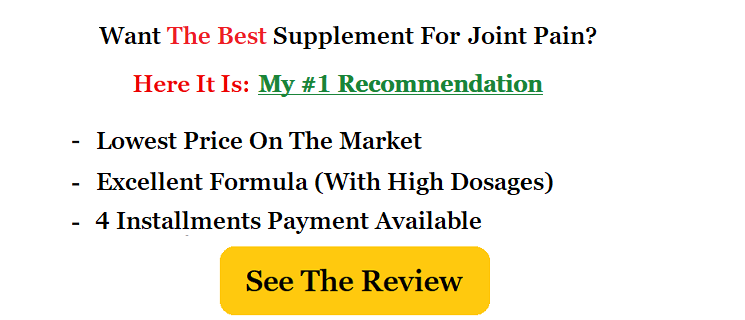 References:
1 – https://www.nccih.nih.gov/-health/glucosamine-and-chondroitin-for-osteoarthritis
2 – https://www.ncbi.nlm.nih.gov/-pmc/articles/PMC4649492/