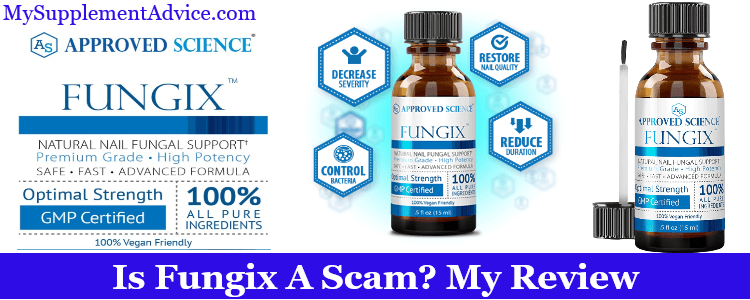 It's time to check another anti-fungal product – so is Fungix a scam?
Does it truly work? Or is it just a waste of money?:
not too versatile

only meant for local use

quite pricey
Let's find out the answers to these questions by examining the product's details.
Note: This review is based on my opinion + research on Fungix.
Review Summary
---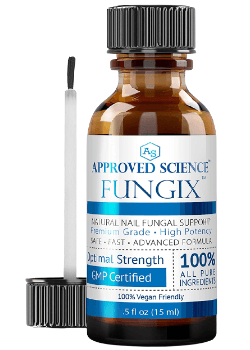 Full Name: Fungix Natural Nail Fungus Support by Approved Science

Product Type: Anti-Fungus Cream
Best Actual Price: Around $23
Cheapest Place To Buy: Its Official Website
Designed For: Fighting nail fungus and infections – such as:
jock itch

athlete's foot

candida
My Rating: 5 out of 10
Recommended?: Not quite – I have some complaints about it:
works for a limited number of issues

can get expensive

pretty hard to use
If you want a better option, try the best anti-fungal treatment on the market that I know.
What I Liked About It
---
Decent formula

Offers different bundles/packages

Minimal chance of side effects
What I Didn't Like About It
---
Not too convenient to use

Only focuses on one problem

Expensive for its value

Works when applied directly only
---
Fungix In A Nutshell
---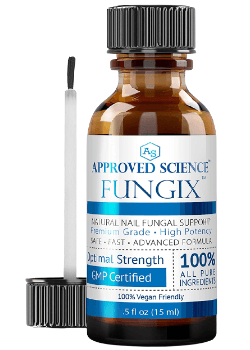 Fungix is a liquid treatment for nail fungus.
It's a herbal-based product that consists mostly of essential oils.
Although the formula looks promising, there are some cons to it:
works slowly and it's pretty weak

not very easy to use

pricey for its quality

not very versatile (for all fungus)
If you ask me, Fungix is only handy for people who don't have a very busy life.
It requires to be applied to the infected area 2-4 times daily.
You also need to wait 30 minutes after every application.
That's because it takes a lot of time and effort just to start working.
That's why I consider it very hard and inconvenient to use.
Also – the price of a single bottle is $49.95 for 15 ml.
It's true that it can get cheaper (up to $23.30 for a package of 6 bottles).
However, I don't advise you to go for the largest supply directly – if you're a first-time user.
That's because my opinion of this product isn't amazing.
So overall – I would say that it's not the best investment you can make.
---
#1 – Claims & Producer
---
Here are the first things you should know about Fungix:
what health issues it treats

how it works

the company behind
1. Claims
---
Based on the product's website, Fungix has a lot of promises.
One of them says that it's a "clinical strength, double action nail fungus formula."
Now – these are the things it claims to be doing:
removes nail fungus

treats infections

brings back healthy nails

promotes fast healing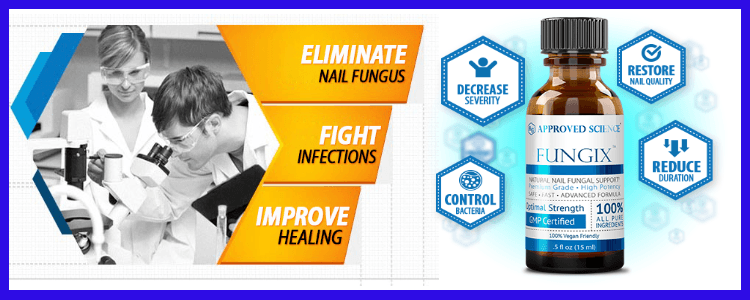 Its full description describes in detail how Fungix works.
According to it – it start working by addressing the cause of nail fungus.
At the same time, it also manages the symptoms to reduce the pain.
Plus – Fungix promises to be a total care solution for fungus:
Stops

Eliminates

Improves

Restores
Lastly, the ingredients are said to be selected by a team of doctors and researchers.
There's also an indication that it's 100% vegan-friendly.
So far – the product looks very interesting and promising to me, but it's still not amazing.
2. Company Behind
---
Fungix is made by a company called Approved Science™ LLC.
I checked out its official website and here's what I noticed so far:
offers products for general wellness, brain health, weight, beauty

treatments include athlete's foot, nail fungus, ringworm, and wart removal
Also – the company can be contacted through phone, email, or website contact page.
So far, I haven't found any complaints about the brand.
Overall – it's safe to say that you can buy products from them.
---
#2 – Ingredients (7 out of 10)
---
Fungix is suitable for you if you're into herbal-based products.
The overall formula is quite promising, in my opinion.
However – when it comes to destroying fungi, herbs alone aren't always the best:
ideal formulas combine classic ingredients with herbal extracts

the results are much better
It's true that I'm a big fan of herbal-based formulas.
But they don't have such a powerful effect against fungus (when used alone).
Funginix does contain a classic ingredient as well (Undecylenic Acid USP).
But that's only one compound.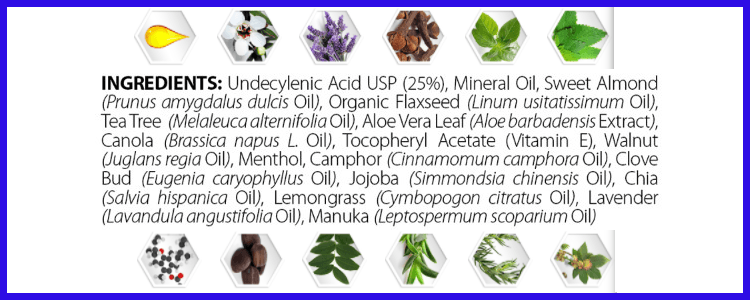 Anyway – here are the top ingredients inside Funginix:
Undecylenic Acid USP 25% – used as a medication for skin and fungal infections [1]

Tea Tree Oil – provides antiseptic and anti-fungal properties

Aloe Vera – moisturizes and soothes the nails

Walnut Oil – fights against fungal infections (jock itch and candida)

Jojoba Oil – strengthens the nail bed [2]

Tocopheryl Acetate – acts as an antioxidant for cells and skin

Menthol – helps relax the damaged skin

Camphor Oil – treats toenail fungus and provides antifungal properties [3]

Clove Bud Oil – helps heal fungal infections

Lavender Oil – protects nails and cuticles from infections

Manuka Oil – works by multiplying healing cells to restore healthy nails [4]

Essential Oil Blend – helps the skin and nails stay healthy
Honestly – the ingredients mentioned above have a lot of benefits.
But as I said, there's a lack of variety and they're not strong enough, in my view.
---
Conclusion
---
Fungix does have a promising formula – but I doubt it's too strong.
I see it more as a soothing remedy than an actual treatment.
Also, I doubt it can prevent future outbreaks.
That's why I'm not the biggest fan of this formula.
---
#3 – Consistency & Dosage (4 out of 10)
---
Let's take a look at the few details of Fungix in this chapter.
1. Consistency
---
Let me describe the product's consistency briefly:
strong aromatic scent

yellowish color

slightly viscous/oily consistency
If you're familiar with the typical essential oil blend, Fungix looks the same.
Just add a little extra stingy scent because of Undecylenic acid.
2. Dosage
---
According to its FAQs – here's how you should use the treatment:
Make sure to clean the infected area first.

Apply the product using the brush applicator.

Wait for 30 minutes before covering the nail/s.

Repeat the process 2-4 times a day.

Honestly, these instructions are not the easiest.
The application is easy since you just apply the product and wait for it to dry.
Still – the number of times you need to apply in a day is a little inconvenient.
So if you're not a busy person, your time probably allows you to do it.
However – there are other options with a much easier application process.
---
#4 – Results

(6 out of 10)
---
If you ask me, this info is vital for the overall review.
That's because it gives you different perspectives on the product's performance.
So it's very helpful to avoid having one-sided opinions about Fungix.
Note: I only analyzed authentic reviews, not promotional or fake ones.
1. Positive Opinions
---
As usual – I went over to Amazon to look for authentic customer reviews.
So far, I have found some comments worth sharing:
Many customers mentioned that it healed their toenail fungus.

Some said it takes time and effort but eventually the infection goes away.

Others liked the fact that it doesn't cause side effects.

The rest got their healthy nails back without any outbreaks.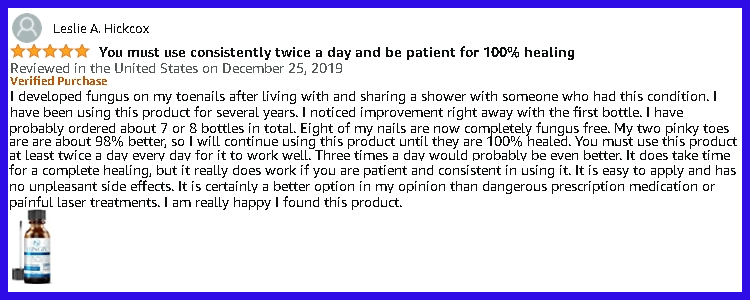 My conclusion after all of these comments is that the product seems to work.
However, you really need to apply it correctly and wait a while to see the results.
So a rating of 3.9/5 stars is a decent one – and it's enough to prove that the product isn't fake.
2. Negative Opinions
---
Meanwhile, let's take a look at the thoughts of unsatisfied customers:
Some experienced their whole nails turning yellow.

Most of them mentioned that it doesn't work or that it took months to see some changes.

Others complained that it reduces the fungus but not it didn't it.

There are customers who said that it's just a waste of money.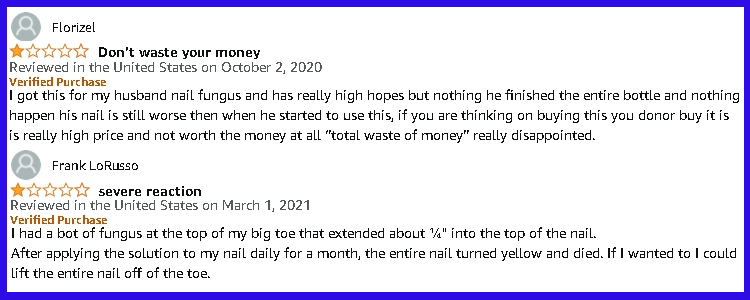 Honestly – I kind of expected that Fungix doesn't work really fast.
Also – herbal-based products tend to work rather slowly.
So this could be one of the reasons why a lot of customers didn't like it.
---
Conclusion
---
Overall – I understand Fungix's mixed reviews.
It's quite normal for a herbal-based product to not work for everyone.
So if you want to try it, just keep in mind that it takes time to work.
But if you ask me, there are better and faster options out there.
---
#5 – Side Effects

(8 out of 10)
---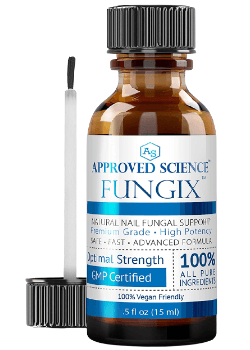 Now – I don't know if this is a good or a bad thing, but I haven't found any serious complaints about Fungix.
Again, for a product like this – it can only mean two things:
can severely damage the nails

doesn't work at all (even against the fungus)
I did see 1-2 complaints about the nails turning yellow.
But this might have been the result (after the fungus went away).
So basically, herbal-based products have lower chances of side effects.
However, this also means that the effect appears more slowly.
But all in all, I consider Funginix to be pretty safe.
---
#6 – Price (4 out of 10)
---
To tell you frankly, Fungix is quite pricey for its quality.
So honestly – it's not a good option, in my opinion.
1. The Exact Price
---
You might want to check Fungix's official website first then Amazon.
That is especially if you're someone who's looking for bundle deals:
Single Package (1 bottle) costs $49.95/each

Starter Package (2 bottles) costs $34.95/each

Intermediate Package (4 bottles) costs $27.95/each

Best Value Package (6 bottles) costs $23.30/each

Offers a 60-day money-back guarantee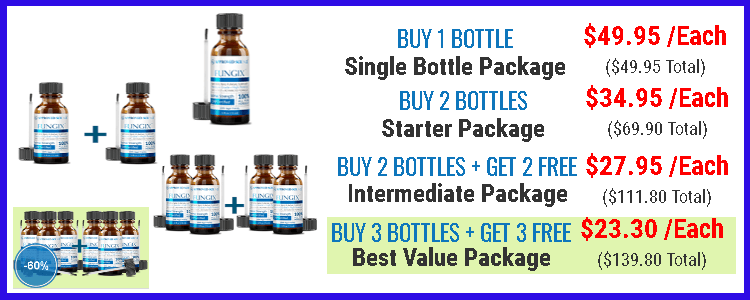 Now – I want to point out that a bottle has 15 ml (0.5 fl. oz.) of product.
Honestly, the amount is too small for its price.
Plus, you might also want to consider the fact that Fungix works rather slowly.
Also, it has a very high frequency of application (if you want to see the best results).
So if you do the math, you will definitely need quite a high quantity for the best results.
2. Competitors' Price
---
If you want a better investment, try my top recommended anti-fungal treatment.
It's a supplement called Kerassentials: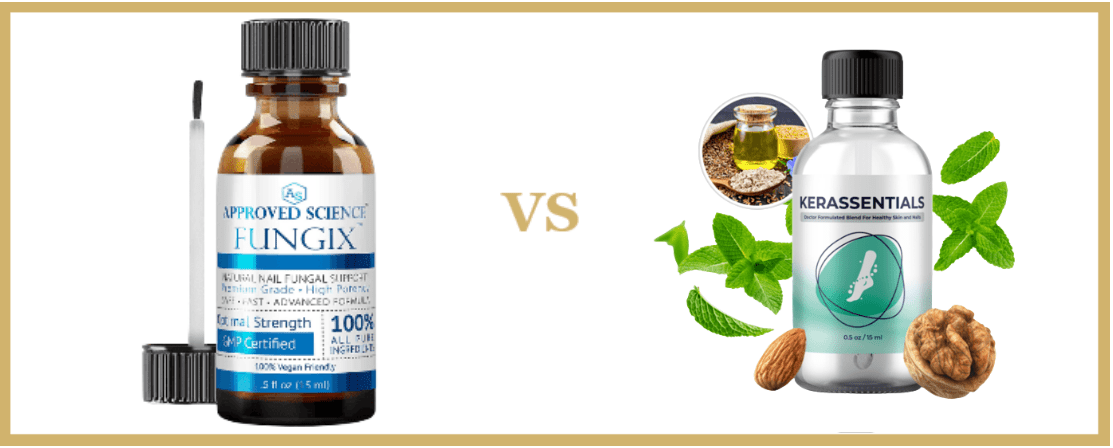 Kerassentials contains plenty of effective ingredients.

The formula is effective for different kinds of fungus.

Fungix is a herbal-based product made for toenail fungus.

The formulation has fewer chances of side effects, but it works very slowly.

Kerassentials requires you to apply it 4 times per day.

Fungix is in liquid form and needs to be applied 2-4 times a day.

Kerassentials costs $69 but you can get it for only $49/bottle (discounted).

A single bottle of Fungix costs $49.95 but can be $23.30/each for the bigger package.
Honestly, Kerassentials is the best option (in my view).
You only need to take it twice a day and that's it.
Plus, it's also a topical treatment, so it's just as easy to use.
But it doesn't treat toenail fungus only, but all types of fungus all over your body.
Still – it's very good for eliminating the fungus from the root.
On the other hand, Fungix requires a lot more effort and time.
So that's a major factor for people who don't have a lot of time.
---
Conclusion
---
Overall – Fungix is not really a good choice (in terms of price and quantity).
Besides, you need to apply it 2-4 times a day for months, just to see some results.
Also, it's not versatile and only works for toenail infections.
So I think that there are much better investments out there.
---
#7 – Final

Conclusions
---
So here's my summarized opinion about Fungix.
1. Decent Ingredients
---
Fungix's overall formulation is made of herbal-based compounds.
There are a lot of benefits you can get from it.
However, products like this don't typically work in all cases.
So don't expect some fast or very strong results.
2. Not Easy To Use
---
Fungix requires you to apply it 2-4 times a day.
Also, every application requires you to wait for about 30 minutes for it to dry.
So it's not really for everyone (especially not for busy and working people).
You may not agree with me here, but it's not a very easy-to-use product.
3. Quite Expensive
---
There are several reasons why Fungix is a little pricey:
a single bottle costs $49.95

frequency of application is 2-4 times/day

takes months to see the results
So honestly, it's not the best option, if you ask me.
It's not versatile and it's too pricey for just one target area.
---
My Verdict – Worth It Or Not?
---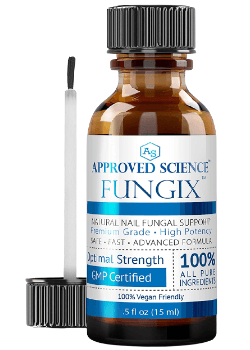 Short answer: Not really – there are several disadvantages I came across:
Requires a lot of time and effort

Only made for toenail fungus

Quite pricey for its quality (and quantity)

Works only by direct application
The good thing about Fungix is that it's made of herbal-based ingredients.
However – it's not going to work for everyone.
Even if it does work for you, don't expect any results right away.
You need to put so much time and effort into applying it to your toenails.
So I personally don't think it's worth all that.
What I suggest you try is my #1 recommendation (Kerassentials):
Contains a good amount of essential compounds

Works for all types of fungus

The effect can last for a very long time

Minimal chances of causing adverse effects
Overall – I would choose Kerassentials any day since it's better in a lot of aspects.
Not only it is convenient to use, but it also works for fungus all over your body.
So I think it's the best option for treating and preventing fungus.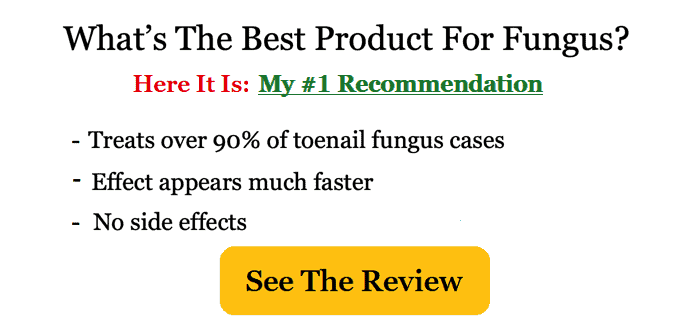 References:
1 – https://pubmed.ncbi.nlm.nih.gov/-26902505/
2 – https://pubmed.ncbi.nlm.nih.gov/-24442052/
3 – https://www.healthline.com/health/-what-is-camphor
4 – https://www.sciencedirect.com/science/article/pii/-S1684118213002466