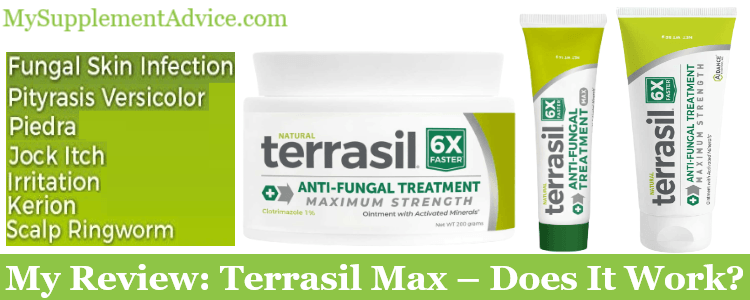 It's time to review Terrasil Max – a product made to treat fungal infection.
But are there any chances that it works? Or is it just overhyped?:
promising formula

quite expensive

not very handy
I looked into its details, in order to give you the real truth behind the product.
Note: This review is based on my opinion + research on Terrasil Max.
Review Summary
---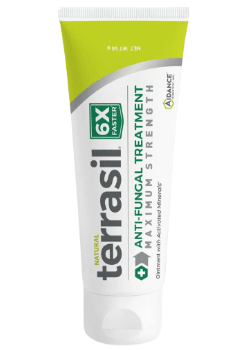 Full Name: Terrasil® Anti-Fungal Treatment MAX by Aidance Scientific, Inc.

Product Type: Anti-Fungus Cream
Best Actual Price: Starting from $24
Cheapest Place To Buy: Its official website
Designed For: Treating fungal skin infections – including:
My Rating: 6.5 out of 10
Recommended?: Not really – it's simply not the best choice in the market:
decent ingredients

quite pricey

only works when applied to the area
Instead – I suggest you try the best anti-fungal treatment on the market, which has a lot more benefits.
What I Liked About It
---
Pretty good anti-fungal ingredients

Reputable producer

Reliable professional website

Has a lot of authentic user reviews
What I Didn't Like About It
---
Works pretty slowly

Only treats skin infections

Not very easy to use

You need to apply it twice every day

Can be expensive in the long run
---
Terrasil Max In A Nutshell
---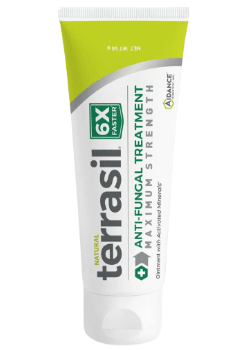 Terrasil Max is an anti-fungal treatment formulated as a cream.
Now, its formulation looks pretty promising, as it contains 3 types of ingredients:
Patented Activated Minerals

Active ingredients

Inactive ingredients
But although it looks pretty good, there are still several red flags:
not effective for enough users

pretty uncomfortable to use

could be cheaper
Now – these disadvantages are pretty objective.
Besides, since the product doesn't work the same for all – you may not even notice them.
Anyway, the regular size (14 g) costs $24, which looks pretty cheap.
But keep in mind that you need to apply it twice a day on all infected areas.
That can be a lot pricier in the long run – especially if you have multiple infections.
Overall, I'm not a huge fan of Terrasil – but I can't say it's a bad product either.
---
#1 – Claims & Producer
---
Before anything else, here's the info you need to know about Terrasil Max:
what infections it treats

how it works

who is the company behind
1. Claims
---
Again – Terrasil Max is an anti-fungal treatment in a cream form.
Based on its website, it claims to be a "unique all-in-one skin recovery system."
So here's what it promises to do:
treat fungal infections

stop fungus outbreak

relieve itching, burning, and pain

reduces redness, inflammation, and irritation
In addition, it also claims to kill fungus 6x faster than other major brands.
Now – the product is promoted to be bought with its partner soap (Terrasil Anti-Fungal Cleansing Bar).
You can use it for cleaning the target area before using the Terrasil Max.
I personally wouldn't necessarily go for the soap as well, as it's not too useful against fungus.
But the product itself seems to be very interesting.
2. Company Behind
---
If you're wondering, Terrasil's producer is Aidance Scientific, Inc.
Here's what I noticed about it so far:
owns several brands (Terrasil®, Aidance®, Femmesi®l and Activated Minerals®)

products include anti-fungal, wound care, pain relief, and rash relief

there are also products for feminine care, bandages, and soaps
Also – the company can be contacted through phone and email.
So overall – I would say that it's safe to buy from this brand, based on its available info.
---
#2 – Ingredients (8 out of 10)
---
Terrasil Max claims to have a combination of 3 classes of compounds:
active ingredients

inactive ingredients

patented activated minerals
Compared to other anti-fungus products, its formula looks pretty good.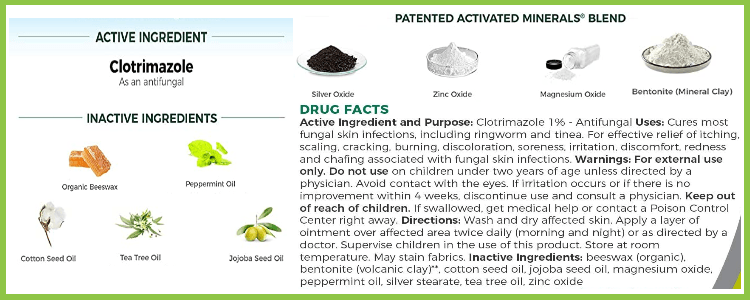 So let's take a look at the benefits of its compounds.
1. Active Ingredient
---
Clotrimazole 1% is the active ingredient present in Terrasil Max.
Based on my research, here's what it does:
kills fungus [1]

treats infection

stops the symptoms
It works by inducing a hole in the infected site so that its content will leak out.
That's why it's a good way to remove the fungus that settles inside the skin.
2. Inactive Ingredients
---
On the other hand – here are the ingredients from this category:
Organic Beeswax – prevents the growth of yeasts and fungi [2]

Peppermint Oil – soothes the skin

Cotton Seed Oil – provides antioxidants to the skin

Tea Tree Oil – has antiseptic properties [3]

Jojoba Seed Oil – supports healing
Overall – I would say that these plant-based extracts work as aftercare.
That's because most of the benefits are related to wound healing and moisturizing.
Since they're inactive, they have no effect on the actual fungal build-up.
3. Patented Activated Minerals® Blend
---
Here are the main compounds from this group:
Silver Oxide – helps accelerate the delivery of active ingredients

Zinc Oxide – gives benefits to skin health [4]

Magnesium Oxide – promotes cell health

Bentonite – absorbs impurities [5]
In my view, these ingredients primarily help with the absorption of the product.
So they don't have an active role against fungus either.
---
Conclusion
---
Overall – Terrasil Max's formula is very promising, considering its ingredients.
Now, it's up to you if you want to give it a try.
It's not my top recommended formula, that's all.
---
#3 – Consistency & Dosage (7 out of 10)
---
I will give you some important details about Terrasil Max here.
1. Consistency
---
Here's how I would describe the product:
white color

slight medicine scent

slightly thick cream
If you're familiar with the typical fungal cream, it looks just like that.
You might just feel a hint of herbal scent (because of its plant extracts).
2. Dosage
---
I checked the product's website, so here are the instructions for Terrasil Max:
Wash and dry the affected area.

Spread a thin layer of the product.

Use twice a day (morning and night).

You can also follow the doctor's recommendations.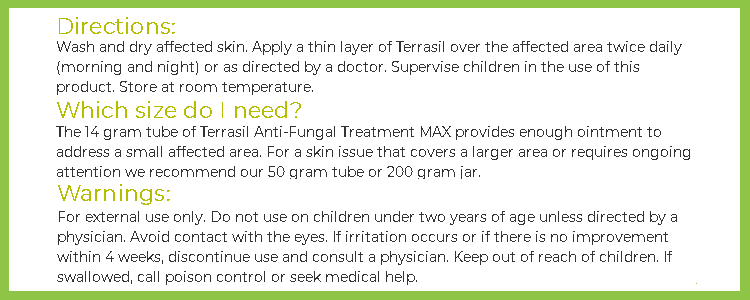 Now – we already have an idea that it is only for direct use.
And that's because you have to apply it only to the affected area.
But if you have several infections, using this cream won't be too easy.
---
#4 – Results

(6 out of 10)
---
For this chapter, I always check authentic customer reviews.
The reason is to give you a fair opinion about Terrasil Max.
Note: I only analyzed authentic reviews, not promotional or fake ones.
1. Positive Opinions
---
Now – I went over to Amazon's listing for the reviews.
And luckily, I found a lot of feedback from previous customers:
Some customers noticed a reduction of tinea versicolor and ringworm.

Others said that it cleared up their yeast infection and fungal spots.

Most of them mentioned that it works for balanitis and dry spots as well.

The rest of the customers wrote in the comments that it works.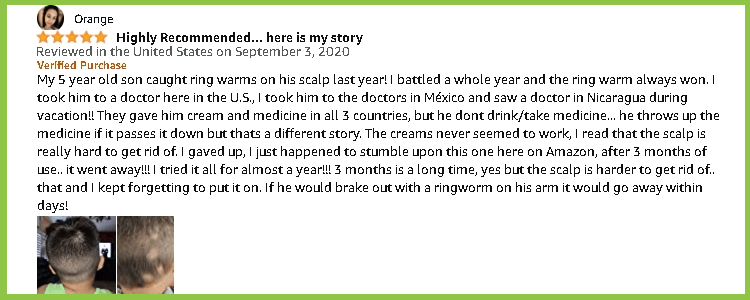 Honestly – a lot of customers look very satisfied with Terrasil Max.
That's quite obvious, because of its 4.3/5 stars rating.
Also – since so many users actually tried, it's a good sign that it's a legit product.
2. Negative Opinions
---
Of course – we can't avoid complaints from other buyers.
So here are some of the testimonies under 1-star:
Others mentioned that it turned their skin gray, black, or purple.

Some noticed their infected area got worse and felt an itchy or burning sensation.

There are a few who complained about its quality/price.

Most comments said that it doesn't really work that much.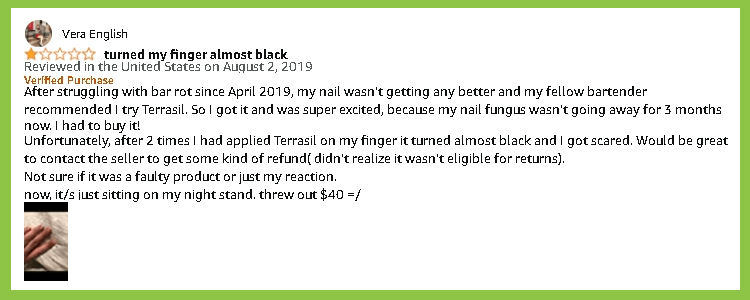 In my opinion, the burning sensation could be the product working.
There could be a possibility that it's actually killing the fungus.
But that's not always the case – so it's just a possibility.

Still – as for the other complaints, they're surely real.
---
Conclusion
---
Overall – Terrasil Max got a mix of positive and negative reviews.
But the majority of them are from satisfied customers.
So I think it's safe to say that it works for most.
However, I still think that there are better and more versatile alternatives.
---
#5 – Side Effects

(8 out of 10)
---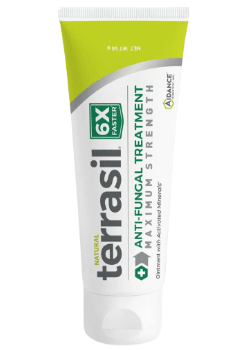 I haven't really found serious adverse effects caused by Terrasil Max.
But if you ask me, there could be 2 possibilities:
no effects because of its weak formula

severe results caused by harsh ingredients
There could also be some chances of allergic reactions.
That's because of some of its plant-based ingredients.
But if you really want to be sure, ask your doctor for further directions.
---
#6 – Price (5 out of 10)
---
Honestly – I'm not really a fan of this product's price.
If you have a lot of fungal infections, Terrasil Max is not a good deal.
1. The Exact Price
---
Now – the product is also available on Amazon.
But there are more deals on the product's official website:
Regular Size (14 g) costs $24

Larger Size (50 g) costs $39.95

Best Value Size (200 g) costs $89.95

Free shipping for orders $59+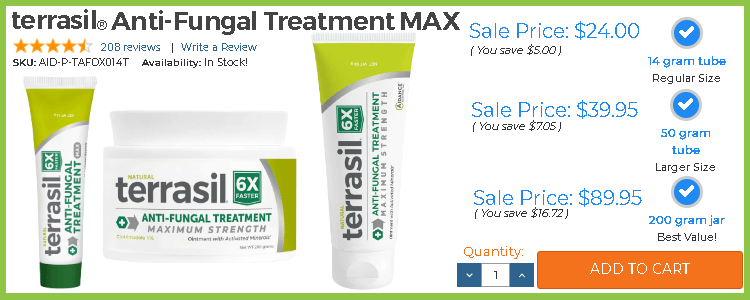 The product might be effective for a lot of people.
But the main problem I could see is it can get really expensive.
This happens if you have a lot of fungal infections in different areas.
In short, you need to apply the product twice a day all over those areas.
If you only have one infection – it's fine.
But if you have several, it may be a lot more inconvenient to use.
2. Competitors' Price
---
In my view, there's a better alternative and it's my top recommended anti-fungal treatment.
I'm talking about a product called Kerassentials: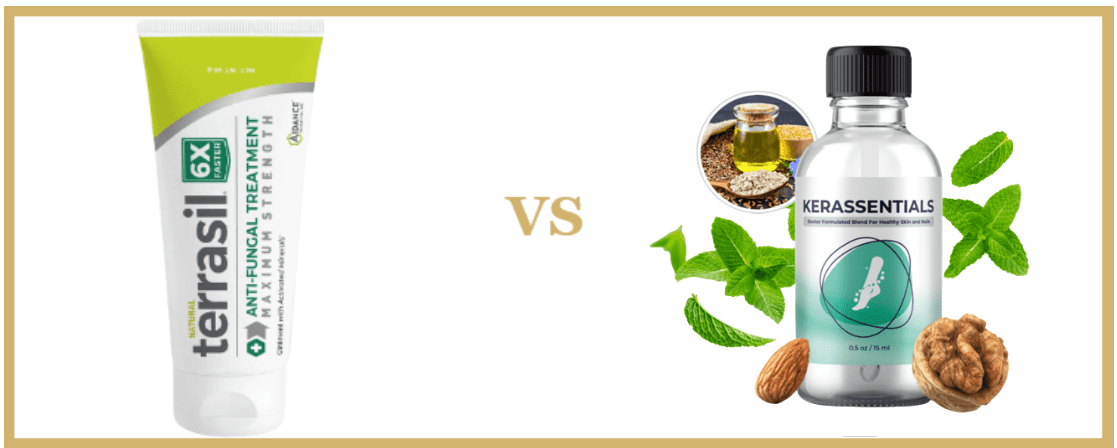 Kerassentials contains lots of effective compounds.

The overall formula works for all types of fungi in the easiest way.

Terrasil Max is a combination of active, inactive, and activated minerals.

It is designed to treat some types of fungus only.

Kerassentials is a topical treatment you need to apply 4 times a day.

Terrasil Max needs to be applied to the problem areas twice daily.

Kerassentials costs $69 you can get it for only $49/bottle.

The smallest size of Terrasil Max costs around $24.
If you're not really a fan of multiple applications, Terrasil Max is not for you.
Again – you need to apply it to different parts of your body.
That's why Kerassentials is the better choice, in my view.
You only need to apply it in order to remove the fungus from the root.
---
Conclusion
---
Overall – Terrasil isn't a bad option in terms of price.
So you just need to consider if your time allows you to apply it several times/day.
That's why I prefer a more convenient but still good option.
---
#7 – Final

Conclusions
---
So here's how I would like to summarize my thoughts about Terrasil Max.
1. Good Formula
---
I find the product's formula very promising because of its 3 classes of compounds:
Active ingredients

Inactive ingredients

Activated minerals (patented)
In my opinion, Terrasil Max's composition is quite good.
But it can't be suitable for everyone – just to be realistic.
2. Credible Background
---
One of the things I liked most about Terrasil Max is its background.
The brand has a professional website, which is a good sign.
Plus, it's been on the market for a very long time.
Also – there are a lot of authentic customer reviews available.
3. Quite Pricey
---
If you ask me, Terrasil Max can be pricey:
twice a day application

direct use

need to be applied in every area
So if you have a lot of fungal infections, you're going to need more.
And that means you will have to spend and buy more than usual.
---
My Verdict – Worth It Or Not?
---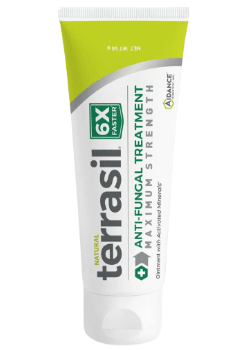 Short answer: Not quite – there are some red flags about it:
Works only via direct application

Pricey in the long run

Might not work for everyone
The product is not bad – but it can be hard to use sometimes.
That's because you need to apply it to every affected area.
So if you have a lot of infections, it's not very handy.
Now – I prefer a very versatile alternative for myself.
That's why it's also my #1 recommendation.
I'm talking about a product called Kerassentials:
Has 20 ingredients with some essential benefits

Targets almost all types of fungus

Effects last for a very long time

Low chance of causing side effects
If you think about its price, you might feel like it's a lot more expensive.
But once it destroys your fungus, you won't get any recurring episodes.
So it's more of a product that works in the long run.
Also – it's easier to use, that's why Kerassentials is my recommendation.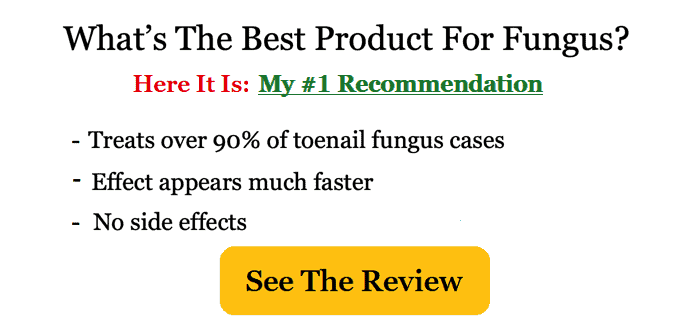 References:
1 – https://pubmed.ncbi.nlm.nih.gov/-1097234/
2 – https://pubmed.ncbi.nlm.nih.gov/-27633295/
3 – https://www.ncbi.nlm.nih.gov/pmc/articles/-PMC1360273/
4 – https://pubmed.ncbi.nlm.nih.gov/-30299956/