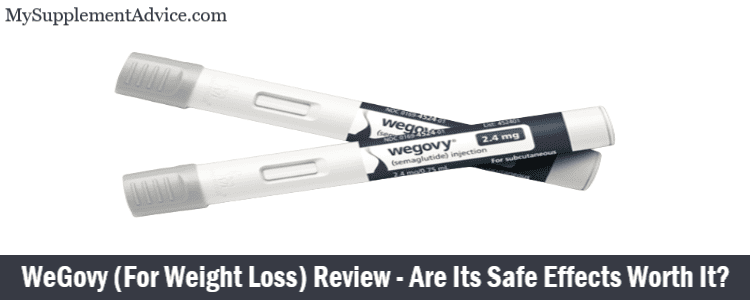 It's time for my WeGovy for weight loss review.
First of all – it's a notable product because of its multiple potential benefits for weight loss.
So in this review, we're going to look at everything about it:
its top ingredients ingredients

how exactly it works

its possible side effects
In this way, you will easily understand if this product is worth trying or not.
Note: This review is based on my research + opinion on WeGovy.
Review Summary
---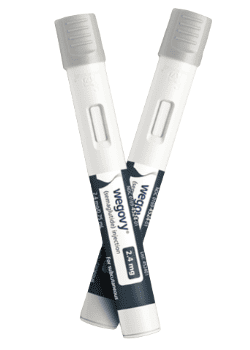 Full Name: Wegovy Semaglutide Injection by Novo Nordisk
Product Type: Weight Loss Prescription Medication
Best Actual Price: $1349.02 (1 month supply)
Cheapest Place To Buy: Its official website
Designed For: Supporting excess weight loss in diabetes – as well as the other benefits below:
signalling the feeling of satiety

reducing the appetite

regulating blood sugar and insulin levels
My Rating: 2 out of 10
Recommended?: No – it's only helpful if it's specially prescribed by your doctor.
Otherwise, it's not the most practical option at all:
pretty hard to get

alarming adverse effects

too expensive for a weight loss treatment
Honestly – WeGovy can help you lose your excess weight, especially if's it's a complication of another health condition.
But if you're otherwise healthy, better go for a more affordable and safer option (since there's always an alternative).
What I Liked About It
---
Targets important factors involved in metabolism

Allows you to lose weight and prevents any future weight gain

Contains an effective active ingredient for weight loss

Based on individualized doses (for specific health needs)
What I Didn't Like About It
---
It's an injectable form (both painful and uncomfortable to use)

Is extremely expensive

Causes some severe adverse reactions

Can interact with medication for other health conditions
---
WeGovy In A Nutshell
---
To start off, WeGovy is a prescription medicine designed for diabetes-weight loss.
Its formula carries only one major active ingredient, called semaglutide.
Shortly, this compound imitates the functions of GLP-1.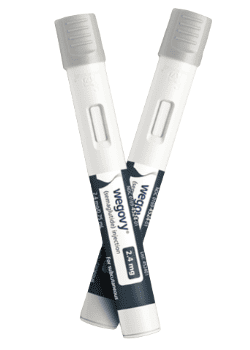 With that, here are its advantages on paper:
noticeable weight reduction

increased satiety

suppressed appetite

regulated blood sugar and insulin levels
Now – people who receive it as a prescription drug should be able to see some positive results.
But I surely don't recommend it to any other category.
It's a very important step to consult your doctor to see if WeGovy is compatible with your current health status.
Otherwise, this drug could cause several serious problems:
no weight loss results

alarming adverse effects (like depression or mental health)
An additional factor that you need to consider is its injectable format.
It can be challenging and painful, because most of us have always been scared of needles.
Besides – WeGovy has a shocking price tag ($1349.02 for a monthly supply).
Compared it to most weight loss products, its price seems like a big joke.
You might say that at least it's effective in most cases…
To tell you frankly, there are better options that have the exact same effect on your weight (without putting your life at risk).
In case you're looking for one, I recommend you to take a look at PhenQ.
It's super easy to take, way more affordable and it's 100 safer than WeGovy. Not to mention that its weight loss results are very real.
And last but not least – you don't even need a prescription to purchase it.
Compared to WeGovy, it's worth it way more…
---
#1 – How It Works & Producer
---
Let's first take a look at the details of WeGovy:
the health problems it addresses

its mechanism of action

the company behind the product
1. How It Works
---
To give you an idea, WeGovy is designed as an injectable treatment to promote weight loss [1].
It's extremely similar to Saxenda – but there's only one major difference between then.
Saxenda's main active ingredient is liraglutide, while the one from WeGovy is called semaglutide.
But they are both GLP-1 receptor agonists.
With that, here is semaglutide's mechanism of action:
regulates insulin production and blood sugar levels [2]

reduces complications connected to overweight/obesity

modulates neurotransmission processes

These effects lead to weight reduction, appetite regulation and increased satiety.
But just like any other treatments, you should also exercise and eat healthily along.
Once again, semaglutide involves some neurotransmitter-related processes.
In rare cases, this can lead to mental health problems and even a suicide risk.
Well – we're going to discuss them even further in the next chapters.
But overall, WeGovy has good results in people who received it as a prescription treatment.
Otherwise, if you don't have the same complications it's designed for, it's not recommended at all.
Don't worry – there are many weight loss products that work better and can be bought without a prescription.
2. Company Behind
---
Now – WeGovy has the same producer as Saxenda.
They are both made by the same company – Novo Nordisk:
offers medications for obesity, hemophilia, diabetes and other health issues

comes with a factual website that can help people understand its products

produces

Ozempic®,

Victoza® and Rybelsus®

can be reached through phone, email or mailing addresses
In fact, this company created some of the famous weight loss drugs.
So it already earned the credibility and trust of some people.
---
#2 – Ingredients

(8 out of 10)
---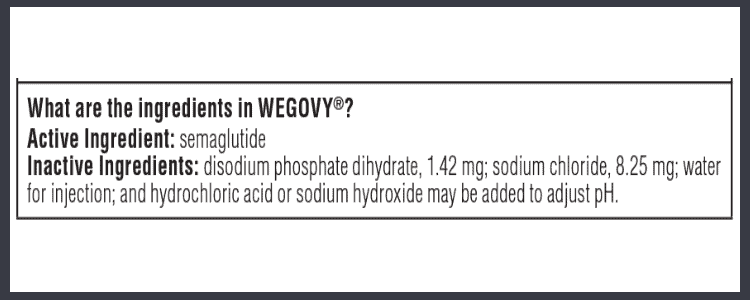 WeGovy's formula is short and concise, but it still has a real impact in terms of weight loss.
Again – its only active ingredient is semaglutide (a GLP-1 receptor agonist).
So let me list down its notable benefits:
improves incretin functions to modulate glucose metabolism [3]
stimulates the release of insulin in the body [4]
reduces body weight and it also has cardioprotective properties [5]

lowers triglyceride and blood glucose levels

prevents obesity-related problems such as

type 2 diabetes [6]
Also – semaglutide regulates dopamine levels and glutamatergic neurotransmission [7].
To give you an idea, they are connected to mood, cognition, memory, and mental thoughts.
On the positive side, this can improve behavioral changes (especially about how you view the process of weight loss).
But recently – there were some reports about the mental health problems of WeGovy that caught the public's eyes.
And there's a huge chance that its mechanism of action is the reason.
That's why WeGovy is not recommended if you already had any mental health issues at any point.
Now, here the remaining inactive ingredients in the formula:
sodium chloride

disodium phosphate dihydrate

water

sodium hydroxide or hydrochloric acid (to adjust the pH)
These compounds don't have major effects on WeGovy's results
Their only role is to make the main active ingredient stable.
With that being said, WeGovy's formula promotes weight loss by controlling a person's neuronal pathways.
To be exact, it does that by reducing appetite and increasing the feeling of being full.
But its best results appear in people with obesity-related complications (like diabetes).
---
Conclusion
---
Overall – WeGovy's main active ingredient is semaglutide.
Although it's the only one, it is indeed effective in reducing obesity.
But keep in mind that it's not a very dangerous substance, according to current rumours.
So you shouldn't use it unless it's specifically prescribed by your doctor.
---
#3 – Consistency & Dosage (4 out of 10)
---
Let's now talk about how you should use WeGovy, because it's not the most comfortable option out there.
1. Consistency
---
At this moment, you probably know that WeGovy comes as an injection:
typical or medicine-like smell

colorless liquid

watery consistency
Again – it's a pre-filled injection pen, so it's easier to use, since you don't need to count/measure your dosage.
Furthermore – its texture is made to enter under the skin effortlessly.
So with that, you're only left with remembering your schedule of use.
2. Dosage
---
Firstly – here are the certain health conditions where WeGovy helps [8] :
adults that are obese (BMI ≥ 30 kg/m2) or overweight (BMI ≥ 27 to <30 kg/m2) and have at least one weight-related comorbidity

adolescents with body weight above 60 kg or BMI ≥ 95th percentile (based on the CDC growth chart)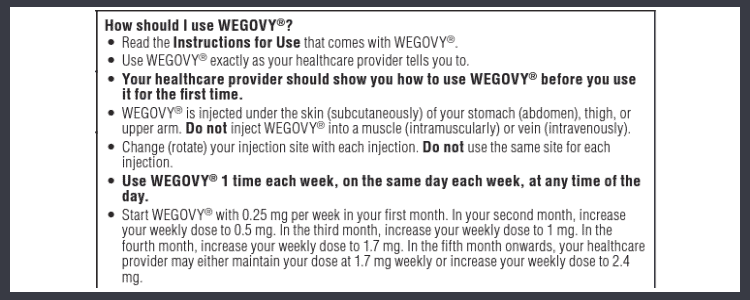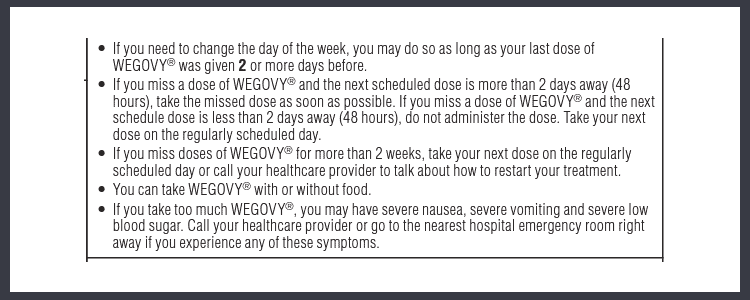 Now – here are the general guidelines on how to use WeGovy.
There are some individualized prescriptions, so I can't be more specific than this:
Start by reading the instructions that are included in the packaging.

Receive a proper training from a qualified healthcare provider first.

Make sure to wash your hands and clean the injection site (choose a firm part of your body).

Check the pen if it's pre-filled with your prescribed dose and pull the pen cap off.

Push the pen firmly against your skin and apply pressure until the yellow bar has stopped moving.

You should hear 2 clicks during the process (indicating that the injection has started and it is ongoing).

If the yellow bar has stopped moving, the process is complete and you can then lift the it slowly.

Safely dispose the pen right away and don't use it again.
If there's ever little blood that appears at the injection site, press it lightly with a cotton ball or gauze pad.
Lastly – WeGovy should be used once a week only.
You need to administer it on the same day and time each week.
If you ask me, WeGovy is far from the easiest weight loss option you have.
Again – you need to undergo proper training first before using it alone. Besides, it's very painful to inject…
There are so many other alternatives that are much more convenient (like pills, for example).
So if you're ever thinking of trying WeGovy, keep in mind that it won't be that fast and easy.
---
#4 – Results

(7 out of 10)
---
At this point, we already know that WeGovy is a prescription medicine.
That's why its feedback comes from its official website and/or other trustworthy sources.
Note: I only analyzed authentic reviews, not promotional or fake ones.
1. What People Say
---
WeGovy can't be purchased from online stores like Amazon, Walmart or CVS.
Well, there might be instances when you can – but you still need to show your prescriptions.
Now – let's take a look at what people say about the product:
Some achieved a normal BMI after using the product correctly.

People who were prescribed WeGovy noticed an immediate weight loss.

Others highlighted how WeGovy suppressed their appetite and reduced their cravings.

A few people expressed their concerns about the adverse reactions they experienced.

The rest stopped using it because they didn't notice any changes.
Now, WeGovy is a prescription drug that you can only get if your doctor recommends it.
So people allowed to use it will definitely lose weight.
But keep in mind that it should be combined with the right diet and physical activities.
Now – we still can't deny that some people can get WeGovy in not-so-legal ways.
But this can do them more harm than good:
Some people want to try it even if they don't have weight-related health conditions.

They simply heard that it's effective really fast and they are too lazy to try slower options.

In most cases, they don't have the best results with WeGovy.

In the worst cases, they end up with serious side reactions (hormonal imbalance or decreased insulin production).
With that, I strongly urge you NOT TO try WeGovy if you don't really need it.
That's only because it may do you a lot of harm and even risk your own health.
Again – it's a prescription regimen for overweight people with diabetes and serious cases.
It's not just a typical weight loss product that you can take anyway.
---
Conclusion
---
To sum it up, WeGovy is indeed effective in helping people shed their excess weight.
It mostly works for people who were prescribed this drug by their doctor.
However – some healthy people who just want to become slim can even lose their life after using this product.
That's why I highly recommend you to find safer alternatives and avoid WeGovy.
---
#5 – Side Effects

(1 out of 10)
---
Now – we discussed previously the alarming adverse effects of WeGovy.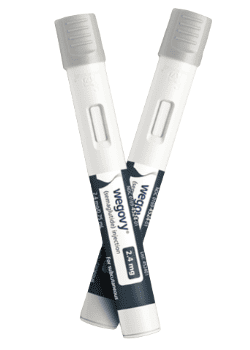 Honestly, they are about the same as Saxenda's potential risks.
Here are just some of them:
low blood sugar

gallbladder issues

digestive problems (bloating, constipation, diarrhea or vomiting)

inflammation in the pancreas

diabetic retinopathy/vision loss in diabetic people

mental health problems (depression or suicidal thoughts)

increased heart rate

kidney issues

allergic reactions

fatigue, nausea or tiredness
Just so you know, WeGovy is not suitable for people with certain health conditions.
In fact, the brand itself released a list of guidelines to inform everyone.
So the very first thing to do is to research the product and the conditions it's not compatible with.
Now – the very new concern about it is its potential effects on mental health.
Some news stated that a couple of people experienced suicide thoughts and depression.
Now, WeGovy's semaglutide involves several neurotransmitters.
In some cases, this can affect some of your brain functions.
But again – the relationship between those mental issues and WeGovy is not proven yet:
some people raised their concerns on several online and offline platforms

the product is still fairly new

FDA is still performing thorough studies on the problem
If you ask me, I wouldn't recommend WeGovy if you already had episodes of depression or suicidal thoughts before.
There's a high chance that you might go through it again, if you use the product.
Lastly – semaglutide is already a GLP-1 agonist receptor.
With that, you might want to stay away from WeGovy if you're already taking similar medications.
Otherwise, the interactions of these drugs can lead to things like organ damage.
Overall – WeGovy is not a typical product that you can use anytime you want.
Again, it's a strong and risky option, so you should be careful with it.
Unless your doctor recommends you to use it, you should absolutely look for safer alternative.
---
#6 – Price (1 out of 10)
---
Honestly – WeGovy is a very pricey prescription medication for weight loss.
Just think about the other (safer) options from the market…
Any of them wouldn't require you to spend such a huge amount of money.
1. The Exact Price
---
You should know by now that WeGovy can only be purchased through its official website or legal dealers.
In order to get your hands on the product, you just have to present your doctor's prescription.
Are you curious about its pricing? Let me give you an idea of how it goes:
you need to spend $1349.02 for 4 weeks' supply

the discount depends on the type of insurance you have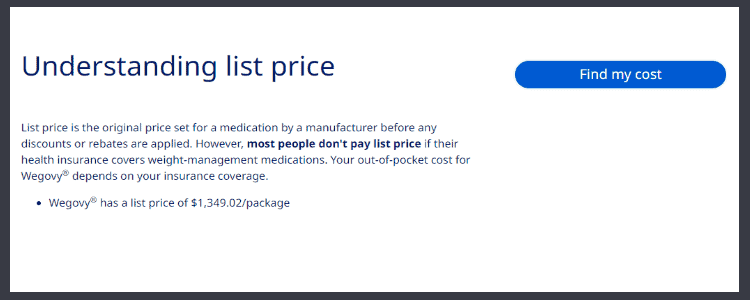 As you can see, a single injection pen costs $337 (estimated).
But mind you, that's the price you need to pay every 7 days – since it requires a pen per week.
So if you think about it, it's very high and way too expensive for a weight loss regimen.
Even if it did works wonders for everyone, there's no way I would recommend you to buy it.
Sure – insurance could discount a part of this price, but probably just a small one.
Still, if you don't have one 0 then you really have to pay the full list price.
With that, I won't urge you to try it since there are more practical alternatives.
I assure you that you can find many affordable choices that are also effective.
2. Competitors' Price
---
Now – let me share with you a cost-effective alternative.
The product is my top recommended weight loss supplement – PhenQ: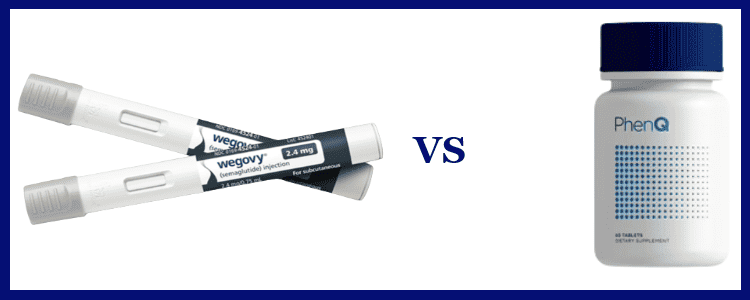 PhenQ contains ingredients that can support the reduction of excess weight.

It has several mechanisms of action that can limit weight gain (5 to be exact).

The supplement is safe to take since it doesn't cause alarming side effects.

WeGovy has semaglutide as its only active ingredient and the rest are inactive compounds.

It imitates the actions of the GLP-1 agonist receptor in terms of controlling appetite and supporting weight loss.

Being a prescription medication, it's more prone to causing serious adverse effects if you don't follow its warnings/guidelines.

PhenQ is an oral supplement in capsule form while WeGovy comes as an injectible pen.

The discounted price of PhenQ is $37 and its regular price is $69.

WeGovy's listing price is $1349.02 (good for 4 weeks = 4 injection pens).
At first look, you might say that WeGovy is worth the money, even if it's more on the expensive side.
You might say that because it's a prescription regimen for weight loss.
But honestly, it's not suitable for most people (especially for those who don't have diabetes).
So if your sole purpose is to shed off your excess weight, then just get PhenQ instead.
Besides its lower price tag, it's also not painful to take because it's an oral supplement.
Overall – it's the product I recommend, since it's safe for overall health (and it works really well).
---
Conclusion
---
In summary, WeGovy is a very expensive regimen for weight loss.
Just imagine the risks it can cause – all that while spending more than $1300 a month on it.
So if I were you, I would surely look for other options that are more affordable.
---
#7 – Final

Conclusions
---
In this chapter, I'll list down the summary of my main views on WeGovy.
1. Research-Backed Ingredient
---
Now – I previously highlighted that WeGovy has semaglutide (GLP-1 receptor agonist).
Based on available information, here are its potential advantages:
appetite management

enhanced satiety

effective weight loss (in most cases)
Moreover – it also has a positive impact on insulin production and blood glucose levels.
However, I want to clarify that it's not intended to be a standalone solution for addressing obesity-related issues.
It can only lessen the problems by addressing the root cause which is the excess weight.
2. Alarming Adverse Reactions
---
As I've said – WeGovy is offered in an injectable form.
In reality, it can cause significant discomfort for some individuals.
Recently, there were concerns regarding depression or having thoughts of self-harm while using the product.
Sure – the conclusive evidence is not yet established, but it's still important to be cautious in using WeGovy.
With that, you should only use it under the direct prescription of your doctor (and nothing else).
3. Very Expensive Price Tag
---
For the last part, WeGovy's monthly supply is priced at $1349.02 (one injection pen equates to approximately $337).
So as you can see it's significantly expensive for a weight loss regimen.
Most especially if you consider the potential health implications it can come with.
Overall other weight loss products on the market are more budget-friendly while being still effective.
With that, spending a lot of money on WeGovy is pretty questionable (in my view).
---
My Verdict – Worth It Or Not?
---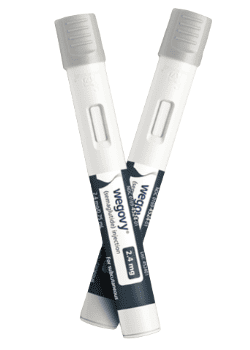 Short answer: Definitely Not – unless you're doctor prescribes it to you.
It can indeed promote weight loss in people who have related complications.
In fact, it's made by a credible brand that backs up its ingredients with studies.
But there are enough problems about it:
Really painful to use

Very high price tag (more than $1300 a month)

A prescription is a requirement to purchase it

May lead to risky side effects
Firstly – the main issue about WeGovy is the problems it can cause.
In my view, it should work well on people that are suitable for it.
However – occasional side effects can still appear.
Additionally, its extreme price tag is also a drawback that you need to take note of.
In all honesty – it's expensive for a prescription medicine (compared to other prescription drugs).
With that, I really encourage you to look for a better alternative.
Try PhenQ – my #1 recommended weight loss supplement:
stops the primary origins of weight gain

it's budget-friendly given its premium features

very effective in helping you lose weight

practical and easy to use for daily consumption

safe to take and minimal risks of triggering adverse reactions
Again – you don't need a formal prescription to get PhenQ.
But that doesn't mean that it's low quality and not effective.
On the contrary – you really get more benefits than what you pay for (if you use it correctly).
Besides, just consider its much more affordable price.
So with this in mind, getting PhenQ instead of WeGovy is a smart move.
Overall – PhenQ is currently the safest and the best weight loss regimen you can try (in my view).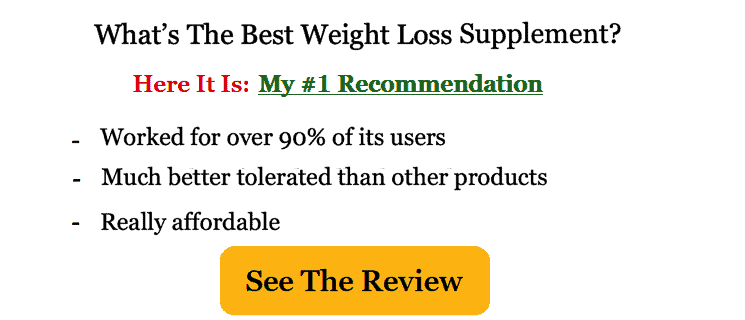 References:
1 – https://www.wegovy.com/-info/
2 – https://www.ncbi.nlm.nih.gov/pmc/articles/-PMC5358074/
3 – https://www.ncbi.nlm.nih.gov/pmc/articles/-PMC8736331/
4 – https://www.sciencedirect.com/topics/neuroscience/-incretin/
5 – https://www.ncbi.nlm.nih.gov/pmc/articles/-PMC8717485/
6 – https://www.uab.edu/news/research/-weight-loss-drug-semaglutide
7 – https://www.ncbi.nlm.nih.gov/pmc/articles/-PMC7848227/
8 – https://ec.europa.eu/health/documents/-h1608/