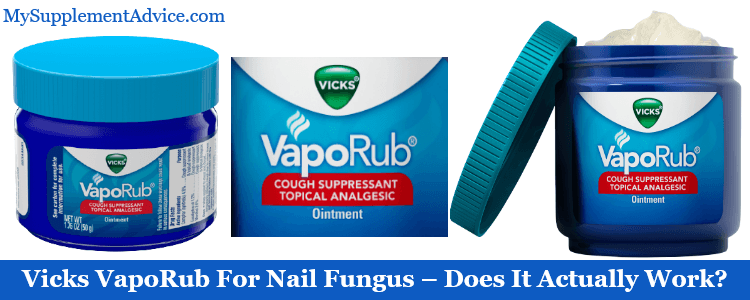 It's time to review another fungus product – so can you use Vicks VapoRub for nail fungus?
Since this product is actually a cough medicine, does it actually work for fungus?
A lot of people claim it does…
And at first sight, it doesn't look like a bad product:
very affordable

trusted by many users

only a temporary effect
The product has a lot of good features – but let's see if it's effective against fungus.
Note: This review is based on my opinion + research on Vicks VapoRub.
Review Summary
---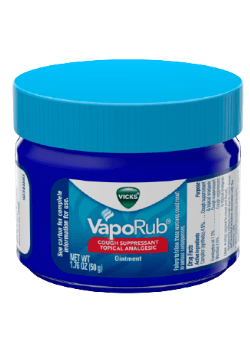 Full Name: Vicks® VapoRub™ Topical Cough Suppressant by Procter & Gamble

Product Type: Cough Suppressant (Not an anti-fungus product)
Best Actual Price: Around $5
Cheapest Place To Buy: Walmart
Designed For: Relieving cough and bronchial irritation temporarily.
Its claims have absolutely nothing to do with fungus, so it's not designed for this at all.
My Rating: 3 out of 10
Recommended?: No – it's simply not made to treat fungal infections.
It's not a bad product for coughing, but it has nothing to do with fungus:
weak ingredients

minimal improvement

can't treat fungus
Instead, I recommend you try the best anti-fungal treatment on the market.
It actually treats fungus for real (and for the long term).
What I Liked About It
---
Trusted brand with a long history

Informative and professional website

Very easy to find only (different retailers)

Many authentic user reviews
What I Didn't Like About It
---
Low chances of treating fungal infections

Doesn't prevent future outbreaks

Only provides a minimal improvement

Weak ingredients (for fungus)

No proof that it could actually treat fungus (only rumors)
---
Vicks VapoRub In A Nutshell
---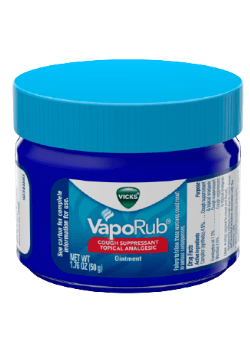 First of all – Vicks VapoRub is a cough suppressant.
It is also used to ease joint and muscle pain.
Its formula is like petroleum jelly with a strong medicated vapor.
Plus, you can use it by rubbing it on the aching areas of your body.
However – there are speculations that it has other uses.
The most popular is the one that it can be used to treat fungal infections.
But after a careful research, I came to the conclusion that it's not that helpful:
weak ingredients that can't kill fungus

lacks major anti-fungal compounds

can't stop future fungus outbreaks

even if it does work, it's very slow
Honestly – it's a good deal for the price of $5.25 for 50 g of product.
But that's only if you use it normally.
However – if you insist on using it for your fungus, you will probably spend a lot of money..
That's because it might take you months just to see any results.
Overall – Vicks VapoRub is a good product, but not for fungus.
So overall, I suggest you just look for a real anti-fungal treatment.
---
#1 – Claims & Producer
---
Here's the basic info you should know about Vicks VapoRub:
what health problem it treats

how it works

the company behind
1. Claims
---
Vicks VapoRub is commonly known as topical cough medicine:
provides temporary relief for bronchial irritation and cough

eases minor aches and pains of muscles and joints
It's just a simple product that is popular within a lot of households because of its benefits.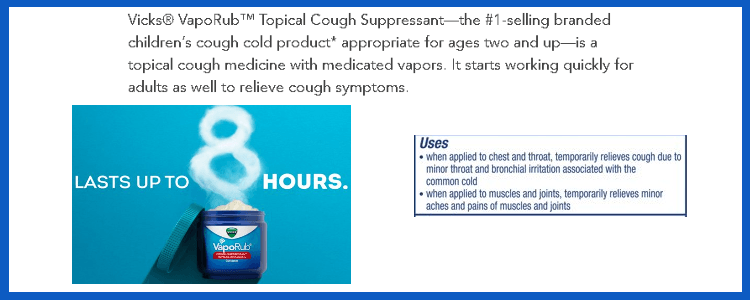 Now – there are a lot of people who mentioned that it can also help with fungal infections.
People use it by typically rubbing the product in the problematic area.
But after my careful research, it's not strong enough to be a decent fungal treatment.
So as early as now, I would say that it's not going to work from this point of view.
2. Company Behind
---
The producer of Vicks VapoRub is Procter & Gamble (P&G).
We all know that it's one of the leading brands from the market.
So here are some of the basic info about it:
its products vary from baby care to hair/grooming

offers a lot of contact info

this includes a hotline number, chat portal and mailing address
Overall – I couldn't say anything bad about the company.
It's been on the market for so many years and its legitimacy is proven.
So I would say that it's safe to buy their products at any time.
---
#2 – Ingredients (3 out of 10)
---
Now – this chapter can show you the best whether Vicks VapoRub can really treat nail fungus or not.
And the label is pretty clear.
All its 3 active ingredients reduce cough and pain – so they have absolutely nothing to do with fungus.
In fact, they are some of the most popular remedies against pain and cough.
But they don't seem to be having any benefits against fungus.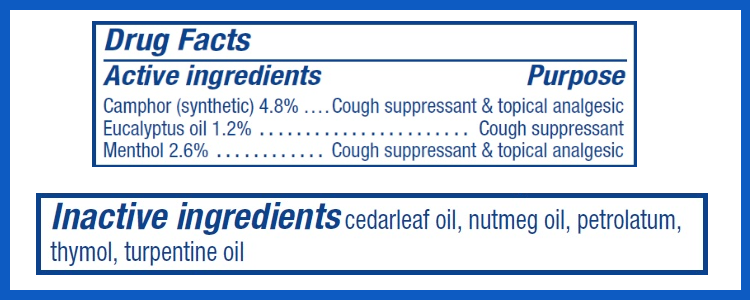 On the other hand – this product's inactive ingredients have a history of anti-fungal benefits:
smooth and soften the skin (even nails)

reduce microbes

can also fight fungus
However – these ingredients are labeled as inactive in Vicks VapoRub.
This means they have no active effect – they are only involved in product texture and scent.
So that's the best proof that Vicks VapoRub doesn't actually treat fungus.
But let's take a look at both types of ingredients inside this product.
1. Active Ingredient
---
Here are the main ingredients inside in the product:
Camphor 4.8% – relieves congestion and coughing [1]
Eucalyptus Oil 1.2% – helps in removing the mucus [2]
Menthol 2.6% – soothes the throat [3]
As I said – in terms of their ability to fight fungal infection, these substances look terrible.
Based on my research, their major contribution is to ease itchiness.
Also – they are helpful in soothing irritation, but that's all.
2. Inactive Ingredients
---
Like I said – these compounds have some more anti-fungal properties than the previous group:
Cedarleaf Oil – softens harsh skin

Nutmeg Oil – decreases respiratory tract fluid [4]

Petrolatum – serves as a base for the product's formula

Thymol – helps with muscles and irritations [5]
Turpentine Oil – can relieve pain [6]
So even though they seem more effective against fungus, their effect isn't actually amazing.
Even if the product contained this group as active ingredients, it would still look pretty bad.
But once again, they don't even have a real effect inside Vicks VapoRub.
So they can't really help at all in fungal infections.
---
Conclusion
---
If you ask me, there's only one thing inside this product that can help your fungus.
It's the soothing and healing properties of its active ingredients.
But that's really insignificant, to be honest.
So overall, I would say that Vick VapoRub isn't useful for fungus at all.
---
#3 – Consistency

& Dosage

(6 out of 10)
---
Now – these are the things you need to know about this product here
1. Consistency
---
So here's how I describe Vicks VapoRub to you:
thick petroleum-type consistency

strong menthol scent

opaque in color
If you're familiar with the typical petroleum jelly, it looks and feels about the same.
There's just an added strong menthol and aromatic fragrance.
2. Dosage
---
Based on the product's website, here's how you should use it:
Rub the product on the affected areas (throat, chest, muscle, or joint).

Use a warm dry cloth to cover (optional).

Use it 2-3 times daily or as directed by the doctor.

It's not advisable for children under 2 years old.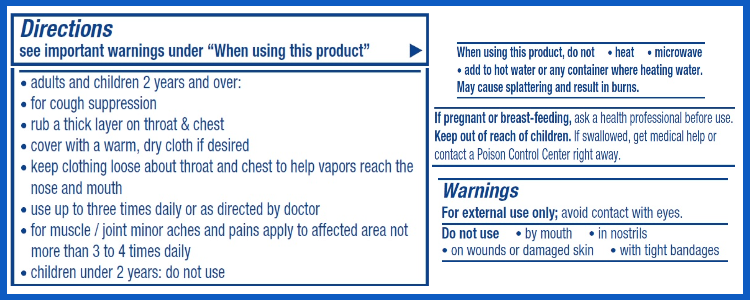 Now, these are the directions if you use the product for its standard benefits.
But you should apply it the same even for your fungus.
Although it's easy to use, it has a chance of not working for your infection.
So my advice is to go for a product that is really designed for fungal treatment.
---
#4 – Results

(5 out of 10)
---
Now – it's quite tricky to find a lot of reviews connected to fungus.
That's because this product is actually designed for a totally different purpose.
But I did my best to find some opinions about its effect on fungus.
Note: I only analyzed authentic reviews, not promotional or fake ones.
1. Positive Opinions
---
I decided to check the reviews of Vicks VapoRub on its main seller (Walmart).
So far, here are some of the previous customer's positive reviews:
Some said that it helped with their toenail fungus.

Others mentioned they also used it for dried skin, nails, and even on boils.

The other reviews are about its great effect on cough.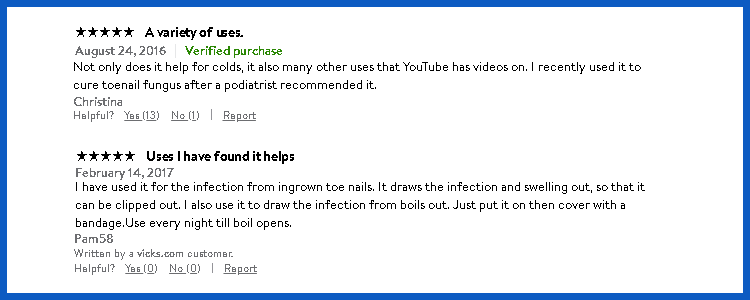 The overall rating of the product is 4.6/5 stars, which is great.
But over 98% of these ratings are because of its effect on cough.
If they were related to its anti-fungal results, they would be far lower.
So even though some people did see a positive effect, the percent is very small.
2. Negative Opinions
---
On the other hand, here are the complaints of other customers:
Most said it has absolutely no effect on their fungus.

Some people said the scent is too strong.

Others said that the new formula is not that great.

There are few who experienced no effect even for muscle/joint pain.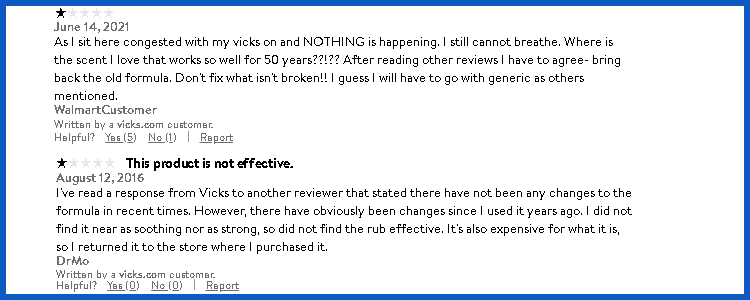 So it's quite obvious that Vick VapoRub is not helpful for fungus.
It might help a bit, but it's not too strong and works very slowly.
Outside reviews (other websites) said that it can work – but it literally takes years.
Honestly, your fungus can even go away on its own at this time – so it could all be a coincidence.
That's why I wouldn't expect too much from it in terms of fungus.
---
Conclusion
---
Honestly – don't expect to find too many reviews about fungus on the product.
That's simply because its main goal is totally different.
So overall, I suggest you look for a legit product against your fungus.
---
#5 – Side Effects

(9 out of 10)
---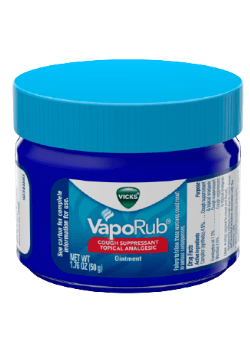 Now – I did see some complaints about Vick VapoRub.
But they were all related to its real purpose (not fungus).
Anyway – here are some of the side effects mentioned in the reviews:
bothering scent

skin irritations

headache/nausea
If you ask me, the adverse reactions are not that serious.
Some people have a low tolerance when it comes to fragrance.
But the strong scent of this product is actually its mechanism of action.
That's because its active ingredients reduce cough through its strong fragrance.
So there isn't anything to complain about it here.
---
#6 – Price (7 out of 10)
---
Honestly – Vicks VapoRub is on the affordable side.
But it's not the best option if you insist on using it for your fungal infections.
1. The Exact Price
---
The product is available at Walgreens, Target, Kroger, and a lot more retailers.
But Walmart offers the lowest price so I will feature its deals:
A Pack costs $5.25

Free delivery for $35+

Same-day pickup is free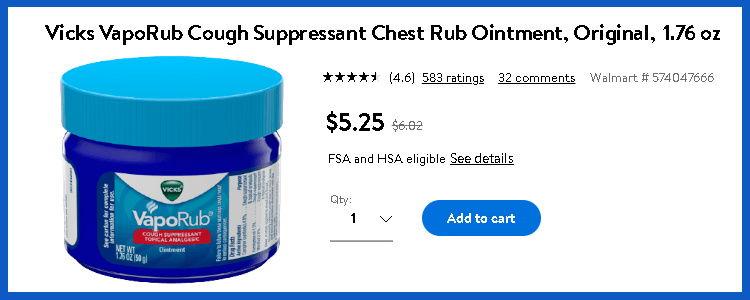 Now – a pack is equivalent to one tube of 50 g (1.76 oz.) of product.
This is more than a decent amount for its price – so I consider it a good deal.
However – it can get pricey if you're going to use Vick VapoRub for nail fungus.
Since the results will take a long time to appear (if any), you will need a really high quantity.
That's an extra reason why I don't recommend it.
2. Competitors' Price
---
Honestly – I strongly suggest you try my top recommended anti-fungal treatment.
I'm talking about a product called Kerassentials: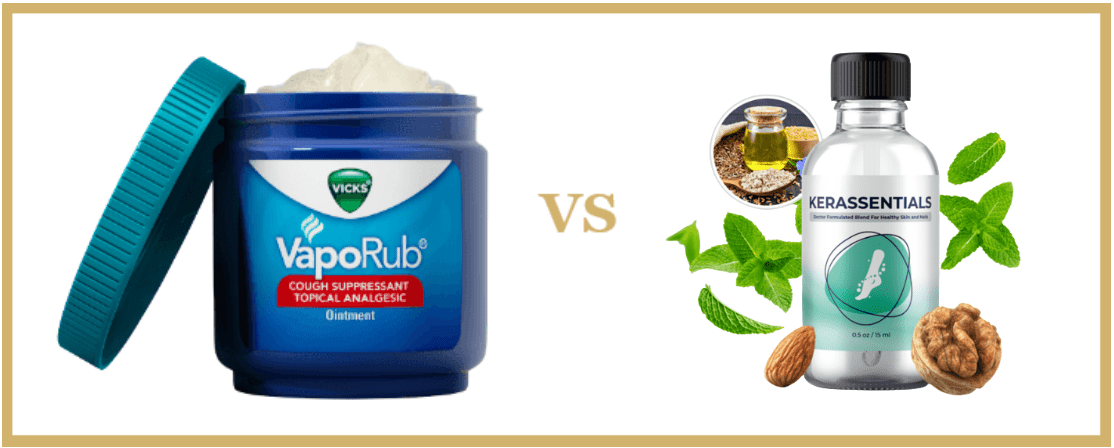 Kerassentials is a treatment specifically made for fungus.

It has essential ingredients with very versatile uses.

Vick VapoRub contains active and inactive herbal ingredients.

The formula is designed for cough, sore throat, and muscle/joint pain.

Vick VapoRub needs to be applied 2-3 times a day on the aching area.

Kerassentials costs $69.95, but you can get it for only $49/bottle.

On the other hand, Vick VapoRub costs only $5.25.
Now – my decision between these 2 products is based on their ability to cure fungus.
So overall, I would say Kerassentials is the best choice.
The product is really made for fungal infections, so it actually works.
---
Conclusion
---
Overall – Vicks VapoRub has a good price if you use it as intended.
However, if you're going to use it against fungus, you will need a huge quantity (and a long time).
In the long run, it's going to be really expensive.
So I strongly recommend you invest in a real anti-fungal instead.
---
#7 – Final

Conclusions
---
Here's my summarized view on Vicks VapoRub (based on its ability to fight fungus).
1. Weak Ingredients
---
Vicks VapoRub has active and inactive ingredients in its formula.
Most of them are herbal-based with a strong aromatic scent.
It's a good product when it comes to suppressing coughs and muscle/joint pain.
However – for fungal infections, it can only help by soothing the itchiness/irritations.
2. Credible Producer
---
Now – there's nothing to be worried about Vicks VapoRub's legitimacy.
It comes from a company that has been proven by many for years.
You just have to make sure that you buy the product from its official retailers.
3. Can be Pricey
---
Vicks VapoRub is very affordable if you use it for its original purpose.
But if you're going to apply it for fungus, it might be expensive in the long run.
You have to buy a lot of supplies for a very long time (just to see any results).
---
My Verdict – Worth It Or Not?
---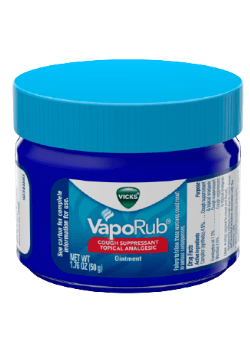 Short answer: No – I definitely don't recommend it against fungus:
Very weak formula to kill fungus

Only provides a minimal effect (if any)

Can't help prevent future outbreaks

Works very slowly (it can take even years)

No proof that it can fight fungus
Now, Vicks VapoRub is a great product in terms of reducing cough.
It works well with cough, sore throat, muscle, and joint pain.
The product can even soothe and soften the skin – but it can't really treat fungus.
So if you're really looking for a legit anti-fungal treatment, try my #1 recommendation.
I'm talking about Kerassentials:
Works for all types of fungus in the body

Contains versatile and essential ingredients

Has a long-lasting effect

Low chances of causing side effects
Overall – Kerassentials is the best option, in my view.
The major reason is that it's a real anti-fungal treatment.
So it's a better investment for your money.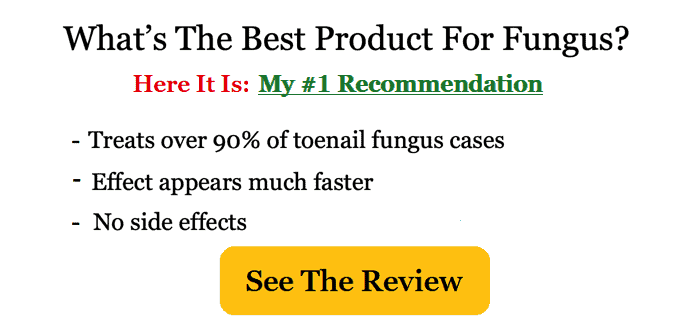 References:
1 – https://www.healthline.com/health/-what-is-camphor
2 – https://www.ncbi.nlm.nih.gov/pmc/articles/-PMC7163989/
3 – https://www.ncbi.nlm.nih.gov/pmc/articles/-PMC3628651/
4 – https://www.ncbi.nlm.nih.gov/pmc/articles/-PMC6060845/
5 – https://www.healthline.com/health/-thyme-oil