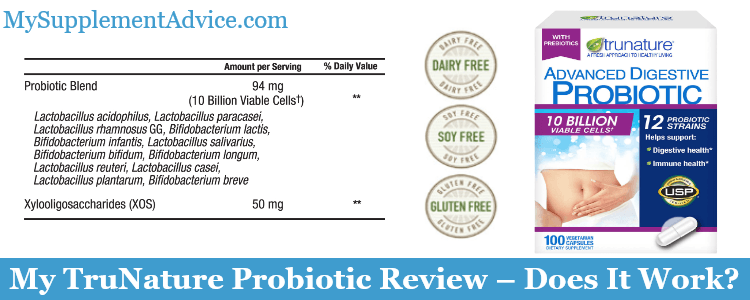 It's time for my TruNature Probiotic review – a decent supplement for your probiotic needs.
But does this product work? Pretty much yes:
standard formulation

affordable price

easy to take
I studied the different aspects of this product, to give you the real deal about it.
Note: This review is based on my opinion + research on TruNature Probiotic.
Review Summary
---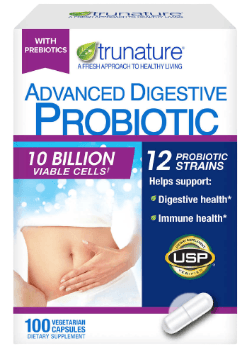 Full Name: TruNature Advanced Digestive Probiotic by TruNature

Product Type: Probiotics
Best Actual Prize: Around $20
Cheapest Place To Buy: Costco
Designed For: Boosting digestive system health :
restores digestive balance

fights bad bacteria

supports a healthy immune system
My Rating: 8 out of 10
Recommended?: Yes and no – if you're on a very tight budget, it makes a good choice.
But it has some small issues:
fake versions available

takes a pretty long time to work

causes more side effects than most probiotics
If you want another option, try the best probiotic from the market, since it has some much better features.
What I Liked About It
---
Pretty good formula and ingredients

Easy to take (1 pill/day)

Available over the counter

Very affordable price

Travel-friendly
What I Didn't Like About It
---
Tends to work pretty slow

Cause more side effects than most probiotics

Fake versions available on the market

No official website (only available in Costco)

Not available in all countries
---
TruNature Probiotic In A Nutshell
---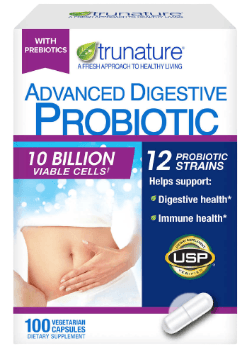 TruNature is a supplement that promotes 2 main benefits:
a healthy digestive system

boosting the immune system
Now, each capsule has about 10 billion viable probiotic cells.
For a healthy person, this dose is more than enough (without being dangerous either).
However – there are some issues about this product as well:
causes lots of side effects

takes some time to work

not available in many countries
Now – this probiotic itself is a decent one.
If you need a product for daily use, it should do.
However – keep in mind that it's not a probiotic that will work very fast.
If you don't mind waiting, that's totally fine.
The price of a box (100 capsules) is around $20, which is pretty cheap, compared to others.
But again – you will need to take this supplement for a longer time in order to see results.
Overall – it's a decent choice in some conditions.
But in general, it's not among my top recommended probiotics.
---
#1 – Claims & Producer
---
Let's start with some general info about this product:
how it works

which health issues it targets

who is the producer
1. Claims
---
The #1 promise behind this product is that "one capsule each day maintains a healthy digestive system"
According to the product info, the main reasons for bad bad bacteria could be:
poor diet

stress/age

travel

antibiotics/

other prescription medications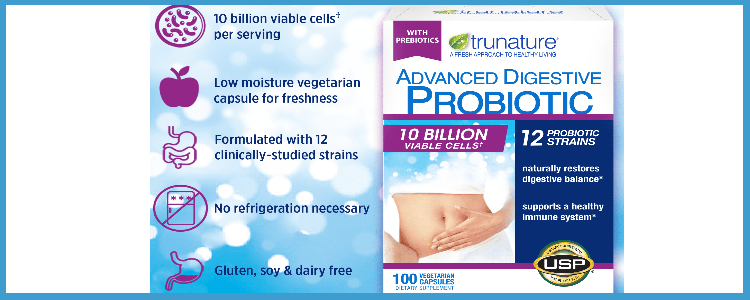 So the daily use of TruNature claims to:
restore the natural balance of the intestinal tract

boost the number of helpful bacteria

achieve proper digestion and well-being
It also claims to be good for traveling, since each capsule is in a blister-pack.
That means it's protected against heat, light and moisture.
Also – TruNature aims to help the immune system as well.
That's because gut bacteria are involved in immunity.
Still – if you ask me, there are other supplements with a much stronger effect in boosting immunity.
But anyway, TruNature's offers some very detailed info about its product.
2. Producer
---
The company behind this supplement is called TruNature.
This brand is only available at Costco.
However – Costco is only available in some countries so it's not actually available to anyone.
Other than that, the brand itself doesn't have an official website.
You can get in touch with them on their Costco page, but it's not the same thing.
---
#2 – Formula (8 out of 10)
---
The supplement itself looks pretty promising:
based on 2 types of ingredients (probiotic blend + a type of sugar)

contains 12 probiotic strains

has 10 billion viable probiotic cells
At first sight, the formulation looks pretty good.
Besides, the product claims to be gluten, soy and dairy free (vegetarian, in short).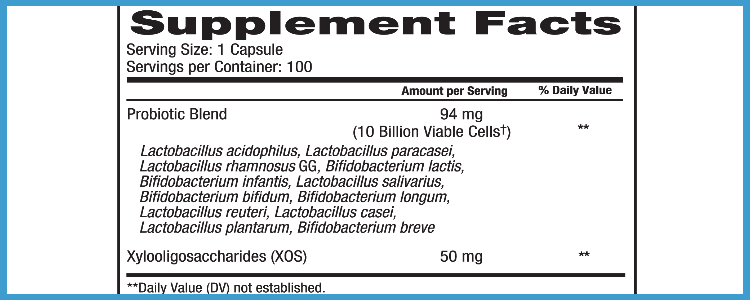 So let's now take a look at the bacteria strains inside this supplement:
L. acidophilus – prevents diarrhea and improves bowel movement [1]

B. breve – helps promote respiratory, skin and digestive health

L. salivarius – lowers cholesterol and tissue inflammation [2]

B. infantis – relieves symptoms of irritable bowel movement

L. rhamnosus GG – stops the growth of bacteria in the stomach and intestines

L. casei – treats & prevents diarrhea (infectious, traveler's and antibiotic-associated) [3]
B. lactis – strengthens the immune system and protects your digestive health [4]

L. reuteri – restores normal flora and improve digestion

L. plantarum – boosts the body's immune system

B. bifidum – helps digest fibers and kicks off harmful bacteria [5]

L. paracasei – improves immune function

B. longum – prevents dangerous bacteria from growing [6]
As you can see, almost all of these strains have the same benefits.
Plus – some of them help the immune system stay healthy.
Now, there are some ingredients that work for supporting bacteria only.
Besides, there's one more ingredient I want to mention.
I'm talking about xylooligosaccharides – which are not an actual probiotic strain:
it's a form of sugar

works as a prebiotic

feeds the good bacteria and boosts their effect
Now – most supplements don't combine probiotics with prebiotics.
So TruNature's product surely has an advantage here.
---
Conclusion
---
The best thing about this supplement is that it has 12 bacteria strains.
They are not the best existing ones, but that matters less.
So this formula can definitely help with digestion problems and aim healthy gut.
Overall, it's a pretty promising supplement.
---
#3 – Pills & Dosage (9 out of 10)
---
Firstly – here's what you should know about TruNature's features.
1. Pills
---
Here's how I would describe this product's pills:
formulated as capsules

low moisture and vegetarian

smaller than the average size
Based on this description, this supplement is easy to swallow.
Besides, it's perfect for people who are not used to taking capsules or drugs in general.
Since its pills are pretty easy to take, swallowing them shouldn't be a problem.
2. Dosage
---
The best thing about this supplement is that you only need to take one capsule per day.
For probiotics with 5-10 billion CFU, this number is just right.
There are some recommendations on how you should use this product:
Take it with or without food

Don't take it within 2 hours of taking antibiotics

Crushing or chewing the capsule is not advised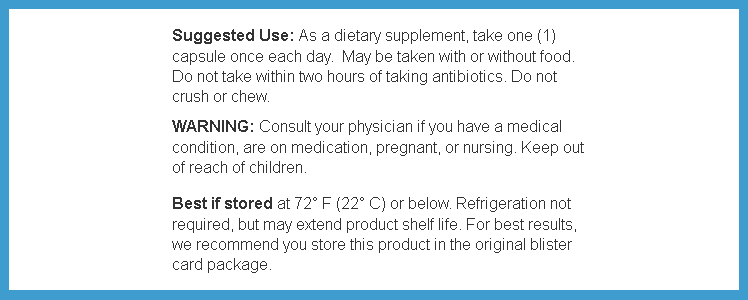 If you ask me, I suggest taking this supplement after eating, just to avoid stomach cramps.
It's not a serious issue, but it's better to be safe than sorry.
Other than that, this supplement is quite low maintenance, so it's also a travel-friendly (if that's relevant).
---
#4 – Results

(6 out of 10)
---
As I mentioned, this supplement is exclusively available only in Costco.
So it's best to show you the customer reviews from there.
Fortunately – there's a mix of opinions, which can give you an idea of how it really works.
Note: I only analyzed authentic reviews, not promotional or fake ones.
1. Positive Opinions
---
Let's have a look at the testimonials of most satisfied customers:
A lot of people said that their stomachaches and bloating were gone.

Others mentioned their IBS issues were resolved.

Some experienced relief from their digestive issues.

The rest really liked this supplement because of its low price.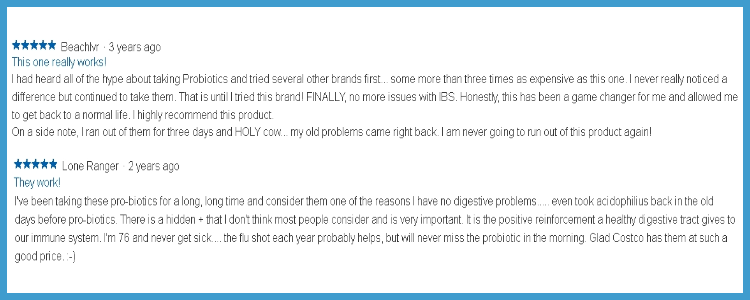 TruNature Probiotics got a rating of 4.7/5 stars, which is impressive if you ask me.
Now, we're looking at Costco's – which is not Amazon (in terms of review trustworthiness).
So I cannot guarantee that those opinions are actually real.
But other than that, it seems like a lot of customers are happy with this product.
2. Negative Opinions
---
Now – let's take a look at the most common complaints about this product:
Some experienced abdominal pain after taking the capsules.

A few people didn't like the new formulation and still prefer the original.

Others experienced worsened symptoms instead of getting better.

The rest mentioned that the formula is too strong for the stomach.

There were customers who pointed out that it takes some time to see an effect.

Now – these complaints are quite normal, since not everyone reacts the same to a product.
Also, I doubt this formulation is too strong.
As I said, it's a probiotic for daily use (in terms of concentration).
So it's definitely suitable even for people with no digestive issues.
---
Conclusion
---
Overall – there are mixed reviews about this supplement.
Most customers are satisfied with this product.
But there's a number of users who didn't like it at all.
So this supplement can either work for some or not have any effect.
It's not my top recommended probiotic, but it's totally up to you whether you want to try it out or not.
---
#5 – Side Effects

(5 out of 10)
---
Among all types of supplements, probiotics are some of the safest.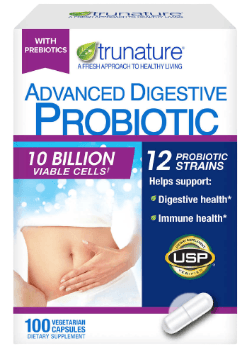 But that's only when you take them correctly.
However – I did find some complaints from customers experiencing adverse reactions:
abdominal pain/cramping (2-3 days or more)

gas and bloating

diarrhea and constipation
Now, stomach gas for the first few days is quite normal for probiotics.
But the other reactions aren't very normal, in my view.
That's because this supplement should actually prevent the issues.
Instead – it actually triggers them, which is a red flag.
As for the stomach pain, try to eat before taking this supplement.
So side effects seem to be quite an issue of TruNature's probiotics.
They are not some severe ones, that's for sure – but even so, they shouldn't exist normally.
---
#6 – Price (9 out of 10)
---
So far – all I can say is that this supplement is more on the affordable side.
But let's see if the price is worth it or not.
1. The Exact Price
---
Again – TruNature is only available in Costco (online and over the counter).
In order to avoid fake versions, let's focus on the pricing options there:
Standard price is $18.99/box.

Price per piece is $0.19

Shipping and handling are included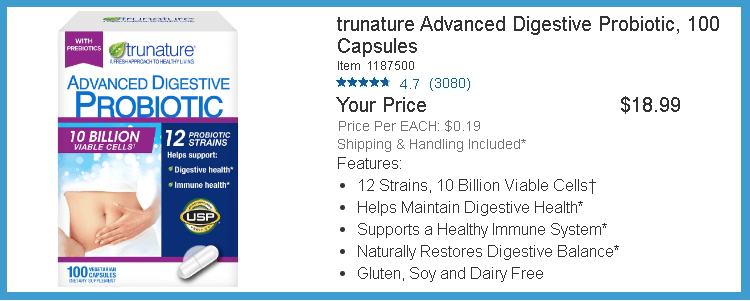 Now, the number of capsules per box is 100 and they are individually packed.
Honestly, the price is really cheap – given that a box will last for 100 days.
Still, products like this tend either work slower, so the effect takes longer to appear.
But even so – the product is far from a bad choice.
2. Competitors' Price
---
If you allow me, I will introduce to you my top recommended probiotic.
This supplement is called BiomeMD: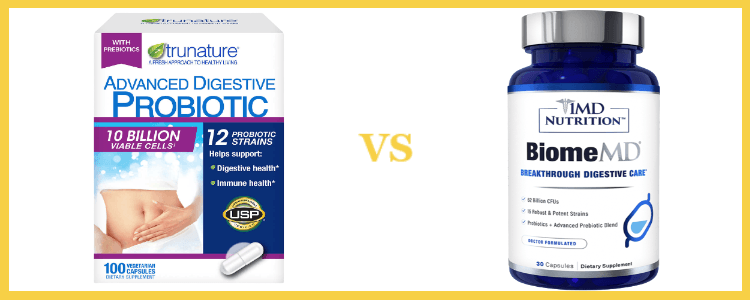 BiomeMD is made of 15 essential bacterial strains.

It's also contains prebiotics (that boost the effect of probiotics).

Its overall doses are very high (51 billion CFU).

TruNature has 12 strains for digestion and immune system.

Its strains are not as potent, though.

Plus, its overall dose is lower (10 billion CFU) and its individual doses aren't given out.

BiomeMD costs $49 (but you can also get it for about $28).

On the other hand, TruNature is only $20.
Now, TruNature's product has a much better price overall.
But keep in mind that BiomeMD has a better effect when it comes to digestive issues.
Also – some studies say that probiotics should only be taken for a maximum of 4 weeks.
So to treat stomach problems, you need to look for something that's strong enough to work.
Still, it should be gentle and work in a short period.
That's why I personally prefer BiomeMD.
But even so, I cannot admit that TruNature's product is a pretty good option as well (for basic needs, at least).
---
Conclusion
---
Overall, TruNature Probiotics is a really affordable option.
Its composition is not bad – but it does take a while to see an effect.
If you need a standard probiotic and you don't mind waiting, it might be a great option for you.
But I personally would go for something that works faster (even though it costs a few dollars more).
---
#7 – Final

Conclusions
---
Here's how I would sum up my points about this supplement.
1. Slower Effect
---
In terms of composition – this product looks pretty good.
However, many users complain that it tends to work pretty slow.
Since it's a probiotic for regular use – that's completely normal.
Still, if you need a probiotic that works within days, TruNature's product isn't suitable for you.
2. Readily Available
---
I want to point out that this supplement is easy to find:
available both online and over the counter

you can find it in Costco
Still – not all countries have a Costco.
So it's not that easy to find in European countries, for instance.
3. Good Price
---
Lastly – the price of TruNature is quite affordable compared to other probiotics:
a box costs $20

it has 100 capsules inside

it's enough for 100 days
Honestly, for this quantity – the price is excellent.
It may not be the highest-quality probiotic out there, but for the money – it's a good option.
---
My Verdict – Worth It Or Not?
---
Short answer: Yes, but only if you need a standard probiotic for a minimal price.
In other cases – I don't necessarily recommend it:
Takes time to work

Causes more side effects than the typical probiotics

There are some fake versions outside official site
Now, don't get me wrong – this product is far from bad.
But I see it more as a supporting supplement for digestion and immune system.
If you're looking for high-quality and long-term probiotic, it's not necessarily my top pick.
So what do I recommend instead?
I personally use a product called BiomeMD, which makes the #1 probiotic I know for regular use:
Has 15 essential probiotics with various benefits

One of the few supplements that combines probiotics with prebiotics

Excellent formula with high doses

Works much faster
Now, TruNature's product can be a good option as well.
But if you want the best probiotic I know, I recommend BiomeMD, it's simply superior.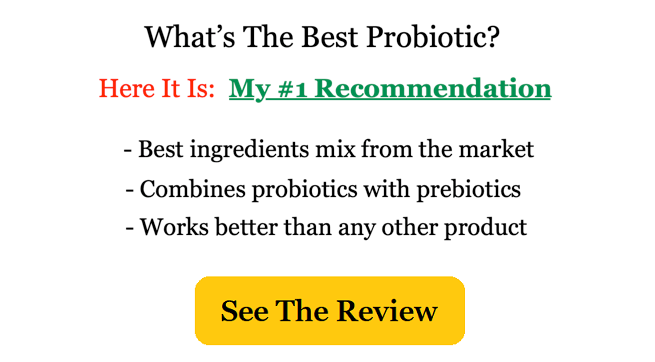 References:
1 – https://www.ncbi.nlm.nih.gov/pmc/articles/-PMC7692339/
2 – https://www.ncbi.nlm.nih.gov/pmc/articles/-PMC7232535/
3 – https://www.ncbi.nlm.nih.gov/pmc/articles/-PMC4887021/
4 – https://www.ncbi.nlm.nih.gov/pmc/articles/-PMC5031164/
5 – https://www.ncbi.nlm.nih.gov/pmc/articles/-PMC6920858/