It's time to review Whole30 Diet – a nutritional program that claims to reset your metabolism.
However – is it actually effective?
Does it work for weight loss?
You might know that it's a pretty popular diet.
In this article, we will look into everything about this program.
Note: This review is based on my own research + analysis of Whole30 Diet.
Review Summary
---
Full Name: Whole30 by Thirty & Co


Product Type: Weight Loss Diet
Best Actual Price: Varies depending on the foods you choose.
Cheapest Place To Buy: Amazon (for the books)
Designed For: Improving digestion and athletic performance.
My Rating: 5 out of 10
Recommended?: Not really – it's too much of a bother:
very unforgiving

not even designed for weight loss

unsuitable for quite a few dietary restrictions
This nutritional program is also quite restrictive.
If you want something that gives you more freedom, I know the best alternative that you need.
What I Liked About It
---
Can result in weight loss

Based on fresh meals (because you cook them yourself)

There is a vegetarian version of this program
What I Didn't Like About It
---
Not intended for losing weight

Way too restrictive

No tolerance for slip-ups

Time-consuming

Meal options are not diverse enough because of restrictions

No meal plans

Price varies depending on where you live
---
Whole30 In A Nutshell
---
Whole30 is a rather popular nutritional program, so you might have heard of it.

It's an elimination diet that supposedly fixes your emotional connection to food.
However, be aware that it is very restrictive.
This program consists of two phases:
Elimination phase

Reintroduction phase
For an entire month, you are supposed to avoid lots of foods you might enjoy.
Here are a few examples:
pasta

dairy

bread

legumes
Now – this program is not actually intended for weight loss, so keep that in mind.
It's supposed to improve your digestion, mood, and overall energy.
In other words, weight loss is merely a by-product in this specific case.
According to user reviews, lots of customers are bothered by how rigid this program is.
Not to mention that if you fail at any point, you have to start all over again.
Honestly, this can feel pretty discouraging.
Besides, Whole30 does not deliver food or ingredients of any kind.
It merely provides instructions – you have to do the rest yourself.
If you are a busy person overall, you might not have the time to cook so much.
Plus, this also means that the price cannot be estimated.
It is entirely dependent on your location, as well as your taste.
Regardless, be prepared to spend more, since unprocessed foods are more expensive overall.
All in all, Whole30 seems like too much effort for a little gain.
Therefore, you might want to look elsewhere for a better alternative.
---
#1 – What is Whole30 Diet?
---
While you may think of this as a diet, it's more of a nutritional program:
eliminates problematic foods

very restrictive

quite popular

As the name suggests, this program is all about promoting whole foods.
That's because they are better for your overall health [1].
Also, you should know that this is also a rather rigid plan.
Plus, it requires 100% commitment from you.
This means that if you fail in the middle of it, you have to start all over again.
Basically, you are expected to cut lots of foods from your diet for 30 days.
Allegedly, this serves as a "reset" for your body.
Additionally, it's supposed to improve your life in numerous ways:
energy

sleep

mood

focus

digestion [2]

pain

athletic performance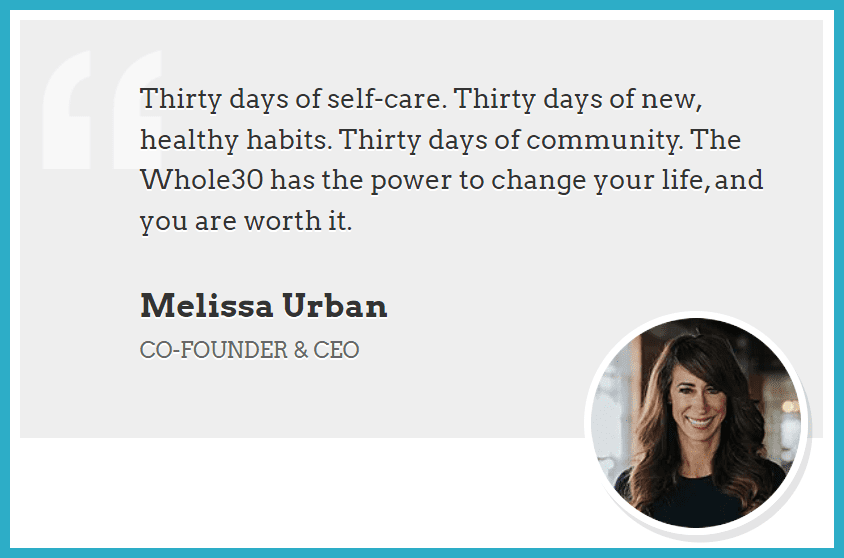 After the 30 days are over, you can slowly reintroduce each type of food you've been missing.
Just give yourself 2-3 days for each new addition.
It's important to closely observe if anything is disrupting the balance.
Also, Whole30 recommends that you don't reintroduce foods you don't particularly miss.
So don't feel like you should go back to the way you were eating beforehand.
---
#2 – How It Works & History
---
I'm sure there's a lot you want to know about Whole30:
how it takes action

whether or not it's for you

its history
1. How It Works
---
To keep it short, Whole30 consists of 2 halves:
Elimination phase – 30 days in which you stay away from certain foods

Reintroduction phase – after that, slowly reintroduce the types of food you've been missing
This program is quite straightforward, yet that does not mean that it is easy.

Here's a list of what you have to give up on during the first 30 days:
Grains

Legumes

Dairy

Alcohol

Added and artificial sugar

Pasta

Bread

Processed additives

French fries and potato chips
Quite the long list, huh?
Furthermore, Whole30 also mentions that you are not allowed to make treats using approved ingredients.
So forget about pancakes, muffins, brownies, or ice cream.
This is because they might trigger your cravings for the real thing, most likely.
Also – have I mentioned that you are not allowed to weigh yourself?
You can only do that on the 1st and 30th days.

Alternatively, here's what you are allowed to eat:
All vegetables

Fruit

Seafood

Unprocessed meats

Nuts & seeds

Eggs

Olive oil & coconut oil

Black coffee
Now – it's essential to acknowledge that Whole30 is not designed for weight loss.
Instead, it's supposed to teach you how to adjust your diet in a way that optimizes your lifestyle.
During the first 30 days, you will learn which foods you really cannot go without…
While all the others shall remain forgotten.
Other than that, you're supposed to use the knowledge acquired in your month-long journey.
That is, you should know which foods affect your body and whether that's good or bad.
From there on, your emotional connection with food should be healthier.
2. History
---
Whole30 started in 2009 when it was created by Melissa Urban and Dallas Hartwig.
They were spouses back then, and they both became certified sports nutritionists.
Eventually, they separated in 2015, and Melissa Urban took over the company.
She describes Whole30 as a "self-designed life-changing dietary experiment".
Since then, it has helped millions of people reduce cravings, improve energy, and discover lasting food freedom.
Also, if it interests you, there's also a version of Whole30 that is suitable for vegetarians & vegans.
Other than that, not much is noteworthy.
---
#3 – Weight Loss Plans

(5 out of 10)
---
There are no weight loss plans for Whole30 in the traditional sense.
Still, maybe we can come up with a sample diet that could inspire you.
1. Trial Diet
---
As you may have guessed, Whole30 gives you instructions…
But you come up with meals on your own.
Now, keep in mind that they have several books that are all about recipes that are ideal for this program.
But don't feel like you have to buy them!
In fact, you can find plenty of recipes on their blog, which you can access for free.
Also, since Whole30 insists that it's not designed for weight loss…
You shouldn't expect much info regarding calories, portion control, or anything of the sort.
While this may be quite inconvenient, some might find this freeing.
Regardless, here are a few ideas for every meal on a Whole30 diet:
Breakfast – banana smoothie with strawberries; potatoes and ground beef; fried egg and mushroom

Lunch – meatball soup with veggies; tuna salad; chicken salad with homemade mayo

Dinner – grilled shrimp with zucchini noodles; beef and sweet potatoes; stuffed bell peppers with veggies
Although this is by no means an extensive list, it should give you some inspiration.
If you're aching for some snacks throughout the day…
Do not hesitate to opt for a fruit.
Nuts are also a reliable option, of course.
---
Conclusion
---
If you like coming up with your own meals, Whole30 is for you.
Of course, the amount of freedom is fairly limited because of all the restrictions.
Still – if the idea of cooking your own meals based on approved ingredients interests you…
Then look no further than Whole30!
However, if you prefer something that takes care of meal prep for you…
You might want to look elsewhere.
---
#4 – Meals & Menu

(5 out of 10)
---
If you're interested in what Whole30 has to offer in terms of the menu…
Then this section should prove quite enlightening.
1. The Menu
---
Again, as far as the menu goes, you are free to come up with your own.
However, there are a couple of services that are compatible with Whole30.
If you browse the official website, you will run into such cases.
But if you have nothing against doing the meal prep yourself, you get to decide what your menu looks like.
Just remember not to give in to temptation because this program has no tolerance for that.
Let me remind you that failing to follow the rules means you have to start from scratch again.
Now – once the Elimination phase is over, try not to go back to how you were eating before.
Naturally, this is most often the case with such a restrictive diet.
But the point is for you to learn how to control your diet.
If you are having trouble staying motivated, maybe the following options satisfy you:
join a support group for people on Whole30

consider hiring a coach
Regardless, it is of utmost importance that you stick to what you have to do.
Otherwise, you have to turn over a new page.
2. The Meals
---
Now – the blog does not offer an excessive amount of recipes.
But you can find quite enough that deserve to be mentioned.
There are not enough options for every meal of the day…
So they can't really be divided.
Still, here's what the blog has to offer in terms of recipes:
Whole30 Hamburger Soup

Whole30 Roasted Butternut Squash and Apple Soup

One-Pot Creamy Chicken and Cauliflower Rice Soup

Whole30 Chicken Veggie Soup with Avocado

Here are a couple more options:
Whole30 Pork Posole with Tostones from Cooking Whole30

Whole30 Clam Chowder

Whole30 Salsa Chicken Stew for your Slow Cooker or Instant Pot

Whole30 Mashed Sweet Potatoes

In all fairness, the meals sound pretty nice.
As I mentioned before, you cannot check for nutritional facts…
Mainly because Whole30 does not market itself as a weight-loss diet.
Also, as you might have noticed, this menu is not exactly ideal for vegans & vegetarians.
You might want to check the version of Whole30 that was specifically designed for those diets.
Other than that, there is not much else to say.
Whether or not buying the book for more recipes is worth it depends entirely on you.
---
#5 – Results

(6 out of 10)
---
Given that Whole30 has been around for quite some time…
It goes without saying that it had plenty of time to make a name for itself.
By looking at the user feedback, we might be able to discern whether it has a good reputation…
Or if it is rather lackluster.
Note: I only considered authentic reviews, not promotional/fake ones.
1. Positive Reviews
---
First off, let's look at the promising aspects of Whole30.
While browsing the official website, you might notice that there is a section dedicated to success stories.
However, I'm not going to get insight from there, because they might be biased.
Instead, I'm going to look at user reviews from 3rd party websites.
Let's get to the advantages of Whole30:
Lots of customers claim that this program made them feel healthier.

Some also said they lost weight while on Whole30.

A lot of customers said the recipes are quite tasty.

A few also said it brought their blood sugar level down.

Also, people said the recipes from Whole30 greatly helped them stay motivated.

Someone said they managed to lose 12 pounds in the span of one month:

Again, it's best to keep in mind that weight loss is merely a by-product of this program.
While it's not something that you should explicitly hope for, it can definitely happen.
It looks like this program plans to better your digestive health…
While also leading to some weight loss on the side.
2. Negative Reviews
---
It is now time to turn to the less favorable aspects of Whole30.
A program this strict is definitely not for everyone, which the official website also mentions.
That being said, it is important to take into account the unfortunate experiences as well.
They just might bring up some issues that you could encounter as well.
Without further ado, here's what people found lackluster about Whole30:
Naturally, some people found the program to be too restrictive.

Some also did not see the point in eliminating so much from your diet.

People also claimed this program failed to help them lose weight.

A lot of people also found themselves hungry for most of the day.

A few people also claimed their cravings are more intense now.

Also – someone mentioned they find the program to be rather condescending:

This is probably how customers react to the pressure this program puts them under.
Of course, it cannot be ignored that Whole30 is extremely restrictive.
As such, not everyone should feel like they have to put up with it.
To a certain degree, one could argue that eliminating so much from your diet is rather risky.
---
Conclusion
---
The user feedback for Whole30 is quite ambivalent.
While there are people who are happy with their results…
There are also customers who felt like they were made to go through too much.
Not to mention that if the Whole30 recipes do not suit your taste…
You might not have many options when it comes to meals.
So if you are looking for a diet plan that is more versatile, this is not the one.
---
#6 – Side Effects

(6 out of 10)
---
You might have noticed that user reviews do not really say much when it comes to side reactions.

As a result, we cannot really attest to the safety (or lack thereof) of Whole30.
However, there are a couple of things you should look out for whenever you change your diet:
exhaustion

low on energy

feeling bloated
Generally speaking, these are a few symptoms you might run into whenever you overhaul your diet.
For the most part, you should not run into serious issues.
Still – make sure to keep an eye on the situation.
If everything happens to spiral out of control, you might even have to deal with diarrhea and/or abdominal cramping.
Not to mention that eating spoiled food can lead to food poisoning.
If you notice anything off about what you have on your plate…
It's probably best to not eat it.
---
#7 – Price

(6 out of 10)
---
You might find that diet programs tend to be rather expensive.
However – is this also the case for Whole30?
This is a bit of a special case, so let's look into it.
1. The Exact Price
---
Remember that Whole30 merely gives you instructions.
They do not sell you actual ingredients or meals.
This means that you have to take care of them yourself.
As a result, the price cannot be estimated.
How much you spend entirely depends on where you live and which recipes you end up following.
However, we can look at the price of the books:
It Starts With Food – $14.89

The 30-Day Guide to Total Health and Food Freedom – $14.68

150 Simply Delicious Recipes for Your Whole30 – $23.34

Your Daily Guide to Whole30 Success – $24.97

150 Totally Compliant Prep-and-Go Recipes for Your Whole30 – $15.68

Now – I'm not sure you need these books to successfully complete Whole30.
But if you think they can help you, go for it.
In any case, you might enjoy the abundance of recipes.
Keep in mind that some people did not enjoy them, however.
2. Competitor's Price
---
If Whole30 is not really catching your eye…
I believe you would love Nutrisystem – my top recommendation for a weight-loss meal plan:

If you're looking to lose pounds, Nutrisystem works much better.

That's because it has multiple pre-designed diet plans for you to choose from.

Nutrisystem is also more suitable if you have certain dietary restrictions.

Not to mention that it also makes for a much more customizable experience.

Plus, it's nowhere near as restrictive as Whole30.

My recommendation also gives you a ton of variety in terms of the menu.

There's also the fact that it delivers ready-made meals, so you don't have to cook.

Ultimately, Nutrisystem also saves you money, starting at only $9.99 per day.
Given all these advantages, I'm sure you can see why Nutrisystem is the superior choice.
It takes a lot of pressure off your shoulders.
Plus, I guarantee you won't feel hungry if you opt for my recommendation.
That's because they also happen to encourage snacking, which I'm sure you will appreciate.
---
Conclusion
---
It's not possible to give a proper verdict regarding the price of Whole30.
The amount of money you end up spending varies according to your taste and location.
Still – be prepared to spend more, as unprocessed foods tend to be more expensive.
Because of that, you are already looking at a higher grocery bill…
Despite having to eliminate so much from your diet.
If this turns you off, you might want to go for something else.
---
#8 – Final Conclusions
---
Now that we're nearing the end of the review, let's go through the main ideas regarding Whole30.
1. Very Restrictive
---
This is probably the aspect that is a deal-breaker for most people.
As you have seen, you have to give up a lot of food for this program.
Not to mention that it also leaves no room for compromise.
If you fail along the way, it is highly recommended to start all over again.
As time goes on, this might be pretty discouraging.
2. You Do All The Cooking
---
Given that Whole30 only provides instructions…
You should know that the rest is up to you.
Procuring ingredients as well as cooking every meal falls on you.
Of course, this might not be an issue if you have time and don't mind being in the kitchen.
But that does not apply to everyone.
3. Varying Price
---
Once again, you cannot really know what to expect in terms of price.
It is entirely dependent on where you live as well as your taste.
Generally, however, unprocessed foods tend to have higher prices.
So you should probably expect to pay more at your local grocery store.
If that does not sound appealing to you, reconsider committing to Whole30.
---
My Verdict – Worth It Or Not?
---
Short answer: No, it's not worth the effort.

Whole30 might sound like a good idea, but it may be too much of a bother:
Not intended for weight loss in the first place.

Gives instructions while leaving all the work to you.

Extremely restrictive.

If you fail, you have to start all over again.

Eliminating so many types of food suddenly might be risky.

Impossible to predict the cost.
All in all, I sincerely think that Whole30 does not have much to offer.
In any case, it's certainly not worth cutting so much from your diet.
That being said, it's simply too unforgiving.
If you prefer to have more freedom, as well as diversity when it comes to your diet…
Then I highly recommend that you give Nutrisystem a try!
It's my top recommendation for a weight-loss meal plan for good reason:
very good for losing weight

delivers ready-made meals

offers multiple diet plans to choose from

more suitable for people with dietary restrictions

higher quality for a lower price
As consequence, I assure you that Nutrisystem is ideal for your circumstances.
You will surely not regret giving it a try!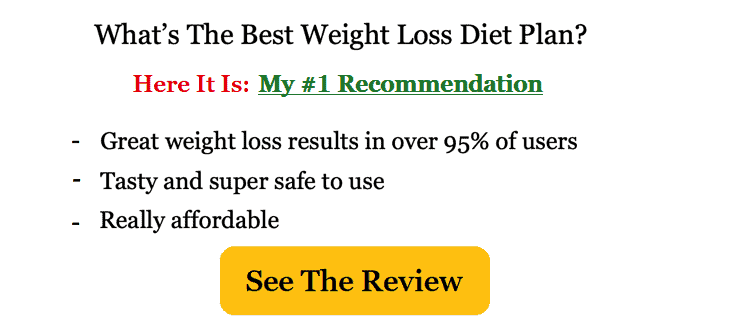 References:
1 – https://pubmed.ncbi.nlm.nih.gov/35706588/
2 – https://health.clevelandclinic.org/how-to-improve-your-digestive-tract-naturally/