Let's review Raw Generation Juice (Skinny) Cleanse – a product that makes weight loss easy and quick.
However, we are talking about juice.
Is it good enough for losing weight effectively and reliably?
Also – is it legit?
This article will give you all the details.
Note: This review is based on my opinion + research on Skinny Cleanse.
Review Summary
---
Full Name: Skinny Cleanse by Raw Generation


Product Type: Weight Loss Juice Cleanse
Best Actual Price: $119.99 (18 pack)
Cheapest Place To Buy: The official website
Designed For: Promoting a fast and easy weight loss
My Rating: 5 out of 10
Recommended?: Not at all – you're risking too much:
very strict plan

you have to mainly survive off of liquids only for a couple of days

many dangerous repercussions
Not to mention that it is much too expensive to be this unsafe.
I think you would be better off with a product that poses no risk and is more affordable.
What I Liked About It
---
May result in weight loss

Can potentially lead to fast results

Straightforward plan

Time-saving for people with a busy schedule
What I Didn't Like About It
---
Very rigid

You have to drink up to 6 juices per day

Only fruits, veggies, and unsalted nuts are allowed as snacks

Potentially dangerous in the long run

Many complaints regarding its adverse reactions

You may have to put up with constantly being hungry

Extremely expensive
---
Skinny Cleanse In A Nutshell
---
As the name suggests, Skinny Cleanse is a cleansing plan that helps you lose weight.


In short, it's supposed to eliminate the toxins in your body…
While also preparing you for a healthier lifestyle.
You should know that Raw Generation offers more cleansing options:
Lower Sugar Cleanse

Skinny Cleanse

Protein Cleanse
However, we are going to focus on the Skinny Cleanse for this review.
That's because it is the best option for weight loss out of those three.
The first thing you should know about this cleanse is that it's quite rigid.
This is to say that you are supposed to live off liquid for a couple of days straight.
Naturally, this can be quite dangerous for your health.
Not to mention that you are expected to drink up to 6 bottles per day.
If you get hungry throughout the day, you are only allowed to have fruits, veggies, and unsalted nuts.
Plus, user feedback shows that people run into plenty of issues while on this cleanse:
intense hunger

excess sugar

fatigue

nausea

lightheadedness
Besides, quite a few people also claim that Skinny Cleanse did nothing for them.
And while there were also people who reported weight loss results…
Shedding pounds is to be expected when you are mainly consuming liquids.
Still, by no means is this a healthy approach for your concern.
Not to mention that Skinny Cleanse is way too expensive for what it actually is.
That being said, I definitely believe that you can find a much safer alternative.
---
#1 – How It Works & Producer
---
Let's start off with the general aspects of Raw Generation Juice Skinny Cleanse:
how it takes action

what it claims to do

who the producer is
1. How It Works
---
Essentially, this juice cleanse is supposed to kickstart your healthy lifestyle.
Not only is it great for weight loss, but it should also fill you with energy.
Honestly, it seems to be advertised as an all-rounder, not just for weight loss.

Now – while the official website speaks of how many great things this juice can bring you…
It fails to elaborate on how exactly it achieves this.
This is to say that there are not many details regarding how this cleanse works in your body.
Still, here are a few of its effects, as per the website's sayings:
support healthy weight loss

help with detox

boost energy

eliminate cravings

enhance immunity

improve digestion
As you can see, there really is nothing too specific about this product.
It may lead to weight loss, due to how it's supposed to be used.
But we will get to that in a minute.
Other than that, this product is a bit of a mystery.
2. Company Behind
---
Raw Generation was founded in 2012, and Bill Geier and Jessica Rosen own it.
They are father and daughter and their mission is to help people feel better in their own bodies.
Other than that, here's what else you can find about this company:
sells cleanse juices, plant-based snacks, smoothies, and detox powder

the main attraction is the cleansing juice

you can contact the company through email or phone
Honestly, the official website does not say much about the brand's mission.
In fact, I had to go on LinkedIn to read up about this.
Other than that, there doesn't seem to be much background info about Raw Generation.
---
#2 – Ingredients

(6 out of 10)
---
Let's look at the nutrients that Raw Generation Juice Skinny Cleanse has to offer.
We will mainly look at the ingredients that are common in all the juices: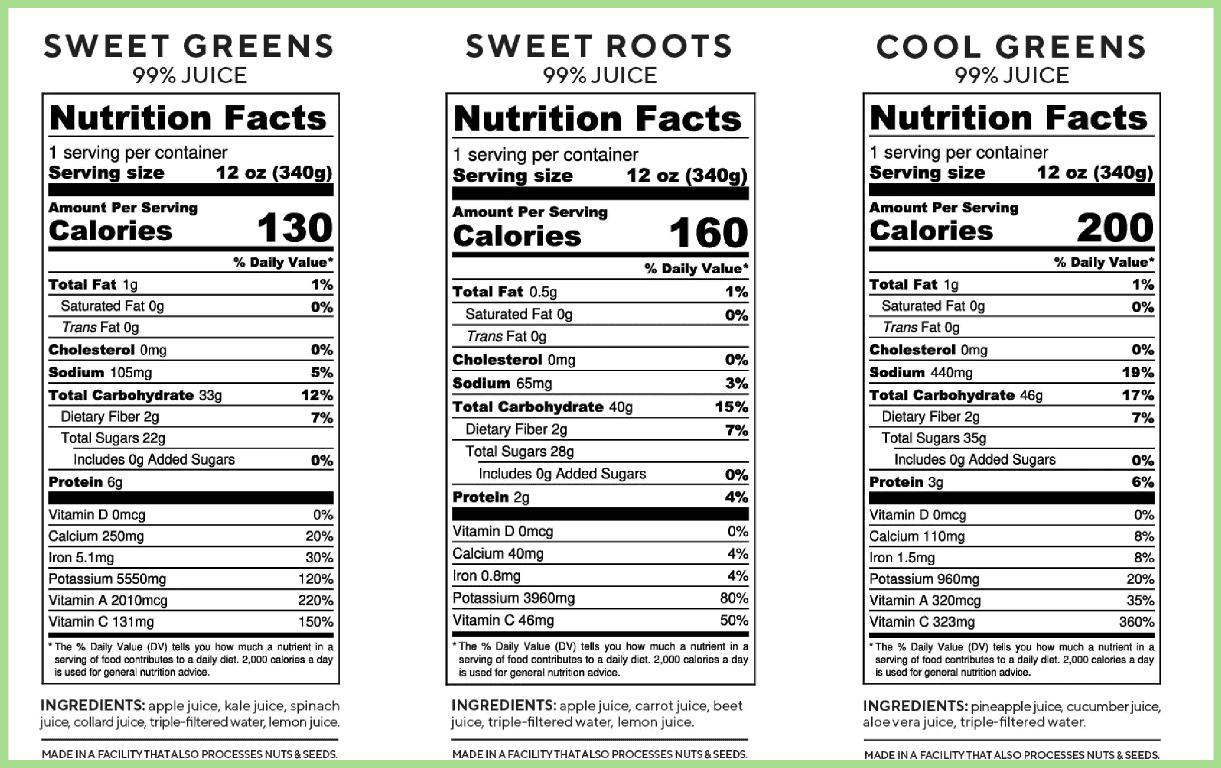 Here are the ingredients for the rest of the juices in this bundle: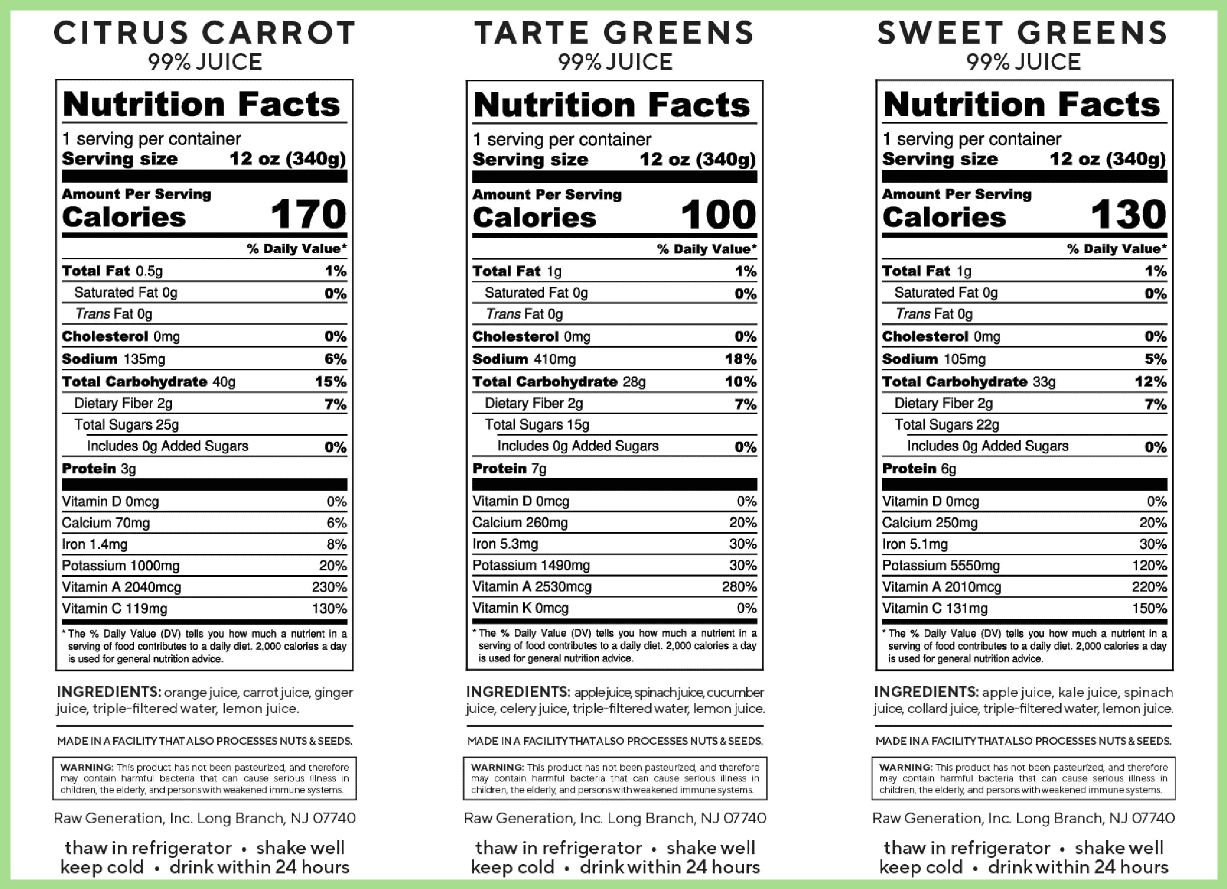 As you may see, Vitamin D and K are also mentioned in the lists.
However, they are not actually present, because it says 0 mcg right next to them.
To be honest, I'm not even sure why they are mentioned in the first place.
It can only confuse people if they don't check the details.
So it seems quite misleading to me.
Now – the company claims that these juices are very healthy.
Not only that, but they also provide the perfect opportunity for a cleansing ritual.
To be fair, I'm not sure how healthy this is.
It can't be good to only consume liquid for days on end.
---
Conclusion
---
The main promise that this brand makes is that Skinny Cleanse will kickstart healthy eating habits.
Honestly, I'm not that convinced.
Given that you are supposed to almost exclusively consume these juices…
I just can't think of how that's supposed to be a good thing for your body.
While it may be alright for a while, it's not sustainable in the long run.
Remember that solid foods contain lots of nutrients that, after all, are necessary.
Based on the formula alone, I don't think Raw Generation Juice Skinny Cleanse is that exciting.
---
#3 – Consistency & Dosage

(5 out of 10)
---
This is probably the most relevant part of this Raw Generation Juice Skinny Cleanse review.
1. Consistency
---
Here's what I could find in terms of the consistency of the juices:
very fluid

not thick at all, unlike smoothies

not blended
Basically, these juices do not include the fiber that is present in smoothies.
Because of that, the consistency is much lighter, hence the name.
This should mean that they are very easy to drink.
On top of that, since we are talking about juices, it's probably more convenient than a supplement.
Plus, remember that they are supposed to be kept frozen until you are ready to drink them.
Each bottle should be thawed in the fridge for about 24 hours before drinking.
The brand uses flash freezing as a way to lock in flavor and nutrients.
Naturally, they recommend that you do the same.
2. Dosage
---
As I previously mentioned, Skinny Cleanse is quite tough to stick to.
This is because of multiple reasons:
you can drink up to 6 juices per day

if you get hungry, eat fruits, veggies, or unsalted nuts

keep going for as long as the pack lasts you
As you can see, this regime basically discourages you from eating solid foods.
In terms of when you should take each juice…
The company advises that you drink them as you get hungry.
If you don't need 6 juices every day, feel free to consume them later, stretching your cleansing period.
Still – this is definitely an extreme schedule.
Going from a normal diet to consuming liquids exclusively may be quite a shock for your body.
Like I said not too long ago – this is far from healthy long-term.
---
#4 – Results

(6 out of 10)
---
Given that Raw Generation Juice Skinny Cleanse has been around for quite some time…
It should be fairly easy to find out how people received it.
This can let us know whether such a drastic regime is worth it at all.
Note: I only analyzed authentic reviews, not promotional/fake ones.
1. Positive Reviews
---
Let's start off with the good things, shall we?
The official website also has reviews on each product page.
However, I'm not going to list them here since they might be biased.
As such, we will turn to Amazon for this part of the review.
Anyway, here's what customers appreciated about this plan:
Many said they actually lost a few pounds during their cleansing days.

They also liked how straightforward the plan is.

Customers also like the taste of the juices.

People also said they felt more energetic as a result.

Some also said they did not feel ravenous and had plenty of juices as leftovers.

Someone mentioned they managed to lose 14 pounds thanks to Skinny Cleanse: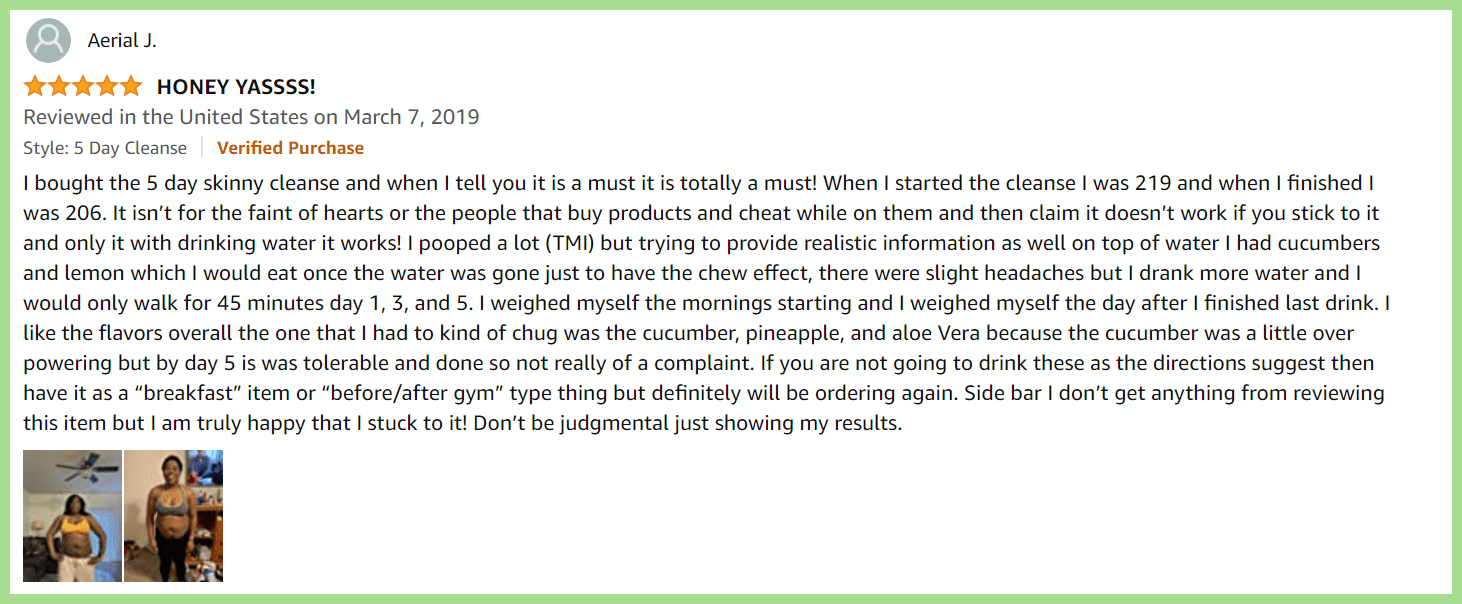 Honestly, seeing these reviews, I can't say I'm surprised.
At the same time, remember that only drinking liquids can definitely make you lose weight.
So, for the most part, such experiences are a given.
Of course, this does not mean that it's a healthy thing to put your body through.
2. Negative Reviews
---
Much like many things on the Internet, Skinny Cleanse has its fair share of criticism.
However, this can be good, as it might bring up issues that could end up being your experience.
Overall, it's always good to take into account the less favorable aspects of a product as well.
Here are the issues people were having with this plan:
People said they did not lose any weight whatsoever.

In fact, some said they doubt the juices did anything at all.

Not to mention that the price was the subject of many complaints.

Also, many people said the taste of the juices was very bad.

Customers found that there is too much sugar in Skinny Cleanse.

Lots of people mentioned feeling lightheaded.

A few people also complained about faulty delivery service.

Someone even said they got sick because the bottles were not sealed properly when delivered:

As optimistic as the positive reviews were, they bump heads with the negativity.
Still – not seeing any difference is quite annoying, especially considering the high price.
Not to mention how risky it is to go on a liquid-only diet for a while.
To have all that be for nothing must be quite inconvenient.
---
Conclusion
---
All in all, it seems like the user feedback for Skinny Cleanse has both good and bad aspects.
While some people claim it worked to various degrees…
Others simply did not see the point of this plan.
Not to mention that it is quite difficult to stay true to it, admittedly.
Making you survive several days on almost exclusively just liquid is a significant ask.
Honestly, I'm not sure the user reviews sold me on Skinny Cleanse.
If anything, it only made me more apprehensive.
---
#5 – Side Effects

(5 out of 10)
---
If you recall, some of the customers claimed they experienced some adverse reactions as a result of drinking Skinny Cleanse.


This means that this plan definitely runs the risk of endangering your health, in one way or another.
Here are the main issues that you are exposing yourself to:
nausea

lightheadedness

intense hunger

headaches

sugar excess
You may feel dizzy or experience headaches if your body is overexerting itself.
Because of this, it is dangerous to force yourself to survive on excessively low amounts of calories per day.
Not to mention that too much sugar can have the complete opposite effect of what you desire.
In fact, it can lead to weight gain because it also entails a higher calorie intake.
Besides, don't forget that you can get food poisoning if the juices are not stored properly.
So make sure they arrive frozen or slightly thawed.
---
#6 – Price

(3 out of 10)
---
In all honesty, Raw Generation Juice Skinny Cleanse is rather expensive for just being a juice.
If you were hoping for a reasonable price, looks like you will be disappointed.
1. The Exact Price
---
Obviously, you can find all the details regarding this on the official website.
You will notice that the price depends on how long you plan to cleanse for:
3 days (18 pack) – $119.99

5 days (30 pack) – $184.99

7 days (42 pack) – $244.99

10 days (60 pack) – $329.99
There also seems to be an auto-ship option, but I don't advise you to subscribe.
Cleansing is definitely not something you should do often.
In any case, forcing your body to survive on just liquids definitely should not be a common occurrence.
Plus, it's not even guaranteed that it will work.
You might give this a try and convince yourself that it was all for nothing.
Plus, let's not forget that this is just a bunch of fruits juiced together.
Keeping all this in mind, Skinny Cleanse is heavily overpriced, for sure.
2. Competitor's Price
---
In case you are not that impressed with Skinny Cleanse…
I have a much better alternative for you – my top recommended weight loss program:

If you are interested in losing weight, Nutrisystem is much more effective.

This is because it offers actual food that is calorie-conscious.

In turn, you won't have to put up with hunger.

Have I mentioned that the meals arrive ready-made? All you have to do is heat them up!

If you value customization, my recommendation offers a lot in terms of that.

Besides, Nutrisystem's menu is quite varied, so you won't get bored.

Not to mention that my recommendation is also more affordable, starting at $9.99 per day.
As you can tell, Nutrisystem is simply much more attractive.
It helps you lose weight without starving you as Skinny Cleanse would.
That alone makes it much healthier.
After all, this is what matters most, right?
---
Conclusion
---
As I already said, Skinny Cleanse is way too expensive for its real worth.
I'm sure you could make something similar at home with fruits and a juicer.
Plus, that's a lot of money you have to pay just to starve.
After all, that's what is going to happen to most people.
Trust me when I tell you there's so much more you could do for yourself with that money.
If you want to lose weight, there are healthier & more affordable ways of doing it.
---
#7 – Final Conclusions
---
Let me summarize the main ideas we covered about Raw Generation Juice Skinny Cleanse.
1. Very Strict
---
Once you start reading about what this cleansing period entails…
You will definitely notice how tough this plan is.
Essentially, you are expected to survive on juice for however long you are cleansing.
Not to mention that you are required to drink up to 6 bottles per day.
Of course, you can snack on fruits, veggies, and unsalted nuts if you still get hungry.
But still, this is hardly healthy for your body, especially long-term.
I surely would not recommend this as a reliable way of losing weight.
2. Potentially Dangerous
---
Although a cleansing diet may sound like a good idea…
It can actually do more harm than good.
Short-term fasting can easily result in fatigue, unstable mood, and bad breath.
Not to mention that you are also at risk of bloating, nausea, and vomiting [6].
All in all, definitely not worth the risks.
3. Extremely Expensive
---
If you were somehow able to look past the health concerns…
The price is definitely a deal-breaker.
At the very least, you are paying $119.99 for something that barely lasts for 3 days.
Not to mention that, at the end of the day, this is just juice.
Putting that sort of price tag on a drink of any kind is just too much, in my opinion.
---
My Verdict – Worth It Or Not?
---
Short answer: Surely not.


There's just too much risk involved:
The plan is almost entirely liquid-based.

You have to drink up to 6 bottles a day.

Only fruits, veggies, and unsalted nuts are allowed as snacks.

Can have dangerous repercussions for your health.

Way too expensive.
All in all, Skinny Cleanse is not the healthiest choice.
While it may be feasible for a short period of time…
It's simply not worth it to force your body to go through that.
Especially given that it may not even work towards your intended goal.
Besides, I assure you that there are better options out there.
For instance, how about Nutrisystem – my top recommendation for a weight loss plan?
very good for weight loss

offers a high degree of customization

based on actual meals

does not let you starve

more affordable for higher quality
These are just a few reasons why I know you will love Nutrisystem.
It's superior in every way.
Be sure to check it out. You won't regret it!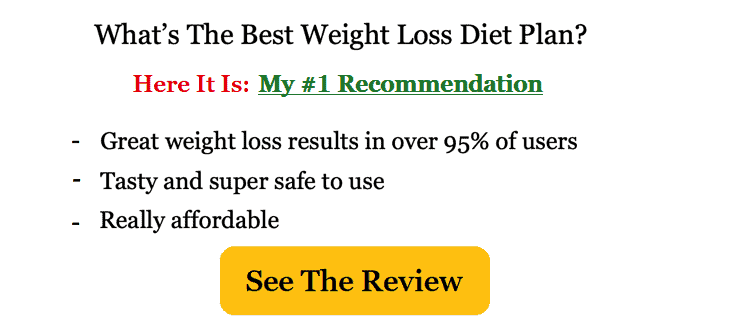 References:
1 – https://www.ncbi.nlm.nih.gov/books/NBK56060/
2 – https://pubmed.ncbi.nlm.nih.gov/9209176/
3 – https://www.ncbi.nlm.nih.gov/-pmc/articles/PMC6627830/
4 – https://www.ncbi.nlm.nih.gov/-pmc/articles/PMC4442325/
5 – https://pubmed.ncbi.nlm.nih.gov/15930480/