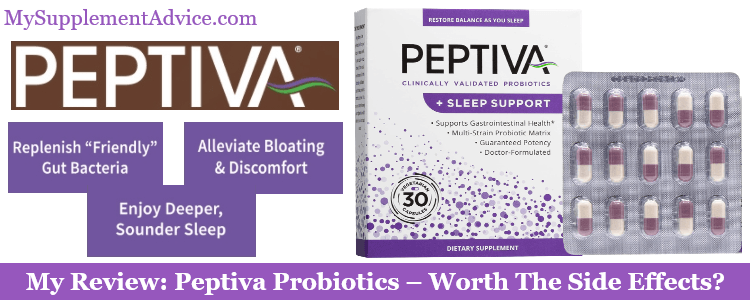 It's time to review Peptiva Probiotics – which looks like a very interesting supplement.
Do you think it's worth trying? Or is it just another useless product?:
high doses

quite pricey

huge risk of side effects
Let's take a closer look at the product's details, in order to see the real deal behind it.
Note: This review is based on my opinion + research on Peptiva Probiotics.
Review Summary
---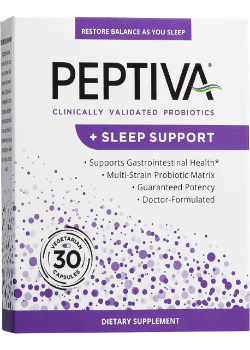 Full Name: Peptiva® Probiotics + Sleep Support by Adaptive Health LLC.

Product Type: Probiotics
Best Actual Price: Starts around $30
Cheapest Place To Buy: Amazon
Designed For: Restoring digestive balance while sleeping.
My Rating: 7 out of 10
Recommended?: Yes and no – due to some issues it has:
a little expensive

doses can be too high

not suitable for everyone
If you're looking for a better option, I suggest you try the best probiotic from the market that I know.
What I Liked About It
---
Supports sleep and digestion

Reputable and trustworthy producer

Contains 6 bacterial strains
What I Didn't Like About It
---
Doses are too high for daily use

Potentially dangerous (in terms of side effects)

Rather pricey

Works selectively
---
Peptiva Probiotics In A Nutshell
---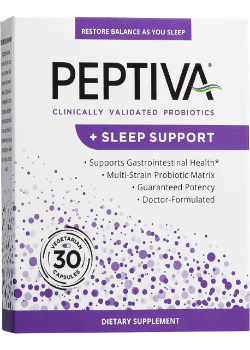 Peptiva Probiotics is a very interesting supplement.
The brand has different versions with several names:
Sleep Support

Advanced Digestive Relief

Vegetarian Digestive Enzymes + Prodigest
But the product I want to focus on is the Peptiva® Probiotics + Sleep Support.
Now, it claims to deliver several benefits:
helps to achieve good sleep

supports a healthy digestive system
However – after a deeper research, it also has some tricky features:
doses can be very high for some

can cause adverse reactions

might mess up sleeping pattern

works only for certain people
Now – I'm not saying that it's a bad product, since there are a lot of customers who liked it.
However, the price of $49.99 for 30 capsules can be quite high.
If you have the budget to try the supplement, it's perfect.
But make sure you're fine with other ingredients inside it (GABA, Valerian extract and Melatonin).
Overall – if you're looking for a more potent product that really focuses on gut issues, there are better options.
---
#1 – Claims & Producer
---
First of all – these are the basic details you need to know about Peptiva Probiotics:
who is the producer

how it works

which health issues it treats
1. Claims
---
This product claims to "restore digestive balance as you sleep"
And here's how exactly it claims to help:
reduces digestive discomfort

recharges good bacteria

supports better sleep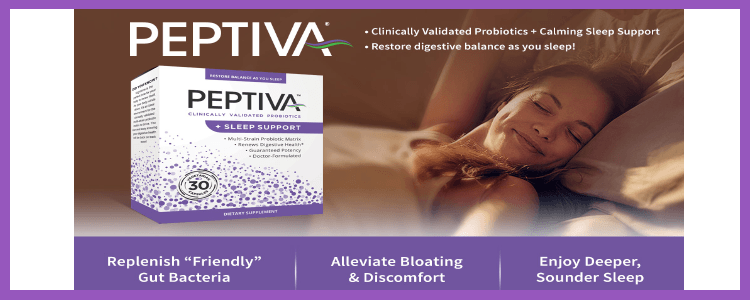 Also – it says to maintain its active and alive bacteria without refrigeration.
Again, there are several versions of Peptiva Probiotics on its website:
Sleep Support

Advanced Digestive Relief

Vegetarian Digestive Enzymes + Prodigest
But the mix of Probiotics + Sleep Support makes the best option.
That's because it's a lot more interesting and it's not common.
2. Company Behind
---
Peptiva® Probiotics is made by the company named Adaptive Health LLC.
Based on my research, here are the things I found out about the brand:
products are for human health

makes supplements for men, heart, sleep, joints, blood, sugar, gut, etc.

has several offices around America
Overall – I would say that the company has a solid foundation, so it's safe to buy from it.
---
#2 – Ingredients (6 out of 10)
---
I looked into Peptiva Probiotics and here's how I would summarize its formula:
64 mg Probiotic Matrix

6 bacterial strains

26 billion CFU
Honestly – this dose is way too high for a healthy person.
Probiotics for daily use should contains between 5-10 billion CFU.
Anything that is above is too high (unless you lack good bacteria, which is rarely the case of healthy people).
So Peptiva's formulation seems too concentrated to me.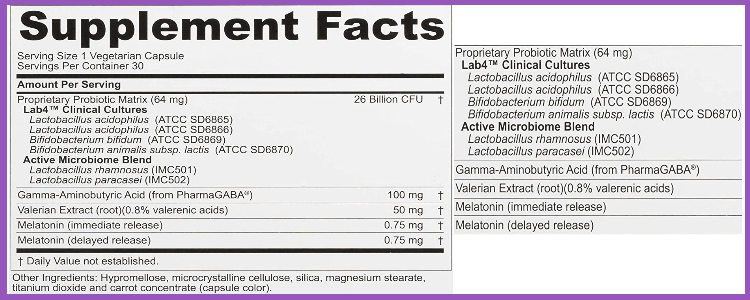 Now, here are the ingredients present in Peptiva Probiotics:
Lactobacillus acidophilus (ATCC SD6865) – reduces diarrhea [1]
L. acidophilus (ATCC SD6866) – improves bowel movement
Bifidobacterium bifidum (ATCC SD6869) – fights off bad bacteria
B. animalis subsp. lactis (ATCC SD6870) – provides relief from gastrointestinal issues [2]
Lactobacillus rhamnosus (IMC501) – prevents the growth of harmful bacteria
L. paracasei (IMC502) – improves digestion and immune system
Gamma-Aminobutyric Acid – relieves anxiety and improves mood [3]
Valerian Extract – increases bowel activity [4]
Melatonin – helps a person to calm down and feel sleepy [5]
If you ask me, the formula looks very promising (in terms of the exact ingredients):
compounds that can really help with sleep

propriety probiotic matrix that helps digestion
Honestly – this product can be too strong for many people.
That's because of its too high doses, which I already mentioned.
---
Conclusion
---
Overall – it's quite obvious that the formula is a mix of 2 beneficial blends.
But I don't think it will work for everyone.
It's simply too strong for healthy persons (in terms of probiotics).
That's why I wouldn't necessarily recommend it, despite its good points.
---
#3 – Pills & Dosage

(8 out of 10)
---
Let's take a look at the main characteristics of Peptiva Probiotics.
1. Pills
---
I will describe the supplement in 3 phrases:
half purple and half white in color

slightly smaller size

normal probiotic smell
Honestly – I find the color of the capsules quite attractive (personal preference).
But other than that, the size of it makes it easier to swallow, in my view.
2. Dosage
---
Based on what I read on the label, this product is quite simple to take.
It recommends taking 1 capsule 30-60 minutes before bedtime.
There are also precautions that it shouldn't be taken in the morning.
But overall, I would say that taking it is quite easy.
Plus – the fact that is only requires one pill is also an advantage.
---
#4 – Results

(7 out of 10)
---
As part of every review, I always look for customer reviews outside the official website.
The goal to see how the product works for different people.
Note: I only analyzed authentic reviews, not promotional or fake ones.
1. Positive Opinions
---
I checked out the official product listing of Peptiva Probiotics on Amazon.
And here are the testimonials of satisfied buyers:
A lot of customers said that it really helped them with their sleep.

Some mentioned that they felt rested in the morning.

Others experienced their digestive problems improved.

The rest commented that the product fixed their sleeping pattern and bowel movement.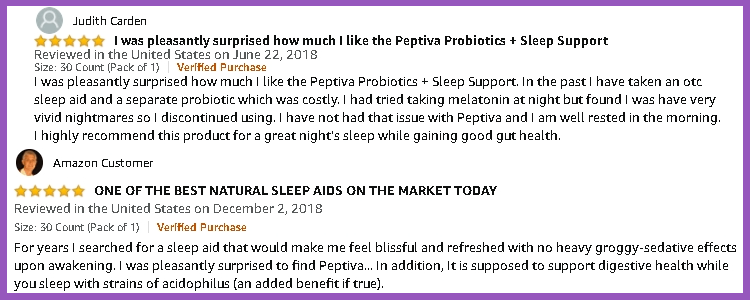 Obviously – a lot of previous buyers are happy with the supplement.
And it even got a rating of 4.1 stars out of 5, from more than a thousand people.
2. Negative Opinions
---
Now – let's take a look at the complaints of unsatisfied buyers:
Many comments were about the product not helping with sleep at all.

A lot of customers complained about the price being high for its quality.

Some said that it doesn't also work with digestion problems.

Others experienced some side effects after taking it.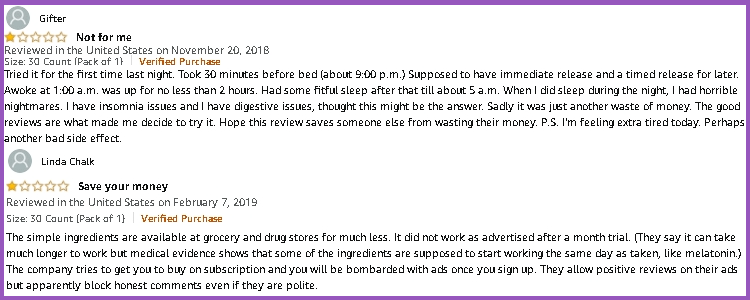 Honestly, I think it's quite normal that a certain product doesn't work for everyone.
Still, this supplement has quite a high number of complaints here.
And if you ask me, I quite agree with the complaints on its price.
---
Conclusion
---
My overall take on this is that Peptiva Probiotics doesn't work the same for all.
The main reason could be the differences, in terms of tolerance.
So it's up to you if you want to try it or not.
I would probably not give it a shot, but that's a personal option.
---
#5 – Side Effects

(3 out of 10)
---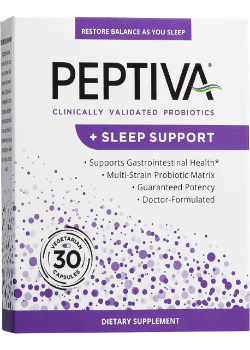 I noticed enough adverse reactions experienced by other customers:
severe headache/nausea/migraine

painful GI symptoms

heavy stomach ache and bloating

groggy/drowsy feeling the next day
Now – the problem is that these complaints seem to be very common.
Given the huge doses of this product, that's totally understandable.
So keep this in mind and take it as a warning.
That's why I recommend consulting your doctor first.
When it comes to concentrated probiotics, it's essential to check your good bacteria levels.
In case they are normal, going for a concentrated supplement could harm you (rather than help you).
---
#6 – Price (3 out of 10)
---
To be honest – Peptiva Probiotics's price is expensive.
So if you ask me, I think that it's not a good option for now.
1. The Exact Price
---
I prefer the prices on Amazon (compared to Peptiva's website), since it's cheaper there.
Also – there's a deal I found only on the retailer website:
15 Count (1 Pack) costs $29.99

30 Count (1 Pack) costs $49.99

Discount upon subscription

Free shipping on selected dates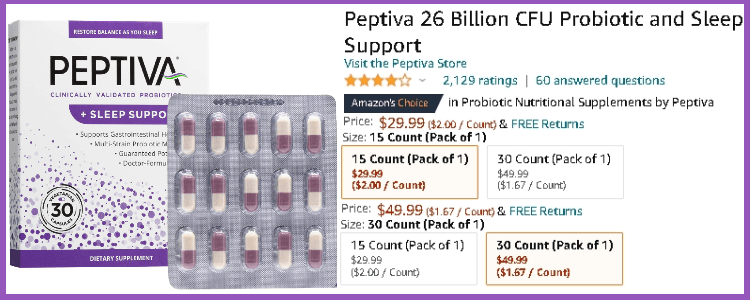 In my opinion, this supplement seems to be interesting.
But even so – I don't think that the high price is worth it for this quality.
I still think that there are better probiotics out there that are a lot more worth the money.
2. Competitors' Price
---
If you're looking for a better probiotic for your digestive issues, I have a better recommendation.
I'm talking about a supplement called BiomeMD: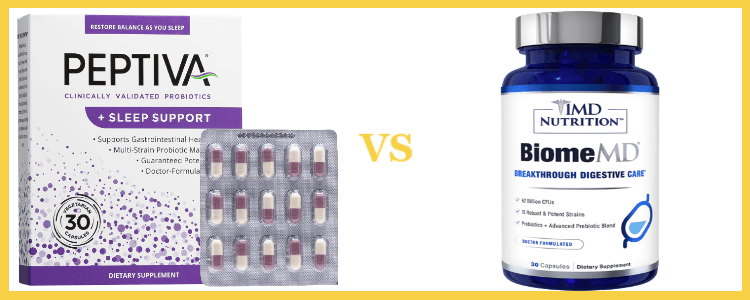 BiomeMD contains 15 essential bacterial strains.

The formula focuses combines probiotics with prebiotics.

Peptiva Probiotics contain 6 types of bacteria.

It says to help with digestion and sleeping pattern.

The cost of BiomeMD is normally around $49 but can be discounted to $28.

Peptiva Probiotics cost $49.99 for a 30-day supply.
Both probiotic supplements are good, but BiomeMD surely stands out.
So if you're looking for a product that will really help your digestive system, choose BiomeMD.
It contains more bacterial strains in a safer dose and it's more potent as a probiotic.
So to me, it's surely the better option.
---
Conclusion
---
In my opinion, Peptiva's product is a bit too pricey.
It's true that it's a 2-in-1 probiotic and sleep supplement.
But in terms of safety in the long run, I couldn't guarantee on it.
That's why I personally would not recommend it.
---
#7 – Final

Conclusions
---
Here's the summary of my thoughts about Peptiva Probiotics.
1. Decent Formulation
---
There are several reasons why I think Peptiva Probiotics has a good formula:
6 bacterial strains

64 mg Probiotic Matrix

26 billion CFU
So ideally, it looks like it works for both probiotic needs and fixing sleep patterns.
However – I don't advise you to expect too much from it in both aspects.
Again, its doses are too high for a daily use, so keep that in mind.
2. Credible Background
---
If there's one thing you shouldn't worry about Peptiva Probiotics is its credibility.
The company Adaptive Health LLC has been on the market for a long time.
And a lot of people trust their products.
3. Pretty Expensive
---
To be honest, Peptiva Probiotics is a little pricey (despite its 2 benefits):
monthly supply costs $49.99

may be too strong for many people
In my opinion, if your budget allows it, then you can try this product.
But if you're looking for a good investment that is a little cheaper, better look for alternatives.
---
My Verdict – Worth It Or Not?
---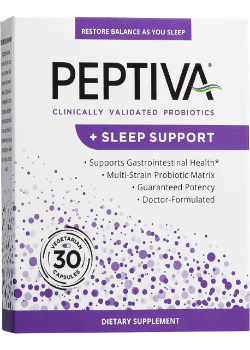 Short answer: Yes and no – but there are some disadvantages:
Too high doses

Can mess up your gut at sleep

Pretty expensive

Might not work for all
I am not saying that it's a bad product, but it surely doesn't work for everyone.
Plus, it's not really the best supplement for daily use.
Given its high doses, it has a huge risk of side effects.
That's probably why I don't recommend it for a long-term treatment.
So what would I go for instead? A product called BiomeMD:
Combines probiotics with prebiotics

Has 15 bacterial strains that are essential for the gut

Works fast and really well

Quality/price ratio is great
If you want a long-term probiotic that will also support your stomach issues, this product is my top option.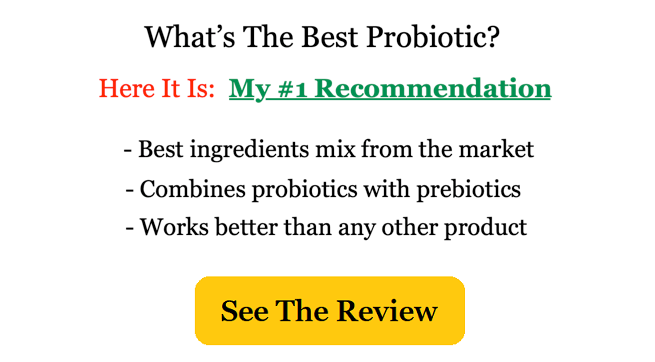 References:
1 – https://www.healthline.com/nutrition/-lactobacillus-acidophilus
2 – https://www.ncbi.nlm.nih.gov/pmc/articles/-PMC7230722/
3 – https://www.ncbi.nlm.nih.gov/pmc/articles/-PMC6696076/
4 – https://www.healthline.com/nutrition/-valerian-root