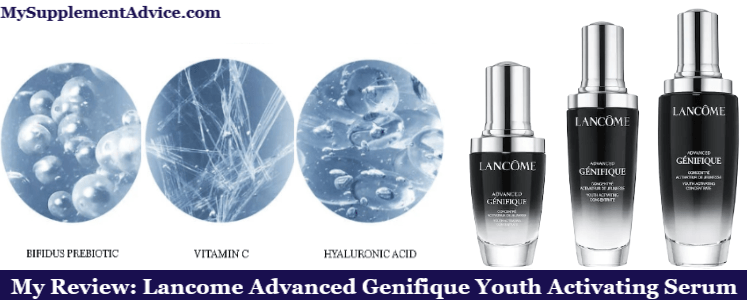 It's time to review Lancome Advanced Genifique Youth Activating Serum – a product whose goal is pretty obvious.
It's an anti-aging serum, that's right.
But at this point – it's one of the popular high-end skin care products in the market. So is it worth it:
comes from a famous brand

has a small quantity

it's crazy expensive
Or are there any chances that it's a scam?
I analyzed Lancome's Serum in detail, in order to give you the truth about it.
Note: This review is based on my opinion + research on Lancome Advanced Genifique Youth Activating Serum.
Review Summary
---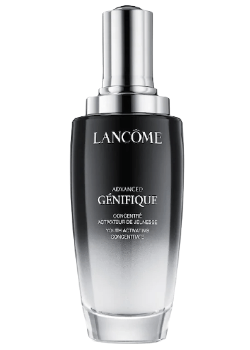 Full Name: Advanced Génifique Anti-Aging Face Serum by Lancôme
Product Type: Anti-Aging Serum
Best Actual Prize: Starts at $52
Cheapest Place To Buy: Official Website
Designed For: Improving the skin– it claims to:
reduce visible signs of aging

soften skin

provide a younger-looking skin
My Rating: 7 out of 10
Recommended?: Not really. It's not an awful product, but it's far from being amazing either:
lacks other strong anti-aging ingredients

requires you to pay a lot for a month supply

it's very expensive for a serum of this kind
I personally recommend a much better anti-aging product instead.
What I Liked About It
---
Produced by a trusted brand

It's based on potent skin care ingredients

Infused with prebiotics
What I Didn't Like About It
---
You might have to buy it more than once a month

Has plenty of negative reviews

Takes a long time to see the results

Lacks other top anti-aging compounds

Very expensive for a serum

Causes side effects quite often (skin irritation and breakouts)
---
Advanced Génifique

In A Nutshell
---
Lancôme Advanced Génifique is made to provide anti-aging benefits.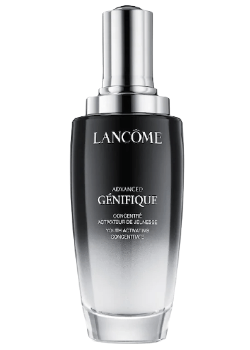 At first, it looks like a very promising product (since it comes from a well-known brand).
But the more you look into to, the less you like it.
Now, there's no doubt about the company's reputation and popularity.
Its products being featured by celebrities and vloggers, so it's surely legit.
But if you're looking for a good anti-aging serum/cream, I doubt Advanced Génifique is what you need:
Lacks strong anti-aging ingredients (Retinol, Collagen, AHAs, etc.)

More helpful for strengthening skin barrier

Might be either too weak or too strong for your skin type

Super expensive for its value
In addition to that, the smallest size costs $52 already.
Given its quantity, it will not last a month – which means you will need to buy the biggest version.
Should I tell that this one costs 4 times more?
So it's quite obvious why I'm not a fan of Lancome's serum.
Its not a bad product but there are better alternatives out there (with lower prices).
---
#1 – Claims & Producer
---
First, here's what you should know about this serum:
who is the company behind

how it works

what skin problem it targets
1. Claims
---
Upon opening the product's website, I saw this statement right away:
"Targets the 10 key signs of aging, visibly improving radiance in just 7 days."
According to its description, here's what it means:
makes skin appear more radiant

delivers smoother skin

produces softer skin

gives healthy-looking skin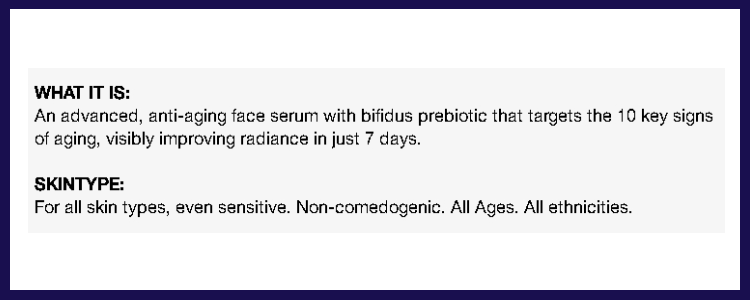 Another claim is that it's made for all skin types (including those with sensitive skin).
Also – it's non-comedogenic, suitable for all ages and races.
If you ask me – I don't necessarily agree.
That's because human skin has different levels of thickness, problems, and sensitivities as we age.
Also, don't expect to see any result in just 7 days – because reducing signs of aging takes time.
So at this point, I don't consider it an excellent option.
2. Company Behind
---
The company behind this serum is Lancôme:
it's a trusted brand

it's been on the market since 1935

sells various products such as skin care, makeup and fragrance
This brand is owned by L'Oreal (together with other known cosmetic brands).
Personally – I am familiar with this company because it's considered one of the most expensive.
But based on its legitimacy, it's safe to buy from it.
---
#2 – Formula (8 out of 10)
---
After looking into this serum's ingredients – I would say it's not exceptional:
it's based on common skin care ingredients

contains several prebiotics

it's mostly meant for hydration and protecting skin barrier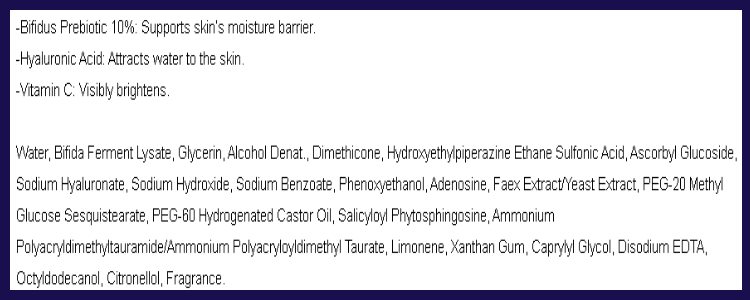 In my view, it lacks strong anti-aging ingredients.
But let's take a closer look at its composition – starting from the top ingredient:.
1. 10% Bifidus Prebiotic
---
According to the official website, this compound helps strengthen and protect the skin's moisture barrier.
But here are some general facts about prebiotics' benefit for the skin:
improves skin barrier

repairs skin damage due to irritations and breakouts [1]

restores skin balance
Incorporating this ingredient in skin care products is a relatively new technique.
But the substance itself surely brings in some positive benefits.
2. Hyaluronic Acid
---
This is one of the most famous skin care ingredient from the market right now:
helps the skin retain moisture [2]

plumps the skin

smooths the skin
Always remember that well-hydrated skin will avoid dullness and skin folds resulting in aging lines.
That's why Hyaluronic Acid is so helpful.
3. Vitamin C
---
This compound is also known as Ascorbic Acid.
In this serum, it comes as Ascorbyl Glucoside, which is a more water-soluble version:
lightens dark spots

brightens the skin [3]

protects skin from environmental damages
This ingredient will not only give you vibrant skin – but can also protect you from UV damages.
4. Ceramides
---
If you look for the best skin care ingredients, ceramides are surely part of this group:
keep skin smooth and supple

limit moisture loss [4]

strengthen skin barrier
Ceramides are basically lipids – and they are naturally present on the skin.
So an extra amount can improve your skin considerably.
---
Conclusion
---
Lancome Advanced Genifique has a good formula overall:
based on a combination of potent skin care ingredients

incorporates prebiotic component
Overall, this composition can help the skin – but more for hydration and extra moisture.
When it comes to anti-aging, I would say it's not strong enough.
Not to mention that I'm pretty sure it can't work in just 7 days.
---
#3 – Consistency & Dosage (7 out of 10)
---
Here's what you should know about this serum's texture.
1. Consistency
---
Let me describe to you this serum's physical characteristics:
cloudy white color

light to slightly thick consistency

strong fragrant scent

slightly sticky
Like other serums, this product is not runny/watery and it has a thick consistency.
Judging after its looks, it might need some time to soak in.
Massaging or patting the product can help your skin absorb it properly.
2. Dosage
---
According to the directions from Lancome's website, here's how you should use it:
Cleanse your face first.

Pump some product and apply it as the first step of your routine.

Once dried, continue with your other skin care products.

Use daily every morning and night.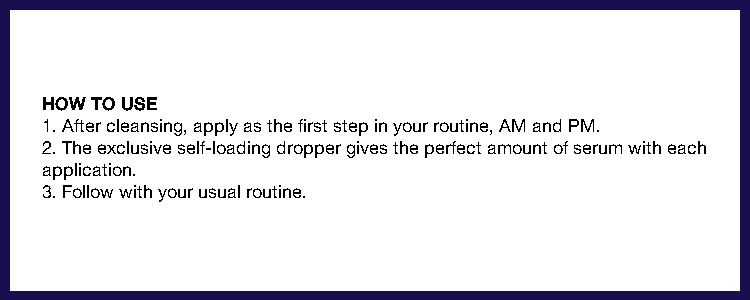 Honestly, I would have expected some more detailed directions.
That especially since it's made by a famous brand and its price is higher than usual.
So it has some simple and basic instructions.
---
#4 – Results

(7 out of 10)
---
To see how a product work, always look for its customers' reviews first.
And I did that as well, in order to avoid giving you a biased review.
Note: I only analyzed authentic reviews, not promotional or fake ones.
1. Positive Opinions
---
I checked out Advanced Genifique's ratings on its 2 main sellers :
4.8/5 stars on Lancome's official website

4.4/5 stars on Sephora
To give you the real deal about this, let's read the comments of satisfied users from Sephora:
A lot of users say that their skin became smoother and softer.

Others notice their acne and hyperpigmentation decreased.

Some experienced glowing skin all throughout the day.

The rest felt that their skin was well-hydrated and plumper.

Now, there are a lot of positive reviews from customers who bought this product.
Maybe that's why it's still a popular skin serum.
Not to mention all those celebrities that endorsed it (probably for money, though).
2. Negative Opinions
---
The positive reviews cannot hide the fact that there are still complaints about this serum:
Most customers complain about it having no effect.

Some got skin irritation and burning sensation.

Others testified that it's not good for acne-prone and sensitive skin.

A number of people experienced pimple breakouts (for the first time.)

Almost all stated that this is too expensive and not worth it.

Honestly, I'm pretty sure all those negative reviews are legit and real.

So I see Lancome's serum as being far from an amazing product.
---
Conclusion
---
Overall, this serum has mixed reviews:
many are satisfied with their purchase

others had a hard time seeing an improvement
Based on the positive opinions, I would say that this product works.
However – I can tell that it mostly works for hydration.
So it's a good product, but there are way better alternatives out there.
---
#5 – Side Effects

(4 out of 10)
---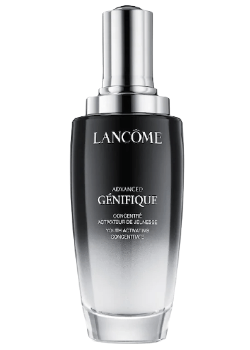 There are thousands of reviews from people who tried it.
As I expected, I managed to find lots of complaints about its side effects:
Burning sensation

Skin irritation

Pimple Breakouts

Skin redness
Let's go back to the claim that it's made for all ages, skin types and races.
As I said – I don't consider it true because the skin is so complex and different.
There are people who get positive results and some who get the opposite.
So in order to avoid side effects, it should only state the ages and skin types it works best for.
---
#6 – Price

(3 out of 10)
---
As a skin care product, Lancome's serum has some decent components that can benefit the skin.
But I still consider it very expensive overall.
That's why I don't see it as a right choice at all.
1. The Exact Price
---
Like I said – you can buy this serum from these 2 places:
Sephora

Lancome's official website
When it comes to the official website, there are several versions:
0.67 oz. costs $52

1.0 oz. costs $78

1.7 oz. costs $105

2.5 oz. costs $150

3.4 oz. costs $178

3.9 oz. costs $198
You can also get a free shipping if you reach a minimum amount (with any of Lancome's products).
Now, the serum has the same price on Sephora and some additional promos:
Value pack of 2 costs $172

Shipping is free

Refund is also free

There's an option with 3 free samples and payment in 4 installments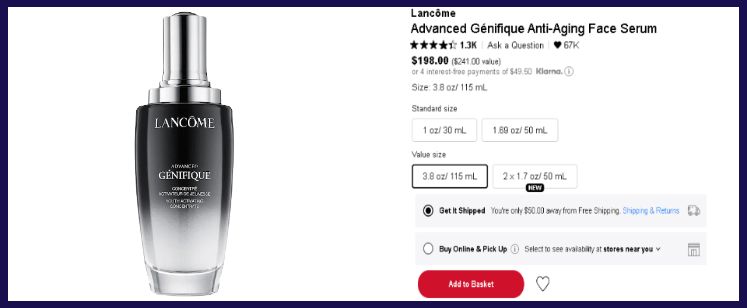 Basically – the only difference is the free shipping and refund that is available on Sephora.
But as I said, it's clear that this serum is more on the high-end side (in terms of price).
You need to buy the $198 bottle if you want it to last a month.
So compared to other alternatives, I see it extremely overpriced.
2. Competitors' Price
---
I only want to compare this product with the #1 recommended anti-aging product I know.
I am talking about Kollagen Intensiv:
Kollagen Intensiv's formula is one of the best from the market.

Advanced Genifique only has some decent ingredients.

You can buy Kollagen Intensiv for $60 normally.

But you can get it for as low as $36, with some discounts.

Due to its thicker consistency, a jar can last more than a month.

Still, Advanced Genifique can last a month too but it costs 3 times more.

It may also take some time to work (since the ingredients are not that strong).
It's obvious that between these 2, Kollagen Intensiv is the better choice.
It contains strong and effective anti-aging ingredients with clinical evidence to combat signs of aging.
An additional bonus is that it's cheaper – so it remains my better pick.
---
Conclusion
---
Lancome's serum is a good product but its price is way too high for its value.
I would actually place it on an average position (in terms of effect).
As for its price, it's clearly on the high end.
That's why there's no way I could recommend it any soon.
---
#7 – Advanced Genifique In 3 Ideas
---
Here's how I would sum up my opinion on this serum.
1. Basic Formula
---
Considering the fact that it's a skin care product, it has a good composition.
But it's far from being an amazing anti-aging serum:
works better only for hydration

focuses on strengthening skin barrier

lacks top anti-aging compounds (Retinol, Collagen, AHAs, etc.)
Overall – I consider the formula just a decent one, not exceptional.
2. Trusted Brand
---
This serum comes from a brand owned by a giant company.
It has several sister brands that sell beauty products too.
That's why there's no doubt that this it's not a scam at all.
I suggest you to make a little research about any product, before buying it.
This will help you avoid the hustle of buying a fake one.
3. Very Pricey
---
This serum comes in several product sizes.
That's a good thing at first – because you can get to try it by buying the smallest one.
However, if you want to see the results it claims to give, you need to get the biggest one.
Otherwise, it won't even last you a full month.
But keep in mind that it costs $198 for 3.9 (or 115 ml).
Overall – I would say that it's very expensive for its value.
---
My Verdict – Worth It Or Not?
---
Short answer: Not quite.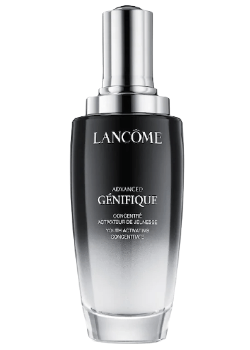 I don't consider this product as very potent.
So if you ask me, I would surely not go for it any soon:
Works better as moisturizer than as an anti-aging cream

Lacks top anti-aging compounds (Retinol, Collagen, AHAs, etc.)

Very pricey for a serum of this kind

Over-hyped (because of its brand and lots of influencers).
Given its reputation and the testimonies of people who tried it, it's not a scam at all.
But still – there are far better products against aging.
I'm talking about one that is called Kollagen Intensiv:
Has an excellent formula.

Its main ingredients have clinical evidence behind.

It can last longer than most products.

Delivers strong effects against the visible signs of aging.
It may be cheaper ,but Kollagen Intensiv tends to work much better.
That's why – if you want to make the most of your money, get this product instead.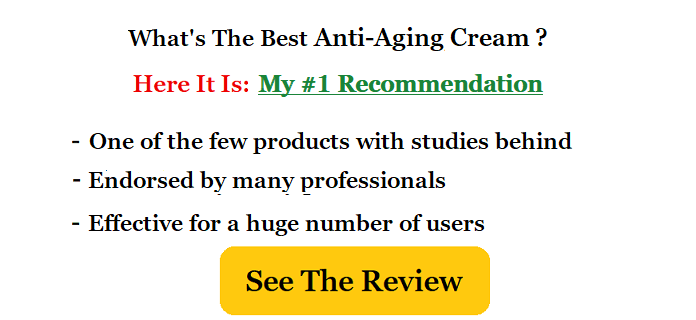 References:
1 – https://www.ncbi.nlm.nih.gov/pmc/articles/-PMC5418745/
2 – https://www.ncbi.nlm.nih.gov/pmc/articles/-PMC3970829/
3 – https://www.ncbi.nlm.nih.gov/pmc/articles/-PMC3673383/