It's time for my Blue Apron review – a meal kit delivery service that helps you stay healthy:
relatively affordable

quite popular

based on fresh ingredients
When you first look at it, everything seems promising enough.
However, it's important to analyze in great detail before committing to a subscription-based service.
That being said – is Blue Apron worth the cost, all things considered?
Let's talk about its meal kits, menu, price, and more.
Note: This review is based on my own research + analysis of Blue Apron.
Review Summary
---
Full Name: Blue Apron by Blue Apron


Product Type: Weight Loss Food
Best Actual Price: $7.49 per serving (Signature for Four, 4 meals per week)
Cheapest Place To Buy: The official website
Designed For: Helping you stay fit and/or lose weight.
My Rating: 6 out of 10
Recommended?: Not that much – it's easy to find a better alternative:
unsafe for people with allergies

doesn't accommodate many common diets

not very time-saving
There are many reasons why Blue Apron fails to be the best meal (kit) delivery service.
On that note, allow me to tell you more about the option that is superior in quality.
What I Liked About It
---
Good for weight loss

Fairly customizable

Decent menu variety (for one of the meal plans)

Fresh meals (because you cook them yourself)

Relatively low price
What I Didn't Like About It
---
Neglects allergies and many diets (keto, vegan, etc.)

Not enough variety in all menus – except the Signature one

Does not elaborate on its weight loss potential

Mainly relies on meal kits

Not time-saving

Ingredients leak through the packaging

Complaints regarding customer service
---
Blue Apron In A Nutshell
---
It is no secret that Blue Apron gained quite a bit of popularity over the years.


It's mainly known for delivering meal kits that consist of fresh ingredients.
Additionally, this program really prides itself on the high quality it claims to have.
Here's a glimpse of what the menu has to offer:
Signature

Vegetarian

Wellness
Now – while this selection is decent, it still leaves a lot to be desired.
As you can tell, Blue Apron does not accommodate strict dietary restrictions and allergies.
Not to mention that their Vegetarian and Wellness plans are very restrictive in terms of meal options.
That being said, if you know yourself to be a picky eater or otherwise unable to fully enjoy this service…
You should look for other options.
While Blue Apron mainly delivers meal kits, they also offer some ready-made options.
However, this is still not ideal:
only the Signature Plan has ready-made meals

they are still very few compared to meal kits
As such, relying on the "heat and eat" options may be tedious because you have to repeat dishes.
Moreover, there is little information regarding how Blue Apron helps with weight loss.
This makes it difficult to ascertain how effective it is, generally speaking.
Still, if there's one thing that is consistently positive about this program…
It is definitely the price tag.
Compared to other similar services, this one is definitely more forgiving on the wallet.
All things considered, Blue Apron is far from the best option out there.
If I were you, I would look into other alternatives before making a decision.
---
#1 – What is Blue Apron?
---
To keep it short, Blue Apron is a meal kit delivery company that sends dishes to your doorstep:
meal kits & ready-made options available

80% of ingredients come directly from producers

over 50 meal options to choose from weekly
Judging by this, this brand aims to be as convenient as possible.

Now – when it comes to meal kit delivery services, Blue Apron is one of the first options people think of.
Let's find out why that is.
If you're familiar with meal kit delivery services at all, then you already know what to expect.
Blue Apron works pretty similarly to other competitors.
It mainly focuses on meal kits, which means they send you the ingredients…
And the cooking is up to you.
However, they also offer a few ready-made meals.
Just keep in mind that everything is frozen to ensure freshness.
On top of that, only a specific meal plan offers ready-made options.
Everything else is treated as a meal kit.
So if cooking is not for you or maybe you are very short on time…
Blue Apron may not be your cup of tea.

As expected, Blue Apron is subscription-based.
Here's what you can expect them to send you on a weekly basis:
you can choose between 2, 3, or 4 recipes per week

each meal can come in either 2 or 4 servings
Notice how they don't give you the option to have something for every day of the week.
However, if you plan accordingly and take care of the leftovers…
You might just have enough for a week.
Let's take a quick look at the meal plans they can offer:
Signature – the most varied plan, and it includes plant-based dishes as well as fish & meat.

Vegetarian – free of meat, but may consist of dairy and eggs.

Wellness – carb-conscious meals that are also Weight Watchers-approved.

Signature for Four – same as the Signature plan, but for larger families.
At first glance, it seems like Blue Apron does not cater to many types of diets.
So if you have strict dietary restrictions, severe allergies, or maybe you're just a picky eater…
It doesn't look like this service has much to offer.
But we will get to these details in a bit.
First, let's find out why or how Blue Apron can help in your weight-loss journey.
---
#2 – How It Works & History
---
Let's get to the gist of this program:
how it plans to work

whether it's for you or not

its history
1. How It Works
---
The most obvious way in which Blue Apron can facilitate weight loss is through calorie control:
offers carb-conscious meals

is low in calories
Research shows that cutting down on carbohydrates can make it easier to shed extra pounds [1].

By consuming fewer calories than usual, you are creating a calorie deficit.
This helps your body burn fat stores in an attempt to stay energized [2].
Of course, this results in weight loss for you.
Other than that, it looks like Blue Apron is not keen on sharing too much information regarding this.
In fact, it doesn't explicitly market itself as a service that helps with weight loss.
It just contains some meal options that are also helpful in this sense.
But it doesn't seem like they are trying to lean too much on this.
Their main charm seems to come from the convenience factor as well as the high quality.
Unfortunately, this is as much as we can get in terms of how Blue Apron works.
2. History
---
Again, there is not much info regarding how Blue Apron came to be.
The page called "Our Team" on the official website mentions that the very first orders were shipped by the founders.
Back then, there was no facility or proper team to take care of everything, so the founders did everything themselves.
It is claimed that they wanted everyone to be able to experience cooking with high-quality ingredients…
Regardless of how busy they are or where they live.
In essence, that seems to be how everything started.
From there, the company grew in popularity, resulting in the reputation it has nowadays.
---
#3 – Weight Loss Plans

(5 out of 10)
---
In this section, we will take a closer look at the meal plans available from Blue Apron.
Again, while they may not explicitly be marketed towards weight loss…
They do cater to this purpose at least to some degree.
1. Signature & Signature For Four Plan
---
This is the meal plan that encompasses the majority of the Blue Apron recipes:
18-20 recipes to choose from

allows you to get "heat and eat" options

Essentially, this meal plan allows you to choose all sorts of options.
Without catering exclusively to specific needs, you can have vegetarian dishes, as well as carb-conscious.
On top of that, you can also choose some diabetes-friendly dishes, if that applies to you.
As you can see, you are met with all kinds of options that suit different types of diets.
So long as you keep an eye on the calorie count, you're free to choose whatever you wish.
In the case of Signature for Four, you get 4 adult-sized meals.
Naturally, this version is intended for larger families.
This also makes it more affordable, however.
2. Vegetarian Plan
---
You can probably guess that this plan is free of meat, fish, and poultry.
However, it might be disappointing to learn that there are only 3-4 meal selections every week.
Now – it's good that this type of diet is included, but there isn't any diversity in its menu.

Giving such a limited amount of options is a strange move.
Catering to different dietary restrictions requires more commitment.
Although it's nice that they are including this diet in their repertoire…
You might get bored of eating the same meals over and over.
3. Wellness Plan
---
Allegedly, this plan was created with your health in mind:
carb-conscious options

Weight Watchers-approved meals

Much like the Vegetarian plan, this one also offers only 3-4 meal options every week.
As you can see, the trend of not fully catering to specialized diets continues.
You need diversity in what you're eating, so repeating dishes or eating the same thing can get tedious.
In all honesty, this seems like the plan that would fit the weight-loss niche best.
However, it doesn't offer much variety when it comes to the actual menu, which is a shame.
---
Conclusion
---
Clearly, Blue Apron is not one to cater to dietary restrictions.
It also looks like if you have any sort of severe allergies, you're better off looking for something else.
The main takeaway is that this service is not for people who have to be careful with their food.
While you may enjoy it if you qualify for their Signature plan…
Everything else is up in the air.
That being said, if you have any sort of special needs when it comes to food…
Or if you are particularly picky, maybe Blue Apron is not the program for you.
It simply isn't inclusive enough.
---
#4 – Meals & Menu

(5 out of 10)
---
It's time to look at what you're getting from Blue Apron in terms of nutrition.
Here are the details.
1. The Menu
---
When it comes to the foods delivered by this service, remember that they can be:
ready-made (frozen)

meal kits
As such, you can choose whether or not you're up for cooking or not.
However, only the Signature Plan offers ready-made options, so pay attention to that.
In this sense, you should be comfortable spending some time in the kitchen if you are considering Blue Apron.

You probably noticed that there are a couple of dishes catering to specific needs.
For example, you can find a few diabetes-friendly meals, carb-conscious or low-calorie.
However, there is no meal plan that is specifically dedicated to all these concerns.
Obviously, this is a letdown if any of these options interest you.
Also, take note that you can't mix meal plans, but you can switch between them freely.
You are also given a deadline every week to choose which meals you would like to receive.
If you don't meet the deadline, the crew from Blue Apron will choose for you…
Based on your disclosed preferences, obviously:
Sometimes you can also select "Premium" dishes.

But be aware that they are more expensive.
Also, Blue Apron is known for coming up with collaborations every once in a while.
For example, at the time I'm writing this article – they have some dishes relating to "Puss In Boots".
If you are entertained by such limited-time offers, you might enjoy these little surprises.
Also, remember that you can choose between:
2 or 4 servings

2, 3, or 4 recipes each week
Additionally, they also have add-ons on rotation every week.
This includes appetizers, side dishes, and desserts.
Obviously, these come with their own separate price.
However, considering how unsuitable Blue Apron is for people with allergies or specific diets…
Think twice before giving it a go.
2. The Meals
---
Let's get to the actual food, shall we?
We will look at some meals from the Signature Plan first since it's the all-rounder:
Yuzu & Soy-Glazed Tilapia

Flank Steak Tacos

Steak Tips & Creamy Truffle Fettuccine

When it comes to some Vegetarian dishes, here's what one week has to offer:
Olive & Fontina Cheese Pizza

Broccoli & Cheddar Quiche

Oven-Baked Cheesy Tomato Gnocchi

If the Wellness meals interest you, here's what you're looking at:
Za'atar Chicken Grain Bowl

Couscous-Stuffed Poblano Peppers

Chimichurri Salmon

To be fair, these meals don't sound half bad.
It is useful to keep in mind that you don't have to go in blindly.
This is to say that you can check the nutritional information for all the meals on the official website.
What's more – you can even get the recipe if you want!
Plus, don't forget that you can choose between a few ready-made meals and meal kits.
However, for the most part, you should only sign up for Blue Apron if you're alright with cooking.
Regardless, it is important to note that this program doesn't have the most inclusive menu.
---
#5 – Results

(6 out of 10)
---
Given its reputation, it's clear that Blue Apron has been around for quite some time.
Due to this, you can easily find customer opinions to see how this program is regarded.
That being said, it is important to also take this aspect into account when considering a subscription.
So let's see what people think of Blue Apron.
Note: I only considered authentic reviews, not promotional/fake ones.
1. Positive Reviews
---
Let us start with the positive traits of this meal kit delivery service.
Speaking of which, this article won't look at the reviews on the official website.
That's because there is a high risk that they are actually biased.
Therefore, we are mainly going to look at the reviews on 3rd party websites (mainly TrustPilot).
Here's what people enjoyed about Blue Apron:
Customers praise the flavor of the meals.

They also enjoy how easy they are to put together.

Some people also said they get to try out new ingredients due to Blue Apron.

The delivery service is quite prompt.

The ingredients arrive fresh and still frozen.

People were pleasantly surprised by the serving size.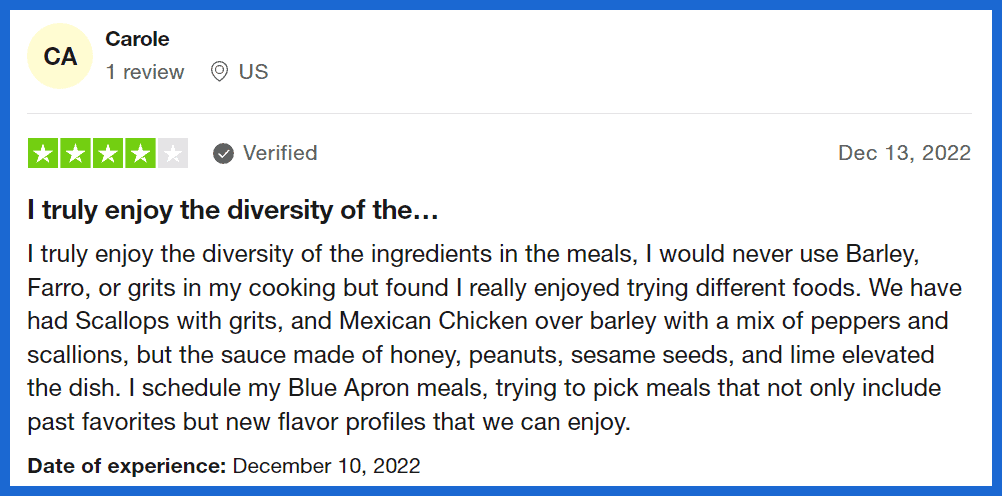 Someone even claimed they managed to lose weight with Blue Apron: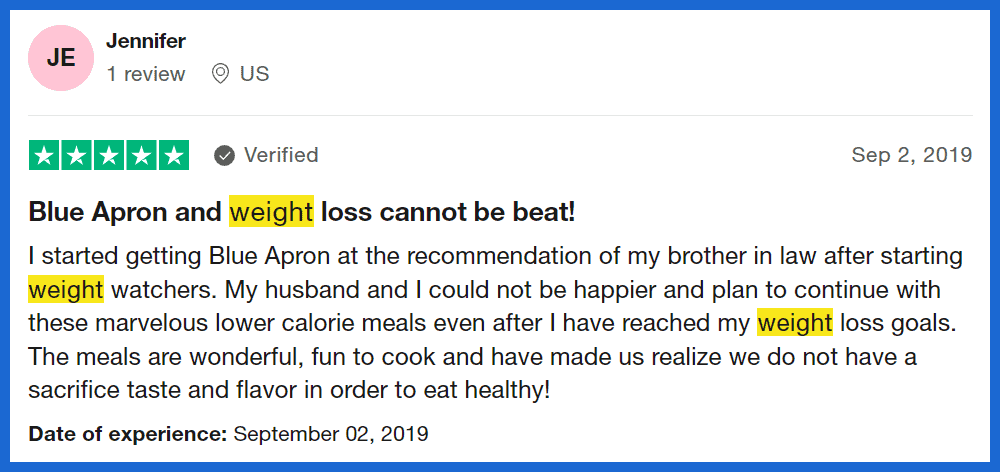 Considering that Blue Apron is not really divulging much when it comes to its weight loss efficacy…
Finding out details regarding this topic from customers is quite reassuring.
In a way, user reviews can complement the information you get from the official website.
So definitely don't discredit the importance of customer feedback.
2. Negative Reviews
---
Speaking of the impact of user reviews, negative feedback is quite essential.
That's because it can potentially bring up issues you previously never thought of.
So they can really help you decide whether a product or service is the right fit for you.
That being said, let us look at some criticism:
Customers complain about faulty packaging and that the ingredients leak through.

Moreover, people say they are often missing ingredients.

Some also claim Blue Apron doesn't save you any time in the kitchen.

The delivery is seldom on time.

Customer service is not as responsive as it should be.

The food is overpriced for the quality that you get.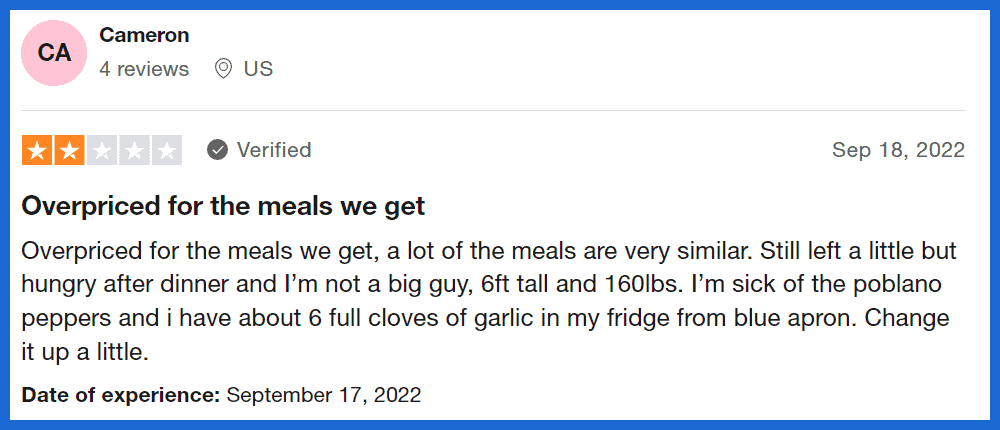 Here's a negative review from a customer that has been with Blue Apron for a long time: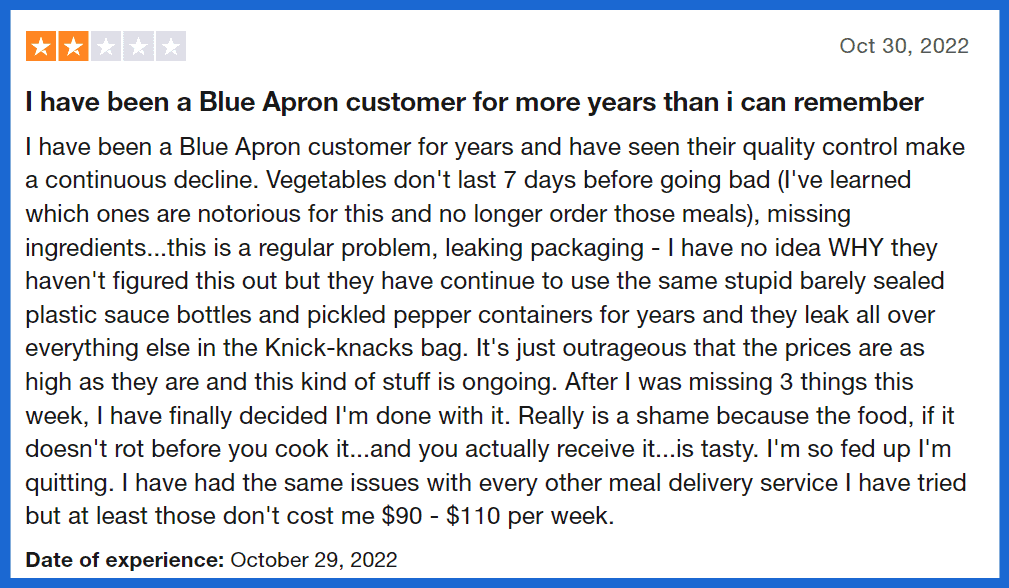 As you may have noticed, part of the reviews contradicts the others.
While some people claim that the quality is just fine, others say the opposite.
This adds a layer of luck to how your experience with Blue Apron might turn out.
You decide whether or not you're alright with that.
---
Conclusion
---
You can tell that people appreciate the service put out by this program.
However, there are others who were let down as a result of various issues.
It's important to look at the strong points of a product…
In order to decide whether or not they justify the price point for you personally.
But the negative side should also be taken into account, in case there are any deal breakers.
So far, it looks like Blue Apron has an issue when it comes to quality control.
If you don't want to deal with unpleasant surprises…
Maybe you should look for a better alternative.
---
#6 – Side Effects

(7 out of 10)
---
As you have seen, the topic of side reactions was not present in the user feedback I analyzed.


This makes it pretty difficult to assess just how dangerous or safe Blue Apron really is.
Still, here are a few issues to keep in mind if you plan to switch your diet:
bloating

feeling exhausted

low on energy
Generally speaking, your body can experience these symptoms whenever your diet undergoes a drastic change.
If you find yourself dealing with any of these issues, be sure to monitor the situation.
This way it is easier to prevent everything from spiraling out of control.
If the circumstances are particularly dire, you may even deal with diarrhea and/or abdominal cramping.
Moreover, be aware that eating spoiled food can lead to food poisoning.
Keep this in mind in case your food is delivered to you in suspicious conditions.
If that is the case, it might be safer to not eat it at all.
---
#7 – Price

(7 out of 10)
---
In a general sense, meal (kit) delivery services tend to be rather pricy.
At least this applies to most of the programs of this kind.
Let us see how this applies to Blue Apron.
1. The Exact Price
---
To start off, it is important to know that Blue Apron is not the most expensive out there.
In fact, the price is pretty acceptable.
In other words, it is not too expensive nor the most affordable.
So it is right in between.
Here are the specifics:
$85.91 for 4 recipes per week, 2 servings each

you usually get free shipping for the first order

starting with the second week, you pay the full price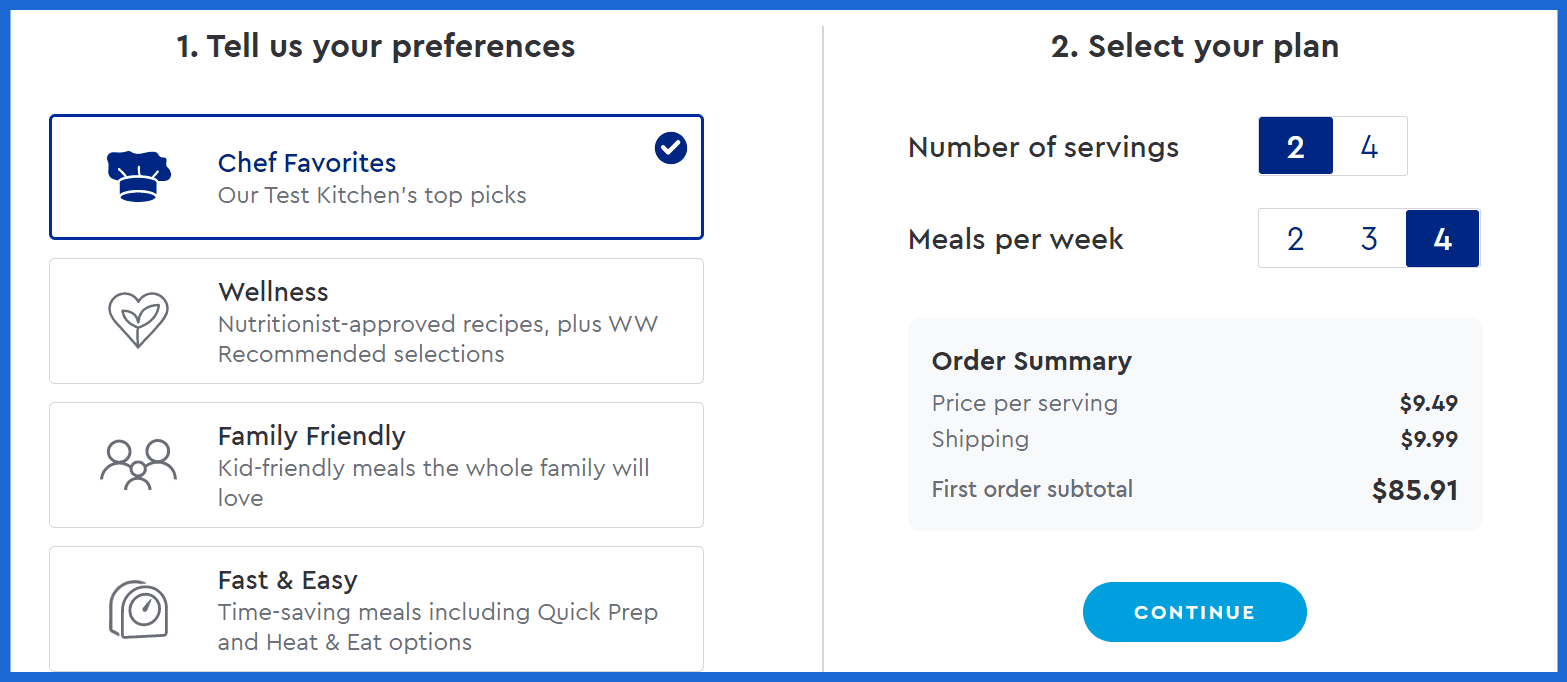 Honestly, while that is not necessarily the most affordable option I have seen…
I also can't say it's the worst.
Of course, it can get more expensive if you choose to also go for add-ons.
Thus, keep this in mind if you are eyeing a dessert option.
Other than that, it's a decent deal.
But it's certainly not the best one.
2. Competitor's Price
---
If you're curious about what the best option out there is…
Allow me to talk to you about Nutrisystem – my top recommendation for a weight-loss meal plan:

If you want to get in shape, my recommendation is much more effective.

That's because it offers meal plans that are specifically tailored to counter this concern.

Also, Nutrisystem is much more inclusive when it comes to accommodating dietary restrictions.

Plus, it offers a higher degree of customization.

Not to mention that my recommendation also offers a much more diverse menu.

It also only offers ready-made meals, meaning it saves you time.

Lastly, Nutrisystem is more affordable than Blue Apron, starting at $9.99 per day.
Taking all of this into account, I strongly urge you to go for Nutrisystem instead.
All things considered, it's a much better alternative.
Especially because it is more considerate when it comes to people allergic or sensitive to certain ingredients.
It's much better to be safe than sorry, right?
---
Conclusion
---
While the price is not the most problematic aspect of Blue Apron…
It is rather difficult to justify spending money on a program that doesn't include allergies or important health concerns.
Accessibility goes a long way, especially in terms of how many people are able to enjoy your service.
That being said, if you know something is keeping you from making the most out of Blue Apron…
That is definitely a sign that you should look elsewhere.
Don't worry, there are plenty of better options out there.
---
#8 – Final Conclusions
---
Here we are at the end of the article – let's summarize the main ideas about Blue Apron.
1. Get Ready To Cook
---
If you're considering signing up for Blue Apron, be prepared to spend some time in the kitchen.
Given the fact that they don't offer many ready-made options…
This might be a deal-breaker for those of you who are specifically short on time.
Or maybe if you are not that comfortable in the kitchen…
You may want a service that does everything for you.
Regardless, be sure to consider this aspect carefully before committing to Blue Apron.
2. Unsuitable For Severe Restrictions
---
While looking at the meal plans, we concluded that Blue Apron is not very inclusive.
This is to say that if you are allergic to anything, or follow a particularly strict diet…
This program is likely not suited for you.
It seems to mainly cater to people who are able to eat almost anything.
You might find a few options that cater to some niche needs here and there.
However, for the most part, Blue Apron is not for people who are picky or allergic.
3. Relatively Affordable
---
Taking into account that most competitors are on the expensive side…
It is true that Blue Apron is more forgiving in this regard.
This surely makes it more accessible, at least in financial terms.
Otherwise, this service remains quite a letdown when it comes to catering to as many people as possible.
Still, the moderate price point may be enough to get potential customers to give it a try.
---
My Verdict – Worth It Or Not?
---
Short answer: No, it's not the best choice.


You should absolutely think twice before signing up for Blue Apron:
Mainly based on meal kits.

Very few ready-made options.

The food arrives frozen.

Good enough in terms of customization.

The meal plans neglect many common dietary restrictions.

Does not give much info when it comes to weight loss potential.

Potentially faulty packaging.

The price is not exorbitant.
The reasons stated above are enough to tell you that Blue Apron is not the best option.
While it may be appealing enough on the surface…
It simply doesn't offer any diversity for a lot of people.
Trust me when I tell you that there are many alternatives that do a much better job.
For instance, Nutrisystem is superior on many fronts.
It's no coincidence that it's my top recommendation for a weight-loss meal plan:
high efficacy in terms of weight loss

offers more freedom for customization

accommodates more dietary restrictions

costs less while having superior quality
Given these aspects, it's safe to say that Nutrisystem would be a much better fit for you.
Please do yourself the favor of giving it a try.
I assure you that you will enjoy it!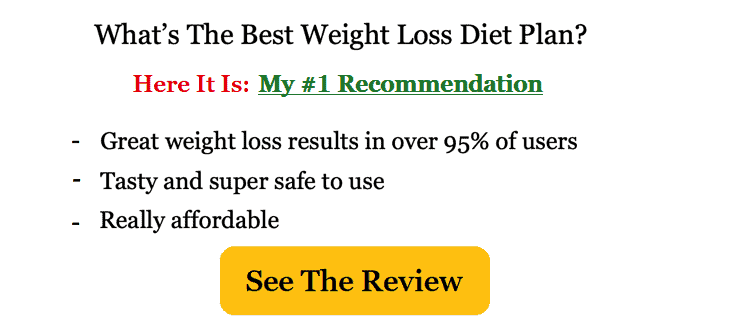 References:
1 – https://academic.oup.com/jcem/article/2845298