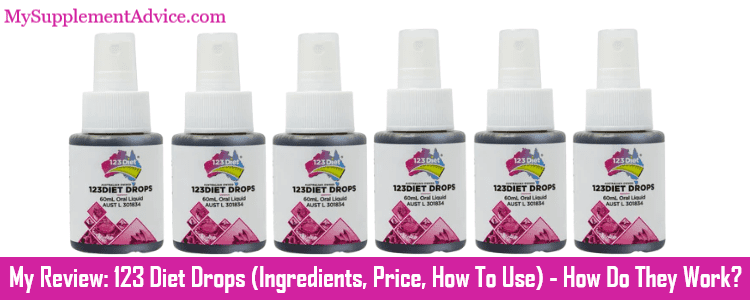 It's time to review 123 Diet Drops – because it's quite a different weight loss product.
Actually – it's a liquid supplement, which is pretty uncommon.
But how do these drops work?:
very easy to take

super expensive

basic formula
Let's analyze this product's ingredients, price and a lot more and find out how to use it.
Note: This review is based on my opinion + research on 123 Diet Drops.
Review Summary
---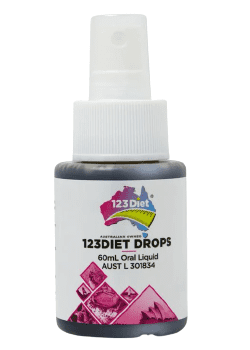 Full Name: 123 Diet Drops by 123 Express Diet

Product Type: Weight Loss Supplement (Liquid)
Best Actual Price: $119.95 AUD (Around $84 USD)
Cheapest Place To Buy: Its Official Website
Designed For: Promoting weight loss and suppressing hunger
My Rating: 6 out of 10
Recommended?: Not quite – it has a lot of question signs:
only helpful for decreasing weight gain

doesn't really boost metabolism/weight loss

very pricey for its quality
Although it's quite easy to take, I'm not a huge fan of this supplement, since it's very expensive for its value.
So I recommend you to get a more potent but affordable alternative.
What I Liked About It
---
Formulated as a liquid

Super comfortable to take

Contains several herbs and amino acids

Controls hunger and the urge to overeat

Can be bought in bundles (for more discounts)
What I Didn't Like About It
---
Doesn't burn existing fat

Only effective for reducing appetite and cravings

Minimal reviews from people who really tried it

Very expensive for features

Formula is not too potent for losing weight

There are several versions with the same name online

Can trigger some specific secondary reactions
---
123 Diet Drops In A Nutshell
---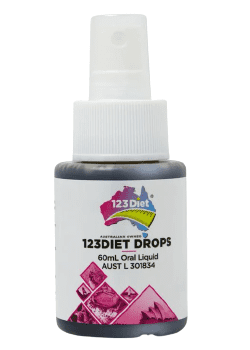 In this review, we're going to talk about 123 Diet Drops.
It's a liquid weight loss supplement, which is pretty interesting.
The thing I liked the most about it is the way you can take it.
You only need to spray the product under your tongue.
But I kind of dislike the number of times you need to do that in a day.
Still, that's just a personal preference…
In terms of how it works, here's what 123 Diet Drops can do for you:
control your cravings (so you won't be gaining more weight)

cannot address other weight loss issues

may trigger intense secondary reactions
Basically – its top benefit is that it prevents you from gaining weight.
But when it comes to your current weight, it doesn't really melt it off.
So it's not a classic weight loss product.
It's just a prevention one, which isn't too useful.
In addition to that, the regular price of a bottle is $119.95 AUD or around $84 USD.
That's way too much for what the product offers.
Not to mention that it's very tricky to find this specific version:
there are lots of identical products online

it's hard to tell which is the original

its official website is hard to find
So if I were you, I wouldn't choose 123 Diet Drops at all…
---
#1 – How It Works & Producer
---
Let me share with you the basic details you need to know about 123 Diet Drops:
how it works on the inside

the producer behind it

what weight issues it targets
1. How It Works
---
If you ask me, 123 Diet Drops has a very limited product description.
So basically, it only promises to be a good weight loss supplement, that's it.
Honestly, this claim is pretty childish, to put it nicely.
All weight loss products claim to be the best – but most of them usually try to explain why (with realistic reasons).
Also – 123 Diet Drops claims that its ingredients have 2 major goals:
Weight reduction

Hunger suppression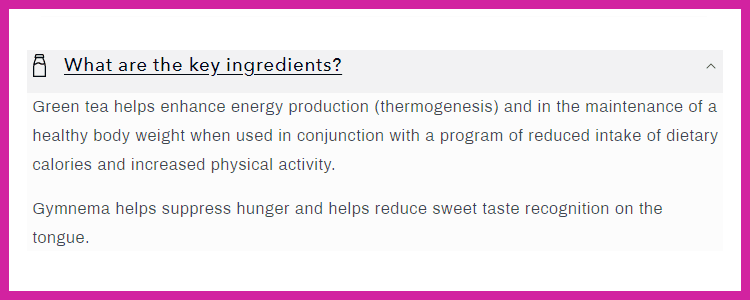 Now – it somehow suggests that it's a thermogenic product (due to the presence of green tea).
But that alone is not enough to make it a thermogenic.
Additionally, it highly recommends combining with it the following activities:
calorie-controlled diet

physical activity

following a 123Diet Weight Management clean eating plan
My view on this product is that it keeps contradicting itself:
It first claims it works for losing weight alone.

Then it explains you it mostly works for preventing you to gain extra weight.

Next, it advises you to have a strict diet and exercise (in order to see results).
Basically, it doesn't give you all these info from the start – but by turn.
If it told you the truth from the start, you would probably quit the purchase page and never buy it again.
So if you ask me, I'm not really impressed with the supplement alone.
Sure – any weight loss product works best with a controlled diet and exercise.
But this product doesn't really do much on its own – so I doubt dieting and working out would help too much.
The only good thing is that it's a liquid supplement.
2. Company Behind
---
The producer behind the supplement is called 123 Express Diet.
Honestly – it's very tricky to find the specific product we're reviewing right now.
That's because there are several versions with the same name and formulation online.
So if you want to find this exact one, look for the one from Australia.
Finally – here are the details I found about its producing company:
contact info includes phone number, email and social media accounts

sells mostly herbal products for weight loss and general health

its products can only be bought on its website
The brand alone has a high number of customer reviews.
So I suggest you to read them before deciding to purchase any of the products.
---
#2 – Ingredients (6 out of 10)
---
Honestly – 123 Diet Drops' formula is far from my personal favorite.
It mostly contains 2 classes of ingredients:
herbal extracts

amino acids
However, most of them are generally under-dosed.
Besides, none of its compounds have some real weight loss benefits (with clinical studies behind them).
That's why I consider its formula pretty plain and basic.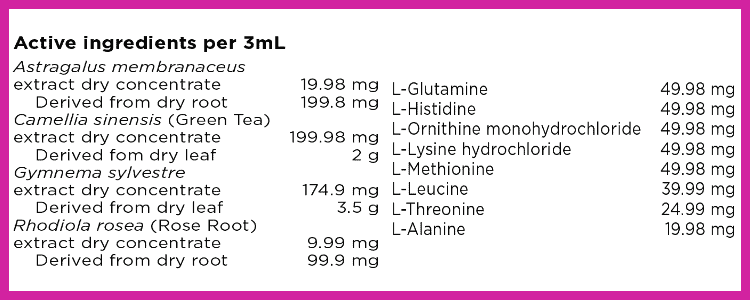 The official website highlights its two key ingredients:
Green tea, which is said to be responsible for thermogenesis.

Gymnema, which can help suppress hunger.
But other than that, I find the formula pretty disappointing.
More specifically, the more disappointing pare is related to the doses of each compound (that's even more disappointing than the poor composition itself).
Anyway – let's take a closer look at the ingredients present in the product.
1. Herbal Extracts
---
Here are the herbs you can see in 123 Diet Drops' formula:
Astragalus membranaceus – protects the immune system and treats diabetes [1]
Camellia sinensis – reduces fat by increasing fat oxidation [2]
Gymnema sylvestre – decreases the urge to crave sweet food [3]
Rhodiola rosea – helps with weight loss and maintains a normal weight
If you ask me, the ingredients above have benefits for appetite suppression.
But their weight loss potential isn't too high.
I couldn't find any studies or research papers about their weight loss effect.
A lot of herbs have plenty of research behind, so this is totally possible.
But that's not the case of any compound from 123 Diet Drops.
2. Amino Acids
---
Firstly – the amino acids present in the product are all in their L orientation:
Glutamine – favors weight loss and enhances glucose metabolism [4]

Ornithine – helps with muscle build-up by stimulating protein synthesis

Histidine – supports the decline of BMI, body fat and waist circumference [5]

Lysine – promotes the conversion of fats into energy

Leucine – increases the loss of fat during a restricted diet [6]

Methionine – has an important role in the secretion of fat-burning hormones

Threonine – controls fat build-up in the liver [7]
Alanine – prevents obesity caused by a high-fat diet [8]
Honestly – the ingredients above more promising for reducing excess weight.
They're definitely not the best ones (you probably haven't heard about any of them when it comes to weight loss).
But in this case, the problem is that they are under-dosed.
Even if they were properly dosed, their weight loss effect would not be super fast.
But since they have a low dose, their potential is even lower.
---
Conclusion
---
Overall – the formula of 123 Diet Drops isn't terrible.
There are several ingredients that can prevent you from gaining extra weight.
But their weight loss potential isn't that high.
Not to mention that some are rather under-dosed, so don't expect miracles from them.
In my view, there are better options with superior formulas that are more effective.
---
#3 – Consistency & Dosage (8 out of 10)
---
Now – let's look further at the appearance and dosage of 123 Diet Drops.
1. Consistency
---
I will first describe you 123 Diet Drops's aspect:
formulated as a liquid

dark brown color

hint of herbal scent

berry taste
Actually, the nature of the product is pretty obvious (as you can see in its name).
So taking a liquid product would be very convenient for a lot of people.
That's probably the best part about it.
2. Dosage
---
In addition, here's how you should consume 123 Diet Drops:
Spray the product twice (0.5 ml) under your tongue.

Hold it for around 30 seconds before eating.

Repeat the process 3 times a day (equivalent to 3 meals).

Don't exceed a 3 ml dosage daily.

Also – the label suggest not to eat or drink for 15 minutes after taking the drops.
If you ask me, the supplement is super easy to take.
However – the frequency of use is not the ideal.
Taking these drops 3 times a day can be pretty complicated…
So honestly, I would prefer an alternative that won't require so much effort.
---
#4 – Results

(6 out of 10)
---
Unfortunately – there are limited reviews about 123 Diet Drops.
So we can only tell if it worked based on the comments of the people who really tried it.
Note: I only analyzed authentic reviews, not promotional or fake ones.
1. What People Say
---
Firstly – I found several reviews about the brand itself on Trustpilot.
But we can't filter all of them just to see the comments about 123 Diet Drops.
With that, let's just list down some experiences of people after using it:
Some of them lost weight when they used the product consistently.

A lot of users mentioned that it really helped in curbing their appetite.

Others experienced side effects and they didn't like the taste, so they stopped taking it.

Few people didn't notice weight loss even after following the recommendations.

There were people who complained about customer service and payment issues.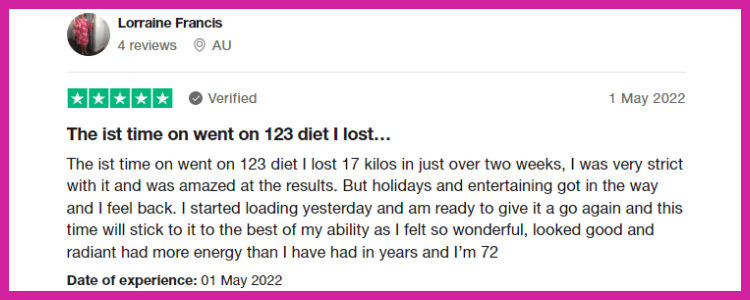 Here's another comment from a customer: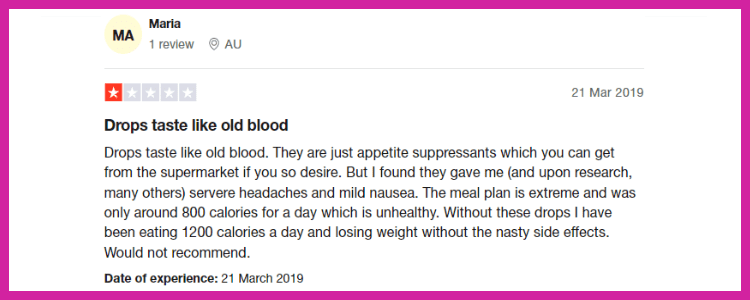 Now – the overall rating of the brand is 4.6/5 stars, which is not bad.
But again, the reviews are about the company as a whole (not about the product).
If you ask me, most people experienced appetite suppression after using the 123 Diet Drops.
So at this point, it looks like it will prevent you from gaining extra weight.
But that's pretty much it.
A product needs a long time to help you lose weight by reducing your cravings only.
So even if it worked – compared to other weight loss products, 123 Diet Drops would be very slow.
---
Conclusion
---
Overall – there were some reviews about the brand, but almost no comments about the 123 Diet Drops alone.
Based on my understanding, it only helps with controlling your appetite.
So I would definitely urge you to look for other (more powerful) alternatives.
---
#5 – Side Effects

(4 out of 10)
---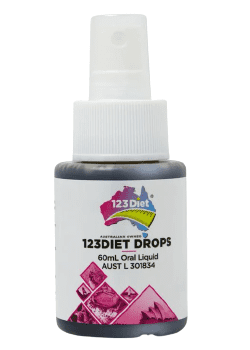 Now – 123 Diet Drops has a lot of feedback about its side effects.
If you're curious, here are the complaints of previous users:
diarrhea and loose stool

severe headache/nausea

lethargy or low energy

bloating and vomiting

stomach cramps
At first look, most of these secondary reactions seem pretty common.
But weight loss supplements in general rarely cause such severe issues.
I mean – they would mostly cause stomach pain or headaches (but not vomiting, diarrhea or lethargy).
That's why I feel like in the case of 123 Diet Drops, the side effects are a little bit too intense.
That's even more weird because the product is designed as drops (and it should have been easier to tolerate).
I had high hopes that it wouldn't cause any discomfort.
Overall – I wouldn't say that it's extremely dangerous for your health.
But it's definitely not as safe as a lot of other weight loss products available.
---
#6 – Price (3 out of 10)
---
To be very honest, 123 Diet Drops is very expensive.
For its real quality and what it can do, I don't think it's the best investment.
1. The Exact Price
---
Firstly – 123 Diet Drops is only available on its website.
Since it's an Australian brand, I will also give you an approximate price in dollars.
If you're curious, here are the product deals:
A bottle costs $119.95 AUD (~$84 USD)

2 bottles cost $199.95 AUD (~$140 USD)

3 bottles cost $287.85 AUD (~$202 USD)

4 bottles + 1 freebie costs $459.95 AUD (~$323 USD)

Additional fee for shipping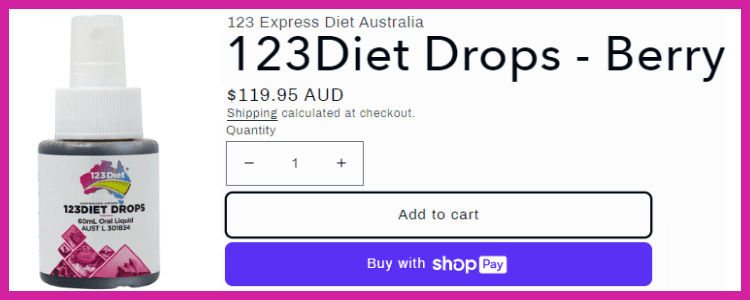 I just want to say right away that the supplement is extremely expensive.
Although one bottle is supposed to last for 42 days, it's still not a good deal.
The supplement alone isn't too helpful when it comes to weight loss.
It can help preventing you from putting on any extra weight, but that's pretty much it.
In terms of specific weight loss, it's not too strong.
So I wouldn't recommend it to you, especially since you can get a superior alternative at a lower price tag.
2. Competitors' Price
---
So let me give you a way better weight loss supplement, which is actually my top recommendation.
The alternative I'm talking about is called PhenQ: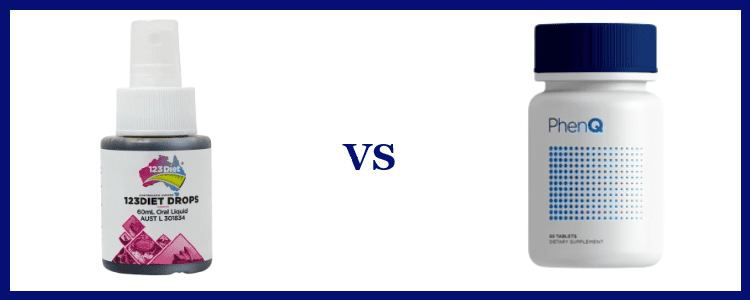 PhenQ is a supplement formulated as capsules.

Other than herbs and amino acids, it also has vitamins, minerals and essential nutrients.

The formula helps with shedding excess weight besides reducing weight gain.

On the other hand, 123 Diet Drops is a liquid supplement.

It only contains amino acids and herbal extracts.

The best thing it can do is to suppress your appetite.

PhenQ only requires 2 capsules daily.

Meanwhile, 123 Diet Drops requires 2 sprays three times daily.

PhenQ's standard price is $69 but you can buy it for only $37.

A regular bottle of 123 Diet Drops is $119.95 AUD (or around $84 USD).
It's pretty obvious by now that PhenQ is superior to 123 Diet Drops.
In terms of benefits, it doesn't only control your appetite.
Instead, it can also help you to get rid of your excess fat and extra weight.
Not only that, its formula is way more potent, which makes it a better option.
Lastly – it doesn't require a lot of effort to take daily.
So overall, I definitely prefer PhenQ – since it's way better in a lot of aspects.
---
Conclusion
---
To sum it up, 123 Diet Drops is not very affordable.
I'm not saying that it's a horrible product (even though it's not super far from that).
But it's not a practical decision to buy it just for the sake of curbing your appetite.
You can definitely get that effect (along with other benefits) from better alternatives.
---
#7 – Final

Conclusions
---
Let me summarize to you my major thoughts on 123 Diet Drops.
1. Prevents Weight Gain
---
If you look at 123 Diet Drops' formula, you will see that it has 2 main types of compounds:
several herbal extracts

some amino acids
The product claims to be a weight loss supplement.
But honestly – it only works by decreasing your cravings (in order to avoid weight gain).
So it's not a classic weight loss product.
In terms of reducing your excess weight, you can't expect much from it.
2. Liquid Formula
---
From the name itself, you can tell that 123 Diet Drops is a liquid supplement.
You just need to spray it under your tongue before every meal.
Although this sounds very convenient, I simply don't like its frequency of use.
That's because you're required to do it 3 times a day (and you will most likely forget it at least once).
3. Huge Price Tag
---
To be very honest, 123 Diet Drops' price is way too high, especially if you think about its actual features.
The price of one bottle is $84 USD (or $119.95 AUD).
Again, it can mostly address future weight gain, not current weight loss.
So it's really not a good deal for its price.
---
My Verdict – Worth It Or Not?
---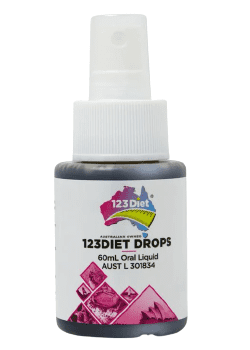 Short answer: Not quite – it has some questionable features:
Can only help you with suppressing your appetite

Doesn't have other weight loss benefits

Super pricey for how it works

More reviews about the brand (not about the product alone)

Similar versions from other companies are sold online

Triggers several unusual side effects
Now – 123 Diet Drops has only one major advantage.
Well, that is the way it's formulated (it's a liquid).
However, being promoted as a weight loss supplement is not that realistic.
Simply because the main benefit it can give you is appetite suppression (not weight loss).
So for its overly high price tag, it's not worth it at all.
What do I suggest instead?
Well – my #1 recommended weight loss supplement is called PhenQ:
Provides 5 mechanisms of action against weight gain

Addresses more weight loss issues (other than controlling hunger)

A lot of people swear by its effect in reducing excess weight

Doesn't require a lot of effort to take

Affordable and well-tolerated
If you ask me, PhenQ doesn't only focus on stopping weight gain.
In fact – it will also help you to shed your excess fats and boost your metabolism.
Not to mention that it has a lower price compared to 123 Diet Drops.
So for all the superior benefits you can get, I'm pretty sure it's the better choice.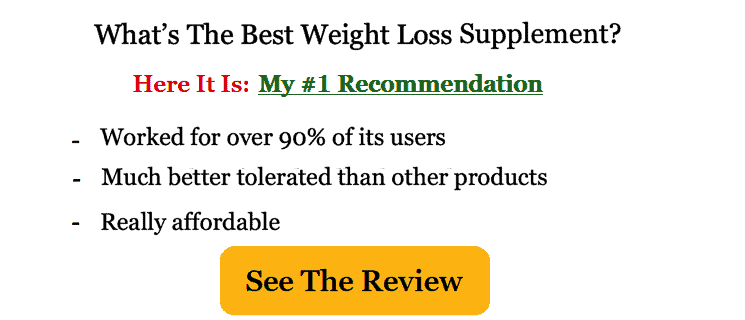 References:
1 – https://www.mountsinai.org/health-library/herb/-astragalus
2 – https://www.ncbi.nlm.nih.gov/-pmc/articles/-PMC2855614/
3 – https://www.ncbi.nlm.nih.gov/-pmc/articles/-PMC2170951/
4 – https://pubmed.ncbi.nlm.nih.gov/-25226827/
5 – https://www.ncbi.nlm.nih.gov/-pmc/articles/-PMC6045700/
6 – https://www.ncbi.nlm.nih.gov/-pmc/articles/-PMC4446786/
7 – https://pubchem.ncbi.nlm.nih.gov/-L-threonine
8 – https://pubmed.ncbi.nlm.nih.gov/-22847780/