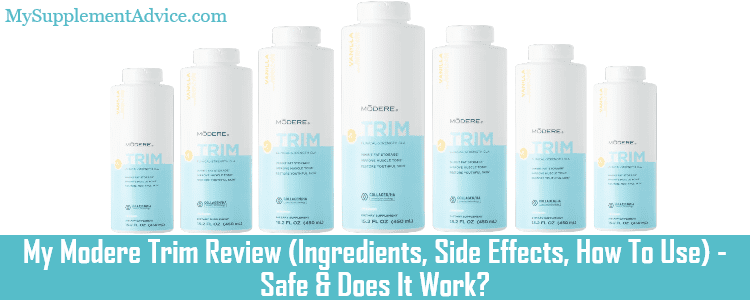 It's time for my Modere Trim review, which is another liquid weight loss supplement.
So is it different from similar products?:
comes with a variety of flavors

weak composition

overpriced
But is this product safe – and does it really work?
Honestly – I don't have high hopes from it.
But let's discuss its ingredients, side effects and how to use it in this review.
Note: This review is based on my research + opinion on Modere Trim.
Review Summary
---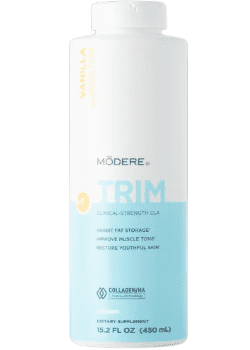 Full Name: Mōdere Trim by Mōdere
Product Type: Weight Loss Supplement (Liquid)
Best Actual Price: Around $100
Cheapest Place To Buy: Its Official Website
Designed For: Inhibiting fat storage, as well as:
reducing the formation of fat cells

improving muscle tone

restoring youthful skin
My Rating: 6 out of 10
Recommended?: Not really – there are several bad features it has:
extremely expensive

several complaints about its quality

ingredients are not varied
Honestly – it's very overpriced for what it offers.
I'm pretty sure you should try a high-quality weight loss supplement that costs less.
What I Liked About It
---
Contains a trademarked compound

Offers different flavors of the drink

Very convenient to take daily

Available in smaller quantities
What I Didn't Like About It
---
Overpriced for its real quality

Ingredients lack more variety

Only contains a proprietary blend

Weak formula in terms of weight loss results

Several complaints about its quality and packaging
---
Modere Trim In A Nutshell
---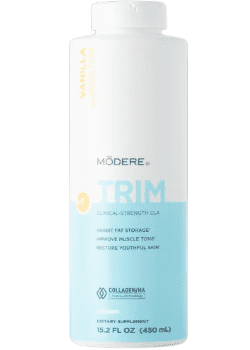 What makes Modere Trim special is that it's in a liquid form.
It's very easy to consume, since you only need one tablespoon daily.
Also, you have the freedom to choose the flavor you prefer.
That's because the brand offers several options.
However – I just don't think that the effort is worth it, because its formula is quite disappointing:
only has a total of two compounds

the overall composition is just a blend
Actually, only one of the two ingredients is designed for promoting fat loss.
The other one actually focuses more on skin, nails, bones and joints.
And no matter how helpful it was, it has nothing to do with weight loss.
So for a price of $99.99/bottle, it's far from the best deal.
Overall – just spend your money wisely, on a more potent supplement.
---
#1 – How It Works & Producer
---
Let's first mention the first general details of Modere Trim in this chapter:
who is the company behind

its mechanism of action

the weight problems it helps
1. How It Works
---
Modere Trim claims to be an innovative supplement for weight loss.
It works by supporting fat metabolism, in order to accelerate fat reduction.
So basically, it blocks the transport of fats from the bloodstream into fat cells.
In that way, fat absorption will be reduced, thus decreasing fat cell formation.
With that, here are the full product benefits listed on its website:
inhibits cellular fat storage

aids fat metabolism

supports fat cells reduction

improves muscle tone

restores youthful skin

promotes healthy body composition

maintains joint, muscle and tissues health

supports healthy hair, gums, nails and eyes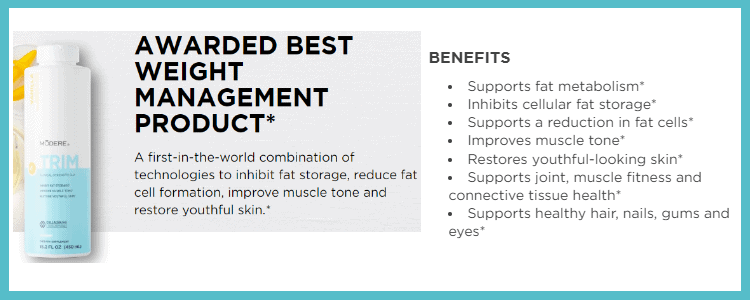 Also – it claims to be sugar, gluten and dairy-free.
If you ask me, the product's mechanism of action is pretty promising at first.
Now – one of its 2 major ingredients is a trademark.
But its benefits don't have too much to do with fat metabolism.
Besides, its clinical evidence doesn't really apply to weight loss.
Overall, the product is not bad – but in my view, it's not better than most alternatives.
In fact, I find its promises a little bit exaggerated.
Since it only has 2 ingredients (and one of them with nothing to do with weight loss), you couldn't expect it to make miracles.
2. Company Behind
---
Mōdere is the company behind this liquid weight loss product.
Now – I looked into its main website and I found the following details:
offers products for collagen, personal care, household, weight loss and overall health

can be reached through email, phone numbers and live chat

caters to several countries like US, Japan, Australia, Europe, New Zealand and more
If you ask me, it's a very reputable brand.
It even has one trademark ingredient that is only used by its products.
So in terms of credibility, the company can be trusted.
---
#2 – Ingredients (5 out of 10)
---
If you ask me, the formula Modere Trim has is pretty simple:
contains two main ingredients

one of them is a trademark

both are listed together in a blend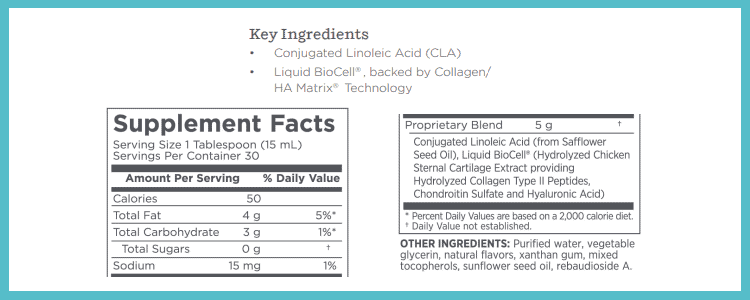 Now – the product contains a plant-derived conjugated linoleic acid (CLA).
It has some good benefits when it comes to weight loss and muscle building [1].
On the other hand, its Liquid BioCell® is exclusive to the brand.
It's backed by Collagen/HA Matrix® Technology (as stated on the website).
To simplify, it's a compound that supplies collagen and hyaluronic acid to the body.
Basically, it focuses on skin, joints, nails and bones [2].
Again – both ingredients are listed in a blend.
The overall dose of this blend is indeed high (5 g), but there are no individual doses, which is pretty bad.
So let's quickly list down their benefits:
CLA – improves muscle metabolism and increases lean body mass [3]
Liquid BioCell® – clinically delivers joint and dramatic skin benefits [4]
If you ask me, CLA is a decent compound.
But that doesn't mean it can help you reduce your excess fat on its own.
Its effect could be better if the product had some additional compounds (to increase CLA's effect).
Honestly, Liquid BioCell® can't do much when it comes to weight loss.
It has many other benefits, that's true – but none of them is connected to burning fat.
---
Conclusion
---
To be very honest – Modere Trim doesn't have a promising formula.
In reality, it only contains one ingredient designed for weight loss.
Even if that ingredient could make miracles for fat burning, it would still not be enough.
So if you're looking for a good supplement for your weight loss, just find a better alternative.
---
#3 – Consistency & Dosage (9 out of 10)
---
This chapter is probably my favorite feature of Modere Trim.
1. Consistency
---
Firstly – here's what Modere Trim looks like:
slightly thick consistency

color depends on the flavor

tastes sweet (due to stevia)
Again – the product offers different flavors.
To give you an overview, here are your options:
chocolate

coconut lime

lemon

mango

salted caramel

vanilla
So it's really up to your preference.
I think it's an exciting approach to enjoy taking it even more.
2. Dosage
---
Now – the instructions of Modere Trim are very easy to understand.
You only need to take one tablespoon of the liquid by mouth daily.
It's also indicated that the best time to take it is in the morning.

In my view, this is the greatest advantage of the product (especially if you're not into taking pills).
So besides taking it only once daily, the flavors elevate the experience even more.
---
#4 – Results

(6 out of 10)
---
So far, Modere Trim comes with a decent number of authentic reviews.
They are some good signs to understand how the product performed.
Note: I only analyzed authentic reviews, not promotional or fake ones.
1. What People Say
---
Now – Modere Trim has very few reviews on its own website.
So as usual, we're going to feature the comments on Amazon instead.
If you ask me, there are more than a thousand reviews available.
However – if we narrow down their insights, there were just a few aspects that kept repeating.
So if you're curious, here are the common thoughts of people who tried it:
A lot of them loved how the product tasted and how it gave them energy.

Some noticed their skin became more healthy and less dry.

A few of them said their joints become stronger and they lost some weight.

Most of the complaints were about receiving broken and expired products.

Some also said that it's very expensive for its real quality.

The rest mentioned that they didn't see any benefits at all in their weight and/or skin.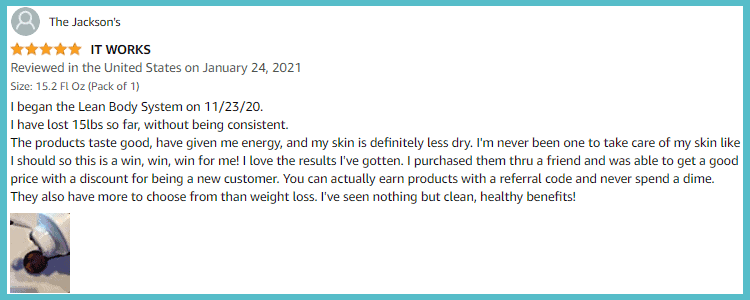 Shown below is another review from a previous buyer.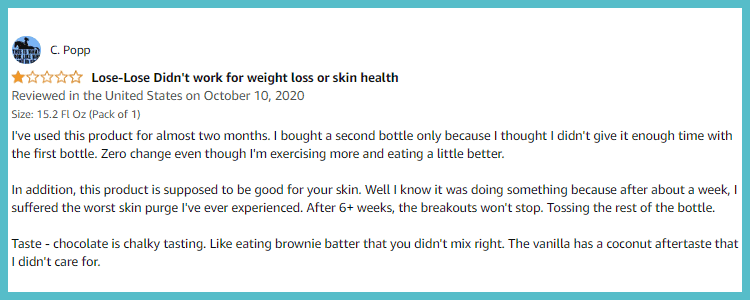 The rating of the product is only 3.7 stars out of 5.
It's not that low, but I also don't consider it a very impressive rating.
If you ask me, the supplement worked but only offered minimal results.
Well – if you actually judged it after its formula, the results would be pretty aligned.
In fact, there are more comments about its taste than about its actual effect.
However, considering its very high price tag, I don't think it's forgiving to receive faulty products.
Also – given its weak effect, I don't think it's the best option you can find.
---
Conclusion
---
If you ask me, Modere Trim has a good amount of honest reviews.
But the most common comments only praised its flavor.
The other ones mostly talked about the poor shipping and packaging.
To be very honest, there are some more impressive alternatives with a lot more benefits.
---
#5 – Side Effects

(7 out of 10)
---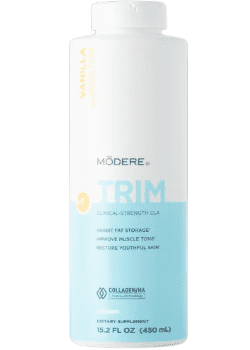 So far, I only found a few complaints about Modere Trim.
Some previous customers experienced horrible diarrhea, bloating and skin purging.
But if you ask me, these issues are very unlikely for most people.
That's because out of thousands of reviews, only a few developed these adverse effects.
So the percentage is under 1%.
If you ask me, the product is more on the safe side:
only contains a blend (of two ingredients)

its doses aren't on the high side
But in rare cases, some people might experience secondary reactions.
I'm mostly talking about headaches or stomach discomfort.
Also, I want to mention the expired products received by other people (according to their reviews).
Well – they actually bought their products from Amazon.
So in order to avoid that, try to buy from the official website (they should not sell expired products there).
But overall, I don't think you should be alarmed by this supplement.
---
#6 – Price

(2 out of 10)
---
If you ask me, Modere Trim is not a very practical option.
Well, it's expensive for what it really does in terms of weight loss.
1. The Exact Price
---
Now – there are more flavor options on Modere Trim's official website.
So let me list down the price list of the product:
One bottle costs $99.99

A box of singles (15 sachets) costs $59.99

Subscription will give a 5%-15% discount

All flavors have the same pricing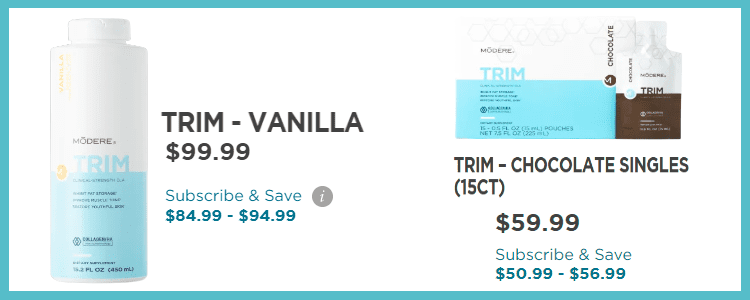 Also – you need to create an account in order to complete your orders.
This can be a bit inconvenient, as it would take you time…
Anyway, if you ask me, both versions (single bottle and singlets box) are way too expensive:
Sure, the prices on Amazon are a little bit lower.

But there are many complaints about expired products.

So the official website remains the best option.
However, I don't recommend that you buy this product.
Considering the features we analyzed before, it's not a potent weight loss supplement.
Even if it was effective, it would still be way too pricey.
You can definitely find a way better option that's a lot more affordable.
So my verdict on Modere Trim is a negative one.
2. Competitors' Price
---
Here's a better investment for you to try instead.
The product is called PhenQ and it's my #1 recommended weight loss supplement: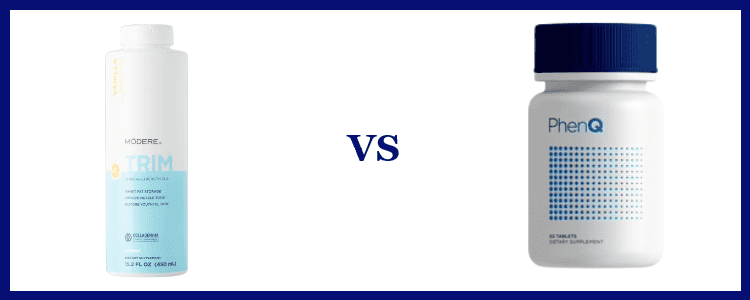 PhenQ contains vitamins, minerals, essential nutrients and herbs.

They are in their superior forms and have some very potent doses.

It works for reducing excess fats, limiting weight gain and other connected issues.

Modere Trim only has a proprietary blend inside its formula.

It does have one trademark, but it focuses only on improving skin and joints.

The overall formula is pretty weak when it comes to weight loss.

PhenQ is formulated as pills while Modere Trim comes in a liquid form.

The original price of PhenQ is $69, but its discounted price is $37.

Modere Trim's price for a bottle is $100 (also offers a box of singles for $60).
If you compare both supplements, PhenQ is way more affordable.
But that's not the only thing that makes it better than Modere Trim.
Actually – it has a better set of ingredients that can actually reduce your excess weight.
Also, the doses are very high, so you will see its weight loss effect pretty fast.
So if you have the budget to buy Modere Trim, you should definitely go for PhenQ instead.
It might not as easy to take (since it's a pill), but the final results are totally worth it.
---
Conclusion
---
Overall – Modere Trim is an extremely pricey weight loss product.
After considering its features, I don't think it's a good deal.
So if I were you, I would just invest my money in a much better alternative.
---
#7 – Final

Conclusions
---
Here's the summary of my views on Modere Trim.
1. Not Too Potent
---
Again – Modere Trim has only 2 main ingredients:
one is promising for weight loss

the other one is a trademark version of collagen
However – the overall formula only consists of a blend.
This means that both ingredients are listed in a mix, without any individual doses.
So in terms of reducing excess weight, I wouldn't expect too much from it.
2. Convenient To Take
---
Since Modere Trim is a liquid supplement, it's very easy to take.
So basically, you just need one tablespoon daily.
You take it directly by mouth in the morning.
Overall – it's the best feature of the product.
3. Extremely Expensive
---
Lastly – Modere Trim has two available size options.
A bottle costs $100, while a box of singles costs $60.
Honestly – I don't think the product is a good deal.
In my view, it's super pricey for its real value and for what it can do.
---
My Verdict – Worth It Or Not?
---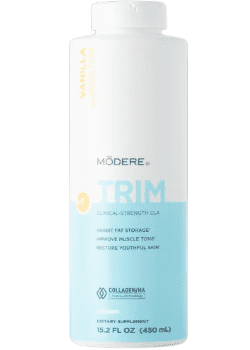 Short answer: Not really – the product has several red flags:
Very pricey for the weight loss benefits it offers

Formula is only made from 2 ingredients

Overall composition lacks variety

Not too potent for weight loss

Negative feedback about its packaging
If you ask me, Modere Trim is not the best option for weight loss.
As I mentioned before, its formula is not powerful in reducing weight.
Also – its price is very high for the minimal benefits it offers..
So if you ask me, you won't really get your money's worth with this product.
Sure – it's very easy to take, but that's just about it.
With that, I have a way better alternative for you.
The product is called PhenQ and it makes my top weight loss supplement recommendation:
Contains way more ingredients for weight loss

Superior formula with potent doses

Proven to burn excess weight and fat

Also works for suppressing weight gain

More affordable for its high quality
Honestly – comparing both products is pretty easy.
Well, it's obvious that PhenQ is way better than Modere Trim.
First of all, because it's proven to get rid of excess fats.
Also – it targets other problems connected to losing weight.
Not to mention that it has so many testimonials, before/after pictures and satisfied users behind.
So for a more affordable price tag, you actually get a lot more features.
Overall – it's the product I recommend, since it's the most effective option I know.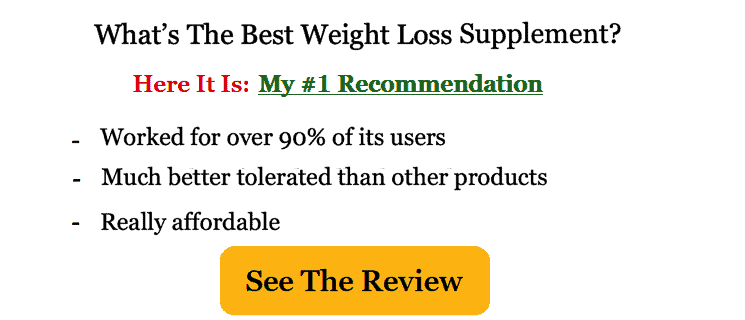 References:
1 – https://pubmed.ncbi.nlm.nih.gov/-16924272/
2 – https://www.ncbi.nlm.nih.gov/pmc/-articles/-PMC6835901/
3 – https://pubmed.ncbi.nlm.nih.gov/-26729488/
4 – https://thelatest.modere.com/-a-closer-look-at-collagen/